Bringing business and IT together with low-code platforms
Bringing business and IT together with low-code platforms
Last Updated: December 11, 2023
3.2K Views
5 Min Read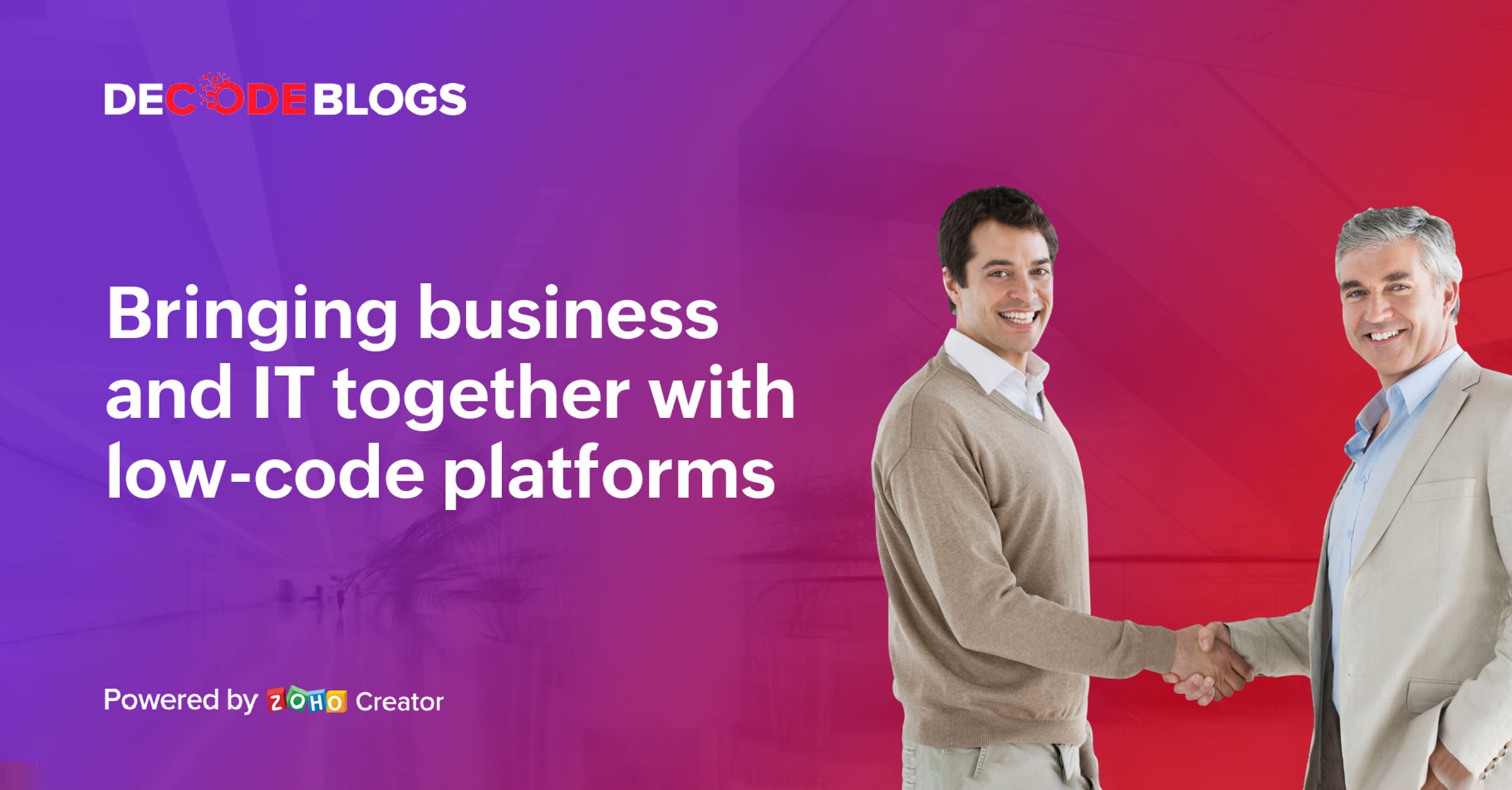 Introduction
A business team has a phenomenal idea to take advantage of an ongoing market trend. All they need is a quick application that they can roll out to existing customers and deliver immense value. They are super excited to get started with it, but they hit an immediate roadblock.
IT has no time to build the app.
If that sounds familiar, then your organization is among the vast majority witnessing the constant struggle between business and IT teams—and losing out on critical opportunities because of it.
According to the World Economic Forum, the digital transformation of industries is expected to generate around 100 trillion USD from 2016 to 2025. A key element of this market-wide transformation is the velocity of app development. Businesses today need to be able to roll out critical applications fast, without being held back by an overburdened IT team.
Enter low-code development.
How do low-code platforms facilitate business and IT collaboration?
Low-code is an approach to app development that makes use of visual models to simplify and accelerate the process.
Here's how it works:
A low-code platform has everything that business users need to quickly craft workable applications.
Features like visual modelling and drag-and-drop allow business stakeholders to create the applications that they envision—ones that are designed to solve specific business needs and demonstrate a clear understanding of end-user requirements.
These applications, while basic to begin with, are functional prototypes that are cross-platform, mobile, and scalable with business growth.
This all happens without IT team involvement. They don't have to invest their time and effort in the simpler tasks that go into app development. They can be brought in only for more complex requirements, integrations, and deployment.
In essence, low-code platforms empower business users to take over the bulk of the work involved in creating business-critical apps. This allows them more control over the functions that are designed to align with business and user needs. Once this prototype is in place, it's easier to share the app and its underlying vision with the IT team, who can then bring in higher levels of complexity and innovation.
A look at the stats depicts that businesses are leaning towards these platforms to meet their app development needs.
Gartner's 2019 Magic Quadrant for Low Code Application Platforms states that by 2024:
75% of large enterprises will be using at least 4 low-code tools for app development
65% of all app development will be done on low-code platforms
Low-code platforms can bridge the gap between your business and IT teams because:
Your organization can quickly capitalize on emerging business opportunities without overloading your IT team
Your IT teams can rapidly understand and improve upon business-critical applications without having to go through the complex process of aligning app development with business objectives
Benefits of using low-code platforms
Let's take a look at what low-code platforms bring to the table for the business as a whole, as well as for business and IT stakeholders.
Low-code platforms for business
Low-code platforms provide the following advantages to businesses:
Deliver cost savings – Low-code platforms enable businesses to quickly test out app ideas in a low-investment, low-risk environment. Businesses can spend a few weeks to quickly put together usable prototypes and validate app concepts rather than risking a lengthy and expensive app development process. It also saves resource costs by reducing the number of developers that need to be hired and trained in-house.
Improve customer experience – Stakeholders are closest to the customers, having a deeper understanding of what they truly want. The fact that these stakeholders can now be directly involved in the app development process with low-code platforms means that the final application will be closer to what customers want. This means a better customer experience and more revenue.
Faster transformation – Businesses can also initiate faster transformations within the organization and quickly integrate technological advancements with the help of low-code platforms. This allows them to be current with industry updates and provide modern solutions to their customers.
Low-code platforms for business users
Simultaneously, low-code platforms also provide multiple benefits to business users.
Improve clarity – Visual modelling with low-code platforms gives business stakeholders more clarity about what exactly is being developed. This helps them evaluate whether the work so far aligns with their vision and business requirements. Conversely, if business stakeholders are the ones putting together the app, visual modeling ensures that they can clearly convey their requirements and ideas to the technical teams.
Introduce innovations –Business users are often the ones to introduce innovative ideas in an organization. With low-code platforms, they can quickly validate and implement these ideas by creating the required applications without having to wait for IT. This also ensures a faster transformation of processes within your organization.
Improve productivity – Apart from creating business-critical applications, low-code platforms can also be leveraged by business users to build apps that simplify their day-to-day operations. These in-house applications can help reduce time spent on manual or repetitive tasks and increase overall productivity and efficiency.
Engage all stakeholders – A quick app development process and visuals that are easy to understand makes it easier to involve stakeholders. Developers can share app updates with all the stakeholders, incorporate feedback and changes earlier on, and drive continuous interaction and iterations.
Low-code platforms for IT teams
Yes, they benefit your IT department, too.
Focus on complex tasks – Since low-code platforms enable novice users to develop high-quality, standardized applications, IT professionals can focus on the tasks that require their technical expertise and drastically reduce the time and effort spent on secondary tasks. This improves the IT department's productivity within the organization.
Increase success rates – With low-code platforms, a more agile methodology is baked into the development process. It's easier to understand the app development process on low-code platforms, allowing business users to provide real-time feedback that the IT team can implement simultaneously. The development process itself doesn't use a lot of time or resources, which makes it easier to repeat and perfect. This ensures that the app being built is always in alignment with business requirements and has a higher chance of success.
Reduce technical debt – Creating applications on low-code platforms keeps the amount of custom code generated on projects to a minimum. That means less code that has to be reviewed or updated later by the IT team and a lower overall technical debt.
Keep IT updated with new trends – High workloads often keep IT from updating themselves with key trends and new technology in the industry. Low-code tools solve this problem by supplementing the developers' skills and capabilities without requiring them to learn additional languages, frameworks, or technology. For example, developers can create mobile applications using low-code platforms even if they aren't up-to-date with the latest practices in mobile development.
Eliminate shadow IT – Shadow IT is when business stakeholders begin using a variety of off-the-shelf solutions to get projects off the ground without the IT team's assistance. This is a huge challenge for organizations as it threatens internal compliance and security protocols. With low-code platforms facilitating faster app production, business users no longer need to explore non-secure solutions, thus eliminating instances of shadow IT.
Conclusion
For businesses determined to stay ahead of the curve in a rapidly evolving market, the ability to roll out business-critical applications to both internal users and external customers is paramount. The only question is how do you plan to do it?
Low-code platforms have demonstrated themselves to be the perfect solution to this challenge. Businesses should begin exploring this option, and create strategies on how they can leverage it to achieve organizational goals.
Explore Now
Bharath Kumar B

Bharath leads the Marketing and customer success initiatives of Zoho Creator.
He has over 12 years of professional work experience across SaaS, ERP & Telecom domains. Loves travel, playing badminton and yoga. He believes in keeping things simple.
Leave a Reply
Your email address will not be published. Required fields are marked