How do I invite users from other organizations to join an external channel?
For external channels invites must be sent to usersof other organizations and they should accept and join to be a part of that channel, whereas users of the same organization can be added directly without invites. 
To send invites go to Channel Info. Channel info can be opened by 3 ways, 
In the channel window, click on Actions at bottom right corner and select Channel info.
Hover on the channel name in leftside bar and click on the info icon in the popup that appears. 
The easiest way is to just click on the channel image near the channel title in the header. 
On opening the channel info, there will be a field to enter email addresses of external users. Enter the email ids of users whom you want to invite to the channel, and hit the Invite button.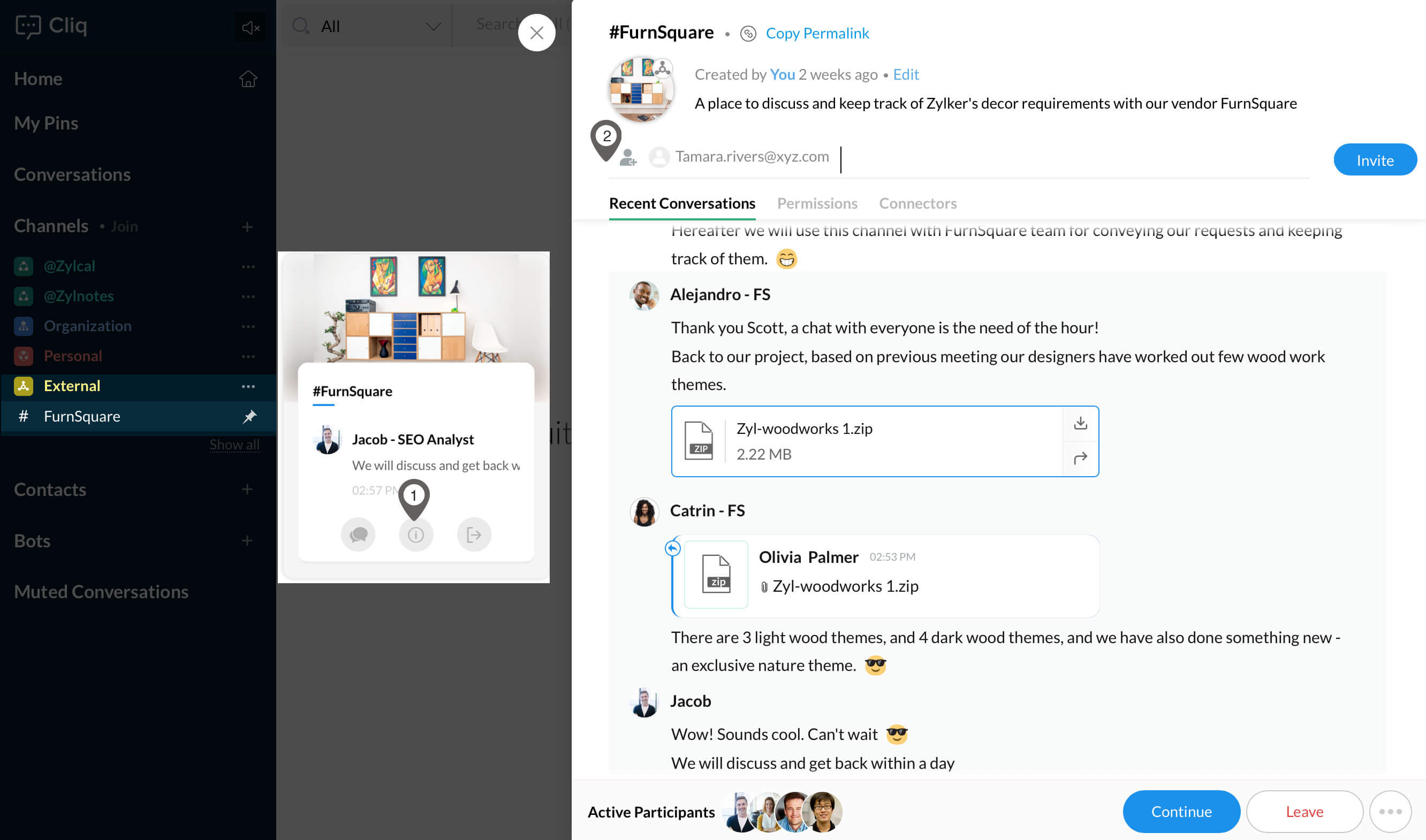 Once invite is sent, there are 2 cases here: Cliq user and non-Cliq user. 
1. Cliq user
The users will receive invite via email to join the channel. Clicking on Join button will open a new Cliq tab where the user can join and proceed to the channel. 
The user will also receive notification of the channel invite via Taz bot. The user can now open Join channels dialog box, look for the channel and join in it or click Actions icon (3 dots) straight to External channel heading, choose Join option, look for the channel and join in it. 


2. Non-Cliq user
The user will receive channel invite via email along with call to action 'Sign up for Cliq'. 
Once the user signs-up and opens Cliq page, the user can look for this external channel by clicking on Join next to Channels in left sidebar.
In the dialog that opens the external channel will be listed under 'Channels you can join tab'. The user should click Join to become a member of that channel. 

Note:
Other organization users will be able to add users from their organization or even invite users from other organizations in your external channel if 'Add participants' permission is enabled for their role.

Related pages
To know more about what are permissions and how you can restrict external users from adding participants to your channels, check this out - Permissions in Cliq