Zoho Campaigns Webinars
Learn how email marketing can help you reach and engage with your customers, with Zoho Campaigns webinars.
How to plan, create, and run successful email newsletters?
Anything can be made possible with the right set of things coming together, isn't it? How do you determine the right set of things while planning to send out email newsletters? Don't worry, we're here to guide you through your journey.
Watch this webinar recording and take your first step into the world of newsletters and develop a well-thought newsletter strategy with us.
Q&A
We couldn't attend to all the questions during our webinar; however, we have answered them in detail here.
Q1. What are the best practices in terms of time and day for the newsletter for higher open and click-to-open rates?
A1: We all know that Friday is the last day of the workweek in most of the regions, where people would be preoccupied with weekends and Monday begins with the usual Monday blues and getting-back-to-work mode. So, most marketers overlook them. And, as a result, Tuesday, Wednesday, and Thursday become the natural choices for sending out email campaigns. And, since Tuesday is followed by two more supposedly high-productivity days, it's assumed that it will garner higher open rates by some of the marketers.
While this theory sounds reasonably good, open rates ultimately come down to the sensibilities of your audience. For example, people can check (marketing) emails any day, any time. It could be while waking up in the morning, standing in a queue for their coffee, catching a ride, or more.
Therefore opening an email is a subjective process, and you'll have to do some testing to identify the optimal sending day and time for your mailing lists.
You can read more about it here.
Q2: Can you please show us an example of a good emailer?
A2: Here's the repository of our email newsletters. You can also check our article to understand the kinds of email newsletter content that you could try sending to your recipients.
Q3: How many images and website links would be ideal?
A3: Ideally, we must follow the 70: 30 ratio. (70% of the email should be text and 30% should be an image). It is best to use 2-5 CTAs, depending on the content.
You can try using the pre-designed newsletter templates in Zoho Campaigns.
Q4: How do I avoid my emails from ending up in the Promotions tab?
A4: Emails landing in promotions are totally fine. Your email marketing is doing good as long as your emails land in the primary or promotional folder. It is categorization by Gmail that emails from brands directly go to the promotions tab. If a particular recipient regularly opens your emails, then your future emails will land in the primary folder down the line. You can read more about it here.
Q5: How to increase the open rate in terms of subject lines?
A5: You can make use of A/B testing. It helps you compare two different versions of an email campaign. You can test two subject lines with a small section of your list first. The better-performing subject line will be sent to others in your list.
Q6: Is there a way to check the email quality or suggestions while creating an emailer?
A6: If you use Zoho Campaigns, your campaigns undergo a review to check if all the parameters are met. You can follow email marketing best practices to ensure that your emailers are successful.
Q7: Is it possible to get the HTML for a newsletter that is created on campaigns?
A7: Yes, it is possible to get the HTML for a newsletter that's been created in Zoho Campaigns. All you have to do is go to: Campaigns --> Regular Campaigns --> Open the particular campaign --> More --> Download HTML.
Q8: Can you send an email to an individual segment of a contact list? How does this differ from tagging your contacts?
A8: Yes, you can select a particular segment and send emails. The segment will allow you to categorize only the contacts in a particular mailing list based on criteria. Contact tags will allow you to tag contacts from different lists. Let's say you sell the same products for the US list and UK list. In the US list, you can create a segment for Florida contacts using the state field and send them emails. You can use contact tags to tag contacts who purchased Product A from the US list and UK list. So you can see all the contacts who purchased product A under the particular tag irrespective of the list they are associated with.
Q9. What is the best way to set up a newsletter and then push it when needed if you are not sure of when to send it?
A9: In Campaigns, we have an option to schedule your emails. So, if in case, you know what emails to be sent at what time. You can create them and schedule them based on the timing. And, if you're not aware of when to send out the emails, you can create a template and save it in your account's library and when the time comes, in the future, you can select it from the library and send it out.
Q10. Why do some of the emails end up in spam/trash?
A10: There are a lot of reasons behind a particular email landing in a spam folder including:
1. If the URL of a valid email that you're sending is blacklisted or the URL of a particular domain is blacklisted, there are chances that your emails will land in the spam folder. So, you have to be careful while placing URLs in your email campaigns.
2. Make sure to authenticate your domain so that the recipient server recognizes it and doesn't classify it as spam.
3. Recipient domain is not at all accepting the emails from external servers due to their email policy and whatever valid emails we sent, it will reject your emails and so will be classified as spam. This could be avoided by getting in touch with the recipients and asking them to add you as a safe sender so that the recipient server would not reject your emails.
4. If the above said cases are all handled and if your emails are getting sent from your side but still landing in spam due to Zoho Campaigns' server, you can reach us at support@zohocampaigns.com, with the header file and we will analyze and find the issue if there's any issue from our IP address, we will sort it out and if there's an issue with the content, subject line, etc. of your email, we'll help you find the reason and sort it.
Q11. How can we add contacts from ecommerce platforms?
A11: Right now we have a direct integration with a few of the ecommerce platforms like Shopify, WooCommerce, BigCommerce, and Zoho Commerce. So, if your contacts are present in any of these ecommerce platforms, you can integrate your Zoho Campaigns account with it and that helps you automatically sync your contacts.
And, if you're using any other applications than the ones mentioned above, then you need to either use our API, or you can use external integration platforms like Zapier or Zoho Flow where Zoho Campaigns is available along with the third party ecommerce that you use to bring in contacts.
Q12. How to integrate with Zoho Sites?
A12: Zoho Campaigns doesn't have a direct integration with Zoho Sites. But when you have a form in Zoho Sites, you can connect it with Zoho Campaigns. Also, Zoho Sites is integrating with Zoho CRM, so if you can connect your Zoho Sites form to Campaigns or to CRM, you can use sync services to sync contacts. So either way, it will work fine.
Q13. When sending emails to your own domain, emails are classified as spam. Why?
A13: Your emails may be sent from the same domain to the same domain but since it is from a different server, there are chances that email will land in spam. i.e., Zoho Campaigns is an external server that's helping you to deliver emails to your domain. So, in cases like this, you can share the header file with us at support@zohocampaigns.com and we'll help you.
Q14. What is the minimum number of contacts that can be used in Zoho Campaigns?
A14: In our free version, you can have up to 2000 contacts. If you're going with any of the paid plans. And, 250 is the minimum number of contacts that could be added to your paid account. You can see this in detail here.
Speaker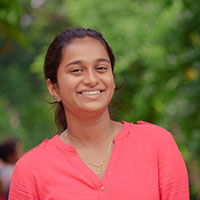 Annet Mathews
Product Marketer