Reading Time:
3
minutes
Introduction
In our previous article, we described the importance of succession planning and the methods you can use to achieve leadership continuity in your firm. We also briefly noted that in order to ensure a smooth transition in ownership, businesses need to prepare by transferring all of their client data to their successors using a single, organized platform. There is no better system suited for the task than a CRM.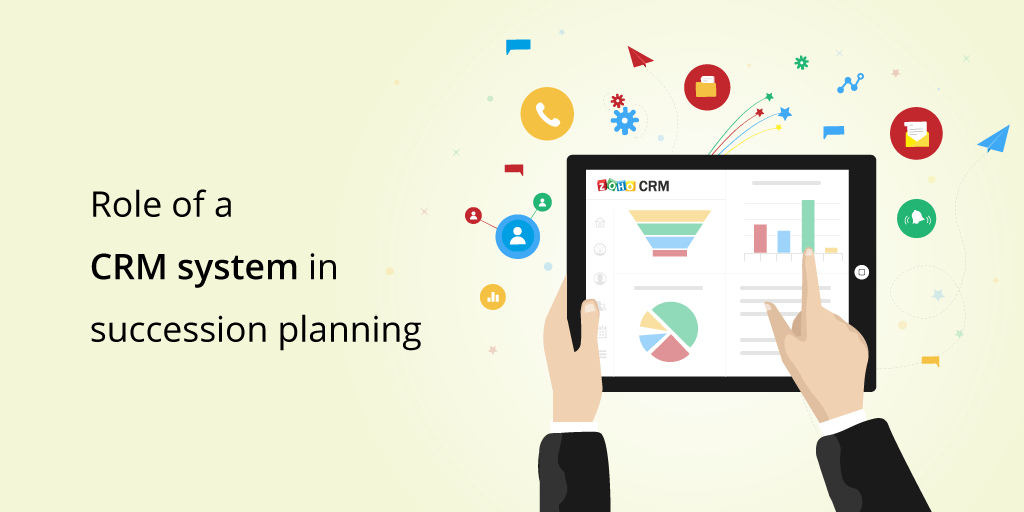 What is CRM?
The term CRM refers to customer relationship management, a process by which you manage customer information and interactions in order to nurture leads, retain customers, and improve sales. This can be done only if all the customer, vendor, and partner information exists in the same location. With the help of a CRM software system, all of this client data can be viewed and managed as needed, all in one place.
Debunking CRM's complexity
With all the data it deals with and various processes it manages, a CRM may sound too complex to set up. But the truth is, setting up and running a CRM system is similar to learning to drive a car: there is a learning curve at first, but once you get the hang of it, you'll be able to operate it as though you've always known how to do it.
Additionally, with the increased usage of cloud-based data management, systems like Zoho CRM have saved so much time previously wasted on lengthy installation and setup processes. Now that the software you need is available anywhere from the cloud, you can instantly sign up for a CRM system online and get started.
Need for a CRM system
If you're making succession plans for your accounting firm, it might not make sense to you to switch all of your client information over to a new system. You might be perfectly happy with using your email client and spreadsheet software to add reminders, flag important conversations, add notes, manage deadlines, and so on. You might also be using other services to manage different tasks, such as billing your customers, managing your firm's expenses, and other more complicated jobs.
However, more often than not, these services are not designed to communicate well with each other, and it can be very time-consuming to bring them together under a single roof. Correlating data across these products wastes a lot of time, money, and resources, and often requires assistance from developers to find ways to integrate everything with APIs. A new successor may find it difficult to understand exactly how your system runs and manage the firm the same way it was being managed before.
But if you already have a cloud-based CRM system in place, you can easily overcome all this and manage your client data hassle-free.
Below mentioned are a few ways by which a CRM system can help you in succession planning.
Holistic view of your client data
A good CRM system enables you to manage all of your customers' information in one place. You can store their contact details, information about their subsidiaries, and more, as well as view email and phone conversations that you have previously had with your clients. This will help your firm's successor understand your history with each of your clients, thereby helping your successor to maintain healthy relationships with your customers as well as preserve your company's reputation.
Transparency across teams
With a CRM system, you can share customer data across teams and communicate with other operations services, enabling the front and back ends of your business to run smoothly. Thistakes care of all the repetitive tasks that are part of the workday so that you can spend more energy focusing on running your business. Even after a new successor takes over the firm, because your teams share all important data amongst themselves, your workforce will still have a clear picture of all the important deadlines, meetings, tax audits, etc. that they need to know about.
Integration with other services
Integrating with third-party services is easy with current CRM systems. Most CRM systems, including Zoho CRM, come with a dedicated marketplace where you can find and integrate with a wide range of business services.
In addition to third-party integrations, Zoho CRM also provides seamless integration with several Zoho Applications. If you're using services like Zoho Books to manage your firm's accounts, or Zoho Expense to manage your firm's expenses, you can integrate them with your CRM account in a single click. This allows you to save time on manually transferring data between services and keeps your successor from having to hire additional staff to manually integrate each individual service with APIs.
We hope you now have a clear idea of how CRM systems can play an essential role in the succession planning process. Because they offer a holistic view of your firm's data and a better way to organize and share data across teams, cloud-based CRM systems like Zoho CRM are one of the best choices for businesses who are in the midst of the succession planning process.
In the next blog post, we will explain in detail how to organize and move your data into your new CRM system so that your business is ready for your successor.