Why people look for Calendly alternatives
When having conversations with customers who want to switch from Calendly to Zoho Bookings, they listed these as the major reasons for making the change:
Features
Pricing
Branding
Integrations
To be part of a software suite, like Zoho One
Domain-specific needs, for example,. revenue acceleration
Business automation
Wherever we can fix those Calendly gaps, we suggest Zoho Bookings. For the rest, we encourage customers to look at other Calendly alternatives.
Why can't Calendly address these needs?
Calendly represents the online scheduling market now. However, online scheduling and its audience are growing fast, and so are the differing needs. There are apps that are good for sales teams, service-focused businesses, and consultations.
Calendly can't keep up with everything!
List of popular Calendly alternatives
1

Zoho Bookings

2

Acuity Scheduling

3

Setmore

4

10to8 Scheduling

5

Hubspot Meetings tool
6

Microsoft Bookings

7

YouCanBookMe

8

Doodle

9

ScheduleOnce

10

Mixmax
11

Vocus.io

12

Chilipiper

13

Drift
Based on our in-house knowledge, other Calendly alternative lists, and what we hear from customers, we complied the above list. Does that mean that you can unplug Calendly, plug in one of these apps, and hope that everything works smoothly? No. Each app has its own capabilities and audience. Let's see what each of these alternatives can do to narrow down to the best Calendly alternatives.
Best Calendly alternative for business consultations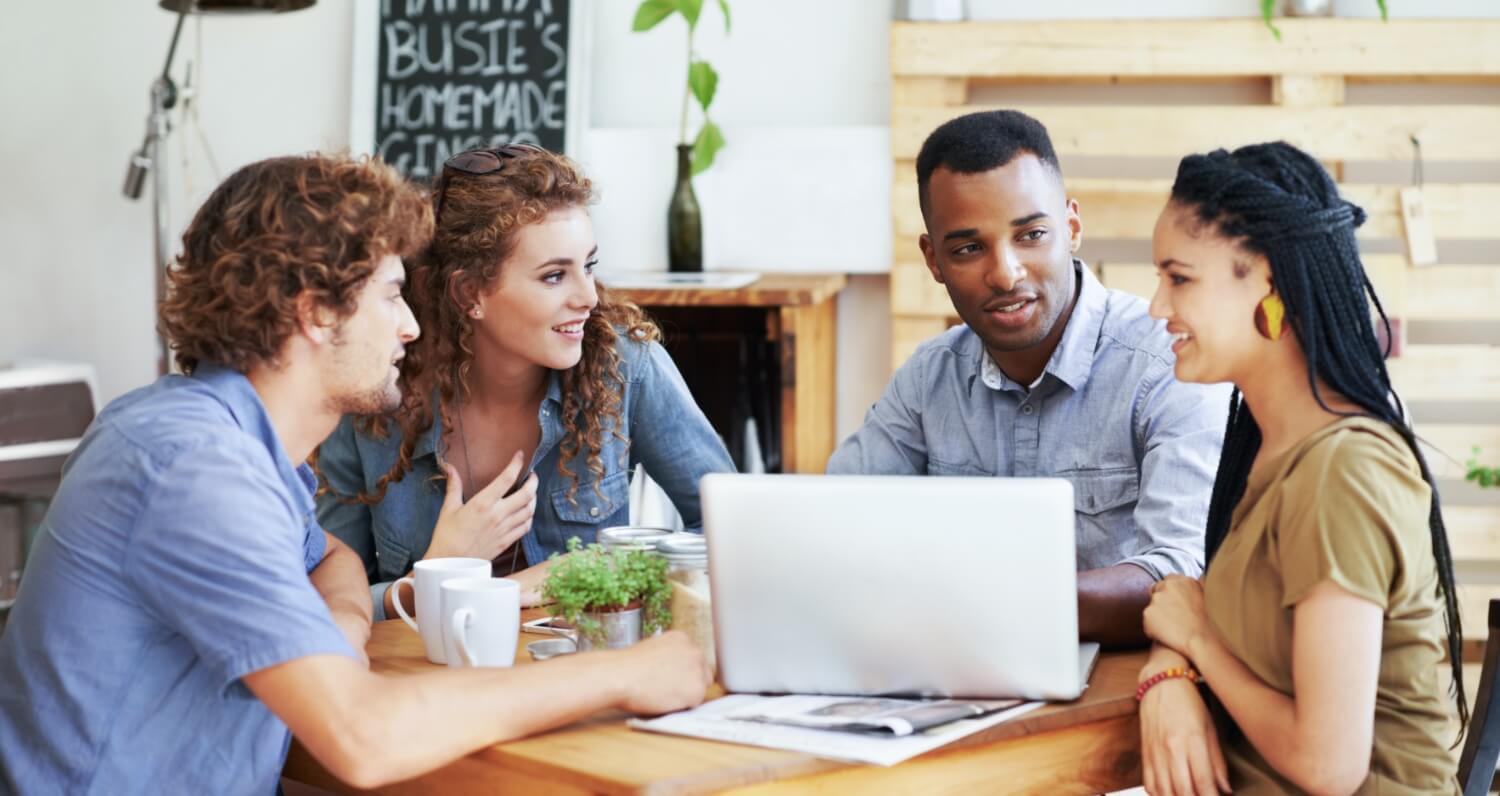 Zoho Bookings
Zoho Bookings is a popular Calendly alternative, with the best free plan in the market and affordable paid plans starting at $6/month. You can do one-on-one and group bookings in Zoho Bookings. It's ideal for individuals looking to avoid back and forth emailing and teams looking to allocate appointments evenly. There are multiple options for online meeting tools and payment gateways.
The key advantages are in personalization and pricing. The booking pages, emails, and domain are highly customizable. There's also the inherent benefit that it's part of the Zoho suite of apps, letting you integrate it with multiple other business apps. APIs and custom functions make it easy to build out-of-the-box solutions to scheduling problems. It's also one of the few options that has both Android and iOS mobile apps.
See how Zoho Bookings compares with Calendly
Microsoft Bookings
Microsoft Bookings is a good Calendly alternative if you already have an O365 subscription, as you can't buy it separately. You can do one-on-one and group meetings and use Teams for online meetings. By managing the visibility of the booking page and disabling its indexing, you can also use Microsoft Bookings effectively within the organization.
One of the shortcomings of the product is the lack of online payment integrations. It also doesn't have integrations with CRM or accounting tools. Microsoft Bookings is ideal for small businesses in the service industry who runs their business predominantly with Microsoft Office apps.
Setmore
The best thing about Setmore is its mobile app. It's modern, which is a stark contrast from the mobile apps of popular appointment schedulers. Setmore's UI is free from distractions. It's easy to navigate, find features, and train yourself.
Setmore has live chat support, aided by knowledgeble reps and well-written help documentation. Their pricing is affordable and incentivizes larger teams with lower per staff pricing.
Setmore's free plan is rich with integrations, including Square payments. They also have integrations with Slack, Instagram, Facebook, and most website builders.
Where Setmore falls short is feature depth. Though they're good for business consultations, sales teams, and service businesses, they aren't made exclusively for any of them. If you have Setmore on your list of possibilities, check out Zoho Bookings as well.
Hubspot Meetings
Hubspot's meeting scheduler is simple and useful for common scheduling needs. You'll be able to realize the full benefits if you're already a Hubspot customer. You can create teams in the Sales hub, which will reflect in your meeting tool, pull data from other Hubspot apps, and use them when setting up meetings. You can include fields from your contact module on the scheduling form, making it easy for you to gather data.
If you're a sales team, they offer the round-robin algorithm, which automatically allocates appointments across the team.
The meeting tool is part of Hubspot Sales Hub and you can't buy it separately. Understandably, the meeting tool doesn't have integrations with third-party tools. Calendly and Zoho Bookings, on the other hand, are independent tools and are better options if you're not planning to use Hubspot.
Best Calendly alternatives for education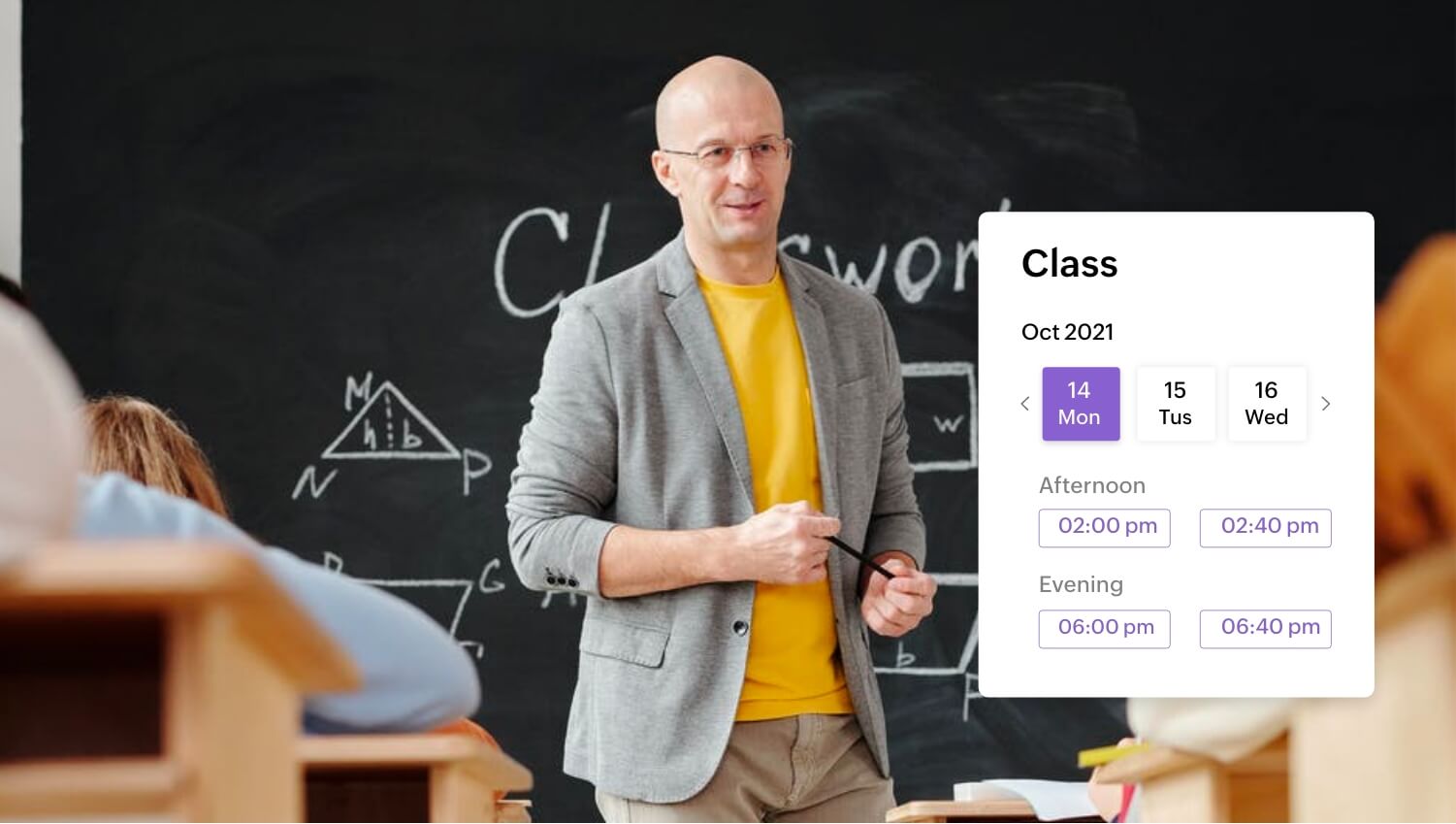 YouCanBookMe
YouCanBookMe is a simple tool for scheduling meetings and appointments. They're a popular tool among universities and the education sector. You can use YCBM individually or with your team. Though the tool is simple, it depends on external calendars to set up availability, which makes it harder to operate compared to tools like Calendly or Zoho Bookings, which have built-in calendars.
YouCanBookMe costs $10/month per linked calendar, but they offer special discounts for the education market.
Doodle
Doodle is one of the earliest and most popular online meeting schedulers in the market.
Doodle has polls, surveys and bookable calendars. Polls are good when you're trying to find the best time to meet with a group. Surveys are good when you want to gather opinions from a group of people. The bookable calendar is useful for you to share your availability with people and let them book a time with you.
Doodle offers SSO, mobile apps, dedicated success manager, 99.9% uptime SLA, training, and priority support, if you need that. These features have helped them penetrate larger organizations, like universities. Doodle works best when most of your meetings are internal.
Best Calendly alternatives for service-focused businesses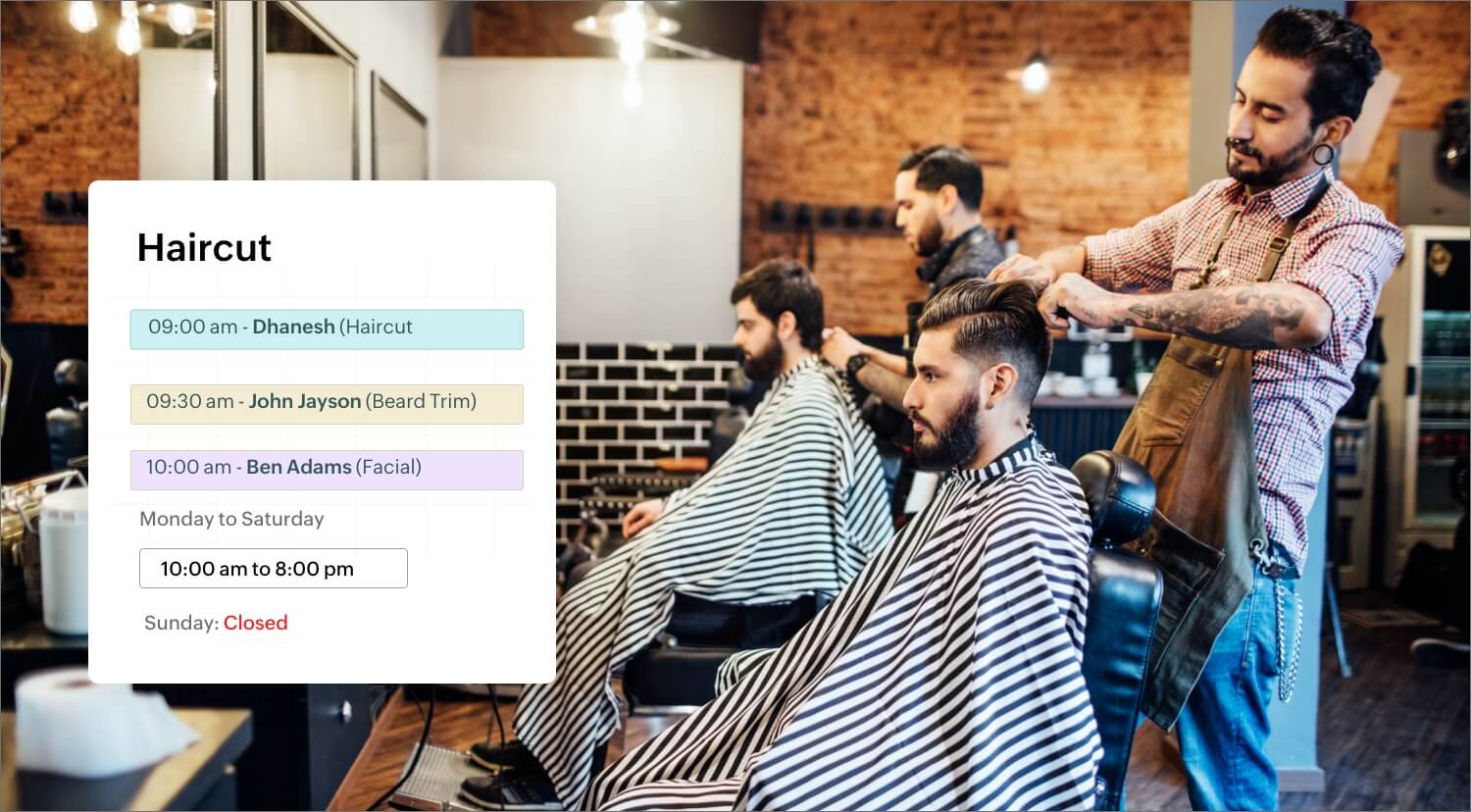 Acuity Scheduling
Acuity focuses on small businesses in the service industry. Acuity has developed features that help businesses handle complex availabilities, like recurring and uneven schedules, and generate more revenue via features like gift certificates, memberships, and coupons. They also allow vaulting of credit cards, which is important for businesses taking paid appointments. Acuity is rich in features to cover any use case in scheduling.
Acuity's slab-based pricing plans are not encouraging if you're a soloprenueur or only have a few employees. Such customers should consider the per user billing of Calendly or Zoho Bookings.
Is Acuity Scheduling a Calendly alternative?
Acuity's founder developed the app based on requirements from his mother's massage practice. Calendly's founder was a salesperson. The influence is visible in the direction the two apps take. Acuity has tried to cover almost every use case in appointment scheduling, while Calendly focuses on consultations.
That resulted in Calendly being able to manage everything without complicating things, whereas Acuity added a lot of features that can make it harder to use. Acuity can do all that Calendly can do, but Calendly cannot say that for Acuity. On the other hand, Calendly can do what you want in a shorter time than Acuity.
10to8 Scheduling
10to8 is a well-rounded, handy, and nifty appointment scheduling app for service based businesses.The app has many features and a clean UI, and is especially good for businesses that need to visit customer to perform a service.
While 10to8 is similar to Acuity in its target audience, they don't have enough features geared towards sales teams or recruitment teams, like Acuity does. Acuity has integrated CRMs, ATSs, accounting packages, and online meeting tools.
Because of that, 10to8 is an Acuity alternative, not a real Calendly alternative or vice versa.
Best Calendly alternatives for large sales teams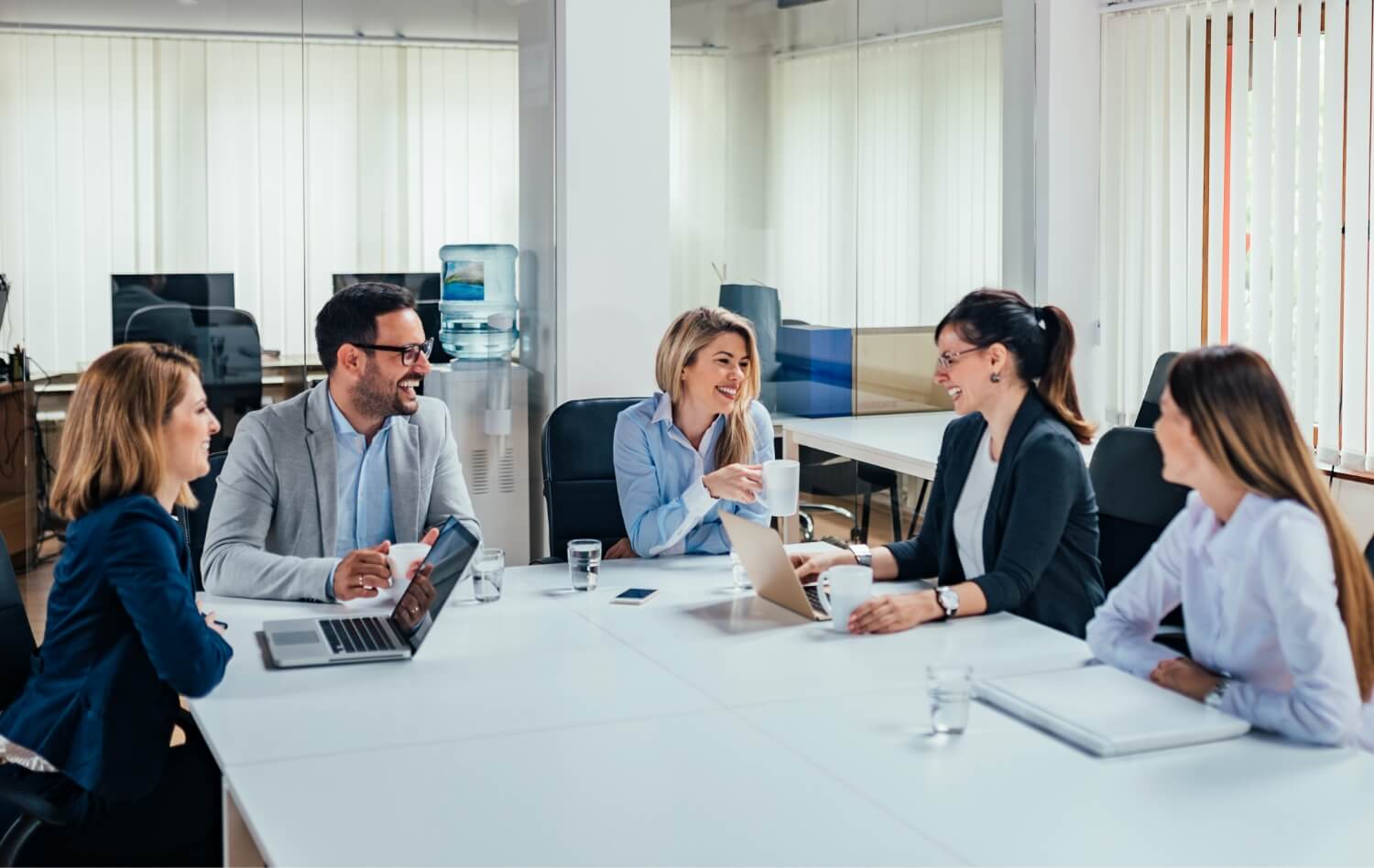 Chili Piper
While other apps make it easier and quicker for clients to book appointments with businesses, Chili Piper helps salespeople to get more meetings with prospects. As an example, Calendly allows customers to book a meeting and then adds that lead to a CRM, whereas Chili Piper adds the lead to the CRM first and then enters the scheduling workflow. This is a change in approach: Calendly follows schedule-first, sales-second whereas Chili Piper follows sales-first, scheduling-second.
Chili Piper's features allow you to schedule meetings from email, calendar, chat, and CRM. Because the app always captures the lead first in CRM, the booking forms are prefilled, making most meetings a one-click experience for clients. Chili Piper also has routing rules to make sure that leads are assigned based on availability, experience, and other custom rules.
In short, their aim is to connect a salesperson to customer as fast as possible.
ScheduleOnce
ScheduleOnce is one of the first apps to focus on sales teams and their scheduling needs. They have all the essential features of an appointment scheduling app.
ScheduleOnce has emphasized compliance, security, customization, and control more than any other app that we reviewed. However, as a sales scheduling tool, ScheduleOnce is a bit behind Calendly and Chili Piper in terms of integrations, routing algorithms, sales-focused reporting, plug-ins, or AI features that reduce the admin work that a sales person has to do on the app.
The user interface is clean and is also sprinkled with clear help documentation. However, ScheduleOnce can be a little complex if you don't enjoy fine-grained control, flexibility, and a user interface crowded with help text.
They have a sister app, ChatOnce, which allows customers to book meetings from a chat window on your website.
Drift
Drift has several tools for sales teams. The main tool is a chatbot for your website to help you drive live conversations with visitors. The bot takes care of the conversations when your team isn't online. Drift extends this bot's functionality with emails, audience insights, and sales team routing.
You can have a more personalized conversation and follow-up with your website visitors, because Drift feeds you information regarding the visitor from its data and your systems like Salesforce. Drift's meeting scheduler is one among the different options you can set up for your visitors.
Drift is not primarily a scheduling tool, but is rather a live chat tool.
Best Calendly alternatives for small sales teams (using Gmail)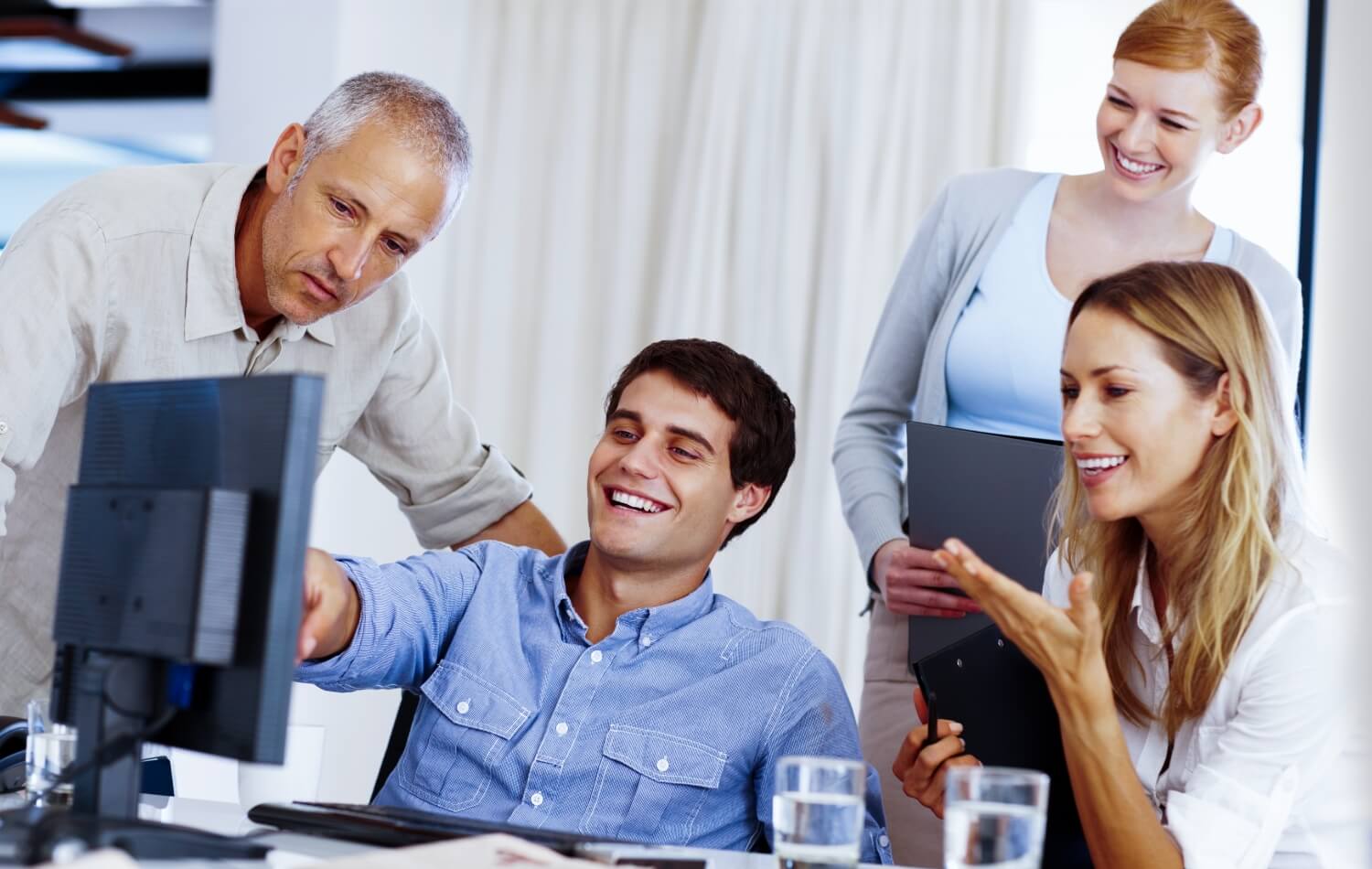 Mixmax
We've seen MixMax mentioned as a Calendly alternative. They're a sales acceleration tool which helps sales teams to follow up with customers collaboratively and close more deals. At its core, Mixmax has an email client which works with your Gmail as a Chrome extension.
The integrations with CRMs, recruitment software, and modules, like tasks and rules, give sales follow-up additional powers. The meeting tool in Mixmax is one of the many features available for its users to move leads through the pipeline.
So, Mixmax is not a true Calendly alternative, but a sales follow-up tool. Check out Mixmax if your team is using Gmail for sales conversations, as it can help you streamline those processes.
Vocus.io
Vocus is more of a Mixmax alternative than a Calendly alternative. It's a combination of inbox, calendar, and campaigns. You can set permissions as an admin to let yourself and team members view the emails in their teammates' inboxes. Vocus has built-in email templates. You can create more templates and use them as snippets in your emails. The Chrome plugin and slash commands make it easy to draft emails in Gmail.
Using the Chrome plugin, you can also insert special widgets, like a poll, your calendar availability, and snippets. The campaigns feature lets you trigger multiple emails as stages set apart in intervals. With the calendar feature, you can create meetings similar to Calendly and use them contextually in your email communications.
Like Mixmax, Vocus is also not a pure scheduling tool, but rather a sales engagement tool.
So, which is the best Calendly alternative?
All of the apps above can do appointment scheduling. However, we have seen that each works best for specific aspects of appointment scheduling. The best Calendly alternatives are those which can do what Calendly does best: consultations.
Zoho Bookings, Microsoft Bookings, Setmore, and Hubspot's meeting tool are good for consultations. However, among those four apps, only Zoho Bookings and Setmore are standalone apps. The other two are part of a larger product suite where you have to buy Hubspot CRM or an O365 subscription to gain access. And if you do paid appointments, only Zoho Bookings and Setmore have payment gateway integrations.
The best Calendly alternatives are Zoho Bookings and Setmore.
Calendly alternatives FAQs
Now that we've seen what each app can do, it's time to answer some questions to bring extra clarity to your buying decisions.
Is there a free alternative to Calendly?
Which is the best Calendly alternative if you're a sales manager in a fast-growing start up?
You should check out ChiliPiper. However, Chili Piper is one of the costliest among the apps listed here. Drift is another option.
Which are the best Calendly alternatives if you're a small sales organization?
You can try Mixmax or Vocus. Zoho Bookings and Microsoft Bookings are also good options.
Are YCBM and Doodle good Calendly alternatives?
The predominant customer base of both these apps is universities and education. Naturally, they have features and pricing that support that market.
What are the good Calendly alternatives if you're a service-based business?
Acuity Scheduling and 10to8 Scheduling are two good Calendly alternatives. They have many features that are good for a variety of service businesses, regardless of industry.
Do all these apps offer a free trial?
Yes, all apps offer a free trial, but some (like Chili Piper, for example) require you to have a Google Workspace or O365 account. Microsoft and Hubspot require you to sign up for the software suite to try their booking tool. You can get started with a free 15-day trial of Zoho Bookings below.
Get started with a free 15-day trial
No credit card information is required. No obligation.
Continue in the forever free plan after the trial, or upgrade to a paid plan.
Try zoho bookings now