Virtual events handbook for event planners
Last Updated: January 20, 2021
1.5K Views
34 Min Read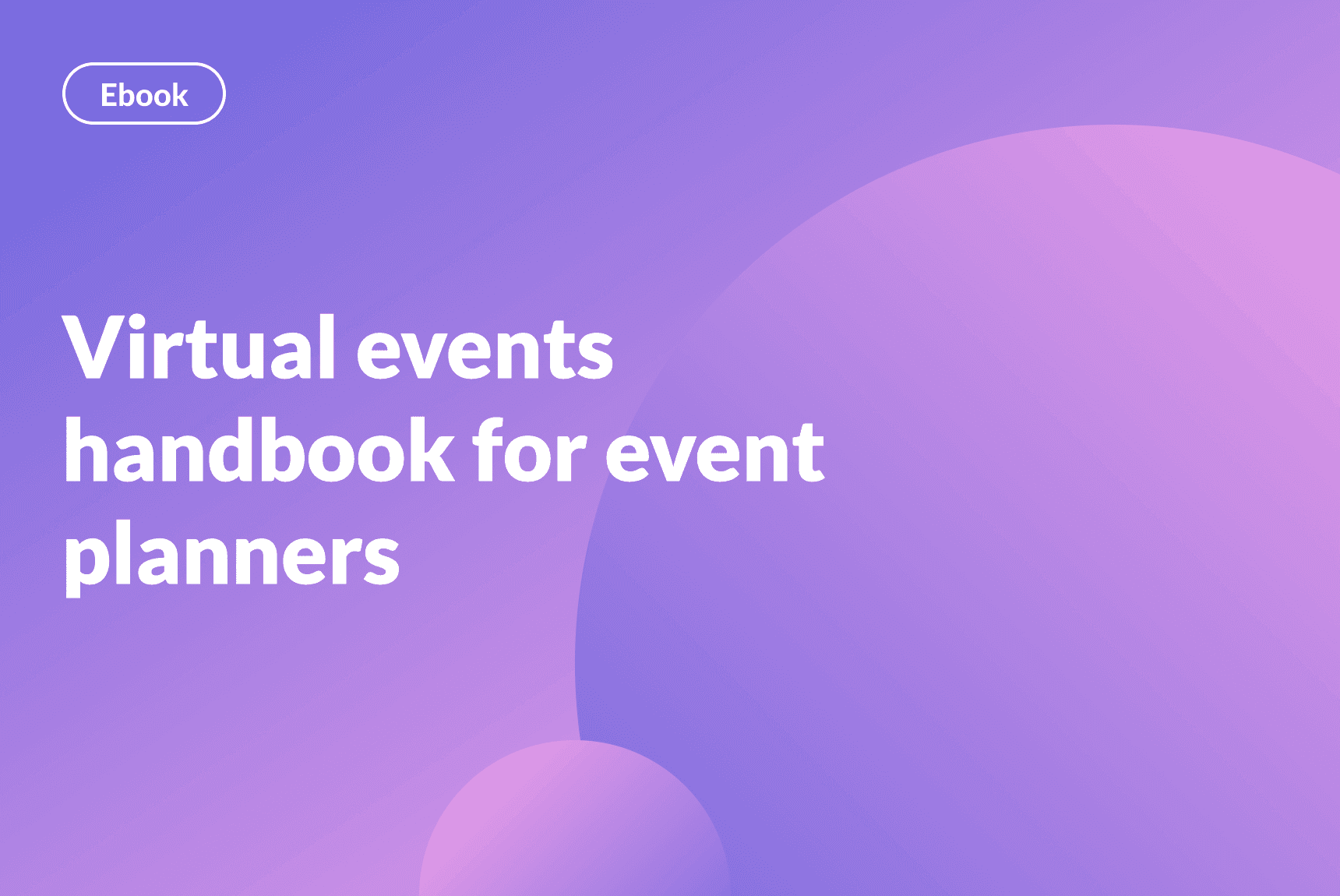 The event industry was one of the industries most affected by the COVID-19 pandemic. As the virus spread, many event organizers resorted to either canceling or postponing their event. These cancellations led to the event industry reporting a maximum loss of about more than $666 million till April. In addition, at least 85.9 million people lost their jobs.
However, over time things changed, and virtual events started getting a lot of attention. Though virtual events aren't entirely a new concept, Forbes quotes a 1000% increase in their use since the pandemic.
There's more to a virtual event than simply making it an extension of a webinar. That's precisely why organizers are interested in finding ways to increase the value of virtual events by making them at least as engaging as live events, if not more.
The goal of this ebook is to help new and experienced event planners transition to virtual events. It covers everything you need to successfully host a virtual event, from getting registrations to measuring the event's success.
Introduction to virtual events
According to CDC guidelines, the risk of COVID-19 spreading at events is the highest with in-person gatherings where it's difficult for individuals to be spaced six feet apart. On the other hand, the risk is lowest with virtual-only events and gatherings.
Risk of COVID-19 spreading at events

Lower risk: Virtual-only activities, events, and gatherings.

More risk: Smaller outdoor and in-person gatherings in which individuals from different households remain spaced at least six feet apart, wear masks, do not share objects, and come from the same local area (e.g community, town, city, or county).

Higher risk: Medium-sized in-person gatherings that are adapted to allow individuals to remain spaced at least six feet and with attendees coming from outside the local area.

Highest risk: Large in-person gatherings where it is difficult for individuals to remain spaced at least six feet apart and attendees travel from outside the local area.

Source: Center for Disease Control and Prevention
These risks are why a lot of live events this year were canceled, postponed, or converted into virtual events. In fact, at least $26.3 billion worth of contracts were dropped when events didn't take place as planned.
However, canceling the event might not always be the best solution. It wouldn't just mean refunding the ticket charges to your attendees, exhibitors, and sponsors—it would also mean risking the brand reputation you've built over the years. Chances are your attendees might not even recall your event in the next year.
As the saying goes, "necessity is the mother of invention," and as marketers and event organizers seek creative ways to engage their audience in order to stay relevant, virtual events present an obvious solution.
---
Subscribe to The Green Room
Sign up here and get all the most relevant MICE industry content delivered right to your inbox once a month.
By submitting this form, you agree to the processing of personal data according to our Privacy policy.
---
What is a virtual event?
Put simply, a virtual event is a group of people interacting with a specific cause or goal while using a virtual medium (usually the web). Virtual events can include webinars, online conferences, large-scale meetings, virtual tradeshows, slidecasts, livecasts, audiocasts/podcasts, and more.
There are four basic combinations of virtual events, depending on the nature of communication:
One to one—two people talking to each other through voice/video calls

One to many—one speaker addressing an audience

Many to one—a group of people directing their conversation at one person

Many to many—every participant has the option to speak in front of everyone else
Perks of running a virtual event
Though virtual events have been trending in the wake of the COVID-19 pandemic, we believe their benefits are evident enough that organizers will continue to include them as a part of their event strategy.
According to an industry report by Grand View Research, the global virtual event market was valued at $77.98 billion USD in 2019 and is expected grow at a compound annual growth rate (CAGR) of 23.2% from 2020 to 2027. One of the biggest advantages of hosting an event online is that it encourages global participation. This means organizers can use the event to expand their markets, introduce various perspectives, and promote knowledge-sharing.
Let's look at some ways virtual events can benefit an organization.
Improves brand visibility
The accessibility of virtual events means there is less of a chance of an event's cancellation due to venues being unavailable. Obviously events that happen are better than events that don't happen, so the event taking place means the brand stays relevant, which leads to better recall and recognition amongst your audience.
Saves money
Running events virtually can help reduce the event cost to a great extent. Organizers can forego a substantial amount of expenses such as the venue, staff, booth setup, hotels, transportation, outdoor advertisement, and other marketing costs.
Boosts attendance
Virtual events also mean flexibility for your audience in terms of attending an event from wherever they are. In addition, cross-border restrictions have no impact on event attendance, so it allows you to expand your global reach.
Eases access
With the number of event management software solutions out there, if done right, both running and attending a virtual event is a piece of cake. All you have to do is understand the goal of the event and choose a suitable software tool that helps you achieve it. The complete event experience is only a click away.
Offers real-time data insights
The biggest advantage of running events virtually is that you immediately have access to huge actionable insights such as attendee behavior, likes, dislikes, demographics, and more. You get to assess them in real-time as well as make informed decisions to improve the performance of your next event.
In addition to the above, virtual events open up the possibility of running events using various new formats as well as promote inclusiveness. You can use a variety of tools available to host your event based on the event type. Virtual events can be run for one-to-one networking or can be hosted by a single speaker with a huge audience without having to worry about the space, which is why they're highly scalable in terms of the number of attendees and format variations.
---
Pivoting to virtual events
According to a survey conducted by EventMB, as of March 18, 2020, 90% of event professionals saw some or most of their businesses disrupted by the pandemic. Event planners were left with only two options—postpone events or convert them into virtual events.
Many event planners fear the idea of running a virtual event because of the new challenges that come along with them. But the reality is even when things get better, health and safety-wise, virtual events will continue to happen alongside in-person events or even independently. To stay relevant in this industry, planners must adapt and learn to host virtual events. Below is a list of common barriers planners face and how to overcome them.
Getting comfortable with event management software
The downside of running virtual events—and the biggest fear most event organizers have—is losing attendees because of technical glitches. This is a fair thing to be worried about—after all, like in-person events, virtual events are susceptible to failure. That's why it's important to test your event management software before you choose to run your event on it.
We understand that the idea of using an online tool might scare some traditional organizers who still rely on spreadsheets to follow up with attendees and run their events, however, with all events happening virtually, it's necessary that organizers learn how to use these platforms and get comfortable managing attendees online.
Getting a complete demonstration of the product before buying it can help ease you past any technological hesitations you might have. Most of the products come with training videos and help guides to get you started. Make use of them. If the system looks too complex for you to get your hands dirty, hire someone with the technical expertise to assist you during the event. Just make sure to load test the product enough times before the event to avoid any potential failure.
Shifting focus to virtual event production
Creating memorable event experiences is what really sets an event apart, be it in-person or virtual. That's why it's essential that event producers discover new ways to build atmosphere, influence the mood and emotion of the attendees, introduce a sense of connection, and add some oomph to the experience for all who attend.
The place to start is with an event website, the venue for your online event. Customizing it can help you welcome attendees and create excitement. Adding video and sound elements can improve the mood. Using chatbots or help desk support can assist you in catering to your attendees' questions.
Another thing to keep in mind is that with so many things on the internet, it's easy for attendees to get distracted during a virtual event. You'll need to guide them throughout the sessions to keep them engaged. One way to improve the quality of the experience is by producing some of your videos in advance.
Tip: Too many on-demand sessions make the event look like an extended webinar. To improve the experience of the attendees and not leave them fatigued, include the right mix of live and pre-recorded sessions.
Event production also involves making sure that the speakers are visible, presentable, and audible during the session. Ensure that the lighting doesn't create silhouettes in the background and that the speaker always faces the light so they are clearly visible. Speakers can also use the visible area on the screen to express themselves better and add some visual interest and drama to their presentation.
Pricing a virtual event
Can you run a profitable virtual event? The answer is yes. Can you price them the way you price live events? Preferably not. However, that doesn't mean all virtual events have to be priced low—it's all about striking the right balance.
The good news for both planners and attendees is that virtual events have less overhead costs when compared to in-person events. Planners will save money on the venue, hotels, catering, transport, and more. Similarly, attendees also save big with a virtual event. All they need is a stable internet connection, which can be used to attend an event anywhere across the globe. This means zero expense on traveling to the event destination, food, accommodation, and more.
With all these savings, chances are that you'd price your tickets in such a way that they'd now be a lot more affordable for your attendees. However, even with the reduced costs, your attendees may not be ready to pay much at all without getting the experience of an in-person event. You'll have to sell them on the fact that you can provide a completely immersive experience that's just as good as an in-person event but even better since it's from the comfort of their home. Again, this is where the right virtual event management platform comes in as it can help you control every facet of your virtual event.
Each event is unique in its own way. In order to plan your event pricing, the first thing you should do is analyze all your event expenses while keeping in mind your event goal. Deciding on the event goal will help you cut down expenses that don't provide value. Here are a few tips for you to arrive at the right price for your virtual event:
Calculating your budget
The first step to pricing your event is to know your numbers. Even if you only plan to break even, since it's your first virtual event, you'll have to analyze all the potential expenses you might incur in order to know the minimum amount you'll have to get in return. List the major expenses, some of which could be:
Cost of the virtual event software

Audio/visual equipment for quality communication

Digital marketing spend to reach out to your target audience

Charges for speakers or influencers to host sessions at your event

Cost of getting swag bags for attendees and special guests

Expenses for hiring a team to support during the event

Stable internet connection
This list will give a good picture of how much money you'll need to host the event. Make a list of all the sponsors you've approached and the amount of funds they're ready to give for your event. This will be the major source of your income.
So by subtracting your costs from your total sponsor income, you'll see how much money you'll need to make to break even. This will allow you to start playing with ticket costs. You can see that if you price the tickets at a certain rate, you'll need to sell a certain number to meet your goal.
In short,
Total income from sponsors — total expenses = total amount needed to break even

Total amount needed to break even/total number of expected attendees = average ticket price per attendee
At this point, if you raise the ticket price, even more, you'll start generating profit. Obviously, the variable here you can't ensure is that the total number of expected attendees actually show up, so it might be smart to raise the ticket price anyway just to make sure you break even in a worst-case situation, attendance-wise.
Analyzing your market
One of the major deciding factors when it comes to setting a price is knowing what is both affordable and acceptable for your attendees.
To do that, first, understand how your event is perceived in the market. A virtual event's perceived value is the value that is derived by attending the event. It can be learning something new, contributing to a community, enjoying entertainment, or being a part of a community.
The next thing you should take a look at is your competitors. Find events similar to yours that have happened recently. Check how your competitors priced the event and how well it was received by their attendees.
Events are all about engagement, so your attendees will expect that aspect. What are the engagement opportunities you're going to provide? Will your attendees feel connected with these features? Are your competitors doing anything different?
By answering the above points, you'll know if the ticket prices for your event are justified or not.
Considering tiered ticket classes
The biggest advantage of creating ticket classes is that it gives your prospects a wide range of options to choose from. It also helps you distribute the cost of your tickets across various attendee segments based on their buying power.
Make a list of things your attendees might find appealing in your event. Segregate them based on which segment will need what features and group them into a ticket class. Who doesn't like to feel special? Create a VIP or Premium ticket class with access to everything in your event, such as networking, one-on-one conversations, switching to different sessions, saving sessions, and more.
Set up special prices for attendees who would like to reserve their seats in advance. To promote ticket sales, you can also have early-bird and last-minute discounts. Offering group discounts can also help you gain more registrations in one go.
Following the above tips can help you find the right price for your event. However, expect a bit of trial and error while fixing up the prices. As long as you break even and also meet attendees' expectations, you can be sure to make a profit.
New roles and responsibilities
If you're transitioning to virtual events, some of the things that will have to adjust to this new way of running events are the roles and responsibilities of the team. We're all aware that event management isn't a one-person job. To run successful virtual events, you have to delegate responsibilities to people who know what they're doing.
Delegating tasks helps you:
Focus on what's most important, like engaging attendees

Give your employees purpose and make them feel included

Assign tasks to specialists for maximum output
One major change is that there are more things that need to be coordinated online and almost none to do onsite. Whether it's getting the event website ready, promoting the event, receiving registrations, managing attendees, or analyzing post-event insights, everything has to be done online.
New roles have emerged to attend to the new responsibilities of virtual events. Let's take a look at a few of them.
Social media manager
Since all your event prospects will now be looking for your event online, you'll need to appoint a dedicated social media manager to properly take care of the queries and feedback. They'll also be responsible for promoting the event, maintaining its branding, and engaging your social media followers.
Production manager
Just like in-person events, virtual events also have to be lively. A production manager helps create that energy by managing your set up, lighting, videography, audio, and the overall presentation of the session and speakers.
Creative director
Even in the online event format, there need to be things that set your event apart from the others. A creative director is responsible for generating new ideas to help with attendee interaction and creating memorable experiences.
Digital analyst
A digital analyst tracks where most of your leads came from and how they interacted in the event, as well as finding new markets and new ways to engage with attendees. They're also responsible for analyzing the event's performance and potential to offer new insights to the event organizer.
Online session host
A host is supposed to introduce the event and speakers, as well as addressing the audience. They ensure that the speakers are prepared before starting the session and even train them if necessary.
Online session moderator
Managing attendees in a virtual session is a tedious task unless you have the right software and people to deal with it. In addition, you'll also have to focus on other things like transitioning from one speaker to another, answering attendee questions, and managing chat. This is the role of a session moderator.
With the emergence of more and more innovative ways of making virtual sessions as engaging as in-person events, more roles and responsibilities to delegate will continue to spring up. It's important to pay attention to the latest trends to make sure you are properly staffed to deliver the best experience for your attendees.
Tip:Questions to ask yourself before pivoting to virtual events

Can your event goal be implemented through a virtual event?
What will your event's budget be?
Do you have the right technology stack to run the event virtually?
Can your employees be trained to suit the new format?
Can you educate your audience to move to virtual events?
Can you expand the scope to bring in new attendees?
What are the USPs of your virtual event?
How do you plan to pitch your event to the sponsors?
What methods are you going to employ to engage your audience?
If your virtual event has a clear goal, a detailed event plan, and the right tools to onboard and engage attendees, transitioning it from onsite to online shouldn't be much of a hassle.
---
Planning your virtual event
After you decide to run your event virtually, you'll have to spend time planning it. This process includes things like deciding the event name, promoting it, choosing the right software, and more.
Understand your event's goal
The first step to planning an event is to decide its goal. Common goals include spreading awareness, building your brand, engaging the community, or generating leads for your business.
To determine your goal, start by answering these questions:
What will the event be about?

Who will attend the event?

How will you measure event success?
Answering these questions will give you a big picture of your event's purpose, which will then guide all your event's decisions. For example, your event's purpose might be to promote a cause, bring more business opportunities to a particular industry, or simply to gather and advocate for a particular group of people.
Choose the event format
Based on the above goal, decide which format to employ for your event. Will it be a webinar, a fishbowl session, or a conference? Decide if you want to livestream or pre-record it. The good thing about using a pre-recorded session is that you'll be in control of the content delivery and overall production of the session. It will give you the chance to present a more polished product. However you might miss out on engaging the attendees in real-time. Which of these is more important to you is a question you'll need to answer.
Calculate your event budget
Figure out your budget based on how you want your virtual event to be. As we explained in the previous chapter, your event costs will include the price of the event technology, speakers, employees, production team, working internet connection with appropriate bandwidth, audio/visuals, lighting, and more. Consider your sources of income as well—the majority will come from sponsors and event tickets. Look out for sponsors who resonate with your event's objective/image, and set up sponsorship packages based on what kind of visibility you can provide the brands at your event. Set your ticket prices at par with events like yours, but try to keep them affordable.
Select event dates
Selecting an event date for a virtual event is as important as choosing the venue. After establishing your event goals, you'll have a clear idea of the audience you want to attend the event. Make sure your event dates are in line with their availability. You'll also have to keep in mind any public holidays that might fall close to your event. While choosing the best days to host the event, consider the historic data of when attendees are most likely to engage. Wednesdays are said to work well for webinars, so it might also be the right day to host your virtual event.
Tip: Check your website traffic data to see which day of the week your attendees are engaging the most. If you see a spike in the beginning of the week, you can try setting up your event then. If not, mid-week is usually preferred.
Recruit a team to run your virtual event
Earlier we elaborated on some new roles virtual events have created. In general, it's important to remember that virtual events work a lot differently from in-person events. This means that the kinds of skills you should expect from your team are also going to be a lot different from the traditional in-person events. However, some traits such as being proactive, punctual, and strong-willed continue to be necessary for an online event as well. Ensure that your team is technically strong and can work well under pressure. While you're at it, choose an emcee who understands your event's objectives, can work seamlessly with online tools, can introduce attendees and speakers to the show with enthusiasm, and can keep the session lively by finding new ways to engage your audience.
Plan event activities
What are your attendees going to expect from your event? Which sessions are you planning to include and who'll be speaking at those sessions? These are some of the questions you'll have to answer in order to design the event workflow. Include the right mix of education and fun in order to keep sessions engaging. Include sufficient breaks so that your attendees aren't fatigued by sitting continuously in front of a screen. Gamify your event so your attendees maintain focus and aren't distracted by other things on the internet. You can also do this by planning engaging elements between sessions like breakout sessions, private chat rooms, games, and more.
Spread the word about your event
According to a study, the number of social media users has increased by 87% in India during the lockdown and are seen actively spending time on Facebook, Twitter, and WhatsApp. This exponential growth in online use means spreading the word about the virtual event just got easier. With a good budget, you should be able to reach your target audience with great accuracy.
Emails are another cost-effective method of reaching your audience. With the right mailing list and great content, email marketing can work wonders in promoting your event.
You can also reach out to social media influencers specific to your industry to share details about your event. A few years back, influencer marketing was only limited to celebrities and a few famous bloggers. However, with social media becoming easily accessible, the number of people with a great social following has also been increasing. Remember to vet your influencers carefully before choosing them. Do the research to find out if they're actually relevant to your event and audience. You'll have to decide if you want to go for influencers with a massive following or micro-influencers who have about 2000-5000 followers. Much of this will be based on the budget you've allocated.
Train your team
Having a team that's well-prepared can be the key to your event being memorable for the right reasons. Dry run your event with the entire team to give them a glimpse of how things will go so they aren't surprised on the day of the event. Establish attainable KPIs for each member's role and communicate these clearly to them. Set up a process so you don't miss out on anything during the event.
Remember to train your speakers before their session. Work with them to build the session to suit the audience and to include elements to make it interesting. Train your emcees as well to see if they're able to engage effectively and keep the session lively. Test it all with a dummy audience to see it in action.
Lastly, draft your event plan in terms of the various formats and the respective online tools that will be used. Give your speakers and team a complete demo of your chosen tools and make sure they know how to use them on their own.
Decide your event giveaways
Swag bags can truly be a way to start a conversation, even in a virtual setup. Well-thought-out giveaways are a great way to fight the isolation attendees might face during the event. These bags can make a good first impression, drive conversations, and set a stage for future communications. You can include promo codes to your next event, subscriptions to products or services, or coupons. Swag bags can also be physical items that you can mail to your attendees after the event is over. Whatever you decide to include, it's important to plan these well in advance.
---
Driving registrations to your event
Once you've planned how your event is going to run, the next immediate step will be getting people to sign up for it. In fact, maximizing the conversion of prospects to attendees is one of the biggest KPIs to measure the success of an event.
Event registration isn't as simple as it sounds. It involves trying out various combinations of event marketing approaches and setting up the right interface to make the process easier for your participants. That's why we've made a list of things for you to keep in mind while working on promoting your event and getting more participation.
Set up your event website
First things first, start by creating a virtual home for your event — the event website. This should essentially have all the details about the event, such as who the event is for, when it's expected to happen and at what time, who the speakers are, what the format of the event is, if there are any prerequisites to attend the event, registration forms, and more. Your website is the first point of interaction for your attendees. Make it as intriguing and engaging as you can.
Create a mailing list
Build a shortlist of your target audience and create a mailing list from it for you to get in touch with. You can start by using attendee details from previous years. Segregate them based on their industry, country, and type of ticket purchased, and send personalized emails about your event and how it will solve their problems. The important aspect here is to assure them that the event will continue to provide value even if it's virtual. Explain the additional benefits and ease of use they'll enjoy by attending your event virtually.
Tip: An email list is one of the sharpest marketing tools for an event organizer. Here's how you can generate leads to build one:

Set up signup forms on your website in a visible location
Create a subscription form for news and updates about the event in your website footer
Build engaging content such as blogs, articles, or infographics. Display a popup banner to join the mailing list for users who've spent more than 10 seconds on your page
Get in touch with people who left your website without purchasing a ticket
Use Facebook and Twitter Ads to build interest and get contact information
Keep your registration simple
Long forms are never attractive to anyone. To onboard more people at your event, make the process easy. For example, limit the information you require to what's most important for people to register. And keep the registration buttons visible on the website by choosing contrasting colors. The key is to reduce the number of barriers to signing up to the event. You don't want your website visitors to spend too much time thinking about it once they've decided to sign up. Remember, every additional action is a chance for them to back out.
Offer discounts/promo codes
If you want to impact a buyer's decision, you can't go wrong with offers and discounts. Like everything else, your discount strategy will depend on your event goal. As we discussed earlier, if you're worried about getting more initial registrations, an early bird offer will work wonders. However, if getting quality leads is the goal, you can set up exclusive promo codes and discounts on an invite-only basis. Group discounts are a great way to promote buying in bulk. Flash sales and late bird offers are other types of offers you can use. If used correctly, discounts can be a big part of a successful event marketing strategy. If used incorrectly, you risk losing revenue or even brand value.
Leverage social media platforms
The popularity of social media platforms makes them great places to remind your audience about your event and encourage them to buy tickets. Each social media platform has its own personality, so you should take advantage of each one's unique offerings.
For example, use Facebook's event page to increase visibility and easily increase online word-of-mouth. Twitter will help you gain more traction if you use the right hashtags and retweet-able content. LinkedIn, on the other hand, will help you get in touch with a targeted audience of professionally minded people.
On each, be consistent in your communications and keep the conversation going. Your social media channels will be the places people get event updates, share their event stories, ask for help, leave feedback, and more. Maintaining a cheerful outlook on your social media accounts will itself be a big point in attracting an audience.
Tip: Creating anticipation is one of the best ways to drive registration. Attendees like to talk about the event they're planning to attend days or weeks before it.

Here are some tricks you can use to build buzz around your event:
Reveal speaker line-ups or give your audience hints to guess them
Promote things people will be missing out on by not attending your event
Announce last-minute discounts to get more registrations
Share pictures of your team preparing for the event day
Come out strong with influencer marketing
In the midst of all the clutter on social media, getting visibility from the right people is a difficult challenge. Give your marketing efforts a human touch by using influencers to convert your passive community into actively engaged advocates. The important aspect of finding an influencer is selecting the right one for your target audience in order to drive real conversations. When influencers attend your event, whether in-person or virtual, they give it a completely different boost. Inviting influencers doesn't just add more value—it also puts your event in the spotlight of the right community who follow the influencer. Since people already trust the influencer's view, their opinion will impact how people look at your event.
Here's how you can get great brand ambassadors to talk about your event:
Choose the right influencer
Choosing influencers to promote your event can be quite tricky unless you know the right people in your industry. An influencer in one domain may not be relevant for another domain. For instance, an influencer from the fashion industry may not be the right person to impact the buying decision of a software consumer. However, there's nothing like it if you find the right influencer who has the power to impact your audiences' buying decisions.
Use influencers to create more influencers
Just like your brand, influencers also want to stay relevant. This means if your event is providing value that's phenomenal to your industry and is endorsed by one influencer, others will want to stay at par as well. This will help you organically reach larger communities.
Find your community leaders
Have you noticed how some audiences are more powerful than others? They drive the event atmosphere, create dialogues, engage more meaningfully, and provide insights that other audiences seek. These audiences are influencers in disguise too. Make sure you identify them and bring them to add life to your virtual event.
Get your speakers to promote your event
Most speakers themselves have a huge fan base and are influential. While promoting your event, promote your speakers too. Mention their areas of specialization and what audiences can expect from them at your gathering. Ask your speakers to post about your event on their social media pages or repost mentions about them from your page.
Create a fan group discussion channel
If you've been running your event for quite some time, you already have a fan base. Use it. Create discussion channels and engage with your attendees who'll now also be your event evangelists. Get the group warmed up and have the conversations going.
Get in touch with past attendees
Every event generates some number of loyal customers who share their contact details and request to be reminded of future events. Contact them and explain how your upcoming event is going to run virtually and what they can expect from it. Use a CRM system to keep track of all the communications so you don't end up reaching out to the same person numerous times and so you know the context while connecting the next time. Obviously, keep in mind GDPR compliance and your audience's privacy. Violating these can cost you loads, especially if you're from the EU region.
Remember, the key to getting quality registrations is to showcase the value your customers will get by signing up for your event. Your event's value proposition can be in the kind of people your attendee will get to interact with, the engagement features, or the quality of learning and experience you promise.
---
Engaging virtual attendees
Now that you've worked on bringing registrations to your event, how do you plan to engage them? Keeping attendees engaged is going to take a lot of effort, given the vastness of the internet and our short attention span. However, with the right models to engage the audience, you won't just be drawing people's attention, but also promoting learning and networking.
That's why we've made a list of engagement models. You can use one or many of these combinations while planning engagement activities for your event.
Keynote presentations
Every event opens with a keynote speech. This sets the stage for the rest of the event by exhibiting the overall theme. Your keynote speaker's enthusiasm will decide how exciting your event sounds and can drive your attendees to be more engaged during it. Be sure to choose the right speaker—one who is a subject matter expert, can own the stage, and is influential in the industry.
Town halls
These sessions are run by one or more speakers in your leadership who can clarify questions from the audience. Town halls help get a dialogue started. A town hall format in a virtual event will help attendees ask any questions they have about how the event will happen as well as letting you address specific issues or make any announcements related to the event. However, they're best when used in internal sales meetings, company discussions, or educational training programs.
Fishbowl sessions
Avoiding clutter and yet running meaningful discussions is what we expect out of most events. A fishbowl session helps us achieve this in a slightly more organized way. This format will sort those present into two circles—an inner circle and an outer circle. The inner circle consists of a few experts who discuss a topic in great detail while the outer circle of people listen to them. At any given point, if a participant from the outer circle wishes to participate, they can request access to the inner circle.
Panel discussions
A slight modification of a fishbowl session is a panel discussion. A panel discussion is more controlled and is run by the host and the panelist. The panelists are experts who have in-depth knowledge and expertise in the field of discussion. The host drives the discussion by asking questions or making statements. The panelists respond to them with various viewpoints and offer insights on the subject matter. Choosing the right panelists can really make the session quite interesting. Based on how the conversation proceeds, the host will decide when it is right to accept questions from the audience for the panelists.
PeechaKucha sessions
PechaKucha in Japanese means "chit-chat." In this format, the speaker comes with 20 slides on a particular topic and is allowed only 20 seconds of commentary per slide. Every participant is a speaker, and all of them get a chance to present. This format allows all the participants to be engaged and share their knowledge within a very short span of time, cutting out any unnecessary filler. A typical Peecha Kucha session has 8 to 14 presentations. However, you could customize it based on your event and its time constraints.
Breakout sessions
A breakout session is a short session where a group of audience members are drawn out from the larger session based on areas of interest. These topics, however, form a part of the larger discussion. Breakout sessions are a great method to engage attendees. This model encourages attendees to get into conversations actively and network instead of passively listening to a presenter. This model of virtual engagement also helps people with varied learning styles.
Birds of a Feather (BoF) sessions
A Birds of a Feather session helps bring the community together. These sessions are informal gatherings of like-minded people who wish to discuss a particular topic without any pre-planned agenda. They may be formal or informal discussions. As the name suggests, these sessions are formed by gathering a group with a specific interest in a certain topic. This helps like-minded attendees get together and discuss their day-to-day problems and solutions, as well as sharing the latest trends and updates with each other.
AMA Sessions
AMA or "Ask me anything" sessions are Q&A style sessions where the audience asks questions to one or more speakers. They're specifically meant for asking important questions of the leadership staff in your organization in order to help bridge the gap between the employees and the management. They promote transparency and encourage candid conversations across the organization.
Flipped classroom sessions
This is a format for engaging attendees where you send them a video or course to study before the event. During the event, you spend time collaborating and discussing specific issues or elaborating on topics of interest. This helps attendees stay alert and prepared for the session. It also brings out various angles to a topic of discussion, making it more engaging. This way, you use the time in your event effectively.
Education and the opportunity to network are the biggest reasons why people attend events. However, back-to-back sessions that run in the same format might cause fatigue in virtual events. Using a mix of the above methods of engagement will promote knowledge sharing and create an opportunity for attendees to interact with fellow participants.
---
Preparing for the event day
The day has finally come. You've set everything, have your registrations coming in, your team is working as per their instructions, and you've hired a speaker and special guests. Now what? It's time to see all your hard work pay off. However, this wouldn't be complete without another checklist just to gear you up for the day of the event. (Remember, it's happening virtually!)
Send out last-day reminders
With online meetings and video conferences keeping customers busy all day, it's possible that they might forget your event, even after purchasing a ticket. That's why it's important to politely remind them to show up for the event. A reminder email will not just do that, it will also give you a head start in building a strong relationship with your customer. This email should include all the essential information for the attendee to get started with your event, like the website address, CTA buttons to reserve spots to attend a session, dates, times, and duration of the sessions, speaker details, and Add to Calendar links. Make sure that your email's subject line is direct and convey that it's a reminder.
Fail-proof your equipment
Murphy's Law says, if something can go wrong, it will. However, it also means making sure everything is in its place, as per the plan. To begin with, your event software can make or break the deal in a virtual event. You don't want the system to crash once you have a full house, do you? That's why it's essential to test that it works well in all possible conditions. Hopefully you've already conducted a dry run with your team to test the load the system can take before you go live. Now it's time to check it one more time and make sure it all appears to be working properly. In addition, double check the other technical equipment used in your event, like the speakers, camera, lighting, background wallpaper, and more. If you've booked a recording studio, ensure that your booking is still intact. In case of a failure, ensure that you have an alternate plan B and plan C.
Train the speakers and your team
Ensure everyone knows their sequence during the event. As we discussed earlier, check with your speakers if they need any help logging into the account and using the software. Assign someone to support the speaker so that there are no hurdles because of the software and so the session runs flawlessly. Share software usage help documents and videos with your speakers and the rest of the team well in advance.
Confirm name pronunciations
Nothing is more embarrassing than getting the name of your guests or speakers wrong while introducing them. It's okay to ask before the event and practice until you get them right. Make sure the event host and moderators also know the names of VIP speakers, sponsors, and other important people at the event.
Ensure equipment availability
Check your lights, camera, speakers, or any other hardware you'll be using to shoot and run the event. Have an alternate plan in case of any system failure. Make sure you have a stable and strong internet connection. Set up backup power generators in case of possible power outages.
Get enough sleep
According to research, a poor sleep cycle highly impacts productivity and the state of mind. That's why it's important that you get a good night's sleep before your big event.
Be cheerful and run the show
Smile wide! Pack your event with a lot of energy. That'll reflect in how you talk as well. Make the event cheerful and exciting. Stay calm and be confident about running a great show the next day. Most importantly, remember to enjoy yourself.
---
Evaluating event performance
After the event, it's time to analyze the results. Knowing your event's KPIs will help you measure its performance and show its success to your team, sponsors, future attendees, and other stakeholders. It'll also help you measure your event's return on investment (ROI).
ROI refers to the amount of money invested versus the amount of money expected in return. Of course, to call an event a success, the returns should be higher than the investment made. What is considered as a return for your event will depend upon the goal of the event. That is, what was the purpose of running this event in the first place?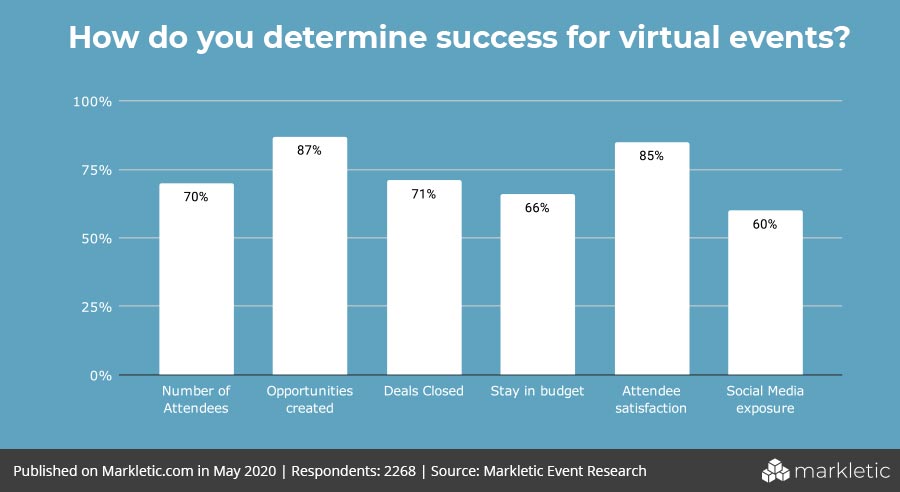 According to Markletic Event Research, some of the most referred KPIs in a virtual event include the following:
Number of attendees
The total number of participants who showed interest in your event also illustrates their interest in your brand and domain. On average, 35% of registrants don't show up to an event. This could be for many reasons, including a lack of hand-holding or reminders to actually join your event. It's important to have the right strategies in place to convert registrants to active participants in your event.
The contacts you made at your event have a higher chance of conversion and hence are of great interest to your sales teams. These leads are called named accounts. Leads generated as named accounts are a main virtual event KPI because they are easy to arrange a one-on-one meeting with.
Opportunities created
The success of a virtual event can be determined by various factors. It could be the number of opportunities you created for your attendees to interact with each other or exhibitors, or it could be the experience or key takeaways from the event. It all depends on what the event's main goal is. If it's lead generation, the quality of leads will determine the event's success. If the goal of the event is to provide value in terms of learning, the quality of speakers and the topics of discussion will determine it.
Deals closed
One of the main ways brands will evaluate your virtual event is based on how conducive it was for closing deals. This will include two main aspects. One is how many touchpoints were created between your attendees and their leads throughout the event. The second is how relevant the leads were. Both these criteria together will determine how many deals could be closed by your attendees. Even if your exhibitors miss the opportunity to convert an attendee into a potential customer at the event, with the right resources, a quality lead can be gotten in touch with at a later point in time and converted if the exhibitor's product fulfills their requirements. Making money is important for any for-profit company, which is why 71% of event organizers rank closing a deal as an important factor in determining an event's success.
Attendee engagement
Engaged attendees will stay in touch longer than distracted ones. If you deliver a good experience, your attendees will turn out to be your event's biggest evangelists. That's why it's important to create activities that will engage them and make your event a memorable experience. But how do you measure this engagement? Metrics like the amount of time spent at the virtual event, the number of highly engaging sessions, questions answered, sessions likes and polls answered will give you a good idea. Using event management software can help you measure these metrics pretty accurately.
Attendee satisfaction
How satisfied were your attendees with your event? Did you fulfill all the requirements they had? What are the top 10 things your attendees liked about your event, and are these the factors that'll drive them to your event again the next time? These are some of the questions you should ask to measure attendee satisfaction. Post-event surveys are the best means to collect these details from your attendees directly.
Quality of sponsorship
Sponsorships are the biggest source of revenue for a virtual event. If you're a big event, chances are you have various sponsorship packages. When you draft your event budget, you know how much funds you'll need from the sponsors to run your event at its full potential. Getting good sponsors for your event will also determine its success. For a sponsor, on the other hand, a successful event will mean getting enough eyes on its brand from its target audience.
Your KPIs will vary for every event based on its goal. These KPIs will help you create reports and analyze the performance. Understanding the event performance is important for you to make major business decisions as well as any necessary changes for your upcoming event.
---
In conclusion
One thing we know for sure about virtual events is that they have opened up the gates for international communication irrespective of border restrictions. This means more perspectives and more knowledge sharing, all from the comfort of your home.
Running a virtual event may appear easier than in-person events. However, the devil lies in the details. Mess one thing up, and it can bring everything crashing. Besides the usual event management skills, organizers now have to train themselves to use virtual event management software and understand the technicalities of it.
To get the best out of a virtual event, organizers should understand what the ultimate goal of the event is. Having clarity in event objective, strategy, and execution will make the event management process seamless. Similarly, understanding your target audience and their needs will help you reach out to them with the right solution.
Will virtual events replace live events? We don't think so. However, virtual events will now have their own market. They can co-exist with live events as hybrid events or even run on their own. With the right strategy and the right software, you won't just reach a larger audience—you'll also engage them more effectively and build long-term relationships.
---
If, like us, you're more of a social person, let's connect on Twitter (@ZohoBackstage) and we'll keep you up-to-date with all the latest event news.
Veena

I stalk event trends. A marketer for Zoho Backstage. Love music from the '60s and '80s.
Leave a Reply
Your email address will not be published. Required fields are marked