Getting started with ZeptoMail
ZeptoMail is a transactional email sending service. We ensure timely delivery of your important emails like password reset, OTPs, welcome emails and so on. This is a step by step guide on how to create your ZeptoMail account.
The steps involved in creating your account are :
Signing up and TFA setup :
Navigate to the ZeptoMail homepage to create your account. Enter the relevant credentials and click sign up.
If you are a Zoho user, you can use your email id to sign up for ZeptoMail. Since ZeptoMail is a separate email service altogether, you are required to create an account even if you use other Zoho products. 
Once you sign up, you will receive a verification email to validate your email address. You will be able to access your account only after you verify your email address.
Once you verify your account, you will be taken to enable Two Factor Authentication for your account. You can choose from the list of TFA options to enable it. 
Domain addition and bounce address creation:
Once you sign up and verify your email address, you should add your domain details and create your bounce address. 
​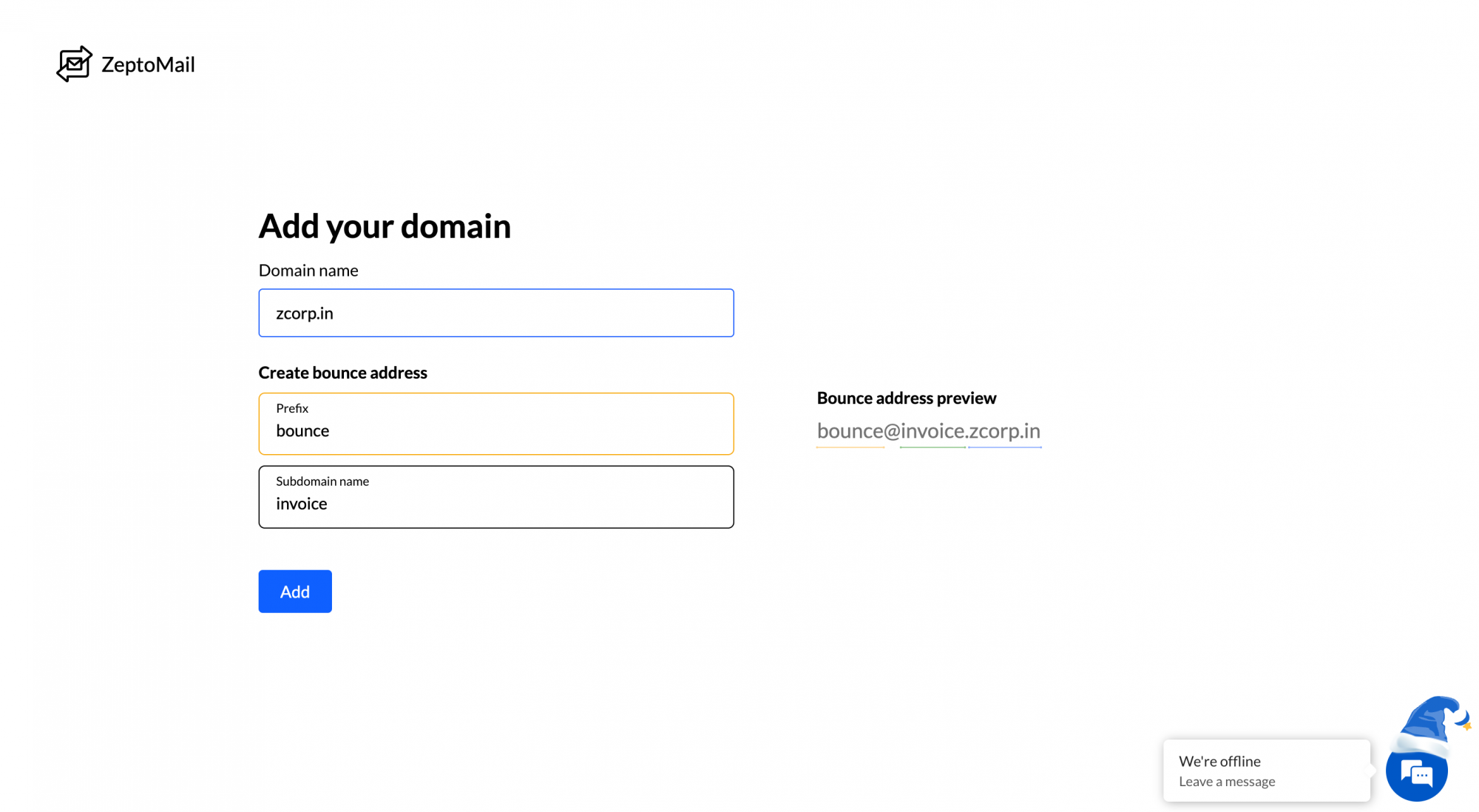 ​
Bounce address :
Bounce address or return-path address is created to receive all your bounce emails. Since CNAME record is used to configure bounce address, it will always have a sub-domain value.
Domain verification :
ZeptoMail allows only authenticated domains to send emails. Authentication is done by adding SPF, DKIM, and CNAME records to your DNS. After your account is created, you will be taken to the domains section of your ZeptoMail account.
Here, you will find SPF, DKIM and CNAME records. 
SPF & DKIM records - to validate that you are the owner of your domain and encrypt your email content in transit.
CNAME record - to create your domain bounce address.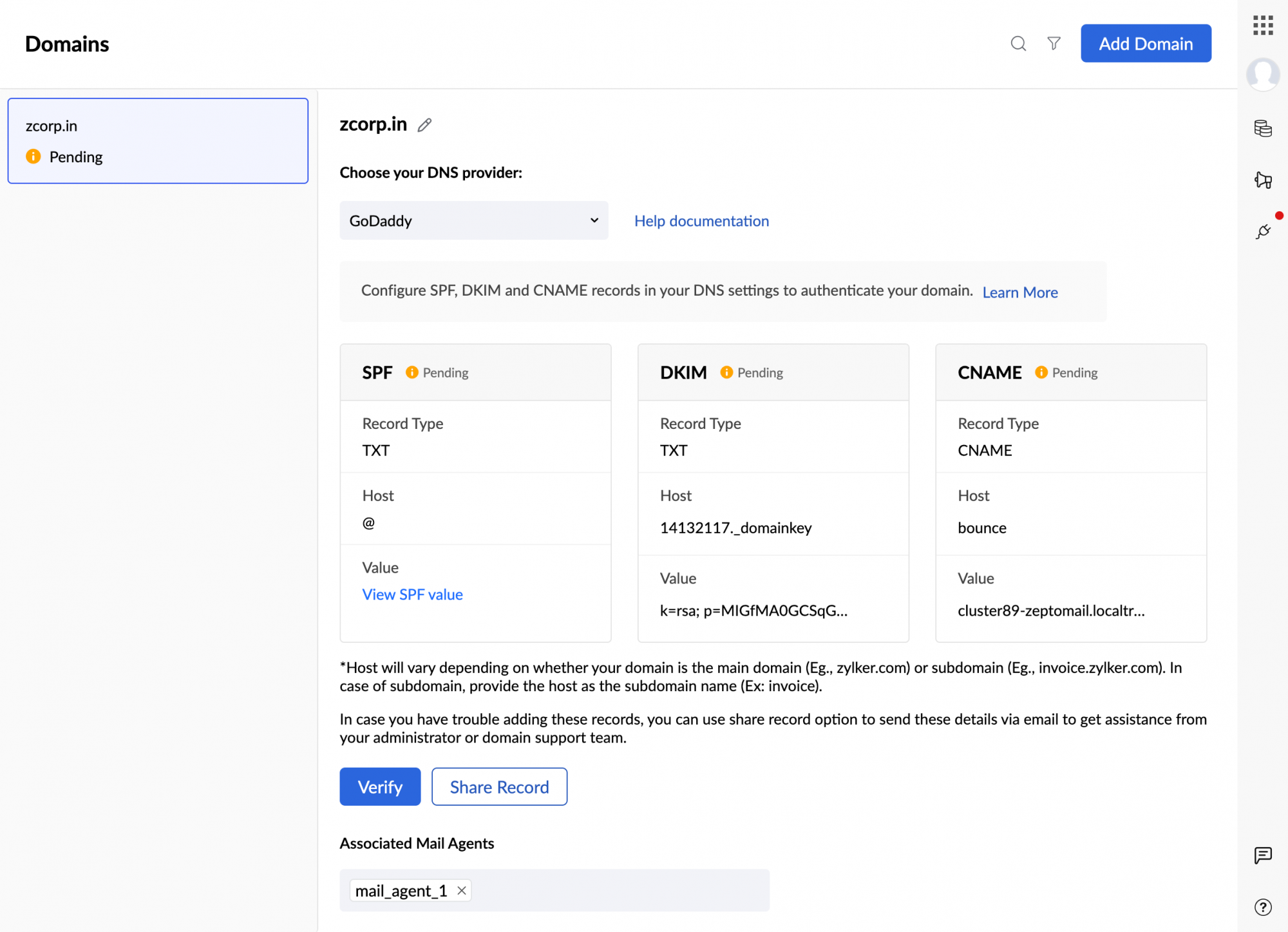 ​
To verify your domain:
In the domain verification page, you will need to configure SPF, DKIM and CNAME records. Click on Select your DNS provider and choose your provider from the drop-down list to view DNS specific values. In-case your DNS provider is not listed, select Other from the drop-down.
Refer here for instructions specific to popular DNS providers like GoDaddy, 1&1, ENOM etc., 
Add these DNS records to your DNS Manager. If you do not have access to the DNS Manager, click on Share Record to email these records to your IT admin.
Wait for 3-5 minutes for your values to get propagated and then click on Verify to complete the domain verification.
Note:
DNS record updates can sometimes take upto 48 hours based on your DNS provider.​
CNAME- Your domain bounce address will be based on CNAME Host value. You will be adding the CNAME Host value as a part of your account creation process. You will be able to edit the Host value for unverified domains. 
In cases when your DNS takes longer to be propagated, we will automatically check your DNS periodically and let you know when it is ready.
Mail Agent :
A Mail Agent in ZeptoMail is used to group your transactional emails. This is done to categorize them according to your purpose. The Mail agent has all the information including the domains associated with it, the emails sent and so on. You can refer our help guide for more information about the Mail agent and it's sections here. 
By default, when you sign up for  ZeptoMail, a Mail agent will be created for you. You can view this in the Mail Agents section in the left pane. Navigate to the Mail Agent to change the name and to view other information related to it. 
Send test email :
Once you setup your account, you can send a test email once you configure your SMTP or API parameters. You can send the test emails from the verified domains within your Mail Agent.
To send test email:
Go to the Setup Info section to configure your SMTP or API parameters. The configuration guides below will help you setup your preferred method.
 
Click Finish after configuring your application.
Click Send test email to compose and send email.

Customer Validation form :
You have successfully completed your on-boarding process. Every new account in ZeptoMail is reviewed by our team to ensure its authenticity. To get your account reviewed, fill your details in the Customer validation form. You will encounter this form after you land on the dashboard. After you submit the form, it will take 2 business days for our executives to review your details. 
​Till your account is reviewed, you will be able to send a total of 1000 emails, with a daily cap of 100 emails until your account is reviewed. Reviewed accounts will be able to use the 10,000 free emails that will be valid for 6 months from your account sign-up date. 
Purchase Credits: 
To send emails you need to purchase ZeptoMail credits. Each ZeptoMail credit allows you to send 10,000 emails that will be valid for a period of 6 months. Based on your email sending needs you can purchase the required number of credits. Learn more about credit subscriptions here.
Note:
We are rolling out the ZeptoMail UI changes in a phased manner. Currently the changes are available for the US region. It will be available in other regions shortly.
Before you get started it is important to know that ZeptoMail is for sending transactional emails like welcome emailers, password resets emails, OTPs. We do not support sending of bulk emails or promotional emails like newsletters or marketing campaign emails. If you are looking for a bulk email provider, you can visit Zoho Campaigns.