Associating Domains with Mail Agents
In this section you will learn how to associate your domains to a Mail Agent. We have already looked at what a Mail Agent is and how to create one here. So the next step is to group the transactional emails by associating domains to Mail Agents. 
Table of Contents
Associate your Domain to a Mail Agent
You can associate your domains under the Domains tab in your Mail Agent. All the associated domains can be viewed as a list in this section. You can also see the Verification (SPF, and DKIM) status and bounce address details for your associated domains here. 
From the left panel, select a Mail Agent to which a new domain has to be added. Before this step ensure that this domain is already created under the Domains tab.
Click on Associate Domain.

​
In the pop-up box select the domain(s) you want to associate. Add more domains by clicking on the '+' icon.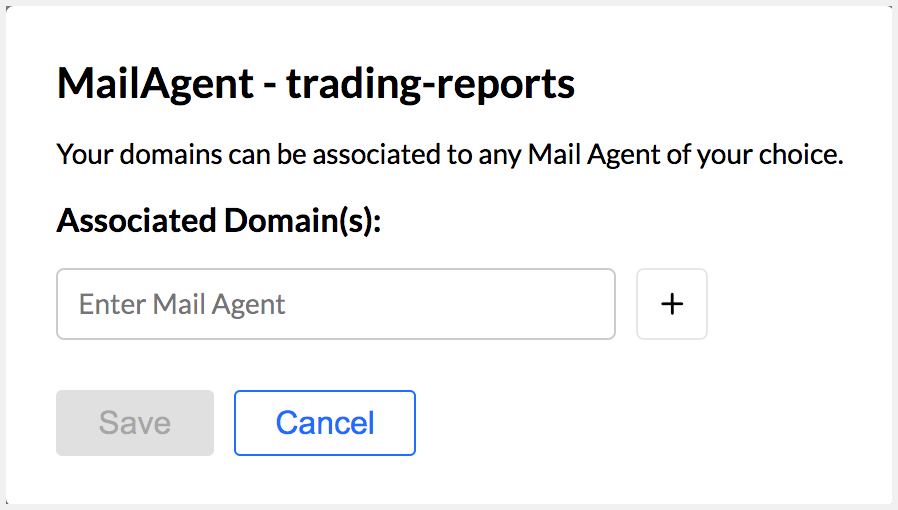 Click on Save.​ The domain will be associated with the Mail Agent. 
The associated domain will be listed under the Mail Agent Domains tab along with its Verification Status. 

Complete the domain verification for the domains that has the Verification Status as Pending. Click on the Pending to see the DNS records for the respective domain. 
Select your DNS provider and complete the domain verification process. Refer here for instruction specific to popular DNS providers like GoDaddy. If your DNS provider is not listed, you can select Other from the drop-down.
Click on Verify after your domain DNS records are added. It may take 24-48 hours for the records to be published in the DNS. So your domain will not be verified until that time and you will not be able to send any emails.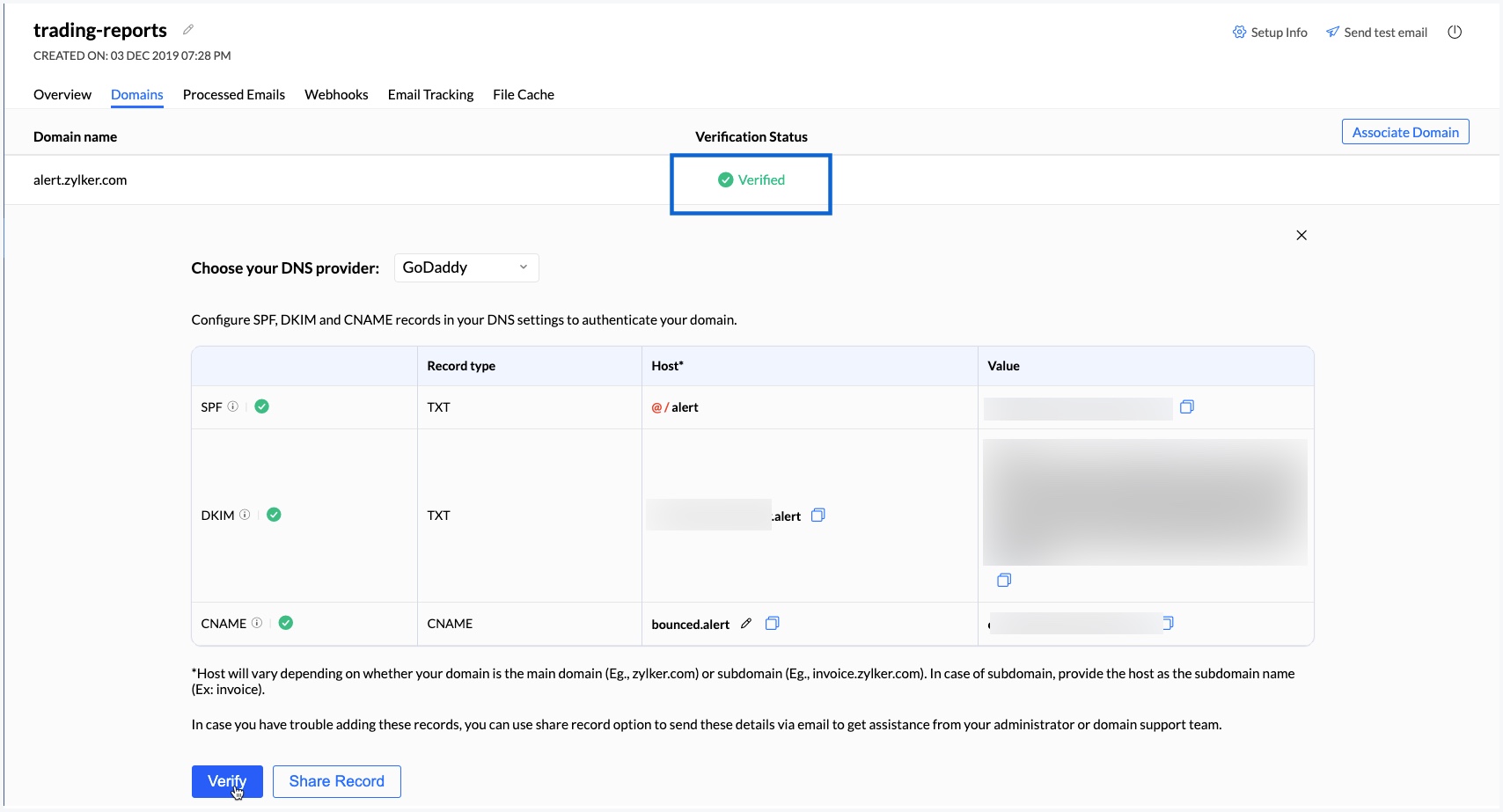 Note:
Mandatory Domain Verifications to be done:
 SPF and DKIM validation are configured for domain verification.
CNAME record is configured for bounce address setup. Once the bounce address is created, use this bounce address in your SMTP/ API. 
Remove Domain from a Mail Agent
From the left panel, select the Mail Agent.
Hover on the domain in the listing you want to remove. Click on 'x' icon on the right.

​
Click on OK to confirm the Domain de-association.

After the domain is removed all the emails sent using this domain will not be processed. 
Note:
Before you get started it is important to know that ZeptoMail is for sending transactional emails like welcome emailers, password resets emails, OTPs. We do not support sending of bulk emails or promotional emails like newsletters or marketing campaign emails. If you are looking for a bulk email provider, you can visit Zoho Campaigns.