Work remotely with Zoho Workplace
All the tools you need for an enhanced work-from-home experience. With communication apps like Meeting, Cliq, Mail, and other real-time collaboration tools in Zoho Workplace, you can stay productive and work efficiently, no matter where you're located.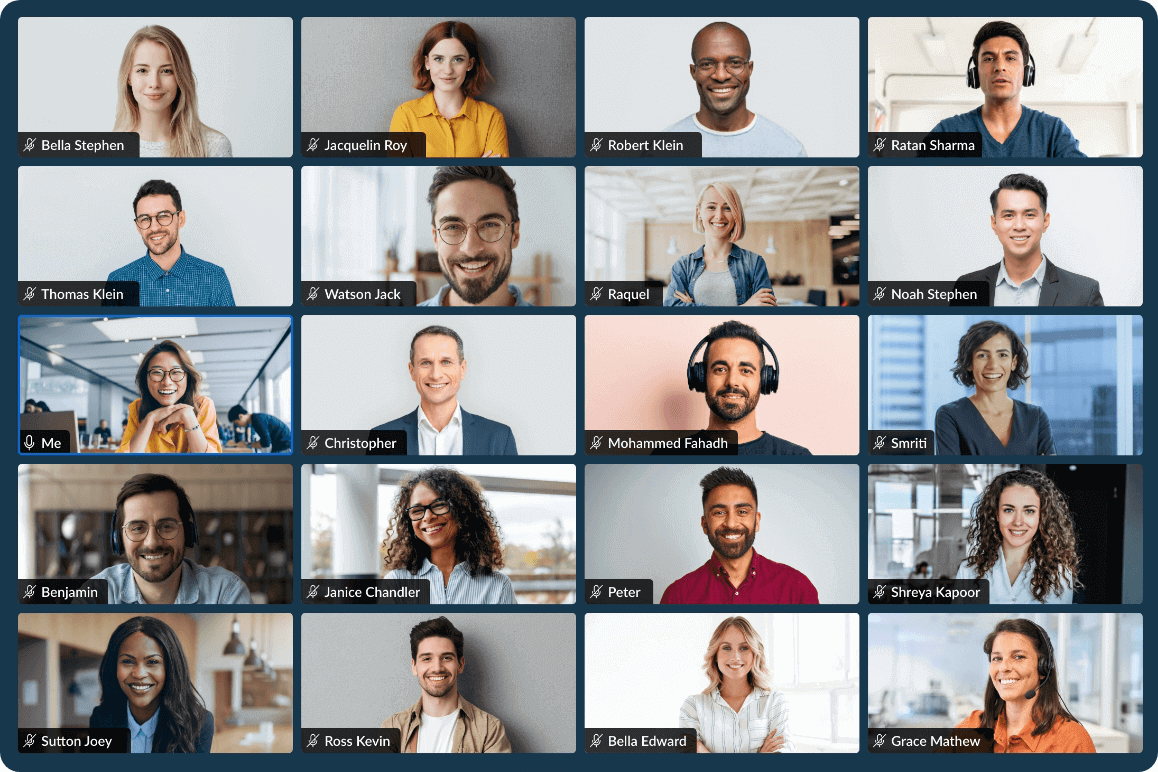 Host online meetings
Web conferencing has become the need of the hour. When most of your work discussions and decision-making happens in online meetings, Zoho Meeting ensures you get the best experience for your virtual conversations.
Secure meetings from intruders with the Lock Meeting feature
Record meetings and share with colleagues who couldn't join
Organize regular live webinars to engage your audience
Instantly communicate with chat
Whether you're working across the room or miles apart, nothing gets the message across faster than an instant chat. While Zoho Cliq is the go-to tool to chat with your colleagues, it offers much more to connect your team than instant messaging.
Communicate in personal chats, groups, and channels
Make audio and video calls directly from your chat window
Check in, let people know your availability, and see who's away and who's at work with the Remote Work tab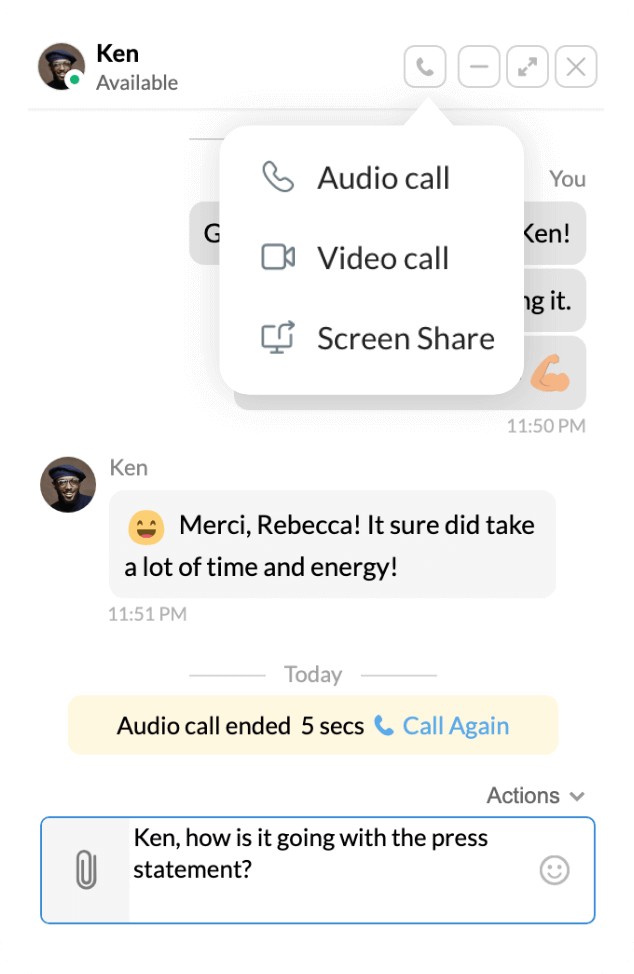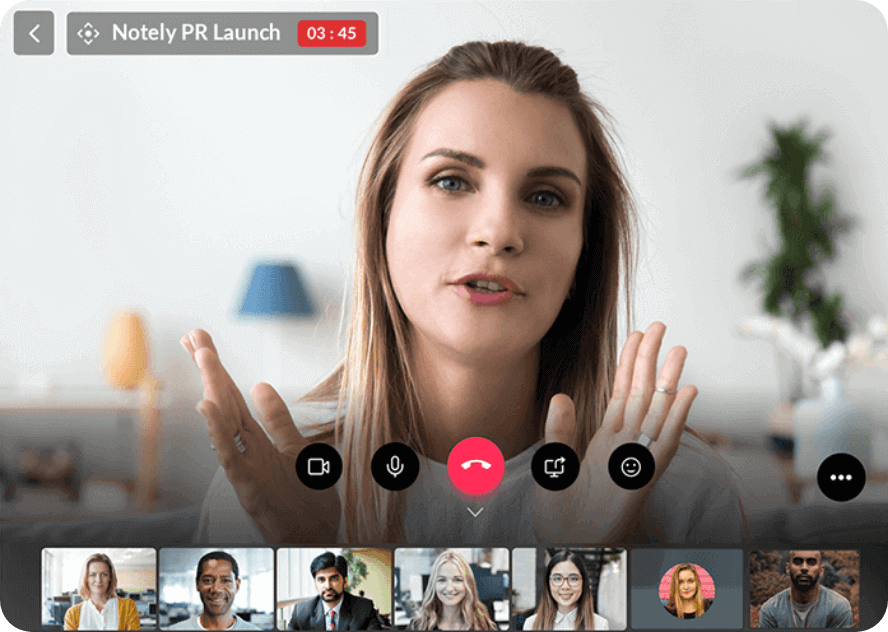 Get work done together from anywhere

How do you work together when you are not together? Real-time collaboration is key for getting effective work done from anywhere. With office apps Writer, Sheet, and Show, you can create content and collaborate with colleagues at the same time. To make files easily accessible to your teammates, you can create Team Folders in WorkDrive and maintain central workspace and shared files for your whole team.

More integrations for less navigation

All your Workplace apps are seamlessly integrated. If you'd like to quickly video call, chat, or set up a meeting with someone while browsing through emails or forums, you can do so directly from Mail or Connect without switching to Cliq or Meeting. Every app in Workplace helps you stay connected and always updated.

Keep an eye on all your Workplace apps

The unified Workplace dashboard view brings all your Workplace apps together with combined notifications and announcements. Avoid notification overload: Workplace helps you stay on top of your tasks, prioritize your schedule, and never miss another meeting.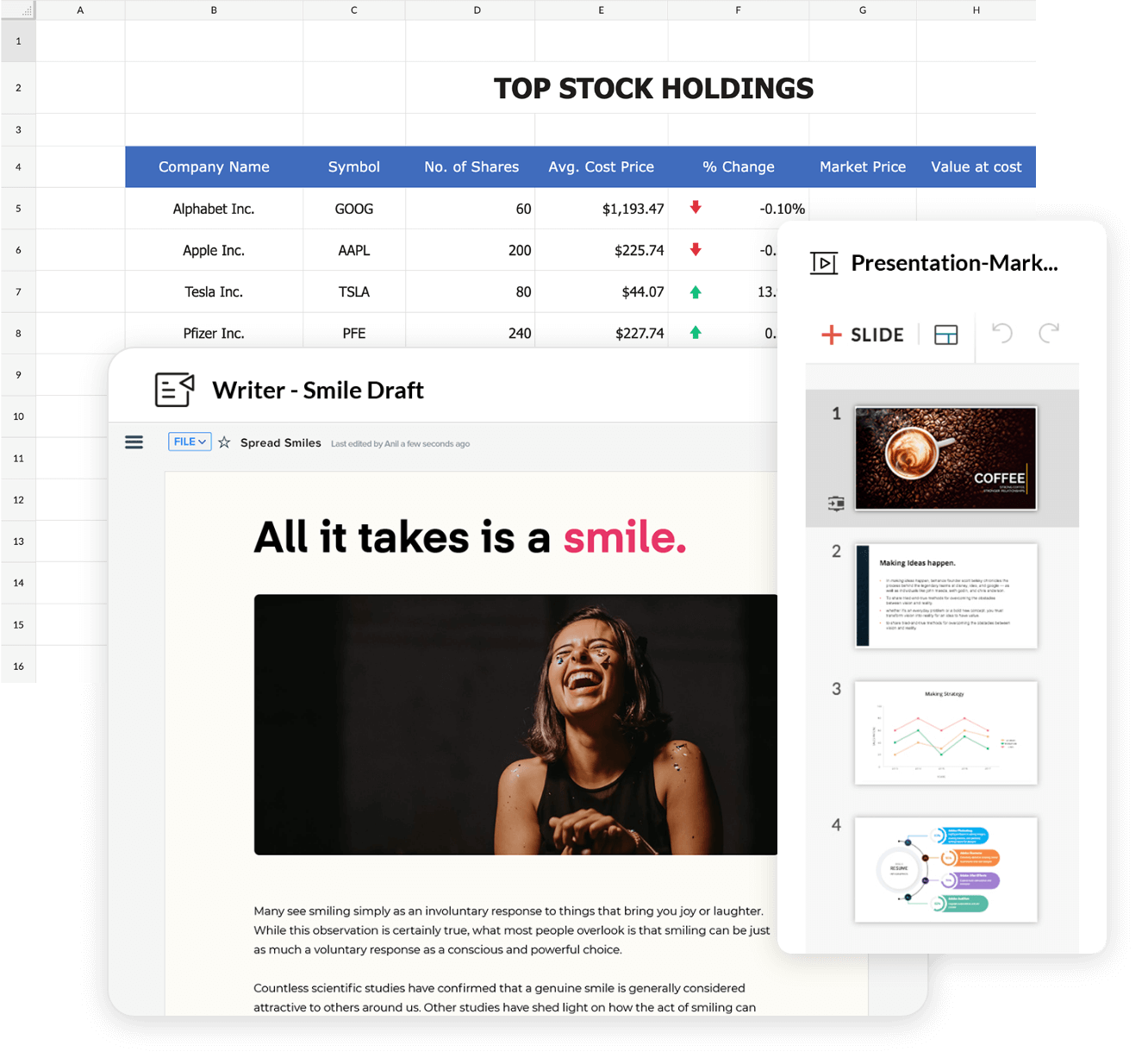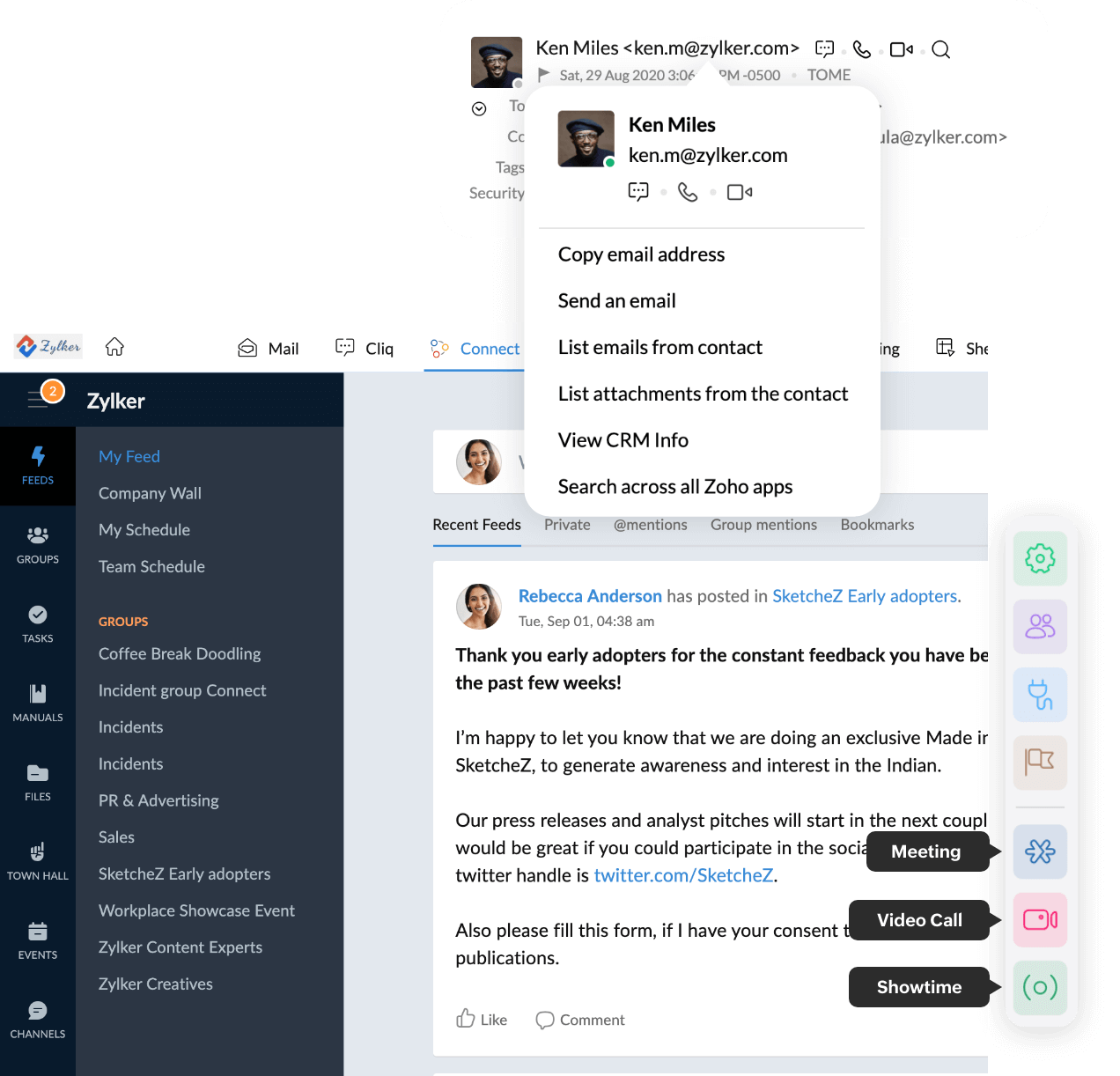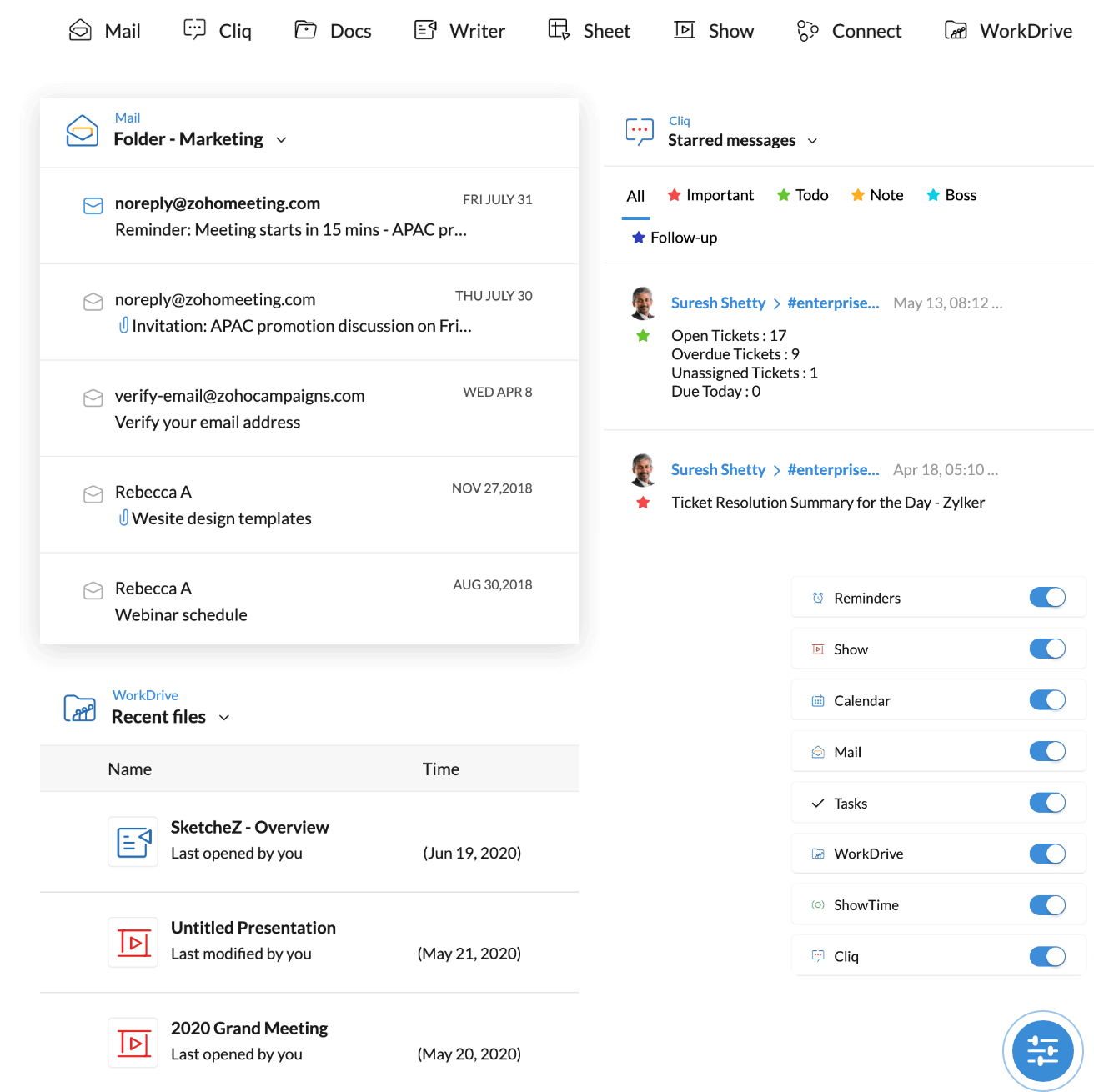 Frequently Asked Questions
How secure is Zoho Meeting for web conferencing?

Zoho Meeting offers multiple security features like the Lock Meetings function, organization-level video settings, and Entry/Exit notifications for a secure remote web conferencing experience. For more details, refer Security and Privacy in Zoho Meeting.

How many recordings can be stored on the cloud in Zoho Meeting?

You can record and store up to ten meetings and webinars on the cloud, regardless of the size of the files. Once you exceed the limit, you can download the recordings to your device and free up space on the cloud for further recordings.

How many participants can I add in a Cliq Channel?

Zoho Cliq allows users to add up to 100 participants in a channel. Learn more about Channels in Zoho Cliq.

How many collaborators can I add to my documents in Office Suite?

Zoho's Office Suite apps (Writer, Sheet, and Show) allow users to add up to 50 collaborators to a document. You can create and store unlimited Writer, Sheet, and Show files.

Can I customize the app widgets in my Workplace Dashboard?

You can customize the layout of your Workplace Dashboard by repositioning, enabling, and disabling the app widgets. You can also create custom widgets from the existing app widgets.
Get your remote office set up with Workplace