True to the saying, "necessity is the mother of invention," the dramatic shift in buyer persona and increased awareness among consumers requires businesses to use smarter tools to personalize their marketing outreach. This is especially true for email newsletters, which is where rasa.io comes in. rasa.io is a smart newsletter software company based in New Orleans, and they take email personalization to a whole new level—going beyond salutations and into customizing all content for each subscriber. They deploy AI to offer content recommendation services for email marketing campaigns, leveraging multiple sources and types of content for each email. The AI then determines which piece of content should go to which subscriber, based on their interests. They also run their own newsletter, 'Pushing send', which offers brilliant insight on email marketing.
After they started offering content recommendation services, rasa.io realized that a subscription-based business model would best suit their operations. Read on to hear more from our interview with Jared Loftus, chief operating officer of rasa.io.
rasa.io was initially used a direct sales approach to onboard new customers. Invoices were created manually and payments were received by check.
In order to take their business to the next level, they realized they needed a self-service model where potential customers could visit their site, sign up, and onboard themselves. So they decided to switch to a subscription-based business model. The benefits are two-fold: the convenience of a self-service subscription model can attract more customers and their team can spend more time crafting their customer experience, rather than focusing on manual onboarding.
rasa.io offers a freemium model, which allows users to sign up for their free plan, offering basic functionality. If the customer wants to upgrade to a paid plan, rasa.io wanted to make sure it would be easy for them to choose a suitable pricing plan and pay online.
Loftus's team uses Salesforce for their customer relationship management (CRM), Zendesk to manage customer support, and Mailchimp for email marketing, and wanted to transfer the contact details of their new subscribers to these apps with minimal manual effort.Thus began the search for a subscription management tool that could facilitate their self-service model and communicate with their other apps.
After thorough research, rasa.io decided to move forward with Zoho Subscriptions because of its flexibility and ease of use. Here's a breakdown of their typical subscription cycle:
Once a person signs up for the free version, that user is added as a customer in Zoho Subscriptions. As Zoho Subscriptions is connected with Salesforce using Zapier, the new signups are pushed from Zoho Subscriptions to Salesforce automatically so their sales team has all their contact information.
When a customer purchases a paid plan, they can choose from rasa.io's different tiers of pricing and pick a suitable plan. The integration between Zoho Subscriptions and Stripe enables them to collect online payments efficiently. Once the payment is successful, their payment details will be recorded in Zoho Subscriptions.
The ability for our customers to choose a plan, complete the payment online, and start using our product with zero manual intervention is absolutely brilliant!
- Jared Loftus,
Chief Operating Officer, rasa.io
In addition, they've connected Zoho Subscriptions with Zendesk as well as Mailchimp using Zapier. Once a customer upgrades to a paid plan, the customers' contact details are pushed to these apps automatically.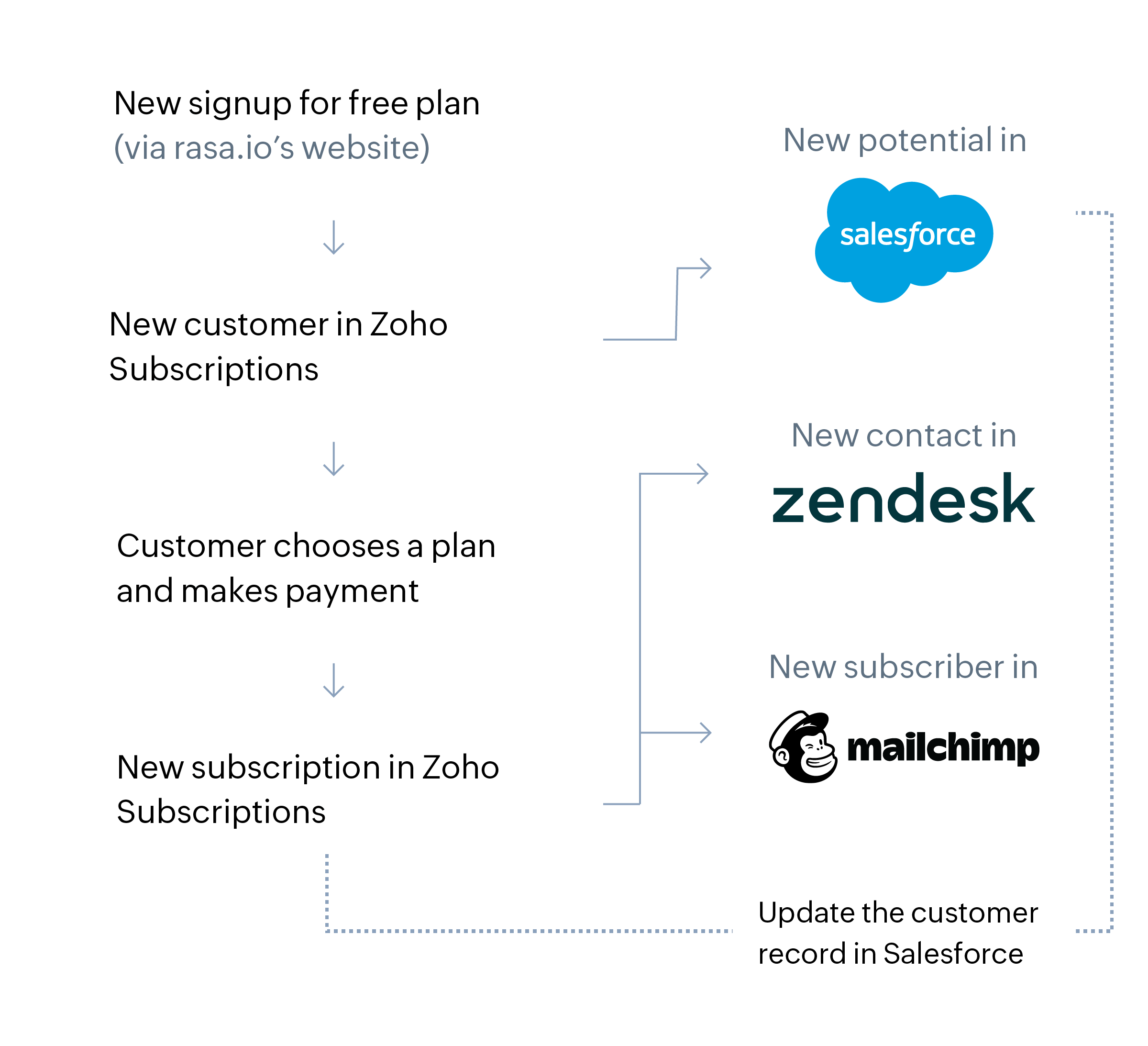 The powerful integration between Zoho Subscriptions and Zapier eliminates a significant amount of manual work and saves time by letting our business apps talk to each other. The best part is that we don't have to write a single piece of code to connect these apps!
Loftus loves that Zoho Subscriptions is straightforward, intuitive, and that their team learned to love it quickly.
To stay updated on their daily progress, Loftus uses the Zoho Subscriptions iOS application. "I access the Zoho Subscriptions' mobile app every morning to take a quick look at the number of signups and activations from the previous day. As a Chief Operating Officer, it helps me stay updated on our business health, no matter where I am," Loftus said.
(Disclaimer: Zoho logo and all other Zoho marks are registered trademarks of Zoho Corporation Pvt. Ltd. Any other names or logos of software products or companies referred to in this case study are the trademarks of their respective owners.)