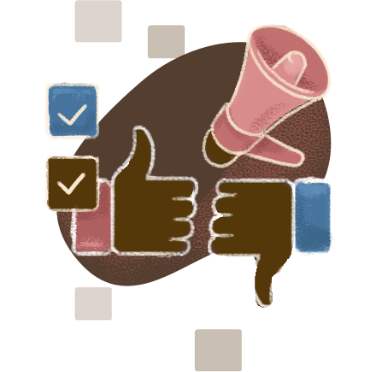 Why Event Surveys are Important
Event surveys make it easy to obtain insights about your events. They help you gauge the likes and dislikes of the participants, scrutinize shortcomings, increase ROI for sponsors, and improve the overall event experience.
Touchpoints For Event Surveys
Sending out surveys at different stages of an event gives you more control as an organizer and makes it easier to successfully plan and execute the event. There are three main touchpoints for surveys during an event life cycle: pre-event, mid-event, and post-event surveys, which are all customized to match their specific objectives.
Pre-event surveys are sent before the event to estimate variables, like price per plate for meals, number of seats to be arranged, or expectations of the participants regarding what they want to see in the event. Event RSVP and Event Planning Survey are examples of pre-event surveys you can find in our template section.
Mid-event surveys are used to collect more detailed information as the event proceeds. With the help of mid-event surveys, concerns regarding food, lighting issues, projector or audio malfunctions, problems with the presenters, or other issues that require immediate attention can be resolved quickly before they negatively affect the event experience. Quick polling during sessions and survey booths at strategic locations will help you collect feedback during an event.
Post-event surveys are the most common among event surveys. They are used to determine what went right and what did not. They help us gain insights on how to improve forthcoming events. For example, the Event Satisfaction Survey and Testimonial Survey are Post Event Survey options you can select from our template section.
Popular Ways To Distribute Surveys Using Zoho Survey
There are many benefits to sending out surveys through multiple channels, one of which is an increased attendance rate. The more ways you reach out to potential attendees, the higher are the chances that they'll see it and take action. Another benefit is making it more convenient for users to take your surveys by approaching them in channels they are likely to see and interact with, which in turn, improves the response rate.
With Zoho Survey, you can reach out to your attendees in many ways:
Zoho Survey and Eventbrite:
Zoho Survey's integration with Eventbrite makes it easier to create and promote events. In just a few clicks, you can send your event surveys created on Zoho Survey to attendees in your Eventbrite account.
Email campaigns:
Distribute your survey link to your contact list in your CRM and other platforms you use. Zoho Survey is integrated with both Zoho Campaigns and Mailchimp so you can quickly send your surveys to people on your mailing list.
Offline kiosk surveys:
The offline feedback collection allows you to collect survey data when the respondents are not connected to the internet. This is particularly useful when it comes to mid and post-event surveys, as you can set up a kiosk to get feedback from the participants in your event.
Through social media:
Publishing the survey on your Facebook page and sharing it on other social media platforms keeps your followers updated about upcoming events and encourages them to give their feedback.
QR codes:
Putting a survey link in the form of a QR code at the end of a presentation and having attendees scan and answer the survey is an easy way to get instant feedback.