Greet your visitors on arrival
Connect them to the right people
Answer questions instantly
What makes Zoho SalesIQ the best website live chat software?
Convert better by solving concerns when it matters
Giving prospects the assurance they're looking for, especially at critical moments—when they're making a decision—makes all the difference.
Live chat software for websites and mobile apps helps you start conversations with visitors and capture leads while they're still on your site.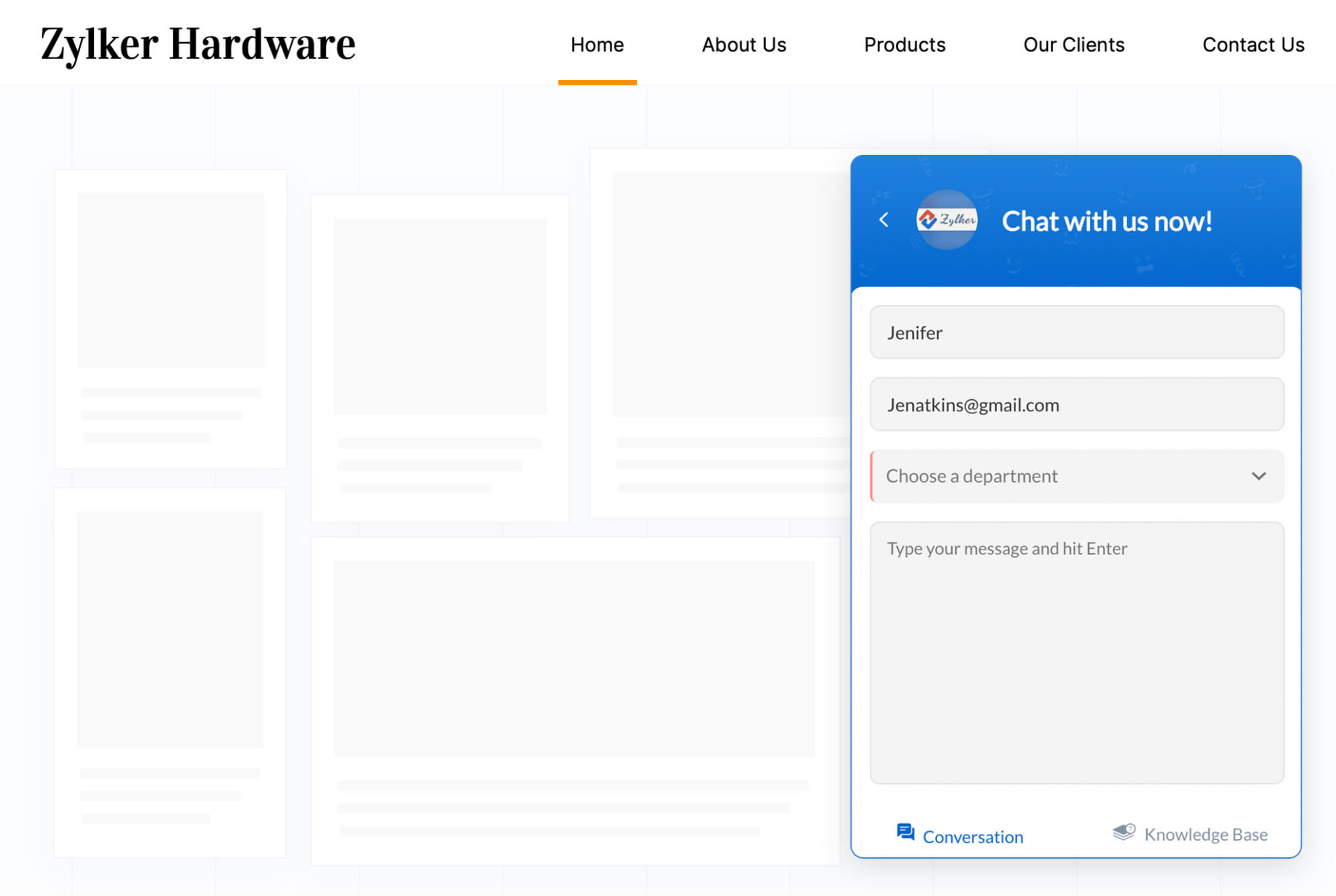 Make it easy for customers to reach you
Web live chat with voice note
People speak about three times faster than they type. Zoho SalesIQ's live chat software comes with voice note so visitors and agents don't have to type long paragraphs in the website live chat window to explain complex questions and solutions.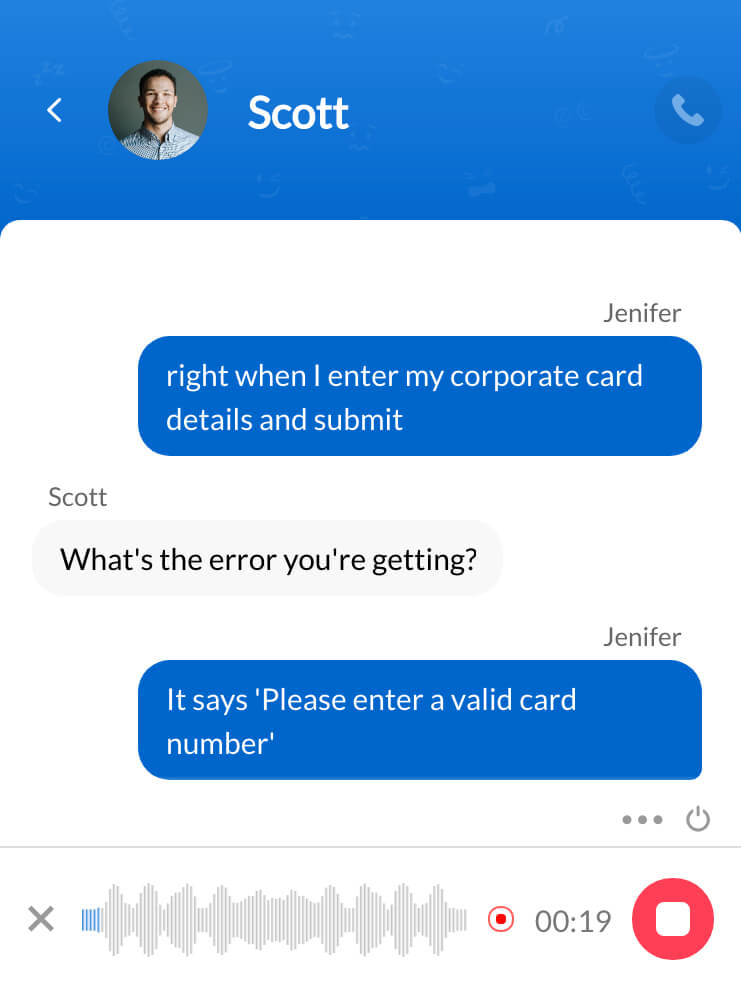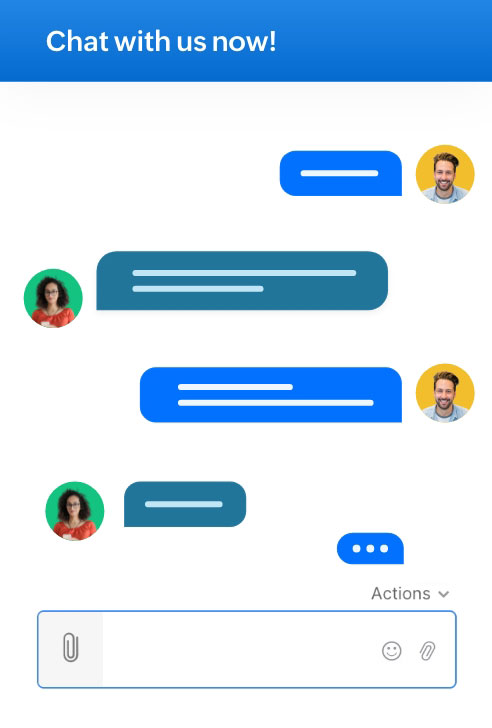 Live chat on instant messaging channels
Give your prospects and customers the convenience of reaching out to you through their preferred instant messaging channels . Assist them no matter where they are, right from your live chat software.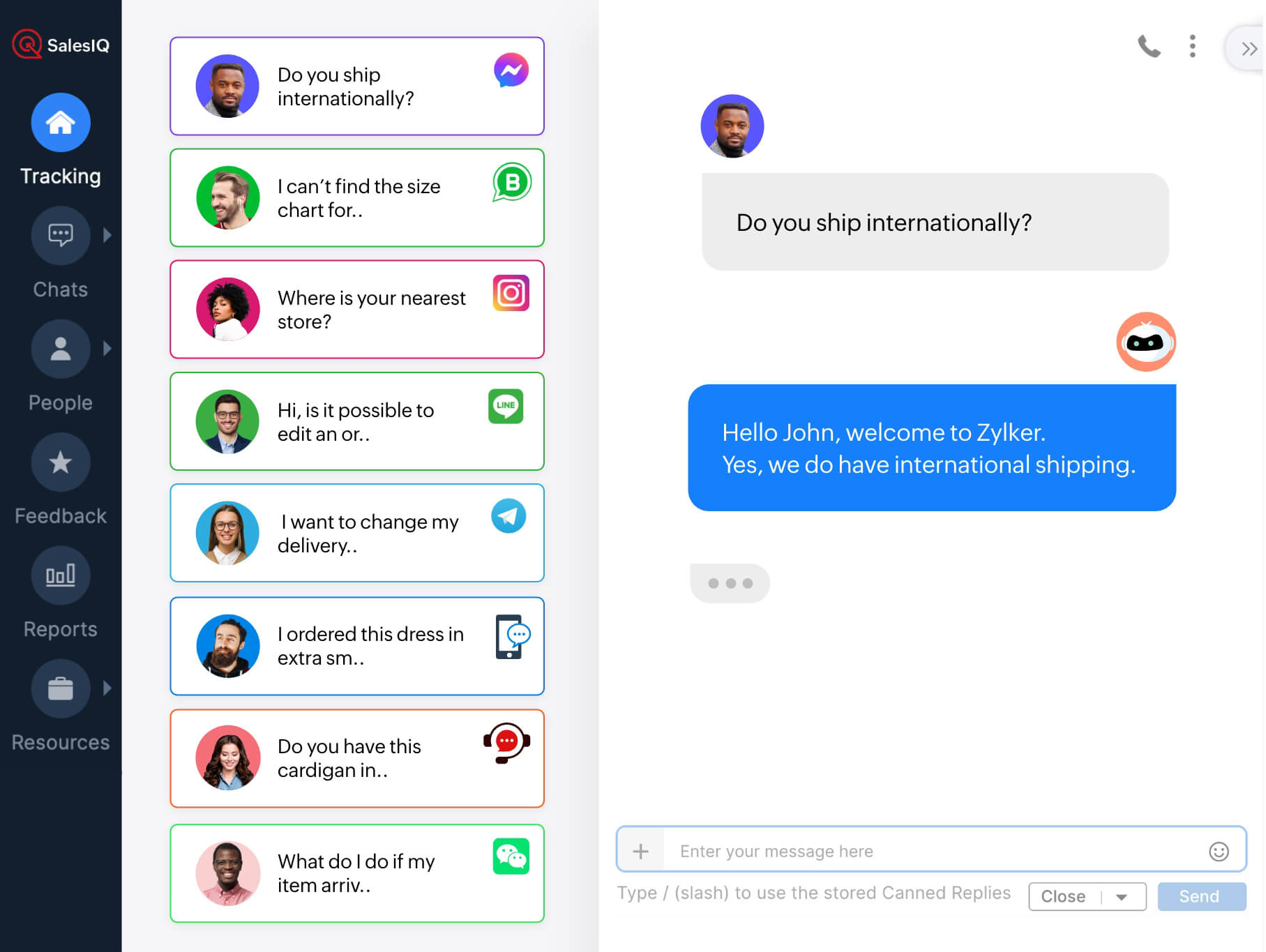 Chat reopening for follow-up queries
Ever had customers come back to start a new live chat conversation on previously discussed topics? SalesIQ's website live chat software streamlines these by showing customers older chats as separate threads and letting them reopen these for further help.
Start each live chat session with context
Each website live chat request comes complete with the visitor's location, the page they're on, and the department they've selected. You also get their website footprint, their device details, the operating system they're using, and previous live chat conversations. This helps you get to the heart of the matter immediately.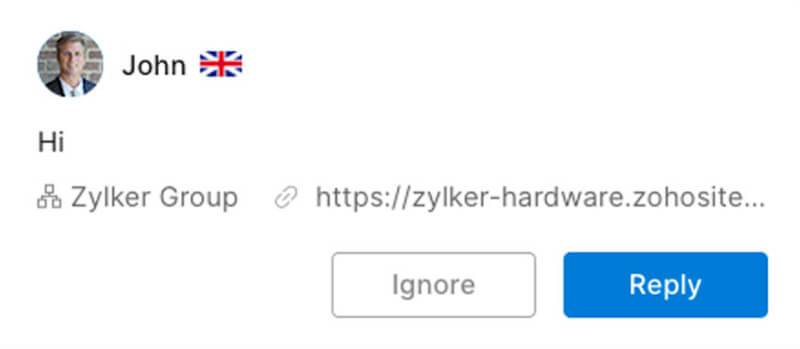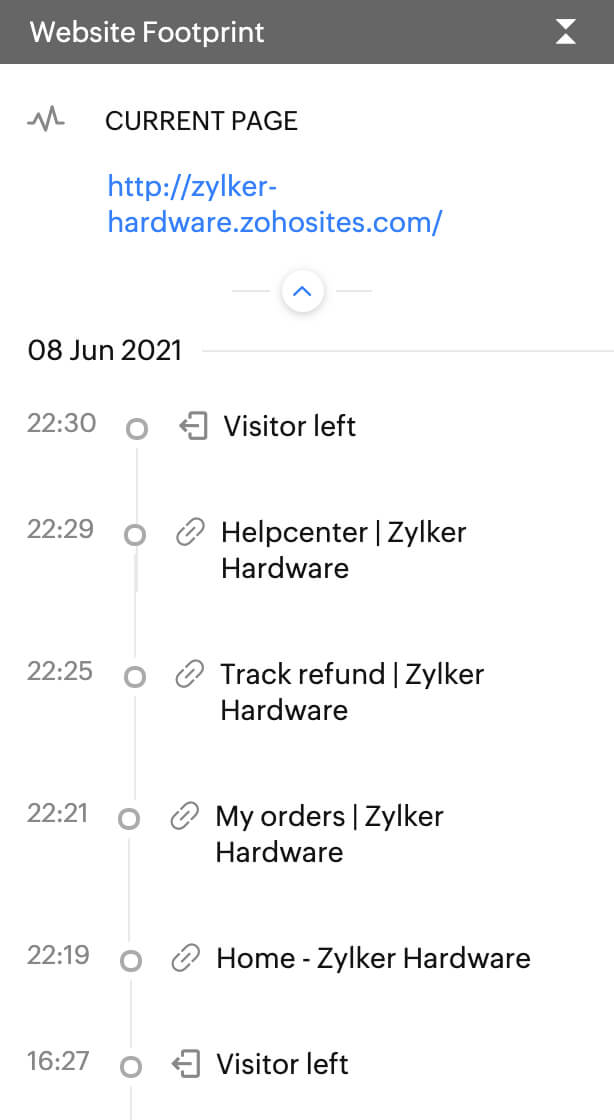 Build an organized B2B contact list
Once your contacts' business email addresses are available, our built-in AI-powered profile enrichment tool organizes the contacts by company and provides details like the company's size, location, industry, social media profiles, technology they already use, and more.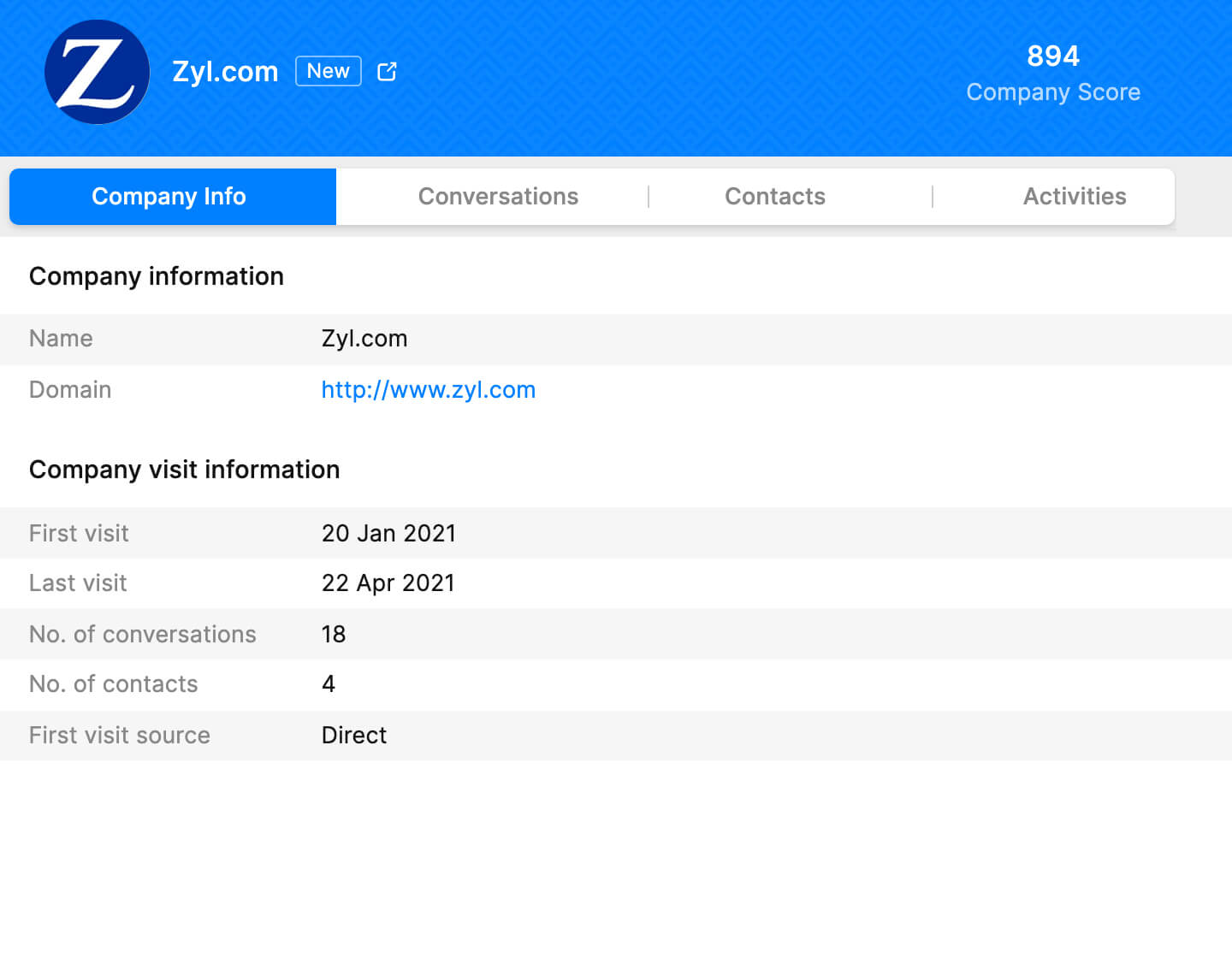 Reach out with automated web live chat invites
Forcing visitors to fill out contact forms, manually qualifying them, then reaching out, and waiting for a response is ancient history.
Instead, spark your target audience's interest by proactively engaging them using automated chat triggers in our website live chat software.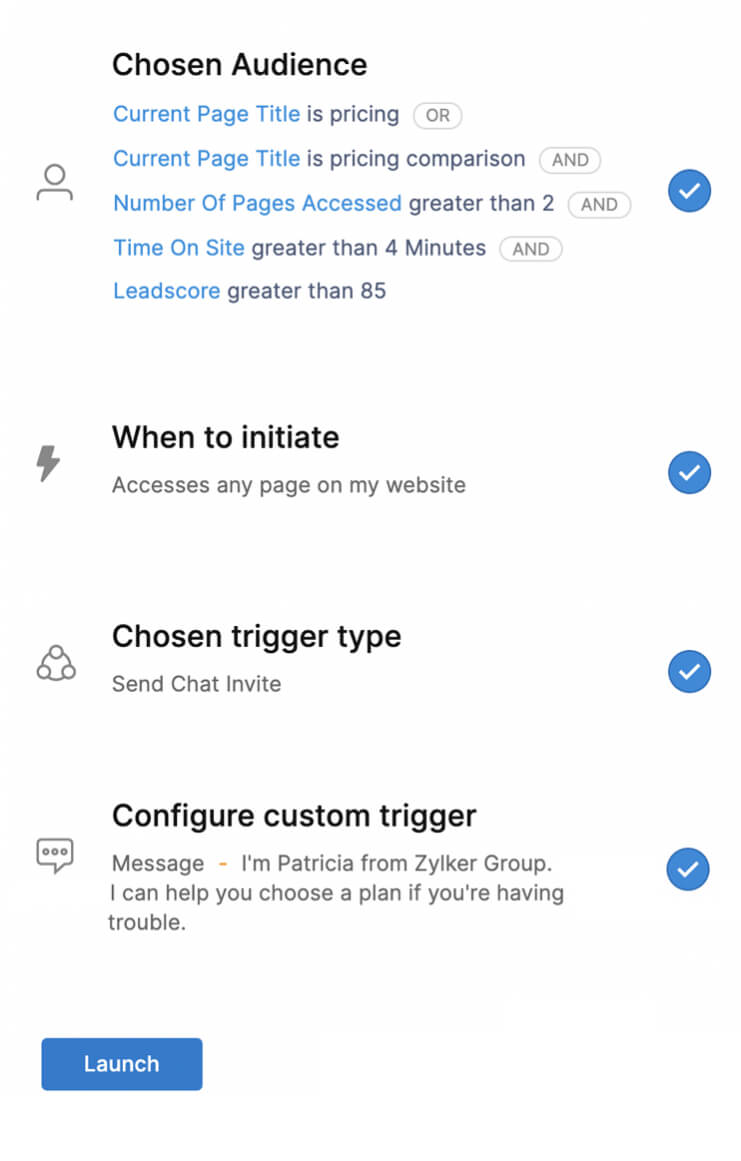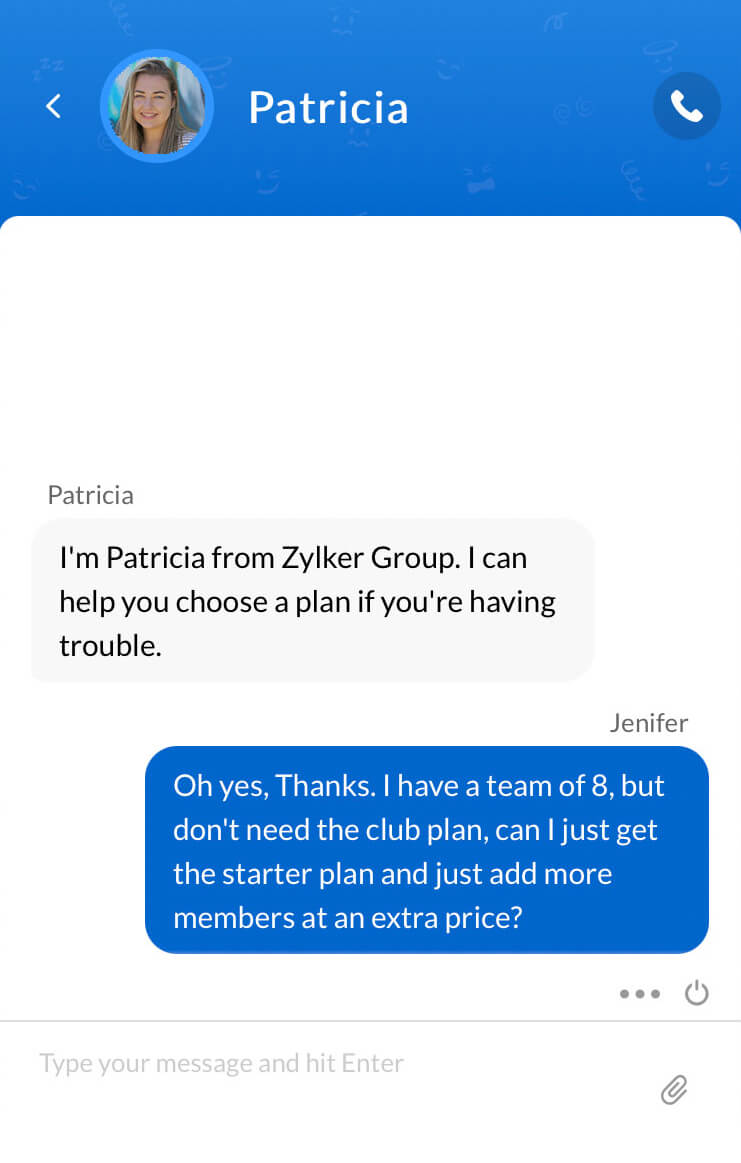 Speed up your live chat with these time-savers
Canned replies

Here's something to help you with those common live chat queries. Save frequently used responses, greetings, and questions as canned replies and invoke them with a shortcut during website live chat conversations.

Typing Preview

A live chat agent's life would be a lot easier if all the questions could be foreseen. We've done you one better! Our web live chat software tells you in real time what customers are typing in the live chat window so you can find answers quicker.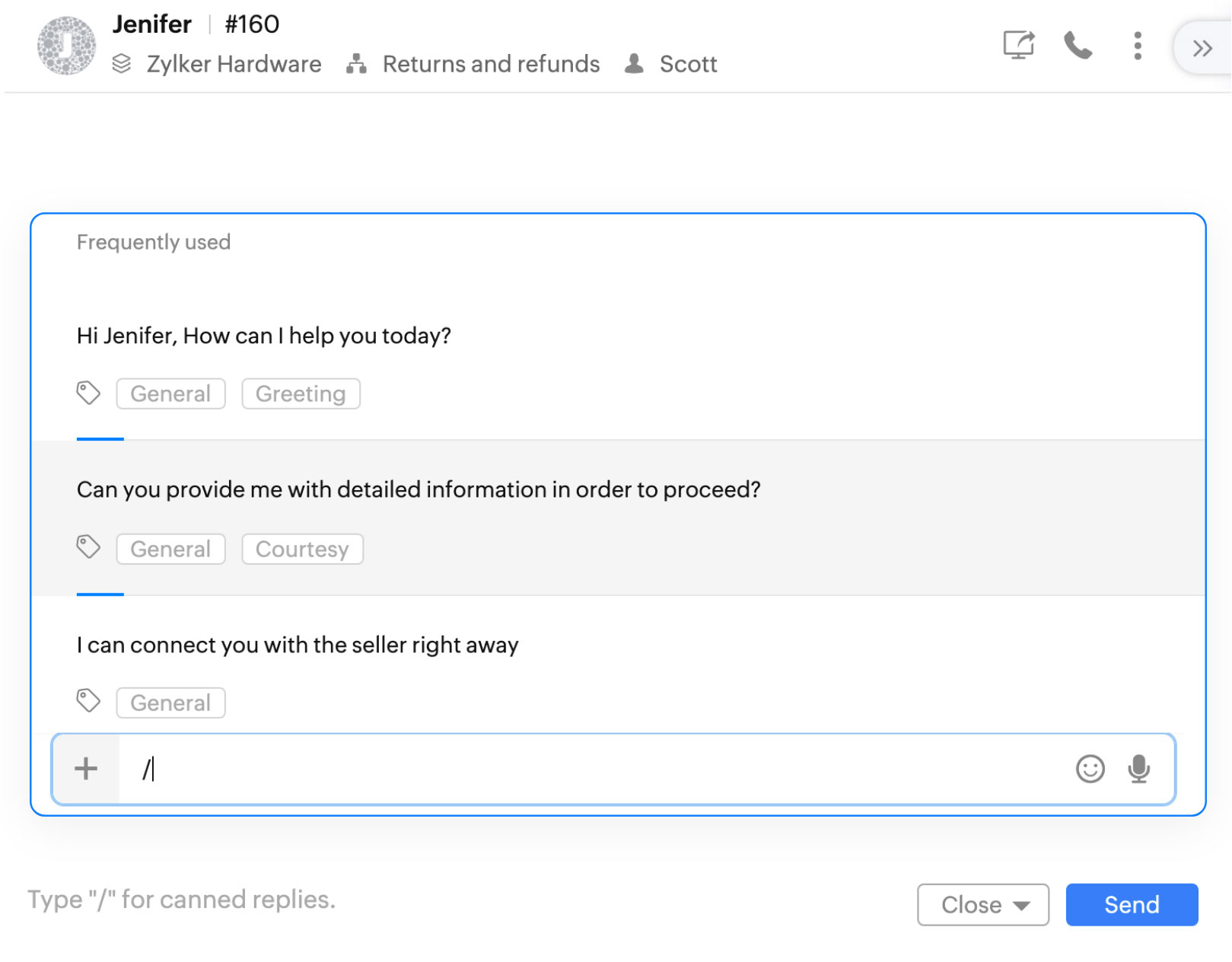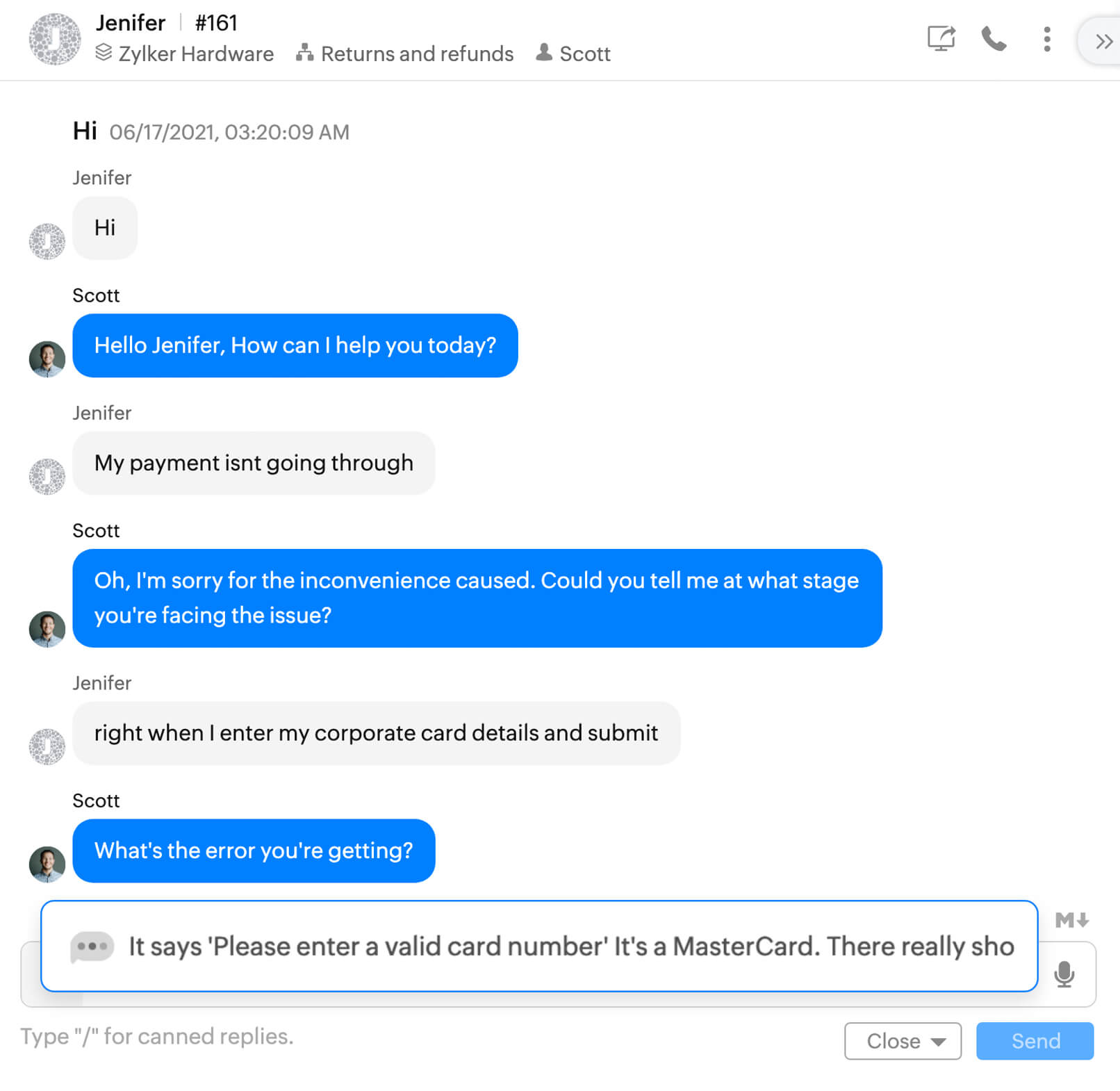 Power up your live chat conversations with audio calls and screenshare
Solve complex queries by starting a call with your customer right from your web chat screen. Customers can also call you from the website live chat window in a click without any wait tones or IVR.
In addition, Zoho SalesIQ lets you share your screen during live chat conversations to aid customers visually. You can even ask customers to share their screen to get a first-hand view of their issue and provide instant help.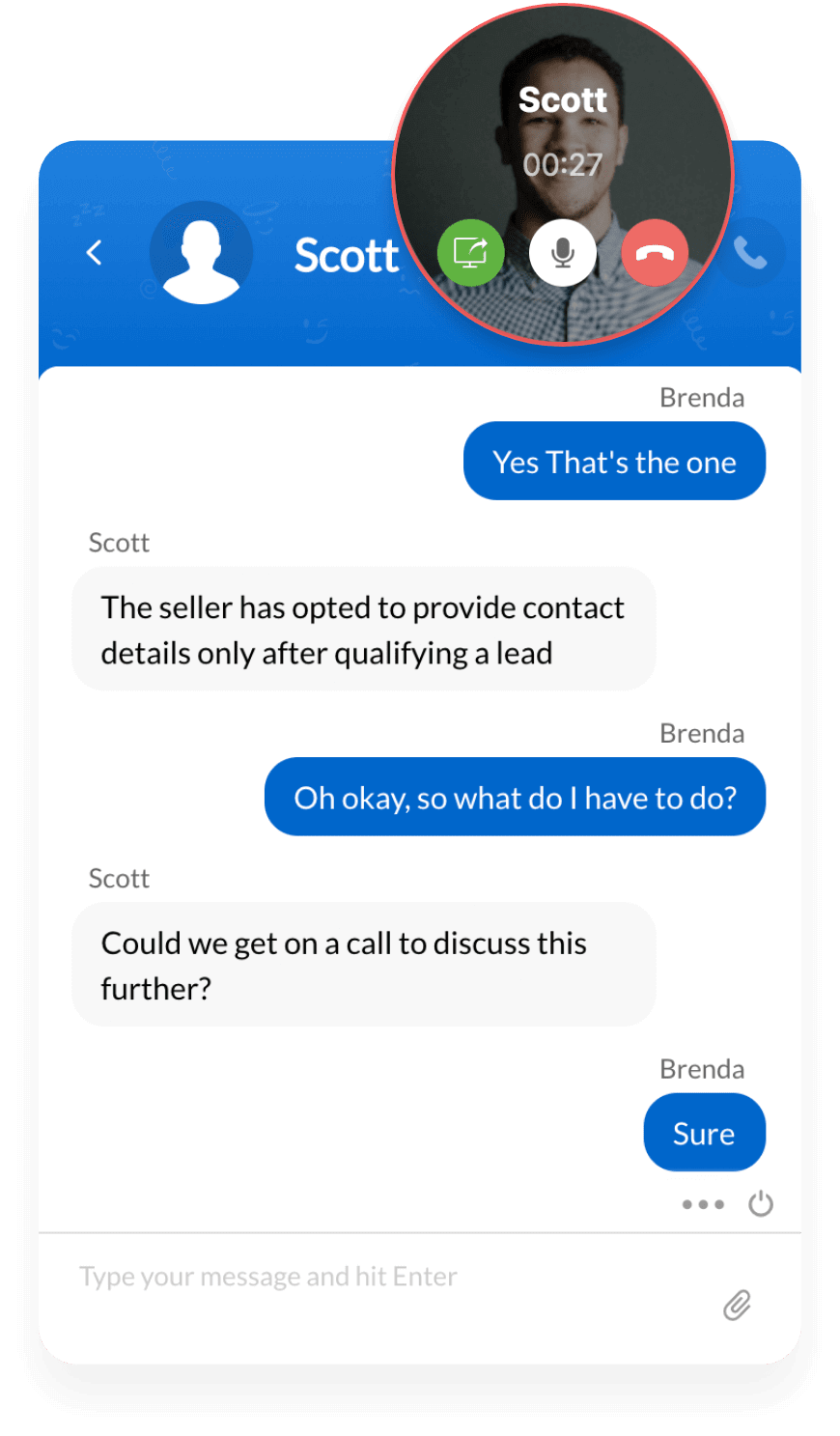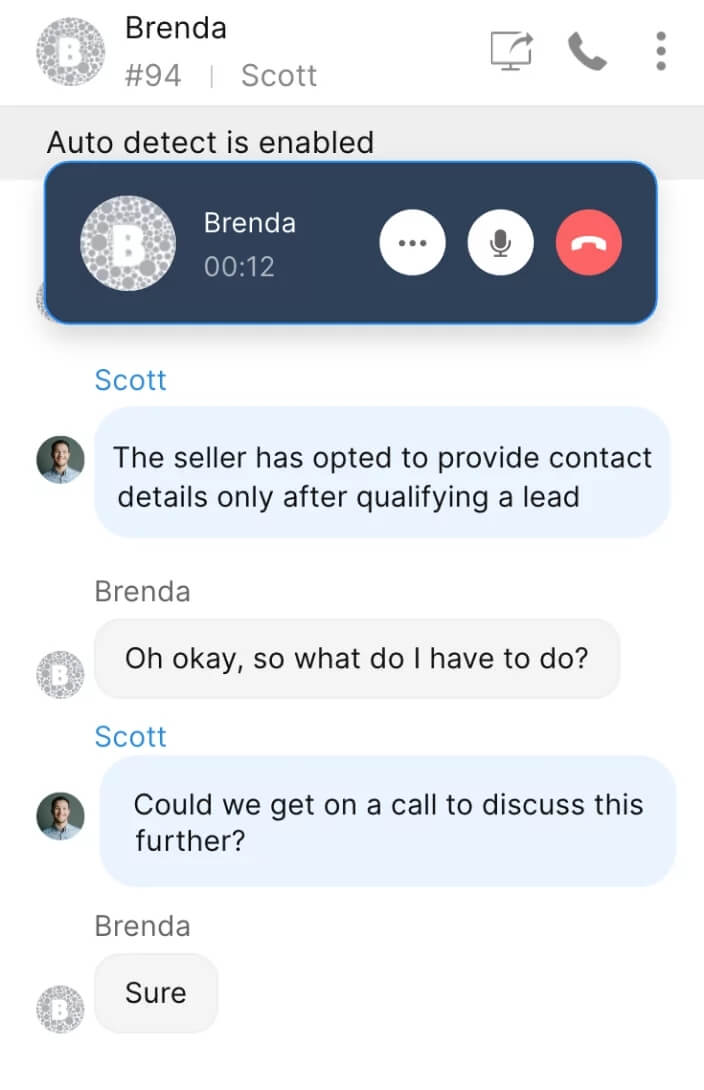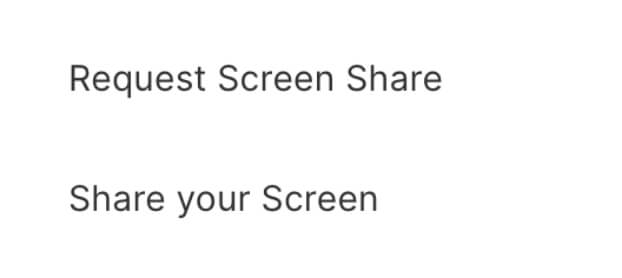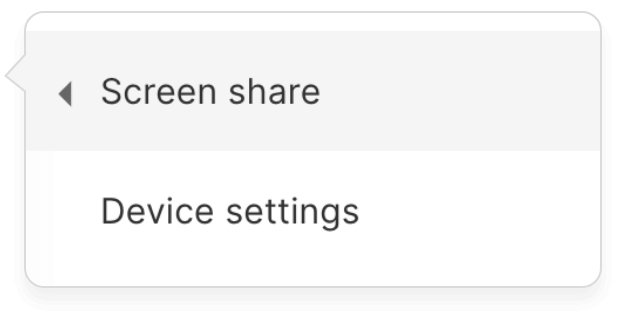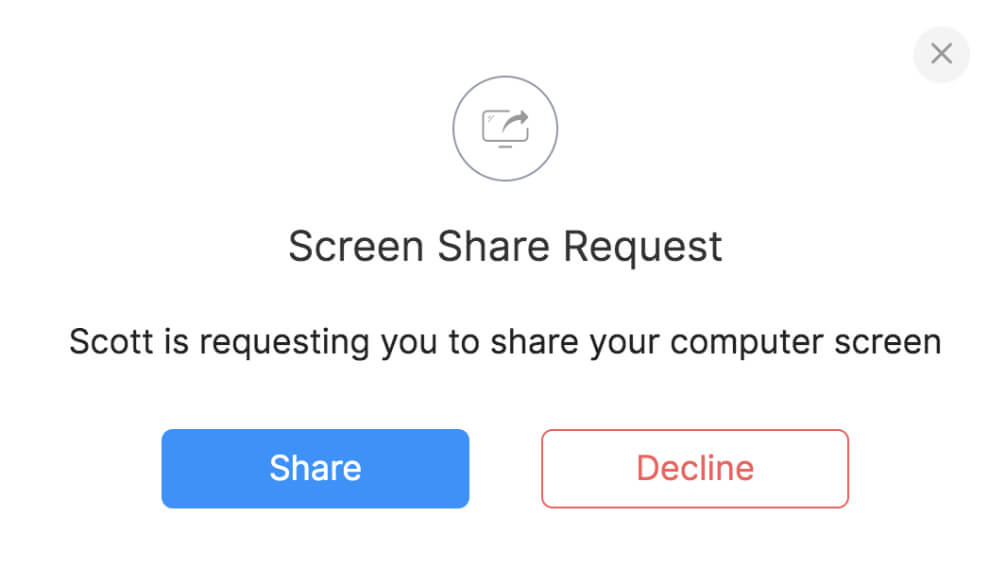 Meet your live chat influx with chatbots
Adding live chat to your website is a promise of immediate responses to queries. Delivering on that can be difficult for businesses without adequate workforce to handle a huge volume of live chat requests.
Our chatbot platform enables you to deploy a virtual live chat agent that multitasks tirelessly 24x7.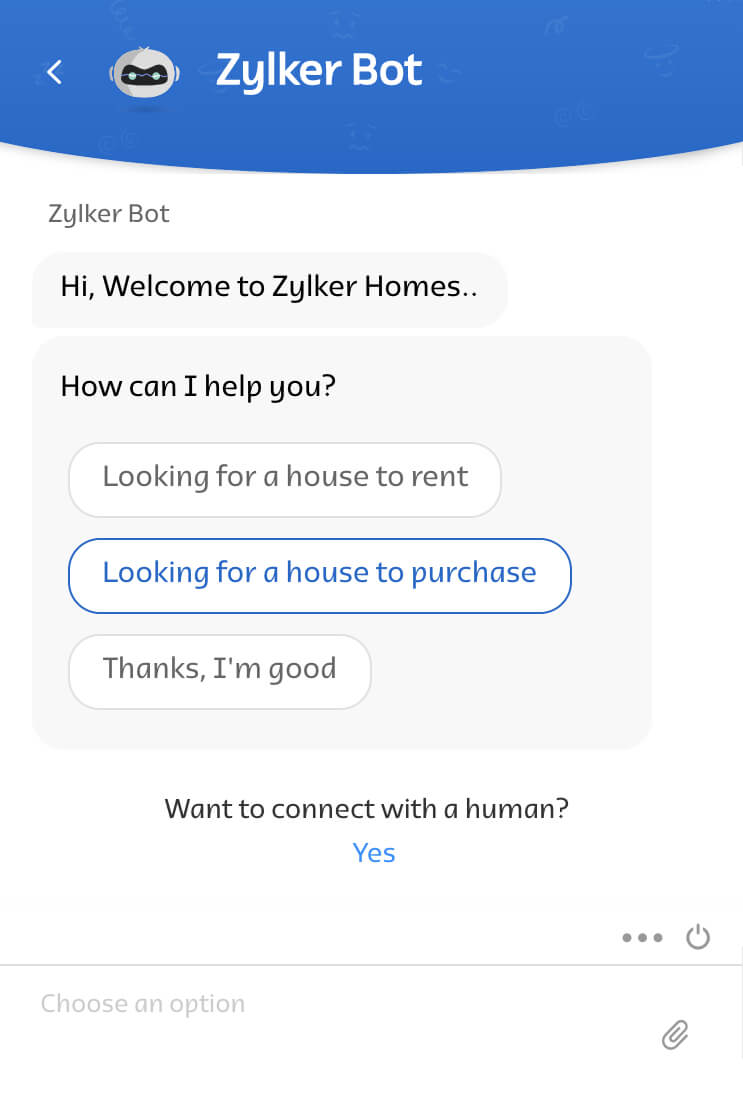 Set customer expectations with live chat hours
Configure your web chat widget to be displayed only within your business hours. Outside of these set timings, customers are shown an offline status message, and can be given an option to send you a query you can respond to when you're back online.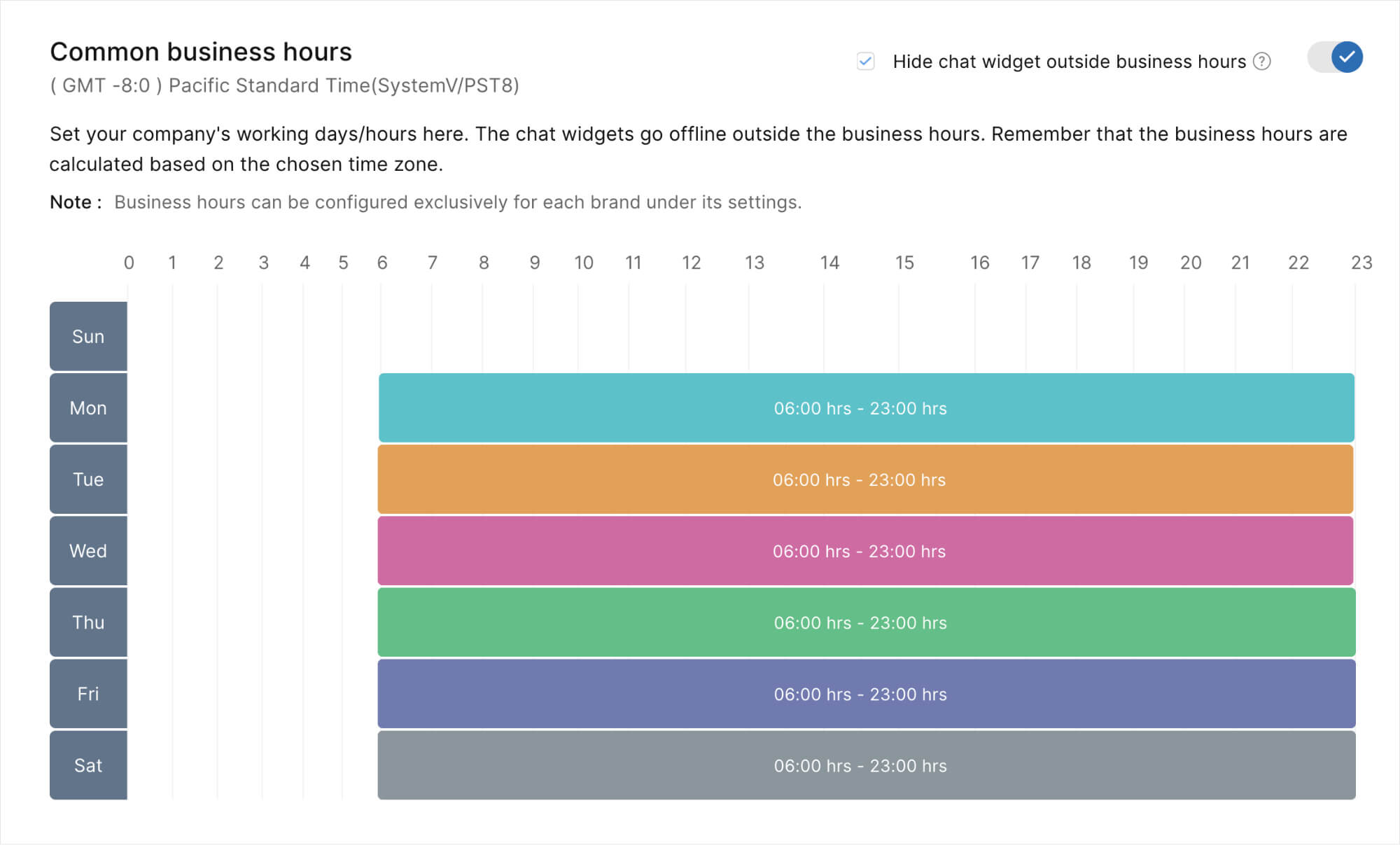 Go global with live chat translation
Understand and speak your customer's language to connect with them better. Our website live chat software automatically detects the language of incoming live chat messages and performs two-way chat translation in real time.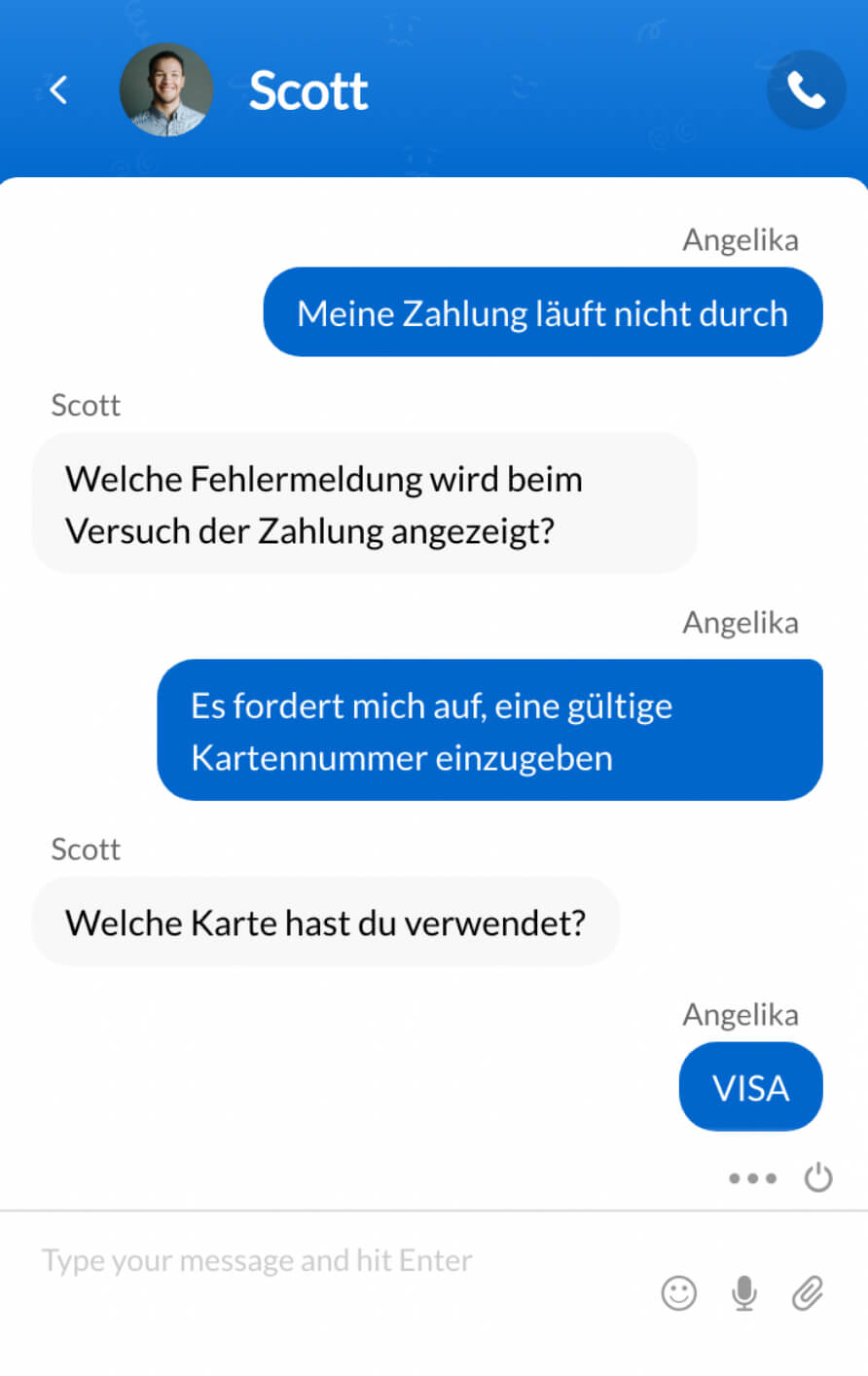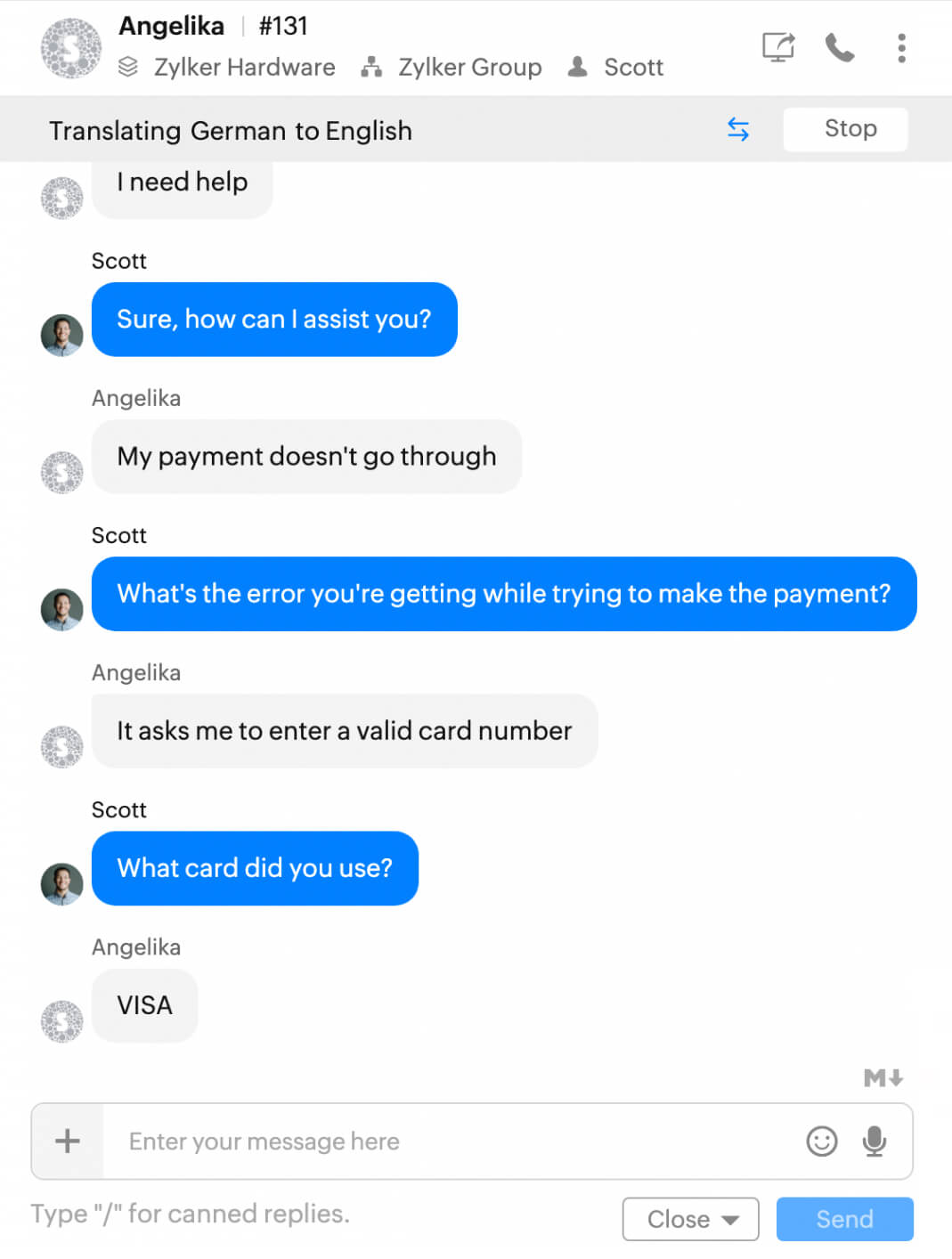 Unify team expertise for a flawless live chat operation
Internal message board and operator chat
Your live chat team can be spread across geographies and still maintain efficient internal communication. Quickly make announcements via the message board and have one-on-one interactions or talk to each other in a group setting with the internal message board.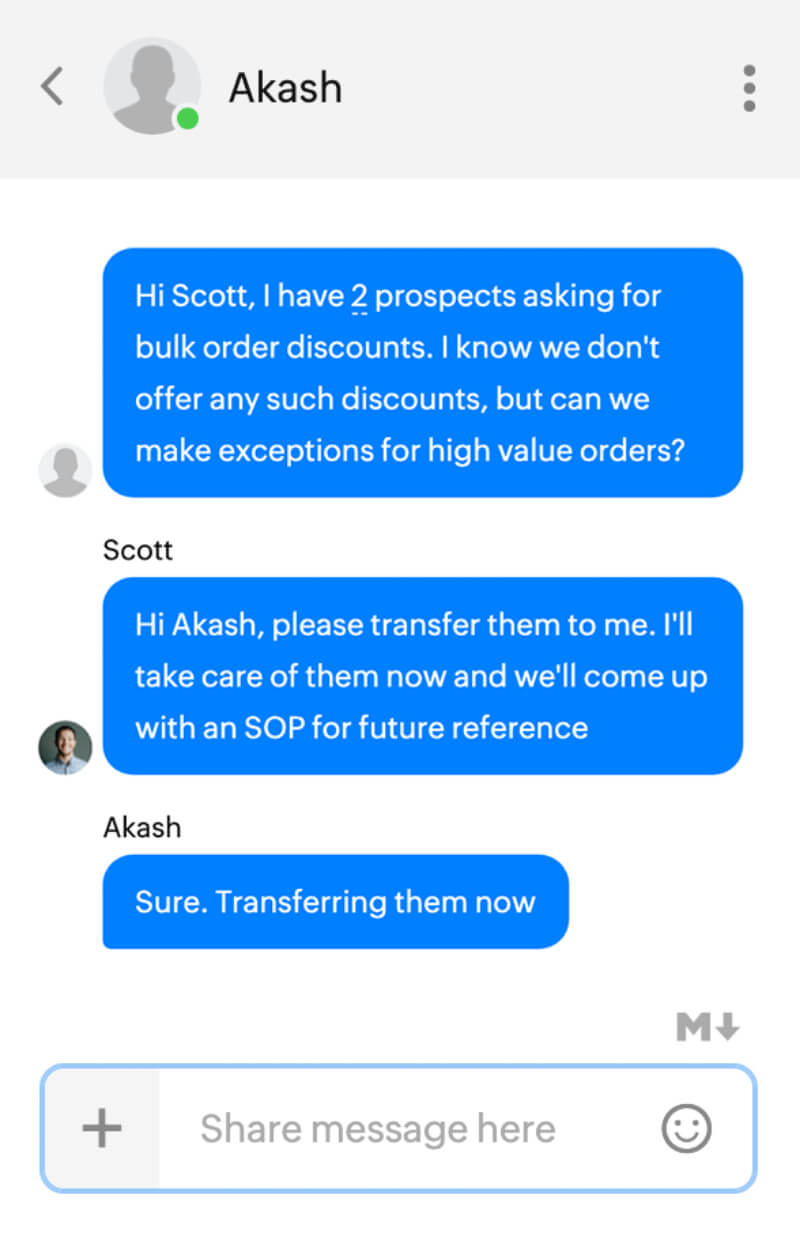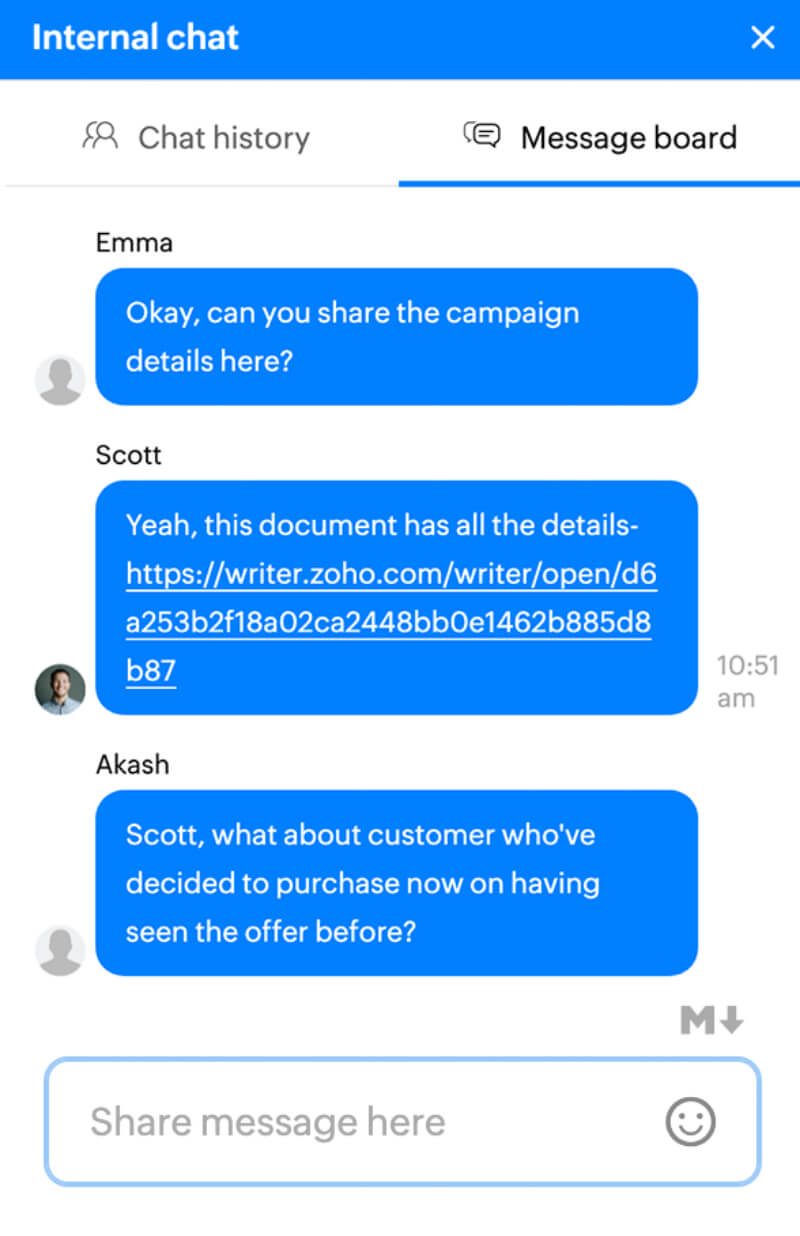 Chat transfer and group chat
Anytime you're stumped by a live chat query outside your forte, SalesIQ lets you transfer the chat or simply invite a teammate with the right expertise to join in. You can even add a note for your colleague as you transfer the chat.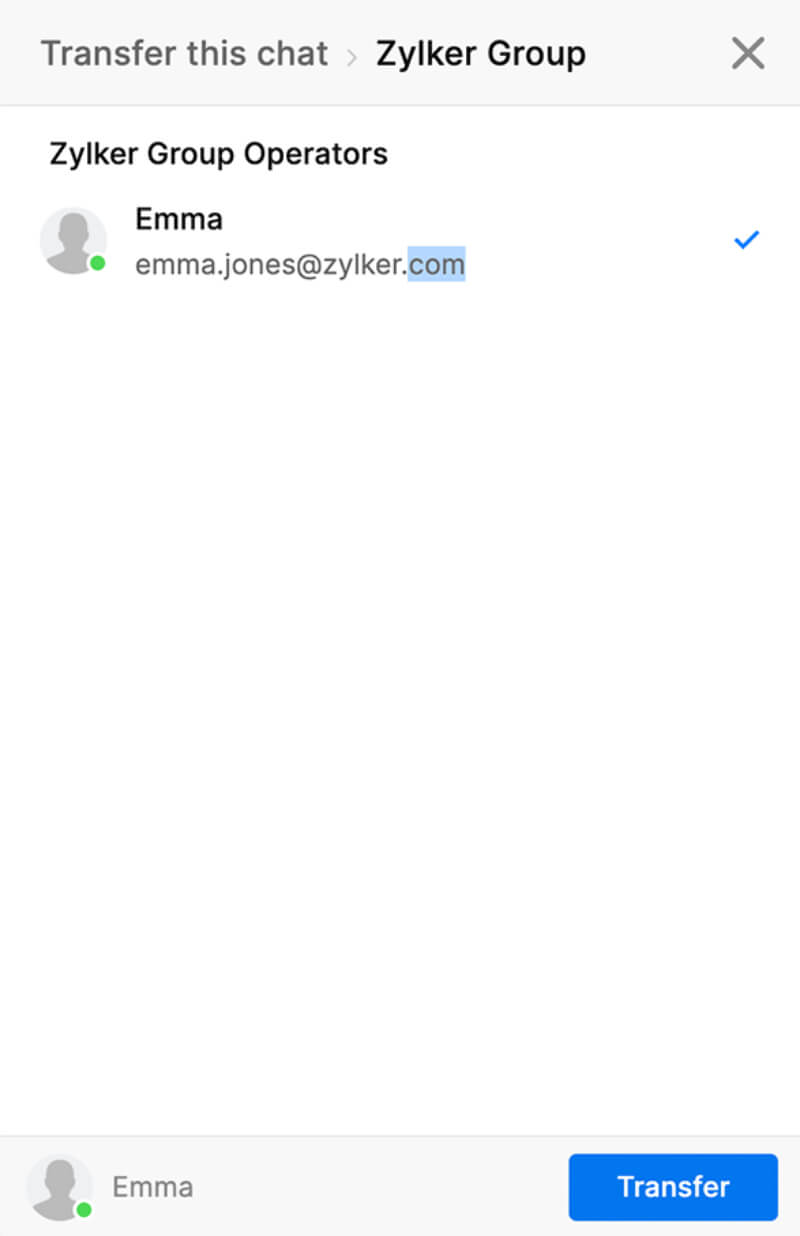 Agent training with web chat monitoring
Ensure your new recruits adhere to your customer communication standards with real-time website live chat monitoring. Set monitors to view your agents' web live chat conversations as they happen and guide them through it. You can even join an ongoing web chat if needed.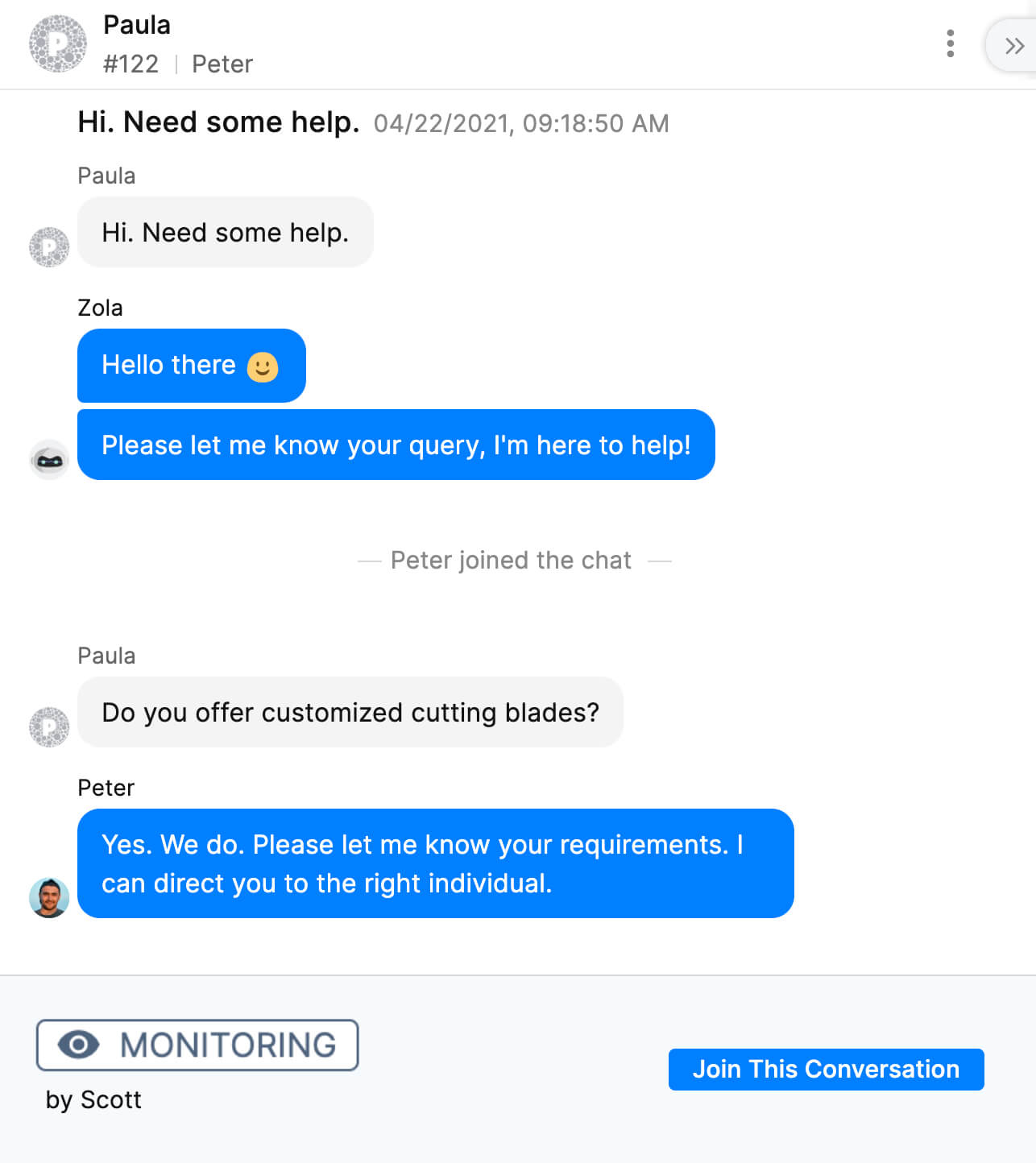 Weed out abusive live chat messages
Ensure a professional and safe work environment for your live chat team with Zoho SalesIQ's website live chat content moderation. Create a list of terms that you think has no place in business communication and configure chat closure or IP blocking when these terms come up in a live chat conversation.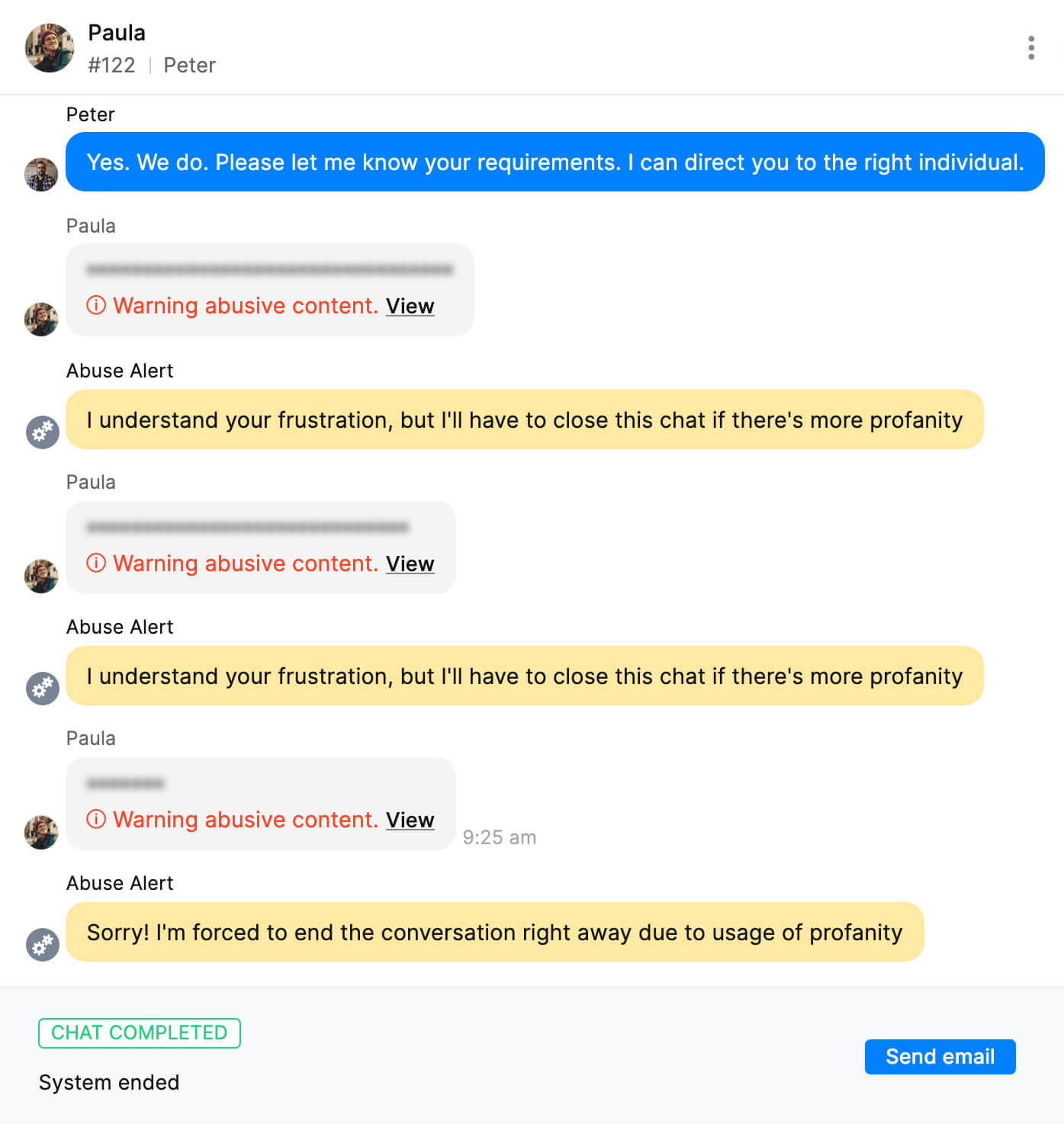 Stay connected on the go with live chat mobile apps
Get notified of important incoming chats or high-value customers and connect with them, no matter where you are, using SalesIQ's live chat app for Android and iOS.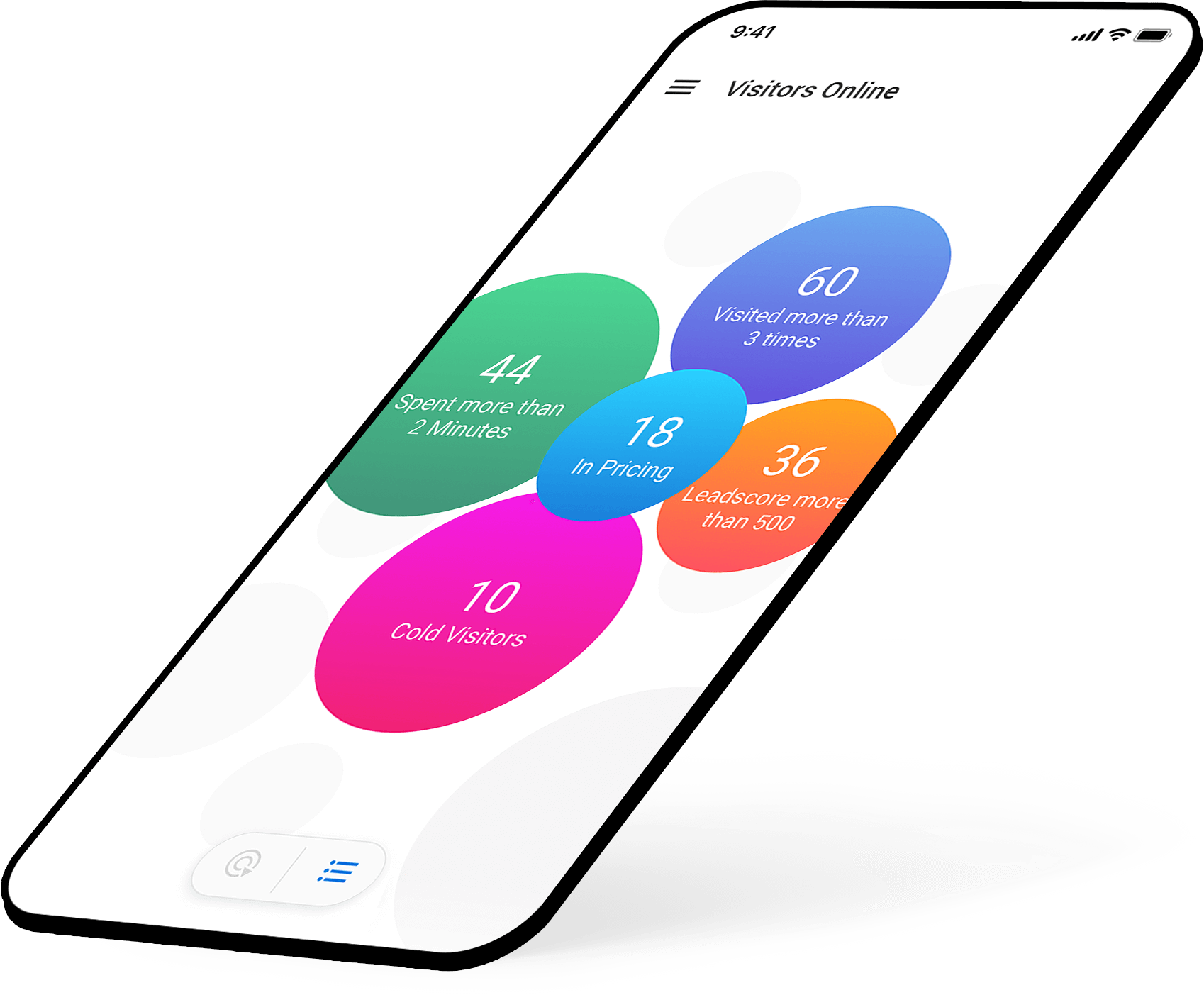 Gather customer feedback on their web chat experience
Use customer feedback on your live chat operation to understand how customers feel about their interaction with you. This will help you continually work on existing flaws to impress your customers.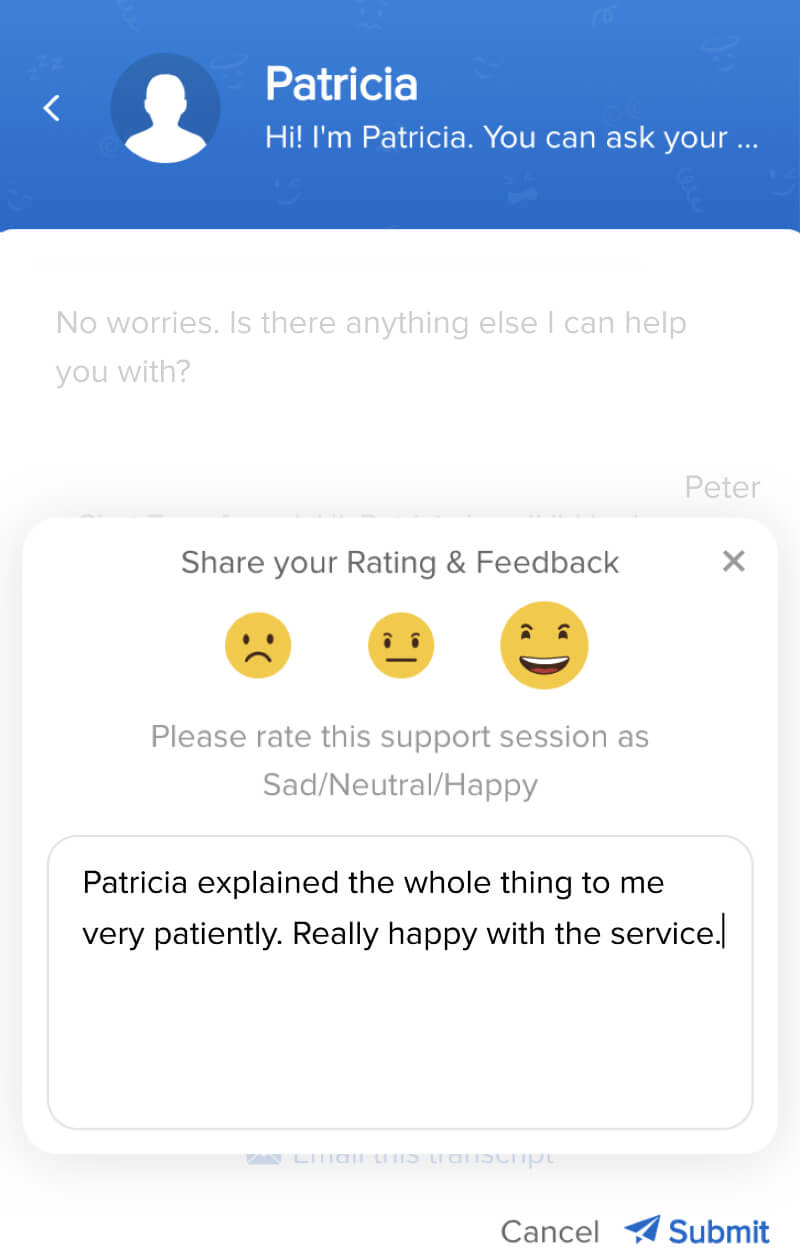 Live chat software

for every business type and function

Whether you're a startup aiming to strike a chord with potential customers or a well-established corporation seeking to enhance customer support, Zoho SalesIQ's live chat software is designed to cater to all your customer communication needs.
Set up your website chat software in minutes
All you need to do to get Zoho SalesIQ's fully functional live chat software running on your website is copy the code we provide and paste it into your website's source file.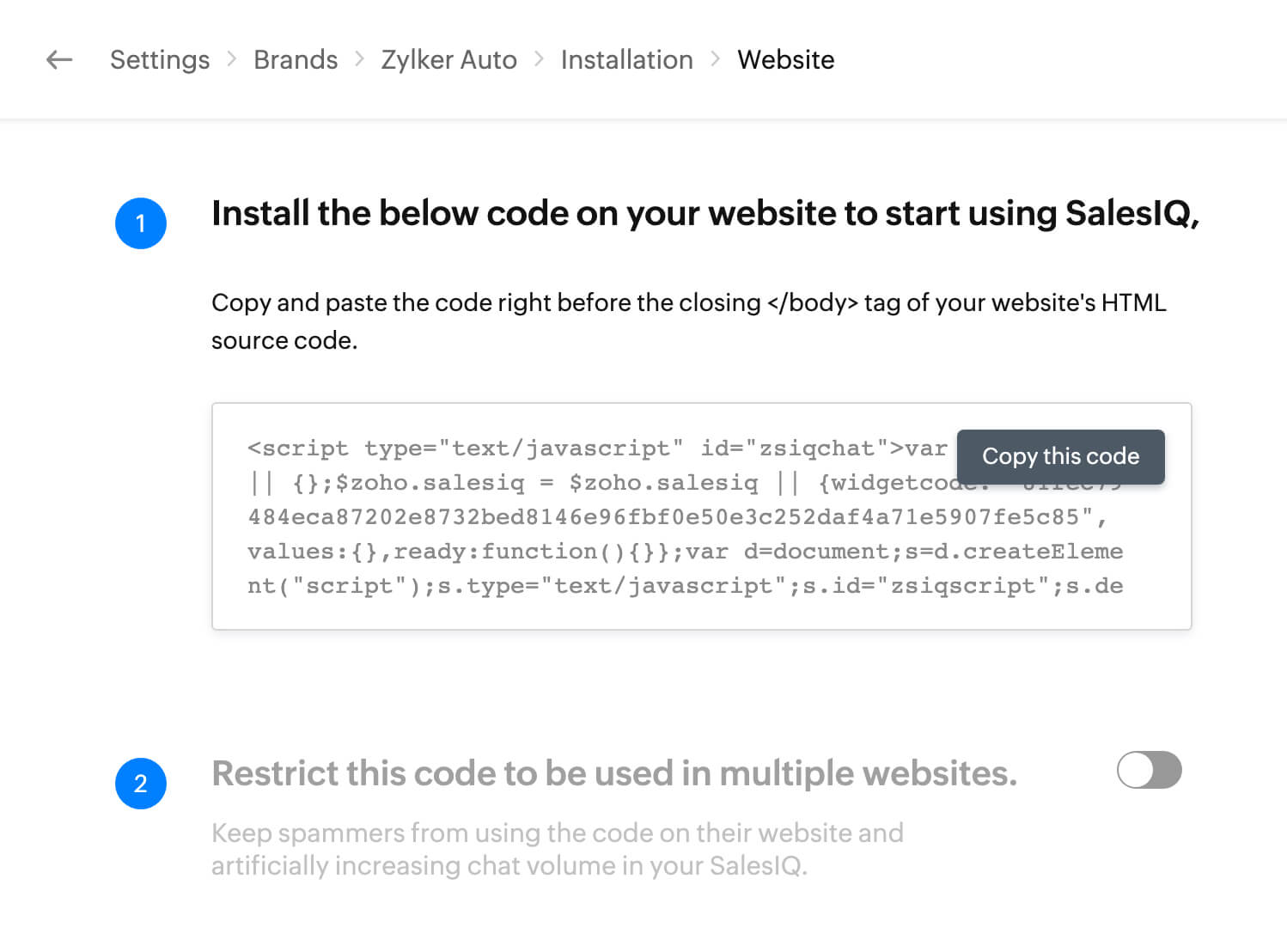 Match your web live chat window to your brand
Make your live chat window fit right in with your website and branding by choosing from our wide variety of designs or even uploading your own. Add your brand logo, craft a welcome message, and set a live chat window language and font.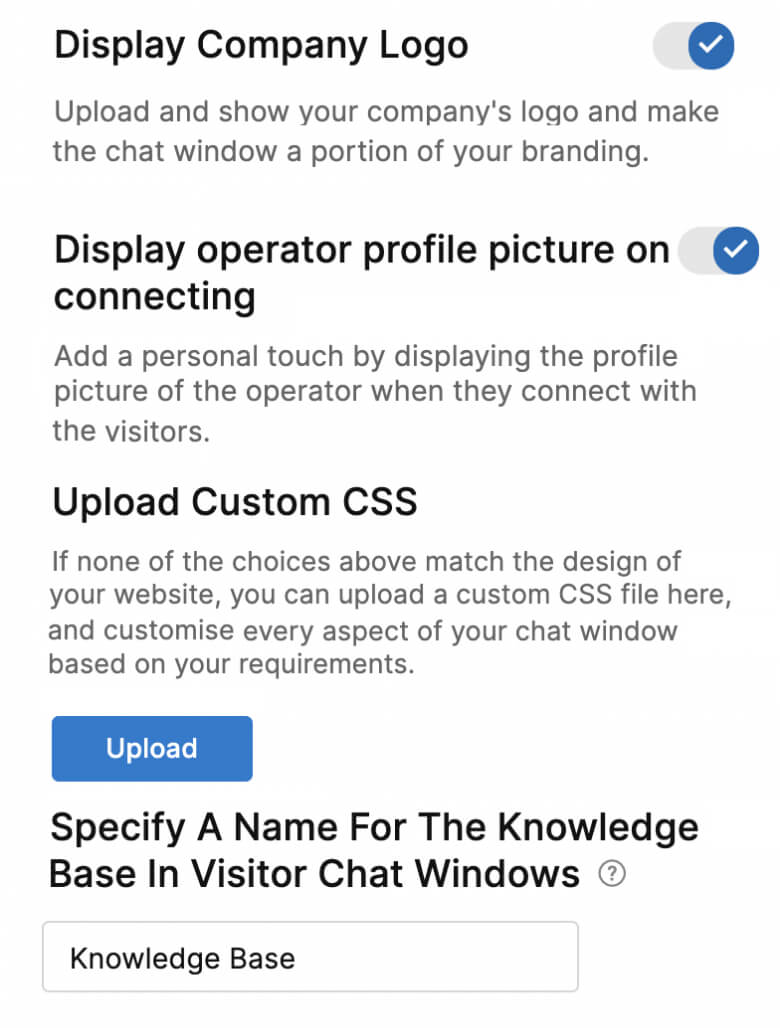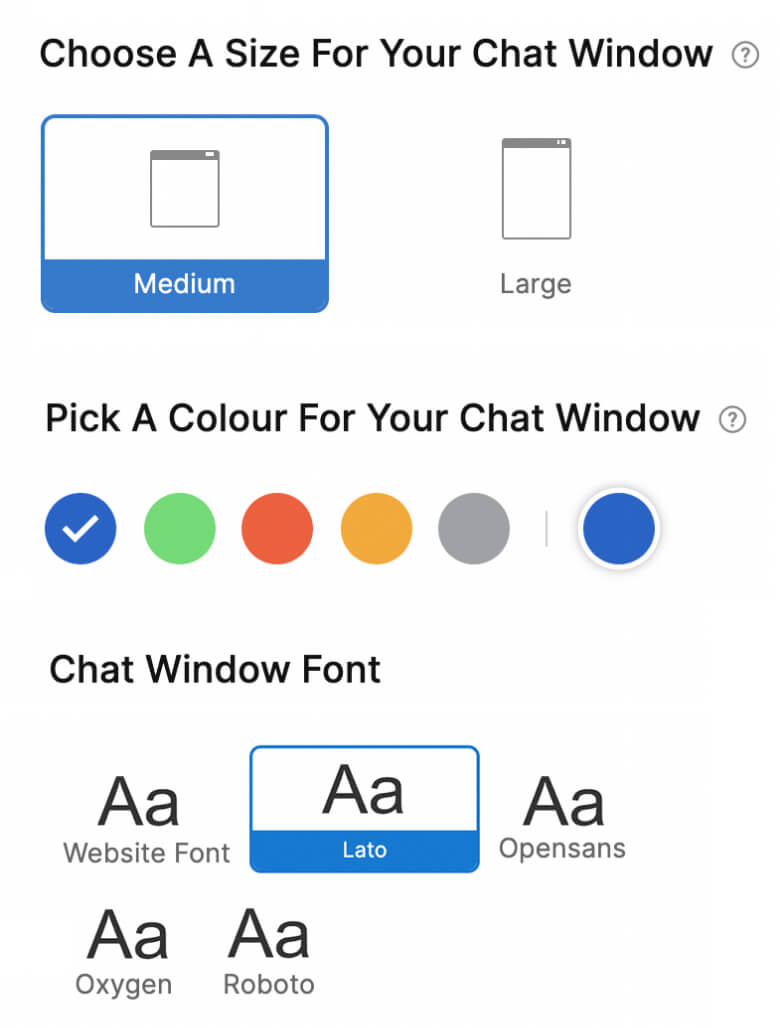 Want live chat on your mobile app?
Mobilisten, our live chat mobile SDK available for Android, iOS, and React Native, lets you easily offer in-app chat support and gives your users a gateway to reach you. You can even contextually display your live chat button whenever a user encounters an error.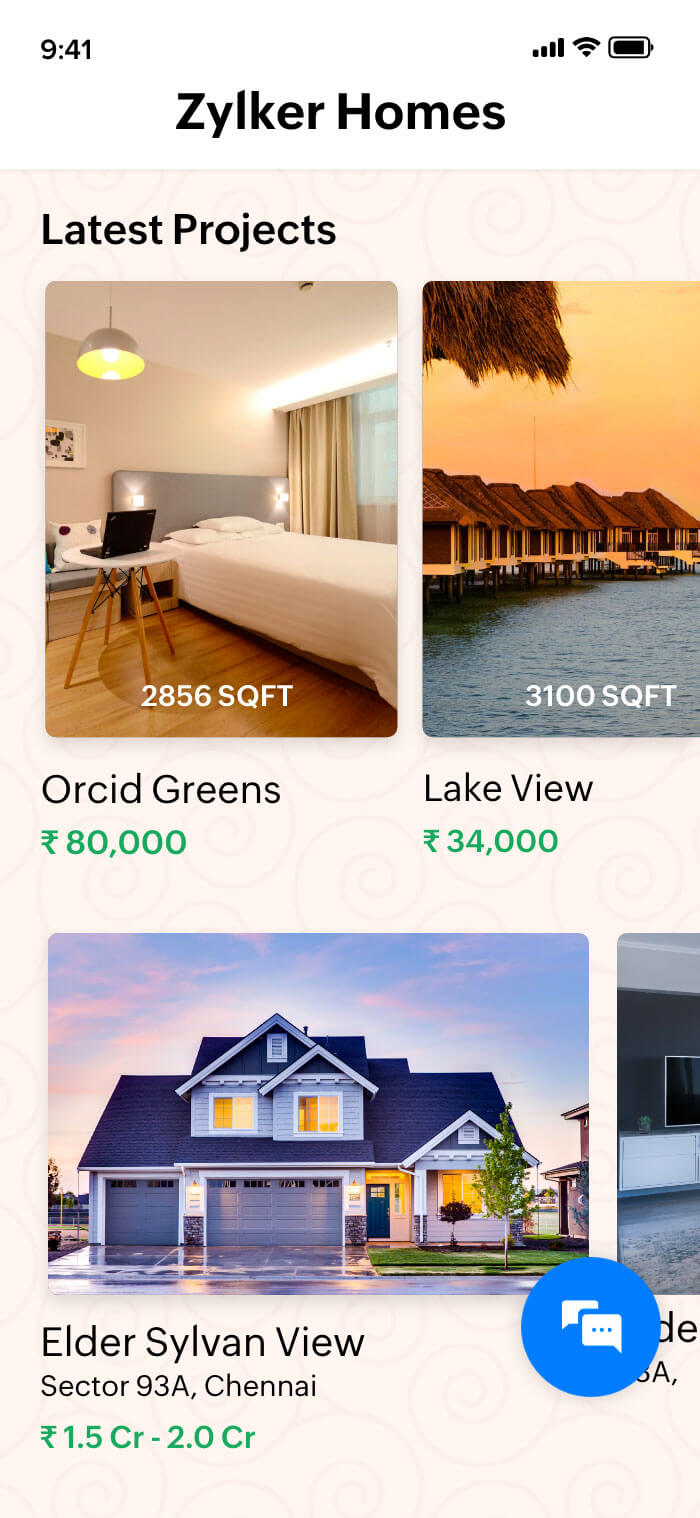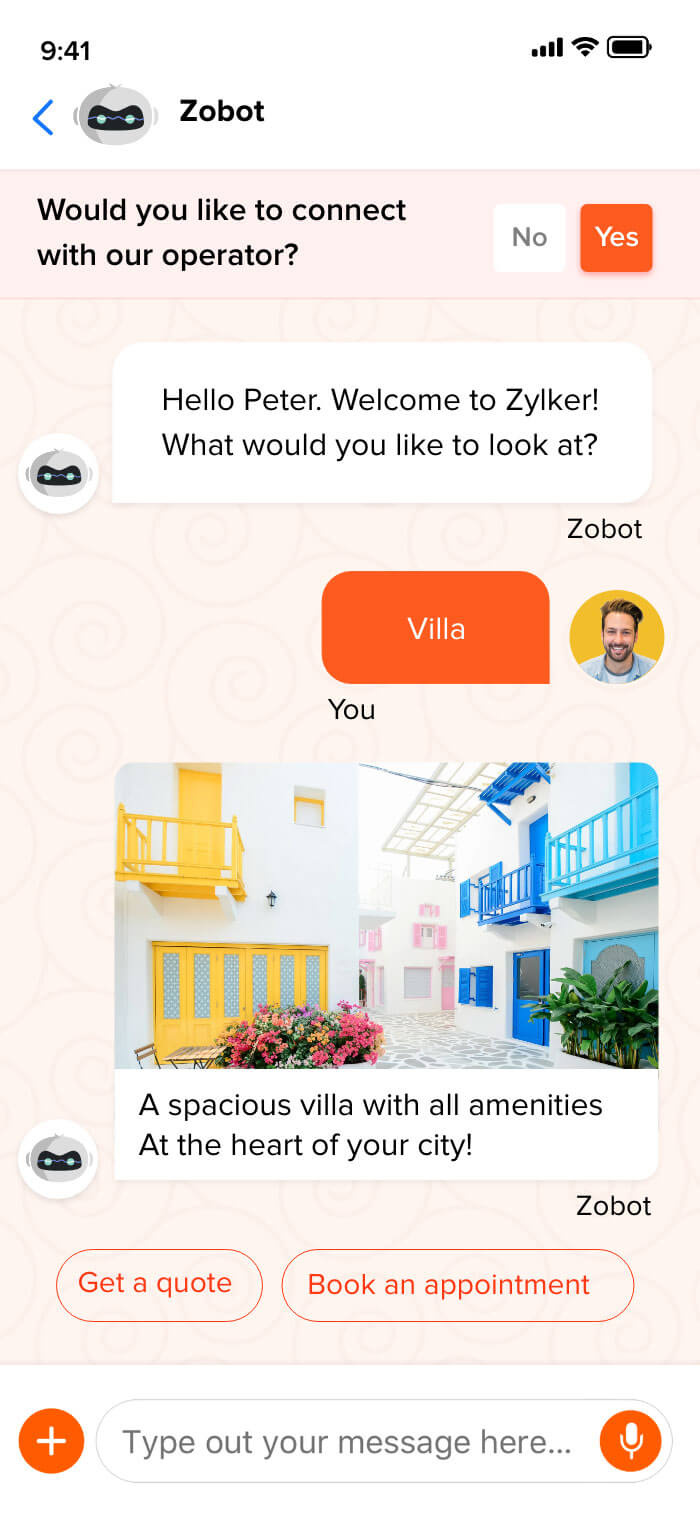 Start with our free website live chat software
We know connecting with your prospects and customers is a basic need to propel your business. That's why SalesIQ provides free live chat software with all the basic features you need, like up to 100 chat sessions/month, file sharing, voice note, departments, 30-day chat history, offline messaging, in-app chat, daily reports delivered to your inbox, mobile apps, plugins and extensions, and more!
There's no catch—no hidden charges, no credit card details required.
Hear from our customers
"On average, Zoho SalesIQ has increased our ability to handle visitor queries by 36% per day. SalesIQ has also improved our sales numbers. Customers have been more likely to reach out to us, especially because the chat works well on mobile phones and computers. Not only have we seen more inbound chat requests, but we've also been able to proactively engage website visitors who are browsing 'high-intent' pages."
Luke Genoyer Sales & Marketing Manager, Global Call Forwarding
"Before having the idea of live chat, everything was via emails and tickets. Nothing was immediately solvable. It might take two or three days to reply to an email or close a ticket, but once we onboarded SalesIQ, 30% of the queries that come via email or tickets are solved immediately."
Ashwath CRM Executive, FundsIndia
When visitors started consuming Chef Bharath's content, eager to learn more, they reached out to our live agents through SalesIQ's live chat widget. SalesIQ would automatically transcribe the entire chat conversation into an email for easy delivery, and we could share it with advertisers to optimize their activities further.
Swaminathan Balasubramanian Founder & Publisher, Chef Bharath
For our digital sales revenue, SalesIQ is contributing a lot. Conversion ratio of the vehicle booking to the retail has increased by 1-1.5 % in the overall revenue. With SalesIQ, we can have a bot-first approach on the website, and if the bot isn't able to answer question, an agent can take over the chat, and have access to the chat history the customer had with the bot. If a visitor uses abusive language, SalesIQ also blocks their IP.
Pravin Nehete, Deputy General Manager, Mahindra and Mahindra
Overview of website live chat software
What is website live chat?
Website live chat is an interface that allows website visitors to communicate with the business in real time. Web live chat is usually a popup or a widget on web pages that visitors can click on and send a message.
What is website live chat software?
Website live chat software is a tool that enables real-time, text-based communication between website visitors and the business.
Having a live chat software for websites is a necessity in today's business scenario where prospects and customers expect personalized customer engagement and immediate answers to their questions. Online live chat software on your website and mobile app, helps you engage with website visitors, generate leads, convert them to customers, provide customer support, and enhance the overall user experience on their websites.
Who needs website live chat software?
Website live chat software is a tool that facilitates real-time communication between a business and its website visitors.
Live chat software is essential for marketing, presales, sales, and customer support teams across business verticals like ecommerce, travel agencies, restaurants and delivery companies, real estate agencies, educational institutes, banks and financial service companies, NGOs, and emergency helplines.
Website live chat software is especially important for startups and SMEs owing to their need to gain credibility in the market and improve sales and support with minimal resources.
What are the key features of website live chat software?
Here's a list of key features a live chat software solution provides.
Customizable chat window: You should be able to match your live chat window to your website and branding either by choosing one of the designs and colour schemes the live chat software provides or by adding your own template, complete with your logo, welcome message, and font.
Rule-based automated proactive chat: Proactively engage prospects and customers using automated live chat invites based on the stage the prospect is in, their actions on your website or product, and more.
Live chat departments: Group your live chat agents into departments based on business function, service location, or area of expertise.
Chat routing: Set up rules to assign incoming chats to the right live chat agents or departments automatically.
Canned replies: Save pleasantries and frequently used responses that you can invoke in a click during a live chat conversation.
Voice notes: Let visitors ask questions and explain solutions to them through voice notes in your website live chat window.
Chatbot builder: A platform that helps you create a website chatbot based on your business requirements.
Live chat business hours: Configure your web live chat widget to go offline beyond your team's work hours, or set up an offline status message so customers know when to expect a response.
Real-time chat translation: Get website live chat conversations translated in real time into your primary language and vice versa.
Chat monitoring: Get a real-time view of ongoing live chats by your operators to ensure they meet your standards and even join in when needed.
Mobile SDK: Easily add live chat to your business's iOS and Android mobile apps.
Agent mobile app: Enables your team to stay informed of relevant events in your live chat operation and even respond to customers from their mobile devices when needed.
What are the benefits of using live chat on websites?
The benefits of using website live chat software are:
Website live chat enables proactive website visitor engagement and helps you automate lead capture.
It helps improve lead nurturing at the right moments to boost sales.
With prompt answers during checkout, live chat helps reduce customers' risk perception, thereby limiting cart abandonment and increasing average order value.
Live chat on your website facilitates real-time contextual customer support and increases retention, brand loyalty, and advocacy.
Website live chat helps you build a rapport with customers and happy customers are more likely to give you testimonials that help win more customers.
Analyzing the most repeated queries on your web live chat also helps you identify bottlenecks on your website and discover customer pain points.
Why do businesses need online chat for websites?
Here's why you should add live chat to your website
Prospects and customers expect immediate assistance.
Website live chat software saves time and support costs.
It helps automate lead generation and data collection.
Adding live chat on your website reduces bounce rate and bottlenecks.
Live chat software bridges the gap between marketing and sales efforts.
Live chat reduces sales conversion time significantly.
Proactively addressing prospect concerns via website live chat reduces cart abandonment.
Web live chat facilitates 24/7 customer support.
Using website live chat software for customer service rids customers of long waits for support and the resulting churn.
Website live chat improves customer experience.
It helps global business communication without the need for multilingual teams.
How to choose the best live chat for websites?
While evaluating live chat software for your website, you need to consider the following factors:
Your business requirements and use case. That is, the industry you're in and if you need it for marketing, sales, or customer support. Choose live chat software with the right set of features that fit your use case.
The size of your customer base and your live chat team. If you have a large team, ensure that the live chat software lets you create departments and route incoming web chat requests to the right agents. If you don't have the team strength to handle a huge influx of chats, check if it has enough automation options, including chatbot builders with AI functionality.
Ease of use and learning time needed
Customizability
Integrability with the rest of your tech stack
Availability of a mobile SDK
Budget
Check out our detailed domain insights article to learn more about how to select the best live chat software.