Here's how Zoho SalesIQ helps you deliver an above-and-beyond service.
Help customers easily connect with you
Don't wait for customers to hunt down your customer care information. A chat widget on your website, product, or mobile app makes it easy for them to reach you and receive live customer support in real time.
Trigger live chats based upon need
Proactively launch chats on error pages to deliver exceptional support. Using Mobilisten, you can even contextually display your live chat button wherever a user might run into trouble with your mobile app.
Learn More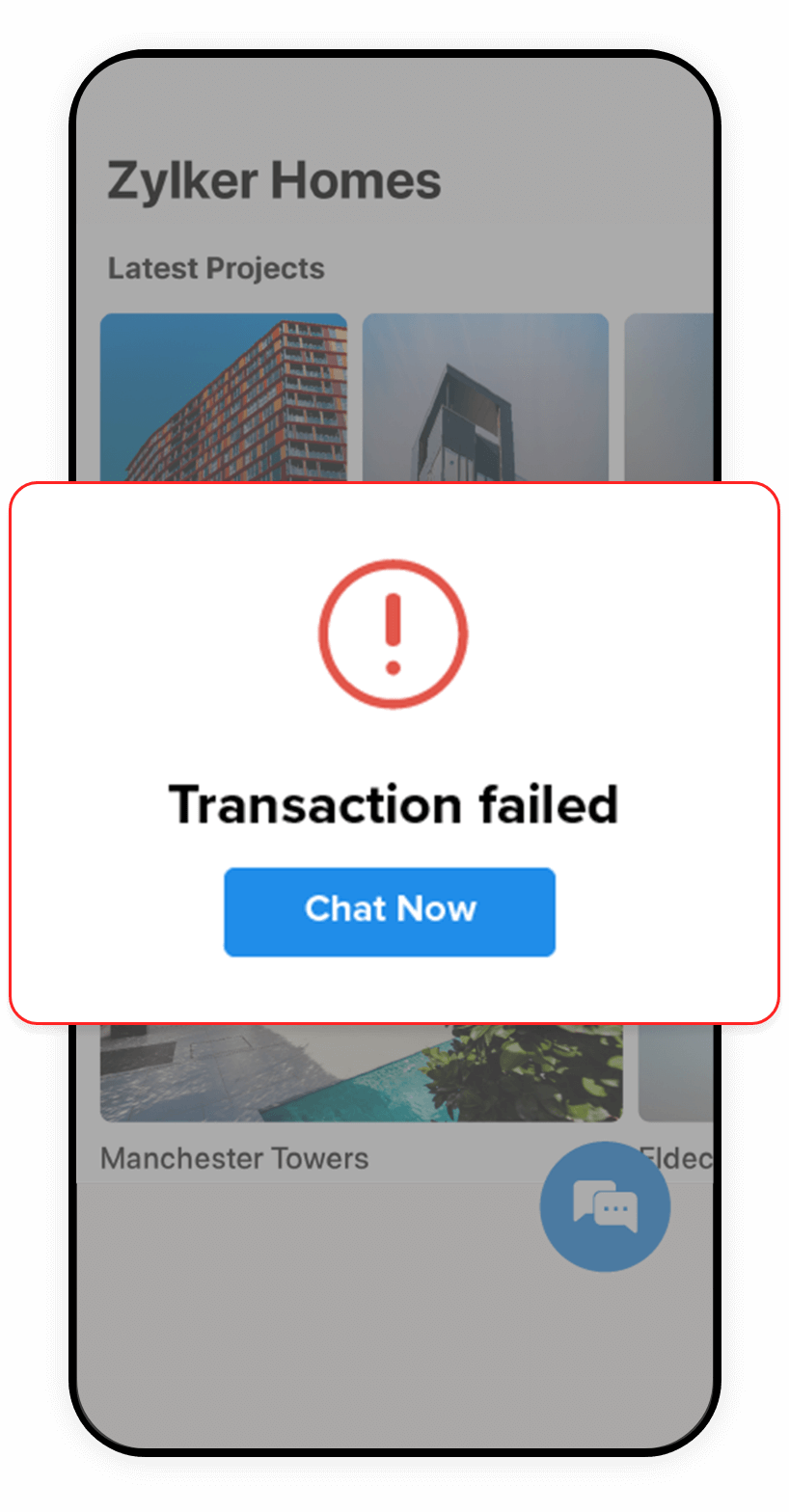 Offer 24/7 customer support with chatbots
Scale up your support team by deploying chatbots to answer customer queries around the clock.
Codeless custom bot building
Easily create custom bots with our intuitive codeless bot-building platform. All you need to do is decide the flow and write the responses!
AI bot building
Build a smart bot powered by AI technologies like IBM Watson, Dialogflow, or our own Zia. You can also add a library of small talk responses and terms specific to your business to aid the bot.
Bot building using Webhooks
Do you prefer programming a bot that's connected to all your internal databases and servers using your own frameworks or a third-party bot service? We support webhooks that let you connect your bot with Zoho SalesIQ.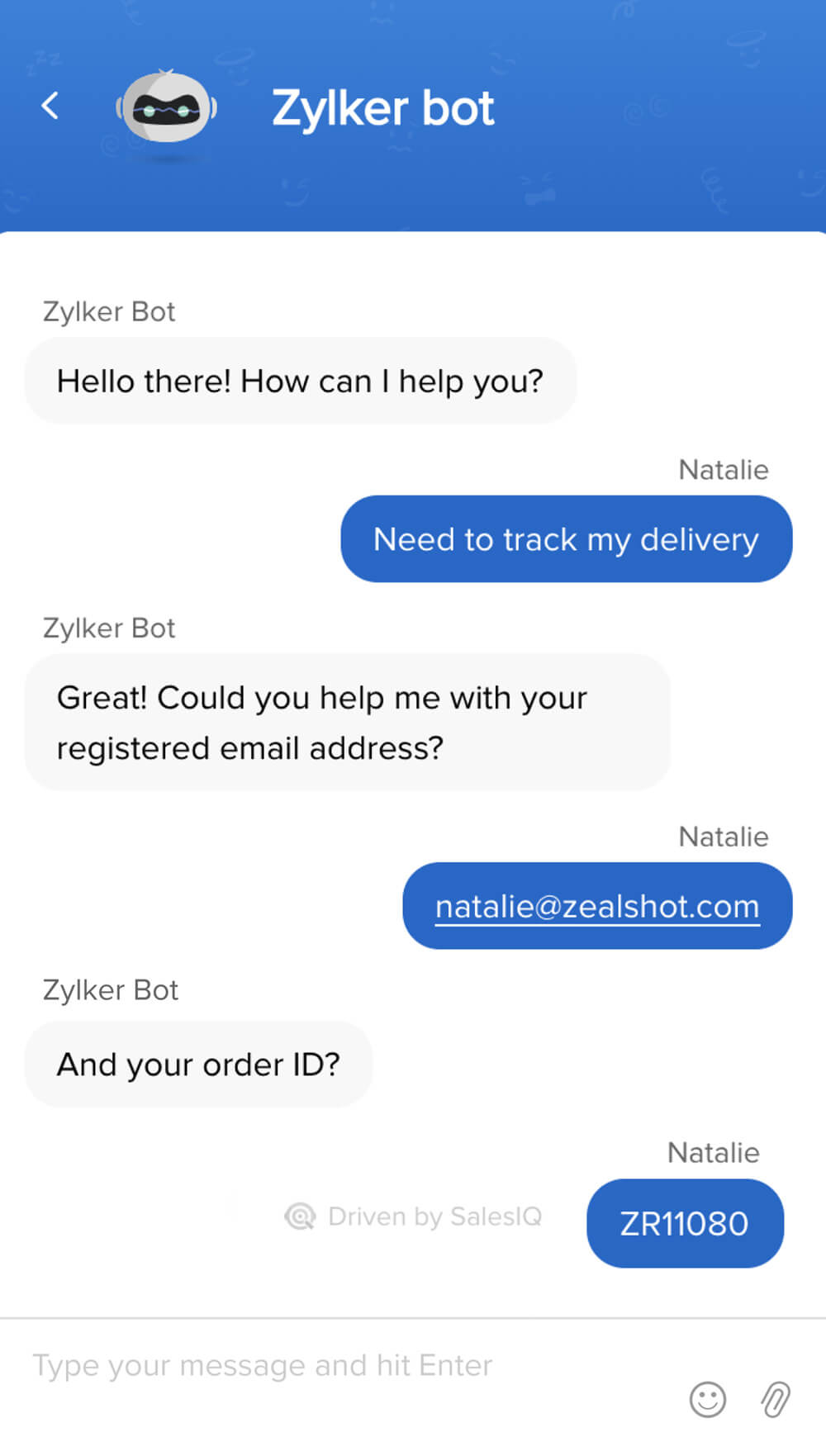 Manage expectations by setting business hours
Set the work hours your support team will be available to help customers, and your chat widget will only be displayed within this specified period. This way, customers don't leave your website disappointed after waiting for a response.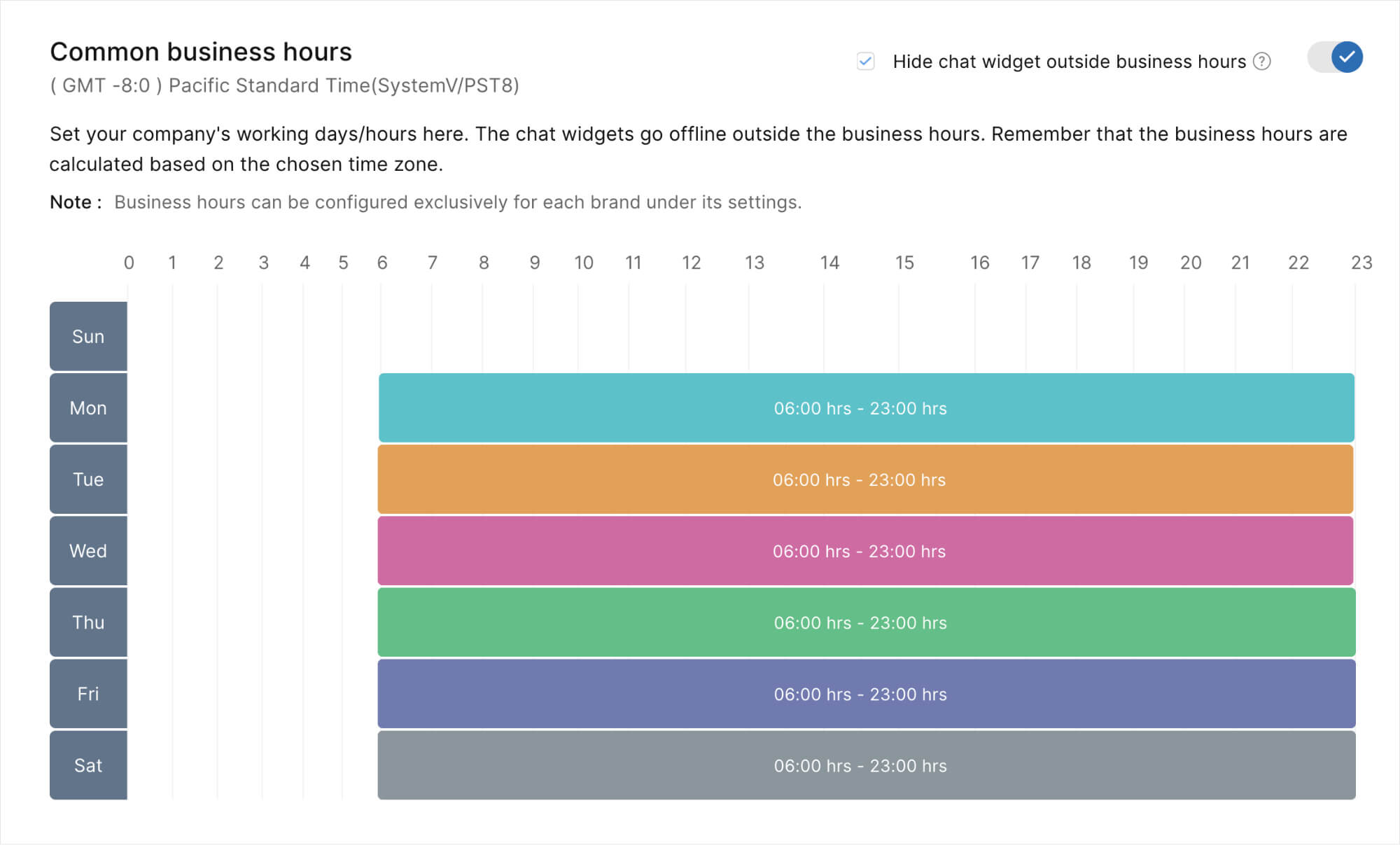 Answer customers quicker with time-saving features
Response time is of the utmost importance in live chat support. Zoho SalesIQ comes with features that help you respond instantly to customer queries.
Canned responses

Find yourself always typing the same answers while talking to different customers? Save time by setting pre-determined responses to frequently asked questions and use them during chat conversations.

Typing preview

Wouldn't it be great if you could read your customers' minds? Zoho SalesIQ's typing preview does exactly that, buying you extra time to process your answer by giving you a glimpse of a customer's question as they're typing.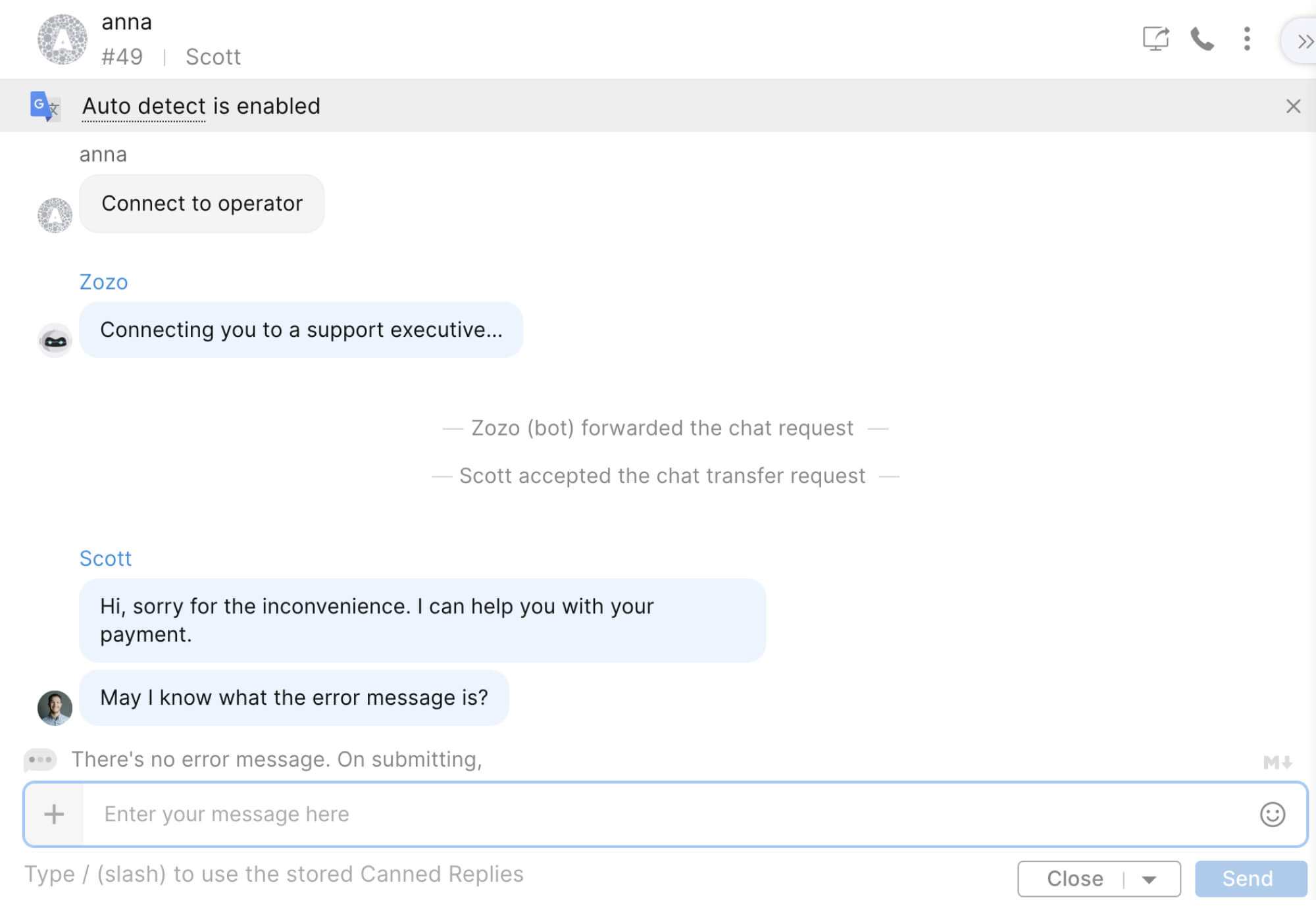 Enable self-service with a knowledge base
Create resources for customer self-service or bot responses so answering common questions doesn't take up much of your time. Agents can also share these resources with customers to support their responses.
Articles

Make help documentation available within the chat window as articles so customers can search for answers before reaching out.

Frequently Asked Questions

When powering your bot with Zia, you can add answers to common questions that it can use as responses to queries. You can also link FAQs to related articles to be displayed along with the response.

AI bot resources

Give your AI Answer Bot a human touch with Small Talk—sets of engaging responses. You can also equip it to understand and respond to a wide range of business and industry-related jargon and their synonyms used by prospects by adding Business Terms. Queries that aren't answered by your bot are stored and the number of occurrences denoted for you to easily update your resource library.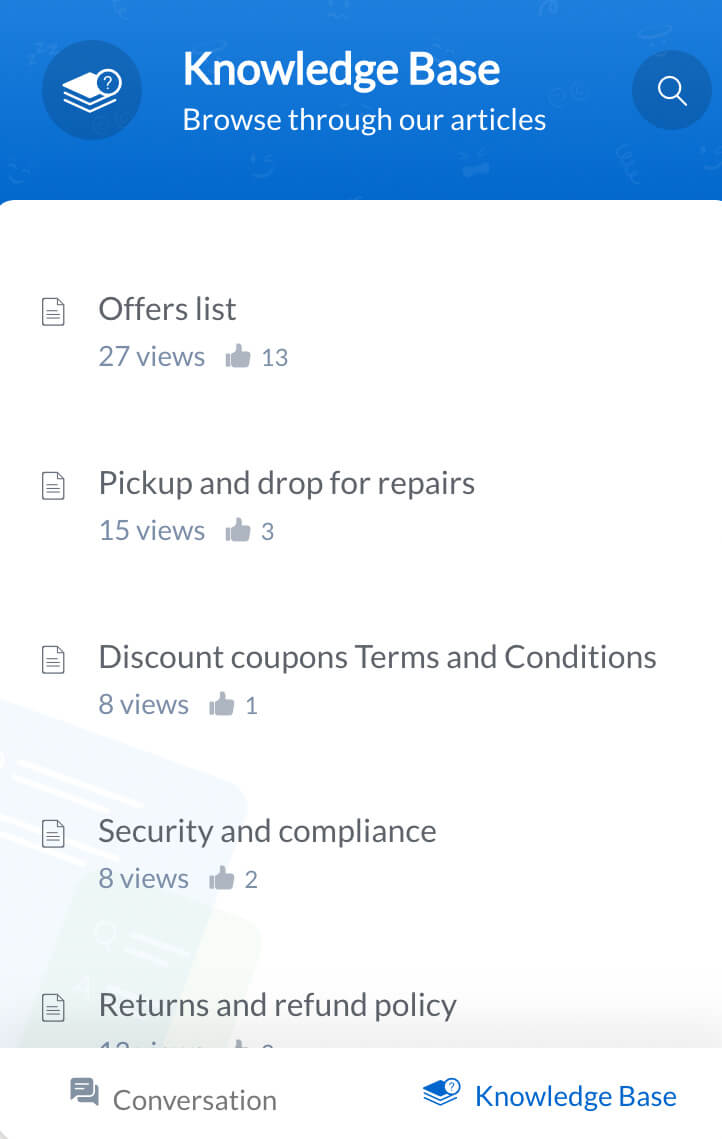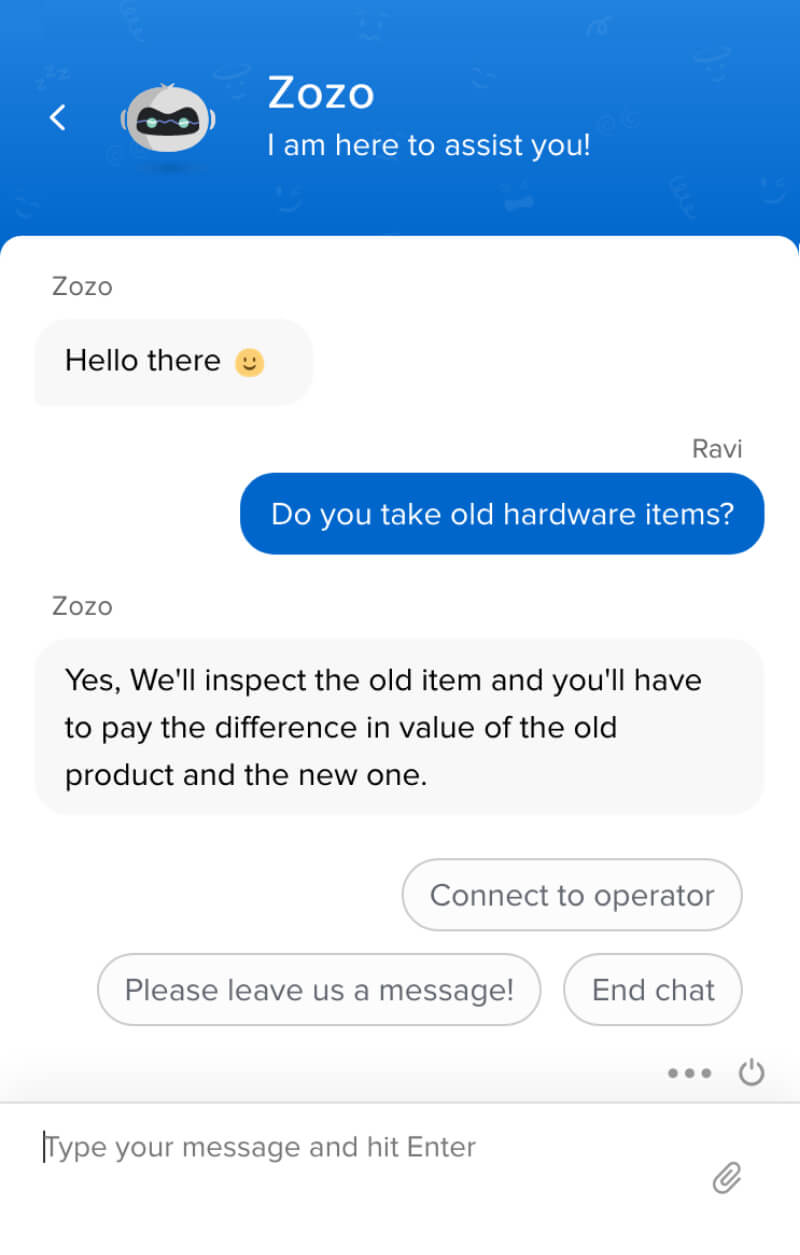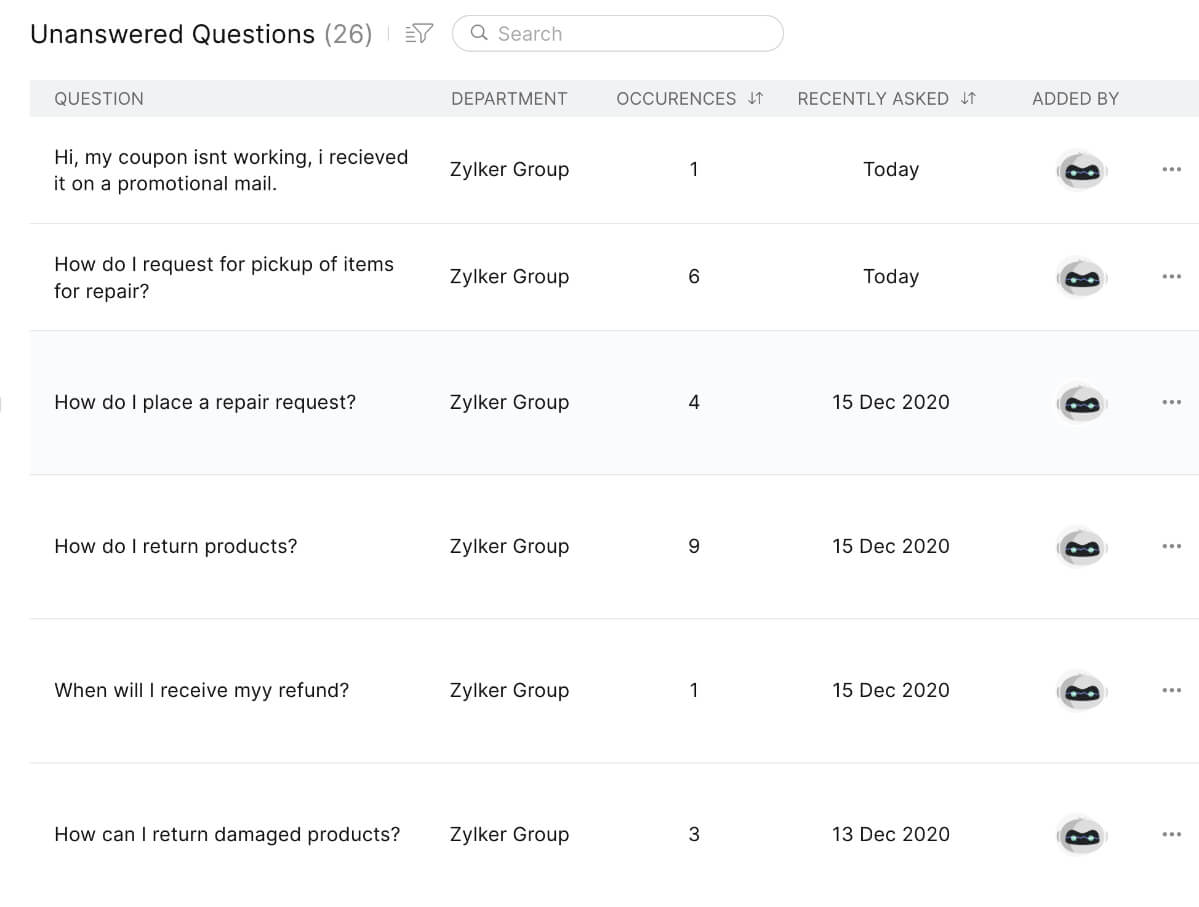 Provide more personalized customer support with context
Know what support a customer has previously received, what resources they've viewed, and more helpful information before you chat with them. Zoho SalesIQ gives you details on their browser or device configurations, actions on your site, and chat history so you can assist them better.
Minimize switching between apps by creating widgets to display all the customer data you need. Pull from your CRM, ticketing tool, or any other third-party software and display it right beside the chat.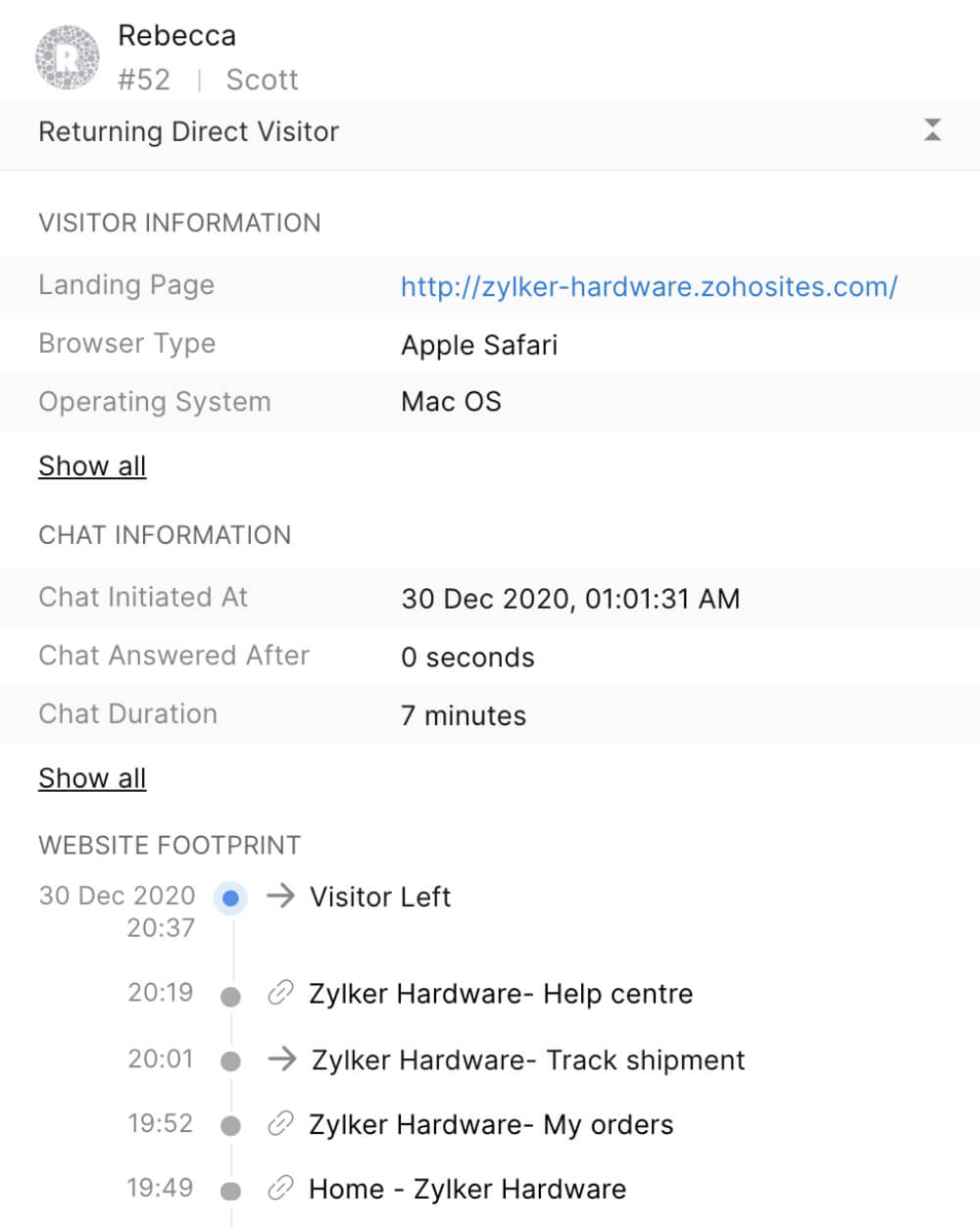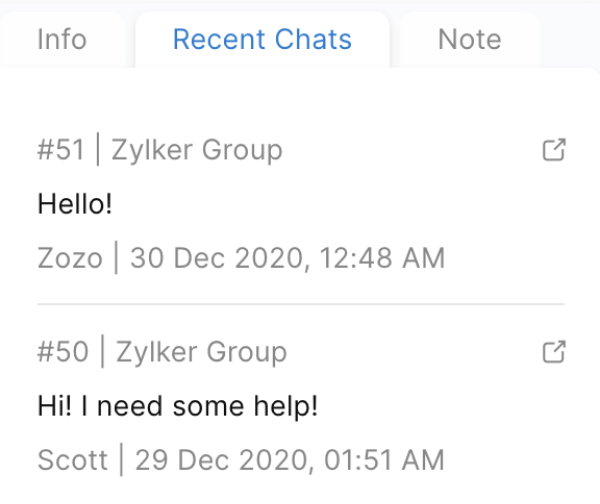 Translate your chat in real time
Language shouldn't be a barrier to outstanding customer support. Assist customers from around the world in their own language with Zoho SalesIQ's real-time chat translation.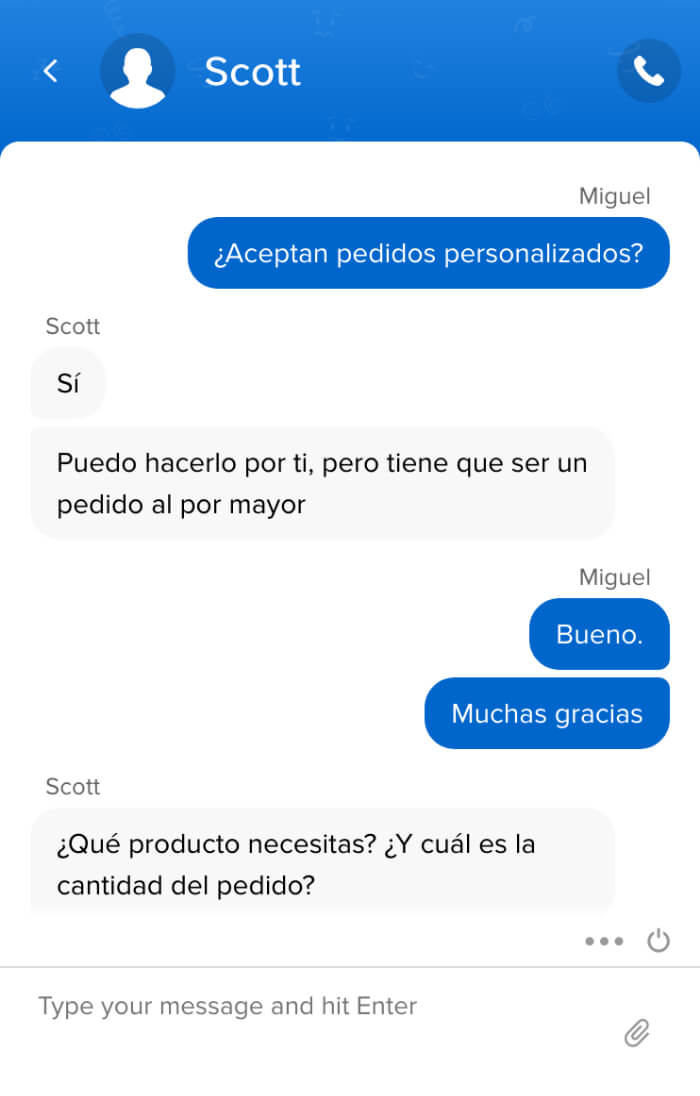 Go beyond messaging with your customer support
There's no one customer support channel or method that fits every situation. With Zoho SalesIQ, you can effortlessly switch between chat, voice calling, and even screen sharing or remote access to assist customers.
Hassle-free audio calling

Enjoy the benefits of phone support minus its hassles. Solve complex queries by hopping on a call with your customer without any installations or added cost. Customers can also call you from the chat window in a click without any wait tones or IVRs.

Screen sharing and remote access

Zoho SalesIQ's screen share and remote access feature—powered by Zoho Assist—gives you a firsthand view of the customer's problem so you can provide instant resolution with real-time demonstrations.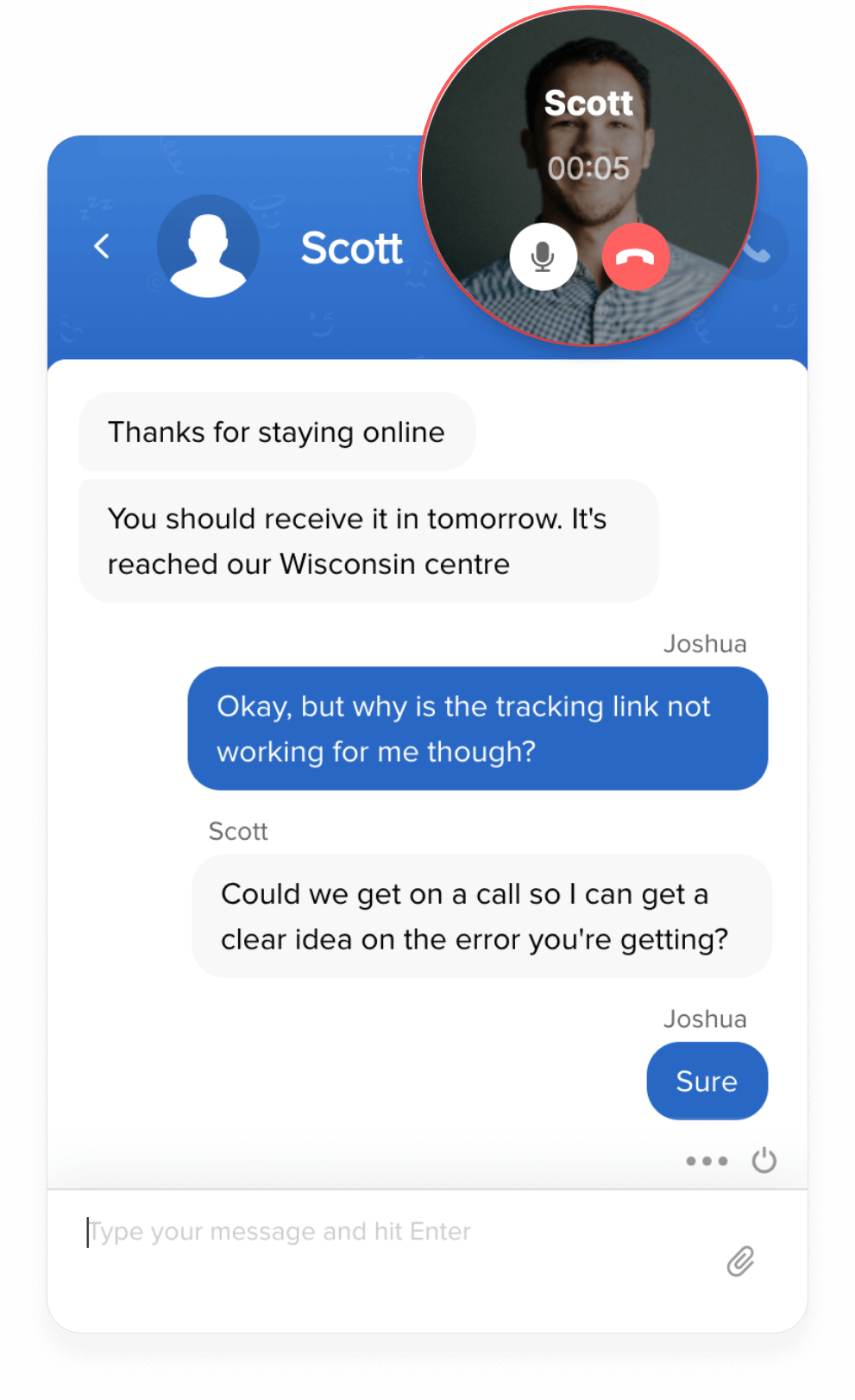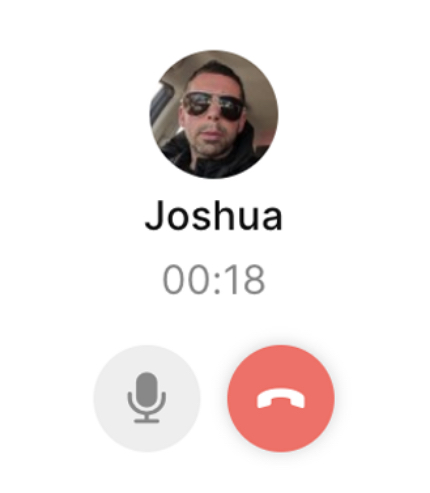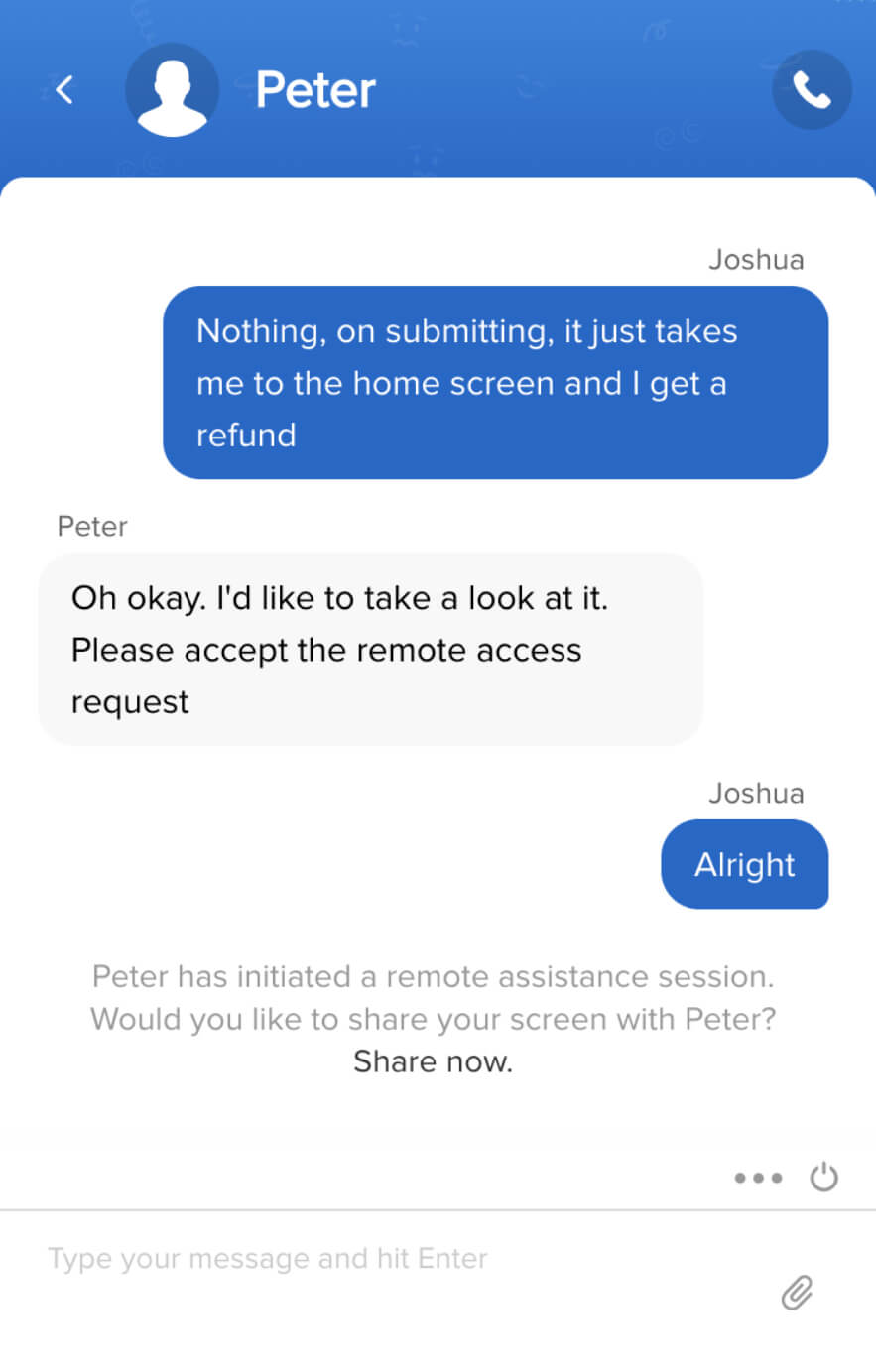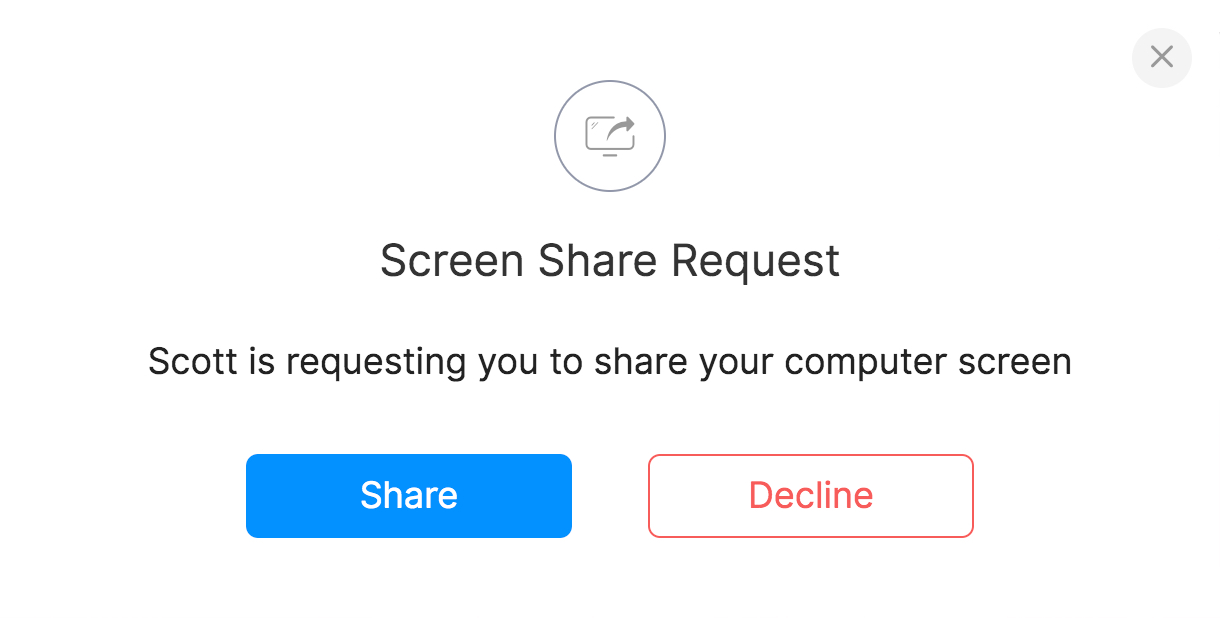 Connect customers directly to the right person
Improve customer experience by reducing annoying transfers between customer service agents and cutting resolution time. Let users choose the department they want to connect to, or use smart chat routing rules to instantly direct them to the right person.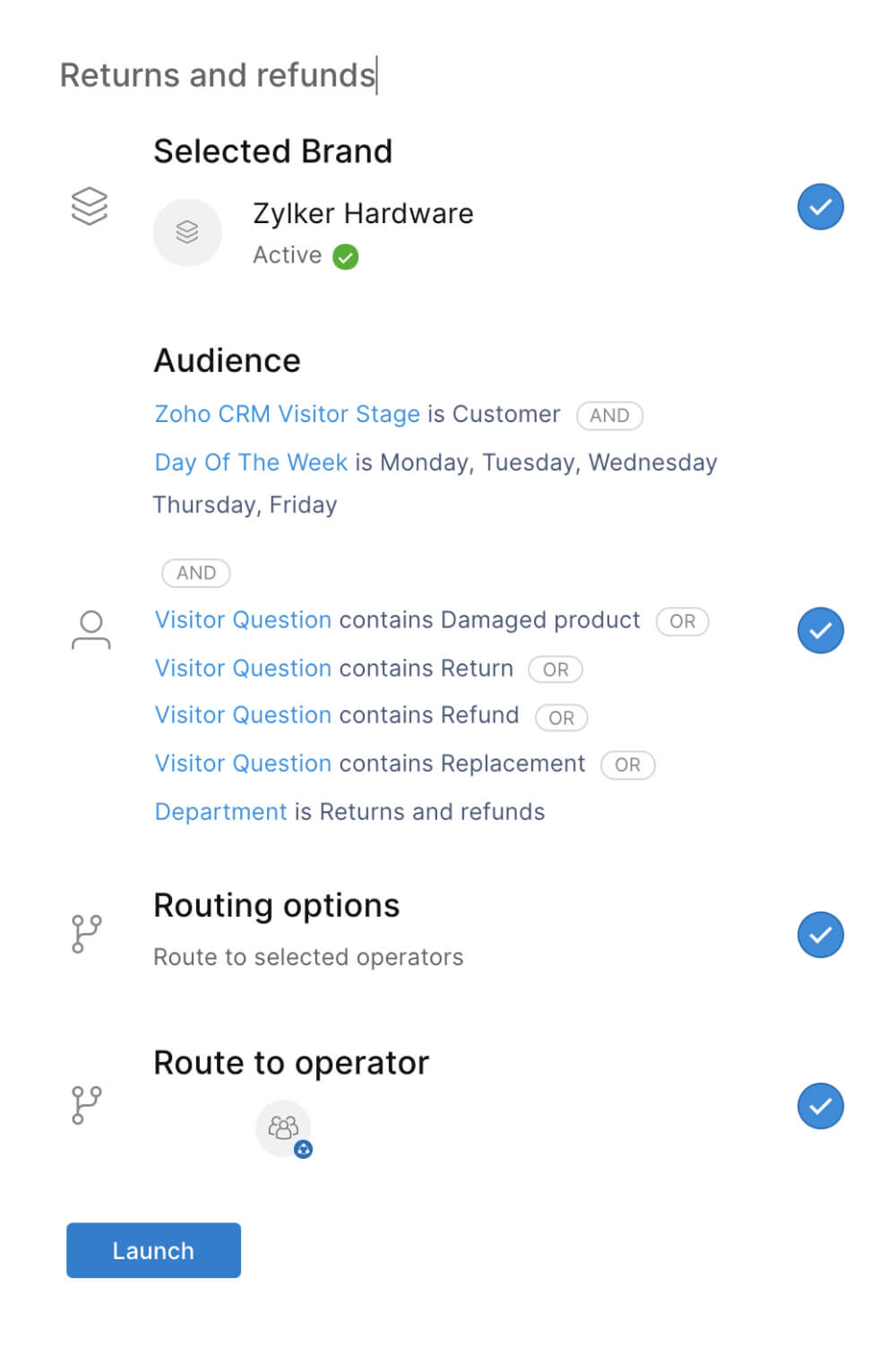 Unify customer support with Zoho Desk
Integrate your Zoho SalesIQ account with Zoho Desk for a complete view of all your support interactions in one organized database. Help customers through live chat while referencing the context of their existing support requests and convert chats to support tickets all from one place.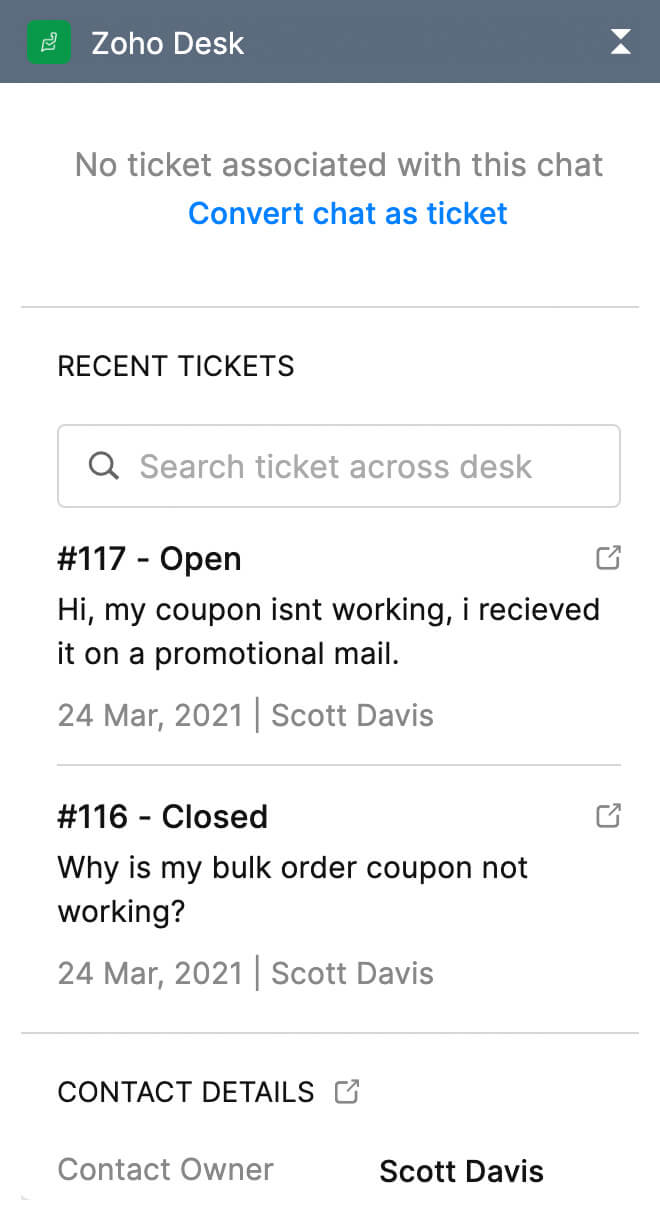 Observe and analyze agent performances
Get a bird's-eye view of your customer support live chat operation and agent performance to immediately address any flaws.
Chat monitoring for agent training

Provide on-the-job training for your newbies without risking customer service quality. Set up monitors to view all their customer chats in real time and provide feedback before they hit "send," or even join an ongoing chat when they need help.

Chat rating and customer feedback

Customer satisfaction is the ultimate goal of every business. Zoho SalesIQ lets you collect your customer's feedback on the live chat support experience they had with your agents, helping you improve any flaws.

Pre-built performance reports

Schedule monthly, weekly, or daily team performance reports to be delivered right into your inbox so you can always keep a close watch. You also get a detailed picture on your support live chat operation using SalesIQ's reports dashboard.

Comprehensive reporting with Zoho Analytics

Get meaningful insights from your reports by integrating with Zoho Analytics. Analyze chat trends to ensure your team is prepared to handle the influx. Track important metrics like missed chats, average response time, chat duration, and customer ratings to plan your staff roster and manage your team better.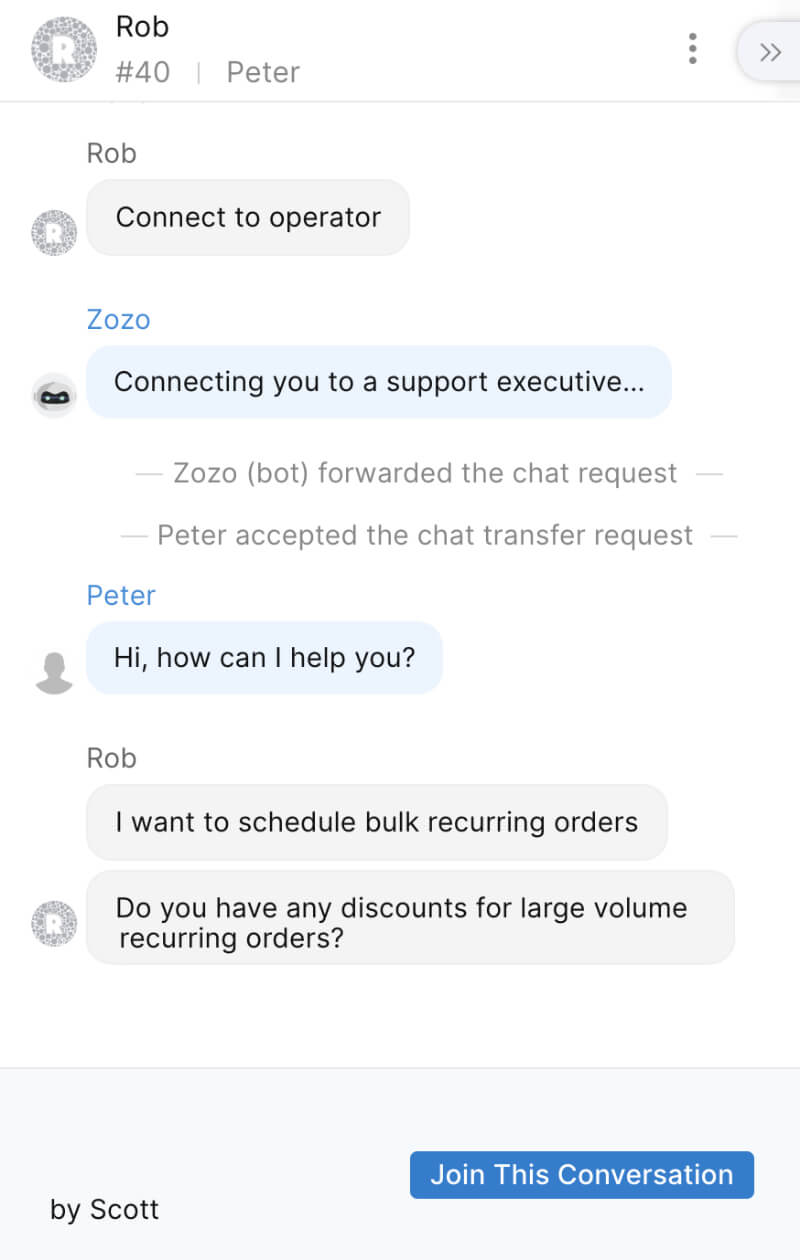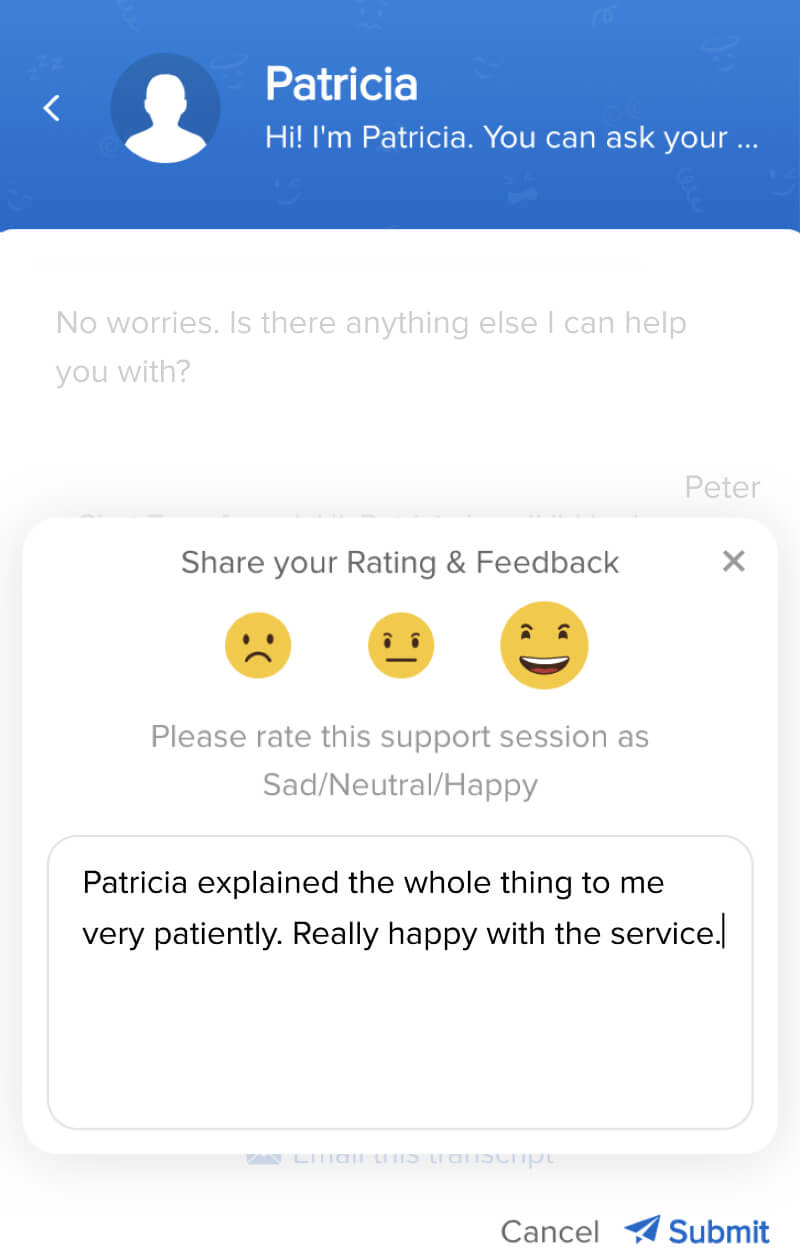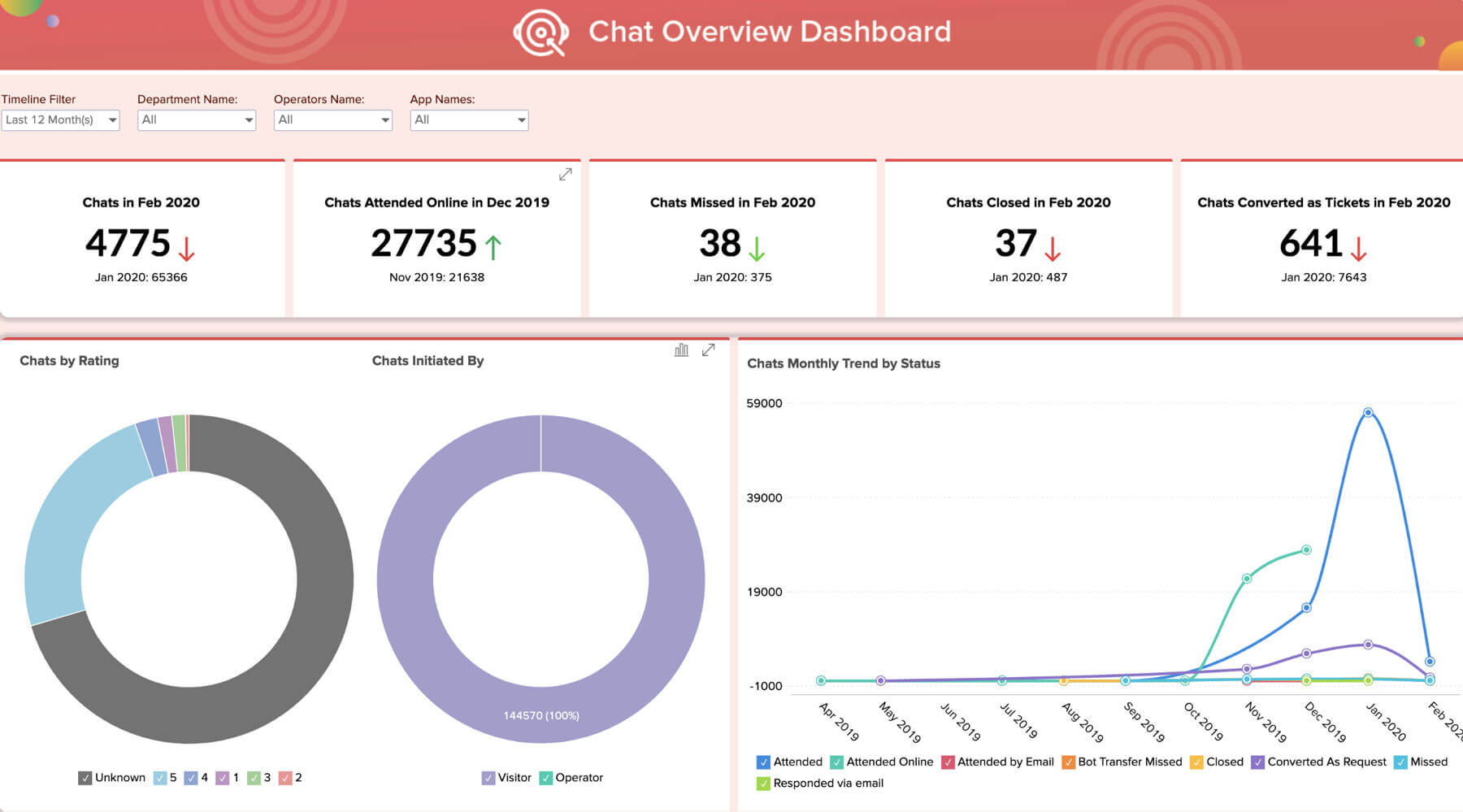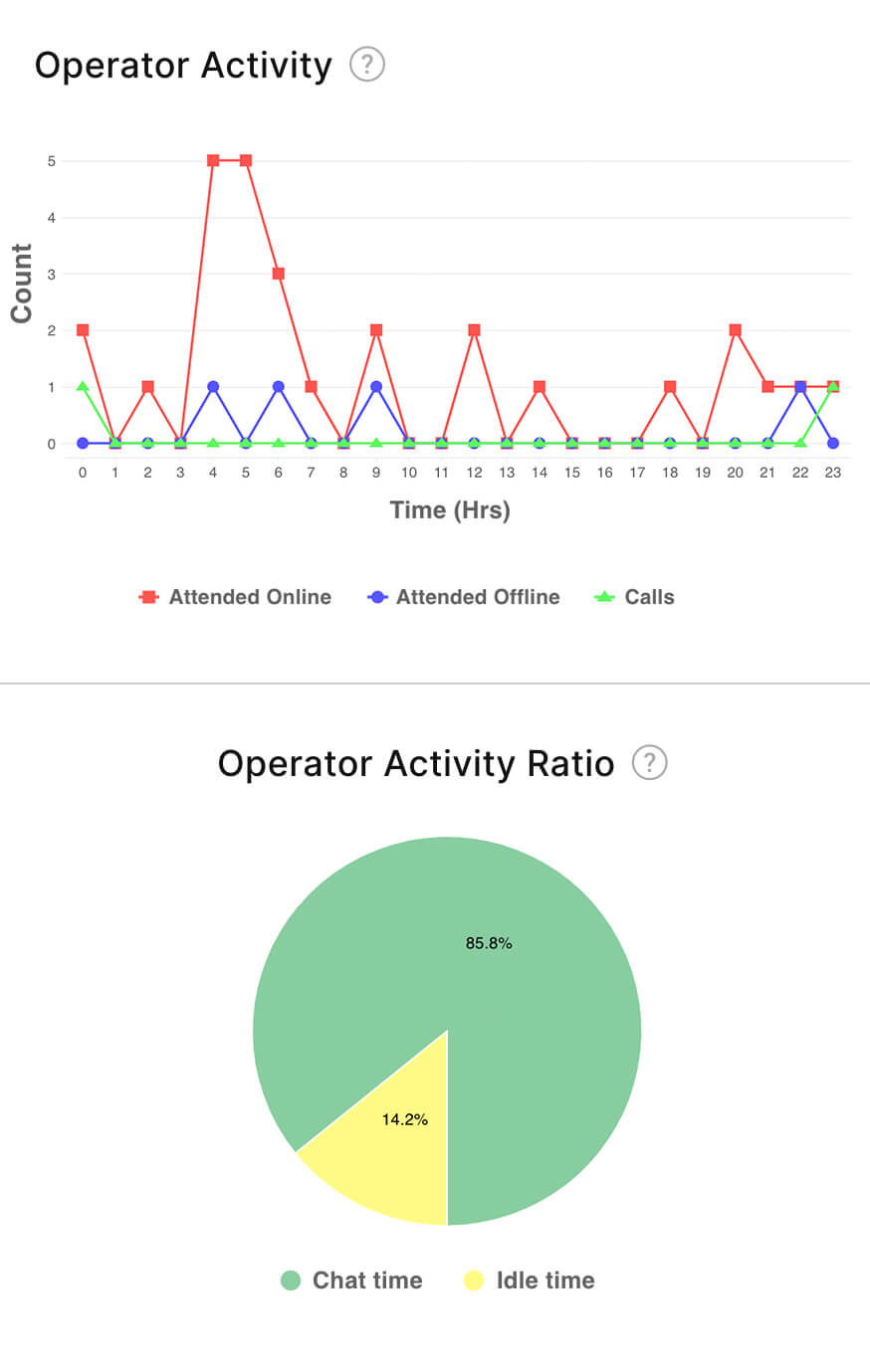 Give customers access to their chat history
Zoho SalesIQ provides your customers access to their previous chats with you as separate conversations, right within the website live chat window. This way, they can just quickly refer to an older conversation for a specific detail without having to contact you with the same question.
Customers can also reopen a closed chat when they feel the need to continue the conversation.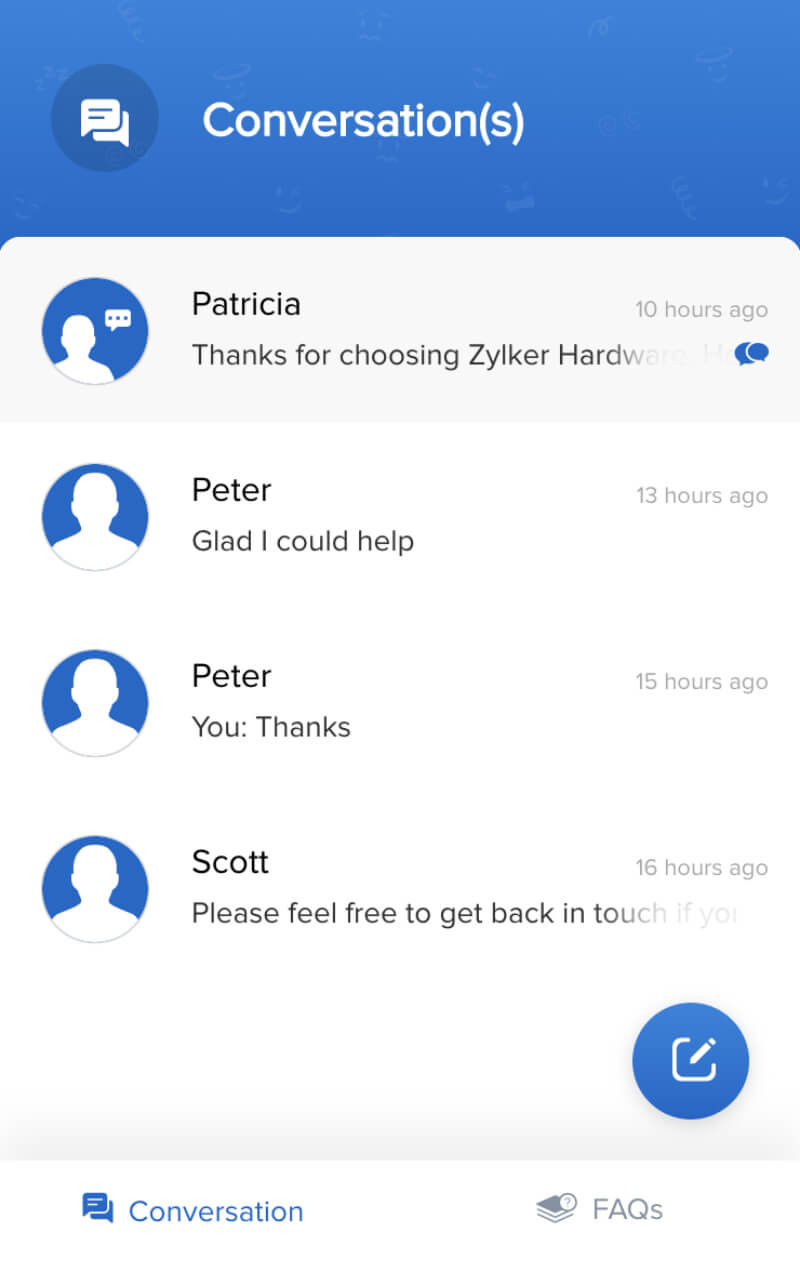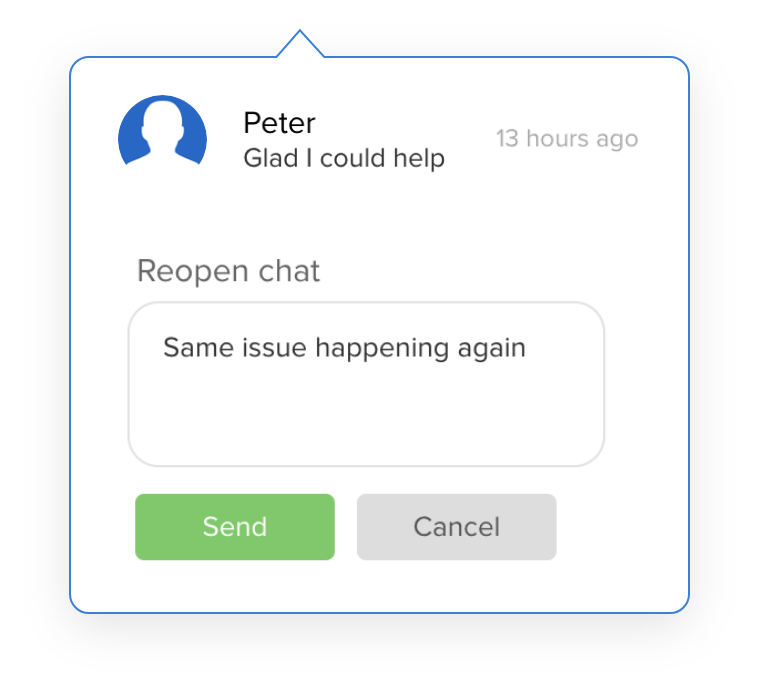 Block spam and abusive chats
Though live chat helps your customers reach out to you for assistance, it can also open the door for spammers or downright abusive cyber bullies. Stop them from accessing your chat window by blocking their IPs, freeing you to spend your valuable time attending to customers who really need your help.
You can also make a list of terms you deem inappropriate and configure session termination or block IP at the brand level. Any bot chat session that encounters these terms will be automatically closed or the visitor's IP address will be blocked.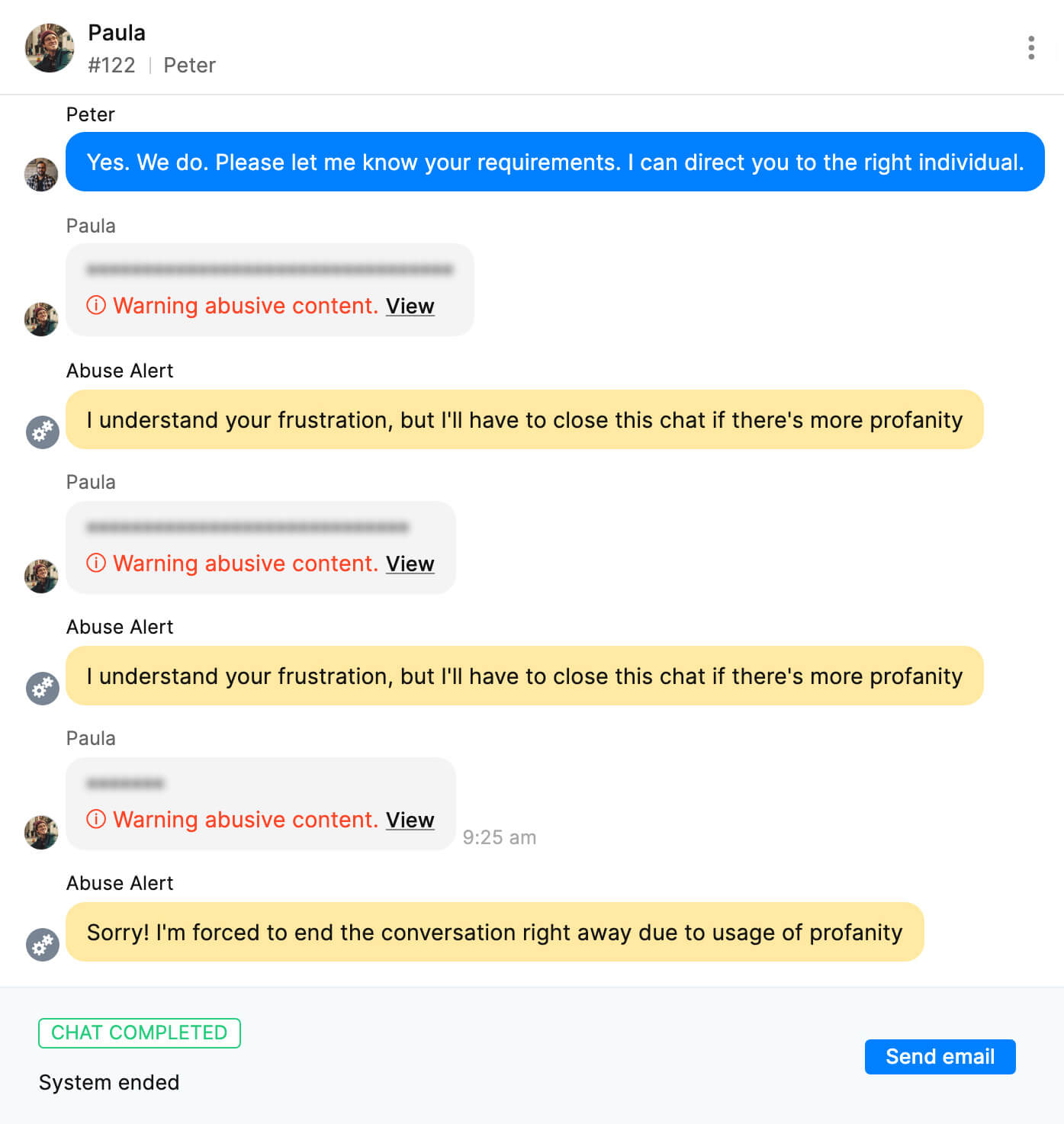 Go mobile with our iOS and Android apps
Live chat customer support agents don't have to be chained to their desks anymore. Zoho SalesIQ's mobile apps—available for iOS and Android—notify you of new chat requests so you can immediately respond from your phone no matter where you are.
Learn More