Form Controllers
A form controller is triggered either upon the form's submission or on adding or updating input in a form field. When an operator adds or updates an input value in a form field or clicks the submit or cancel button in the form, the form function associated with this function is triggered to execute the intended action.
Benefits of Form Controllers:
In general, form controllers are used to collecting multiple structured data as inputs to perform a particular action.
Forms can be used as a part of a widget's action response to collect data from your operator and push the data to any application.
For example, in an e-commerce business, every customer may have a membership. The operator can upgrade or downgrade the membership based on the visitor/customer's requirement.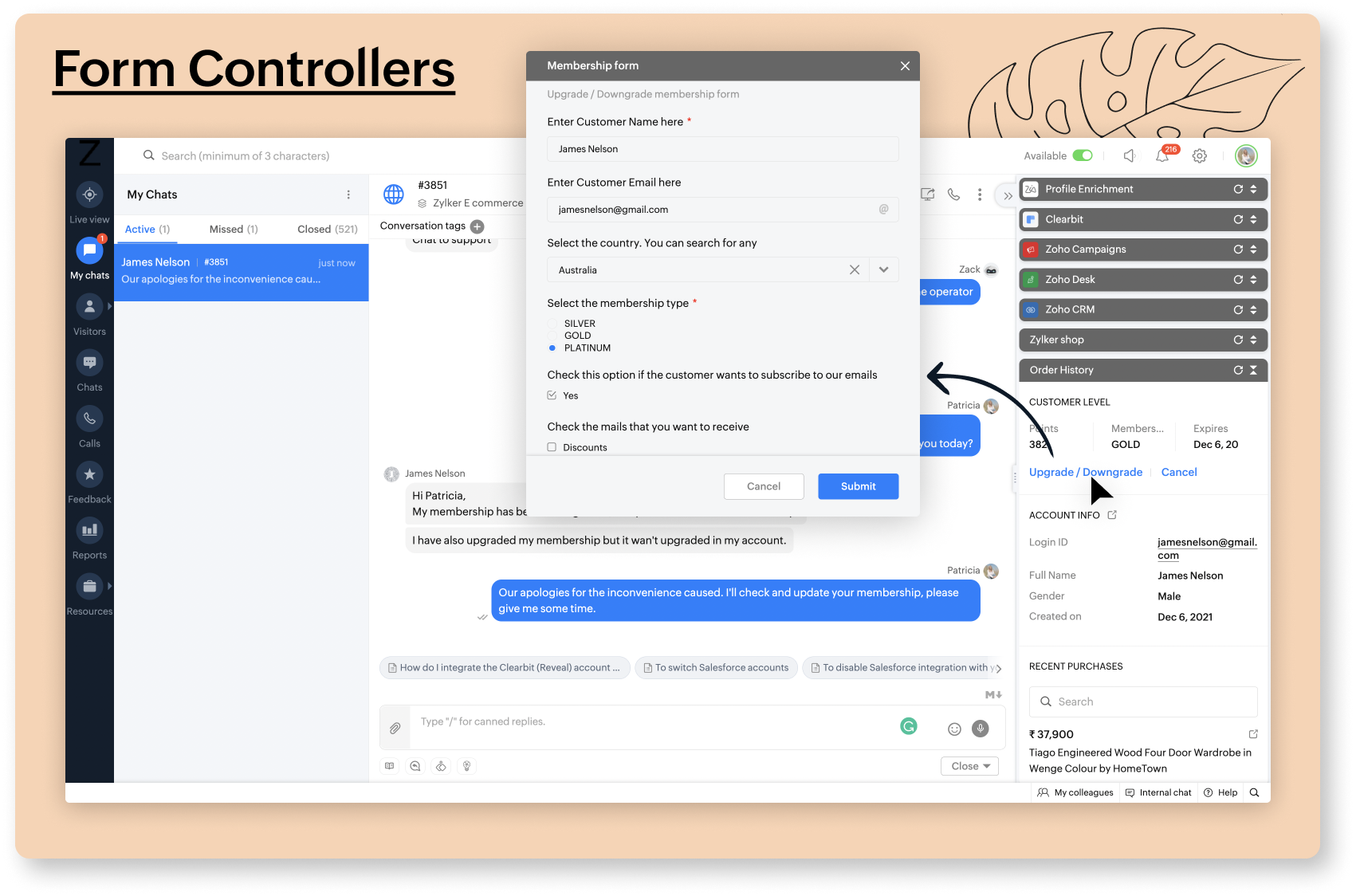 To build a form controller for your widget, follow the below instructions.
In your Zoho SalesIQ dashboard, navigate to Settings > Developers > Form Controller.
Click on Add
Give your form a name.
Next, select the brand on which you would like to deploy the form. Only the department associated with the brand will be able to view this form.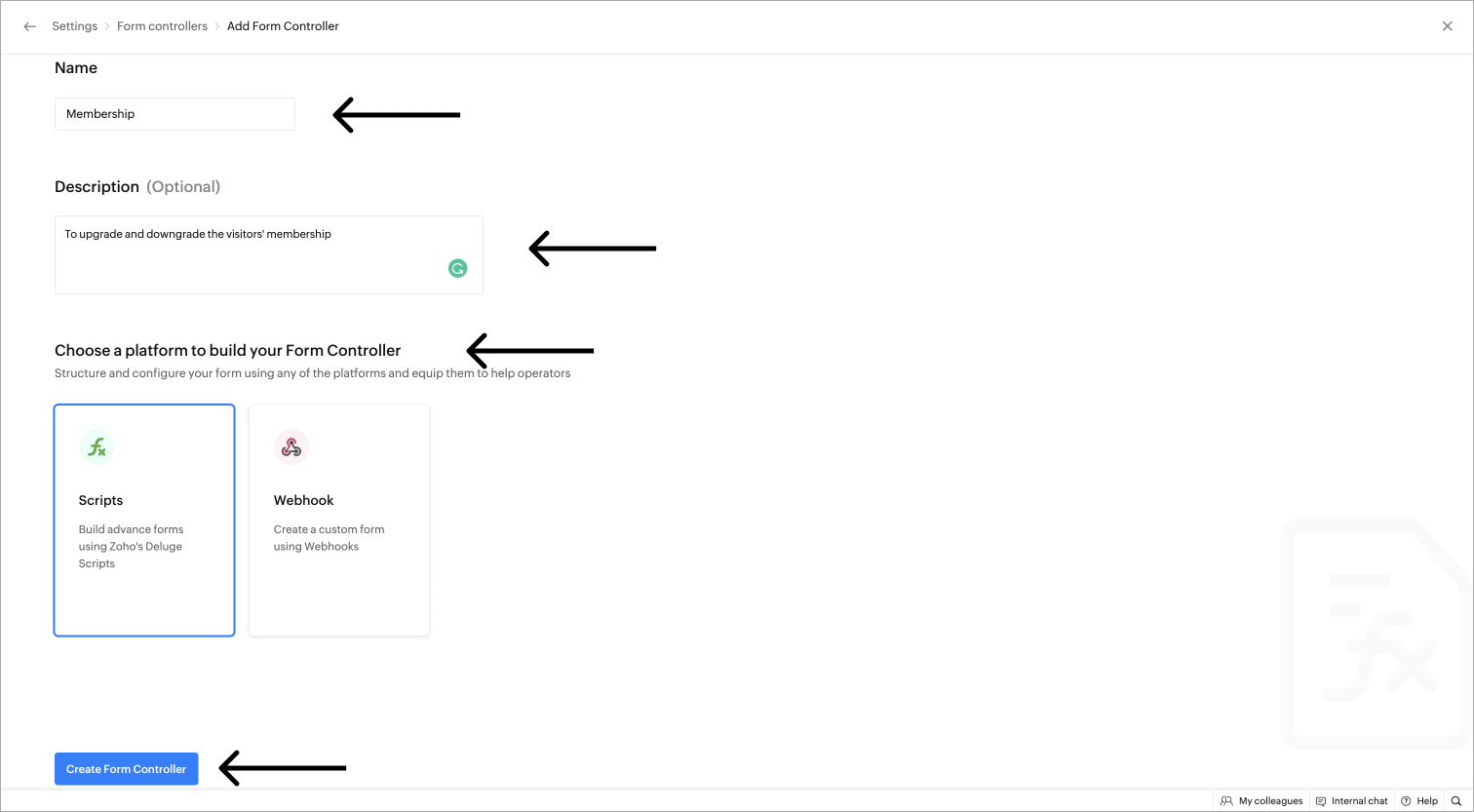 ​Note: Form can be associated with more than one brand.
Then, choose the modules that the form should display.
Choose the platform to build your form, it can either be
Finally, click on "Create Form Controller", and you will be directed to the form platform you choose.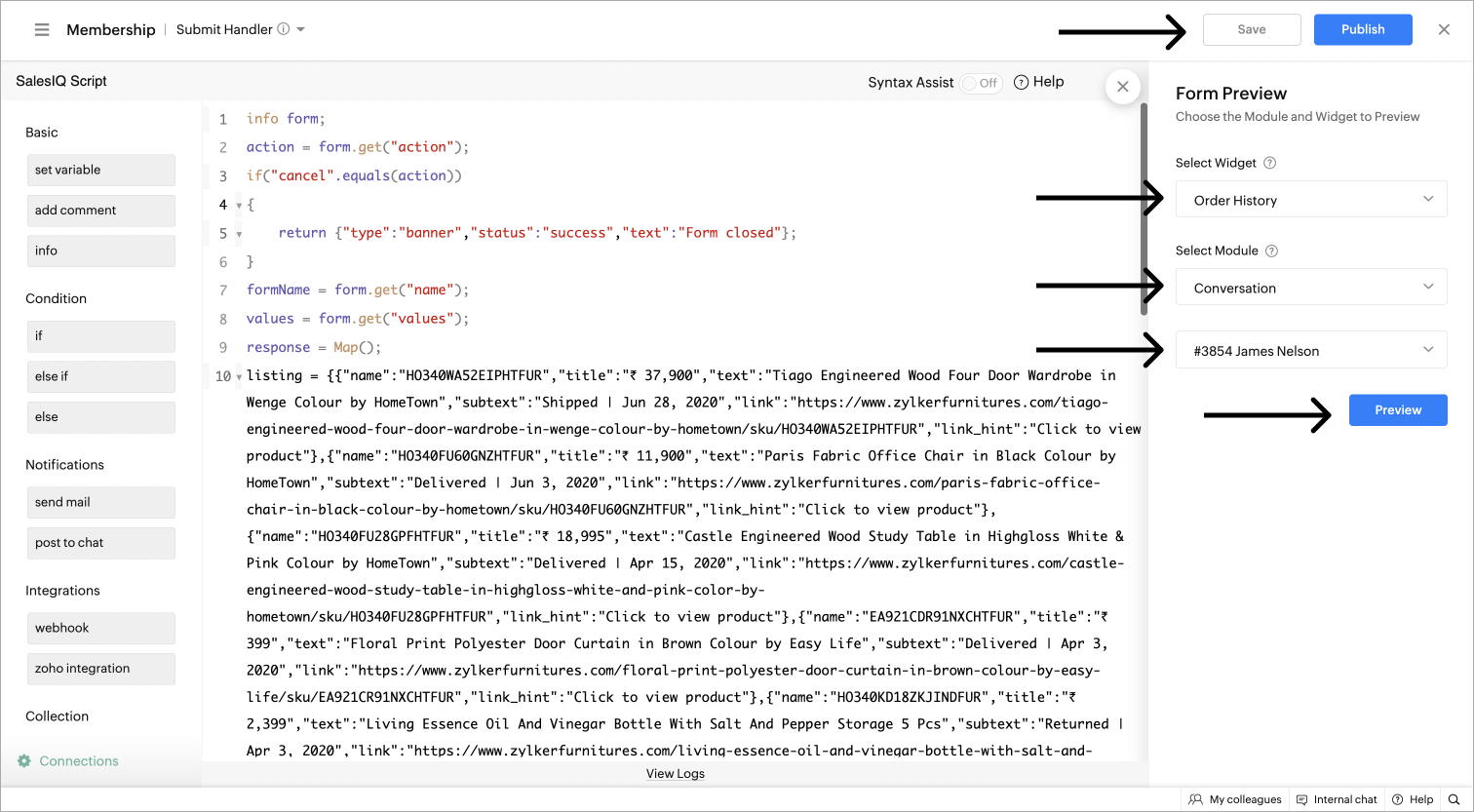 After building your form, click on Save. For testing, click on Preview, and select the widget you would like to associate this form and its module.
​
Finally, click on Publish to deploy the form on the widget and so on the operators' dashboard.
To edit the form, navigate to Settings > Developers > Form Controllers, all your existing widgets will be listed here.
Click on the form you would like to edit.
Then, click on Configure profile to edit the form's name and description.
To edit the code/script or the webhook URL of the widget, click on Edit code/URL, and you will be directed to the platform you choose.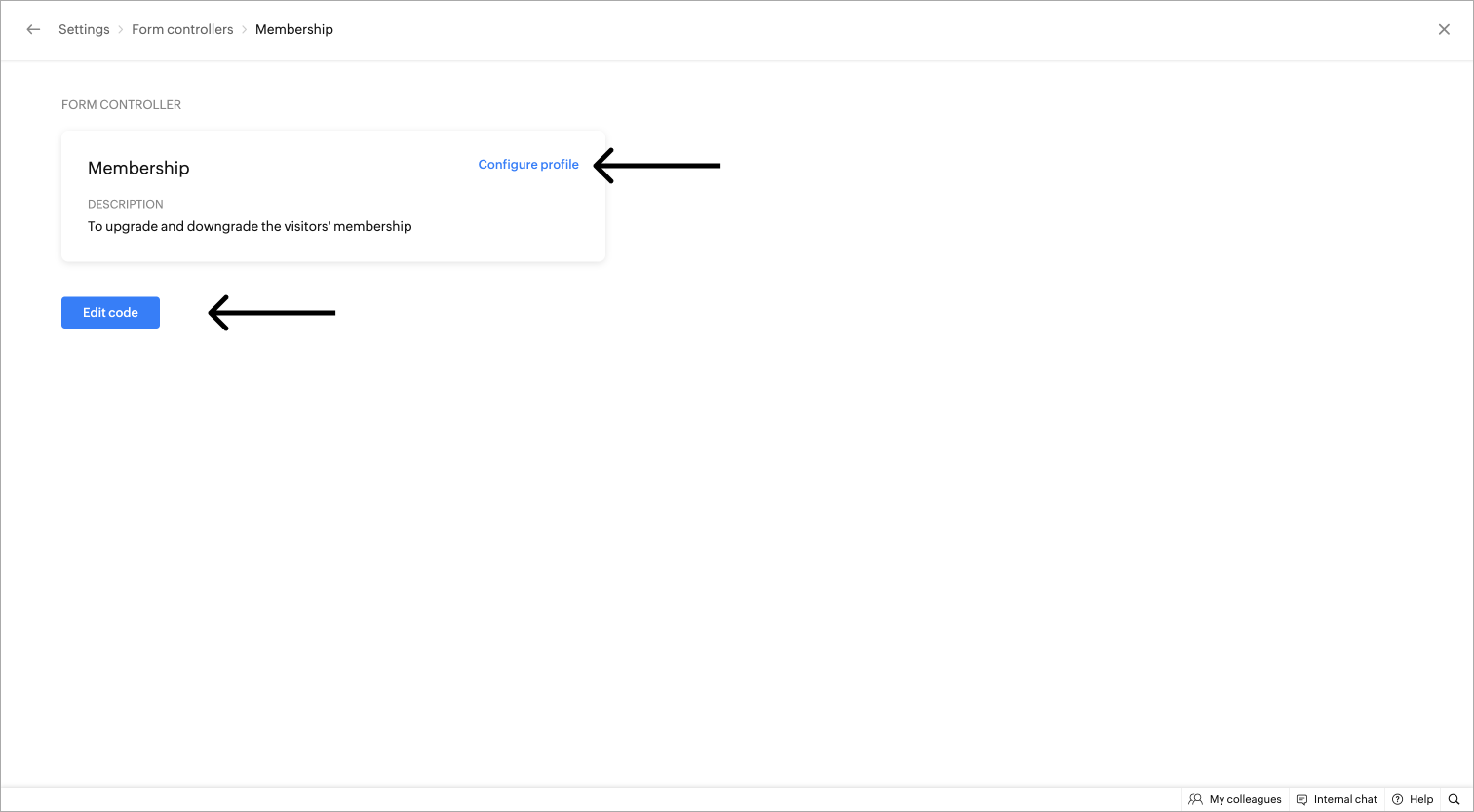 ​Next, make the required changes and click on Publish to reflect the changes made.
To delete a form, navigate to Settings > Developers > Form Controllers, all your existing forms will be listed here.
Hover over the form you would wish to delete, then the delete icon will appear.
Click on it and the form will be deleted.
Toggle on the form at the right to disable it.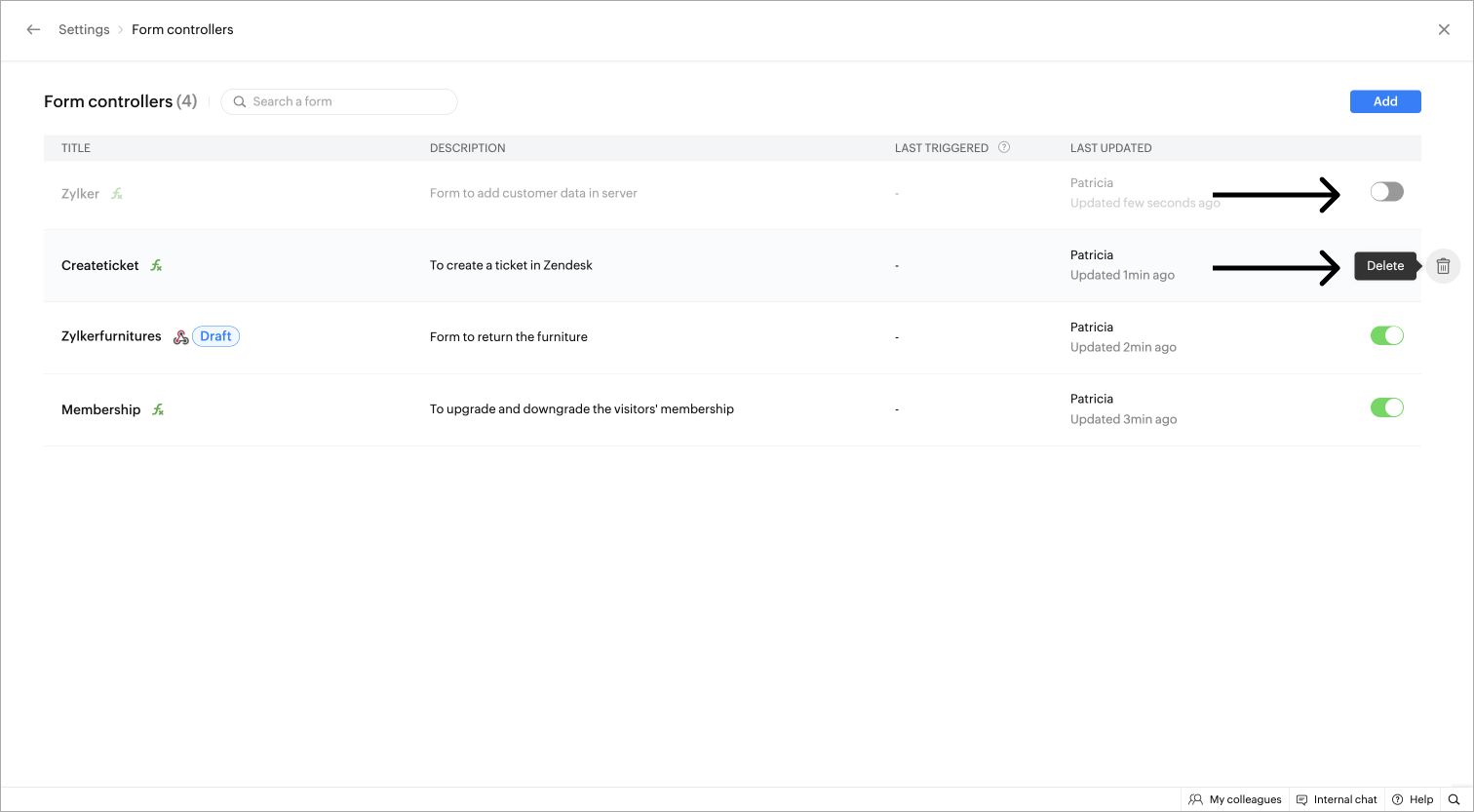 ​Currently, SalesIQ supports two platforms to build your custom widgets.
SalesIQ Scripts is a form-building platform that uses Deluge or Data Enriched Language for Universal Grid Environment as its online scripting language. Deluge is deemed to be robust and easy to use because of its user-friendly syntax. The deluge script builder offers a drag-drop user interface, thus leaving out the task of remembering deluge syntax and functions for the user. Furthermore, deluge offers a connection interface to make third-party integration easy.
​Webhooks are useful and an easy way to implement event reactions. Webhooks provide a mechanism whereby a server-side application can notify a client-side application when a new event (that the client-side application might be interested in) has occurred on the server. ​When you have widgets in an external service, you can hook them up using webhooks.
Related Link: