What's New
2019
Feb
New
Interviewer's Assessment
Fortify your applicant evaluation process with the all new Interviewer's Assessments. Create multiple assessments, associate them with interviews and evaluate applicants trouble-free with Zoho Recruit's central Assessments module. Learn More.

With this update you can preview the candidate's resume attachment without having to navigate to the attachments sub tab. The quick view button is placed directly below the candidate's name, near the social profiles quick links.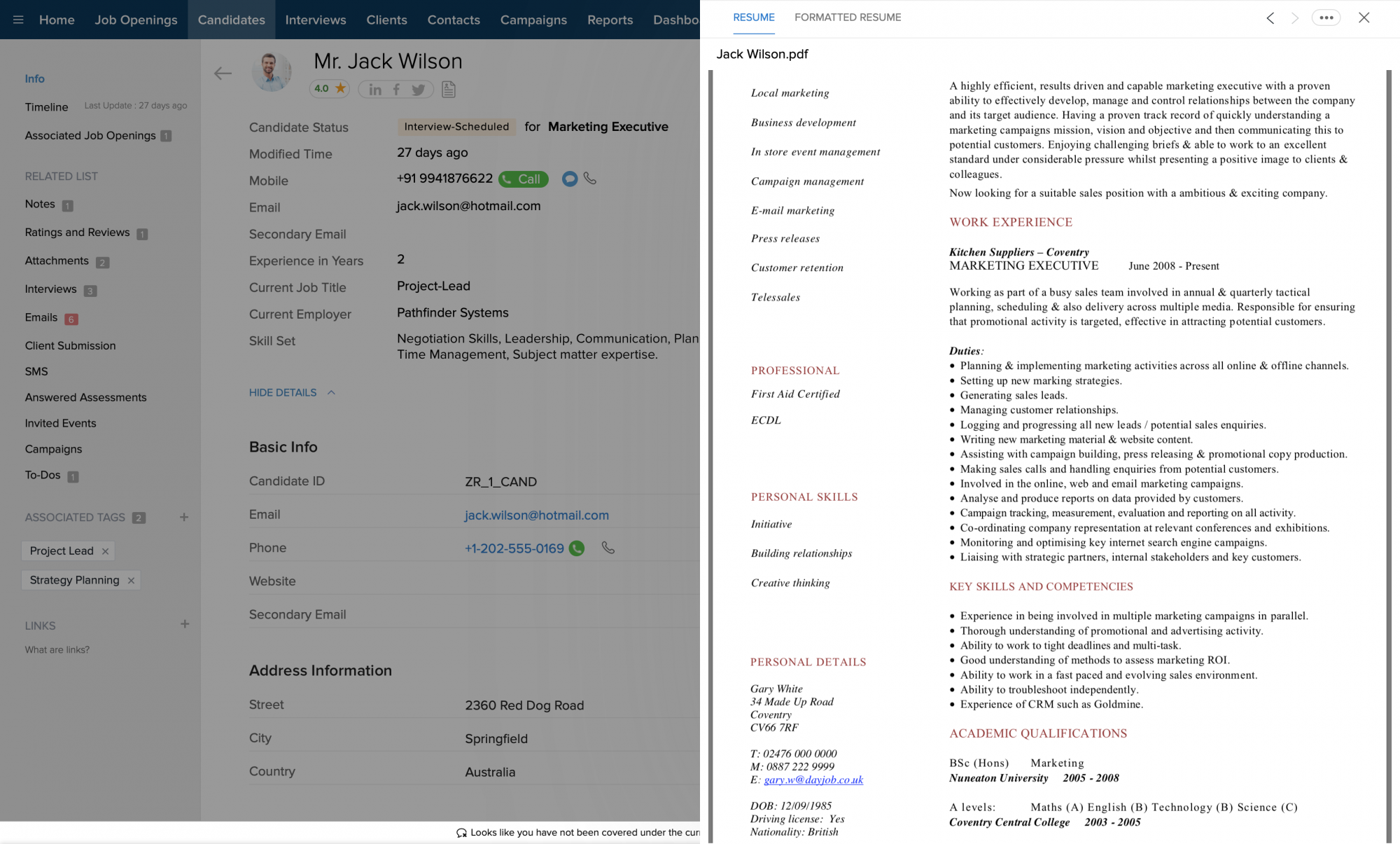 Enhancement
Parsing Review
Review and edit any mistakes or data loss by parsing candidate resumes using the Parsing Review feature. Once toggled on, the parsing review feature allows you to edit information obtained using Zoho Recruit's many resume parsing features such as Resume Extractor, Resume Inbox, and Paste the Resume. Learn More.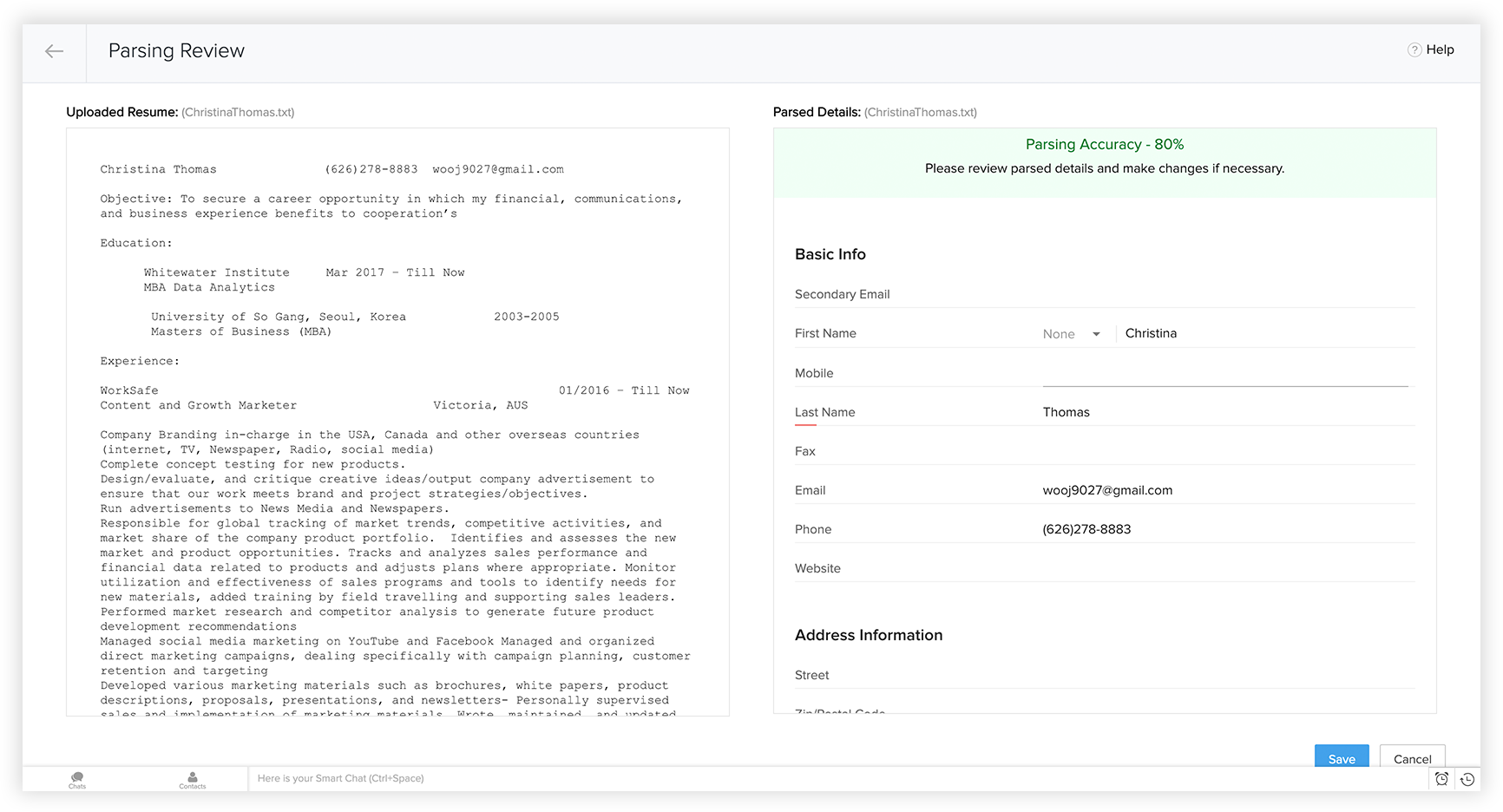 Let your organization's brand value speak with Zoho Recruit's Default Domain feature. If in case your firm doesn't have a website, you can make use of the default domain name generated by Zoho Recruit to make your job openings more appealing to candidates. Learn More. 
New
New Job Boards integration
Advertise your jobs in one of the largest online advertisement platforms. OLX operates in over 45 countries, making it one of the largest online advertisement platforms in the world. Give your jobs maximum visibility and hire from a large talent pool.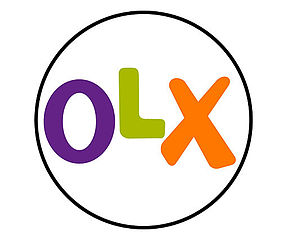 VDAB is one of Belgium's most trusted and versatile job boards. They offer a versatile talent pool to cater the needs of recruiters in the Flemish regions of Europe. They also provide training to job seekers and make them "Employment-Ready".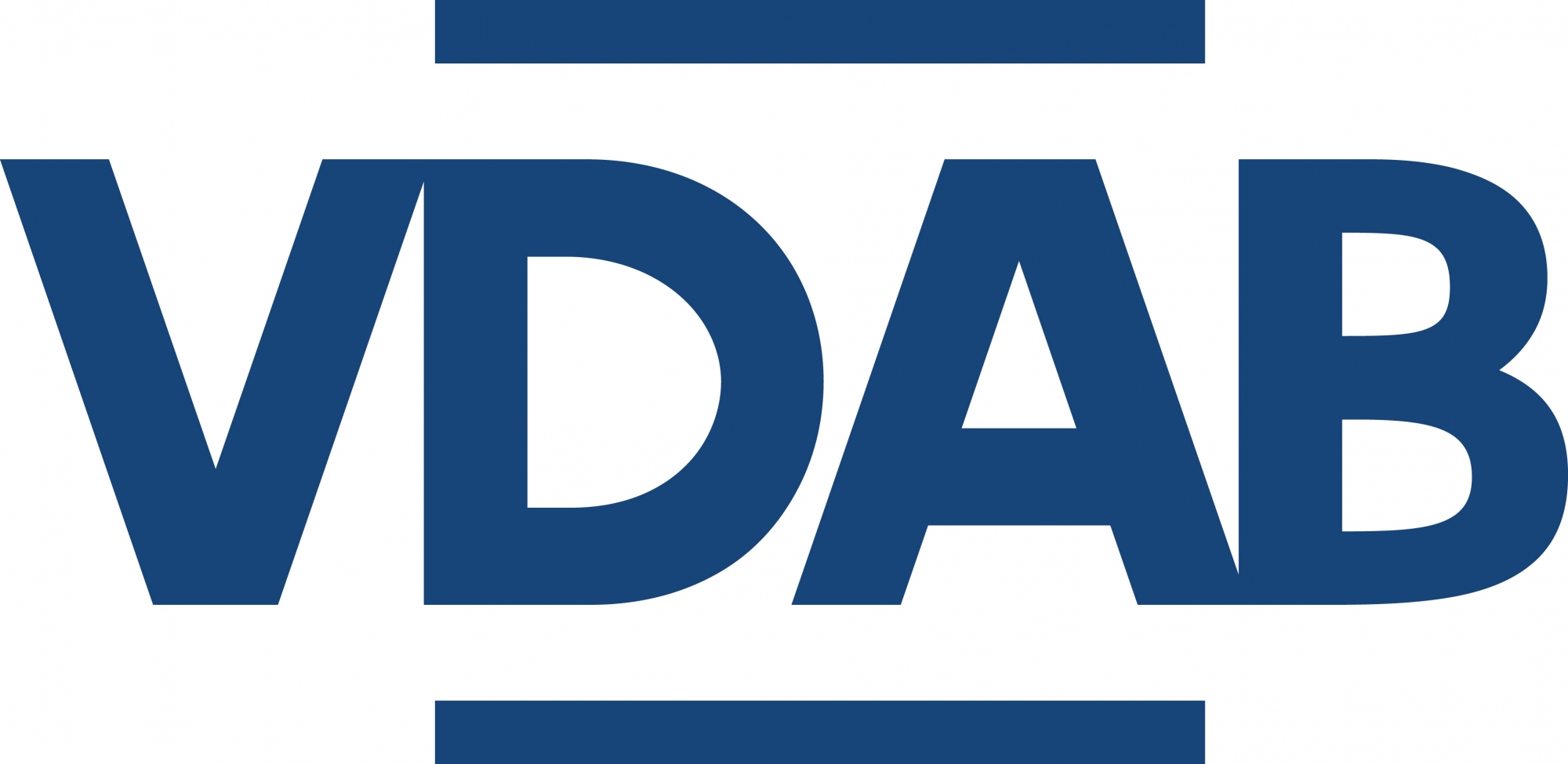 Get higher visibility, increased candidate traffic, and exceptional talent for job openings with jobs.ch, one of Switzerland's top employment websites. Jobs.ch assists job seekers in their search by giving them higher visibility towards recruiters, thus helping them apply faster.





Learn more.
Jan
2018
2017
Dec
New Features & Updates
 Introduced Zoho Recruit Marketplace

 Introduced integration with JobBoom, Total Jobs, CW Jobs, CareerStructure, Caterer, and RetailChoice job boards.
Nov
New Features & Updates
 Introduced integration with Reed, Zoek, Faces2hire, and LogicMelon job boards.
Oct
New Features & Updates
 Introduced Blueprint feature.
Sep
New Features & Updates
 Introduced integration with Bayt job board.
Jul
New Features & Updates
 Introduced Pre-Screening Assessment feature

 Introduced integration with Recruit.net, iimJobs, and Hirist job boards.
Jun
New Features & Updates
 Introduced integration with Jora, TipTop Jobs, Jooble, Expertini and Zoek job boards.
May
New Features & Updates
 Introduced Candidate Preview feature.

 Introduced integration with ApplymyJOBS and Trovit job boards.
Apr
New Features & Updates
 Introduced integration with Zoho Campaigns.

 Introduced integration with Dice UK Job board.
Mar
New Features & Updates
Introduced integration with CV-Library job board.
Feb
New Features & Updates
Reduced the price of CareerJet Sponsored job board.



Single Booster: $70
Double Booster: $105

Introduced integration with Seek job board
Introduced Zoho CRM Two-way sync
Introduced Candidate rating
2016
Nov
New Features & Updates
 Introduced Manual Trigger Workflow feature.

 Introduced integration with RingCentral.

 Migrated to Daxtra Resume Parser.
Oct
New Features & Updates
 Introduced integration with Twilio.
Sep
New Features & Updates
 Introduced integration with Zoho People.

 Introduced integration with Broadbean job board.
Aug
New Features & Updates
 Introduced integration with Careerjet job board. 

 Introduced two new features - Indeed Resume Search and RSS Feed.

 Made enhancements in the Job Opening workflow. Now under Workflow > Rules > Actions, you have the option to choose 'Associated Candidates' under Email Recipients. Also, the workflow alert count for default workflows has been set as 10,000 per day.

 Introduced bounced email notifications—now while sending bulk emails, if an email bounces you will get a notification about it in your inbox.

 Made the following update: When contact and job openings are exported, in the exported csv file, now client names will be displayed instead of the client IDs.
Jul
New Features & Updates
 Integrated with the CareerOne job board.
Jun
New Features & Updates
 Introduced Custom Buttons feature for the Enterprise version.

 Resume Extractor has been enhanced— now while associating a candidate, along with the job opening title, the respective client name will also be displayed.

 Introduced the option to edit bulk email template for custom modules

 Changed the Candidate Login UI for the web version. 

 Introduced the option to overwrite records while importing them in the XLS format for Administrator profile users.  

 Added mobile app icons in the Setup tab.  

 Added Send Mail option in the Client module.  
May
New Features & Updates
 Introduced integration with three new job boards - Monster, Dice and Zip Recruiter.

 Changed the publish to job boards workflow.

 Added interviewer and guest profiles in the Hiring/Account Manager look up field on the Add Job Opening page.

 Introduced Mass Invite Candidates option under Candidate Tools in the Candidate module. Using this feature you can now invite candidates in bulk to access Careers page. 
Apr
New Features & Updates
 Introduced Zoho Reports Integration in Recruit.

 Introduced Change Status feature in Zoho Recruit mobile app (iOS and Android).

 Increased the custom field limit to 500.

 Enabled the option to edit email templates under the Send Mail and Submit to Client/Hiring manager features. 

 Enabled email tracking with contacts and users filter in the Client module.
Mar
Updates
 The default 'Apply with Indeed' button has been removed from the Careers Website. Users can now choose to enable the button or not.

 'Import from Zoho CRM' option has been removed from all the modules and added in the Apps & Add-ons > Zoho Apps > Zoho CRM integration page under setup.

 Introduced Export to Excel, CSV and PDF option under Activity Log in the settings page.

 Provided the option to enable Export Activity Log permission for custom profiles.

 Added a pick list to select users under activity reports.

 Revamped the Associate Pop-out page in the Job Opening Details page.

 Added 'Activities' under the Home page components.

 Increased the number of custom fields from 150 to 300 for all the modules.

 Introduced Social icon in the Candidates and Contacts list page.

 Introduced auto complete component in the criteria editor for lookup field.

 Changed the Contact Support UI.
Feb
Updates
 LinkedIn search API has been removed.

 Pick lists has been modified for locales other than US.

 Made enhancements in the filter for Candidate Status and Associated job opening under the Candidates module.

 Introduced live desk chat for Europe locale.

 Enabled Send Mail and Macros feature for custom modules.

 Added web forms and assignment rules for custom modules.

 Careers website and web form has been optimized for mobile phones.

 Introduced the "Upload your formatted/branded resume template document" option under Formatted Resume feature.

 Added the option to set the default search module in the search bar to be Candidates or tab-specific.

 Multi pick list values will now be displayed as a drop-down in the web form along with an added search option to search and select values.

 Introduced permissions for attachment category feature.

 Introduced multi-language support for candidate login, forgot password and candidate confirmation buttons on the careers website login page.

 Introduced multi-language support for the Browse button on web form.
Jan
Updates
 Introduced mass email and macro support for custom module.

 Added event invitation email to the Contact/Candidate related list.

 Introduced Change pattern option wherever criteria is given - Mass Actions (Update, Delete, Transfer, Email), Assignment rules, Auto Response Rules under Career Website, and Add Existing Candidate in Associate Candidate > Update Member Status action.

 Added merge fields support for workflow and macro task subject field.

 Added invited events to multi user day and week view in calender.

 Introduced Kanban view in Todo's Tab.

 Revamped the Social tab UI.

 Introduced Sharing rule support for Activities module.

 Changed the UI for notes section in the entity page.

 Added territory assignment for job openings.

 Introduced web forms for custom modules.

 Added create template option in the Auto Response Rule Entry page.

 Moved Audit log and Activity log from Personal Settings to Data Administration under Setup.

 Moved BCC Dropbox and Zoho Mail configuration to Personal Settings > Email Settings under Setup.
2015
Dec
Updates
 Introduced Filter feature in the Candidates module.

 Increased the length of formula expression field.

 Modified the default sort option in the Careers Website job list page.

 Added activity log for when a candidate deletes attachment.

 Modified the job opening templates in the Job Opening details page under Careers Website.
Nov
Updates
 Introduced new templates under Careers Website.

 Modified the Assignment rule option under the import from document feature.
Oct
Updates
 Introduced tags and manual candidate approval under import from document.

 Saved search option introduced under Mass Email.

 Introduced Submit to Hiring Manager feature for internal accounts.
Sep
Updates
 Released mobile app for iOS.
Aug
Updates
 Made redirection changes for the portal domain.

 Changed Add Candidate UI.

 Provided acknowledgement message option in web forms.
Jul
New Features & Updates
 Introduced Resume Inbox and Interview Feedback Form.

 Removed Formatted Resume from web form (internal account).

 Changed the job re-publishing date. Now, jobs cannot be re-published if it has been posted more than 45 days ago.

 Increased field label length from 50 to 250 characters in web form.

 Candidate-job opening association will now be restored on recovering the particular job opening and candidate.

 Formatted Resume UI now supports Russian language.
Jun
Enhancements
 Added Terms & Conditions field in web form.

 Added auto complete option in the Job Opening field under Submit to Client email template.

 Added 'On Change Status' option under Interview workflow rules.
May
New Features & Updates
 Created Candidate Review Form under Submit to Client email templates.

 Revamped Getting Started page.

 Custom top level domains are now allowed in Candidates/Contact email ids.

 iCal files will now be sent with Interview and Task notifications.
Apr
Updates
 Introduced the option of editing and adding events for interview via API.
Mar
Updates
 Web form option can now be selected while publishing the job instead of when customizing the job list in career website.

 Changes made to the email id in the Zoho Recruit account will now reflect in the user's Zoho Accounts too.

 Spam jobs approval has been introduced for job boards.
Improvements
 Enabled cloning option for Google docs

 Added Assigned Recruiter field in Import from Spreadsheet section

 Provided email copy option for BCC drop box

 Provided 1gb free for all paid users

 Released Resume Extractor in the latest Recruit version.
Feb
Improvements
 Provided attachment option in the clone record section

 Added support for Spanish language

 Assigned default value Picklist field will be assigned the , if mapping is not done while importing documents in the CSV format

 Enabled attachments in mobile app

 All emails would now be delivered through ZMail (Instead of TransMail)
Jan
Zoho Recruit released its new and improved version on 20/01/2015.
Workflow automation
Create rules & alerts, automatically assign tasks to users, update fields
Setup webhooks
Security administration
 Define access permissions for individual users

 Control module-level and feature-level access by defining Profiles

 Control data access for users based on their Roles

 Create Groups

 Define Data Sharing Settings

 Set Fields &Links Permissions
Customization
 Customize modules, fields, attachment categories, links, layouts, note types, tags, and related lists columns

 Create custom view settings, web tabs, and tab groups
Territory management
 Group candidates, clients or job openings among recruiters based on a defined set of criteria (geography, industry, skill level etc.)
Document management
 Manage files stored on desktop, Zoho Docs or Google Drive

 Share, review and edit documents in real time

 Create mail merge templates or merge documents
Social integration
 Post job openings as well as the companies' career pages in social networks such as Facebook and Twitter.
2014
Jul
 Issue in sending emails as plaintext has been fixed.

 Job Description formatting issue fixed.

 Resume extractor encoding issue fixed.

 Trigger Email alert while adding records through API.

 Payments ip restriction issue fixed.
Resume Extractor- Source Candidates Instantly!
An average day in the life of a recruiter is not an easy game. With candidates scheduled to be
READ MORE
Jun
 Hangout right panel empty issue fixed for china customers.

 Other language characters encoding issue.
May
Formatted resume issue for footers and filename template.
UI issue IE due to Fusionchart old version issue fixed.
Email id not replaced in merge fields issue fixed.
Branding and Formatting Resumes Inside Zoho Recruit
It was an amazing weekend. You spent time with family and friends, had dinner at your favorite restaurant and even caught a last-minute show from one of your favorite bands.
READ MORE
How to interview candidates live on web?
Zoho Recruit is integrated with Google hangout, which helps Interviewers to interview a candidate live on web.
Apr
 Indeed apply integration.

 Updates filter count while deleting candidate record.
Mar
 You can now create Reports without using any lookup fields.

 New filter option "Last Mail Sent" added in AdvanceSearch and CustomView to filter resumes using the time of last sent mail.

 Issue of not syncing event owner with GApps is now resolved.
Feb
 Option has been provided to allow use of different colours to mark events by different users.

 Fixed an issue when syncing rescheduled events with Google calendar.

 Customers are prevented from adding users with duplicate EmailId and EmployeeId.
 Bug fix allowing from and replyTo address changes in email alerts.

 Issue fixed enabling DOT file format to be parsed in outlook plugin.

 Wrapping of long label name for customised fields enabled.
 Issue with selecting SMS field as a number field fixed.

 Switching payment owner issues are fixed.

 Highlight issues within documents while searching using special characters resolved.
Jan
 Issue fix enabling merge field option to work correctly when sending email to client contacts.

 Criteria Pattern Editor enabled for custom view and advanced search.

 Ability to forward multiple candidates in a single email to clients.
 Indeed free ad posting enabled for staffing firms.

 Issue fix $ sign replacement in Merge field option, while sending email.

 Highlight feature enabled within attached documents while performing searches.
 Advanced search issue fixed when choosing match all key words.

 Import candidate as xls issue fixed.

 Import from doc is enabled for Recruiters in tial version.

  Customize logo issue fixed. Duplicate attachment for resume prevented.