2023
2022
Nov
Find the top talent from the Gulf region with Naukri Gulf
Integrations
Announcing Zoho Recruit's integration with Naukri Gulf, the fastest emerging job board in the Gulf region. Post your jobs and find top talent from the UAE, Saudi Arabia, Bahrain, Kuwait, Oman, Qatar, etc.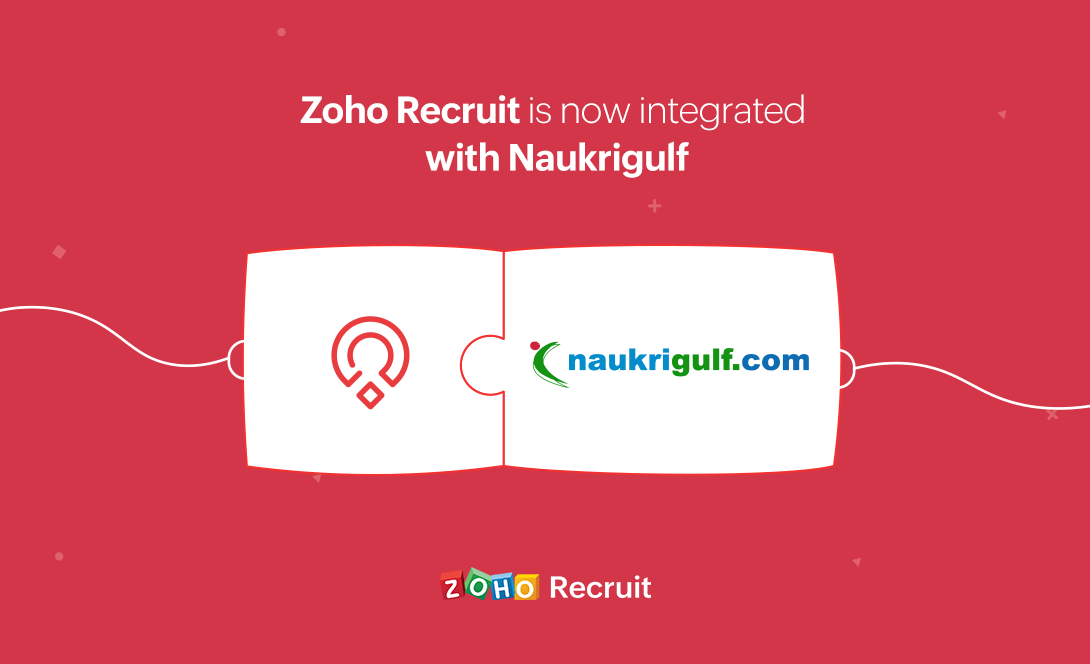 Learn more
Aug
Searching for talent in Asia? Look no further!
New
Exciting news! Zoho Recruit is now integrated with JobsDB, one of the leading job portals in Hong Kong, Indonesia, Philippines, Singapore, and Thailand. JobsDB holds Asia's largest database of talent with thousands of job postings happening each day.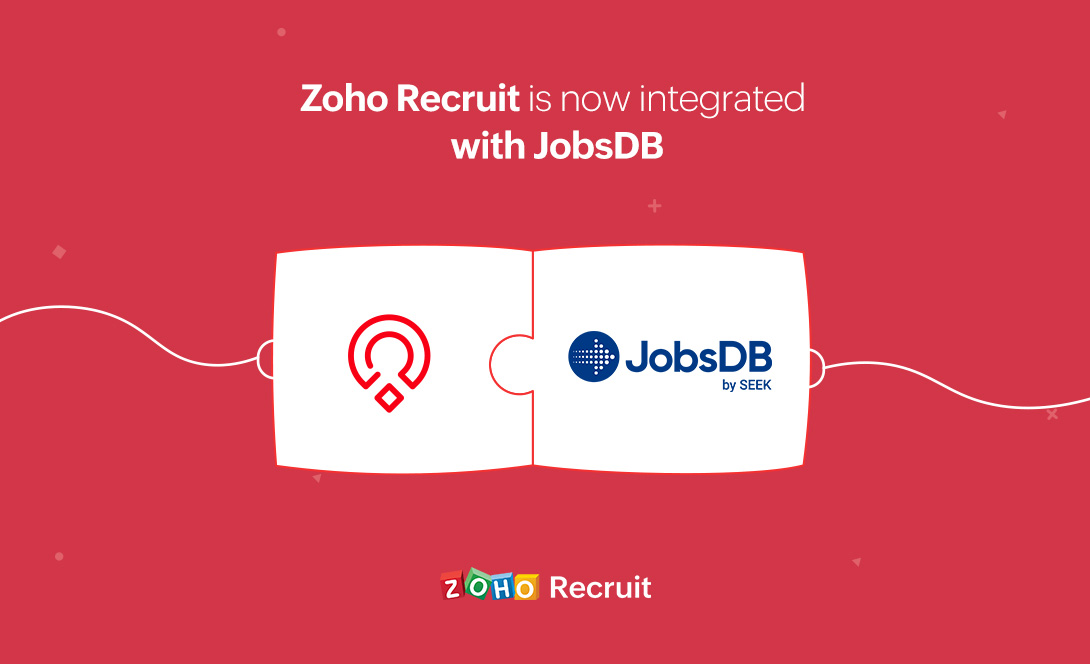 Learn more
Introducing multi-org for Zoho Recruit
New
The multi-org functionality makes it simpler to login to multiple Zoho Recruit accounts using a single set of credentials across all accounts. Users can then be added to multiple org accounts through invitation.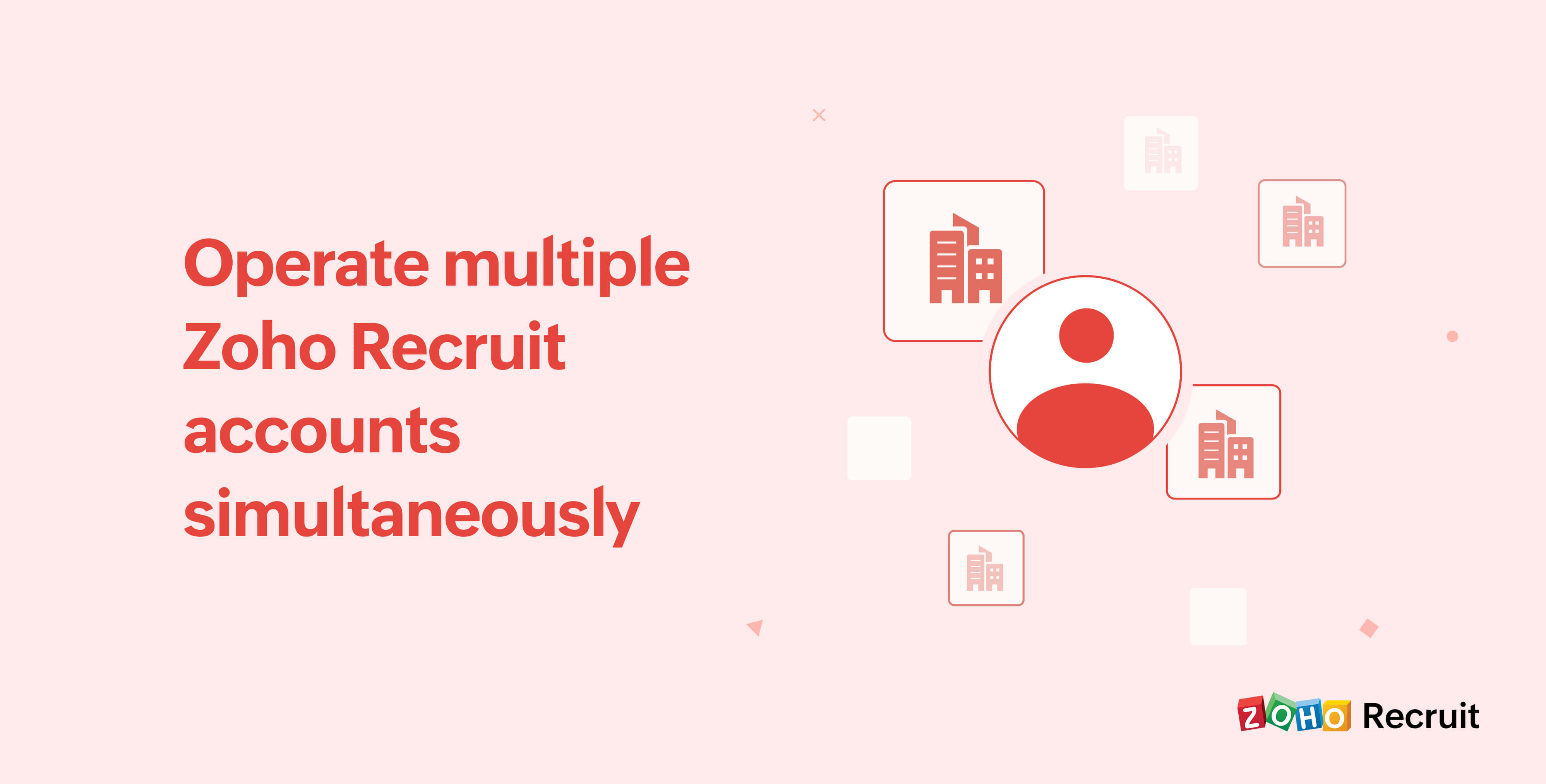 Introducing Calendly for Zoho Recruit
New
Eliminate the hassle of back-and-forth emails and schedule interviews and meetings efficiently with our Calendly integration. Calendly provides your calendar view to the receiver and lets them pick a time slot at their convenient time and date, making the scheduling process collaborative.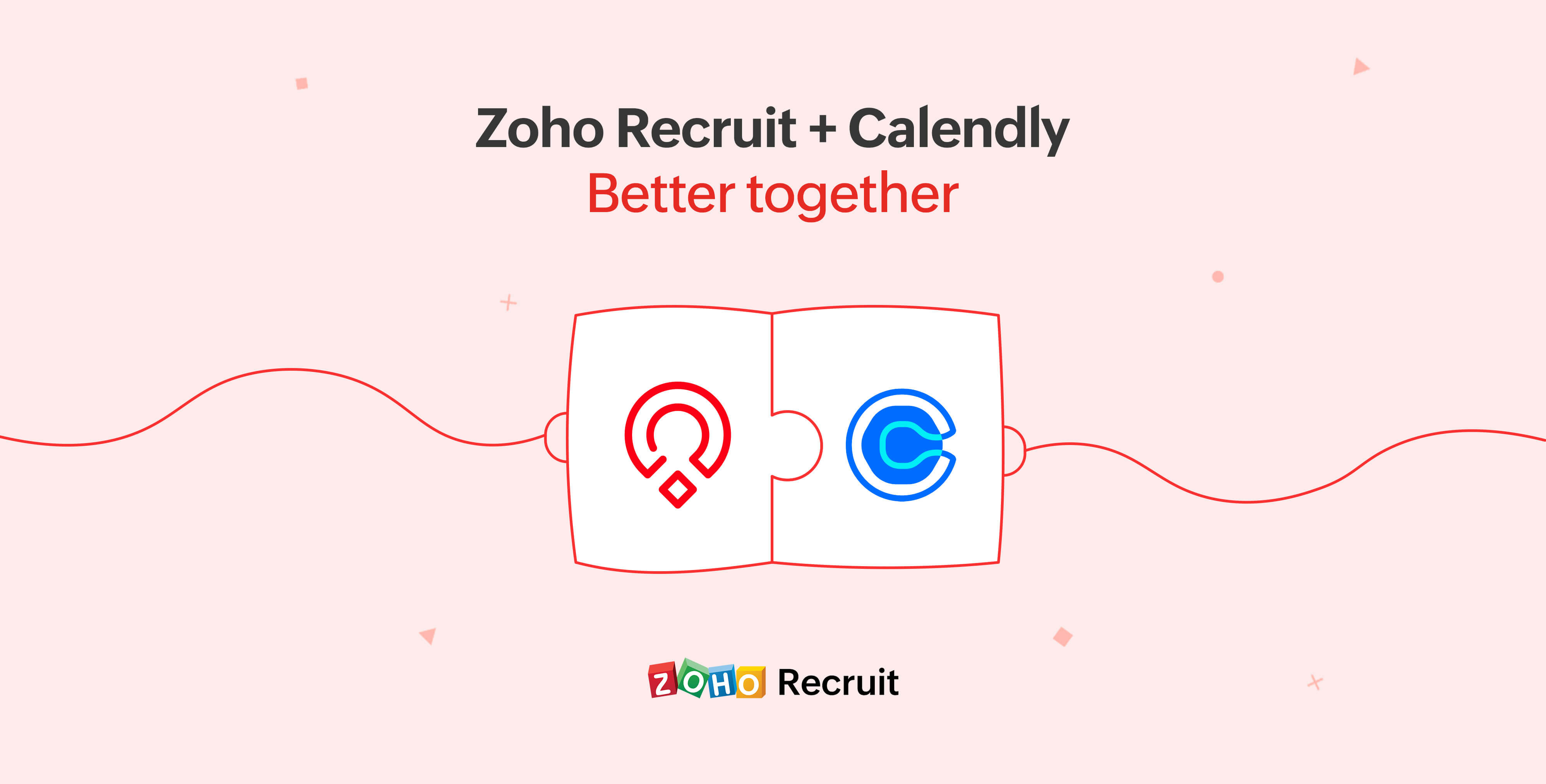 Learn more
Jul
Build and generate custom formatted resumes
Enhancement
Advanced Templates are fully customizable resume templates created in Zoho Writer that give you complete control over the resume's design, file type, layout and information. Candidate information is added to the resume via merge fields, ready to be shared with your clients.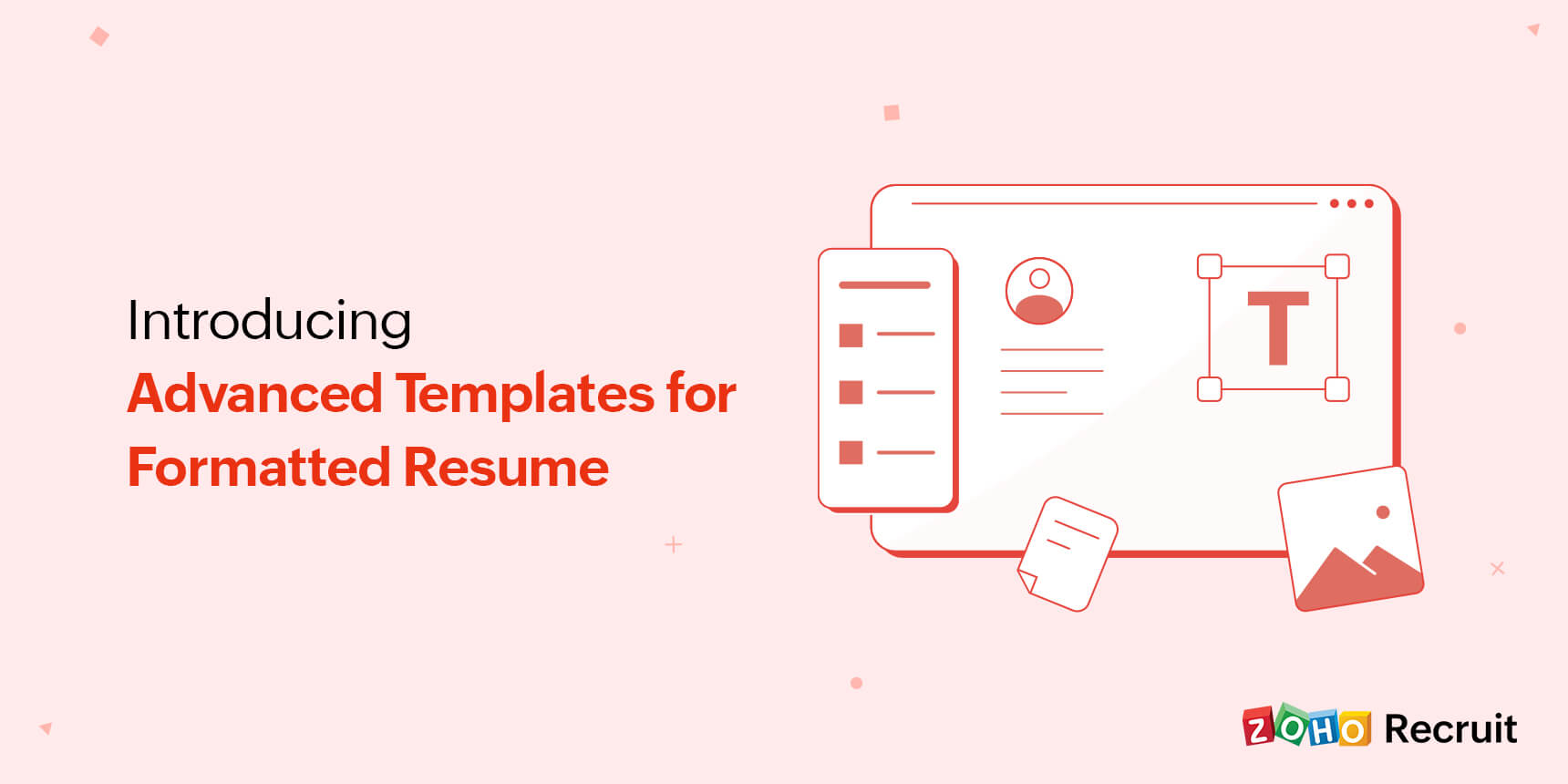 Learn More
Jun
Perform complex searches in a moment's notice
Enhancement
Locate specific information or records without having to go through your entire database. Filter records based on keywords, field values, proximity and much more with the all-new Advanced Search.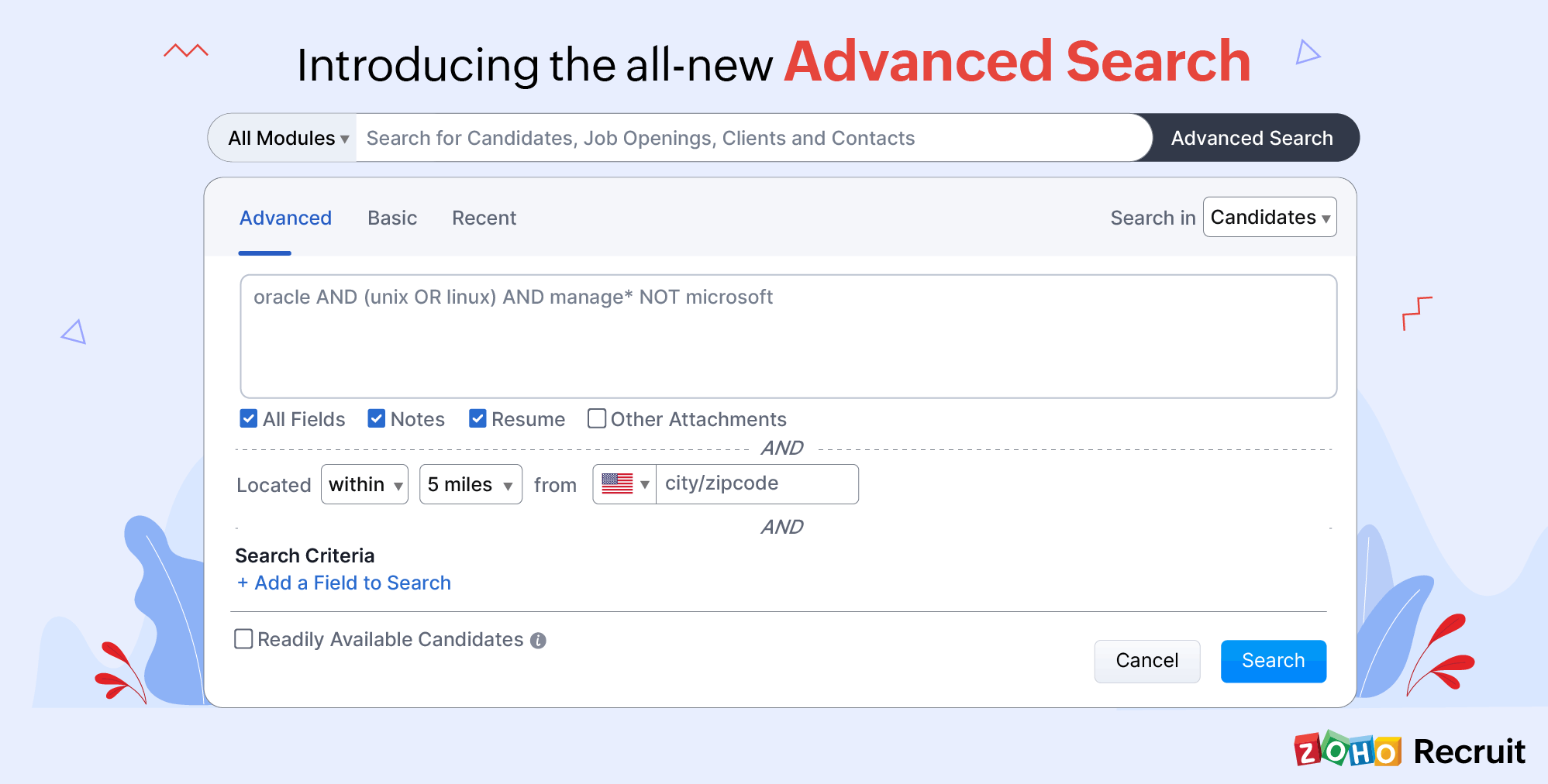 Learn More
May
Maintain complete transparency with your candidates
Enhancement
You can now compile and attach privacy notices to your Career Site pages, helping applicants make informed decisions about the data your collect and use. By default, we provide a privacy notice draft that you can use as it is or modify based on your needs.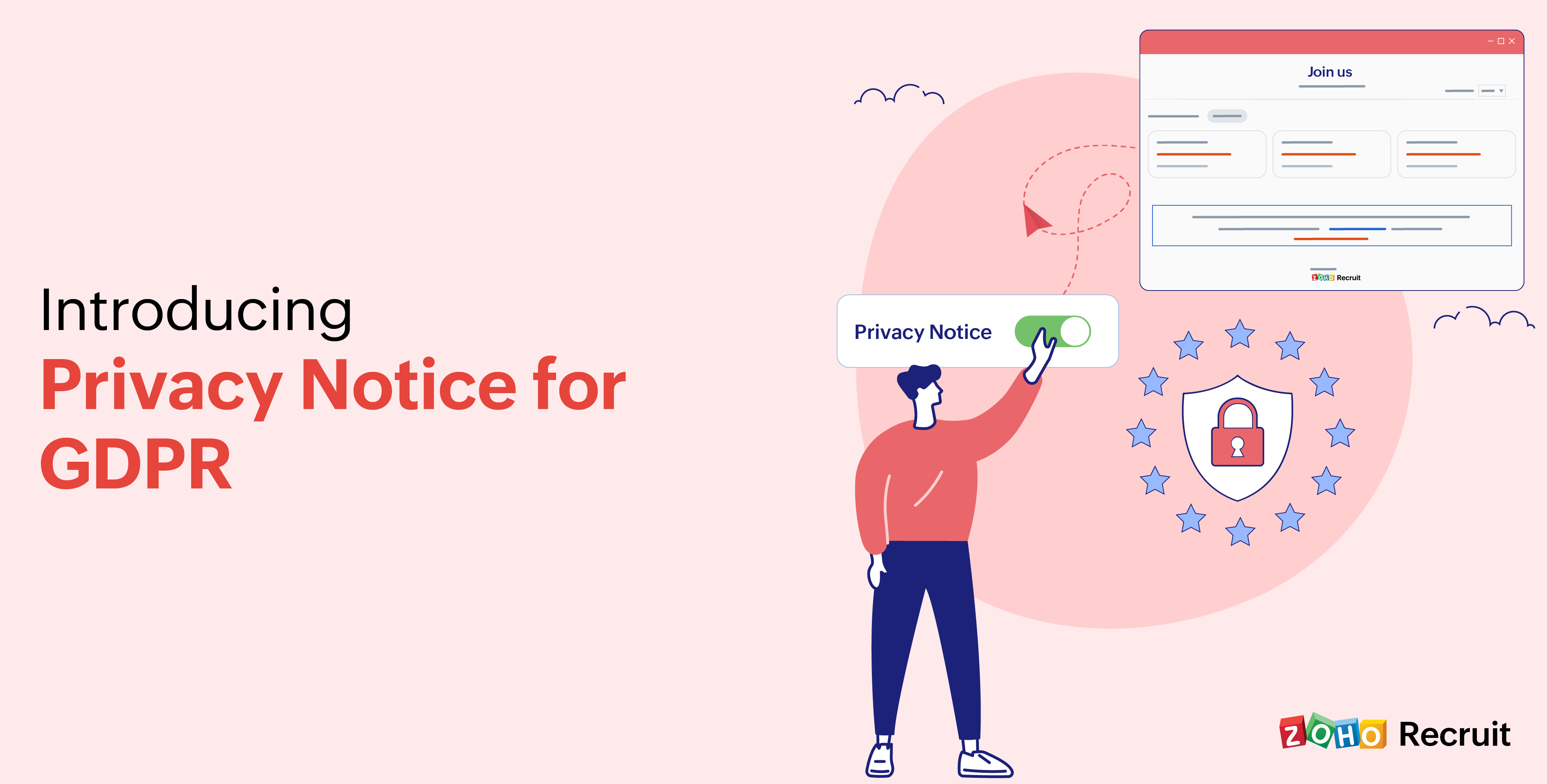 Learn More
Mar
Resume Extractor v2.1.8 is out now!
Enhancement
We've updated the Resume Extractor extension for improved parsing accuracy. This update also includes minor UI changes and performance improvements.
Make your hiring AI-driven with EduThrill
Integrations
Curate a highly relevant assessment for each job description specific to the skills required for the role using EduThrill's vast AI-powered library from your Zoho Recruit account.
Learn More
Feb
We've made Approval Processes more robust
Enhancement
Module and lookup field owners can now be included in the "Who should approve" section of the approval process. If you are hiring for a particular department, then the head of said department can approve or reject the job opening by adding them as approvers. In this case, you will have to include owners of the Department lookup field in the approval process.
Jan
Introducing multi-account support for premium job boards
Enhancement
Gone are the days where you use one account for every job posting. With Zoho Recruit, you can add up to 5 accounts in any premium job board. While publishing a job opening, you will be able to choose from the accounts you've added.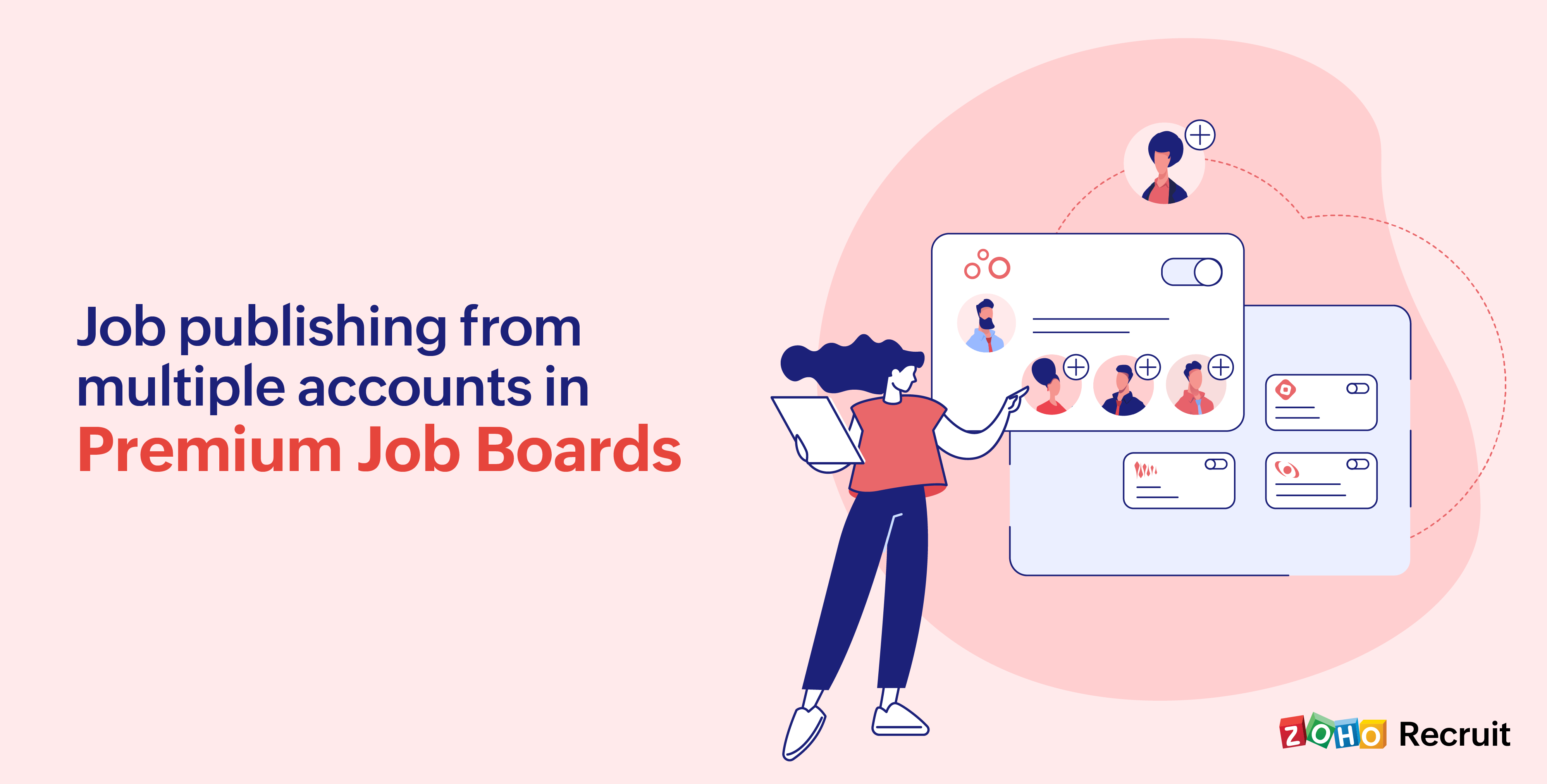 2021
Dec
Say goodbye to monotonous clicking!
Enhancement
Tired of clicking through each page and selecting records manually? You can now perform bulk actions (mass update, change owner & delete record) on all records in a custom view using the Select all records option.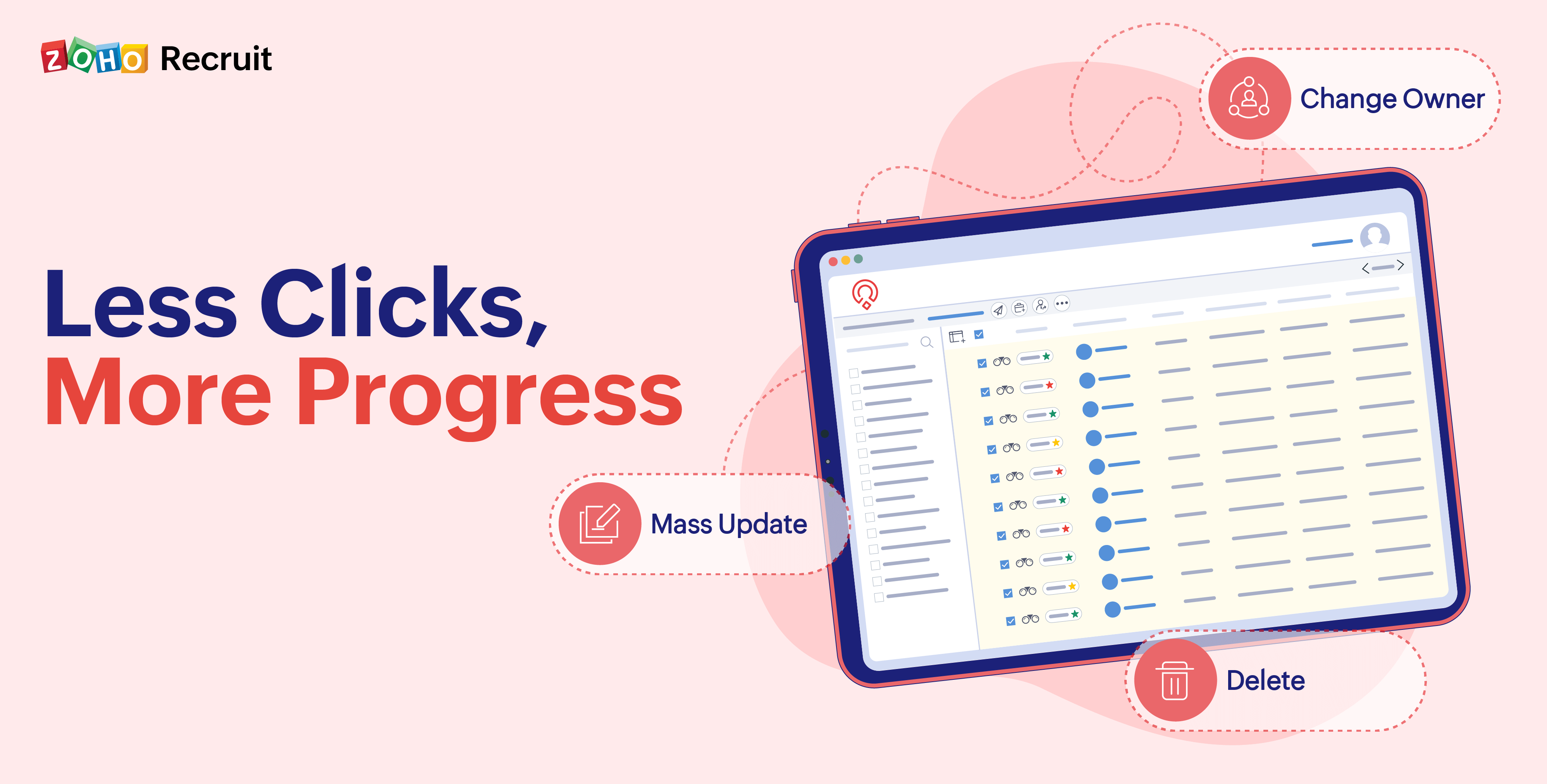 Learn More
Nov
Preview and test your emails to make them error-free
New
Review your email content and verify whether merge fields such as company details, user information and signature are replaced properly with their original values using the preview button.
Learn More
Aug
Introducing the all-new Resume Extractor!
Enhancement
Add candidates and contacts to Zoho Recruit, associate them with job openings, assign a status for the record and even add tags without switching tabs in your browser window with Zoho Recruit's Resume Extractor.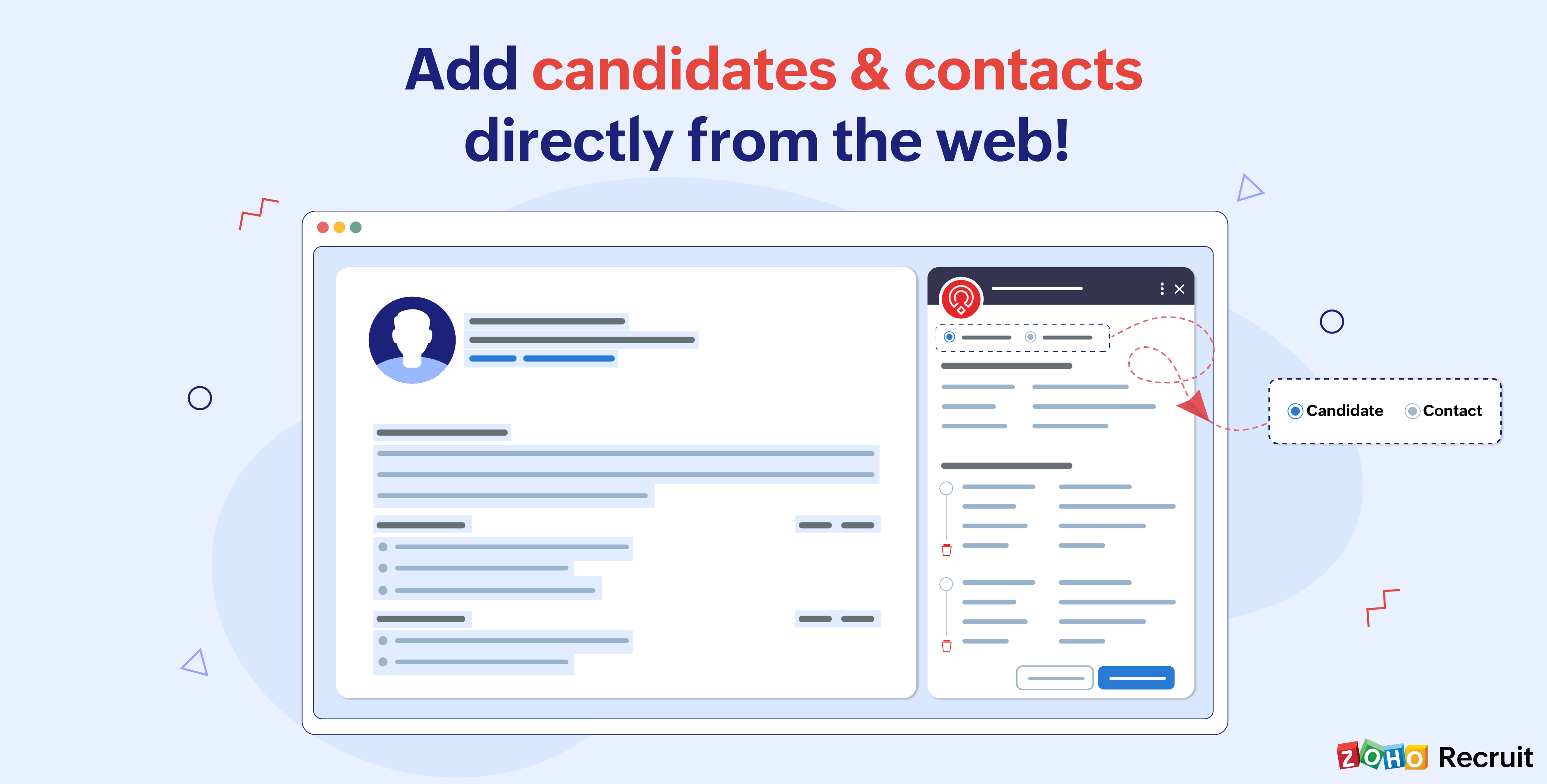 Learn More
Gather and analyze information in real-time
Integrations
The Zoho Survey integration lets you automatically gather information, analyze it, and act upon the collected data dynamically. You can then draw insights from the data you collected to make the candidate's experience better throughout your company's hiring process.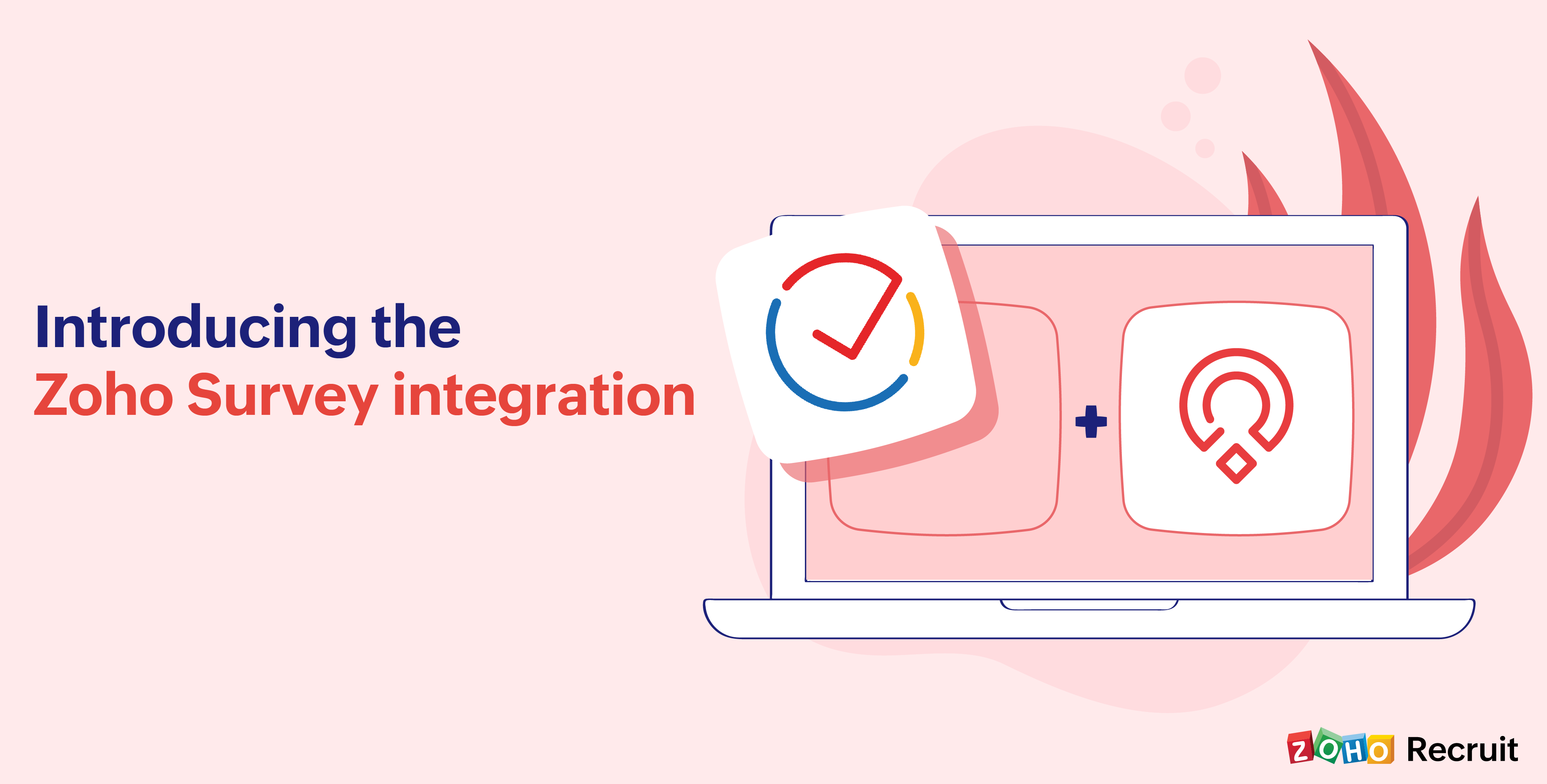 Learn More
Jul
May
Log your business hours in Zoho Recruit
New
When organizations operate in different regions with different time zones, scheduling can become a challenge. It's essential for our customers to be able to mark their business hours for better collaboration. Whether it's scheduling meetings or interviews, having clearly defined hours of operation can make the entire process that much smoother.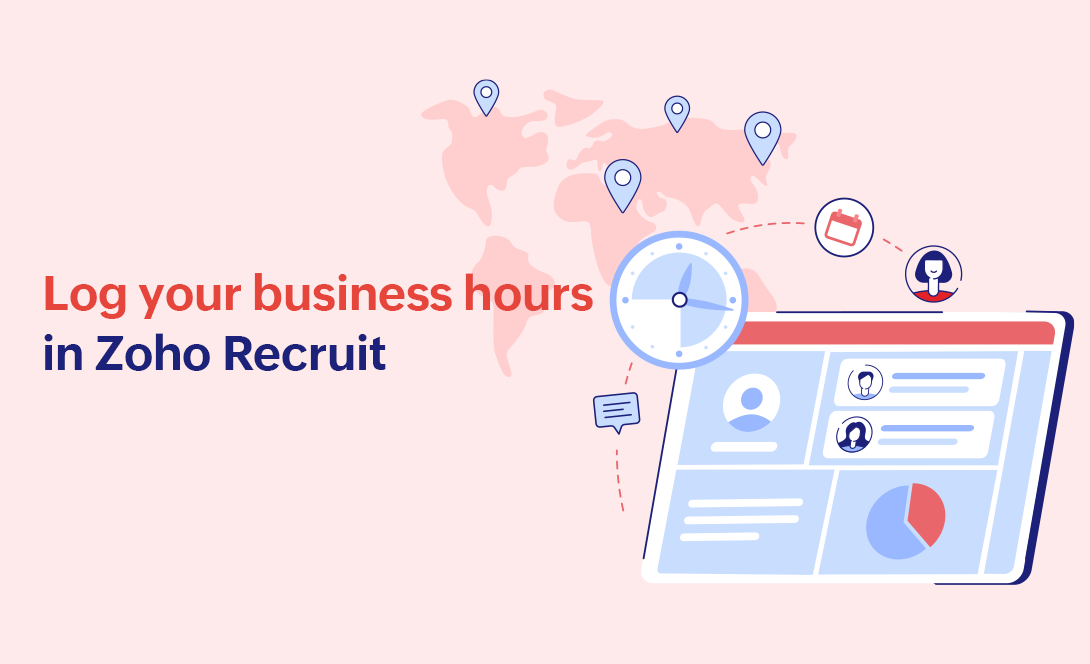 Learn More
Announcing Calendar Bookings in Zoho Recruit
New
The Calendar Bookings feature comes in handy if you're looking to display your availability so others can easily make appointments with you. You can share your booking links via email directly to candidates or embed them on your website.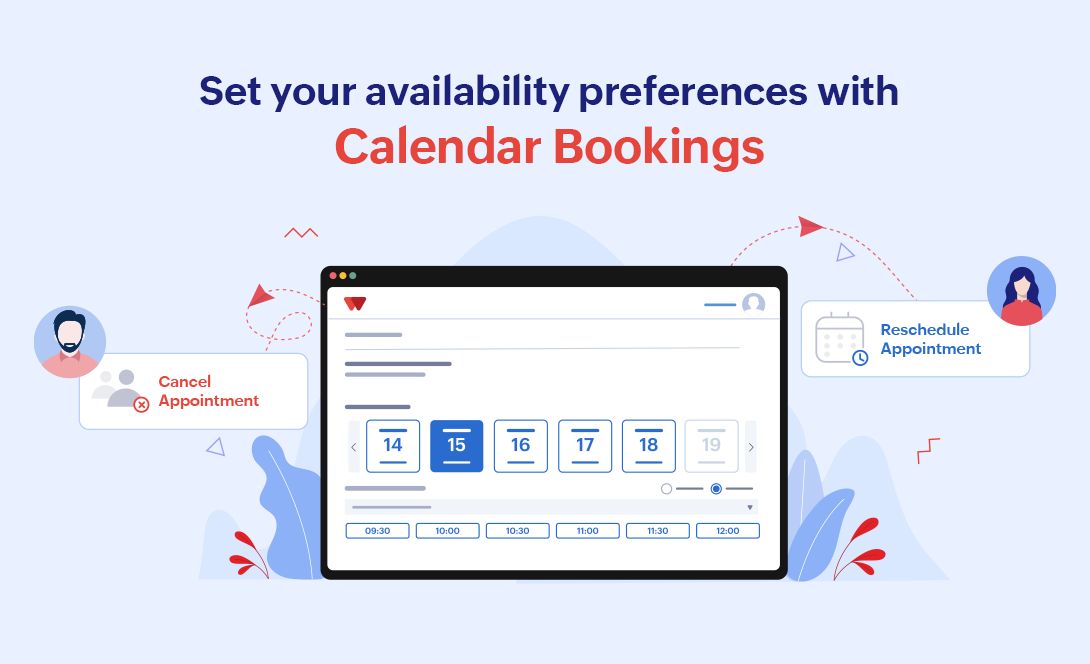 Learn More
Apr
Introducing Zoho Recruit's Custom Portal
New
Custom Portals in Recruit are designed for administrators to extend Zoho Recruit access to their clients, contacts and Candidates. A portal user can access modules and the associated data, such as job openings, candidates, and interviews that are present in your account.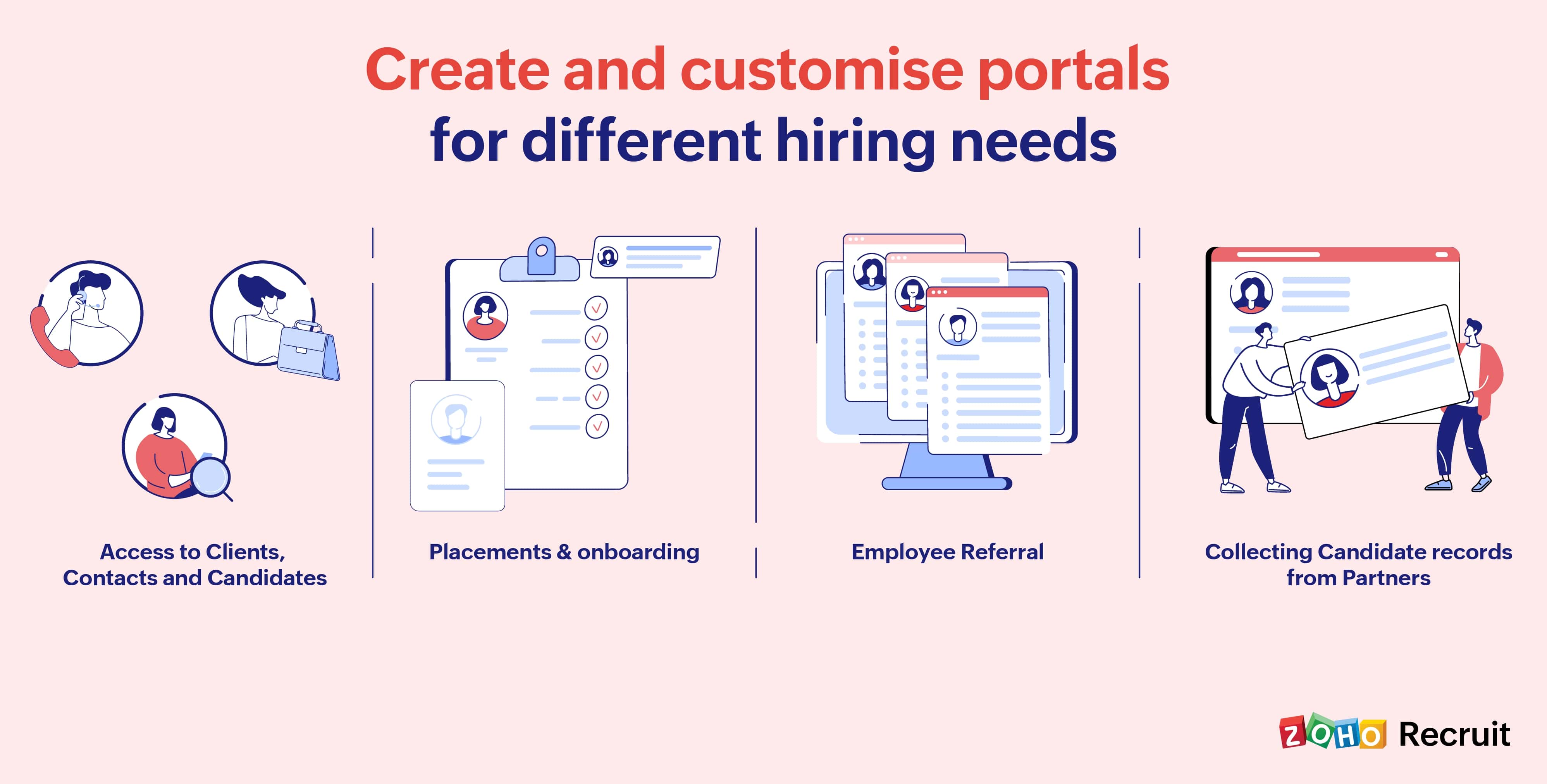 Learn More
Make your approval process better, faster, and smarter
New
Keep track of the approval process for each and every job opening with the all-new approval route map. Prevent approval processes from becoming stagnant and make users involved in it feel more invested with Zoho Recruit's Route Map.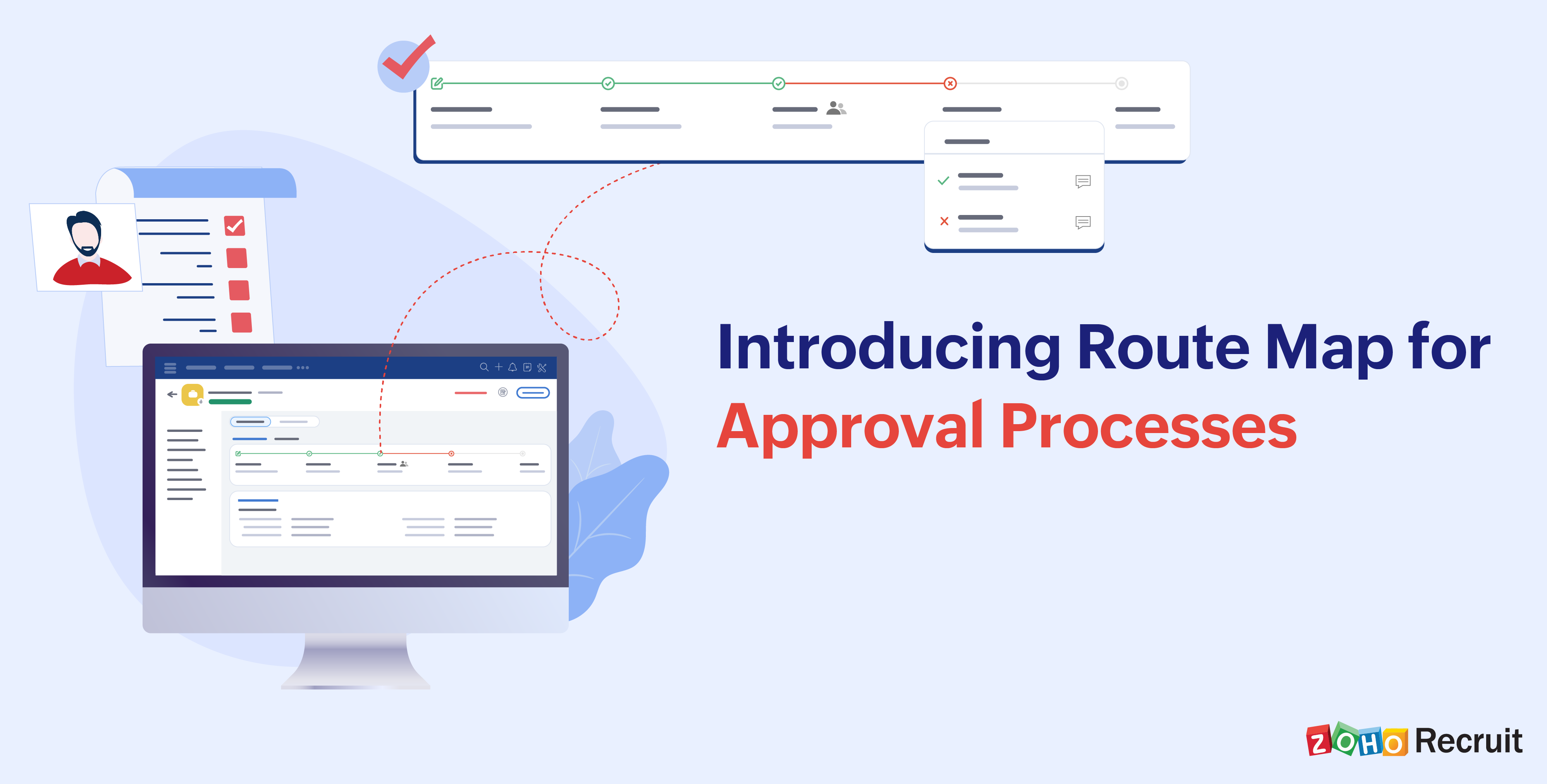 Learn More
Mar
Introducing the Analytics module
New
Recruitment analytics is a combination of data and predictive analysis that provides real-time information to help you hire faster. The Analytics module helps you analyze your hiring data, create insightful reports and help make better data-driven decisions.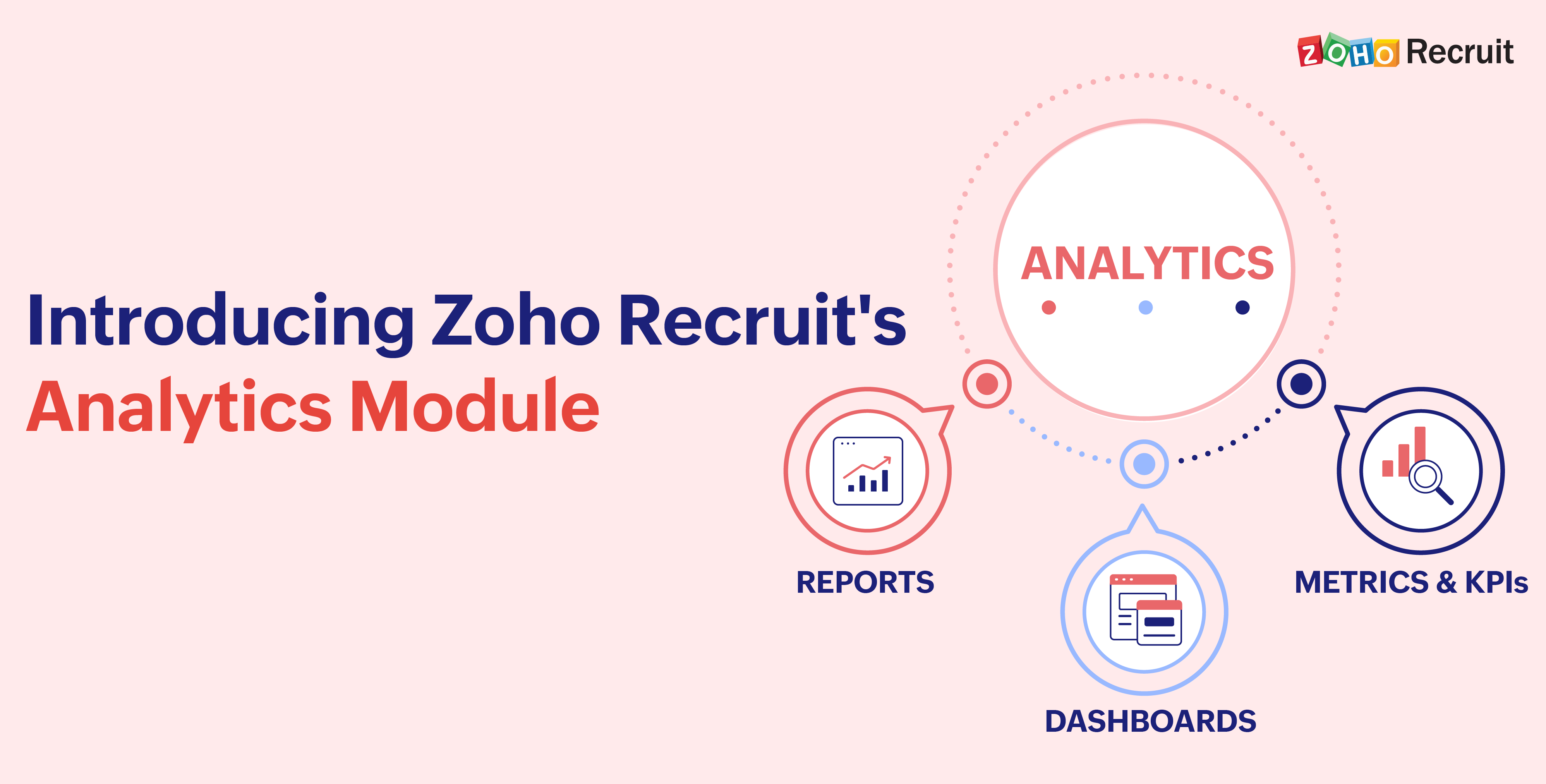 Learn More
Introducing Zoho Recruit's Apply with Seek
New
We at Zoho Recruit have integrated with SEEK to enable Apply with SEEK on your Career Site and on SEEK's job board. Apply with SEEK delivers an improved candidate experience by pre-filling parts of a candidate's application on a form hosted by Zoho Recruit, as well as attaching their stored CV.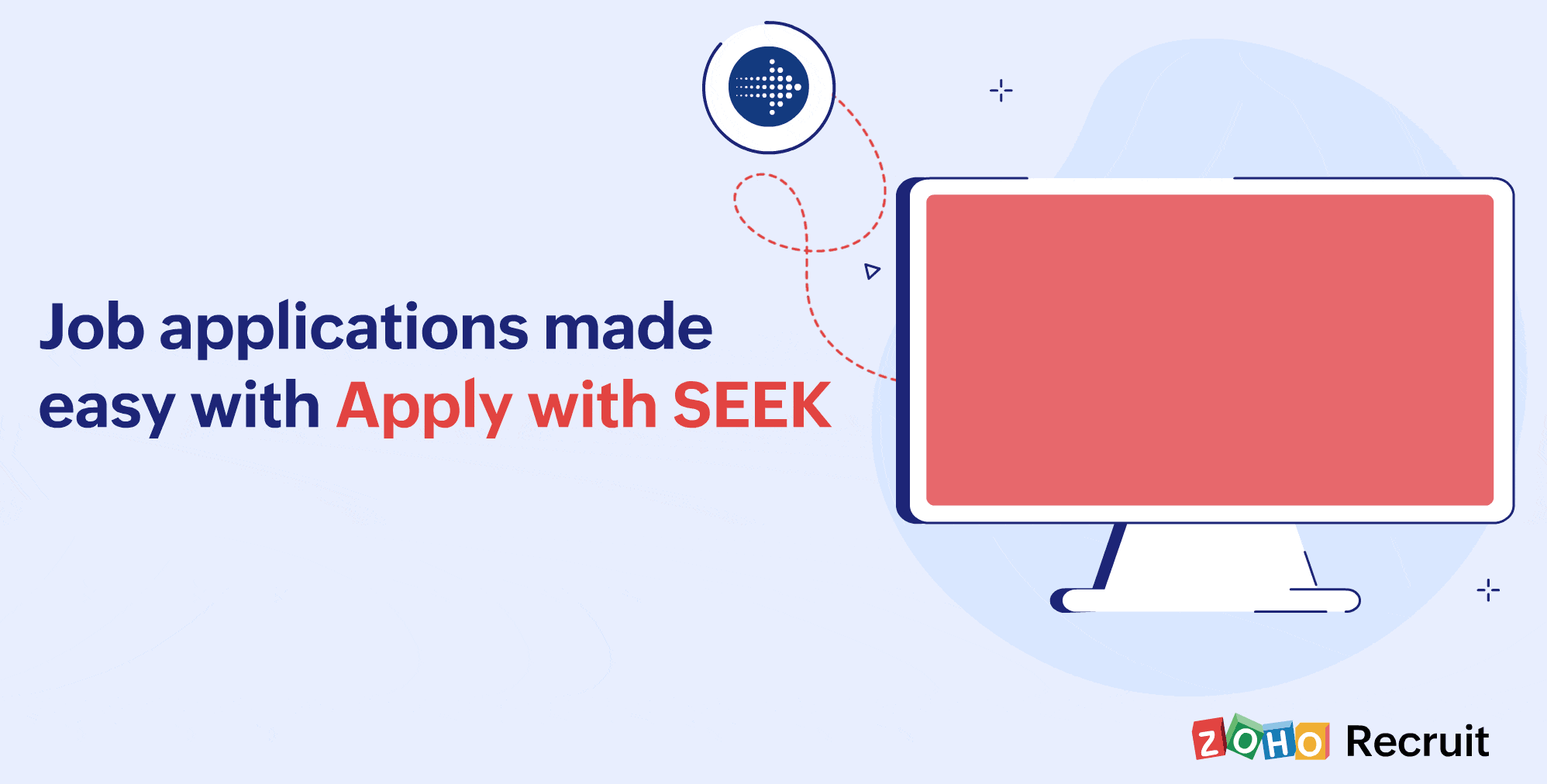 Learn More
Feb
Zoho Recruit now supports 27 languages, including Arabic
New
At Zoho Recruit, we work hard to ensure our software is as inclusive as possible. That's why we released Arabic support for Zoho Recruit. You can now set your language and time zone, create templates and modules, maintain your candidate data, and send out emails—all in Arabic.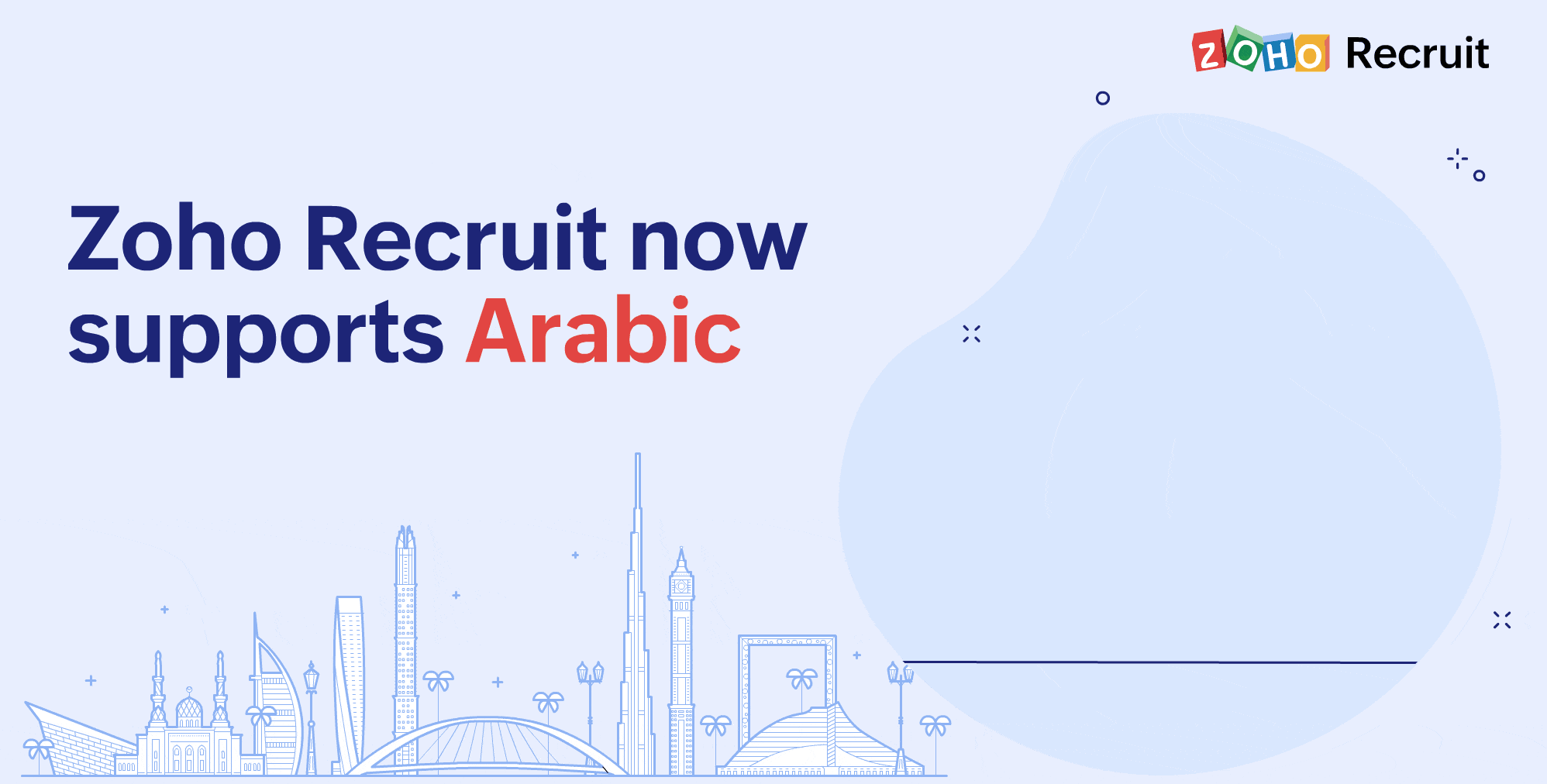 2020
Dec
Automate job applications and boost engagement
New
Everything starts with a conversation, especially in recruitment. The way you communicate with a candidate can influence them greatly. Presenting Zoho Recruit's Chatbot, which lets you passively grow your talent pool and helps candidates find matching jobs on your Career Site.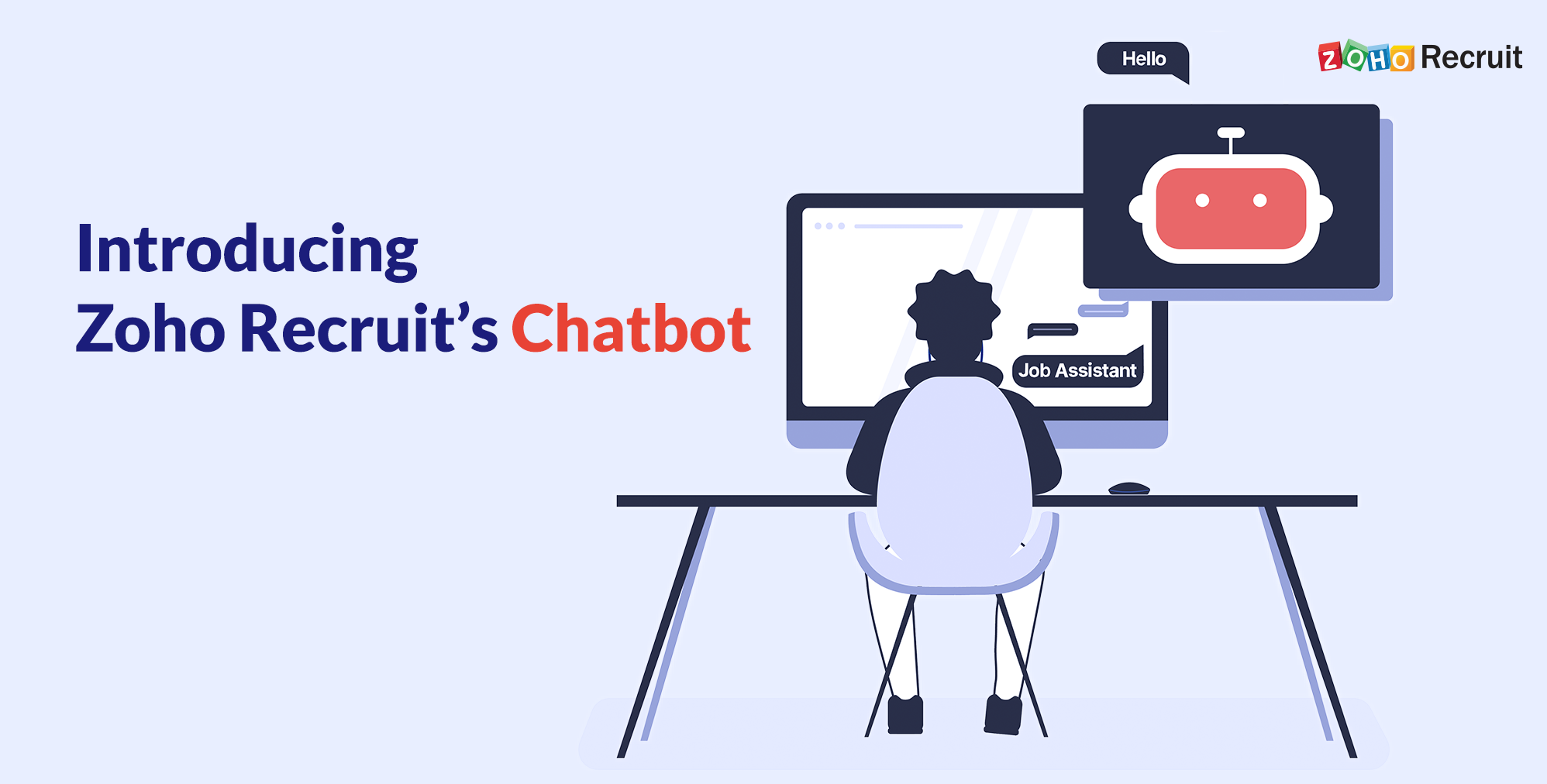 Learn More
Build your own talent network
New
Zoho Recruit has partnered with SkillSurvey Reference. Now, reach your candidates' references faster and gain the insights you need to reduce candidate turnover while boosting performance.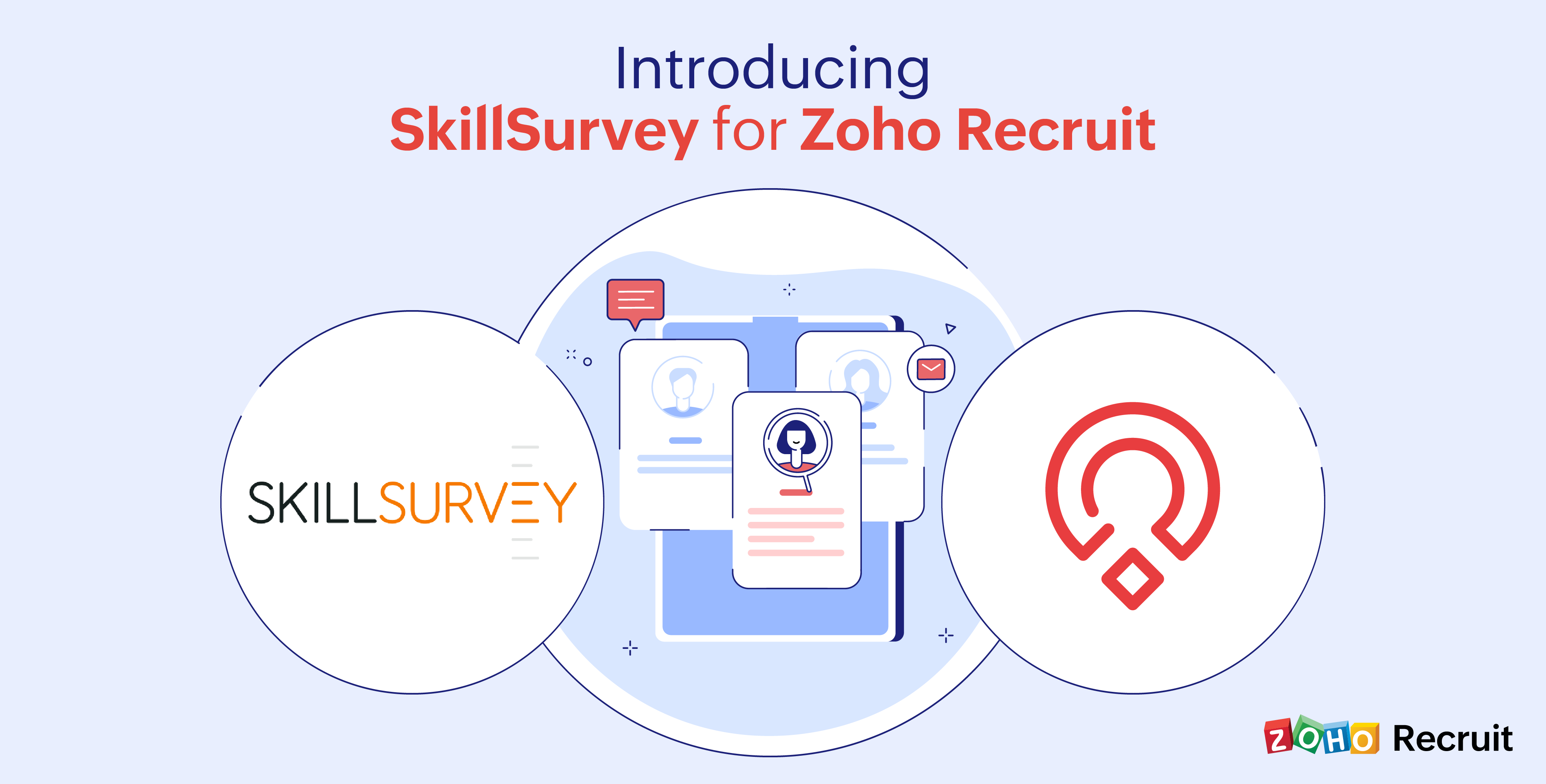 Learn More
Oct
Introducing Zoho Recruit's Log an Interview
New
You can now capture candidate responses from unplanned or spontaneous interviews. The log an Interview feature helps you maintain a detailed summary of the interview's context and content. When it comes to interviews, every detail counts!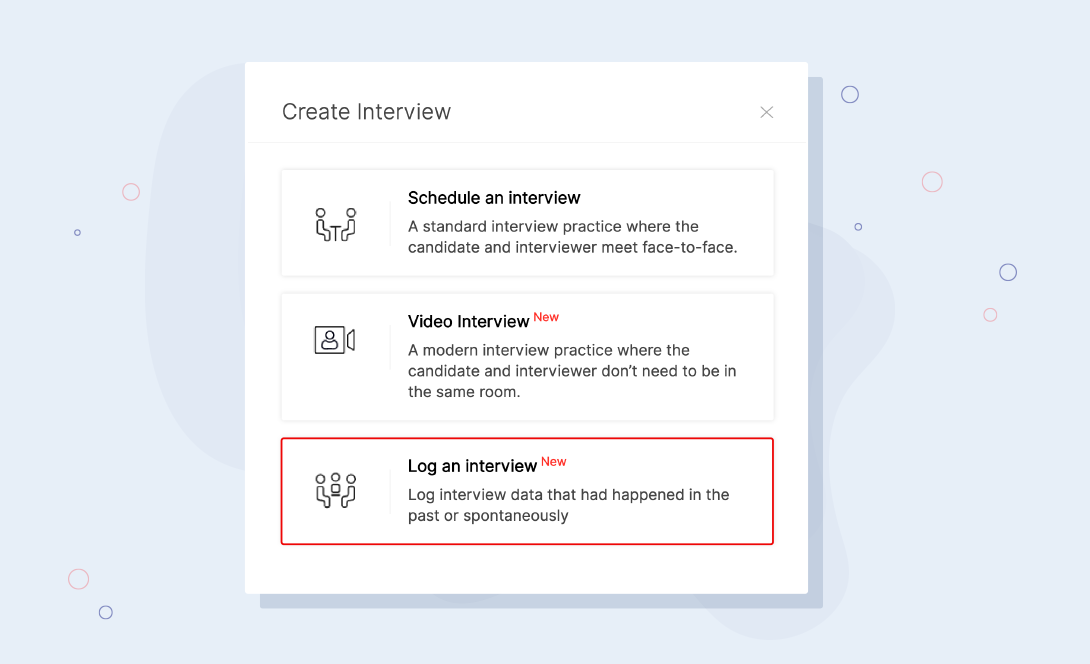 Sep
Introducing Zoho Recruit's integration with HackerEarth
New
Presenting Zoho Recruit's partnership with HackerEarth: The suite of assessment products that helps you reduce the time and effort involved with hiring and ensure that you hire only the best developers for your organization.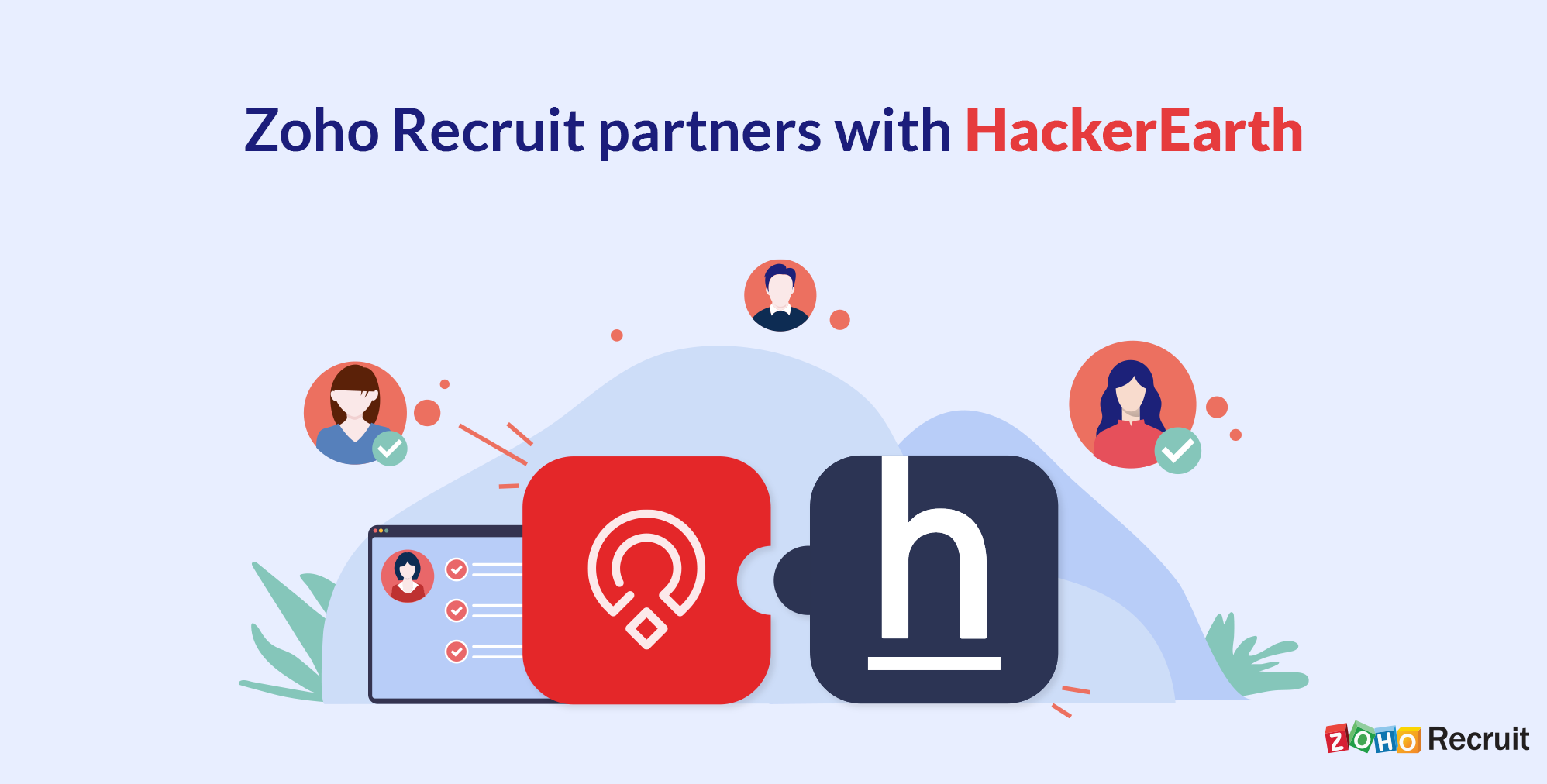 Learn More
Stay on top of your interview invites
New
Tired of tracking your interview invites manually? Send and track interview invitations to candidates and interviewers efficiently using Zoho Recruit's RSVP.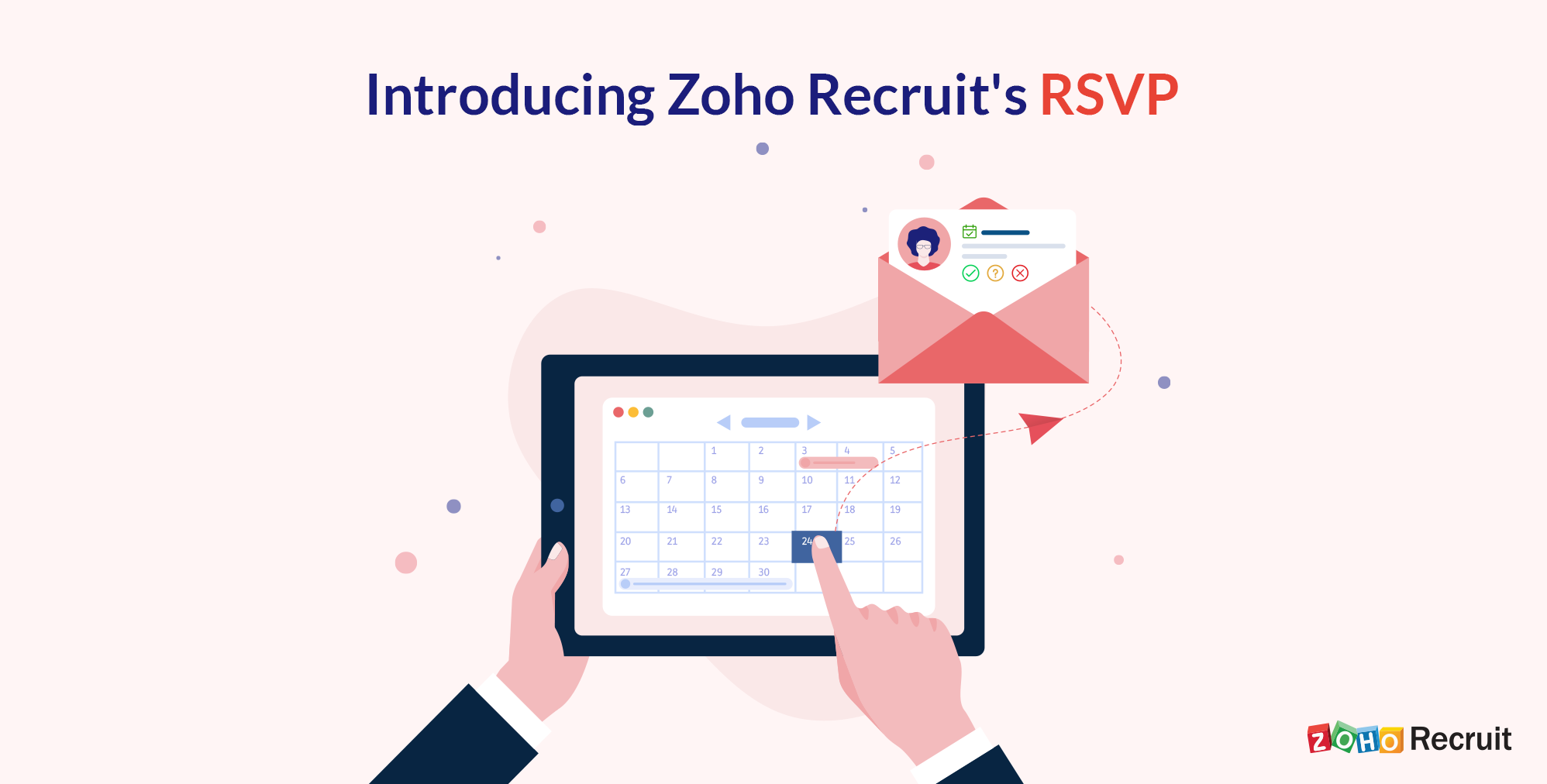 Keep track of feedback and comments better
Enhancement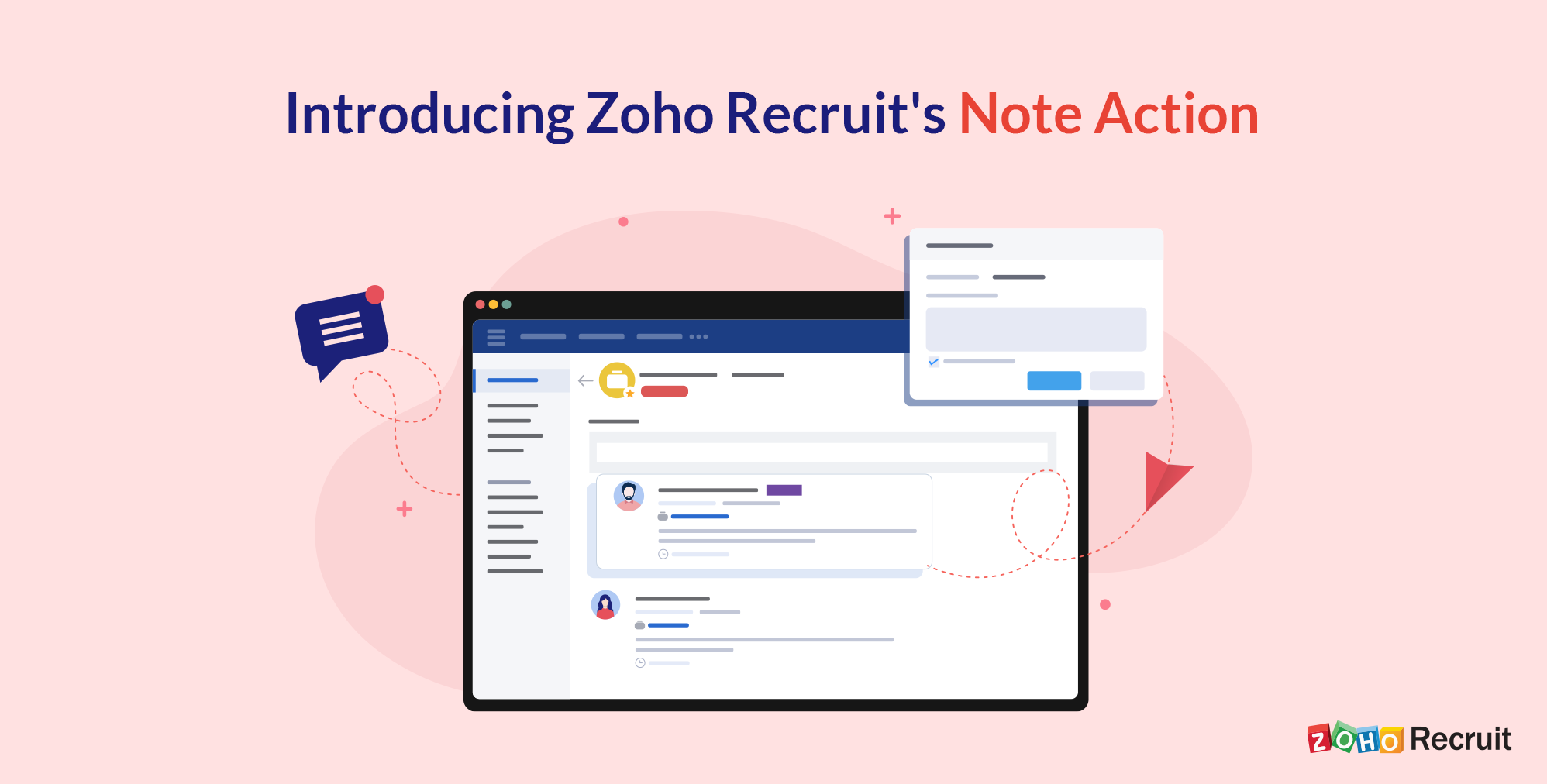 Learn More
Announcing Zoho Recruit's all-new Candidate Review Form
Enhancement
Presenting an easy and efficient way for your clients to review the candidate profiles you submit with Zoho Recruit's all-new Candidate Review Form.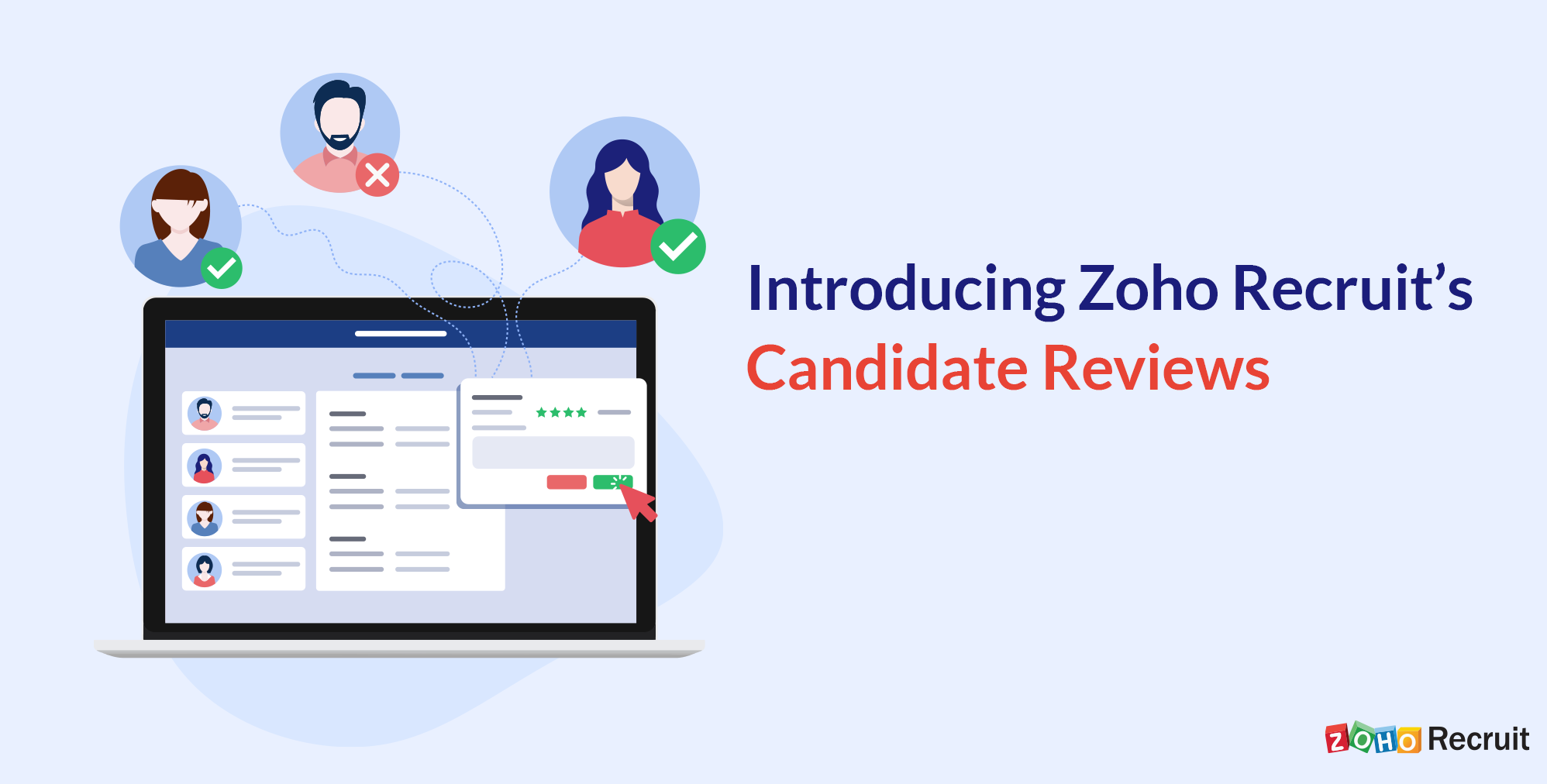 Learn More
Zoho Recruit partners with Central Test
New
This latest partnership will bring recruiters the comfort of sending pre-employment assessments to their candidates and get status reports right inside Zoho Recruit.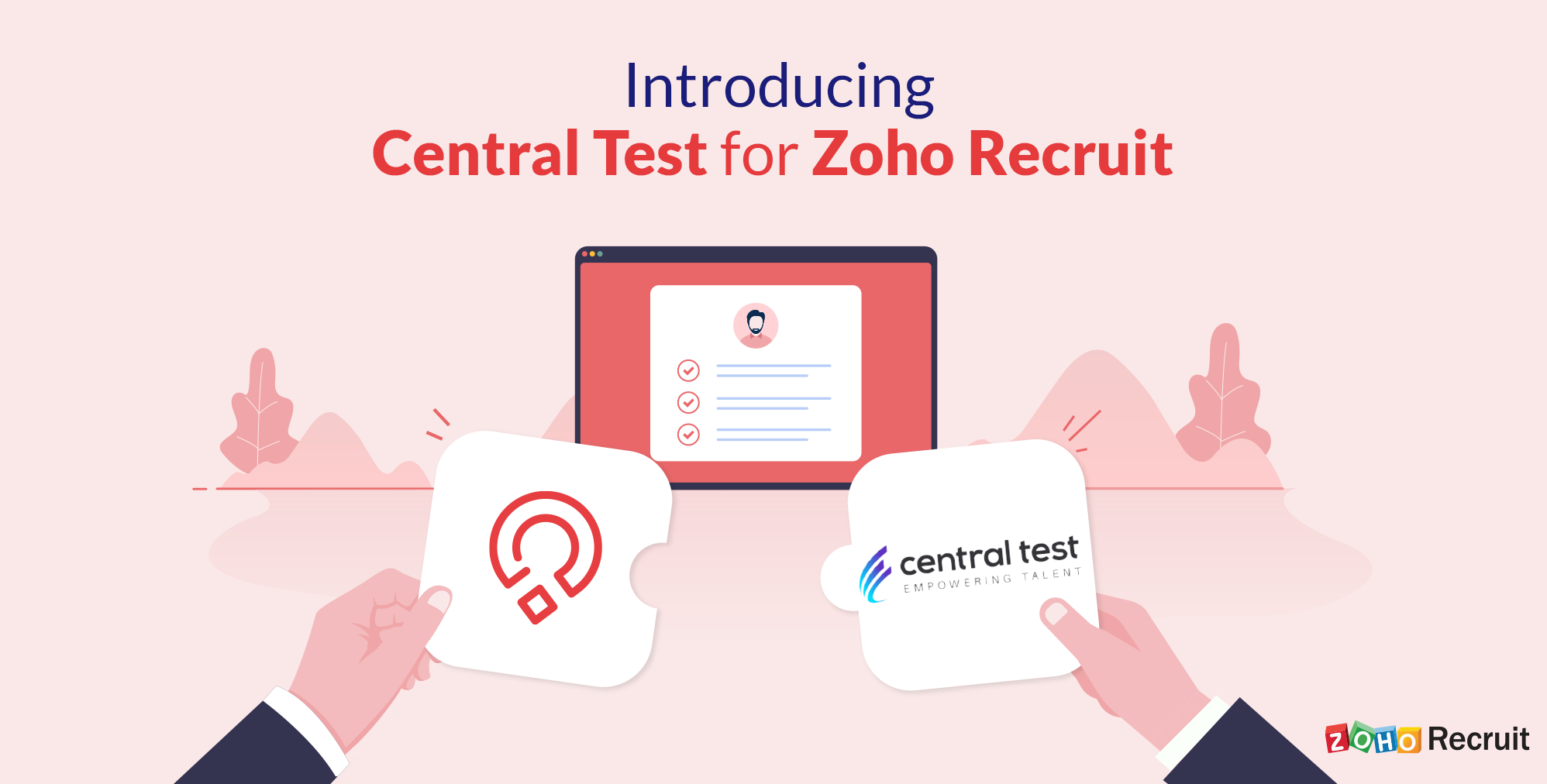 Learn More
Introducing Zoho Recruit's Remote Jobs
Post and market jobs that are defined for an exclusive remote set up. Candidates who are hired for a "remote" job can have the flexibility of working from their home or any personal office they have set up.
Learn More
Aug
Zoho Recruit partners with HireRight
This new partnership will help recruiters to seamlessly send their candidates through to a background check, powered by HireRight, and get reports right inside Zoho Recruit.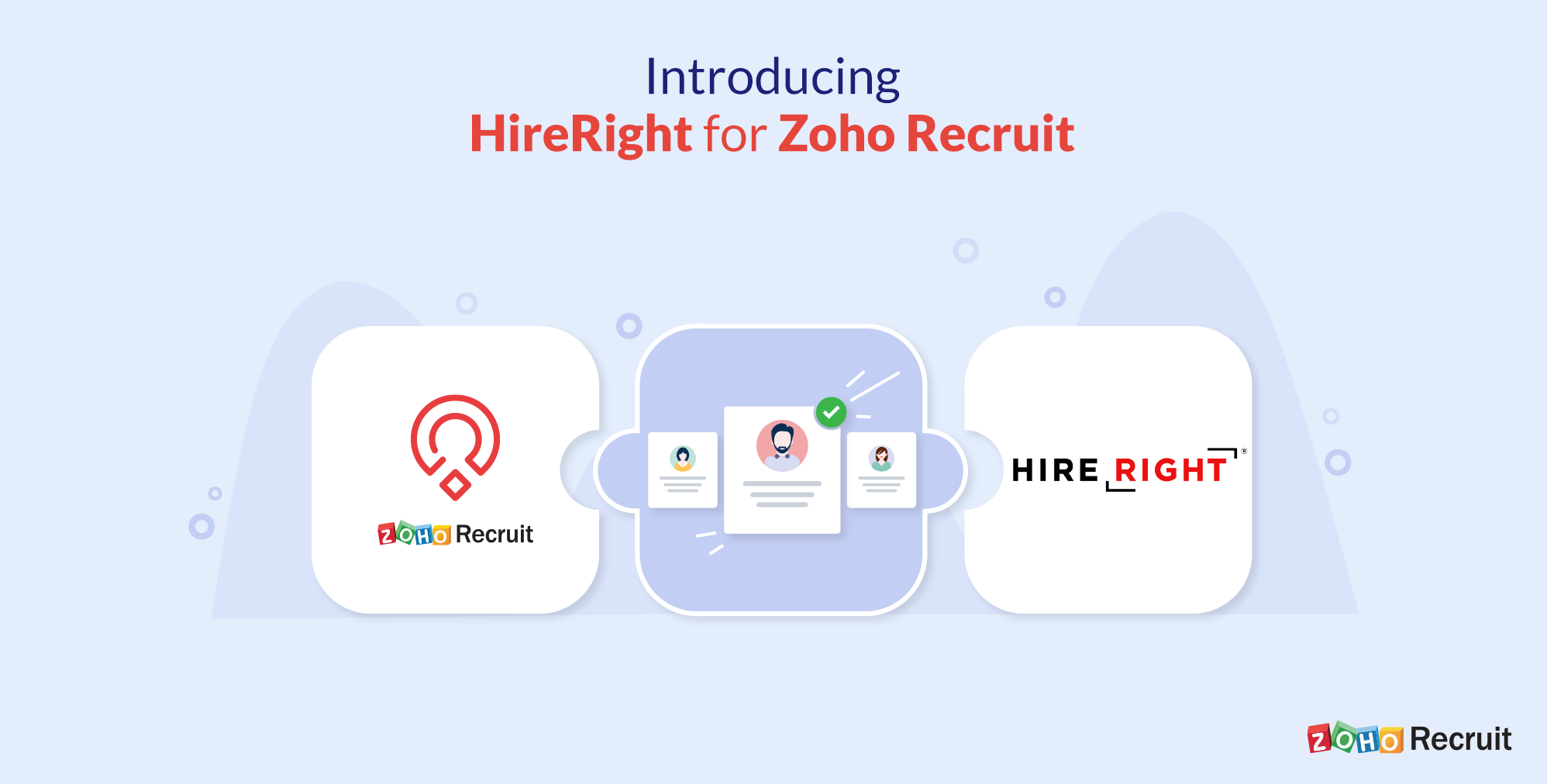 Learn More
Jun
May
Introducing the new Career Site
Enhancement
Today, we announce the release of one of our most ambitious projects—the new and improved career site. This update allows you to take the lead as a recruiter and successfully find and onboard your next great hire.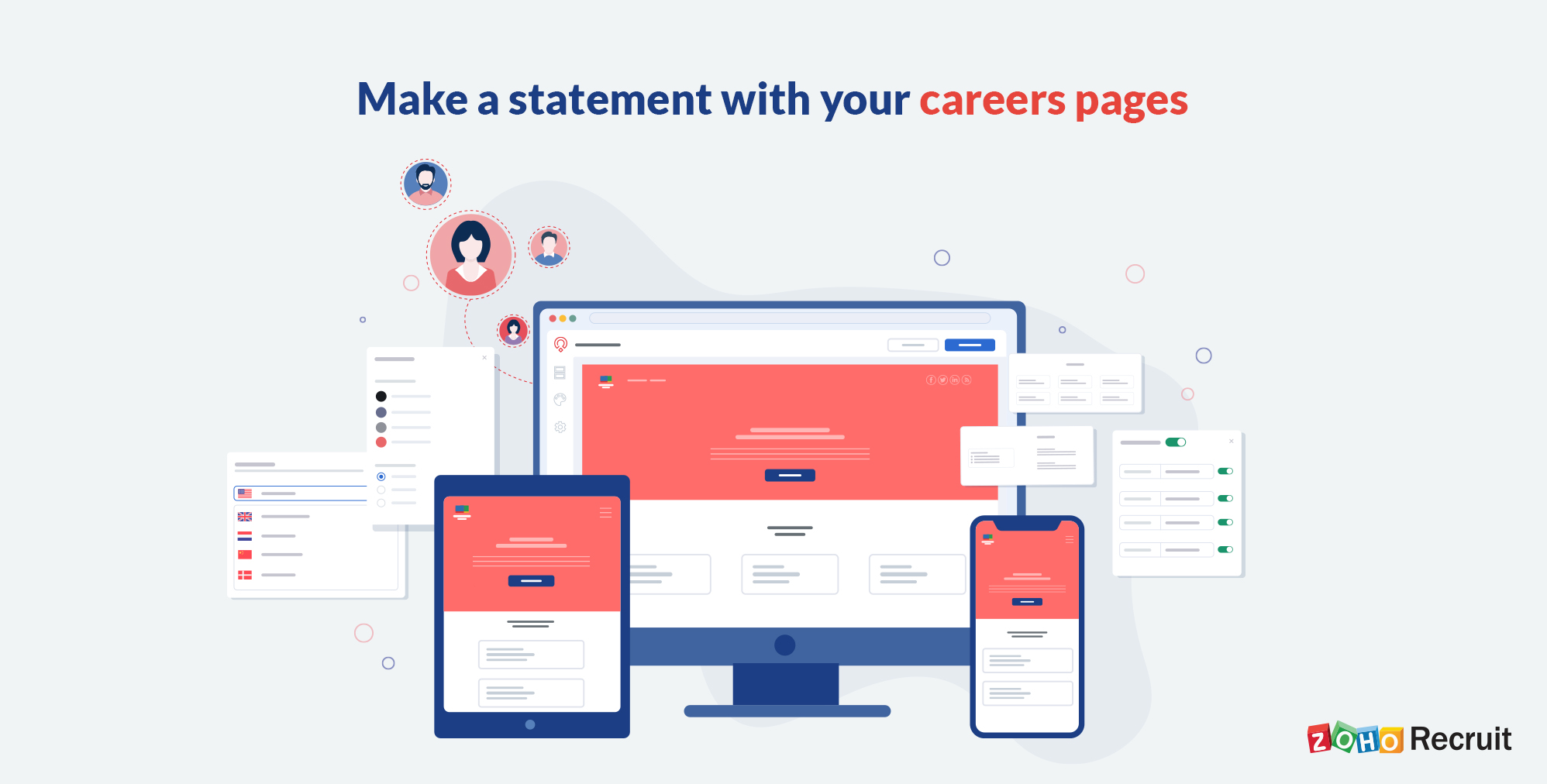 Learn More
Apr
Announcing Gmail Add-on for Zoho Recruit
Email is the most essential part of your work life as a recruiter. It would probably be the first place you will look into when you start the daily work. With this update, you can bring in candidates and contacts straight from your Gmail interface.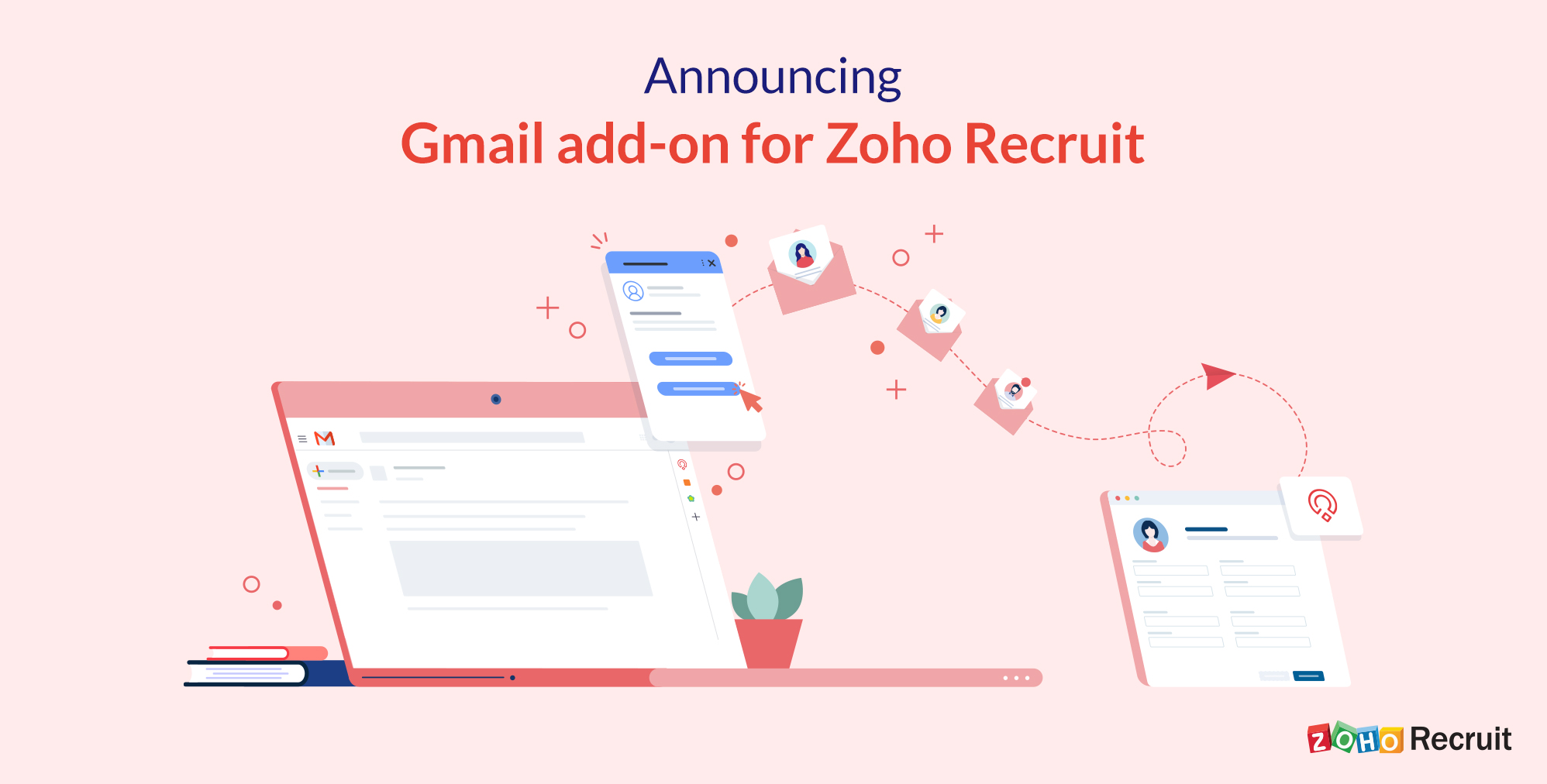 Lean More
Zoho Recruit is now integrated with SparkHire
Invite candidates to one-way/live video interviews and view completed interviews from within Zoho Recruit. The SparkHire integration lets you share interviews easily through an automatically generated link. Power-up your interview process!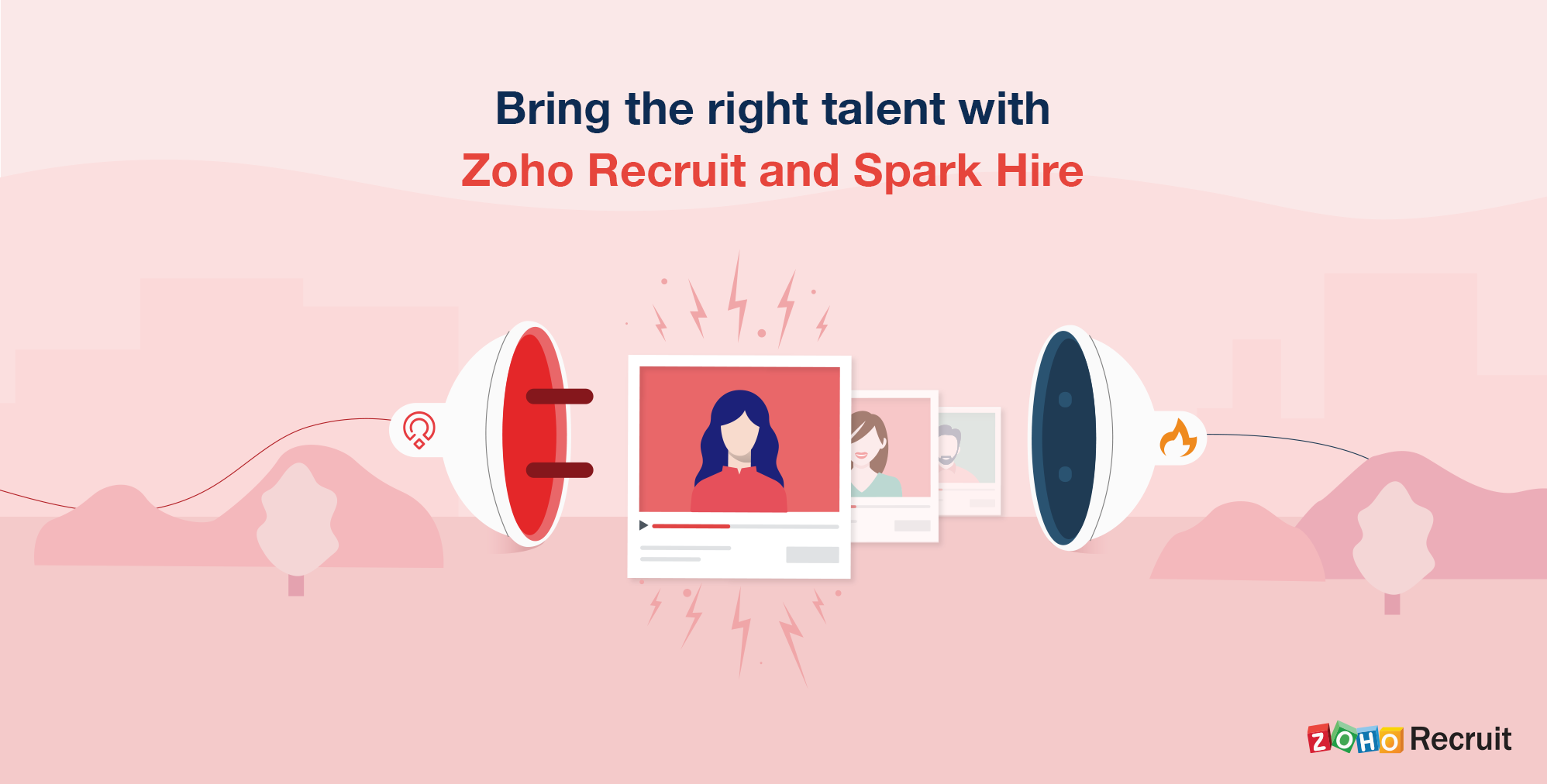 Learn More
Introducing Zoho Recruit's enhanced Outlook plug-in
New
Zoho Recruit's Outlook plug-in has had it's biggest update as of yet. Add candidates/contacts by parsing attachments, associate job openings, add notes and create to-dos without having to leave your inbox with the new and enhanced Outlook plug-in.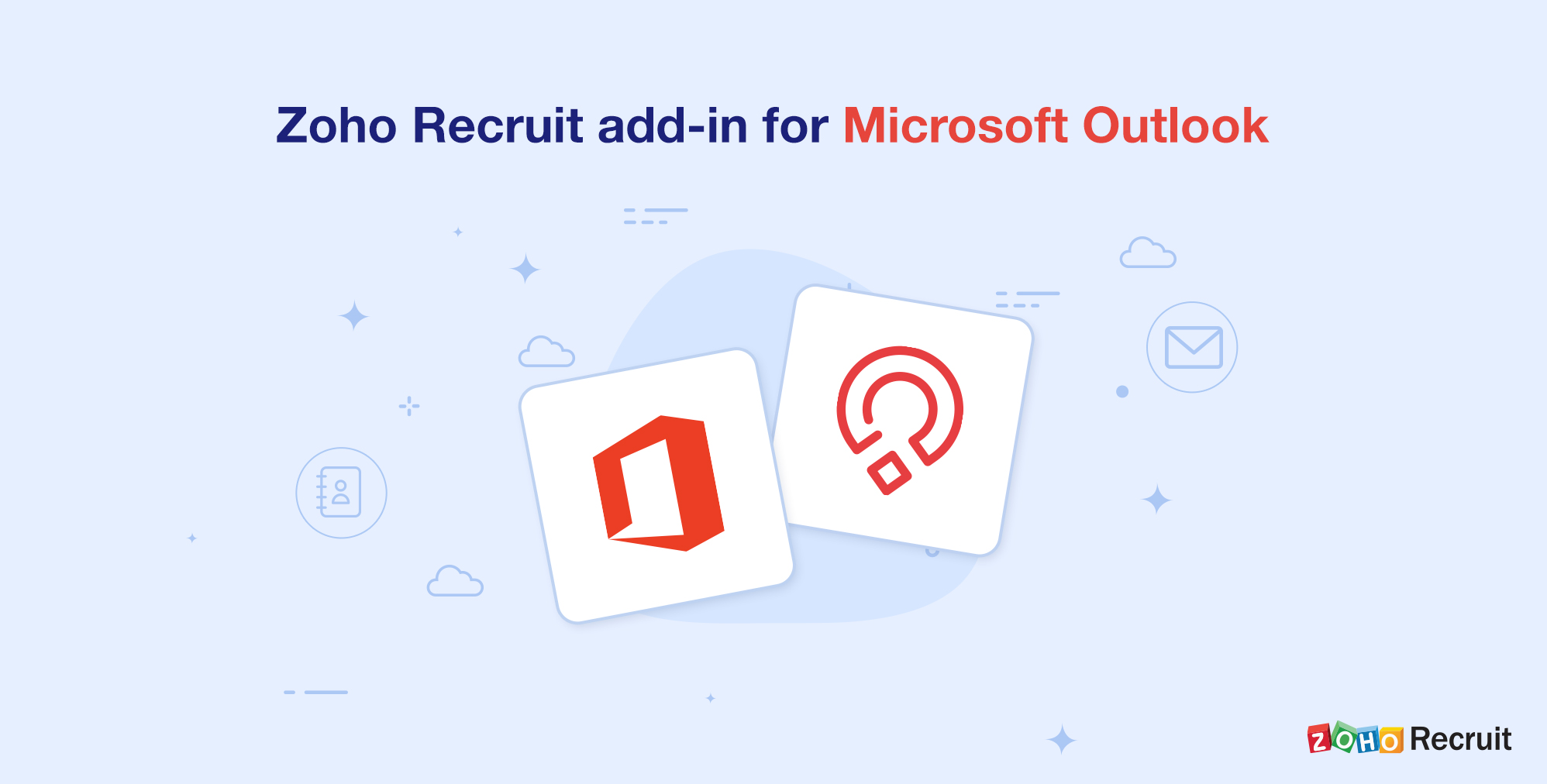 Learn More
Share with clients - An update to the Client Portal
Enhancement
Zoho Recruit now lets you share candidates with any client in your database. Send convenient notifications to your clients when you require a quick response. Your clients will be notified automatically from their Client Portal.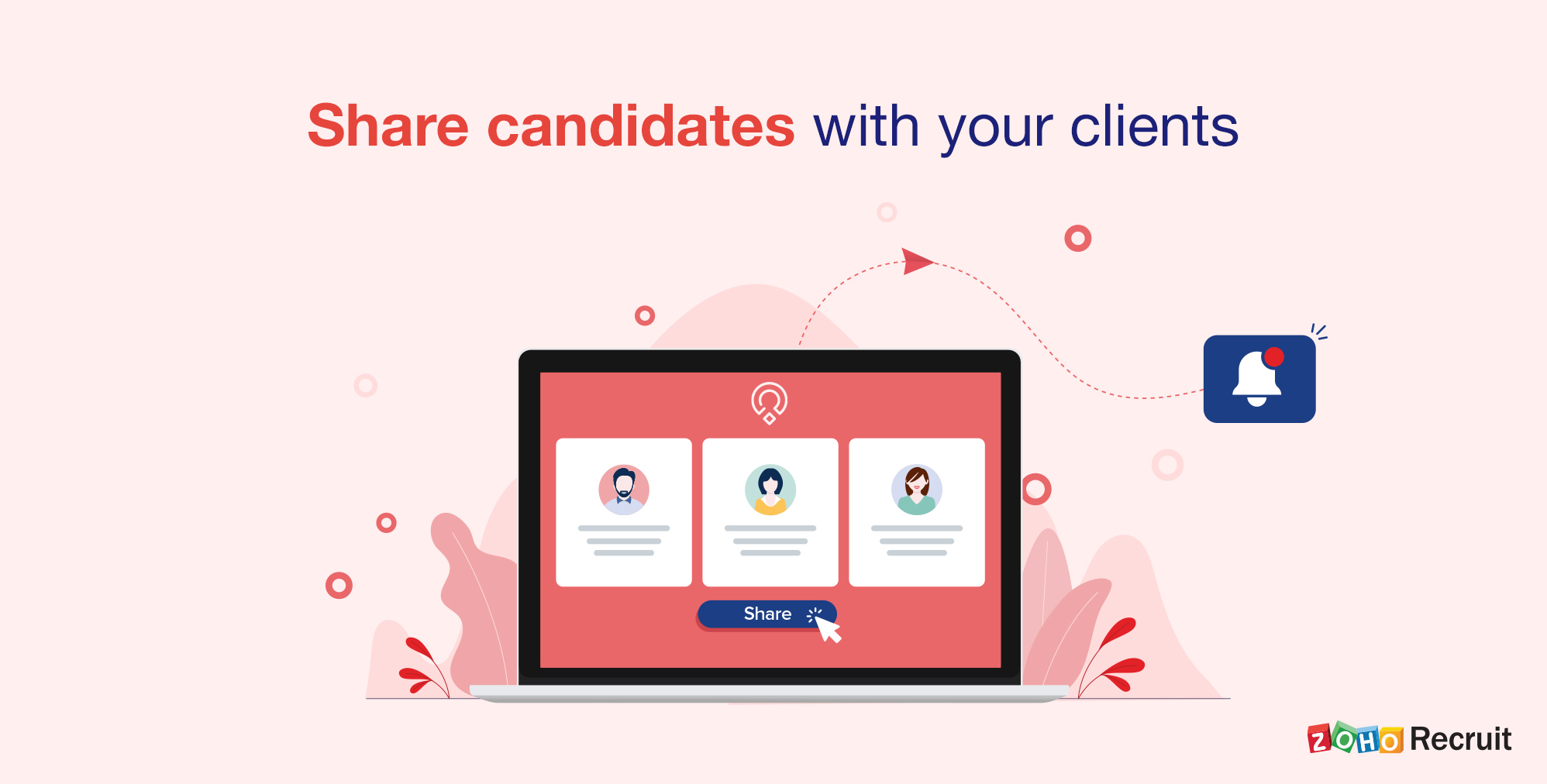 Learn More
Zoho Recruit integrates with Vonage
New
With the Vonage extension for Zoho Recruit, you can send SMS and voice messages to your candidates and contacts from within Zoho Recruit. You can get more targeted and personalized at your candidates by reaching out to them via SMS and voice messages.
Mar
Portal management made easy
Enhancement
We've improved the portal experience to facilitate better communication between you and your external users. Manage all your portal users—both clients and vendors—from one place. This update lets you invite and give access to portal users and get your work done fast.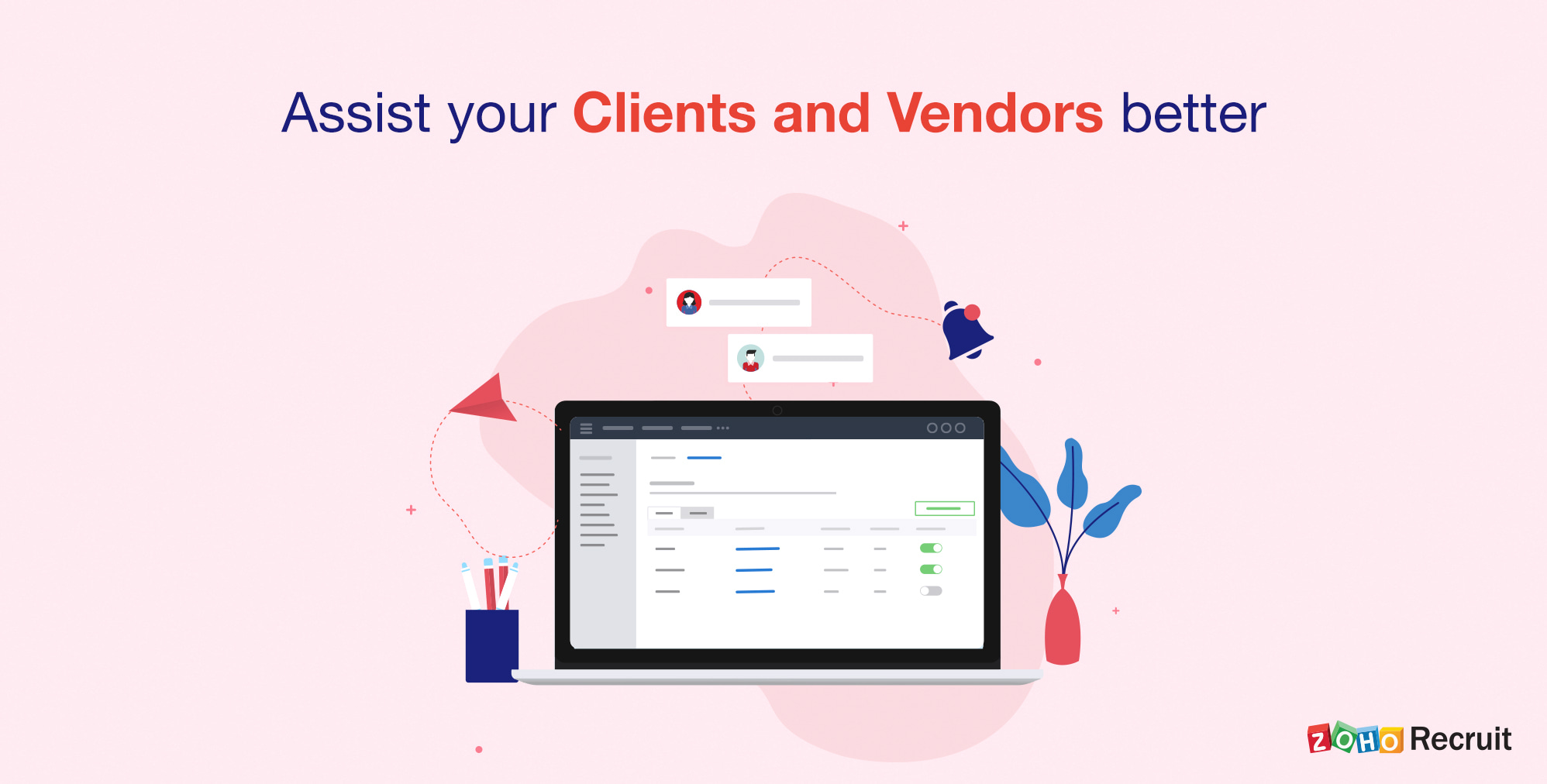 Introducing bulk conversions for candidates & contacts
Enhancement
Tired of converting candidates/contact one by one. You can now convert candidates into contacts or vice-versa in bulk with the click of a button.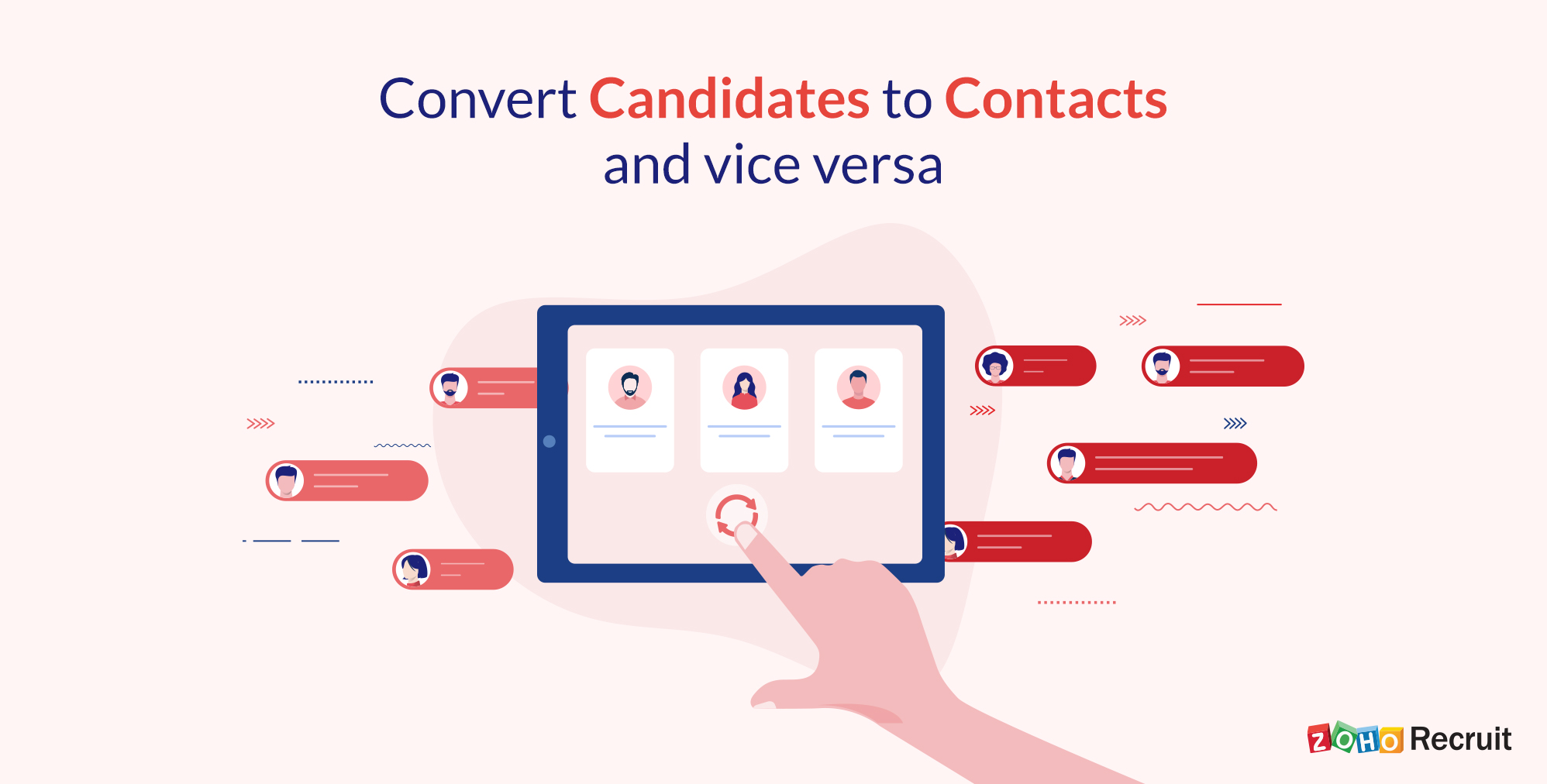 Learn More
Configure dynamic layouts using Layout Rules
New
Configure layouts that change dynamically based on certain field values using Zoho Recruit's Layout Rules, i.e, the value you enter for a certain field will decide the necessity for other fields.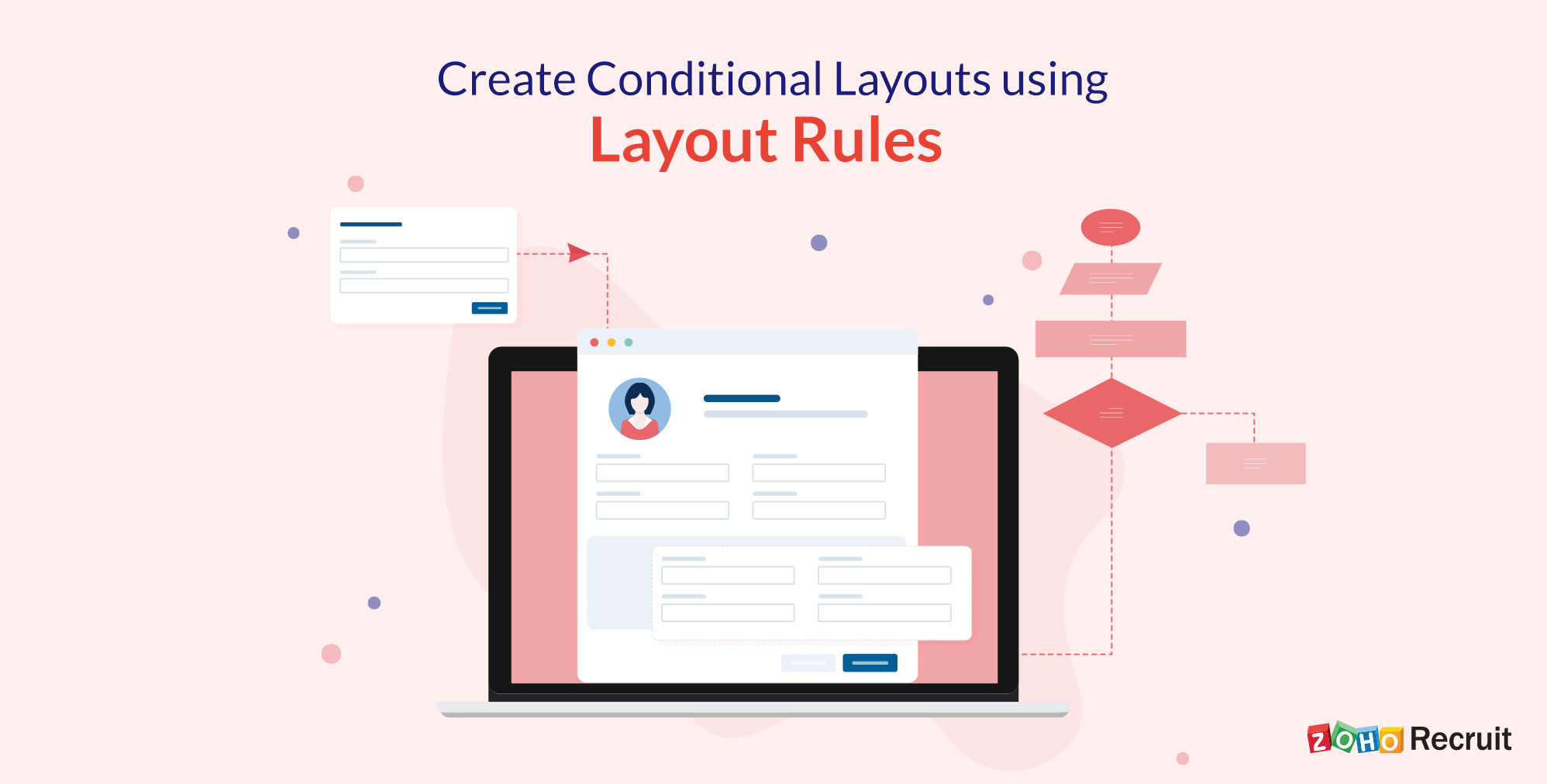 Learn More
Feb
Build extensions for Zoho Recruit
New
Zoho Recruit's Developer Console lets you quickly build enterprise-level applications through drag and drop tools. Play around with your Recruit account in a sandbox and test robust implementations, recruitment-centric mobile and web apps, white-labeled Vertical ATS' and ATS extensions.
Learn More
Zoho Recruit now supports multiple calls
Enhancement
With the Multiple Call pop-up enhancement, when you're on a call with a candidate/client, you will see the second incoming call waiting at the bottom of your screen. Zoho Recruit can now hold upto five simultaneous calls.
Jan
Announcing Zoho Recruit's Jobma Integration
New
Deliver a more effective interview process than ever before. Schedule and host video interviews, share candidates' feedback, assign tags, and track the interview status of candidates at each stage with Zoho Recruit's Jobma integration.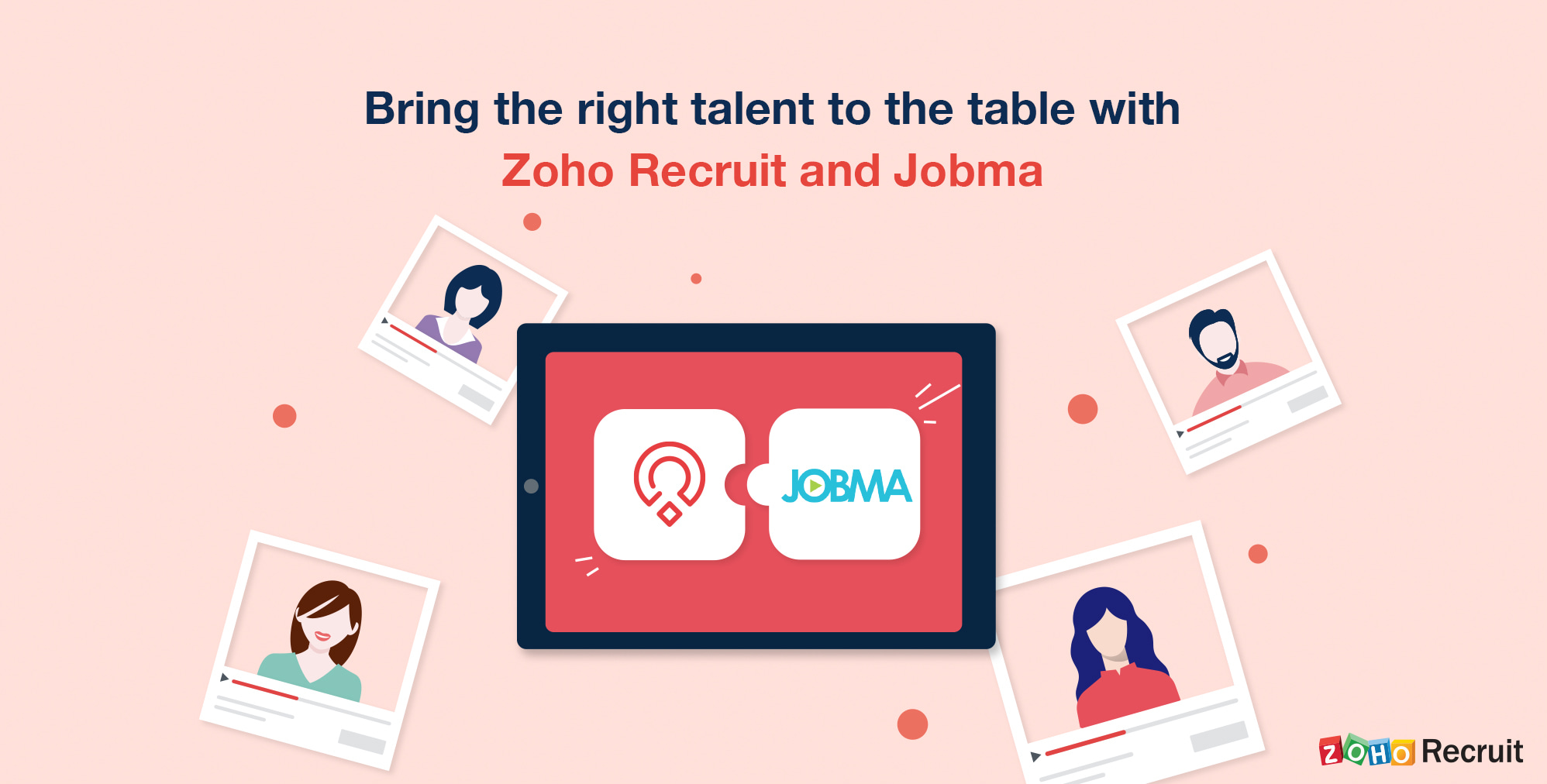 Learn More
Introducing Zoho Recruit's Sandbox
New
As your organization grows, so does the complexity in your recruitment processes. At such a point, any small error in a process could cause a domino effect. To help overcome this trouble, Zoho Recruit brings to you the Sandbox, an environment to test your Zoho Recruit settings before you can take it to your production setup. This way, you can feel much safer about the changes in your settings, as you can now identify and fix issues before you take them to your actual working system.
Learn More
2019
2018
2017
Dec
New Features & Updates
Introduced Zoho Recruit Marketplace

Introduced integration with JobBoom, Total Jobs, CW Jobs, CareerStructure, Caterer, and RetailChoice job boards.
Nov
New Features & Updates
Introduced integration with Reed, Zoek, Faces2hire, and LogicMelon job boards.
Oct
New Features & Updates
Introduced Blueprint feature.
Sep
New Features & Updates
Introduced integration with Bayt job board.
Jul
New Features & Updates
Introduced Pre-Screening Assessment feature

Introduced integration with Recruit.net, iimJobs, and Hirist job boards.
Jun
New Features & Updates
Introduced integration with Jora, TipTop Jobs, Jooble, Expertini and Zoek job boards.
May
New Features & Updates
Introduced Candidate Preview feature.

Introduced integration with ApplymyJOBS and Trovit job boards.
Apr
New Features & Updates
Introduced integration with Zoho Campaigns.

Introduced integration with Dice UK Job board.
Mar
New Features & Updates
Introduced integration with CV-Library job board.
Feb
New Features & Updates
Reduced the price of CareerJet Sponsored job board.



Single Booster: $70
Double Booster: $105

Introduced integration with Seek job board
Introduced Zoho CRM Two-way sync
Introduced Candidate rating