What's new in Zoho People: October edition
What's new in Zoho People: October edition
Last Updated: November 6, 2020
1.3K Views
3 minutes Min Read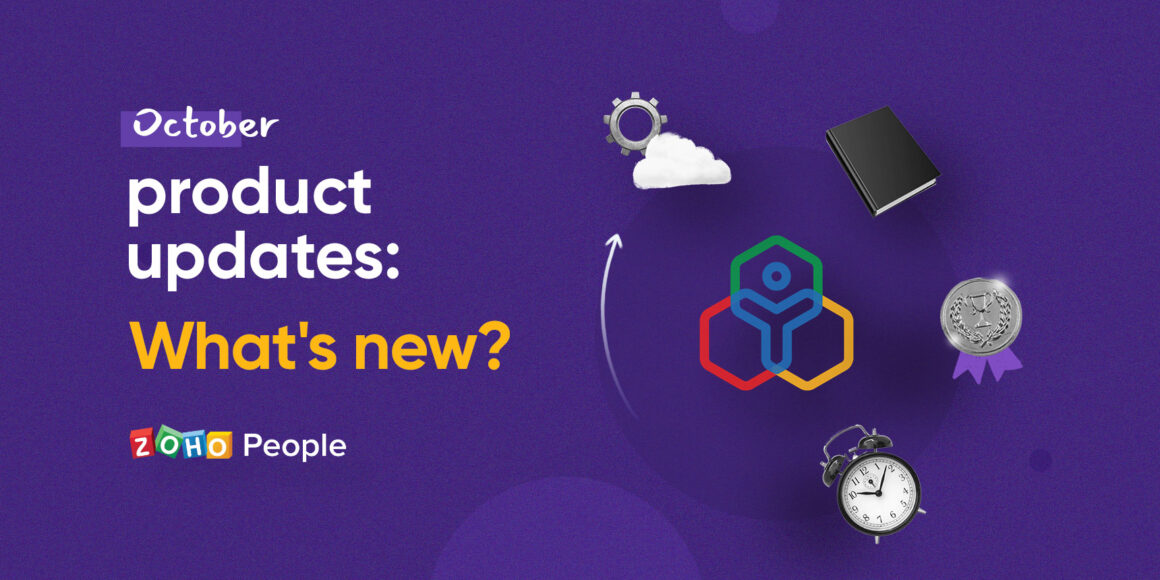 Every month, we at Zoho People strive to introduce new features that make our product more effective and useful to our customers. In pursuit of this, our product developers have introduced some awesome features that we are thrilled to announce. Here's a list of everything new in Zoho People since September:
Conduct online tests through LMS
Conducting tests and assessments for your employees as part of your e-learning courses can help you understand if the desired learning goals have been accomplished. That's why we have introduced online tests as part of the Learning Management System. Course administrators can either select questions from the question bank or use the random question generator to compile the tests. The time allocated for the online tests can be specified and employees can be graded. Learn more about how to conduct online tests within your LMS.
Categorize multi-raters to avoid confusion
Multi-rater feedback is being widely adopted by organizations to provide better feedback to their employees. As different employees offer their perspective about an employee's performance, managers will be able to better direct an unbiased appraisal process. Under the multi-rater feedback feature in Zoho People, we have introduced a new enhancement to help users better categorize multi-raters according to division and department. Four types, including Manager, Senior, Junior, and Peer, have been configured by default. These default names can be customized and a maximum of five types can be added. Furthermore, while configuring the approval process for an employee, you can also select modules for each multi-rater category so that only those modules are available to those providing feedback. Learn how to enable multi-rater categories in your Zoho People account.
Reopen candidate onboarding
Candidates get a feel for your organization's culture during their initial experience with your hiring process. This is the time to make a great first impression. Candidate onboarding in Zoho People has been designed to provide your new hires with a smooth pre-onboarding experience. This month, we have introduced a new enhancement that allows your Zoho People admin to reopen candidate onboarding after it is completed. Sometimes, your candidates may forget to add documents or information. You may also want them to add some additional details. During such times, an admin can reopen candidate onboarding and help candidates log in to the portal again to complete the process. Learn how to reopen candidate onboarding in Zoho People.
Assign a Project Head while creating projects
Successful project management is the key to better customer and employee satisfaction. When the projects are planned well, employees will be able to meet their deadlines without any rush and produce quality work. This in turn enhances customer satisfaction. Projects in Zoho People's Timesheets works seamlessly to improve project management. To make it more comprehensive, we have introduced a new enhancement that allows you to add multiple Project Managers to a particular project. Also, you can now add a Project Head, who will have complete control over the project.
Improved timesheet management
Timesheets keep managers informed about what their team members are working on. In Zoho People, these timesheets have every feature required to automate the time tracking process in your organization and eliminate errors. When used efficiently, timesheets can improve your organization's productivity. With our new enhancement, you can specify the period for which timesheet data has to be processed when creating a reminder. This helps prevent confusion and ensure timesheet deadlines are met. The same enhancement has been introduced in the Scheduler setting as well, and time logs for the selected period will be compiled automatically.
With these features and enhancements, we hope to make HR operations easier for you and your employees. Give these features a try and let us know your feedback in the comments section below! If you have any questions, please send us an email to support@zohopeople.com.
Tarika

Content Specialist at Zoho People
Leave a Reply
Your email address will not be published. Required fields are marked