Settings and Restrictions
To restrict access to the Performance Module to one or two administrators, use the Custom Admin option. Follow the steps given below to do this.
From your home page, go to Performance > Settings > General Settings
Under Custom Admin check Enable Custom Admin
​

Under Performance Module Administrator(s), select the administrators who are specific for this module alone.
Under Select role for other administrators, select the role.
Click Submit
Note 1:The other administrators of the organization will be assigned to this role for the Performance Module alone. For the other modules, they will continue to be the administrators.
Note 2:Non-admin Users who have been added as Administrators for Performance module through Admin Operations (User Access Control > Permissions > Admin Operations) will continue to remain as administrators for the module.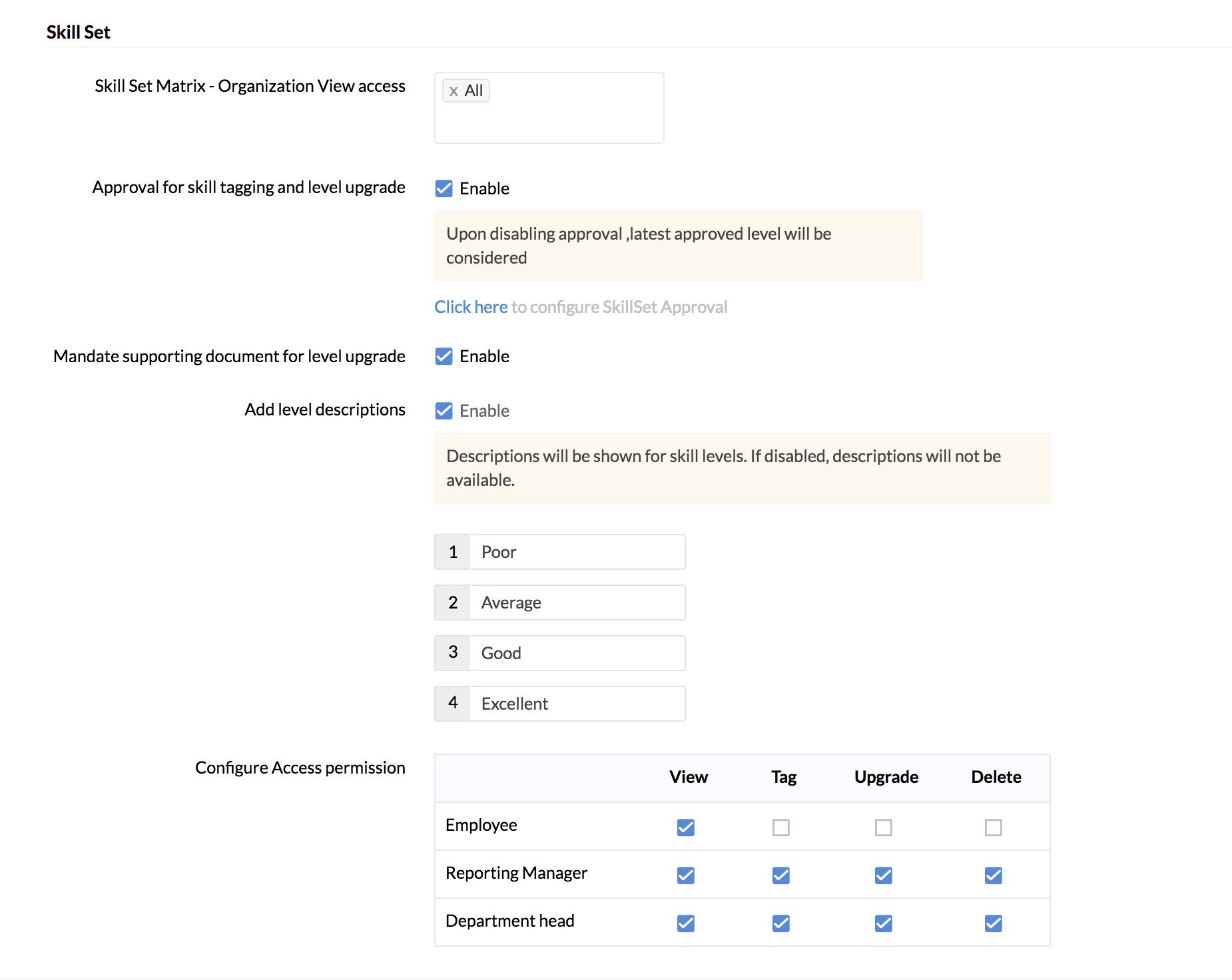 Skill Set Matrix - Organization View Access
Define skill set matrix access by selecting the applicable roles. Only the users in these roles will have access to the skill set matrix.
Approval for skill tagging and level upgrade
When this option is enabled, an employee needs to get an approval before they can upgrade their own skill level.
Mandate supporting document for level upgrade
Once this option is enabled, when trying to upgrade the skill level you will get this popup message.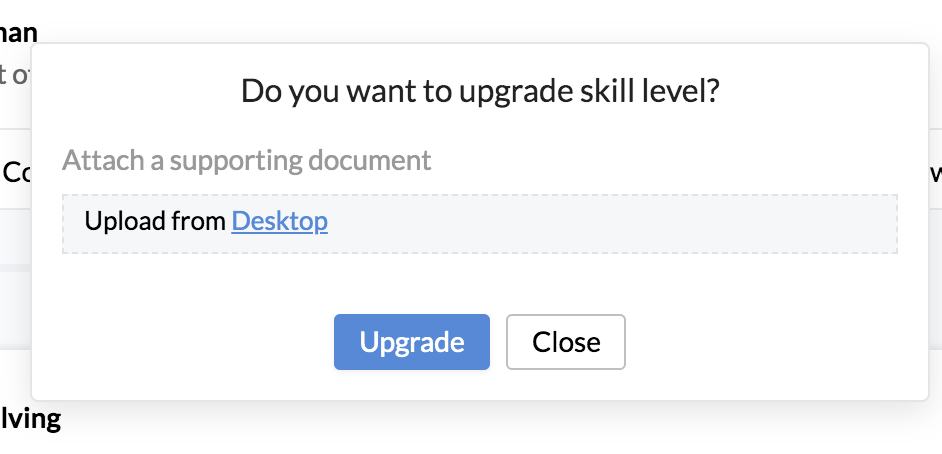 The level will be upgraded only after a supporting document is attached.
Add level descriptions
By default, the skill levels are 1,2,3 and 4. You can however choose to denote each number with a relevant description. By enabling this option, the level descriptions you add will be displayed at the bottom of the skill set page.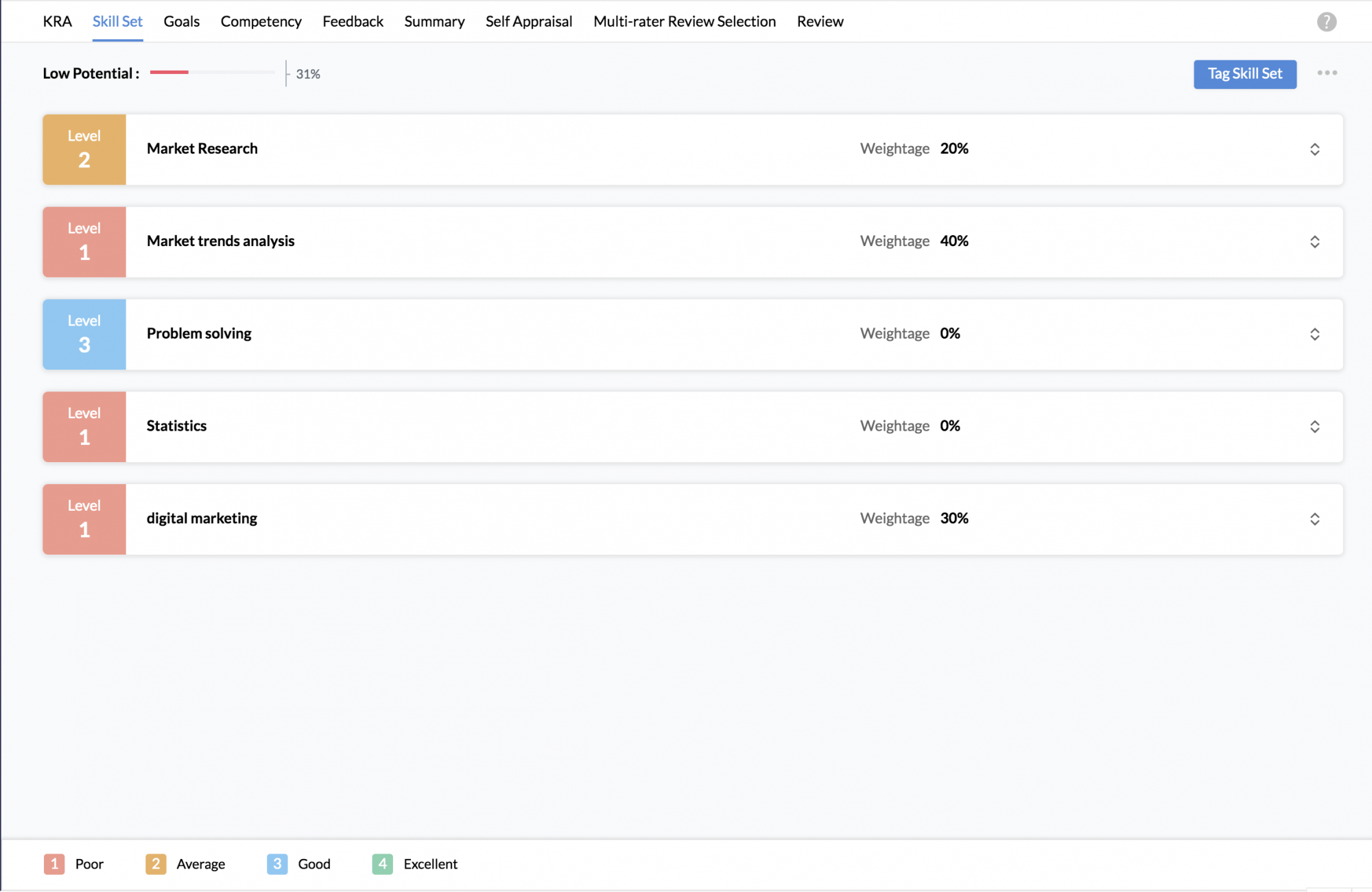 Configure Access permission
Define the actions that can be performed related to skill sets by the users in these roles. The actions include view, add, upgrade and delete.
Note: View access needs to be selected in order to enable tag, upgrade and delete access permissions.
If you want to encourage employees to give their feedback without having to reveal their identity, you can Enable it for Anonymous feedback.

Feedback level defines to whom you will be able to give feedback. If Department is chosen, then you will be able to view and give feedback to all members within your department. If Organization is given, then you can give feedback to anyone in the organization. 
Additionally, let us understand how feedback level and the feedback modules interact. 
Let's assume that feedback is enabled for the Department level and Peer-to-Peer feedback has also been selected. In such a case, an employee will be able to give feedback to all in their department, except to their direct line of reporting hierarchy. 
In another configuration, let's say that feedback is enabled for the Organization level and 360-degree feedback has also been selected. In such a case, an employee will be able to give feedback to everyone in the organization. 
Click here to learn more about the Feedback module. 
Using this setting, you can additionally give permissions to the other employees to access goals. Select the custom employee field for whom you want to give permission. Select from view, add, edit and delete permissions. 

The nine boxes in the Performance vs Potential matrix will have default names. You can, however, choose to rename these as per the needs of your organization.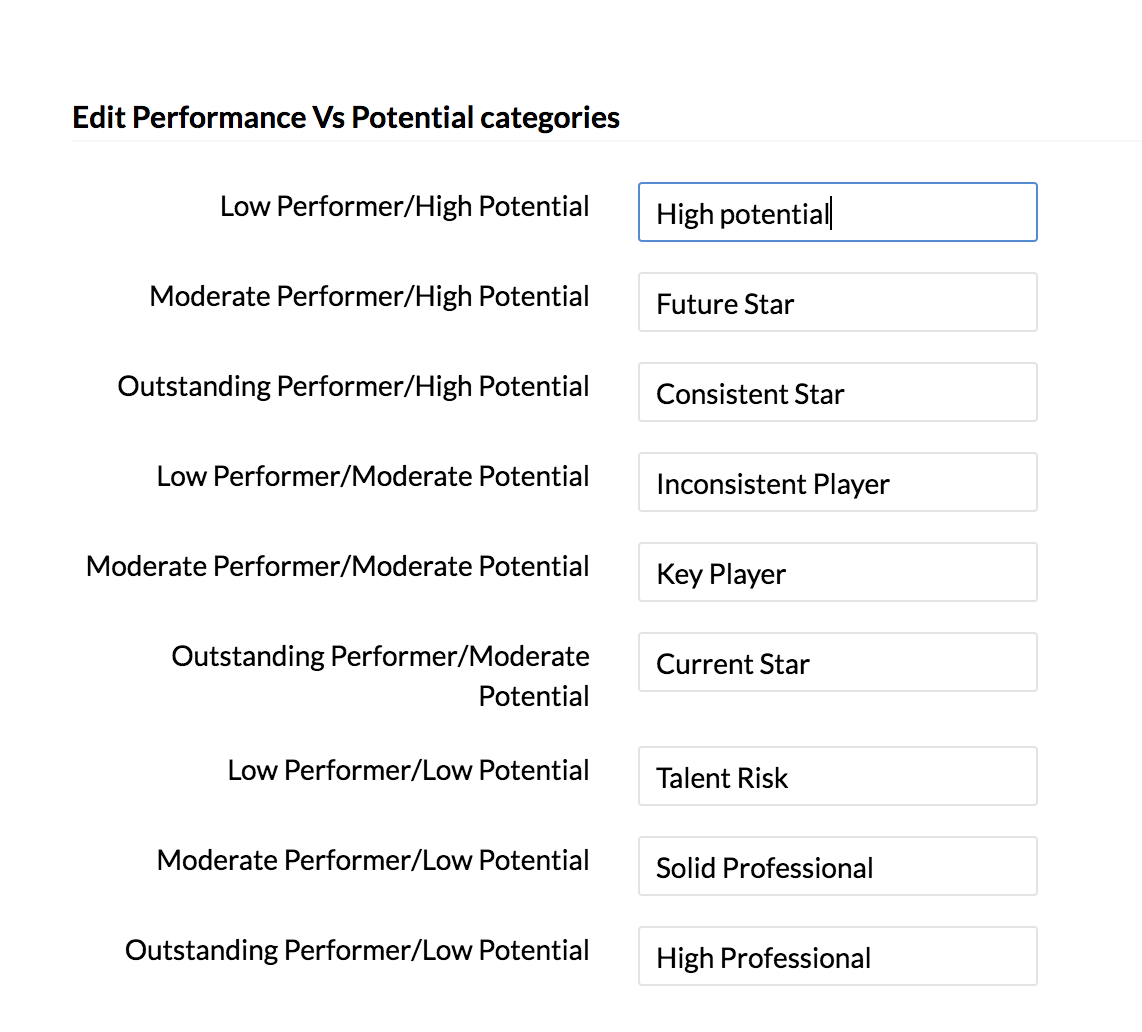 Using this option, you can rename some of the tab names based on how it is termed in your organization.