Improve your remote communication and collaboration
Improve your remote communication and collaboration
Last Updated: September 17, 2020
2.7K Views
4 Min Read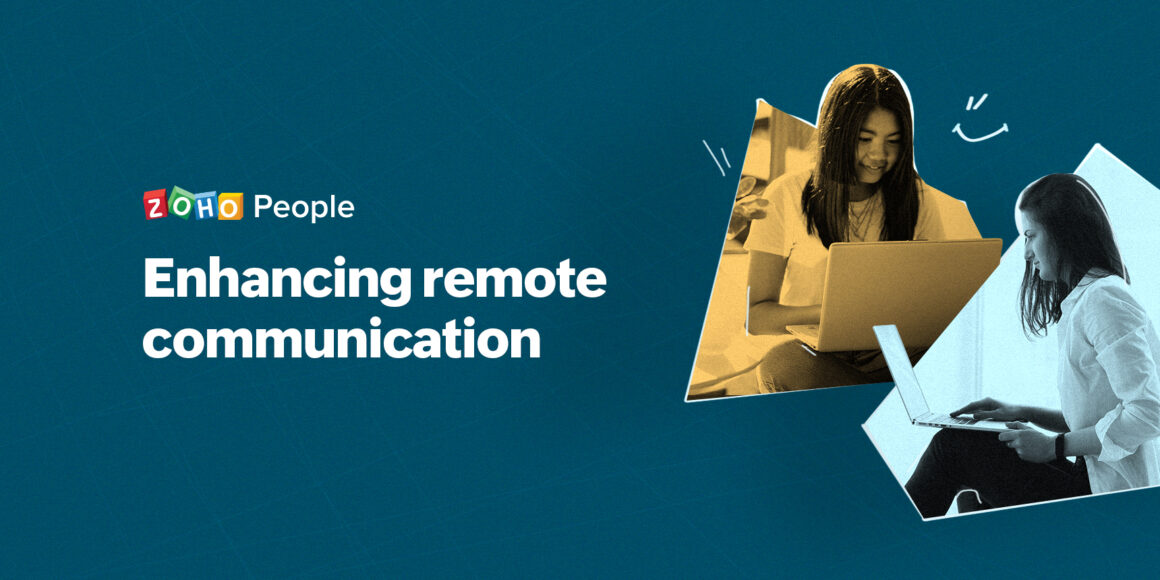 Within a short time span, many organizations switched to remote work due to COVID-19. While employees work remotely, communication and collaboration can suffer because of the lack of physical interaction. In an office, employees can simply go over to their colleague's desk to ask questions or get clarification. Regular conversations during breaks allow them to bond and work better together. Providing feedback is also easier face to face. But working remotely removes these options completely. Right now, your employees may be finding it difficult to communicate and collaborate with their peers. According to the 2020 State of Work report, 20% of respondents struggle with communication and collaboration while working remotely. A lack of communication develops a feeling of isolation in your employees and can demotivate them.
As an HR manager, try to educate your employees on the best ways to improve remote communication and collaboration. Doing so will improve employee morale, allowing them to be more engaged and productive during these difficult times. It also conveys trust and nurtures workplace relationships even when your employees are working from different parts of the world. Here are some tips to feel more connected while working remotely:
Hold virtual meetings regularly
Holding team meetings is more essential than ever because it allows your employees to interact with their teammates on a regular basis. It also helps your employees brainstorm and generate new ideas. Without these new initiatives, work may become boring and monotonous for your employees. Try to conduct virtual meetings at least two days a week during office hours when it's convenient for everyone. Choose the right meeting tool based on your number of employees. Ensure that the meetings are not too long so that your employees absorb what you have to say and can get back to their usual work. Allow for a free flow of ideas without any interruptions, and include time for some casual conversations so your employees can catch up.
Define the communication channels
The first step to improve communication is to define the different communication channels that are available. This will help you to get important messages and announcements to your employees quickly. Having the right communication channels will allow for better time management. For instance, you may want to discuss an issue with or make an important announcement to managers only. During this time, having a separate channel for managers will allow you to communicate quickly and efficiently. So identify the right communication channel and tool according to the audience and the information you want to pass on.
Cooperation from your managers is crucial to improve remote communication and collaboration in your organization. Some of them may not be aware of the consequences of a poor communication system. So take time to educate your managers on the best practices to improve communication among their teams. For example, they should be clear and concise to avoid miscommunication, especially with remote employees. They should be able to express their expectations to their teams. Encourage them to conduct one-on-one meetings with their team members once in a while. They should also be available to listen to employee concerns so they can act on them immediately. Lastly, it's important that managers keep all their team members on the same page no matter what.
Adopt a 360-degree feedback system
While working remotely, the feedback process in your organization may be hindered by the lack of physical interaction. Without proper feedback, your employees won't know if they are headed in the right direction. This may cause performance anxiety and decreased productivity and engagement. To avoid this, set up a 360-degree feedback system that fosters employees, helping them to be aware of their strengths and weaknesses no matter where they work from. This system of constructive feedback allows employees to understand their performance from their peers' perspectives and strengthen the weak spots in their performance. This improves both communication and teamwork in your organization.
Create virtual idea boards
Having virtual idea boards allows your remote teams to brainstorm ideas and be on the same page, improving innovation. Your employees don't have to be in the same room to come up with great ideas. Just finding the right medium for virtual brainstorming will help substantially. Encourage managers to create online idea boards and add their team members. This way, employees can be brought together to solve complex problems. This helps to revitalize team spirit while working remotely. Shared idea boards can also be used by managers to track the progress of different projects.
Save time for casual chitchat
While working from the office, your employees had the time and opportunity to bond with their peers on a personal level, which helps strengthen workplace relationships. They should be able to do this even while working remotely to improve employee morale and engagement. Create separate groups for casual conversations and encourage your employees to join and participate in them. This will create a sense of community. Conduct fun virtual activities like team lunches, open mics, coffee breaks, office quizzes, charades, family meet-ups, and more to reduce work stress. Not sure what to organize? Check out our blog on six virtual team-building activities.
During these times, it's crucial to recognize the importance of remote communication and take steps to improve it. Lack of communication causes a disconnected feeling, which prevents employees from being productive and stress-free. On the other hand, establishing effective remote communication channels engages your remote employees and improves the overall success of your organization.
Zoho People has a variety of remote communication features including an internal chat system, live feeds, and forums to facilitate collaboration. Discussions can be initiated in no time, and teams can be connected from anywhere in the world. Zoho People also keeps all your employees informed of important developments within your organization. Learn more about how Zoho People facilitates employee communication and collaboration.
Reference:
Tarika

Content Specialist at Zoho People
Leave a Reply
Your email address will not be published. Required fields are marked