Employee time clocking system: What can it do for your organization?
Employee time clocking system: What can it do for your organization?
Last Updated: July 20, 2020
4.4K Views
5 Min Read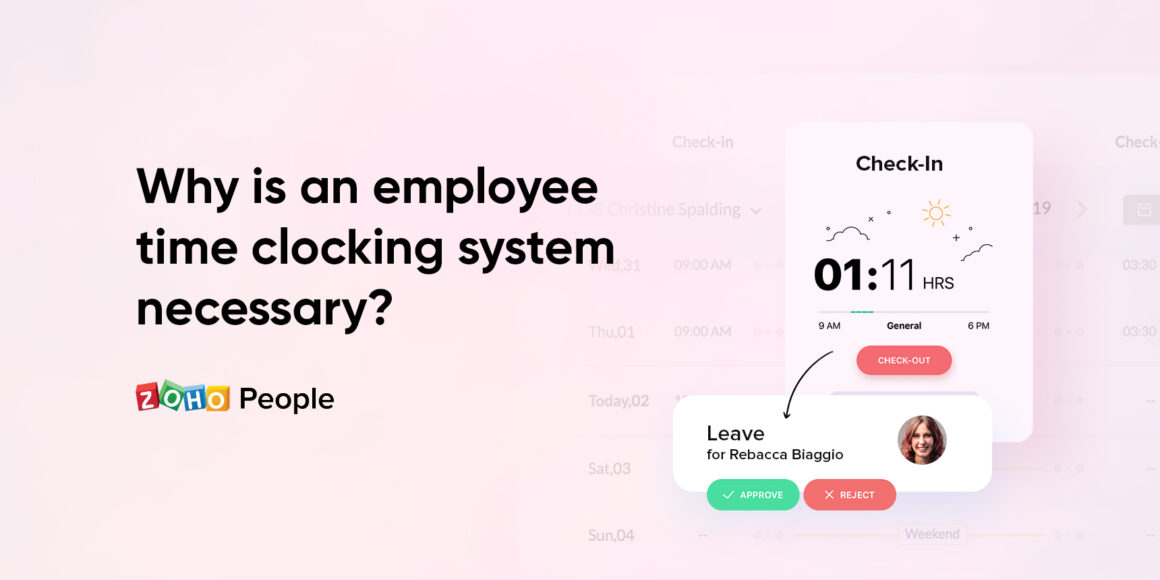 Efficient time management is essential to growing a business. Most organizations thrive on deadlines. This means that how your employees plan their time and prioritize their work directly impacts your organization's productivity, success, and bottom line. Employees are also spared unnecessary pressure, anxiety, and stress when they feel they are making the most of their time. Tracking work hours effectively is a huge step in helping your business and employees thrive.
However, tracking employee work hours manually can be a hassle. That's why many organizations have moved towards employee time clocking systems to manage their employee hours. Time clocking systems have many features that are designed to make time tracking as easy and effective as possible.
What can you do with an employee time clocking system?
An employee time clocking system can greatly help the HR department, your employees, and their reporting managers because it automates the time tracking process. An employee time clocking system helps with:
As an HR manager, you understand the importance of effective attendance management. Inaccurate attendance data can damage your organization's productivity, bottom line, and retention rate. On the other hand, a well-managed attendance system can make your employees more productive, satisfied, and happy. That's why an attendance tracker is necessary.
Your employees can mark their attendance through the web or mobile app with suitable IP and Geo-restrictions. This comes in handy for especially for remote workers. However, you can also integrate the biometric devices in your organization with the attendance tracker to record working hours. Attendance policies for a specific employee, shift, or location can be customized, and reports can be generated to gain a better clarity on your organization's attendance patterns.
Manually managing multiple projects and clients is not easy. Data errors can lead to both client and employee dissatisfaction. With online timesheets, you don't have to worry about discrepancies in time logs. Multiple projects can be created for an entire day, week, or month in just a few steps. Your employees can record the hours spent on different projects by just switching on the time-tracker. These time entries can be sent directly to reporting managers for online approvals, and a detailed invoice can be generated and sent to your clients. This removes any operational bottlenecks and prevents project delays. Employees can record their working hours and reporting managers can approve them right from their mobile devices.
While your employees work around the clock, it's vital to ensure that their shift schedules are managed efficiently to avoid any clashes or confusion. An online shift management system can be extremely helpful for you and your employees. Employee shifts can be scheduled daily, weekly, monthly, or quarterly, and any changes to these shifts can be made easily even after they've been created. Whenever there's a change, employees will be notified instantly to prevent shift conflicts. Automated schedulers can also be used to rotate shifts periodically. All-in-all, the shift scheduler feature makes shift management as transparent and easy as possible, improving employee morale.
Employee work hours and payroll go hand in hand. Having an integrated system can make payroll processing more time-efficient and accurate. With an employee time clocking system, you can generate detailed reports that have all the information regarding employee work hours, time-off, overtime, Loss of Pay, and more. This automates salary calculations and ensures that your organization meets legal requirements.
Also read:What are the goals of a payroll management system?
What are the benefits of using a time clock?
Using an efficient time clocking system can:
Improve the overall productivity of your organization
Time management and productivity are closely related. As employees are recording the time spent on different projects, they'll tend to focus on their projects better. Time theft, which often hinders employee productivity, can be reduced significantly. As the projects can be planned well in advance, employees can also plan their work accordingly. This avoids last-minute work and reduces the pressure on your employees.
Increase accuracy and accountability
An online time tracking system can give you a more accurate picture of the project hours put in by each employee. This prevents data entry errors. With manual timecards, you can't be sure if your employees have recorded the correct time. Online time clocking systems improve employee accountability as it keeps track of their work items. This allows employees to be more punctual and meet all their deadlines.
Reduce administrative tasks and costs
Managing employee work hours manually can be a great burden to the HR department. Reviewing and approving the manual time entries takes up a fair share of your time and increases the risk of errors. These errors can cost a lot to your organization. With an online time clocking system, time log approvals and invoice preparation takes only a few minutes.
An employee time clocking system ensures regulatory compliance, thus making sure your organization is always audit-ready. According to the Fair Labor Standards Act, any employee who works for more than 40 hours should be paid for their overtime hours. Failing to do so can mean heavy penalties for your organization. With a time clocking system, you don't have to worry as all the decisions are data-based. It also prevents other compliance issues including payroll errors, buddy punching, overworking with no spent vacation time, and much more.
Managing and processing employee payroll can be tedious. Even a small error can result in either overpayment or underpayment. However, with a time clocking system, you don't have to worry about payroll processing. The time clocking system gives you an exact picture of the days and hours each employee has worked, facilitating on-time salaries and preventing double entries.
Final thoughts
Overall, a time clocking system has every feature that is required to make managing employee work hours fast, effective, and convenient. It takes the administrative burden off your shoulders and makes the process more accountable. Your employees will be motivated to meet their deadlines and be more productive.
Zoho People, our HRMS, can serve as a perfect solution to the time tracking needs of your organization. Zoho People's ability to facilitate accurate time-keeping improves your business's profitability and increases customer confidence in your organization. Learn more about Zoho People's time clocking system here.
Also read: A guide to using time effectively with online timesheets in Zoho People
Tarika

Content Specialist at Zoho People
Leave a Reply
Your email address will not be published. Required fields are marked