What activities can employees complete using the employee self-service portal?
What activities can employees complete using the employee self-service portal?
Last Updated: January 4, 2023
436 Views
3 Min Read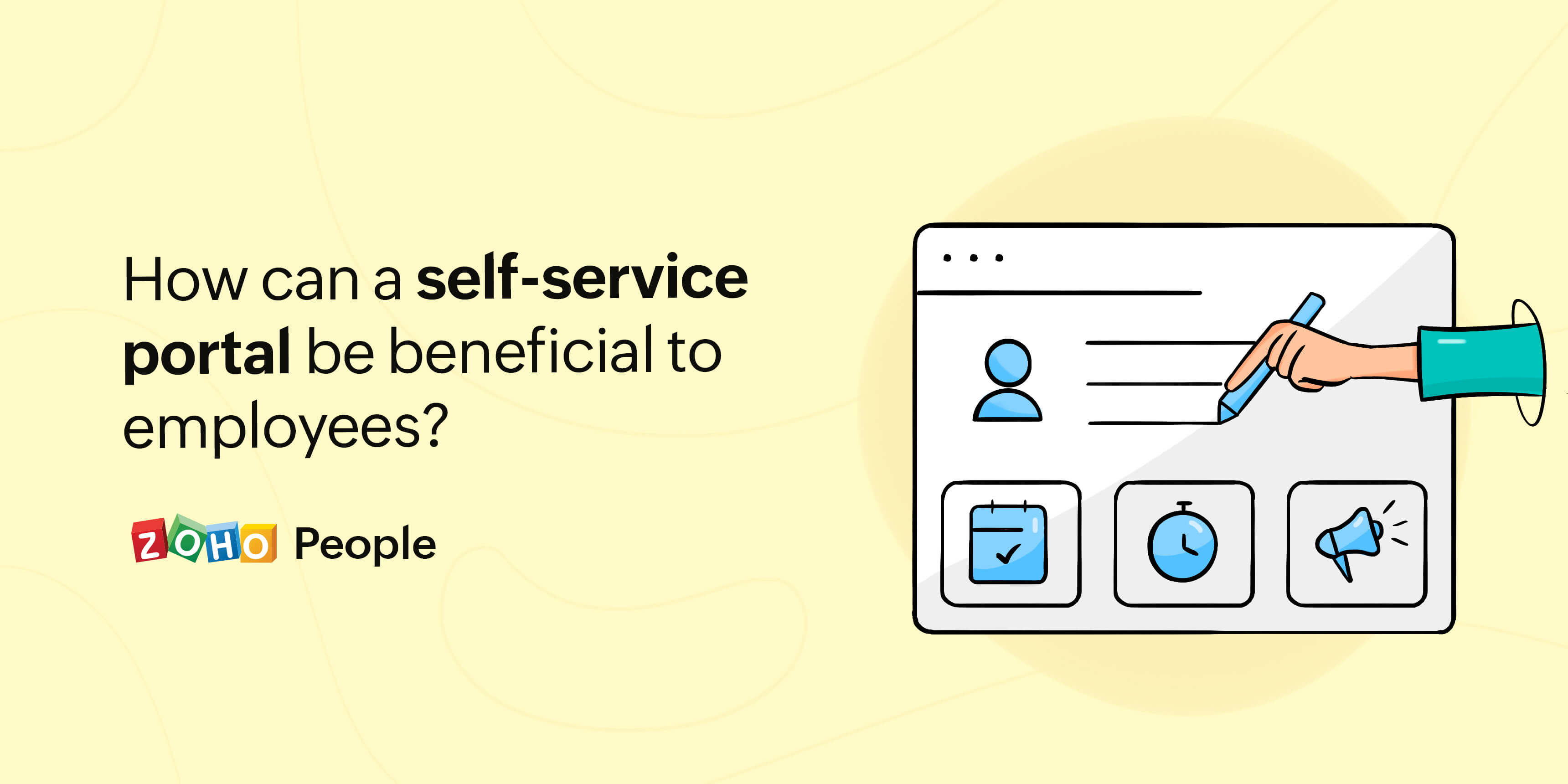 Think about having to add, edit, and update the data of an entire workforce without a streamlined self-service system. This approach usually causes HR teams to spend about half of their week managing employee information. An employee self-service portal can be an absolute boon for your HR team, especially when your employees are working remotely or following the hybrid model.
With an employee self-service portal, you can empower your employees to manage their information on their own. This not only promotes employee accountability but also makes the process more efficient and less prone to error. All the necessary information like pay details, performance goals, timesheet data, and leave balances are available to your employees in just a few clicks.
If you are wondering if this portal would be worth the investment, here's a list of all the activities your workforce can complete using the employee self-service portal:
Add, edit, and update personal information
As employees log in to their self-service portal, they'll get access to a profile page with their professional and personal information. This includes their designation and department, reporting manager and reportees, contact information, and any listed goals, skills, and qualifications. With suitable permissions enabled, employees can add the required data and edit fields whenever there's a change. This will ensure that employee records stay error-free and up to date, which in turn helps your organization stay compliant with local, regional, and national regulations.
Manage attendance-related activities
Through the self-service portal, your employees will be able to handle every attendance-related activity. This makes it simple for them to mark their attendance at the beginning of the day. Employees can use the portal to stay on top of their daily check-in and check-out times, as well as their overtime hours. They can also submit regularization requests if there are any discrepancies in the recorded working hours. If your system has the necessary permissions enabled, employees can apply for breaks and short absences through the self-service portal itself.
Just like attendance, your employees will be able to use the portal to apply for and cancel leave in just a few steps. While applying for leave, they can use the system to keep their team informed about their planned absence. They'll also be able to check their leave balances and their upcoming holiday list with a click of a button, making it easier for them to plan both work and personal responsibilities. Further, managers can stay on top of reportee leave information and can also apply for leave on their behalf.
Stay on top of announcements
The self-service portal allows employees to view every announcement made by the HR team, C-level leaders, managers, and even peers. They'll also be able to share their thoughts and feedback through the comments section in the announcements, which can lead to improved collaboration. Besides this, your employees will get access to a company-wide directory that provides the complete contact details of their team members and peers from other departments, along with their designations. This way, they'll know whom to contact for what.
Gain 24/7 access to information
Any HR information that your employees may need will be readily available in the self-service portal always. For instance, employees can track the goals and KRAs that have been assigned to them through the portal, as well as update their skill sets and competencies. HR documents like the company handbook, social media policy, anti-harassment policies, and HR letters can be stored in the central document repository for quick access. Additionally, employees can access their salary information, payslips, reimbursements, and deduction details through the self-service portal itself.
Final thoughts
An employee self-service portal can save your employees the hassle of getting in touch with HR for every issue, which reduces the administrative burden on HR teams. Overall, a self-service portal provides greater autonomy to employees and more flexibility to HR professionals. We hope this blog post gave you a better idea about the different ways in which a self-service portal can be beneficial to your organization!
Zoho People's human resource management software comes with a built-in employee self-service portal. The portal enables employees to complete a host of HR functions like applying for leave, marking attendance, tracking time, managing their information, and a lot more! Learn more about Zoho People.
Tarika

Content Specialist at Zoho People
Leave a Reply
Your email address will not be published. Required fields are marked