Top tips to improve data management
Top tips to improve data management
Last Updated: January 27, 2021
651 Views
3 Min Read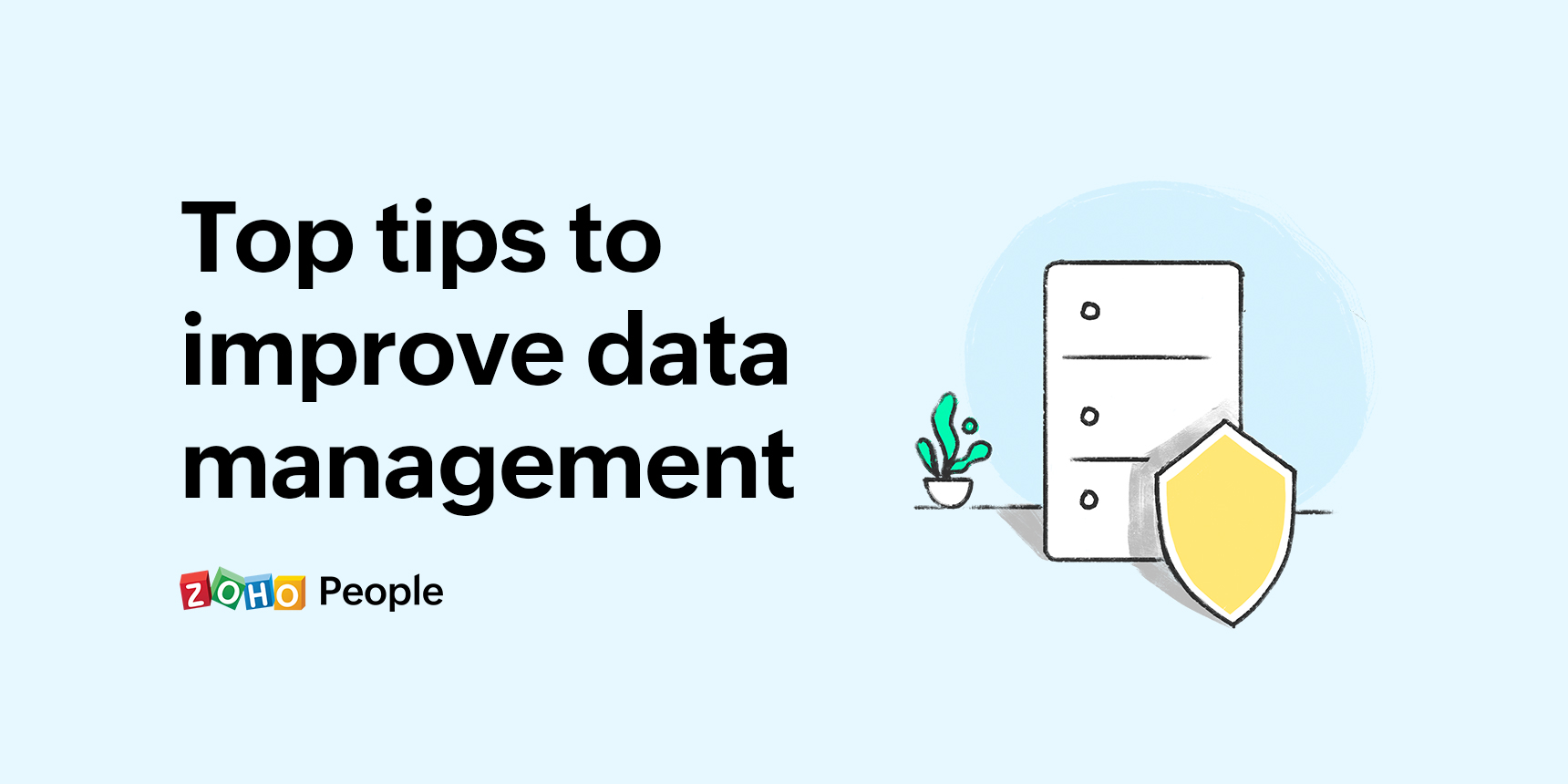 From time to time, it's essential to reexamine your employee data management strategies and make improvements to prevent external and internal privacy threats. As an HR professional, you are tasked with managing and processing tons of employee data regarding recruitment, onboarding, medical insurance, performance, compensation, career development, offboarding, and more. This information is often very sensitive, and access to it in the wrong hands could put the privacy and safety of your employees at risk.
People are also wising up to data privacy threats online. Repeated data breaches affect your brand reputation, causing more employees and customers to cut ties with your organization. Recentresearch from the Harvard Business Review found that businesses risk losing 6% of their current revenue growth if they lose the trust of their people with regard to workforce data practices. This means that HR teams must have a well-designed data management process in place to protect employee information. Here are a few general tips that'll help you get started:
Get to know the relevant laws
Being aware of all the existing data protection laws—local, national, and international—is the first step towards better data management. Perform extensive research to understand how different laws affect your everyday operations. Remember that laws may change based on the state, country, region, or industry your organization belongs to. Get help from your legal team to double check that everything is being accounted for. After doing this research, it might be a good idea to summarize all the important legal terms for future reference.
Reevaluate your data handling process
Once you are clear about all the laws that pertain to your business, evaluate your existing methods for data collection, storage, preparation, processing, security, and disposal. This will help you close any loopholes in the process. This is also a good time to ensure you have permission from employees about the data you store of theirs, identify employees who have access to any of this sensitive data, and set up role-based permissions. To make things easier, you can consolidate any collected data in a single, centralized platform that can be accessed with suitable permissions. In addition to all these measures, you can also conduct regular risk assessments to improve the overall security of your data.
Provide adequate training
It's highly necessary to train the employees that have access to sensitive data, both within and outside your team. Create a course that details any:
Applicable laws

Consequences associated with data mismanagement and breach

Tips to prevent data theft and destruction

Best practices to make the data handling process consistent with the data subject's preferences
Attach learning materials that can be referred to by your employees even after they complete the course. Make the course mandatory for everybody involved in the process and organize an assessment at the end to evaluate how well your employees have understood the course. If the results are not satisfactory, don't hesitate to ask employees to retake the course.
Create a data breach response plan
Having a proper response plan will help you understand what needs to be done in the event of a data breach. This way, if a breach occurs, you can concentrate on mitigating its effect and stopping additional data loss rather than trying to identify what needs to be done. The following is just some of the information that needs to be detailed in the plan:
How your organization intends to respond to a breach

Measures to to overcome the breach

List of people to inform about the breach

Incident management responsibilities of each department
While preparing the plan, involve your data security, privacy, and legal teams to make sure everything is as efficient and accurate as it can be.
Data is one of the most valuable assets of an organization, and failing to manage it properly can lead to irreversible consequences. That's why every organization needs to have proper security and privacy practices in place to ensure compliance and prevent data breaches. We hope these tips help you create a strong data protection strategy in your organization!
Zoho People, our HR software, comes with an employee database management system that improves data security, ensures compliance, and leaves no room for error. Check out Zoho People's employee database management system.
Also read:How an employee database system improves your business
Tarika

Content Specialist at Zoho People
Leave a Reply
Your email address will not be published. Required fields are marked