Leave laws in India: An overview for HR teams looking to draft leave policies
Leave laws in India: An overview for HR teams looking to draft leave policies
Last Updated: February 7, 2023
2.4K Views
7 Min Read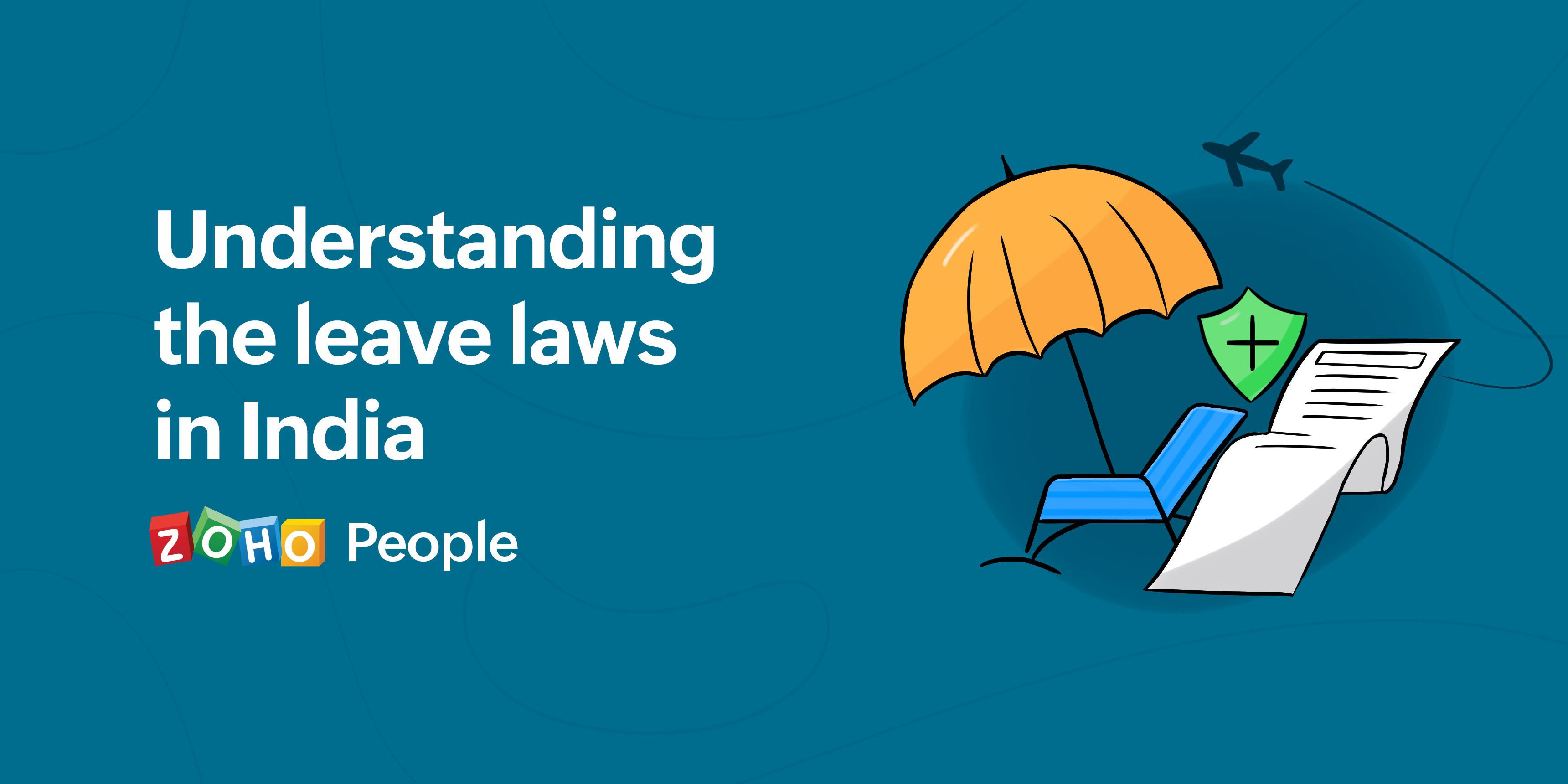 Leave is a major employee benefit that must be well managed in order to keep employees satisfied. This benefit helps employees strike an appropriate work-life balance, and it can improve their overall mental health. When you offer a competitive, employee-centric leave policy, you will also attract more candidates to your organization. In this blog post, we'll provide an overview of the leave policies in India.
Why are leave policies essential for every organization?
No matter the organization's size or industry, it needs a comprehensive leave policy for two reasons: to ensure employees don't take unauthorized absences, and to maintain compliance with local and national labor laws.
A good leave policy details the different leaves that employees are entitled to avail, how often they can avail them when their leave requests have to be submitted for approval, who approves them, and what happens when they exhaust their leave balances. This streamlines the complete leave tracking process for both HR teams and employees.
What are the common leave types in India?
In today's flexible work environment, most organizations use new leave types like anniversary leave, birthday leave, and mental health leave to meet employee needs. Here's a quick overview of the common leave types that apply to almost every organization:
Casual leave, also known as planned leave, enables employees to take regular vacations and manage responsibilities like attending parent-teacher conferences and participating in important events without losing their pay. Some organizations credit all casual leaves together during the beginning of the year, whereas others credit a certain number of leaves from month to month.
Sick leave, as the name suggests, encourages employees to stay at home to rest and recover when they are unwell or injured. Most organizations in India provide a minimum of 12 sick leaves to their employees, and all 12 leaves are credited at the beginning of the year. Usually, employees are not allowed to carry their pending sick leaves into the following year or encash them.
Earned (privileged) leave
Earned leave, also called privileged leave, is a special type of leave that employees earn for working a specific number of days. The amount of earned leave that an employee is entitled to receive depends on the region. Unlike sick and casual leaves, employees can accumulate and carry earned leave into the next year. But, there's a limit to how many leaves employees can accumulate. Some organizations also allow employees to encash pending earned leaves.
Maternity and paternity leave
Maternity leave is a mandatory employee benefit in India that enables new mothers to take leave for 26 weeks. During this time, they are paid as usual. Paternity leave allows new fathers to take care of their newborns, but unlike maternity leave, there's no formal policy or law in India that mandates this type of leave. The organization decides how many days of paternity leave their male employees are entitled to and if they'll be paid or not.
What are some of the key leave policies in India?
Here's a brief explanation of the key leave laws in India:
The Factories Act of 1948 has the welfare of factory workers at heart and strives to safeguard their interests when it comes to working conditions. Section 79 of the act mandates that organizations provide earned leaves to employees who've worked for at least 240 days in the previous calendar year. According to this section, adult employees must earn a leave for every 20 days of work, and juvenile employees must earn a leave for every 15 days of work. The earned leave days that employees are entitled to are not influenced by public holidays.
Industrial Establishments (National and Festival Holidays) Act
Under the National and Festival Holidays Act, every organization in India has to provide leave on January 26 for Republic Day, August 15 for Independence Day, and October 2 for Gandhi Jayanthi. For other festivals, the state can decide if employees should work or not. For instance, Delhi follows the Punjab Industrial Establishment (National and Festival Holidays) Act. As per the act, every employee is entitled to three national holidays and a minimum of four holidays for other festivals. Similarly, the Tamil Nadu Industrial Establishment (National and Festival Holidays) Act requires organizations to provide four national holidays and five festival holidays. Organizations must decide on national and festival holidays based on local laws.
Maternity Benefit Amendment Act 2017
The Maternity Benefit Amendment Act of 2017 brought about progressive changes to the Maternity Benefit Act of 1961 in order to empower working mothers. It entitles every mother to 26 weeks of paid leave, during which time they can recover from childbirth and take care of their newborns without having to quit their jobs. For the first two children, they receive 26 weeks of paid leave, and beyond that, they receive 12 weeks of paid leave. In the case of adoption, working women are entitled to 12 weeks of paid leave if the child is less than three months old. To use this benefit, the employee must have worked for at least 80 days.
Shops and Establishments Act
The Shops and Establishments Act applies to every state in India; however, the regulations mentioned in the act differ from state to state. For instance, the Delhi Shops and Establishments Act allows employees to take 24 hours of rest a week. Organizations shall provide a maximum of 15 days of earned leave if an employee has been employed continuously for a year. Similarly, every employee is entitled to a minimum of 12 sick leaves per year.
How can you track leaves in compliance with these laws?
At a time when employees are working remotely, using spreadsheets or paper-based processes to track employee attendance will not help you ensure compliance. Since these processes have to be completed manually, they may be prone to errors and make HR processing tiring for your employees and HR teams. Adopting a cloud-based leave tracker is the need of the hour to simplify leave processing and stay compliant with national and regional laws. Zoho People, our cloud-based HR software, comes with an intuitive leave tracker that has a host of useful features to help companies align their leave processes with these laws.
Here's how Zoho People can help:
Configure different leave types
With Zoho People's leave tracker, HR administrators can quickly configure different leave types, including sick leave, casual leave, earned leave, maternity leave, paternity leave, bereavement leave, and anniversary leave. Zoho People comes with a set of predefined leave types, which can be used as such, edited, or even deleted.
When creating a new leave type, you simply add the appropriate leave name, define if it's paid or unpaid, and specify its validity. You can also determine who is entitled to use that particular leave type, as certain leave types may not apply to your entire workforce. For instance, maternity leave will apply to just your female employees. Under the Applicability tab, you can select the option that makes maternity leave available just for female employees.
Define leave policies based on location
Certain leave laws vary from state to state, and if your organization has a global presence, you cannot manage leave processes for different states in different systems. To simplify this entire process, Zoho People's leave tracker helps you define and follow different leave policies depending on the region. When creating a new leave type, all that you have to do is select the locations it applies to.
Manage unused leaves more effectively
A few laws in India allow organizations to let their employees carry over their leftover leaves to the next calendar year. Some organizations set a limit on how many earned leaves employees can accumulate, and others offer leave encashment during the end of the calendar year. Any of these approaches can be easily achieved with Zoho People's leave tracker.
You can either simply let employees carry forward their leaves to the next calendar year, or set an expiry date for the leaves so that they cannot be used beyond the set date. With another option, you can set a cap on how many leaves employees can carry forward into the next year. Further, the encashment feature helps you provide compensation for the unused leaves.
Holiday calendars are essential, as they aid employees in planning their responsibilities and time off. In Zoho People, you can add holidays in just a few steps by specifying the name of the holiday, its date, and which employees are entitled to take that day off. Certain holidays can be made restricted too. Additionally, you can send reminders a few days before the holiday to keep employees informed. Once you fill in the calendar, employees will be able to view the list of all the holidays that apply to them.
Learn more about Zoho People's leave management system!
Adhering to leave laws
As you start drafting your leave policy, be sure to study the local and national leave laws that apply to your organization. Remember that the policy should not be too rigid, and it should align well with your organizational culture. We hope this post gave you a clear idea of the different leave laws in India and how you can ensure compliance!
Tarika

Content Specialist at Zoho People
Leave a Reply
Your email address will not be published. Required fields are marked