5 tips to improve your employee experience
5 tips to improve your employee experience
Last Updated: December 11, 2023
8.3K Views
3 Min Read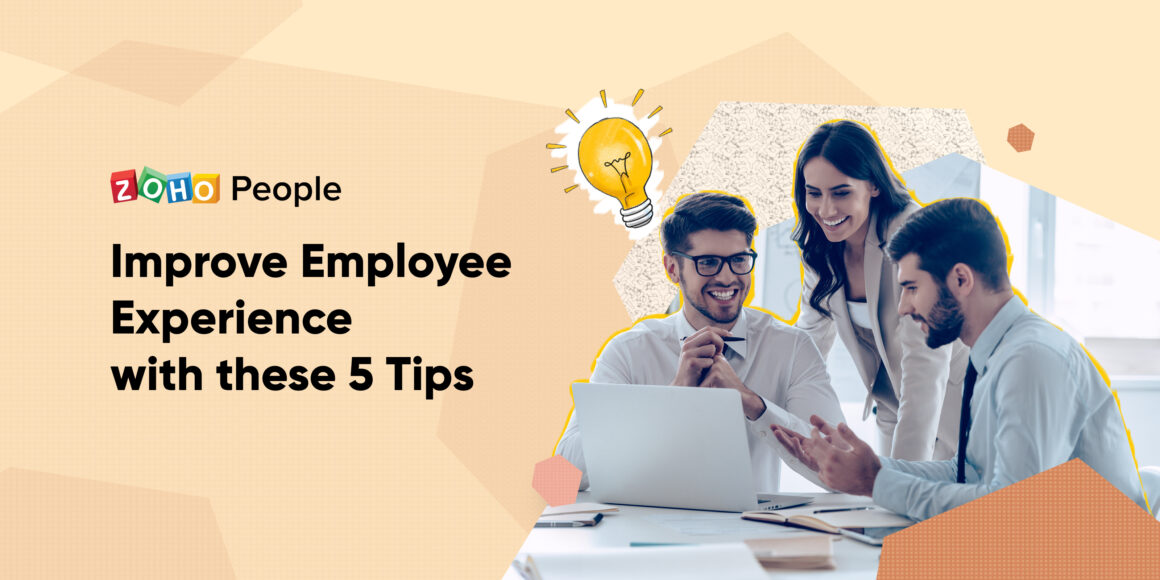 The younger generation of workers has begun to prefer companies that provide a productive, motivating, and engaging work experience. A recent survey conducted by Linkedin revealed that 95% of HR managers perceive employee experience as vital to improving an organization's turnover rate and bottom line. However, only 52% of HR managers think that their organization provides a positive employee experience. Everything from your company's employee retention and satisfaction to recruitment efforts and the overall work culture suffer when employee experience is not prioritized. Understanding your employees and offering them a favorable work environment is important to the productivity and success of your business. Here are some tips to help you establish a favorable employee experience:
1. Create an outstanding onboarding experience
Onboarding sets the tone for employee experience. Creating a great onboarding process is the first thing you can do to leave a positive impression on your incoming employees. A positive onboarding experience helps new hires understand the organizational culture and connect well with their peers. Poorly executed onboarding hurts employer branding and reduces employee motivation. Craft a plan to ensure that new hires are introduced properly to the organization, their peers, and their job responsibilities. Keep everything that would be required by the new hires including documents, technology tools, employee handbook and many more ready. Make them aware of organizational policies and practices. You can also automate the onboarding process by using HRMS software with an onboarding feature.
Also read: What are four phases of onboarding?
2. Provide growth and development opportunities
Employees are happier with their experience in your organization when they are provided with training and development opportunities to advance their career. When employees know that their organization helps them to achieve their career goals, they will be motivated to work hard. When implementing training in your organization, be clear about goals and personalize the program according to employee preference. Find a training technique that suits your organization and its employees.
3. Equip them with the right tech tools
Technology is one of the greatest assets of an organization. To improve the experience of your employees, especially for millennials, it's important to provide technological tools to streamline work efforts and make routine tasks easier. This allows workers to be more productive and better engage with their jobs. Ensure that the tech tools are up to date with current market standards and that they will benefit all your employees.
4. Give effective performance reviews
Performance reviews allow employees to track their progress in your organization and work toward improvement. A well-done review should be an actual reflection of employee performance. Conducting regular reviews helps employees understand how their efforts contribute to organizational goals. This guides and motivates employees, improving their experience at your company. When reviewing, it's important to set achievable goals for your employees. Encourage team managers to provide feedback about employee performance in both a formal and informal setting. Ensure that performance review is a two-way process, where both managers and employees are encouraged to provide their feedback. Identify knowledge gaps and bridge them by conducting training programs.
5. Encourage employee feedback
One of the most effective ways to improve employee experience is to receive employee feedback. Employee feedback helps you to establish a harmonious workplace. Listen to what your workers have to say about their experience with your organization. Conduct surveys, and allow your employees to be anonymous. This will help you gain insight on where your organization stands in terms of employee experience and to identify areas that need to be strengthened.
Employee experience has a powerful impact on every aspect of an organization including retention, performance, productivity, work culture, financial success, and more. It's crucial to establish an employee experience that helps your workers feel valued and motivates them to work harder for your organization. We hope these tips gave you insight on how to enhance your employee experience. Establish a positive employee experience and enjoy the multiple benefits that come with it!
With Zoho People, our employee management software, creating an exceptional employee experience for your employees is not difficult anymore. It automates and simplifies all the essential HR functions and creates a transparent and collaborative work environment for your employees. Learn more about our employee management software.
Reference:
Also read:5 tips to build a winning employee experience strategy
Tarika

Content Specialist at Zoho People
Leave a Reply
Your email address will not be published. Required fields are marked