5 tips to draft your first attendance policy
5 tips to draft your first attendance policy
Last Updated: February 16, 2023
738 Views
4 Min Read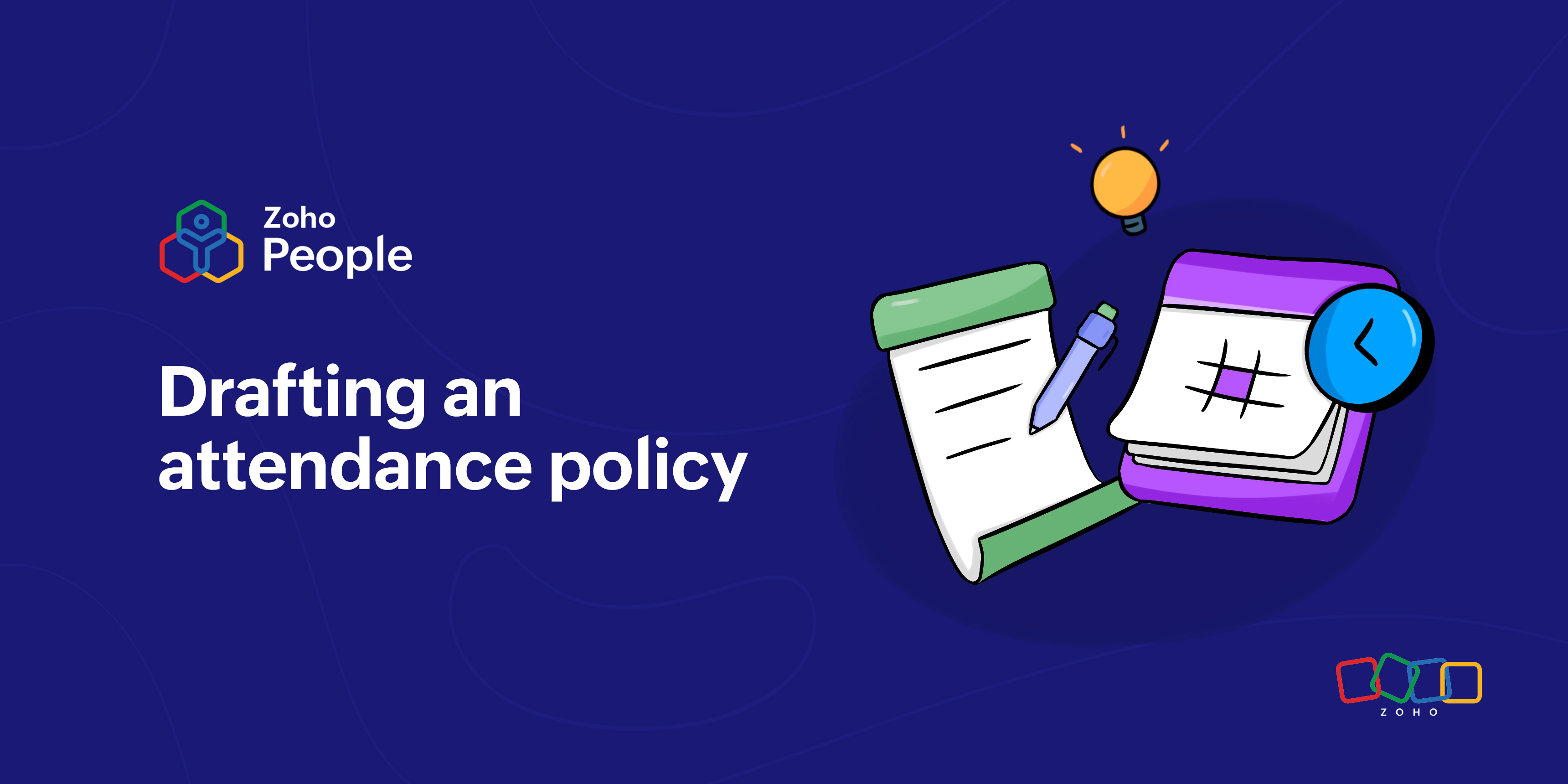 Employee attendance is one of the most crucial things that contribute to an organization's success. Managing it accurately in an organized manner helps you ensure your employees are available to complete tasks that help achieve your company goals. That's why it's crucial to develop a comprehensive employee attendance policy that provides employees with a clear idea about what is expected from them in terms of being available at work. This will also help you make sure no employee in your organization is burdened with additional tasks and responsibilities because some employees don't show up to work or walk in late often. Additionally, having an attendance policy will help you adhere to labor policies that set expectations for employee working hours. If you are a start-up or a small business looking to establish an attendance policy, here are some tips to follow.
Assess your company culture
Since attendance management is one of the most important aspects of workforce management, it's necessary to ensure it is in line with your company culture. For instance, if you have a service culture at your organization, you may want your employees to stick to their exact working hours so they are available to cater to your customers' needs 24/7. In this case, you may need a stricter attendance policy. Whereas, if you have a performance-based culture at your organization, you may be focused only on the results your employees produce rather than tracking their working hours. For this, you'll need an attendance policy that is moderate so employees don't resort to tardiness.
Include what is expected from them
In your attendance policy, be sure to mention everything that is expected from your employees in terms of attendance. Including the following information will help:
Working hours: Define the number of working hours your employees are expected to work in a day and in their work week. Be sure to mention if employees can decide when to start and end their day based on the stipulated number of hours or if you have standard work time like 9 a.m. to 5 p.m.

Overtime: Mention how employees will be paid when you ask them to work for more hours than their usual working hours.

Permissions: Sometimes employees may have to be away from work for a few hours to run personal errands. Include how many permissions employees are entitled to, how many hours they can be off work, and if it is paid or unpaid.

Shift schedules: If your organization has a global presence, you may want your employees to work in shifts. Define the different shifts your organization has along with its working hours and break hours. Mention if there is any change from the usual weekends.

Time off: Mention how many days of leave employees are entitled to, how they should apply for leave, who'll approve their leave request, and how many days prior they should submit their leave request if it's a planned or vacation leave.

Absenteeism: Define what behavior will be counted as absenteeism. Add a disclaimer about how it can disrupt your business operations and affect employees who are present.

Tardiness: If you are adopting strict working hours, mention how many times employees are allowed to arrive late to prevent tardiness.
Mention the disciplinary action
Once you set clear expectations for attendance, include what actions will be taken if your employees don't meet the regulations. However, depending on your culture, it can be a bit relaxed unless your employees are very unruly about attendance. For instance, more than five or six late punches can be counted as a half-day leave. Similarly, you can implement loss of pay if employees exhaust all of their leave. Be sure to exclude employees who have genuine reasons to take leave like sickness, child's illness, death of a loved one, or similar circumstances.
Explain the attendance tracking method
Be sure to elaborate on how attendance is being tracked at your organization. If you have manual registers, note when they should sign in and how many times a day. The same goes for spreadsheets. If you are using a cloud-based attendance tracking system, note how employees have to check in and check-out. Some organizations may have a biometric system that is integrated with the attendance tracker, while some organizations may ask employees to use web and mobile applications that come with the attendance tracker.
Pro tip: If your organization has more than five employees, it's better to go for a cloud-based attendance tracker as it centralizes attendance data, allows employees to check in from anywhere, anytime, and provides employees better clarity on their attendance. Zoho People, our cloud-based HRMS, comes with an intuitive attendance tracker that tracks employee working hours, provides data for payroll, and generates insightful reports for ensuring compliance. Learn more about Zoho People's attendance tracker.
Make your employees aware of the policy
After you draft and finalize your attendance policy, be sure to make each one of your employees aware of it. While adopting the policy, be straightforward about why you are adopting the policy. Receive feedback from your employees, if possible to make sure your employees are satisfied with it. Save the document in a central online document repository so your employees can access them anytime. Encourage managers and C-level leaders to be the champions of the change. During new hire onboarding, organize an orientation session to explain each one of the clauses mentioned in the policy. Include the attendance policy in your Employee Handbook, too.
Drafting an attendance policy
Having a clear attendance policy makes your employees accountable, prevents unscheduled absenteeism, and ensures your business operations run smoothly without any disruptions or productivity losses. We hope this blog gave you a clear idea of how to draft your first attendance policy!
Tarika

Content Specialist at Zoho People
Leave a Reply
Your email address will not be published. Required fields are marked