5 features to look for when choosing onboarding software
5 features to look for when choosing onboarding software
Last Updated: August 3, 2021
626 Views
4 Min Read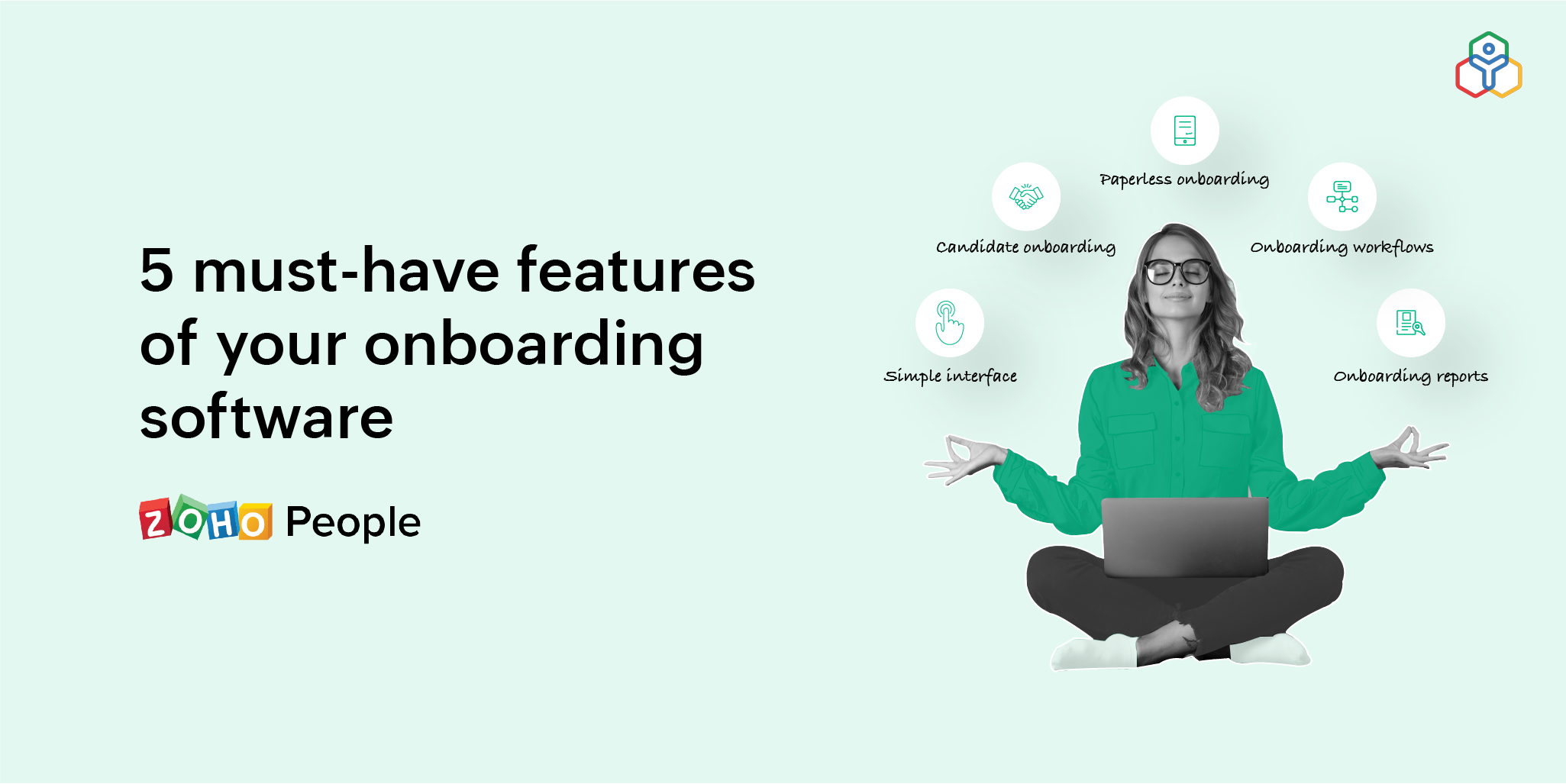 Think back to your first day at your current job. Were you welcomed with a proper orientation that introduced you to the company's culture and your new role? Or were you left signing tons of paperwork and running behind different people (whose names you definitely forgot) to find your workspace and get your gadgets? If it was the former, then you're lucky. A first impression like that can go a long way toward making you feel motivated and fired up about your new job. If it was the latter, though, that can leave you feeling shocked, alienated, overwhelmed, and unenthusiastic.
That's why it's necessary to design a structured onboarding program to welcome your new hires and help them adapt to your organizational culture and their job requirements. Unfortunately, without onboarding software, the chances of giving a great new-hire experience are much lower. Onboarding checklists can seem never-ending, and completing those tasks can easily consume all the time you would have spent giving your new employees a more comprehensive welcome. With automated onboarding software, these routine onboarding tasks can be handled in just a few steps.
If you are wondering how to select the best onboarding software, here are some of the features to look out for in onboarding software:
On their first day, you don't want to scare off your new hires with complicated onboarding software that is difficult to use. Some may feel hesitant to ask for help on their very first day, and trying to locate different features all by themselves can leave them frustrated. That's why you have to make sure that the onboarding software you use is simple, straightforward, and user-friendly. It should enable you to customize the onboarding program in a way that best suits your candidates.
Pro Tip: While introducing your employees to the onboarding system, send them any tutorials or help documents they may need to get started.
Candidate onboarding, also known as pre-onboarding, covers the time between when a candidate accepts your offer letter and when onboarding formally begins. During this time, it's necessary to develop a better relationship with your candidates and help them get a little insight into how your organization works. This will help them gear up for their first day at your organization without being anxious. The candidate onboarding feature that comes with your onboarding software should let you send out any relevant forms, policies, or videos that you expect candidates to go through before their first day. Similarly, it should let your candidates submit personal information, paperwork, identification documents, letters, or whatever else is needed.
Swamping your candidates with tons of manual paperwork before or after they join your organization can put them in a tight spot, especially if you're expecting them to work remotely or they haven't relocated yet. The onboarding software that you select should be able to organize all of the paperwork you'll need from them neatly and facilitate the document exchange between you and your employees online. It should be integrated with an e-signature application so that your candidates and their managers can e-sign the documents without having to manage hard copies. This way, you can track the progress of the documents without having to ping your candidates as often.
Workflows play a huge role in automating the complete onboarding process and customizing the experience according to your organization's rules and needs. With onboarding workflows, you should be able to:
Send automated reminders to help employees to complete onboarding on time

Initiate welcome emails to new hires

Send out any applicable forms to your new hires

Include videos and other files about your organization

Attach documents and policies that need to be read or signed

Introduce new hires to their team members

Add courses that should be completed as part of onboarding
These are only some of the essential aspects of onboarding, but not every organization will need the same workflows. A great onboarding system will allow you to customize your workflows and include only the ones that matter most.
After implementing onboarding software, there should be no need to constantly send emails or chat messages to follow up on the status of your new recruits. Onboarding software should come with suitable reports that let you track the status of your onboarding process effectively. With onboarding reports, you can keep a tab on candidates who have been onboarded, candidates who have yet to complete their onboarding, and any relevant new-hire information, such as their role or date of joining.
Final thoughts
Onboarding is crucial for your new hires, no doubt. It sets the tone for their entire career at your organization. Similarly, how you organize and manage the onboarding process can play an equally crucial role in engaging your new hires and starting their journey with your organization off on the right foot. With an excellent onboarding system, you can offer an effortless first-day experience to your new hires and help them acclimate to their role effectively.
Zoho People, our HR management system, comes with built-in onboarding software that works just the way you want to make onboarding simple for both you and your employees. From onboarding flows to new-hire reports, our onboarding software has everything you need to create a seamless onboarding experience. Learn more about Zoho People's onboarding system.
Also read: Top 6 benefits of automating onboarding
Tarika

Content Specialist at Zoho People
Leave a Reply
Your email address will not be published. Required fields are marked