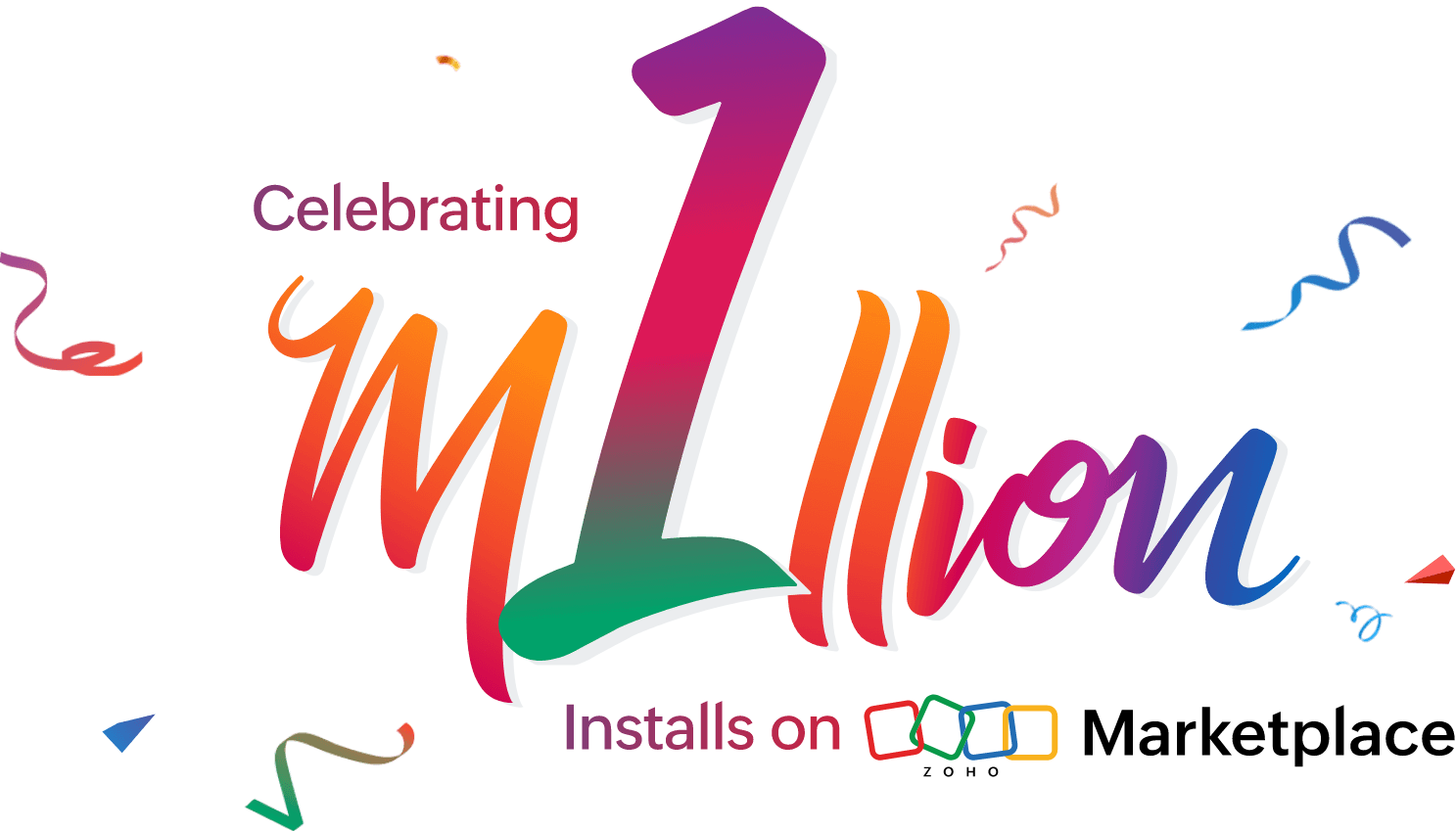 27

Zoho products supported

500

+

successful ISV & SI partnerships

30

K

average monthly installations
The path to
1 million

installs
2016
2017
2018
2019
2020
2021
2022
2023
Marketplace is launched on
July 27.
Telephony partnerships
grow to 25.
500th

extension is released.
Sigma

, a platform to build and host extensions, is launched.
Released 500th extension for
Zoho CRM.
Marketplace
turns 5.
Marketplace grows
3x in 4 years

with a total of 1,500 extensions.
Marketplace hits
1 million

installs.
Marketplace has helped Zoho users
simplify work

a million times!
Here's what they have to say
"The interface was intuitive and easy to learn, which helped speed up the implementation process. Additionally, the integration is fully customizable, so they could tailor it to meet the specific needs of Quikflip. WES is also an affordable integration that provides all the features and functionality needed to simplify data aggregation/roll-ups and parent/child record syncing, making it extremely cost-efficient."
Jordan Talmor,
COO, Quikflip Apparels
Read More
"The JotForm for Zoho CRM integration allowed our software team to create a roadmap that was in line with what our customers wanted. Moreover, what I truly loved about the integration is that it was easy. It is a no-code solution that allows the sales and marketing team to gather their data without having to talk to a Zoho administrator and without having to change anything on the website itself."
Steve Lockwood
Sales and marketing executive, GradeLink
Read More
"By implementing Zoho's suite of products and integrations with Arrivy and Zapier, we were able to streamline our processes, improve efficiency, and provide stress-free experiences for our customers."
Morne Viljoen
Software implementation specialist, Around About Removals
Read More
To celebrate the occasion, we asked our partners to share their Marketplace experience in 15 words or less (that's the number of letters in Zoho Marketplace).
‌How Marketplace supports Zoho's vision of
"Rural Revival"
Located in the Thanjavur district, "The Rice Bowl of Tamil Nadu," OApps is spearheaded by Kavitha. She and her team have listed 30+ extensions on Marketplace that help more than 500 Zoho users across the globe to do more with Zoho.

The team of 10 started working with Zoho in 2019, and have built an array of integrations, connecting Zoho with appointment schedulers, SMS apps, payment platforms, and more.
This milestone is powered by you!
We are grateful to our users for trusting the Marketplace ecosystem to solve their business challenges and our partners for working alongside us to help our users find success.