How Gradelink improved customer satisfaction by 80% with the Jotform and Zoho CRM integration
Integration

Jotform for Zoho CRM

Integration partner

Jotform

Employee count

25+

Zoho products

Zoho CRM
The company
Based in California, Gradelink is the award-winning student information system (SIS) that connects administrators, teachers, parents, and students in one seamless system. It elegantly handles grading, attendance, and administrative tasks. Enrolling students, tracking grades and attendance, and printing final report cards have never been easier. Gradelink works entirely online through a web browser, allowing staff members to work from school, home, or anywhere else internet access is available. No special hardware or software is required. Gradelink runs on Macs, PCs, tablets, and also has a mobile app.
Gradelink and Zoho CRM
They have been using Zoho CRM for 10+ years and have been using the Jotform X-Zoho Integration for over five years. Gradelink has a team of 25-30 people that primarily uses Zoho CRM for their customer relationship management needs. We got a call with Steve, Sales and marketing executive, Gradelink to understand their experience using Jotform with Zoho CRM.
The challenge
Before implementing the Zoho CRM and Jotform integration, Steve mentioned they used other survey tools to collect feedback from customers. However, the problem was that these tools were not connected to the CRM system, making it difficult to manage the feedback and act upon it.
The solution
Gradelink adopted Jotform to survey their customers, and collect feedback on product satisfaction along with any issues they might be experiencing. The company was able to implement and leverage the Jotform X-Zoho CRM integration to improve customer satisfaction levels and enhance their customer support team's capabilities in just a few steps.
Step 1: Surveying customers
Steve mentioned that they use Jotform to survey their customers and gather feedback. By asking questions about how happy they are with the product and what's working or not working, they can collect valuable insights. The integration makes it easy to connect the feedback to the customer's account representative and the products they are using.
Step 2: Fixing customer problems
The integration also helps Gradelink fix customer problems quickly. The survey data is transferred to the customer satisfaction team who can identify any issues and fix them promptly. This ensures that customers receive the help they need, improving their overall experience with the product.
Step 3: Quarterly reports and analysis
Gradelink uses the Jotform Report Builder to create visual reports on customer satisfaction. They use these reports to evaluate the performance of their customer success team and ensure that customers are satisfied with the service they are receiving. This enables the team to identify areas for improvement and implement changes that will benefit their customers.
Bonus Tip: Gift card incentive
Steve mentioned that they offer a gift card incentive to encourage customers to fill out the survey. By doing this, they can increase the response rate, making it easier to collect feedback and improve the product.
Benefits and ROI
Steve shared that the Zoho CRM and Jotform integration has been incredibly beneficial to their company. The integration enabled them to collect feedback, sync it with the CRM, and act upon it promptly. This in-turn led them to improve their CSAT scores by 80% enhancing the overall customer experience, and providing better service to their customers.
"It allowed our software team to create a roadmap that was in line with what our customers wanted instead of what our software team thought they wanted. Moreover, what I truly loved about the integration is that it was easy. It is a no-code solution that allows the sales and marketing team to gather their data without having to talk to a Zoho administrator and without having to change anything on the website itself."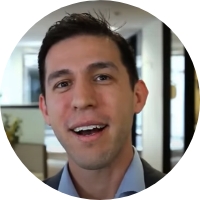 Steve Lockwood, Sales and marketing executive, Gradelink
Looking forward
The Zoho CRM-Jotform X integration has allowed Gradelink to streamline their feedback process and implement changes quickly to keep their customers happy and their team productive. They're pleased with the outcome and simplicity of the integration.