From silos to free flows: How Arrivy and Zoho transformed Around About Removals' workflow and user experience
Integration

Arrivy and Zapier for Zoho CRM

Integration partner

Arrivy

Zoho products

Zoho One
The company
Around About Removals, a furniture removals company based in Pretoria, South Africa, has been providing affordable and reliable moving services to residential and commercial customers since 2009. The company has always prioritized their customers and provided them with a seamless experience during the moving process. To further enhance the company's efficiency and sustainability, Morne Viljoen, software implementation specialist, joined the company in February 2022 to implement digital systems such as Zoho and integrate them with Arrivy and Zapier.
The challenge
Before using these digital systems, Around About Removals relied on manual processes and used pen and paper for planning and scheduling, customer communication, and invoicing. As the company grew, this approach became inefficient, resulting in tedious admin work, double entries, and duplication of effort. The company wanted to connect all of their workflows on one platform and automate tasks to improve customer communication and streamline its processes.
The solution
Morne Viljoen discovered Arrivy, a platform that could help with planning and scheduling as well as customer communication. He was then introduced to Zoho through Arrivy, and they implemented Zoho's suite of products, including CRM, Books, SalesIQ, Forms, and Flow. They further integrated Zoho with Arrivy and Zapier to manage their entire workflow on one platform.
Implementing Zoho with Arrivy and Zapier
On implementing Zoho along with Arrivy and Zapier, Around About Removals transformed their workflow and user experience in almost every way possible. The integration enabled better transparency, accuracy, and a more organized workflow, resulting in a single source of truth.
Benefits and ROI
"I strongly believe that building the entire system around the customer is crucial for our business. By implementing Zoho's suite of products and integrations with Arrivy and Zapier, we were able to streamline our processes, improve efficiency, and provide stress-free experiences for our customers."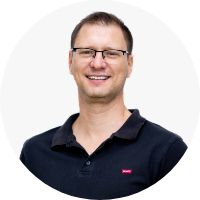 Morne Viljoen, Software Implementation Specialist, Around About Removals
Improved end-user experience: The integrated solution largely impacted the customers' experience by automating the SMS and email process and keeping them updated at every stage of the move process. Customers could monitor and track the entire move using the customer portal, providing them with a relaxed and better informed experience.
Better transparency: The information was the same on all of the systems used, resulting in better transparency. This made it easier to track the progress of the move and ensure that everyone involved had access to the same information.
Single source of truth: The integration of Zoho, Arrivy, and Zapier reduced duplication of effort and tedious admin work. All of the systems used had the same information, resulting in a single source of truth.
Improved accuracy: Auto-entries and updates on all systems improved accuracy. This ensured that the information was correct and up to date, reducing the risk of errors.
Automation of certain tasks: The integration also automated certain tasks, reducing the need for manual effort, which saved time and reduced the risk of human error.
More organized workflow: The company benefited from reduced confusion with internal teams and enjoyed better collaboration. This allowed everyone involved in the move to be on the same page and work together more effectively.
Looking forward
Around About Removals transformed their workflow and improved their user experience through the integration of Zoho's suite of products with Arrivy and Zapier. The success of this implementation serves as an excellent example of the benefits of integrating digital systems into traditional manual processes to improve overall efficiency and productivity.