How to Create and Execute a Successful Email Campaign
How to Create and Execute a Successful Email Campaign
Last Updated: December 11, 2023
1.3K Views
10 Min Read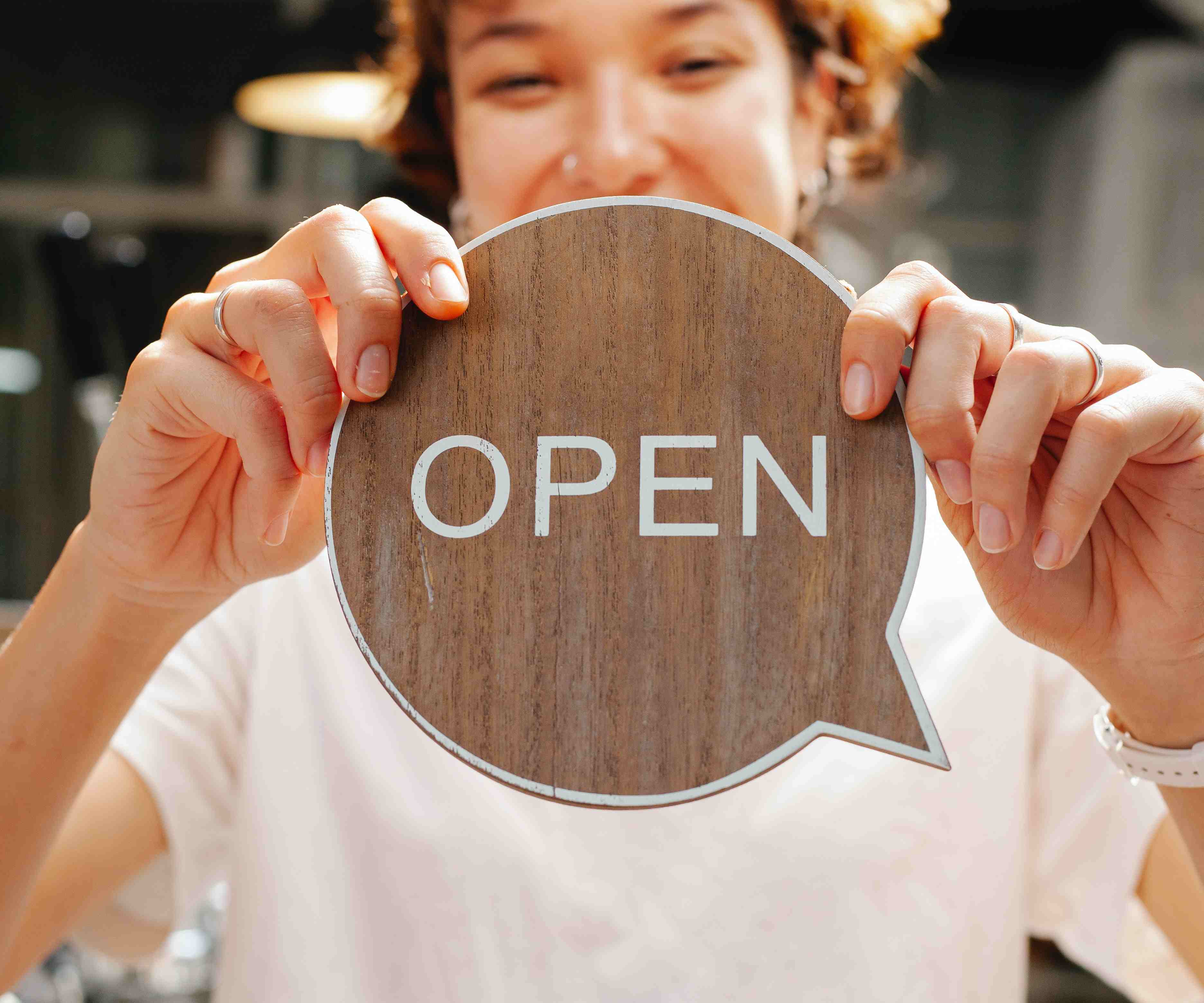 Is email marketing still relevant? Does it still work in 2021? If you have questions like these, the first three paragraphs will give you the answers. If you already believe in the power of email campaigns and are here to improve your game, jump directly to the fourth paragraph for helpful tips.
According to Statista, there were over 255 million email users in the United States by 2020, and the number is increasing. Wanting to seize on this opportunity, 48% of marketers have already reported their intention to increase spending on email marketing. Email marketing can reap ROI as high as 4400% if you plan and execute it well.
Some email stats that may change your mind
72% of customers prefer brand communications via email

59% of respondents said marketing emails influence their buying decisions

80% of businesses believe email marketing improves customer retention

The average conversion rate of email campaigns is 6.05% while social media is 1.9%
But, despite all these numbers, some campaigns don't go well. If you're wondering what went wrong with your last campaign, you are not alone. Let's try to dissect your previous campaign and find out all the possible reasons. A common reason for failed campaigns is a lack of personalization. Addressing your audience by their first name in the subject and the email body is common, and your audience knows you customize it with email software. You have to go the extra mile to impress them.
Some other possible reasons could be your message sounds too sales-focused, there is a disconnect between the subject line and email, or you have too many calls-to-action or the opposite, no clear CTA. If even when you follow these guidelines, your campaigns still don't meet your ROI expectations, then you're probably either targeting the wrong audience segment or sending emails to your audience without their permission.
Creating successful email campaigns
Think of email campaigns as a long-term game. Rome wasn't built in a day, and you can't create a successful campaign in a single day either. You need to collect a list of the right audience's names and email addresses and store that data on a secure platform.
After that, you have to write your email copy to hook the audience and ensure your email actually reaches your audience's inboxes, not their spam folders. A successful email campaign is the result of proper planning and execution. The best practice is to divide your campaign planning into three stages and execute them one at a time.
Stage 1: Pre-campaign
Pre-campaign is the foundational stage. The goal of this stage is to build your audience list and keep it clean. Pre-campaigning involves the following steps:
Building your audience list
Before launching your campaign, you need to have the right audience who can benefit from your products, services, and offers. Since you cannot build your audience list instantly the day before the campaign, you need to start collecting and maintaining a list as soon as you can. Audience building is a continuous process and, as your list grows, it can get more and more complicated to maintain.
Keeping the collected details in an audience manager, which is included with most of the best-known email campaign tools, can prevent theft or loss of any data. Segmenting and managing the list is also easier in an audience manager.
Unified Marketing Platforms like Zoho Marketing Plus have a built-in audience manager connected to emails and other social channels like Facebook, Instagram, Twitter, LinkedIn, YouTube, and Google My Business. This enables users to import their social media followers and build an audience list.
When collecting email addresses from your audience, you can enable double opt-in with real-time verification. This is a secure method of collecting emails, as it is not possible to sign up by mistake or with invalid addresses. It also confirms your audience is interested in receiving your emails. This method ensures you are building the right audience lists, so you don't have to waste time contacting the wrong people.
Try to get more information about your audience like their first name, email address, gender (if relevant), age, work, location, interests, income, etc. The more you know your audience, the more you can personalize their experience. List building is a continuous process. So keep adding to your audience but also removing people from the list according to their preferences.
A sample image of collecting and managing audience details
Segmenting your audience list
Segmentation is the practice of splitting up your email list into more targeted groups. You can segment your audience based on the information you have about them. Here are a few ways to segment your audience list:
Newsletter subscribers and non-subscribers

Based on geography: helps you plan campaigns according to time zones

Based on demographics such as age, gender, or income

Based on their interests or previous behavior

Based on their position at the marketing funnel, for example:

The audience using the basic version of your products or services who might be good candidates to upgrade to premium versions or purchase add-ons

The audience using a free trial of your products or services who can become your paid users

The audience who signed up for a free trial and are still exploring the value they can get from using your products or services

Through proper segmentation, you can improve your open rate by 14.37% and click rate by 64.78%. Segmentation is the holy grail for preparing your email campaigns.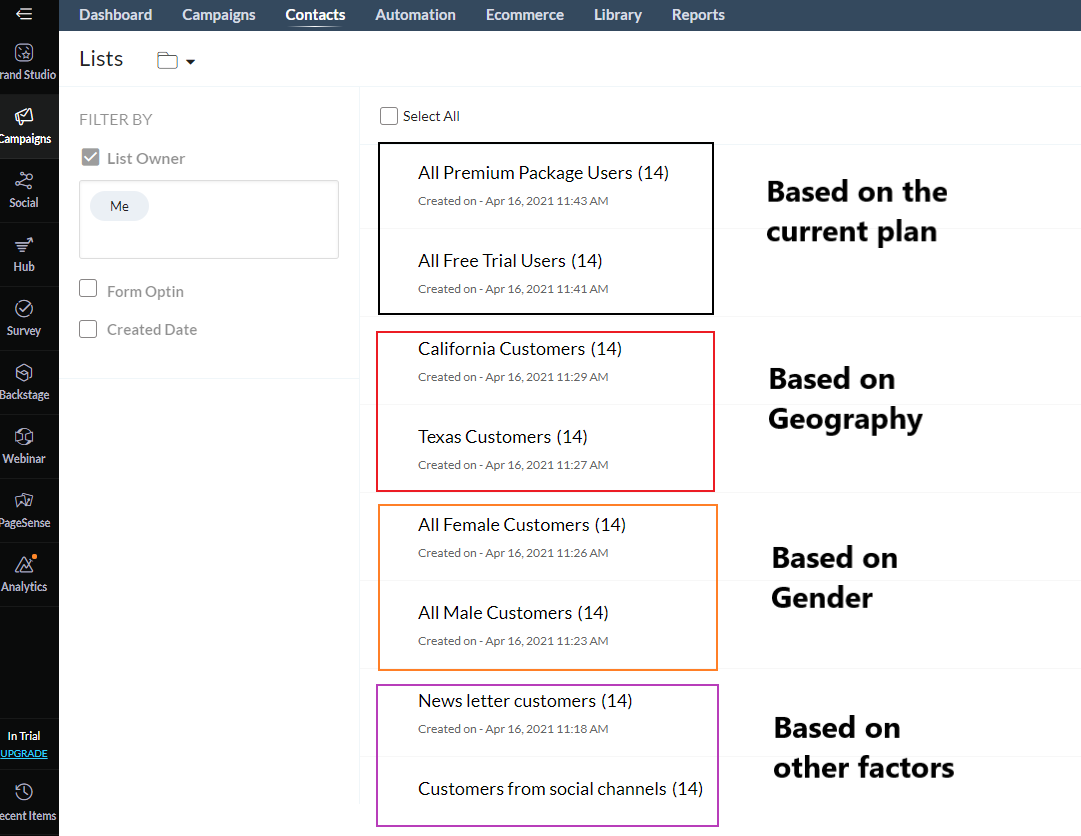 A sample image of segmentation
Cleaning your email lists
Sometimes, the email addresses in your list become invalid. Sending emails to invalid addresses increases the bounce rate and brings down your IP reputation. Using a proper email cleaning tool can improve your marketing campaign's delivery rate. Cleaning email lists should be a regular activity as 20% of all email addresses expire every year. Make sure that you double-validate your email list 72 hours before you send out your campaign.
If you have the right people and the right tool, you're ready to set up your campaigns. Here comes the second stage.
Stage 2: Launching your campaign
This stage is the game-changer for email campaigns. The goal should be to solve your customer's problems. Steps in launching the campaign are:
Setting the right objective
Setting the right objective is crucial as it creates the layout for other steps. The secret to objective setting is having only one at a time. Each email should not have more than one goal. For instance, if you want your audience to attend an upcoming webinar and also check your new products, you can't combine both objectives in a single email. Doing so will confuse your audience and result in fewer people joining the webinar and also fewer people checking out your products. Instead, create two campaigns and launch them separately. Always focus on one thing and maintain the flow throughout the campaign.
Some examples of the campaign objectives are: increasing brand awareness, announcing a product launch, offering beta version signup, upselling a new add-on feature, and inviting for a webinar.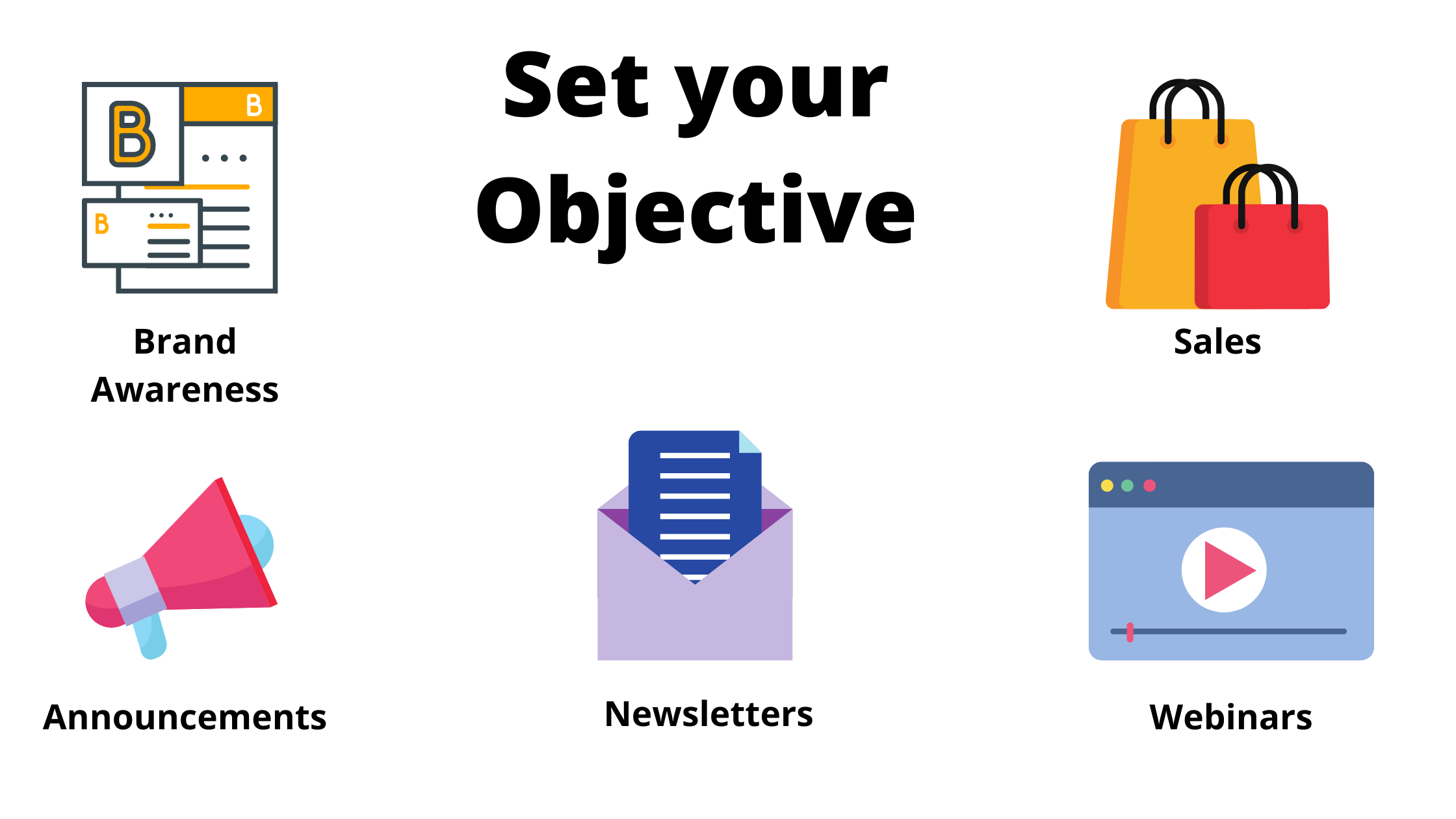 Choosing the right audience for your campaign
You can't serve coffee to every guest. Some may prefer tea. Likewise, you can't send the same campaign to all your audience. Reaching out to them all will have a negative effect on your overall numbers. Imagine you run a restaurant and serve steak to all your customers, even vegans. You may find it delicious but you'll soon lose customers.
You can have a long audience list. However, when it comes to a campaign, make sure you narrow it down and reach only the audience who will benefit from your objective and message. Consider a premium apparel company. They are rolling out special edition leather jackets for men. The ideal audience for this campaign is men living in cold climates, who have a good income so they can afford premium products, or whose buying history suggests s taste for expensive clothing.
Sending this campaign to the whole list without segmentation will result in a low open and click rate and may annoy customers who don't fit the profile and cause them to unsubscribe. But sending this just to the ideal audience will be a win-win for both the brand and the customer.
Pro tip 1: Always keep your unsubscription process simple and clear. It's important to show that you care about the privacy and preferences of your audience. You may lose a few subscribers, but your remaining audience will trust you more if they see that you give them the option to unsubscribe.
Copywriting is everything
"A copywriter should have an understanding of people, an insight into them, a sympathy toward them," said George Gribbin. This quote works well for writing for campaigns. The two components of email copywriting are the subject line and the email body.
Your subject line is a critical factor for the opening rate. An unattractive subject line makes your campaign yet another email in your audience's inbox, no matter how good your offer is or how great your email body is. What is the use if your audience doesn't even open the emails you send?
Sometimes, email algorithms interpret your email as a promotion and move it to the promotions folder, where only 14% of readers will ever notice it. It's always better to keep the subject line realistic and plain.
Subject lines can differentiate you from the crowd if you master the art of creating them. Follow these pointers before creating a subject line for your next campaign:
Personalize: Use the first name of your recipient in the subject line. But don't use it too much.

Keep it short: No more than four words. Always prioritize your mobile users as 88% of recipients check their email on their phone.

Never over-promise or mislead: A disconnect between the subject line and content will make your audience delete it or unsubscribe.

Avoid spam trigger words: 69% of the emails flagged are because of spam words in subject lines.
Pro tip 2: Split test your subject lines with your friends or colleagues. Write five subject lines and tell them to your friends. After two days, ask your friends if they can remember any of them. The one they still have in their mind may be a good choice for your next campaign.
Email body
When constructing a message, put yourself in the audience's shoes and think of the content you want to see in your mailbox. You don't want to receive spam or thin content or something that's irrelevant to you. Just keep this in mind while you create a message for your audience.
General guidelines
Keep the message short and related to your objective

Use the active voice

Use images in the body if appropriate

Personalize the message to each of your recipients

Have a single, clear call to action
The way you convey your message can be in any form. Use any of the following formats according to your objective and audience:
Content format
Consider a mobile phone company launching a flagship phone called ABC Pro Max. Here is how they can use each format.
Narrative: Tell a compelling story
Meet Dave, a cyclist who uses ABC Pro Max to shoot his spine-chilling trips.
Descriptive: Illustrate your product or service
ABC Pro Max comes with super AMOLED display and a refresh rate of 120Hz.
Expository: Teach your audience how to do something
Tap on the ISO button to adjust the brightness and shoot light trails with ABC Pro Max.
Persuasive: Convince readers to take action
Order the ABC Pro Max today and get an ABC power bank for free.
Pro tip 3: Always use your logo's colors and a signature font in the email content. Keep it constant throughout all your campaigns and across all the channels. Over time, people will associate that with your brand subconsciously.
A/B testing
Before launching your campaign, test a mini-campaign with a small group of people. Send out different versions of emails to a small list of recipients and find out what works and what doesn't.
Stage 3: Post-campaign
You have launched a successful campaign and it's time to reap the benefits. What is the good of working so hard on launching a campaign if you don't measure the metrics that indicate whether the campaign was a success or failure? Some important metrics to measure are:
Open-to-send ratio (OTS)
OTS is the ratio of how many people opened your email compared to the total recipients. Your OTS should be high if your campaign targets only the opt-in list of segmented people and the email has a good subject line. Never believe in absolute numbers for OTS as the benchmarks vary depending on your industry. Look at where your numbers are today and try to increase them gradually.
Click-to-open ratio (CTOR)
CTOR is the ratio of how many people clicked your CTA compared to the total number of people who opened the email. The CTOR depends on your copywriting and call to action. Your CTOR should be generally high if you reach the right audience with the right message. Your CTOR should be higher than your OTS.
Pro tip 4: Segment your audience based on OTS and CTOR. Study why not all openers are clickers and retarget them with another campaign.
Unsubscription and bounce rate
Never try too hard to keep your audience list. Your audience may unsubscribe from your emails for various reasons. Make sure your campaigns are not too frequent and you target only the right audience. Your bounce rate should be minimal if you regularly clean your email list.
Measure success
If you have read this far, you are just one step away from creating a successful email campaign. The Three Ms you should remember for creating successful campaigns are: Method, Message, and Medium. We've already covered the method and message, so let's look at the medium.
Zoho Marketing Plus: A unified marketing platform designed to make marketers' lives simple. It is a single platform with a set of tools for all your marketing needs. You can create campaigns across multiple channels like email, social media, SMS, and webinars and measure it all in one space. So you can always stay closer to your customers and engage with them better.
Find out what Zoho Marketing Plus can offer you!
Bala

Bala is a product Marketer for Zoho Marketing Plus. He is passionate about discussing MarTech, Customer Experience, Omnichannel Marketing, and Marketing Analytics.
You can start a conversation with Bala by leaving a comment on any of his blog posts.

Bonus information - Bala likes cats, coffee, and G-shock watches :)
Leave a Reply
Your email address will not be published. Required fields are marked