How to create an email account
Email stands for 'Electronic mail'. Similar to paper mail, email is a way to send messages from one person to another digitally. This requires an email account provided by an email service provider. Every email account has a unique identity, called the email address of that account. This email address will be used to send/ receive emails using the internet.
An email address is no longer a luxury, but a necessity. Particularly, in today's digital world, the internet can be named a basic necessity and the email address serves as an online identity associated with every individual. Email has become the most reliable mode of formal communication. While most personal communications happen over messaging apps on mobile devices, email is still the most preferred mode for professional communications.

Every individual needs a secure email account for the following purposes:
Signing up for social media accounts
Manage their e-commerce accounts
Receive updates from various services
Organize various subscriptions and transactions
Register and manage job portals
Receive updates from educational institutions
Get physician appointments and receive medical reports
Manage financial accounts with banks/ insurance companies
It is always recommended to keep professional email accounts separate from your personal email account. Use a professional email service for business-related communications and a personal email address for communications for individual purposes that are not related to your business.
You can create an email account for personal use, from many popular service providers. Generally, to create an email account, the following steps are involved:
Visit the site of the email provider and click Sign up.
In the signup form, enter a username and password that you would like to set for your email account and click Submit.

Once the account credentials are accepted by the provider, enter the basic details required to activate your profile, such as your name, phone number and country.

Agree to the Terms and Conditions of the service, and click Create Account.
Your email account is now created and needs to be verified. Enter the verification code you receive on your mobile to verify your account.
After verification, your email account is good to go.
Zoho Mail offers both personal and business email services. Irrespective of the subscription plan you are on, Zoho Mail is ad-free, secure, and protects your privacy. A Zoho Mail account comes with all the tools for managing communications and categorizing information as tasks, notes, or files for future reference.
If you are looking to create a personal email account, you can directly sign up for the personal account without a domain. You will be provided with an email address with your preferred username based on availability along with a predefined Zoho domain depending on the data center chosen.
A professional email account with Zoho provides you with the option to create a business email address with your custom domain. For a business email account, you will need a domain of your own. You can also buy a domain from Zoho Mail and set it up to host your email.
To sign up, visit Zoho Mail and select Personal email.

Choose a username for the email address.

When choosing your username, ensure that you provide a valid and respectable username. This will be your email address's primary part. Your email address will in the format: username@zohomail.com (for US Data Center users)

Based on your determined location, the data center will be automatically chosen and your email address domain will be based on the chosen data center.
If you are in Europe, your email account will be created by default in EU DC and your email address will be in the format username@zohonmail.eu
For India DC, the email address will be username@zohomail.in
For Australia DC, the email address will be in the format username@zohomail.com.au

You can also signup for a free email account using the federated sign-in via Google/ Facebook/ Twitter/ LinkedIn by clicking the respective icons. Even in this case, you need to choose the username part, which is essential to creating the email account.
Provide a password that is simple to remember for you, but hard to guess for others. It is recommended that you create a strong password that matches the following rules:

Minimum 8 characters in length
At least one upper case alphabet & one lower case character
At least one numerical character
At least one special character ​

6. Provide your first name and last name in the fields.

7. Provide your phone number, which is required for verification. (10-digit number including your area code, without any dashes or spaces)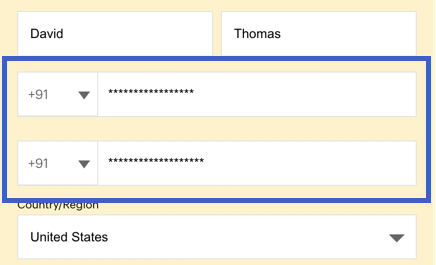 8. Select your Country/ Region.
9. Read and agree to the Terms of Service and click the Sign up for Free button.
10. You will receive a verification code by SMS. Provide the verification code to confirm and proceed with using the account.
Your email account is now ready and you can start using it to send and receive emails.
Multi-factor authentication provides an extra layer of security to your email account. Once you enable MFA, all the future sign-ins will require verifying the identity to ensure that the account isn't accessed by hackers or miscreants, just with a password. When you enable MFA for the account, the hackers will not be able to access your account, even if they are able to guess/ find out the password.
Example:
In case you enable SMS-based OTP for MFA, an OTP will be sent to the mobile number configured by you, when you sign in with the correct password. Once you provide that OTP, you will be able to access your account.
MFA modes supported
Zoho provides four MFA modes including:
OneAuth
SMS-based OTP
OTP authenticator
YubiKey
You can set up Multi-Factor Authentication for your account to keep your account secure.
You can manage your business emails on the move with Zoho Mail's mobile application. The Zoho Mail mobile app goes beyond being just another email app. It includes a calendar, contacts, and file modules - it is a complete app suite. It has powerful mobile-optimized features like quick swipe actions and empowers users to do more while on the move.