Get Your
Project Timer Going
Get rid of timesheet worries and make every minute you spend on your project count. Invoice clients instantly and track reimbursable expenses.
Simple Way To Track Time.
Easy And Efficient.
Enter your project details, set the project timer, sit back and relax. Get instant data on your timesheets anytime you want, or drill down on the project when you need to know more information.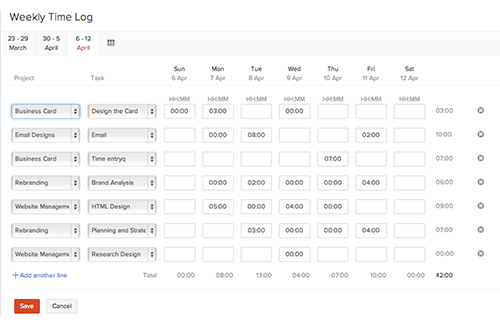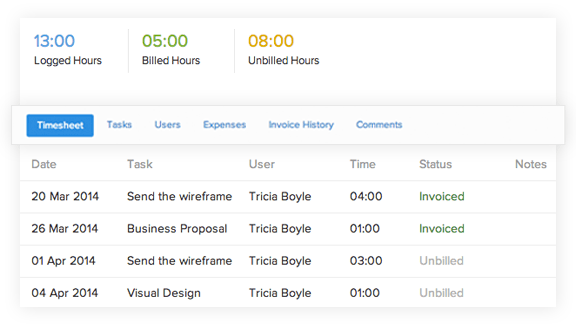 All You Need In Timesheets.
You Name It, We Have It
With features like fixed and hourly rate billing, role based access, calendar and weekly view of activity, expense tracking, and reports on top of that, you've got the perfect time tracking tool in Zoho Invoice.
Bill For Every Minute.
Invoicing Is A Breeze.
At the end of the day, watch all that hard work you put in, pay off. Invoice instantly for your project hours. Your logged hours are automatically fetched at the time of invoicing.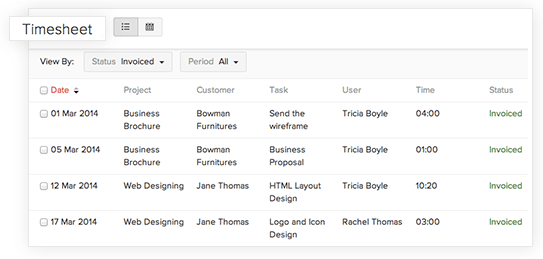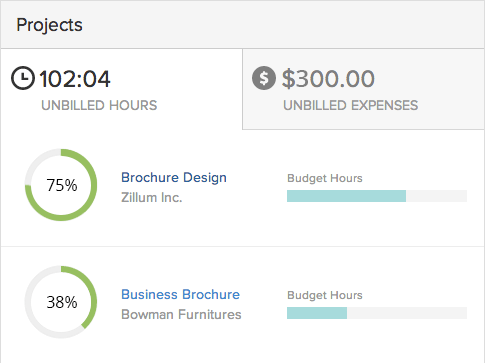 Powerful Reporting.
Insights Into Your Projects.
Get quick and accurate reports on timesheets and projects for critical insights into your business. You can always check out the dashboard for a 360 degree view of projects.
There's plenty to explore. It is more than just time tracking.
Bill Them Your Way

Fixed cost and Hourly billing. It can be based on the project, task or staff hours.

Check On Expenses

Track reimbursable expenses associated with each project. Click your receipts and attach them to project expenses.

The World Is Your Office

Track time from anywhere in the world. On iOS, windows and android platforms.
Zoho is trusted by 30 million users around the world.
"Great when on the go! This app has helped me capture more billable time that I had been missing. I'm able to log time as I complete tasks and I only have to input it once. One button push to invoice even while in the field. Also has helped me keep client expenses in order. The reminder about unpaid invoices has helped me keep on top of my AR."

- Jeff Laanep

Fluid Solutions

Zoho Invoice was featured in: