Microsoft Teams Integration
Trigger message cards using a bot in a Microsoft Teams channel when you receive new form submissions.
Prerequisites
To use the Microsoft Teams integration, you need a valid Zoho Forms account. Here is a link to our getting started page that might help you set up your Zoho Forms account. 
Note: Zoho Forms for Microsoft Teams is not available for the customers who have an account in zoho.cn domain.
Microsoft Teams Setup
Install the Zoho Forms bot in your Microsoft Teams channel.
Authorize your Zoho Forms account to receive messages through the bot. 
After authorizing your account, login to Zoho Forms and follow the steps given below. 
Zoho Forms Setup
Login to your Zoho Forms account using your account credentials or if you are an Office 365 user, you can sign in using Single Sign-On(SSO).
Create a form in Zoho Forms.
Once your form is ready, click the Integrations tab in the form builder and select Microsoft Teams.
Select the Team and Channel to trigger bot notifications.
Configure the message card under Message Template. You can choose the form fields to be displayed in the message card header and the form fields to be displayed as a summary inline.
Click Integrate to complete the setup.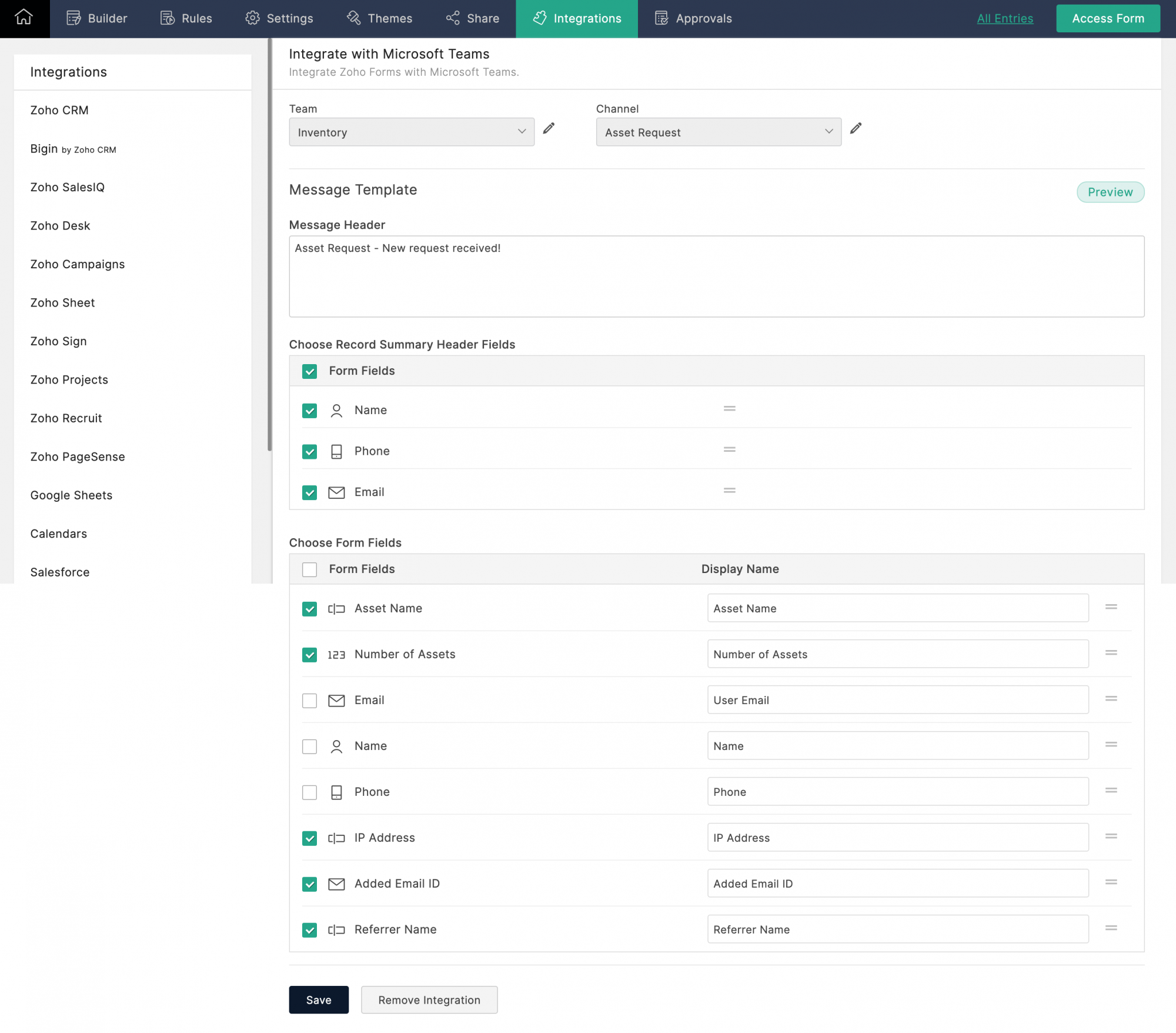 Note:
To add another form from an already authorized account to the same channel and receive messages using the Zoho Forms bot, you can just follow the steps listed under Zoho Forms setup.
Any member of a channel who has permissions to modify the bot will be able to delete this setup or add a new form to the same channel to receive messages using the Zoho Forms bot.