​Getting Started Guide
Zoho Docs is an online document management system with built-in online editors to create and edit files. All your files are in the cloud and can be easily accessed from any location and from any device. It allows you to create, share, collaborate, and manage all your business documents from one single location. It stores all your files securely in the cloud and helps you share files with anyone within the organization, or with partners, clients and customers. With Zoho Docs, your organizations can handle document creation, file sharing, file synchronization, precisely online using any device (PC, Laptops, mobile phones and tablets). You can now focus on business productivity gains than spending enormous time in managing business documents.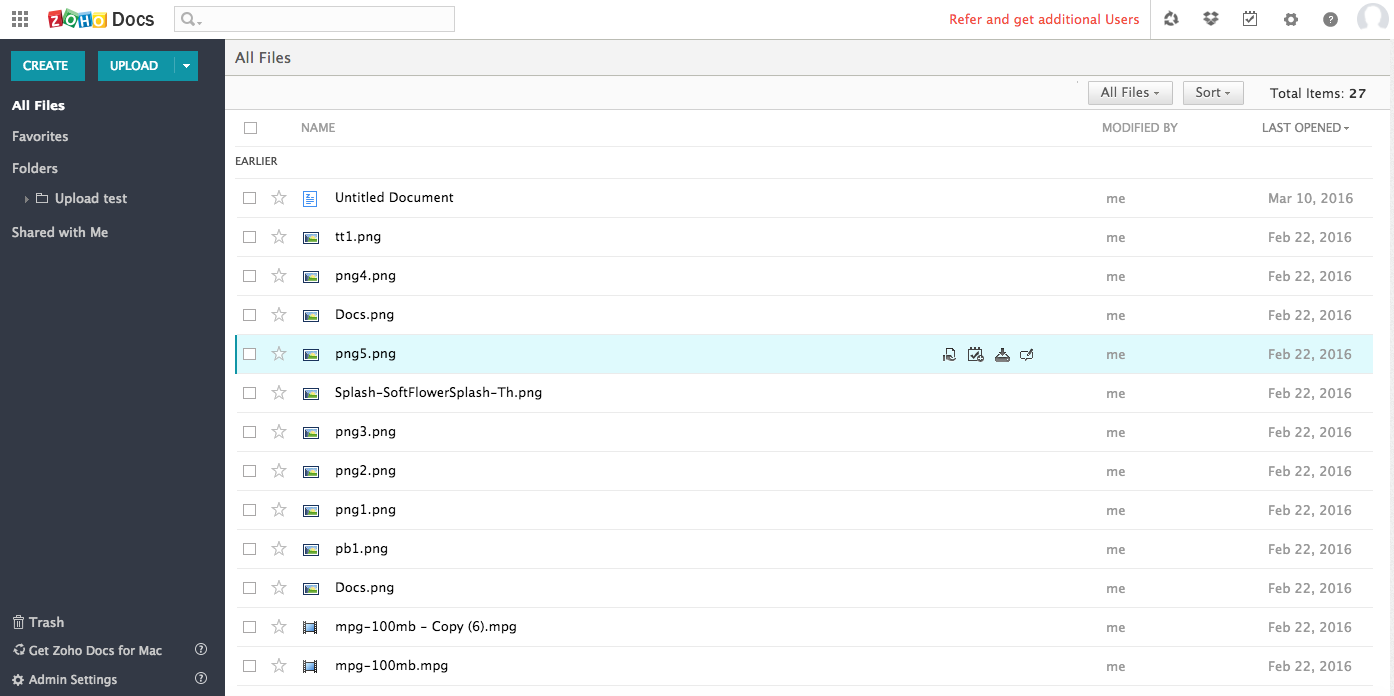 ​
You'll need an invitation from your team admin to join the organizational account. Once you're invited, you can click the Join link in the invite and get started with the process.
Key points:
Business accounts are managed and owned by your admin.
If the invitation is sent to your personal email address, ask your admin to resend the invite to your work email address before continuing.
To understand the process, choose the category that you fall into:
I don't have a Zoho Docs account
It's very easy to get started with Zoho Docs. Just few steps and we can have you on board.
Click the Join button in the invitation email and you'll be taken to our website.
Set up your work account by filling in your name and creating a password.
Click Join and your account will be created. Check out the Getting started section to learn how to start using your account.
I have a Zoho Docs account
If you already have a Zoho Docs account, you will be by default added to an organization. You will need to delete that organization in order to join your team. But note that if you have shared any files with anyone who has been added to that organization, it will be deleted if you delete the organization. You can keep a backup of those files by using the desktop sync or downloading them directly to your system.
This is how you can delete your organization:
Sign-in to your Zoho Docs account. Click the Settings icon and select Admin Panel.
Under the OrganizationProfile tab, click DeleteOrganization. A warming message will be displayed, to proceed click Delete.
Once you have deleted the organization, you can request your team admin to send you a invite to join the team. Click the invite link and proceed with the sign-up process.
The Zoho Docs desktop application lets you access all your files any time from your computer, even the ones that were originally created online. You can keep your files in sync and work offline.All changes will be synced when you connect to the internet. Once you install the desktop application it creates a special folder on your desktop. This folder can be used to update files so they're the same across all your devices with Zoho Docs installed.

Any file you add into the folder will be available on your other devices and backed up on our website. You can selectively sync specific folders from your online account, if you wish to save space in your computer.  After the desktop application is installed, you can easily access the folder by clicking the X Zoho Docs icon in your computer's system tray or menu bar. (If you're on a PC, it's in the lower right-hand corner, and if you're on a Mac, it's in the upper right-hand corner.)
Installing Zoho Docs:
Download the application here.
Double-click the downloaded file to begin installation.
When prompted, log in using your Zoho Docs business account.
Customize the settings as per your requirement and start using Zoho Docs on your desktop.
Once you have Zoho docs installed on your desktop, it's easy to upload your files to the online account. Here are the different ways in which you can do it:
Add files by dragging and dropping them into the Zoho Docs folder on your computer. Files in this folder will automatically sync with your online account, so you can access them on your devices through our apps and on the web.
You can also use the Upload > Bulk Upload option in your Zoho Docs homepage and get all your files from your computer.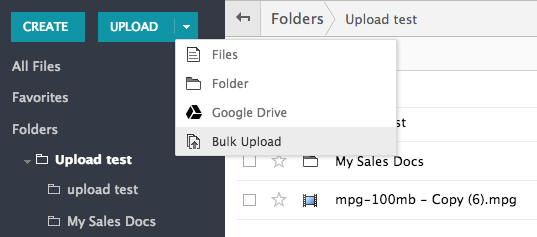 Zoho Docs mobile apps are available for android and iOS smartphones. You can install them and have your files with you even when you are on the go.
You can download the app from:
Once installed, sign in using your email and password and you can access all your files and folders from your phone.
Zoho Docs comes with three online editors - Writer, Sheet and Show. Zoho Writer is the online word processor that helps you create professional documents and work collaboratively with your colleagues. Zoho Sheet is the spreadsheet application, packed with advanced level features to help you keep your numbers in check. Zoho Show can be used to create and broadcast presentations  even when your audience  is far away.
To create new files using the editors:
In your Zoho Docs homepage, click the Create button and select the type of file you want to create.
​
 
Depending on your selection you will be directed to the respective editor page.