What is enterprise MDM app distribution?
Businesses are increasingly choosing to support specific work processes with mobile applications. These enterprise apps, like ERPs, contract approval systems and CRM solutions, are often custom-made for the organization and usually deployed by the in-house IT department. They assist with solving problems, facilitating internal operations, managing budget and inventory, and so much more.
While some apps are intended for the employees of an organization, some apps have to be made available to external users, like service providers, partners, customers or other select professionals. By integrating with MDM, you can seamlessly and efficiently distribute your Zoho Creator applications to all your users, on devices covering various OS platforms.
Take complete control of app distribution in your enterprise
Enable full control of your enterprise mobile apps and devices and reap the benefits of bringing them together:
Mobile app management (MAM)
Mobile device management (MDM)
Enterprise app store and app distribution
Feedback & bug reporting
Continuous integration & deployment (CI/CD)
Enhanced corporate data security
Minimal admin and user intervention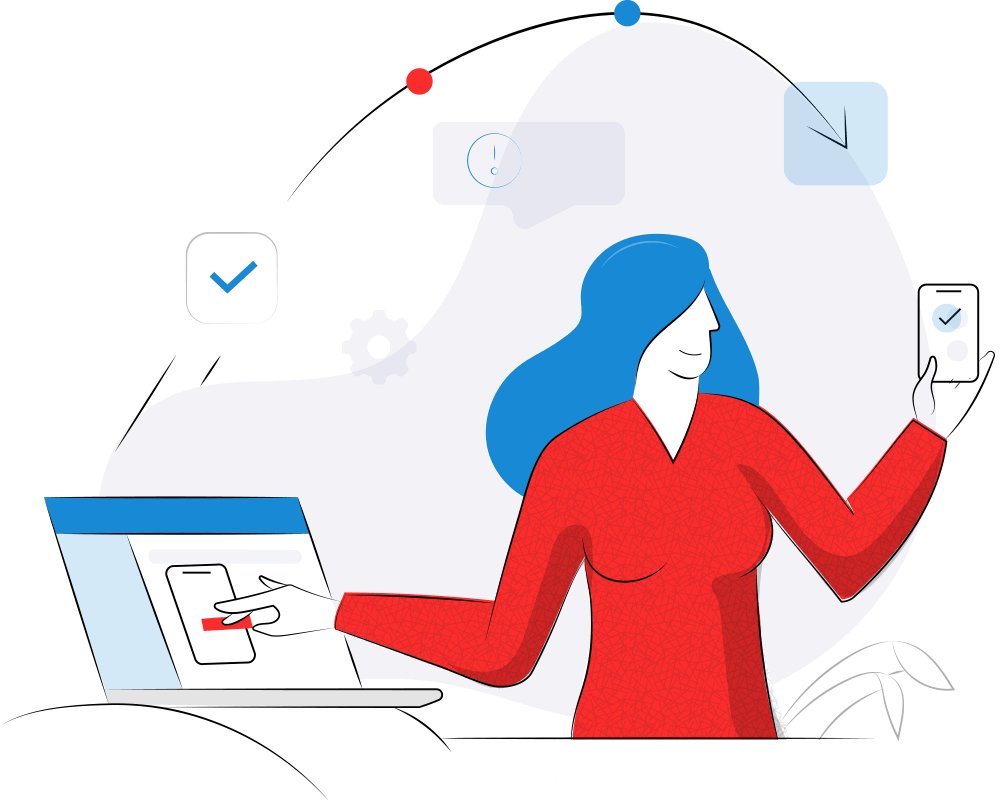 Automate app distribution with MDM
CATALOGUE OVERVIEW
Build your own enterprise app catalogue
Create your own app catalogue—a repository for enterprise,custom-built, and web apps. You can use your app catalogue to track the status of your app and remotely control apps on personal and corporate devices. You can also set up security conditions to prevent unauthorized installation of unapproved apps.
ENDPOINT LIFE-CYCLE MANAGEMENT
Manage app life cycles
Control the entire application life cycle—from app delivery and usage tracking to removing outdated apps and controlling versions. Push business apps to devices silently, and black list apps that aren't enterprise-approved. Secure apps and oversee issues related to compliance, data governance, bulk purchasing, and licensing.
AD-HOC DISTRIBUTION
Department-based app deployment
Each department in an organization needs their own set of apps, but not all employees necessarily need all the apps available for the department. Clustering these employee devices into groups ensures that the right users get the apps associated with their groups. This app distribution process is automated at a department level, and employees can choose and install the apps that they require.
AUTOMATE APP MANAGEMENT
Silent app installation, updating, and deleting
Make sure required corporate apps are installed with less effort from the admin team. Perfrom silent app deployemnt, updation and termination. Automate app installation to ensure apps gets installed silently on devices, as soon as the device is enrolled with MDM.
SELF-SERVICE PORTALS
Set up corporate portals for app distribution
Portals allow large organizations to develop and deploy proprietary, internal-use apps to their employees. Self-service portals address use cases that require private distribution directly to employees using secure internal systems, like an MDM solution. You can have systems in place to ensure that only employees can download your internal-use apps, and protect membership credentials and assets.
APP BLACKLISTING
Restrict unapproved apps
Most enterprises don't want unapproved apps to be installed on corporate devices. The App Blocklist feature lets you predefine a list of apps which get automatically removed and prevented from being reinstalled. You can configure corporate policies for public apps using blacklists, and enable the app approval workflow to ensure that apps pass predefined quality standards and guidelines before the apps are promoted to the app catalogue. Install, update, and remove managed apps from a device remotely.
APP-PROTECTION POLICIES
Assign protection policies for corporate devices and apps
From single sign-on for corporate apps to locking corporate devices for specific apps, the need for app-specific policies is paramount. With Creator, you can preconfigure device settings and prevent users from modifying it. You can also configure restrictions on devices and apps, to avoid unauthorized access of any corporate data being used by the apps.
APP-BASED REPORTS
Gather granular details on apps
Get app-based reports that provide IT admins with details, such as apps present on the device, devices with blacklisted apps, and more. Gather valuable information from your users by collecting feedback and bug reports that also include useful device information to help your developers address issues and improve the quality of your apps. Integrate with MDM to get out-of-the-box reports which can be scheduled and sent via email.
How does enterprise app distribution via MDM work?
With organizations shifting to a mobile-only or mobile-first workforce, enterprise app distribution is a massive undertaking for IT admins, irrespective of the organization's size. Over MDM, enterprise deployment of apps on any device can be carried out without registering the device or publishing the app to app stores. As with ad-hoc distribution, this is performed when the organization uploads the binary and then sends installation requests to MDM-enrolled devices remotely, from a web administration console. MDM lets you take complete control of app management—installation, deleting, updating, and license management.
Distribute your app via MDM in 3 steps
Upload MDM APNs certificate -

Upload the MDM APNs certificate and enter the Corporate Apple ID.

Enter user email addresses -

After successfully configuring the MDM, enter the email addresses of your users with whom you'd like to distribute the app.

Distribute -

Click Distribute.
Explore relevant features
Ready for an enterprise app distribution system that really works?
Try for free
Frequently Asked Questions
What is Mobile Device Management (MDM)?
Mobile Device Management (MDM) is the process of managing corporate data by monitoring and securing mobile devices, laptops, smartphones and tablets used in enterprises. MDM lets you take complete control of app management - installation, deletion, update and license management.
What is enterprise MDM app distribution?
Integrating with MDM, you can seamlessly and efficiently distribute your Zoho Creator applications to all your users on devices covering various OS platforms.
How Does Mobile Device Management Software Work?
All devices connected to the MDM server act as clients. The MDM server remotely pushes applications and configuration to each connected device. IT admins remotely manage all endpoint devices through the MDM server.
Where can I find documentation on how to use this service?
Please check out our help documentation on app distribution via MDM: Learn more