Build custom hospitality management software on
Zoho Creator
Zoho Creator is a low-code platform that adapts a visual drag-and-drop approach to solution development, which enables everyone to build and deploy solutions rapidly, irrespective of coding knowledge. It empowers businesses to create, iterate, and release solutions in a fraction of the time it takes compared with traditional methods.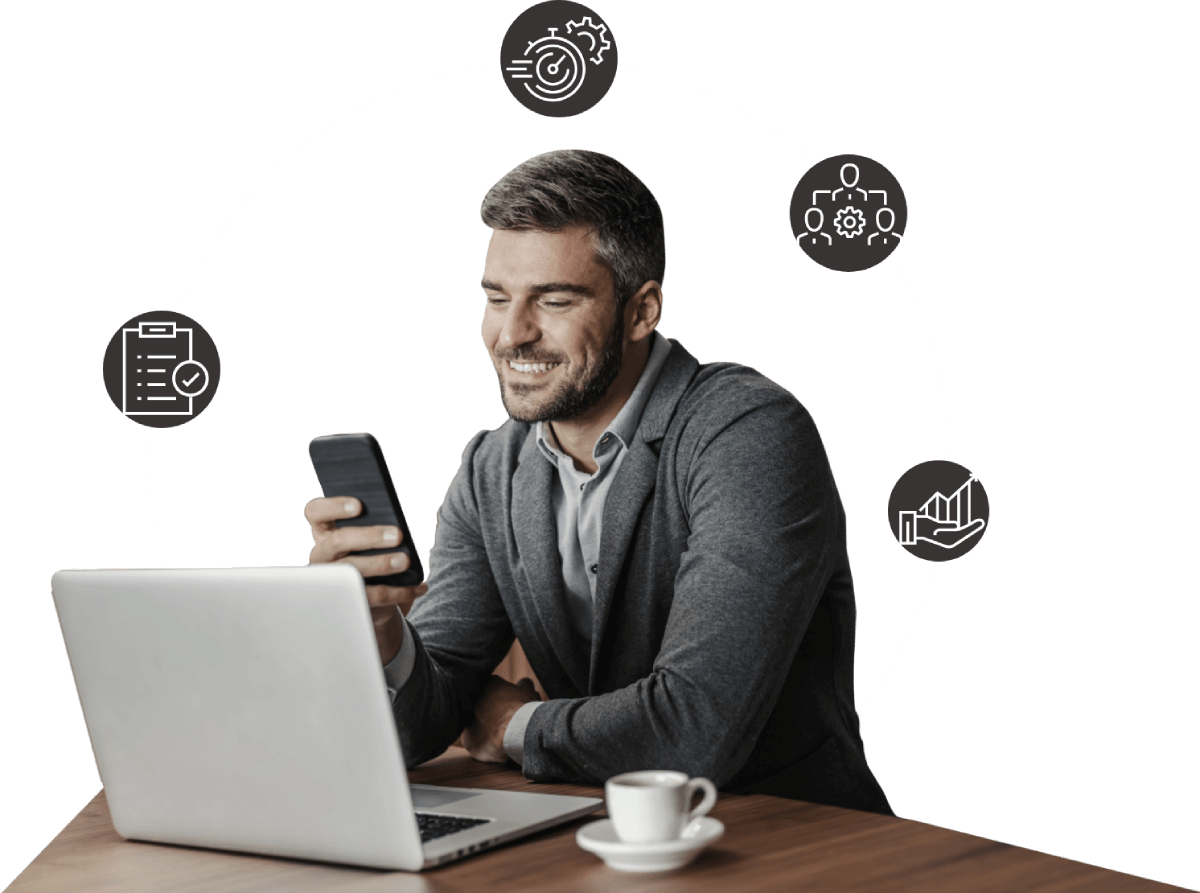 End-to-end hospitality and hotel management solution for every stakeholder
Manage all your hotel operations seamlessly with cloud-based software applications. Build holistic solutions on our low-code technology to drive your consumers' safe, unique, and personalized guest experiences.
Sign up for free
Streamline property management
Optimize property and facilities utilization and ensure your strategic space planning meets demand with data and AI-driven insights. Manage and consolidate leases to reduce operating costs for your enterprise with a centralized solution.
Manage restaurants
As customers begin to flock back to their favorite eateries, it's crucial to have a proper tech infrastructure in place to give them a hassle-free experience. Build a custom restaurant point of sale (POS) solution, track the inventory required for menu items, offer loyalty perks to customers, accept multiple forms of payment, and do much more.
Personalize travel services
Drive the customization your customers crave and collaborate between vendors and distributors across the travel industry. Book tickets, manage hotel reservations, offer unique travel recommendations, and engage in real-time conversations with your customers.
Drive customer experience
Enhance customer satisfaction by delivering personalized services with a master data management solution that establishes a single trusted source of customer information. Focus on being flexible with touchless check-in and check-out, digital concierge service, and flawless housekeeping operations.
Innovate with insights
Let your data provide insight and make informed decisions with intuitive and powerful reports and pages. Make critical decisions about when and how to reopen facilities, analyze financial impacts, and create a safer environment with a proper mix of space and workplace services.
The next evolution of the hospitality industry is high tech
Automate repetitive tasks
Run multiple events
Manage kitchens remotely
Improve customer insights
Form robust connections between restaurant and property chains
Utilize integrations with Quickbooks and many more applications
Streamline operations
Automate customer invoices
Simplify food waste management
Send instant mobile updates, notifications, and email invites
Tap into our low-code expertise to improve your hospitality and hotel business
In the era of rapid change and compatibility, low-code platforms like Creator enable businesses to develop robust solutions which require less engineering effort and provide cross-platform mobility. Here are three ways you can get started with Zoho Creator:
Build your solution from scratch
Build apps faster with Creator, using prebuilt modules in an interactive visual drag-and-drop environment. Cut down on the time and resources spent on the app development cycle. Watch videos on how you can build solutions on Creator.
Pick from 100+ prebuilt applications
Creator's App Deck hosts a collection of standalone prebuilt solutions covering a wide range of business use cases. Classified under industry-specific and core business functions, you'll find an app for every need. Explore App Deck.
Import an existing spreadsheet or migrate from MS Access and FileMaker
Experience the power of online databases like never before. Migrate and gain access to simplified automation, scale via third-party APIs, create native mobile apps, and more Watch a video .
Don't take our word for it. Hear what our customers say.
"We use Zoho Creator to whip up apps rapidly. When a requirement came up, I didn't hesitate too long in reaching into my back pocket for Zoho Creator to work out whether it could fill the need—and it did, by a country mile. So yeah, I really think of Creator as my Swiss Army Knife that has gotten me out of critical deadlines and requirements over the past six years."
Neil Hobbs,
IT Director, Bourne Leisure
"Zoho Creator is very simple and user-friendly. You can get a lot done without knowing any coding. And then, if you need something a little more complicated, you can pull someone in just for a short amount of time to adjust it for you."
Siobhan Byrne Leara,
CEO, Adams & Butler
"Thanks to Zoho Creator, a small company like mine can compete on a world-class basis with any big company."
Francis Moreno,
Founder, Group Travels
Ebooks
Agile application development in the holiday sector
Learn how Bourne Leisure used agile development to build tailored solutions for their businesses, from food allergen trackers to restaurant booking apps.
Read more
Blog
Decode video series
Watch this insightful conversation with Siobhan Byrne Learat, the CEO of Adams & Butler, sharing her views on low-code and how Zoho Creator helps run her luxury travel designer firm.
Watch now
Customer story
Making memories from moments
Learn how GroupTravel used Zoho Creator to redefine their customer's travel experiences.
Read more
Pared down to the essentials
Covering the trend of modular hospitality applications, we've picked eight customizable prebuilt solutions from our App Deck, which will help your business augment and extend diverse business processes. Install and get your app up and running in a matter of minutes.
GET STARTED NOW!
Explore how a digital transformation powered by Zoho Creator can help boost profitability, manage revenue flow, and streamline hotel management.
Sign up for free
Frequently Asked Questions
What is hospitality management?
Healthcare management involves everything from organizing employees to managing patients to keeping stock of the resources of a healthcare institution. The scope of this field varies with the size of the organization—a local clinic or a speciality hospital—in which it's implemented.
What does hospitality ERP management software do?
In the hospitality industry, an ERP system is a vital tool for ensuring the best possible experience for guests. The many moving parts of hotel and property management must work in sync every day, to ensure that the business operates at its optimum level.
What processes can we automate in hospitality management?
Accounting and budgeting
Interviewing, training, and managing staff
Streamlining repetitive daily operations
Optimizing business performance
Filing customer complaints and inquiries
Ensuring health and safety compliance
How can low-code platforms be used for hospitality and hotel management software?
A low-code platform enables digital transformation and rapid development of custom applications. A growing organization can benefit from building custom apps on Creator's intuitive builder, or choose from a wide range of prebuilt solutions and tailor them to accommodate any requirements.
How can I get started with Zoho Creator for hospitality management?
Zoho Creator has a 15-day trial period, where you get to access all the premium features. You can get started with Creator by signing up here or visiting the sign up page.