5 key benefits of workflow automation tools
5 key benefits of workflow automation tools
Last Updated: June 29, 2023
143 Views
4 Min Read
We use software daily to simplify repetitive tasks and make our lives easier. However, even with the help of technology, a little human intervention such as manual data entry, is sometimes necessary. Among the manual processes most workplaces require, data entry is perhaps the most time-consuming.
However, you can streamline this process and countless others when workflow automation software is in place.
What is workflow automation?
The process of streamlining and automating manual tasks through technology is called "workflow automation." Workflow automation enables you to build automated workflows for your business processes rather than fitting them into your existing software/non-software tools. The benefits of workflow automation are boost in productivity, reduction in errors, and savings in time and money.
Establishing an effective business process for employees is essential to running a successful business. Workflow automation is a flexible approach that can be used by businesses of all sizes and in all sectors to take the first step toward more effective and efficient operations.
Without workflow automation, businesses face challenges with:
Data security and governance.
Streamlining business processes and workflows
Measuring employee productivity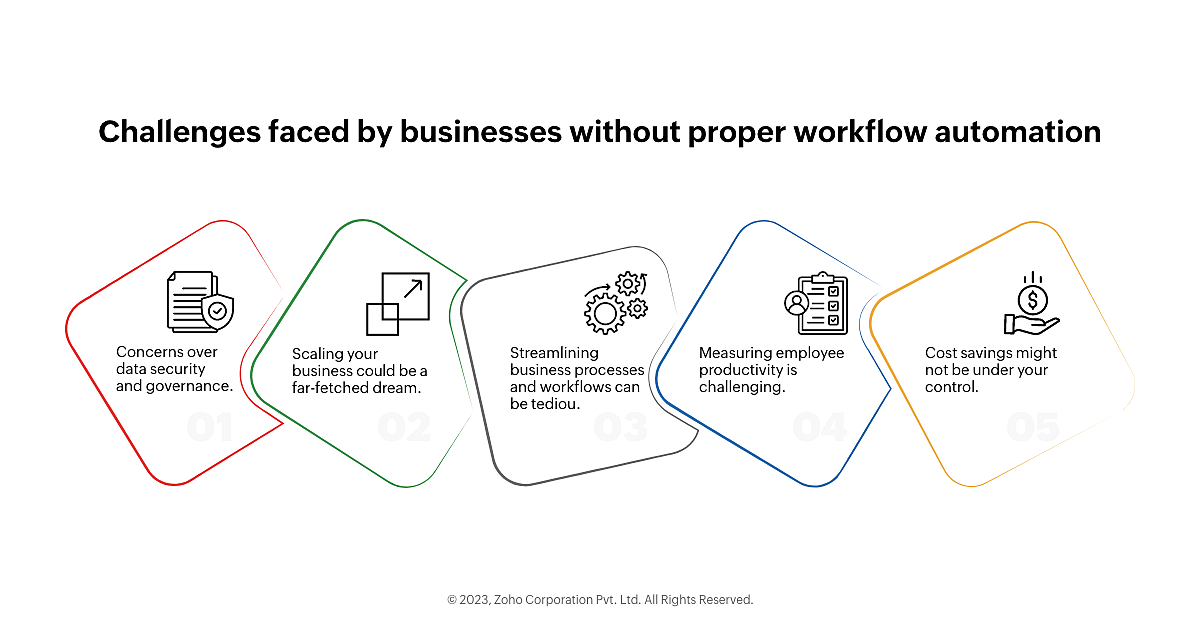 Why does your business need workflow automation software?
The primary goal of every business is to deliver value to customers and, in turn, generate revenue. When your business processes do not support productivity, it's difficult to accomplish these goals. Workflow automation, which help digitize mundane manual work, can help businesses focus on the customer experience and create lasting value. According to research, around 60% of employees can save 30% of their time with business automation.
The world is changing rapidly as consumers become more used to speedy services, AI-driven search results, and other conveniences. With a workflow automation tool, organizations can streamline redundant and complex processes that don't require a lot of monitoring or thoughtful decision-making, while improving operational efficiency and saving money.
A detailed look at the benefits of workflow automation
Save money and time
According to Gartner, accounting teams spend up to 30% of their time on mundane tasks, like manual accounting rework.
Time savings is one of the top benefits of workflow automation, which also reduces business costs by optimizing your manual processes to help employees execute tasks more efficiently. It is also worth noting that workflow automation consolidates business data within a single platform, simplifying collaboration between departments and resulting in fewer errors.
Reduce repetitive tasks to enhance operational efficiency
Expedite and streamline internal manual processes with a workflow automation solution that offers predetermined rules and trigger-based activities. This improves overall business efficiency. Automating processes not only makes it simpler to monitor the performance of your employees, but also enables them to complete more significant work in less time.
Empower your employees and boost productivity
With workflow process automation, each employee is aware of their specific role and the tasks for which they are responsible. They can operate more efficiently and take responsibility for any errors. Teams no longer have to waste time on manual approval processes once automated workflows are put in place. Real-time monitoring of the processes allows for better time management, which promotes better business process management. Boosting your employees' productivity helps you close deals faster and more successfully.
Streamline workflows, approvals, and more
Workflows can be slowed down by manual approval processes, which can also result in inaccuracies and missed deadlines. Employees frequently spend hours manually delivering paperwork and seeking manual approvals. Use workflow automation solutions to focus on driving your business' digital transformation journey, rather than wasting time on tedious tasks. Workflow automation can regulate data entry activities to reduce human error, save time, streamline workflows, and expedite repetitive tasks. This can also lead to employees focusing more on higher value activities.
Complete tasks with ease
Having to perform too many jobs creates confusion for employees and raises the probability of error. Everything from IT assistance to employee onboarding processes and sales enablement can be done within a single workflow management software solution to reduce human error and expedite tasks.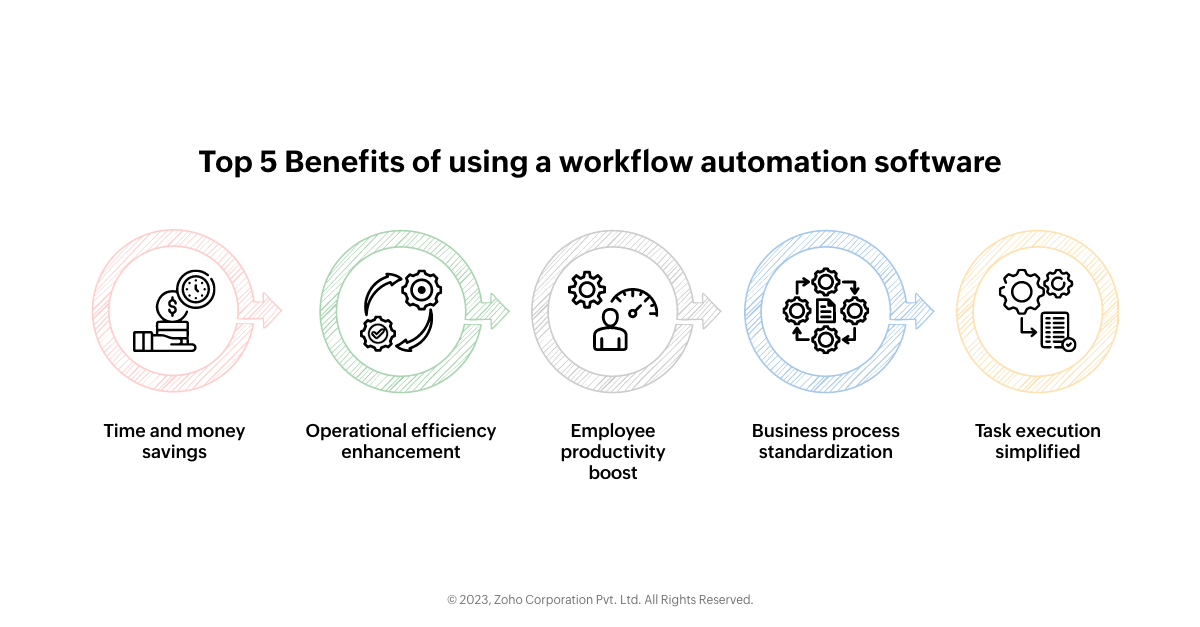 Go from redundant tasks to standardized procedures
Workflow automation is not only for the technologically adept. Business process tasks you perform daily can be streamlined and automated, regardless of your technical expertise. Choosing the right workflow automation software solution is the secret to effective and efficient business operations.
Effective workflow management involves using digital tools to streamline processes with appropriate features and functionalities. With the help of the user-friendly, drag-and-drop interface of Zoho Creator, a cloud-based platform for workflow automation, you can build complex workflows in less time and scale your business effortlessly.
Automate anytime, anywhere using our custom workflow automation software. Start your 15-day free trial now!
Guide to Workflow Automation is here
Aishwarya

Aishwarya is a content marketer at Zoho. Apart from creating content, she loves to read and watch sci-fi and crime thrillers, travel, and basically can't survive without coffee.
Leave a Reply
Your email address will not be published. Required fields are marked