COLLABORATION
Simplify collaboration, get everyone on the same page
Every enterprise has its own unique set of needs. Your enterprise team chat should align with what matters the most—communication.
Drive cross-departmental collaboration
Channels are your productivity hub within Cliq. Use channels for individual teams or across multiple teams, and be assured that all of you are on the same page.
Conduct company-wide gatherings and events
Host events, open house meetings, and make company-wide announcements with live events. Connect with your audience using a live camera feed and include fillers during session breaks to keep them entertained.
Find what you're looking for
With Cliq's unified search bar, you can find everything from messages and users to channels and departments and narrow down your search results with specific search tags.
Maintain a dedicated space for external collaboration
Create multiple networks using your business account in Cliq and set up a dedicated space to collaborate fully with people outside your organization, like partners, vendors, and contract employees.
Configure automated out-of-office responses
Automatically notify others when you take time off work and update them on when you'll be next available by setting up auto-replies for messages.
Take your virtual meetings to conference rooms
With the Rooms TV app for Zoho Cliq, you can bring your remote and in-office team members together through virtual meetings, and connect from the same office conference room.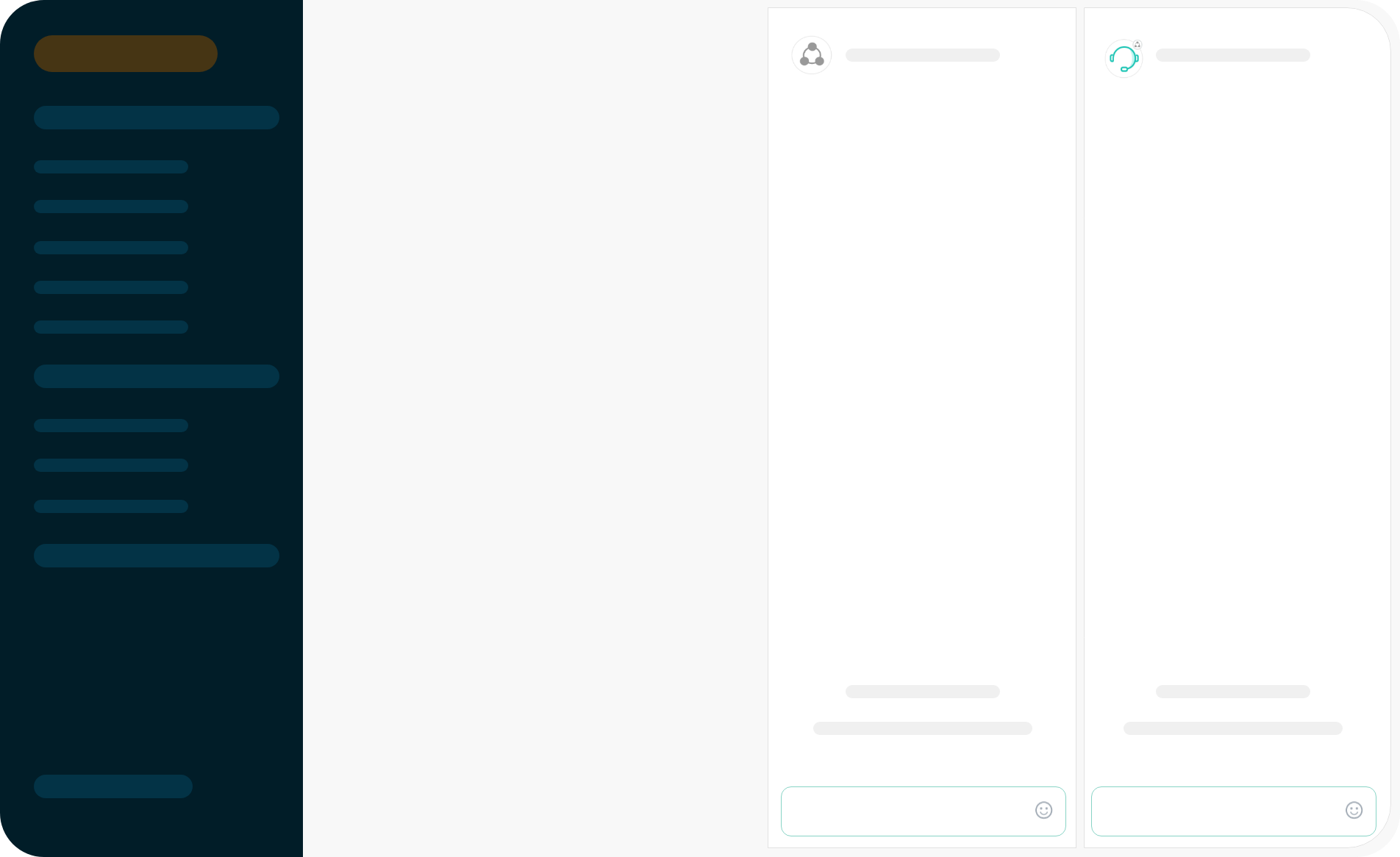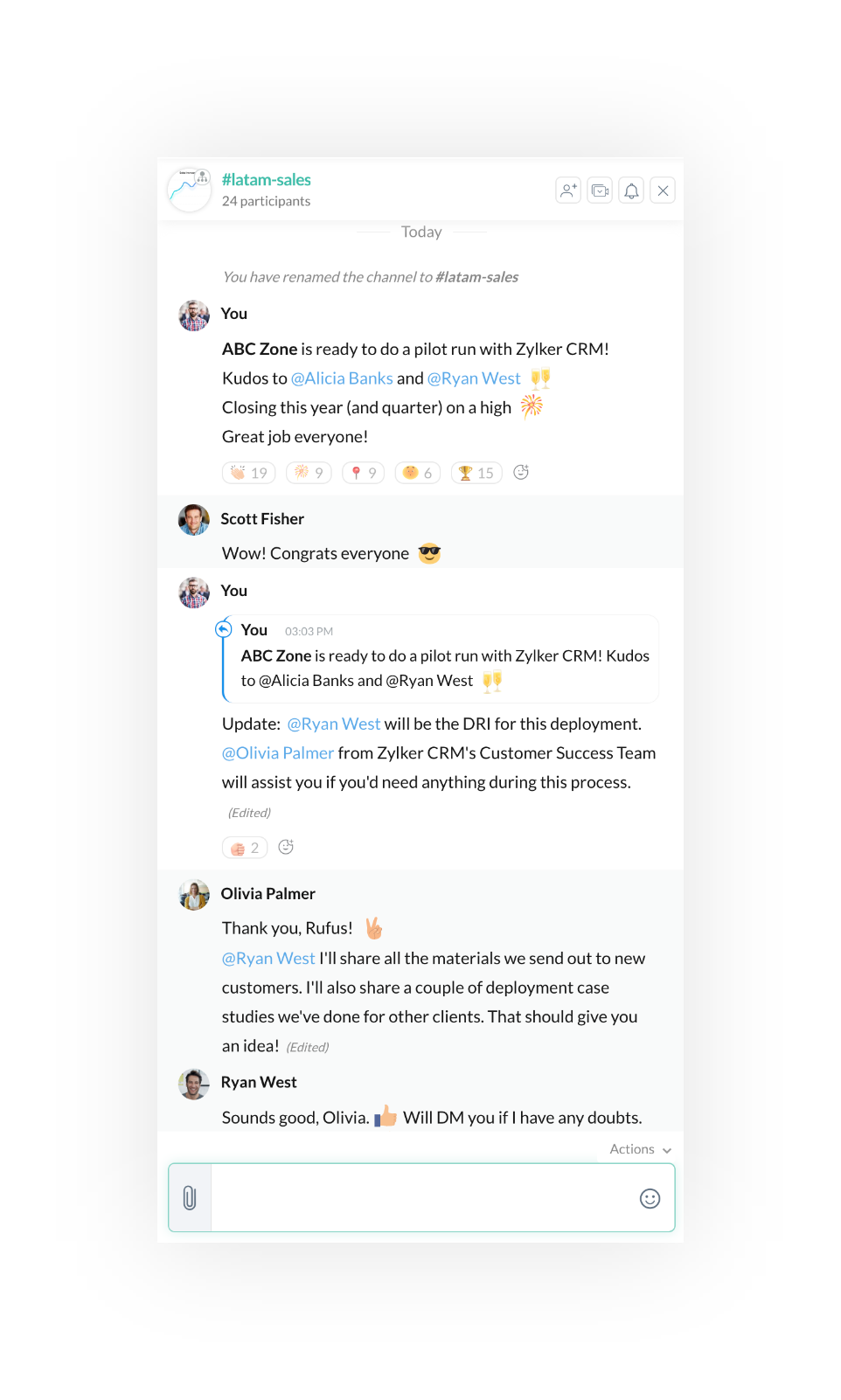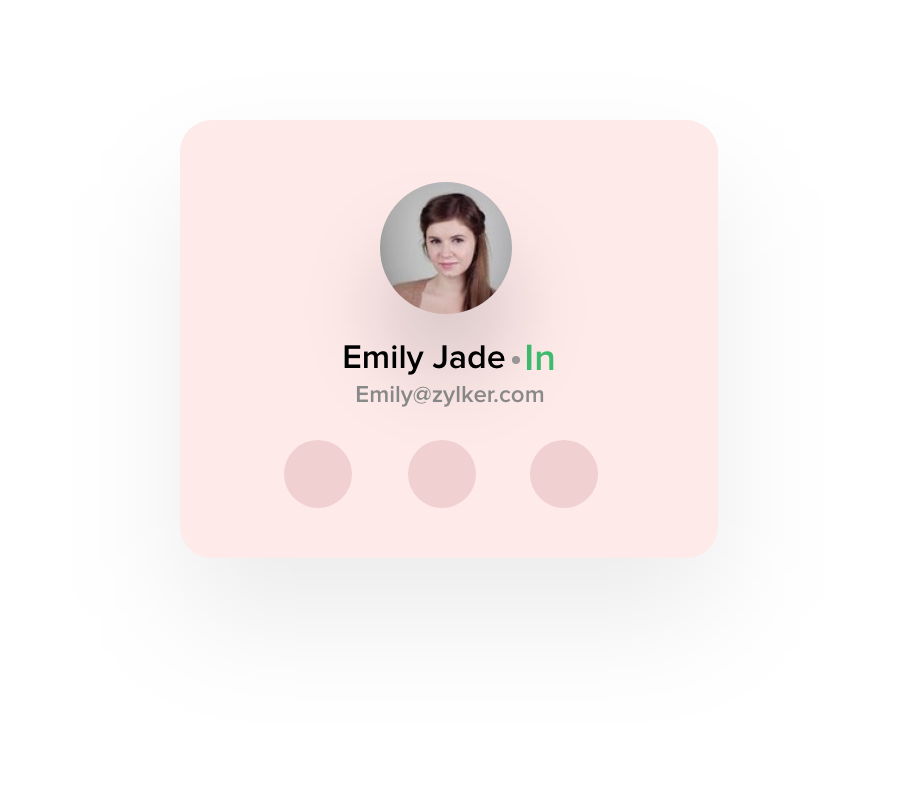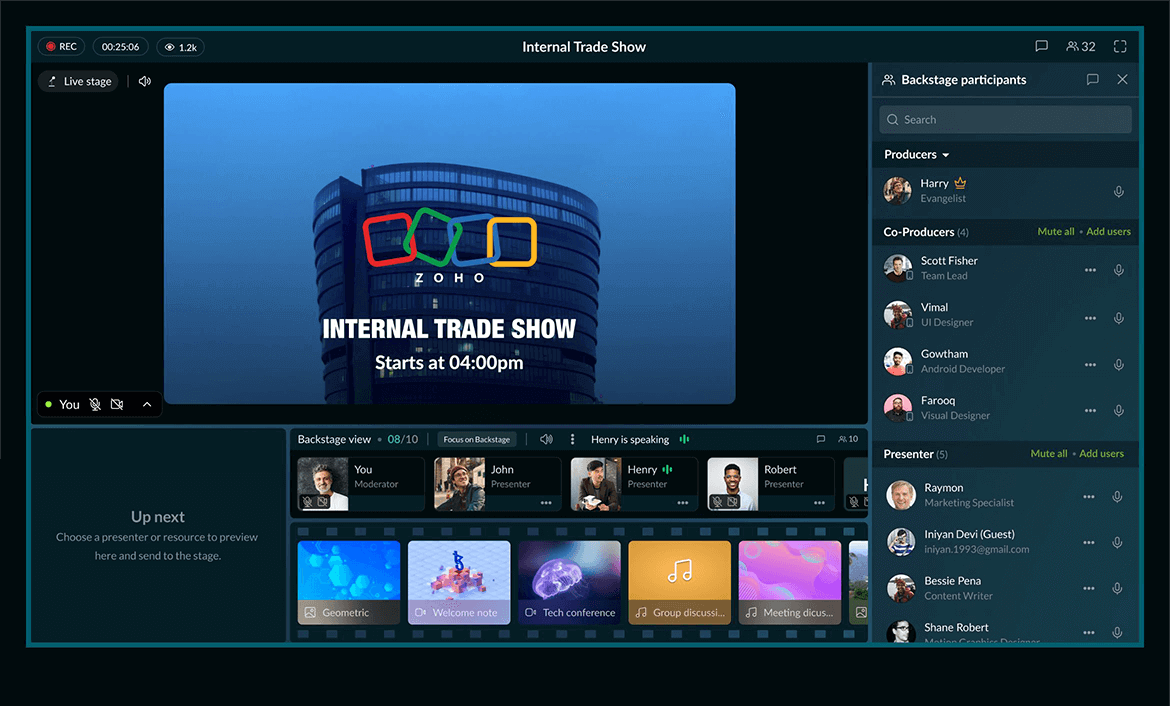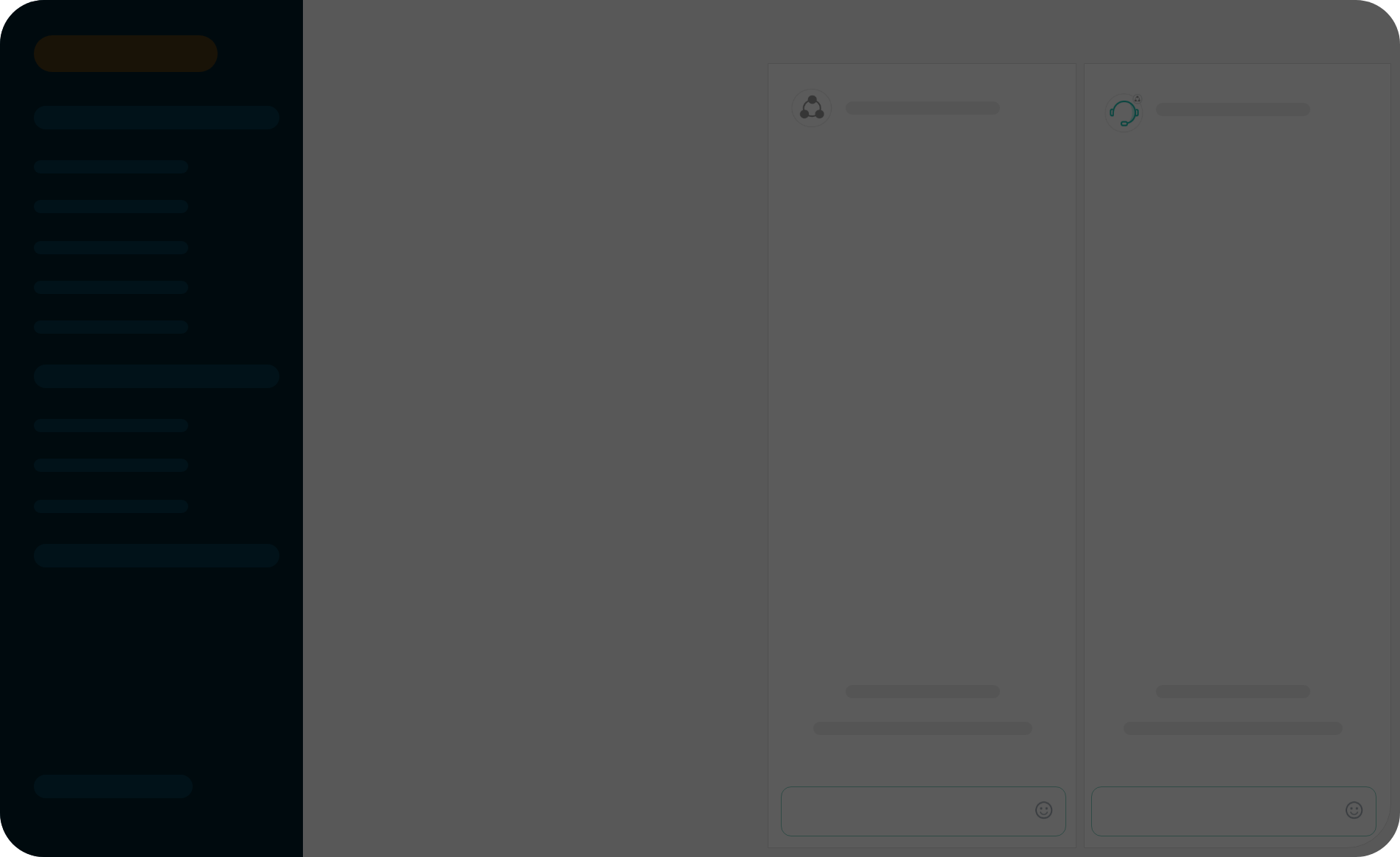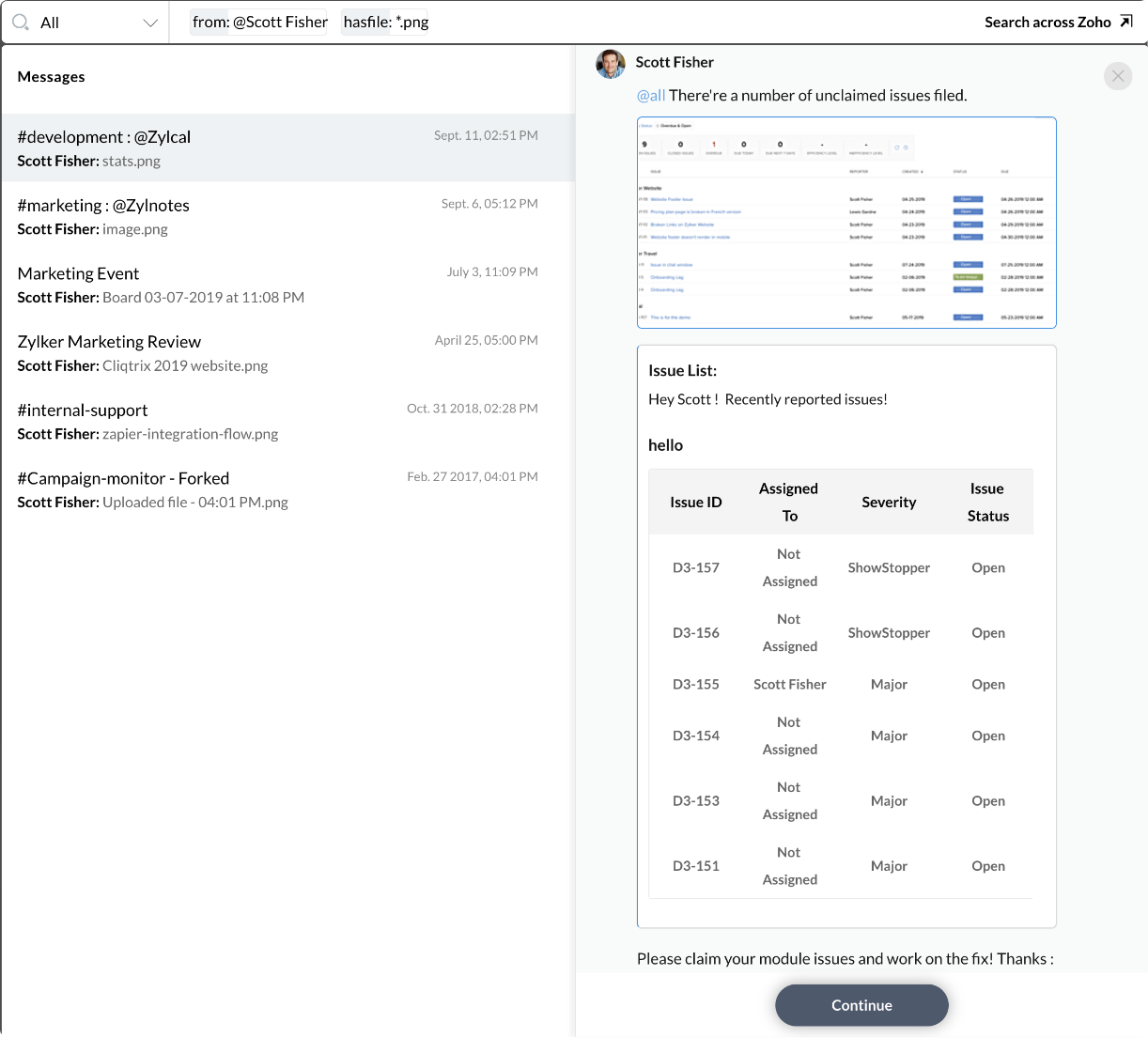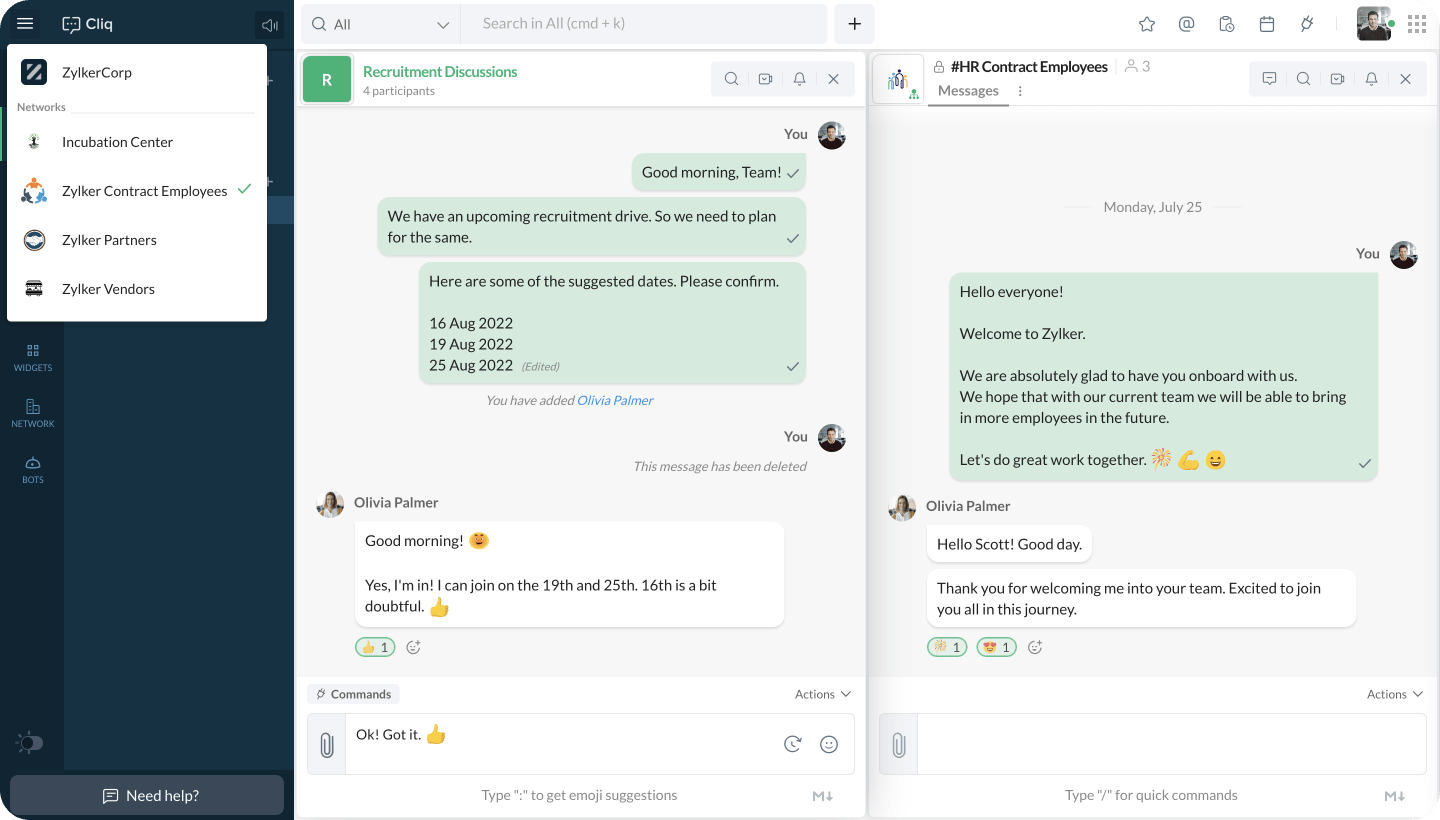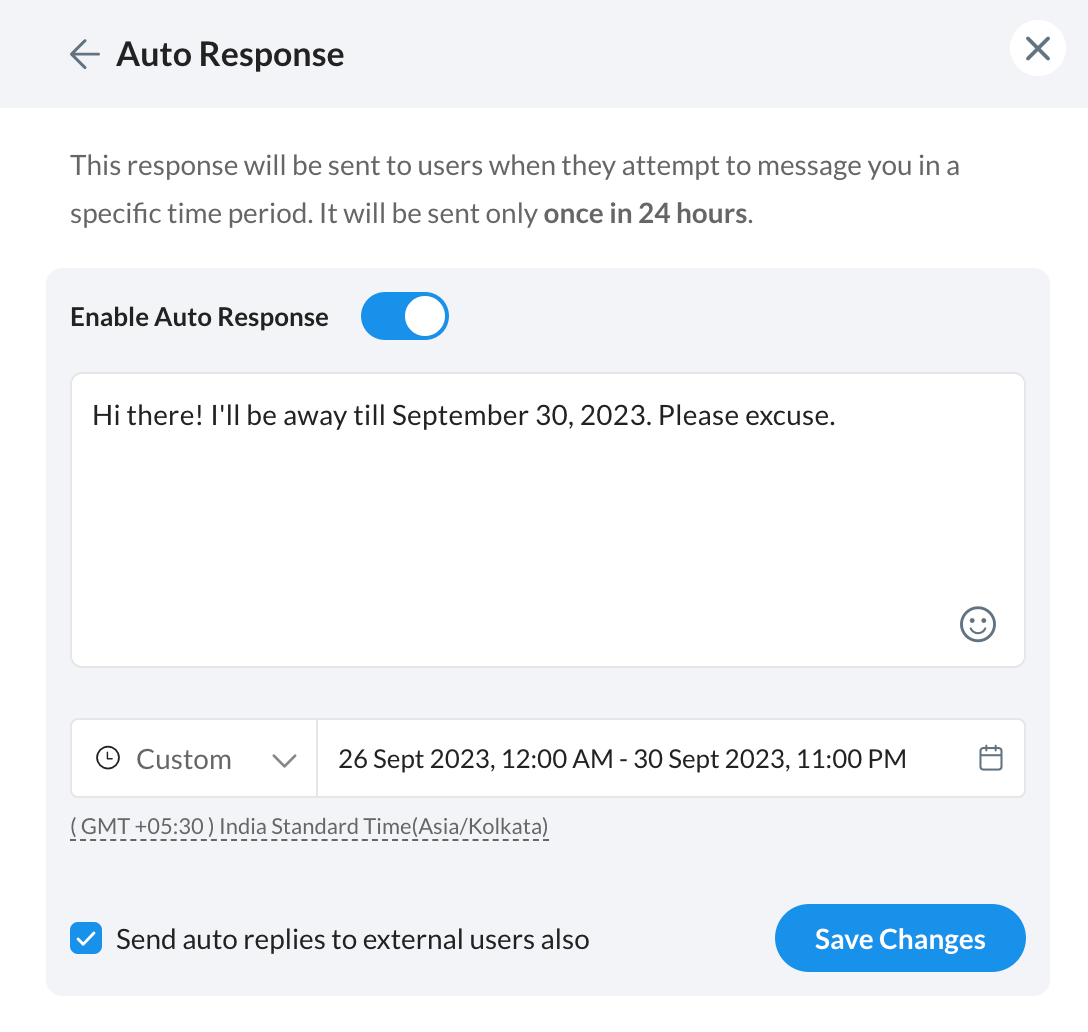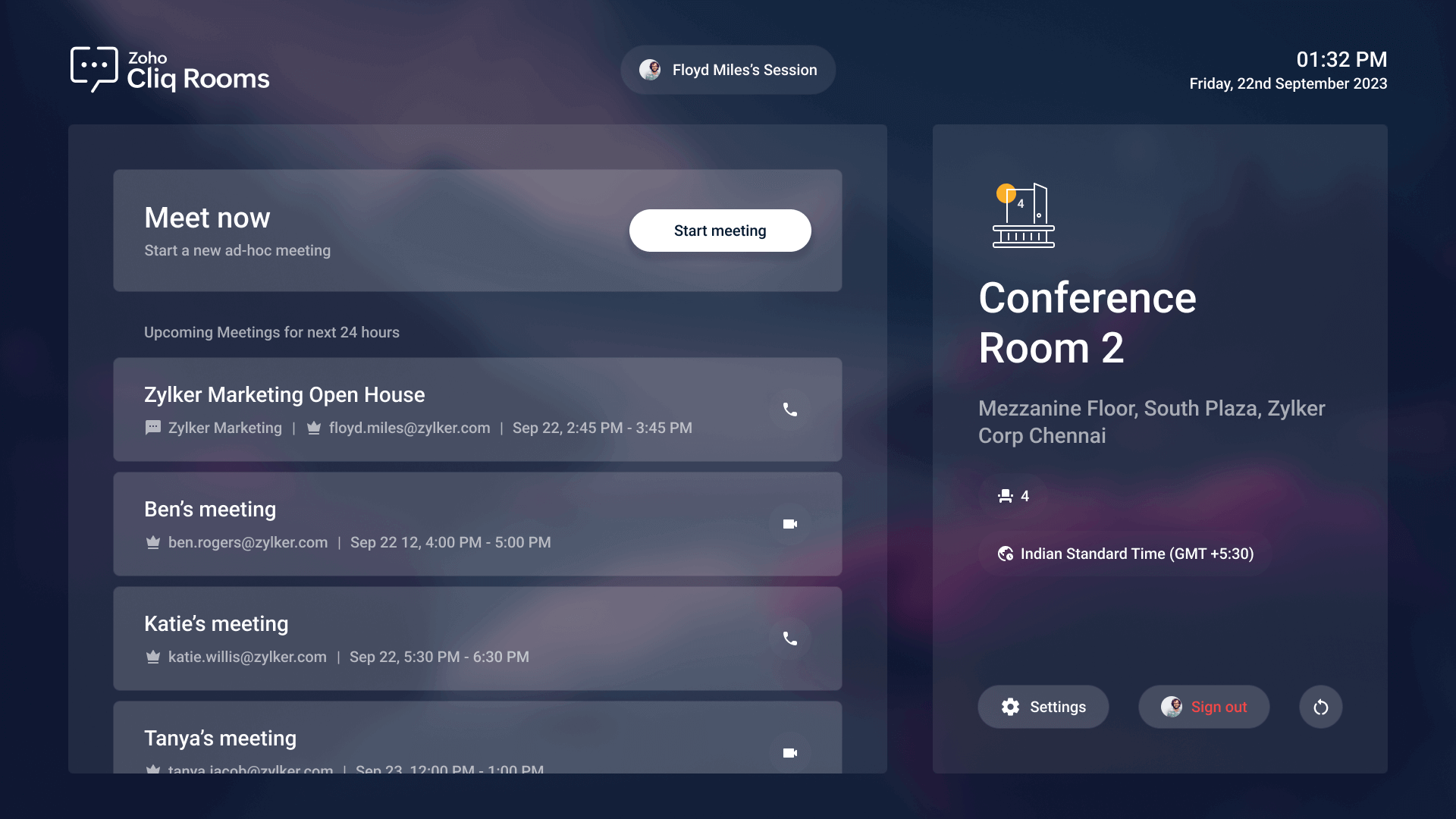 "Cliq has become our primary source of communication. We're able to collaborate over customer tickets and resolve them easily!"
Matt Cianfarani
Chief Operating Officer, Cartika
---
SECURITY
Enterprise-grade security at the forefront
Your data is your number one asset. We take comprehensive measures to ensure all your employees' accounts are safe from threats.
Integrated with enterprise mobility management
Secure your business data in Cliq by configuring enterprise mobility management (EMM) and app controls for your corporate devices. Configure everything you want, right down to content displayed on the sign-in screen, and to restrict selective features such as file sharing or downloading from Cliq.
Role-based access control
Create roles for users and define channel and integration level access permissions to ensure your employees use the software as it was intended.
Stronger password policies
The best practice to enforce strong password policy in your enterprise chat solution is to set requirements for password complexity, length, and age, and mandate multi-factor authentication for every login.
Secure authentication with SAML based SSO
With SAML based SSO support on Cliq, eliminate security threats and the time spent on signing into the wide variety of workplace apps used everyday!
Data encryption at transit and at rest
Cliq encrypts data in transit and at rest to ensure that it is accessible only by the right people.
Secure access via specific IP's
Allow users to access Cliq only through specific IP addresses that are recognized and permitted.
With Zoho, your data is always secure.
---
DATA PRIVACY & COMPLIANCE
Gain full visibility and control over your data
Your enterprise chat app should make way for efficient collaboration. Easily monitor and handle your organization's data through your admin panel's dashboard.
Manage Data
Once you're done setting up Cliq, we've made importing and exporting user data quick and easy.
Archive Conversations
Data archiving ensures that your discussions are preserved for future reference and accountability.
Control Collaboration
Set user restrictions for all channel types and at all levels with permissions. Specify who can add and remove participants, or send messages—ensuring that your teams collaborate effectively..
Locate the information you need
Zoho Cliq now supports data retention and electronic discovery (also called eDiscovery). This safeguards your data and allows you to access information when needed.
View user activity logs
Drive quick insights on user activity in your organization and trace the source easily when encountering issues.
Get detailed usage reports
See how users in your organization are utilizing Zoho Cliq's features, and analyze performance and usage with detailed reports.
---
CUSTOMIZATION
Organize your workforce the smart way
Set up and craft workflows based on your unique organizational structure using the admin panel. Modify Cliq to match your brand and reflect your organization's layout.
Users & Departments
You know your teams better than anyone. Create custom fields, set up and customize your user profile, and decide how you'd like to display user information based on the device on which it's displayed.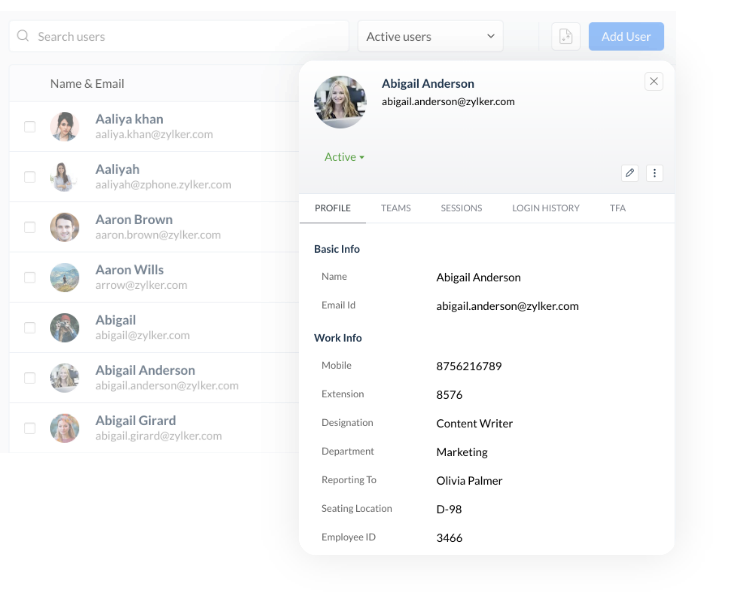 Custom Domain
Get Cliq accessible within your company by setting up a custom domain.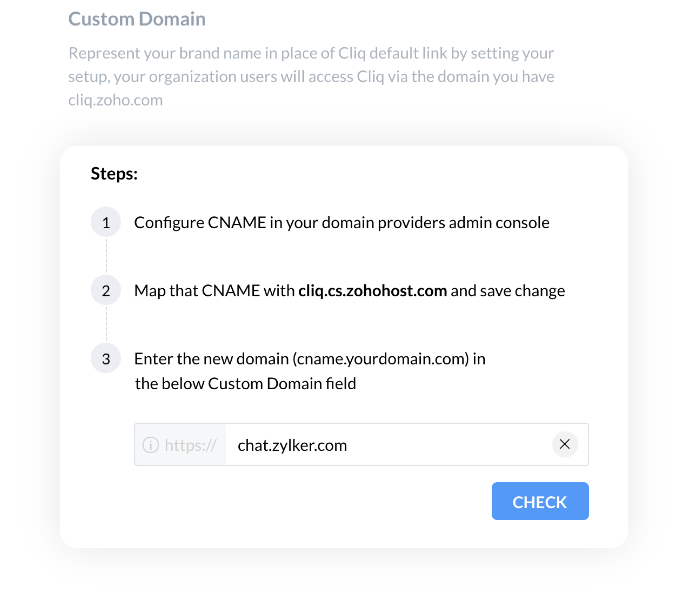 Branding
Have Cliq reflect your brand's theme and logo.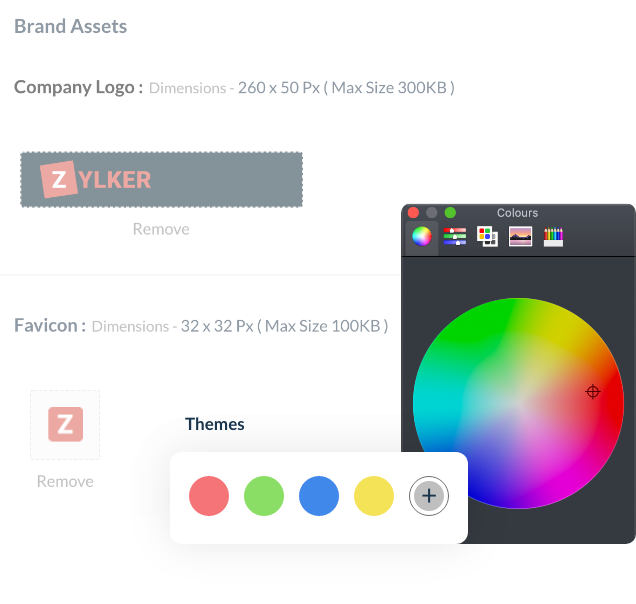 Notifications
Set up prompt email and sound alerts, so you don't need to worry about missing messages or calls anymore!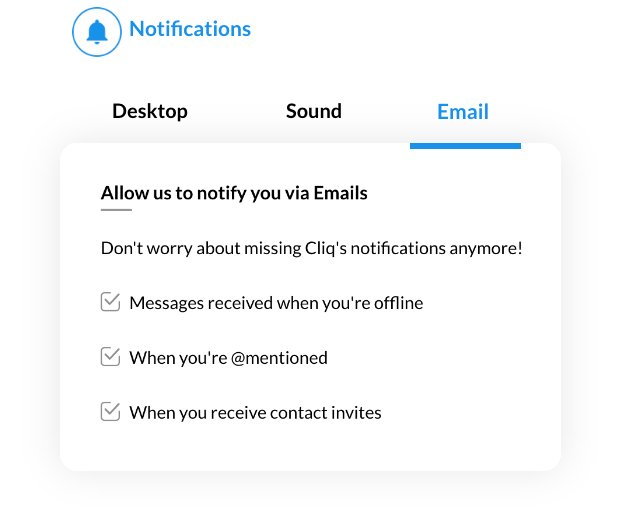 Module Configurations
Choose from a list of modules we've laid out and tailor Cliq to suit your needs.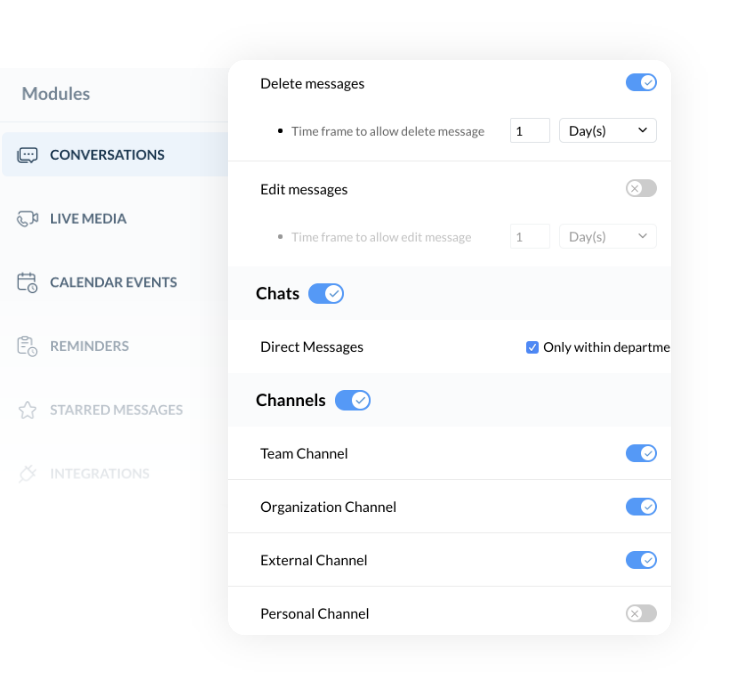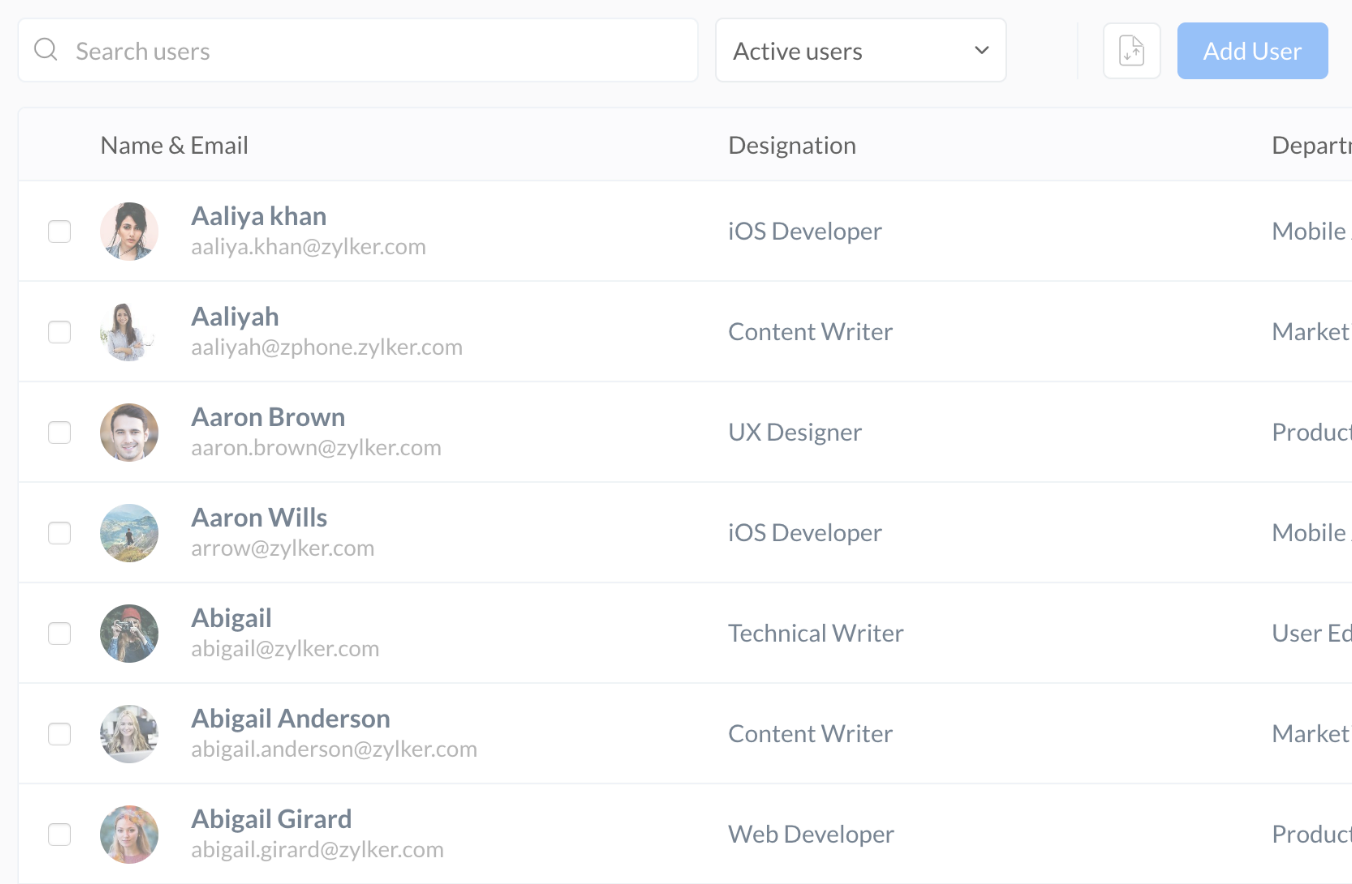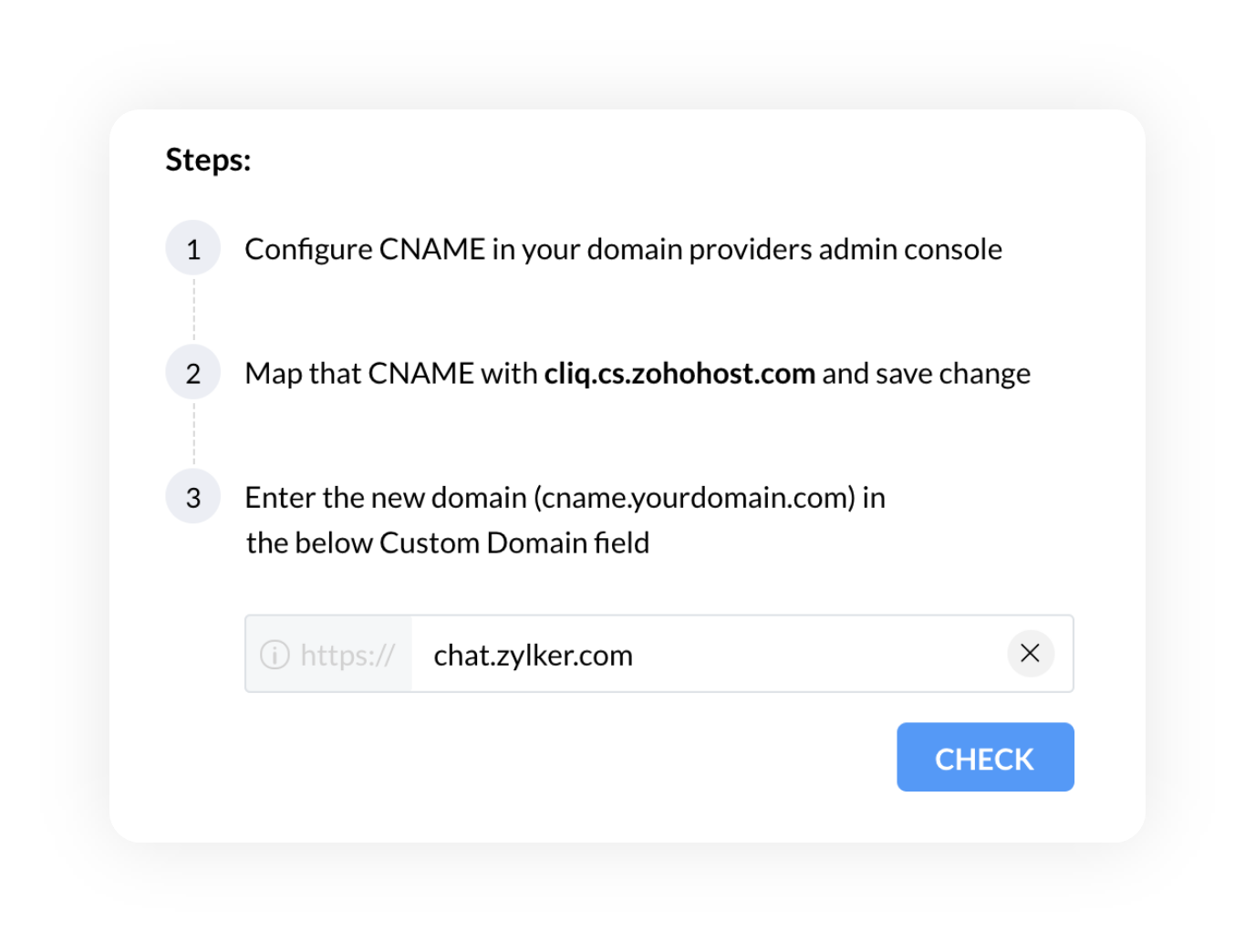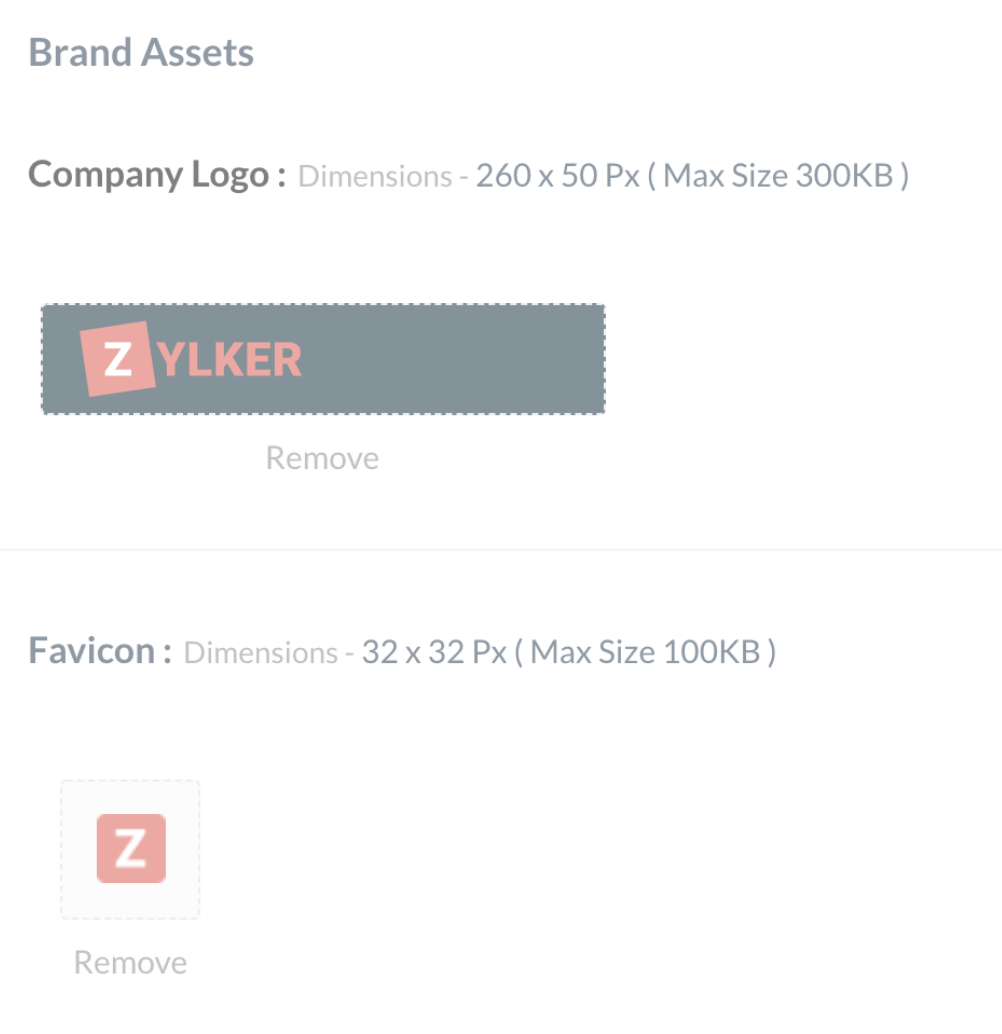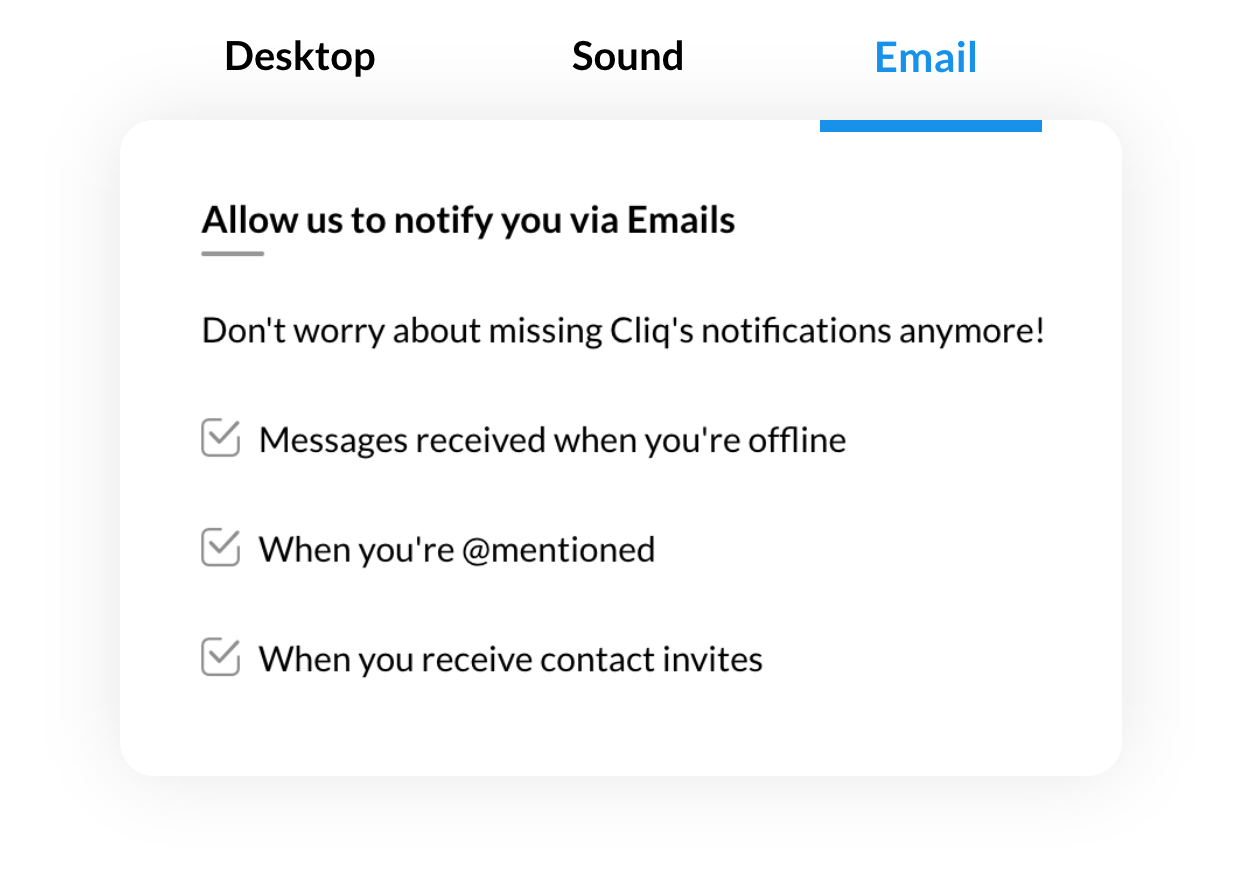 ---
INTEGRATIONS
Supercharge your workflows
None of your apps should live in isolation. Your enterprise chat app should function as a single platform that brings your data, people and apps together. With more than 50+ integrations, flexible APIs, and a robust platform, you can easily integrate Cliq with your apps, centralize all existing workflows, and improve your employee productivity.
You're in good company!
Brands that trust Zoho Cliq for workplace communication.
Frequently Asked Questions
What is enterprise chat?
Enterprise chats is a communication platform built specifically for enterprises to exchange messages, share files and collaborate in real-time.
Why do enterprises need instant messaging solutions?
Enterprise instant messaging solutions provide a centralized and secure environment for teams in an organization to collaborate effectively. They come with features like user management, advanced search, channels, teams, departments, usage reports, org policies and more.
What are the benefits of using an enterprise chat software?
How to choose the best instant messaging software for enterprises?
Several factors come into consideration when opting for instant messaging software for your enterprise. Let's discuss some:
1. Features offered and how it suits your organization.
2. The security standards adopted by the app.
3. Pricing of the product and whether it is cost-effective.
4. Scalability of the product as your business grows.
5. Integrations that it offers.
6. Customization and platform capabilities to fit your organization's needs.
7. Customer support and assistance.
Why is Zoho Cliq the best enterprise chat solution?