Built to Scale
Collaborate across the Organization
Your organization has a unique set of needs, which is why it's important to align Cliq around what matters the most—communication.
Channels
Channels are your productivity hub within Cliq. Use channels for individual teams or across multiple teams, and be assured that all of you are on the same page.
Global Search
Messages, Contacts and Channels—you can find whatever you're looking for all in one search bar
Enterprise-Grade security
In today's online marketplace, your data is your number one asset. Cliq gives you more power to safe-guard your employees' accounts from security threats.
Learn more about security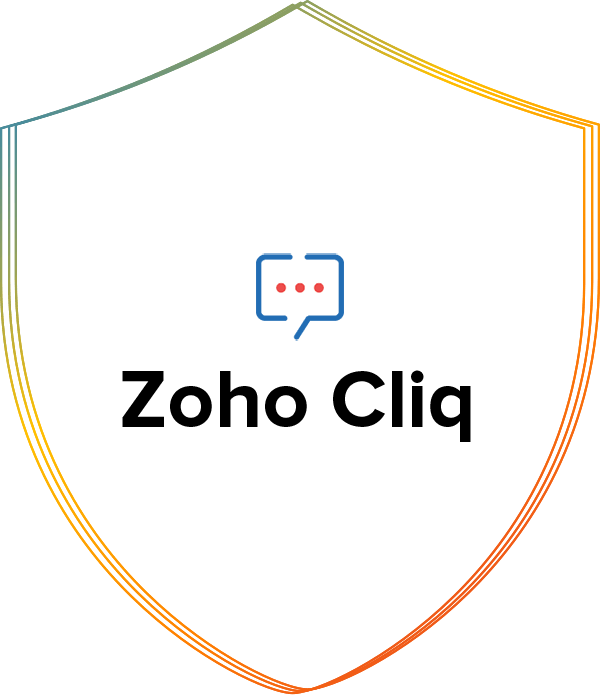 Permissions

Create roles, define permissions, and establish policies. Apply channel and integration-level permissions for different user profiles within Cliq to ensure your employees use the software as you intend them to.

Password Policy

Enforce standards for secure passwords. As an admin, you'll be able to mandate two-factor authentication for every login.

Restricted Access

Allow your users to access Cliq only through specific IP addresses.

Mobile Management

Secure your business data in Cliq by configuring EMM and app controls for your corporate devices.
More control over your data
Your enterprise chat app should make way for efficient collaboration. Easily view and handle your organization's data through your admin panel's dashboard.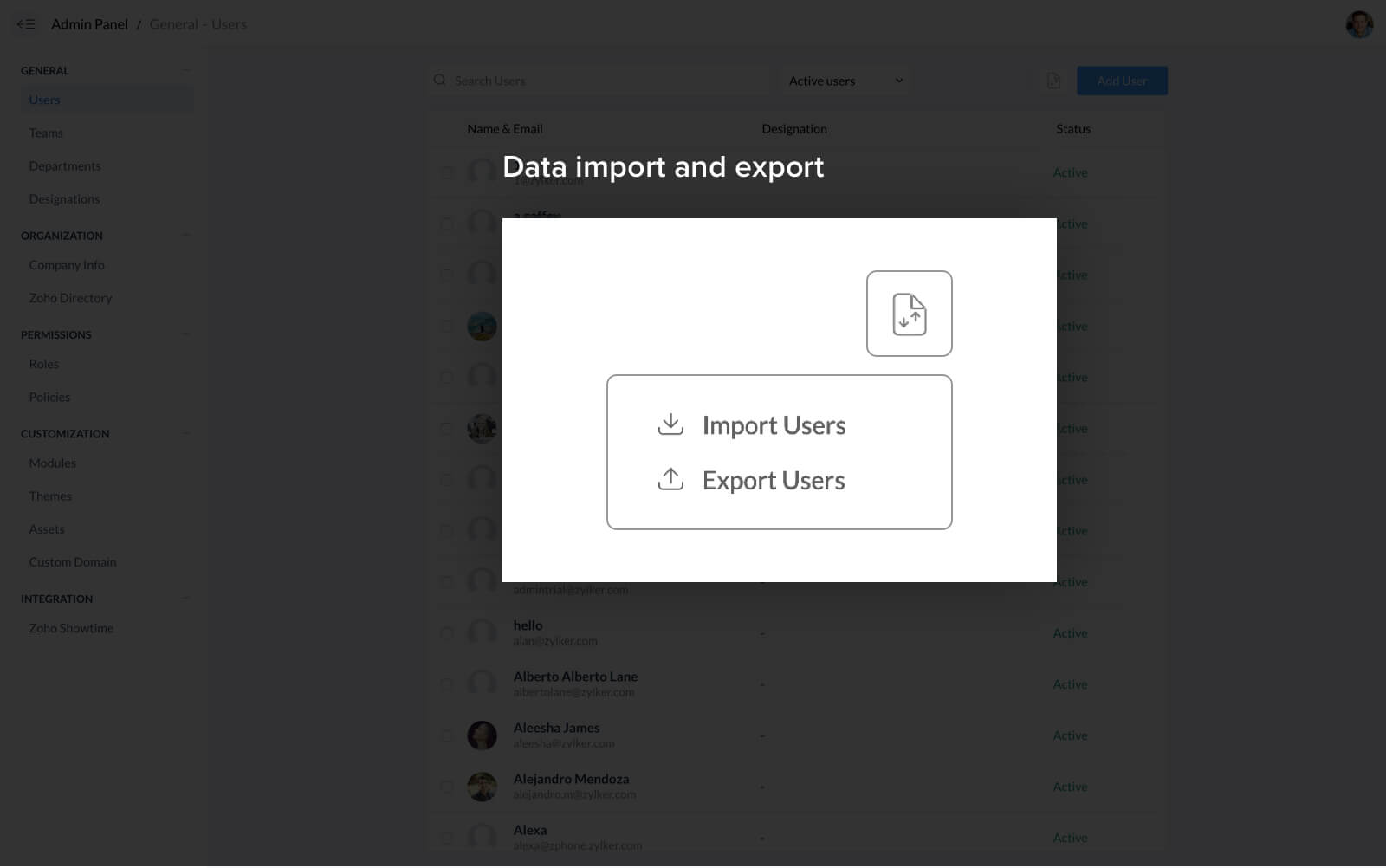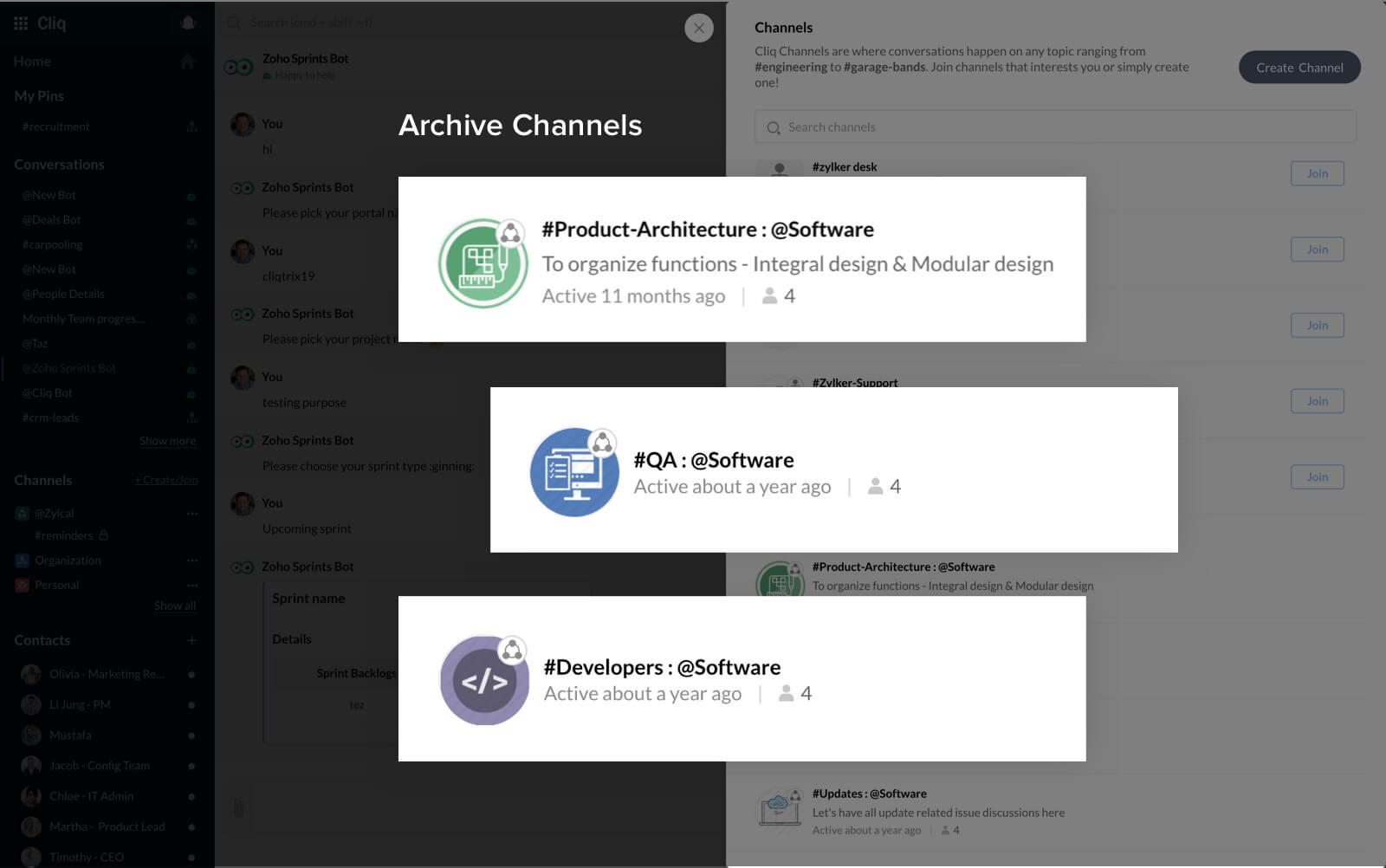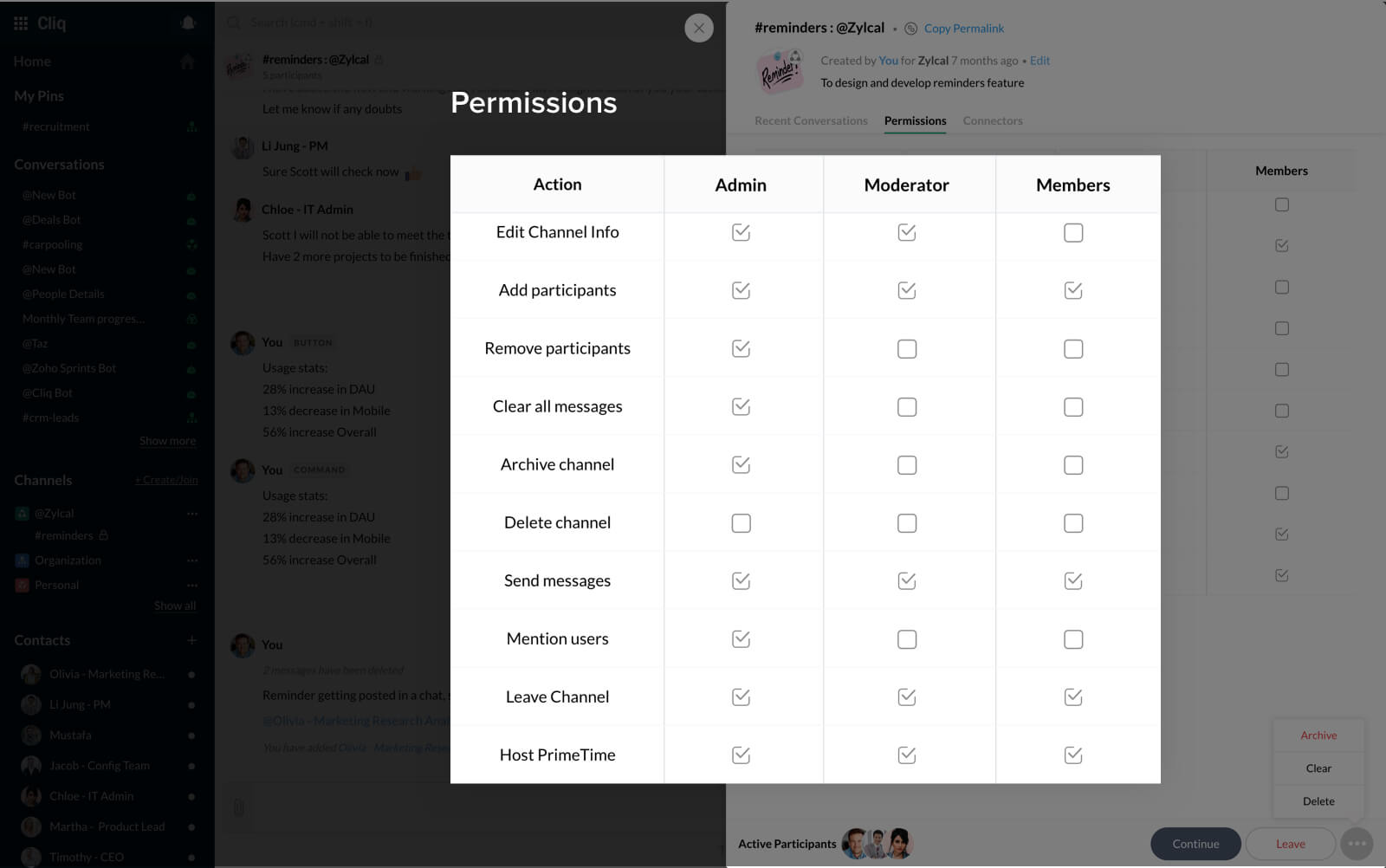 Simplified data import and export

Once you're done setting up Cliq, we've made importing or exporting your user data quick and easy.

Archive Conversations

Data archiving ensures that your discussions are preserved for future reference and accountability.

Control Collaboration

Set user restrictions for all channel types and at all levels with permissions. Specify who can add and remove participants, or send messages—ensuring that your teams collaborate effectively.
Branding
Have Cliq reflect your brand's theme and logo.
Module Controls
Choose from a list of modules we've laid out and tailor-make Cliq to suit your needs.
Custom Domain
Get Cliq accessible within your company by setting up a custom domain!
Notifications
Set up prompt email and sound alerts, you don't need to worry about missing messages or calls anymore!
Customize
Cliq your way
Modify Cliq to match your brand and reflect your organization's layout.
Organize workforce the smart way
You know your teams better than anyone. Set up Cliq based on your unique organizational structure using the admin panel.
Supercharge your workflows
Centralize your existing apps and systems. With more than 50 extensions, flexible APIs, and a robust platform, you can easily integrate your other apps with Cliq.
See all extensions
Always stay synced
Drive communication with your team from anywhere. Cliq syncs seamlessly across all your devices.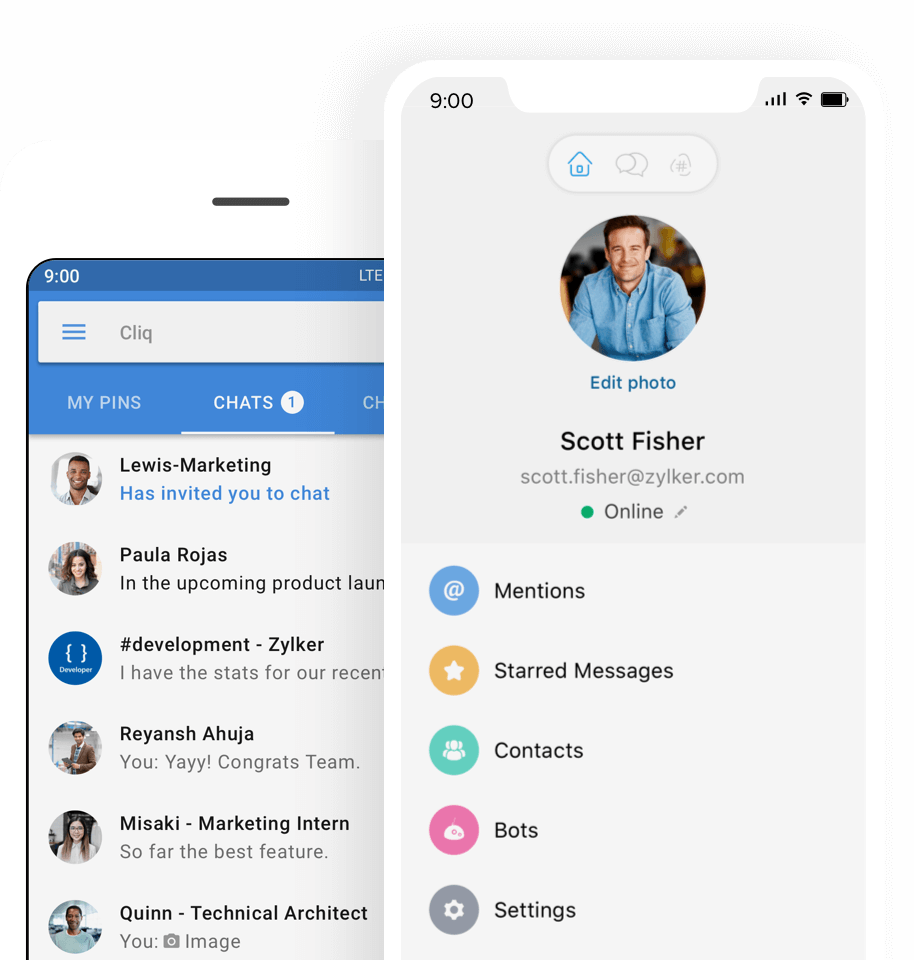 We've got your back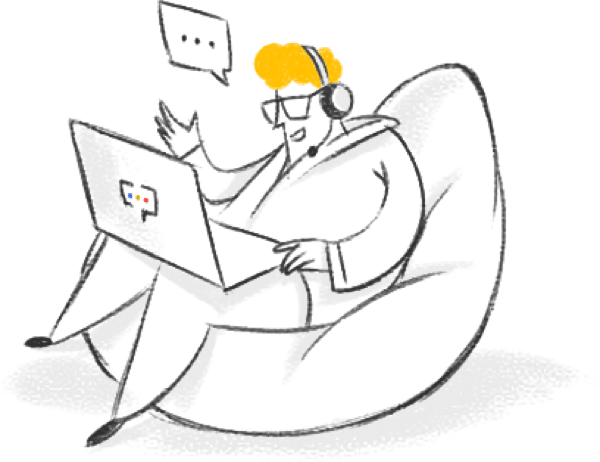 From on-boarding to fine-tuning Cliq, our support team is available to assist you.
Request a demo
You're in
good company!
Brands that trust Zoho Cliq for workplace communication.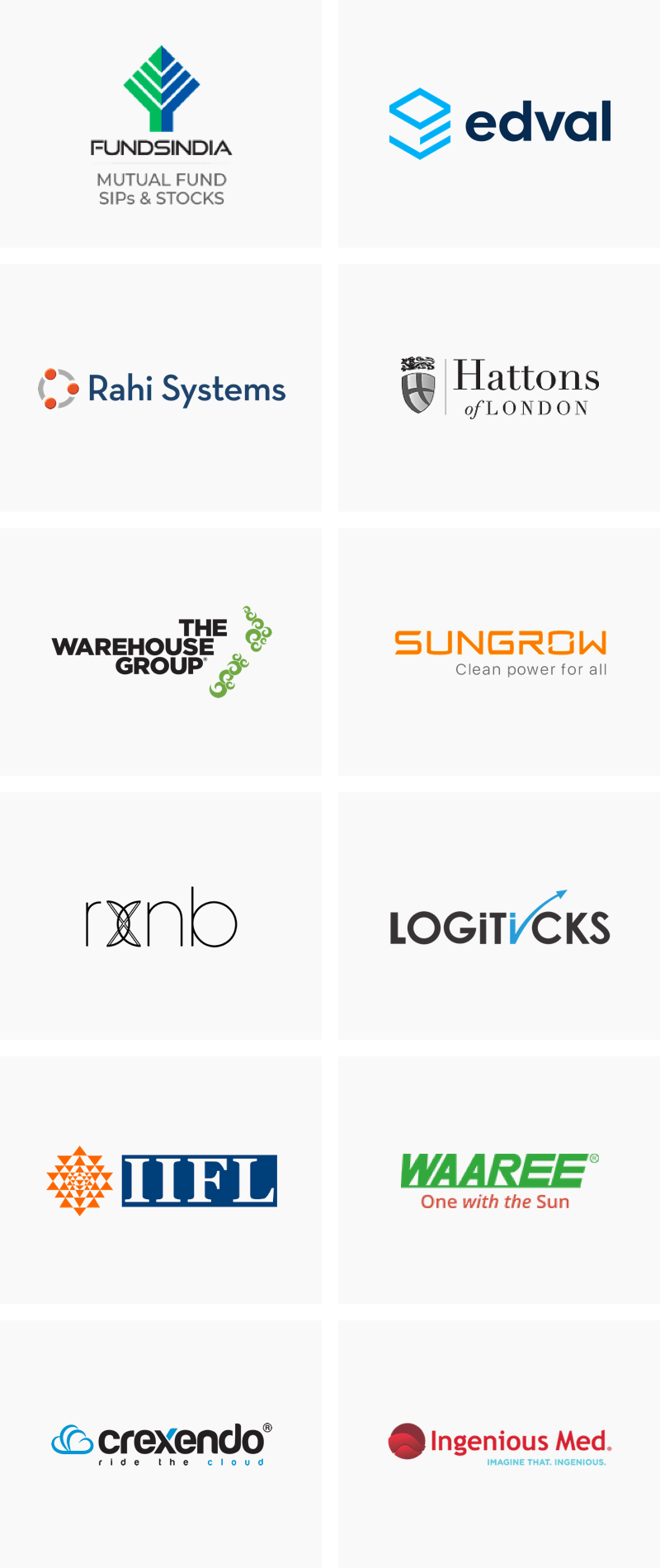 Connected enterprises accomplish more.