A dedicated external collaboration space
We know business communication is not just limited to the people in your organization. With Networks for organizations, you can create an exclusive outside collaboration platform to work more efficiently.
Partners
Keep your partners looped into your business activities with the latest updates and build stronger rapport with them.
Contract employees
Collaborate with contract employees without needing to onboard them fully into your organization.
Vendors
Communicate and negotiate with vendors and third-party collaborators to zero in on deals and get the job done.
Connect and collaborate like never before
Easy onboarding
Joining a network is simple. All you need is the link to access the network to sign up, join, and start interacting.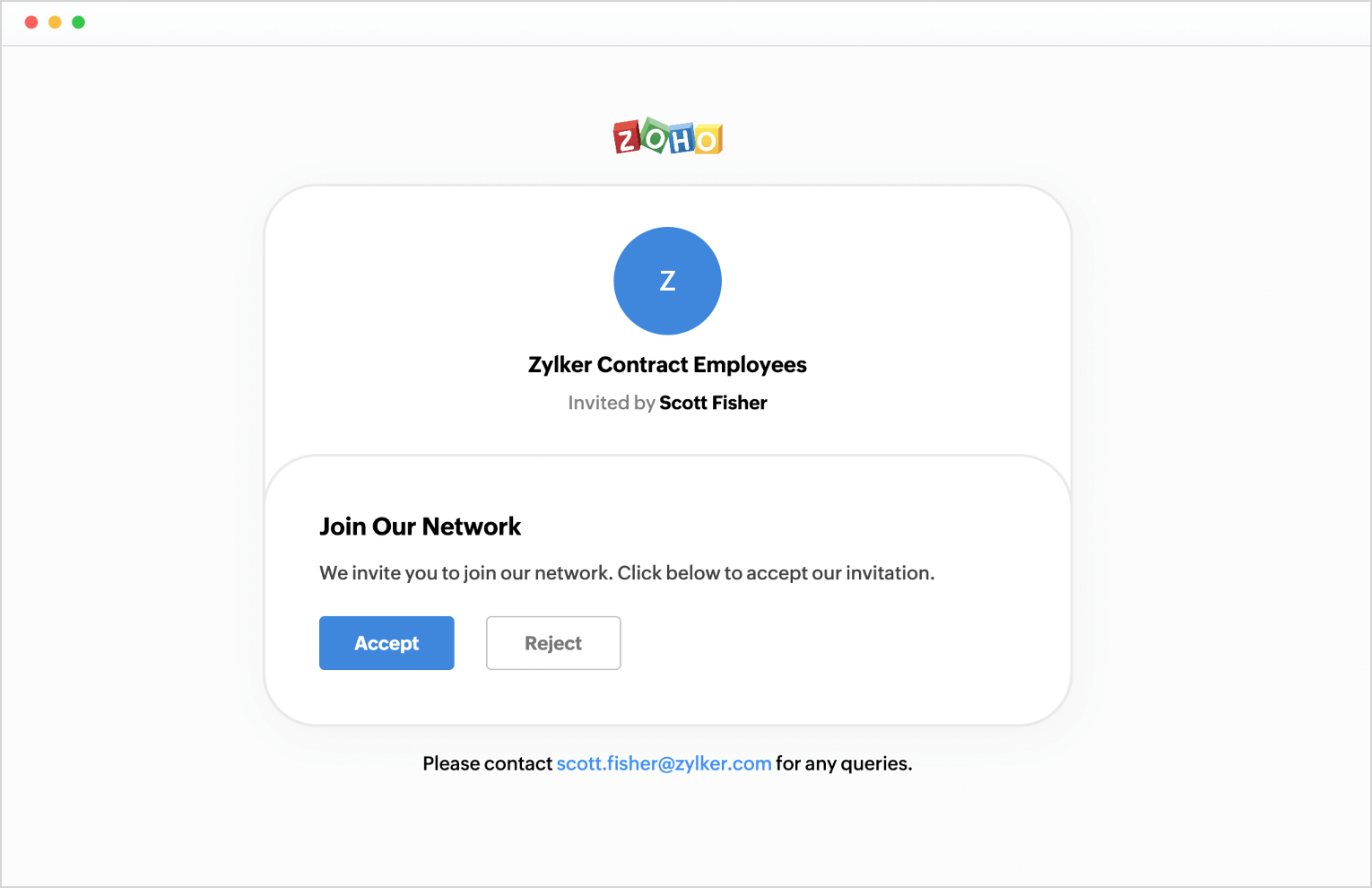 Structured collaboration
Hold organized, productive conversations with the structured collaboration tools in Networks. Create Channels and Groups for focused discussions inside a network.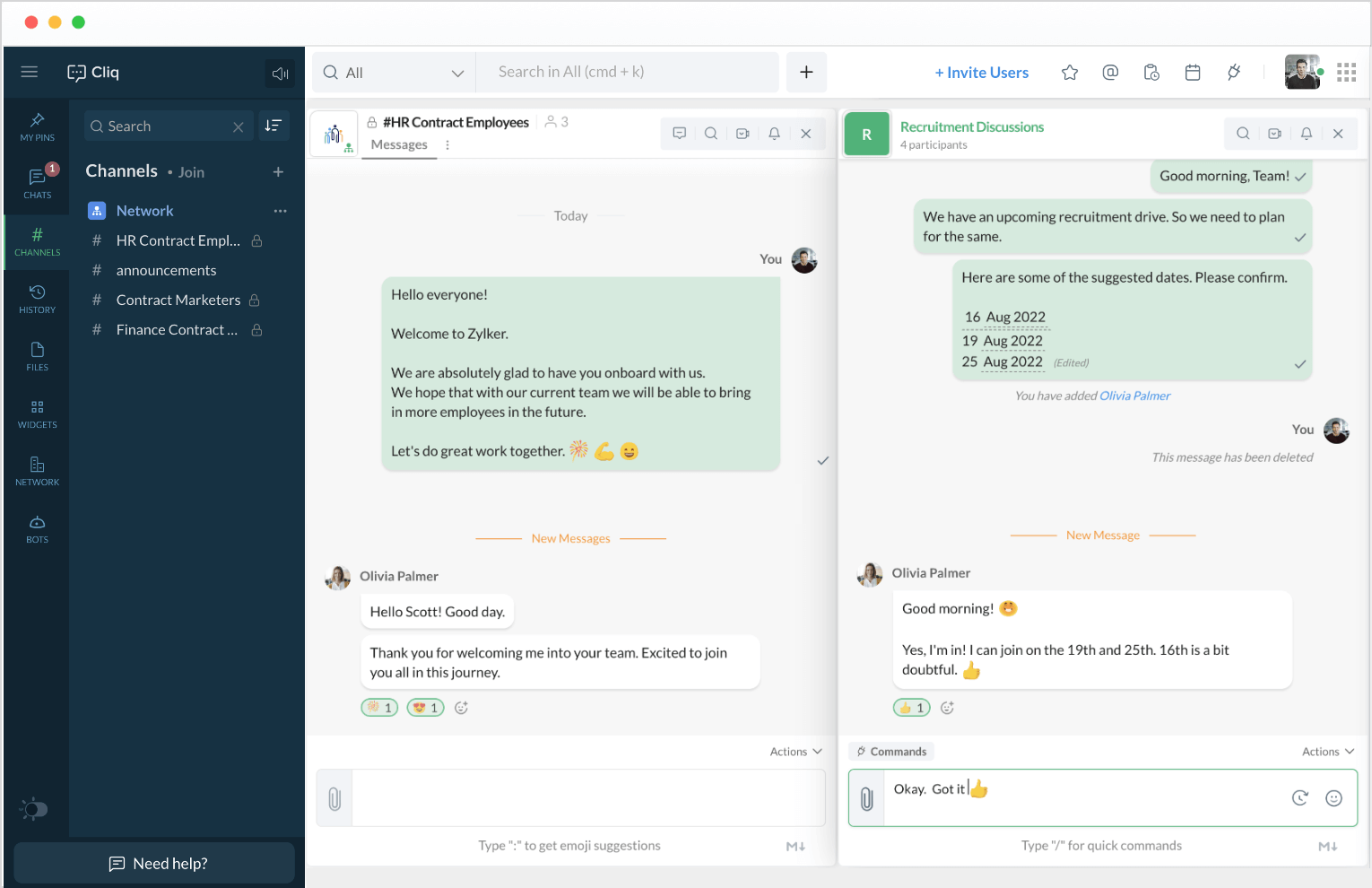 Public teams for open communication
Create a space for members to engage in transparent discussions with public teams in Networks. Any network member can join the team and get associated with the others.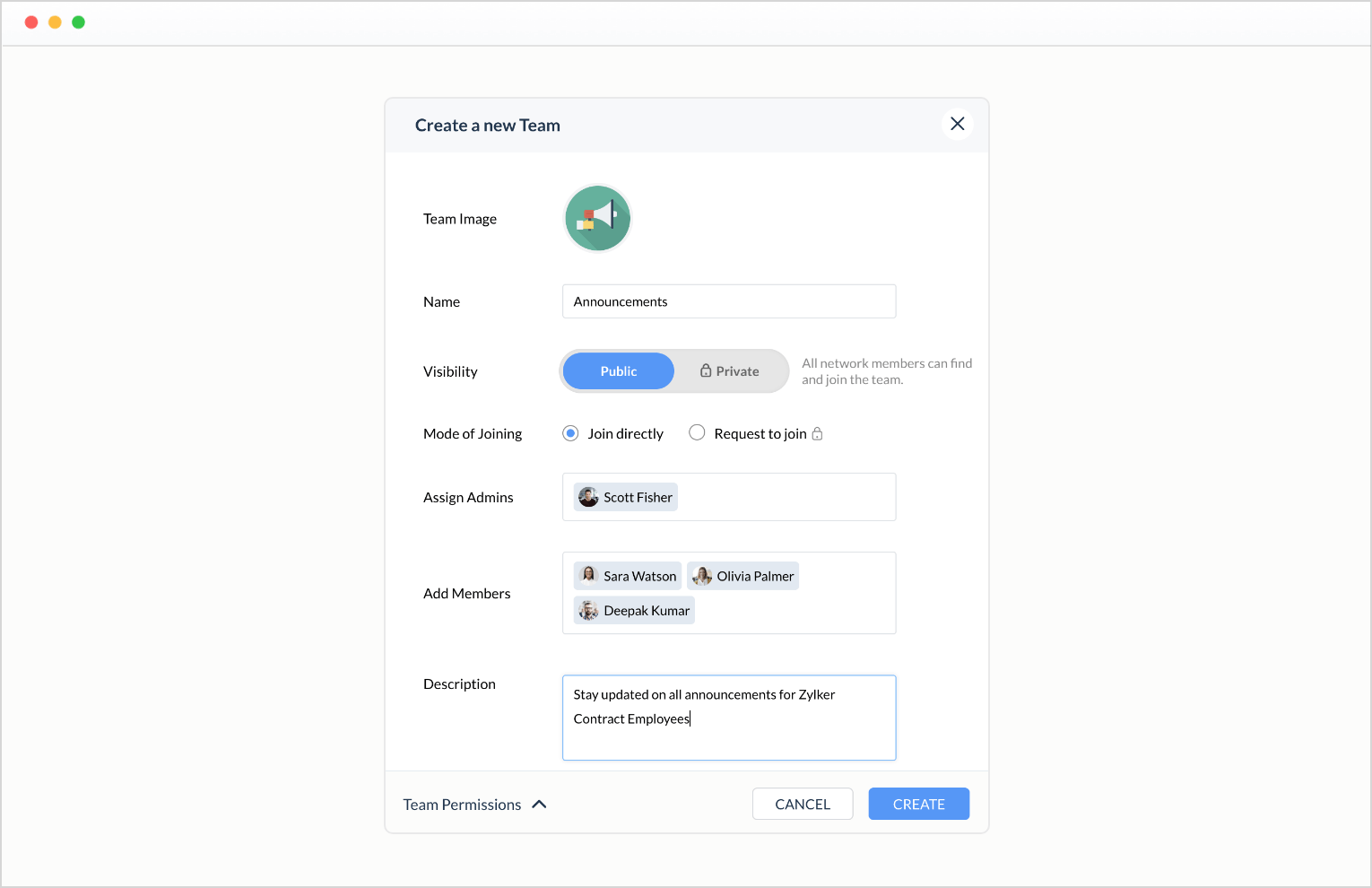 Meetings on the go
Connect with network members over audio and video meetings from anywhere. Facilitate easy brainstorming and discussions with real-time screen sharing and whiteboard collaboration.
Tools to automate your workflows
Automate your day-to-day activities to save time and connect to apps outside Networks with our customizable internal tools like bots, schedulers, slash commands, widgets, and more.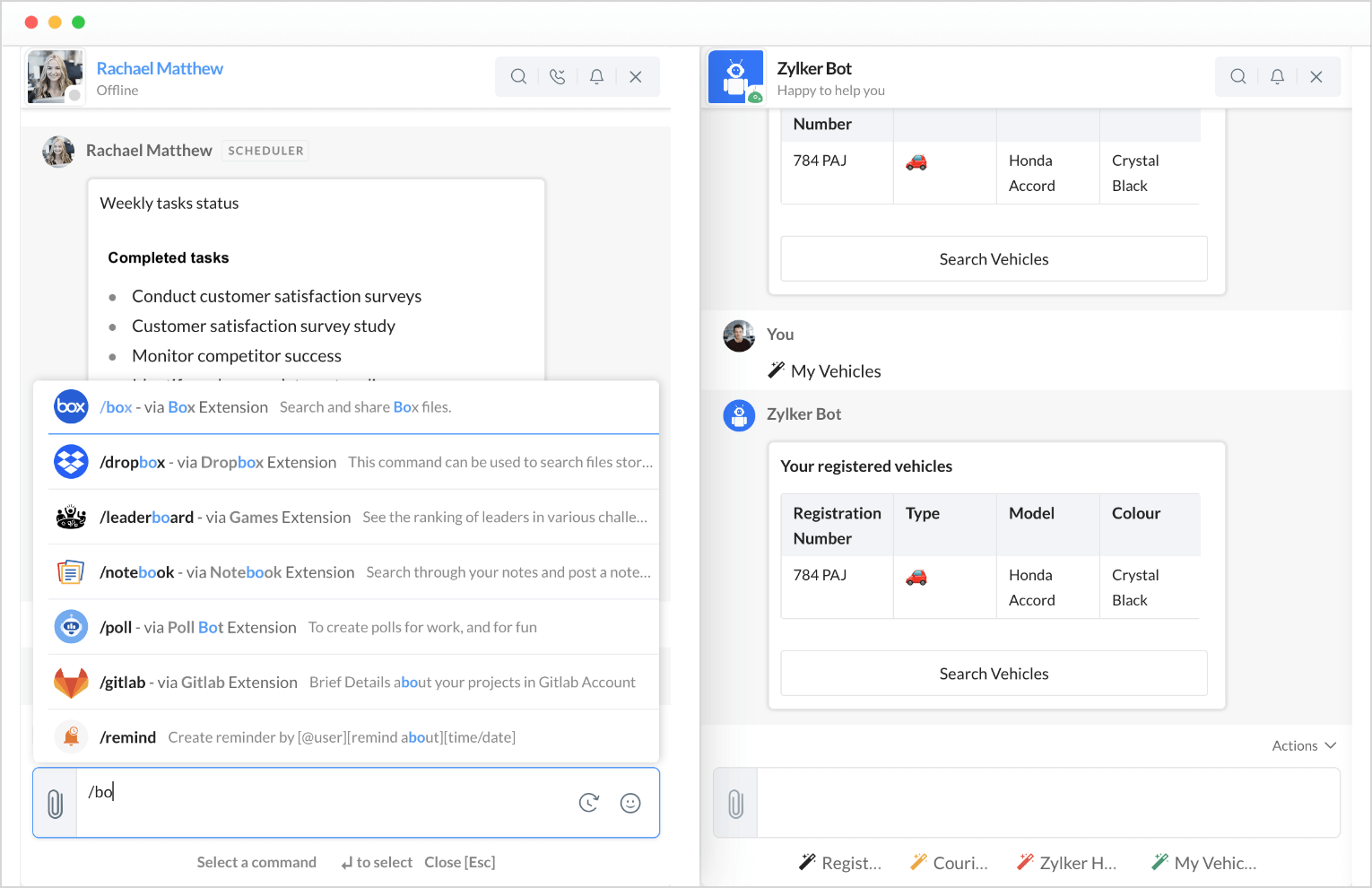 One account for multiple spaces
There's no need to create two different accounts for your organization's Cliq and your network. Sign in to your desired workspace using the same account and manage your networks from the organization's admin panel.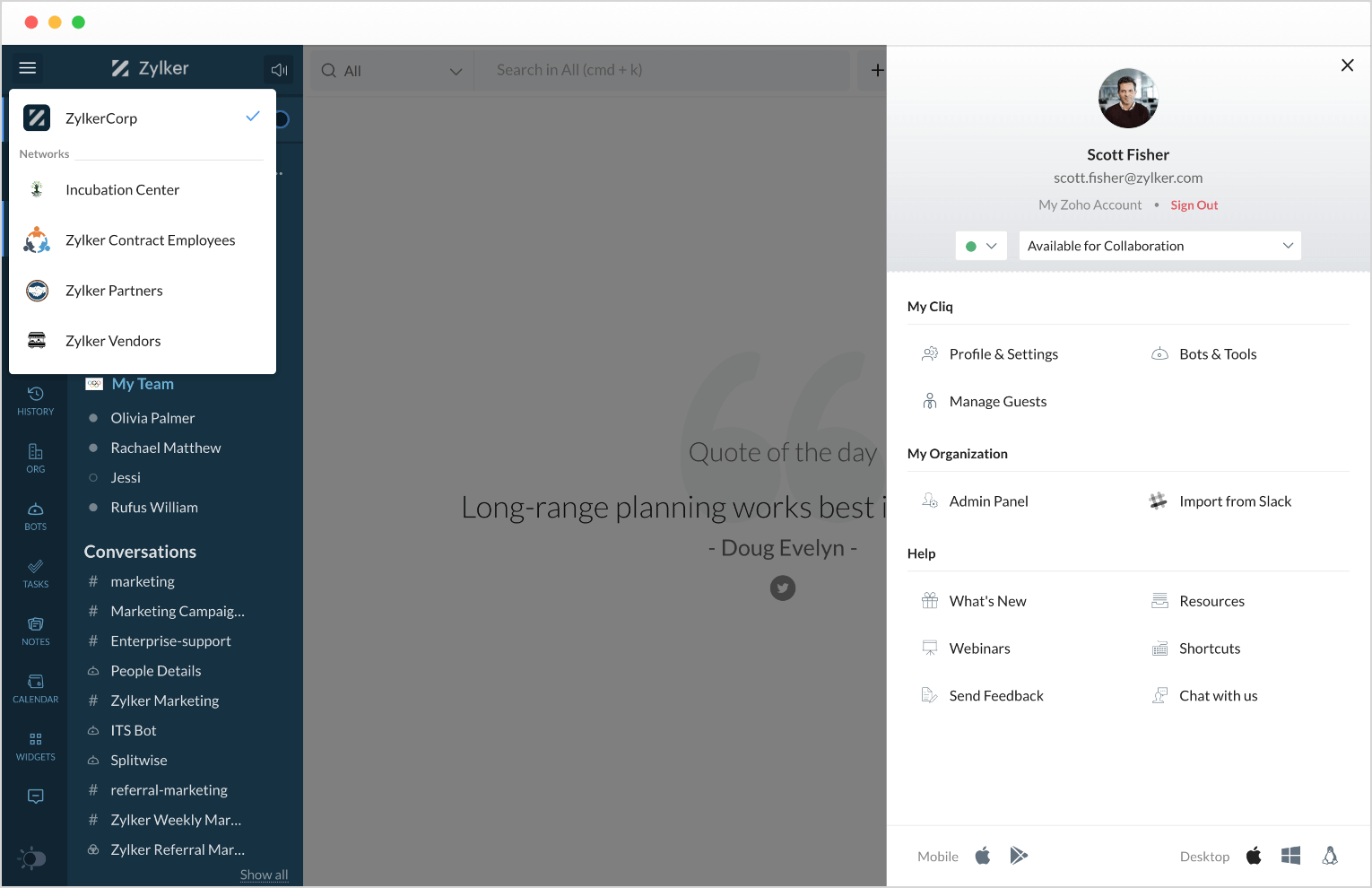 Customizations to suit your needs
Enjoy a completely personalized look and feel for your network by customizing the theme and assets.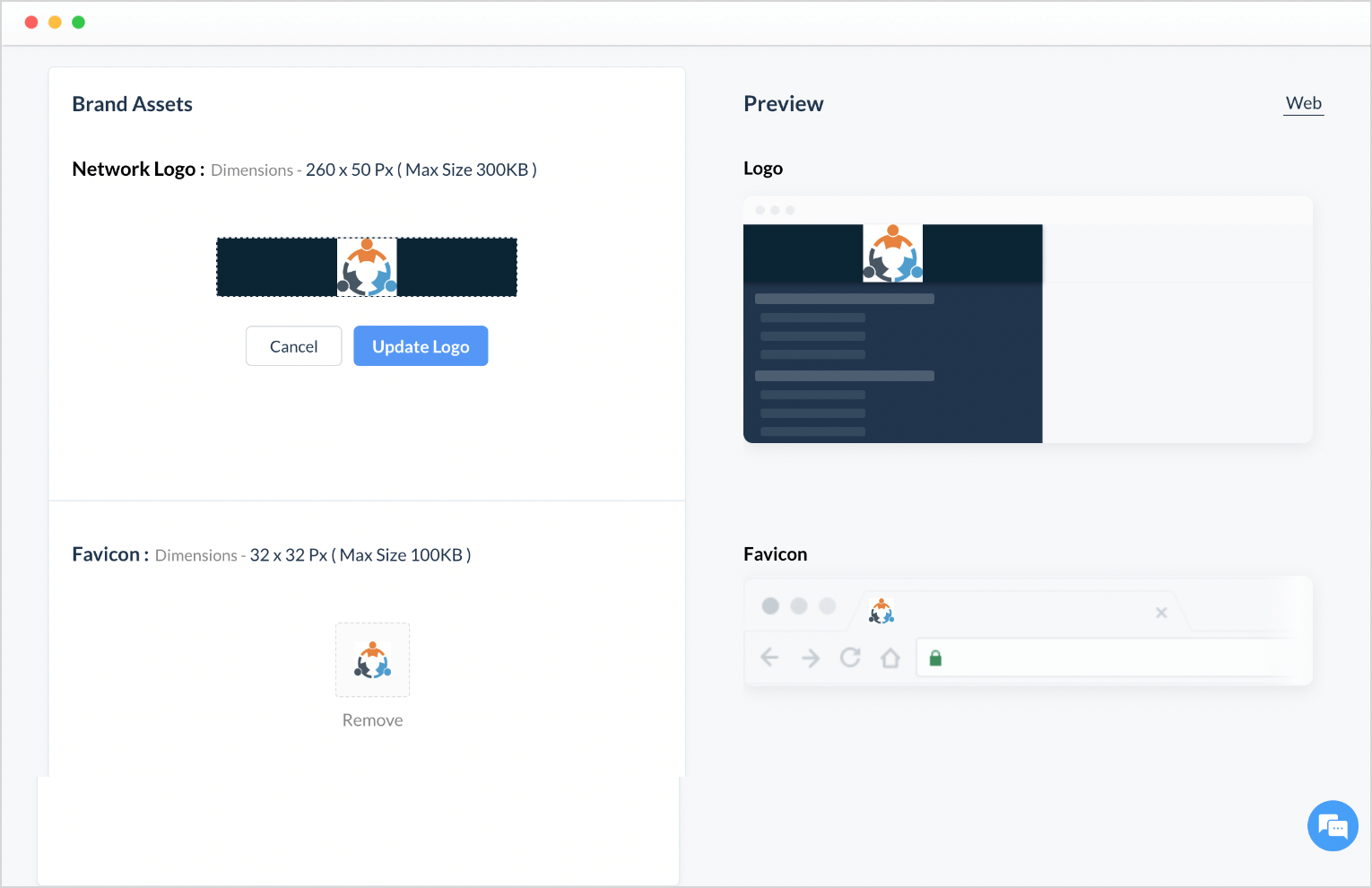 Data security at its best
Your network messages are encrypted at rest and in transit, ensuring total security while you communicate with people outside your organization. Conversations and other data in your Cliq business account are not accessible to networks in your organization, eliminating information overlap.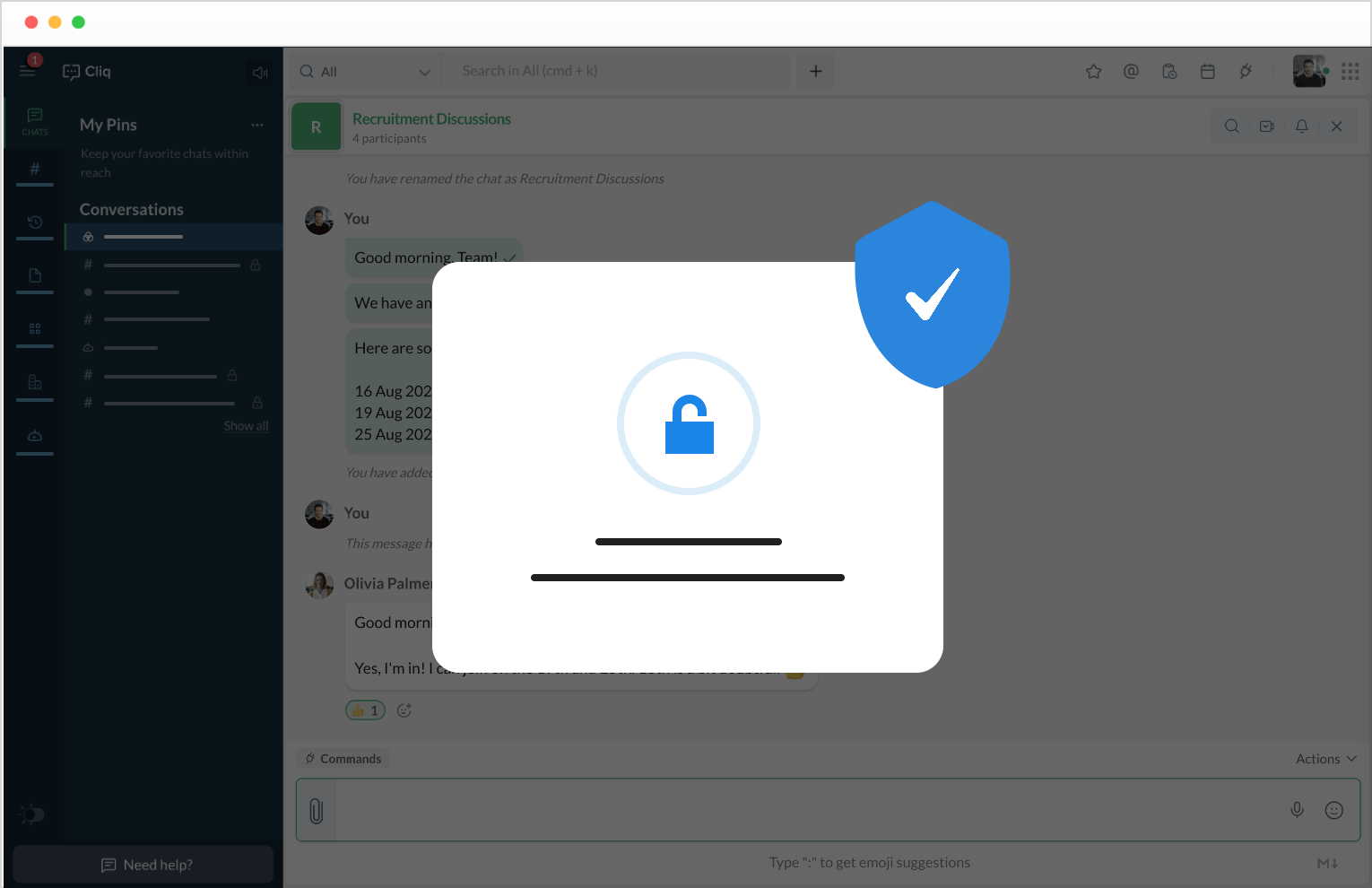 Complete control of information
Efficiently manage your communication and restrict data within a network with dedicated admin controls and permissions for each network.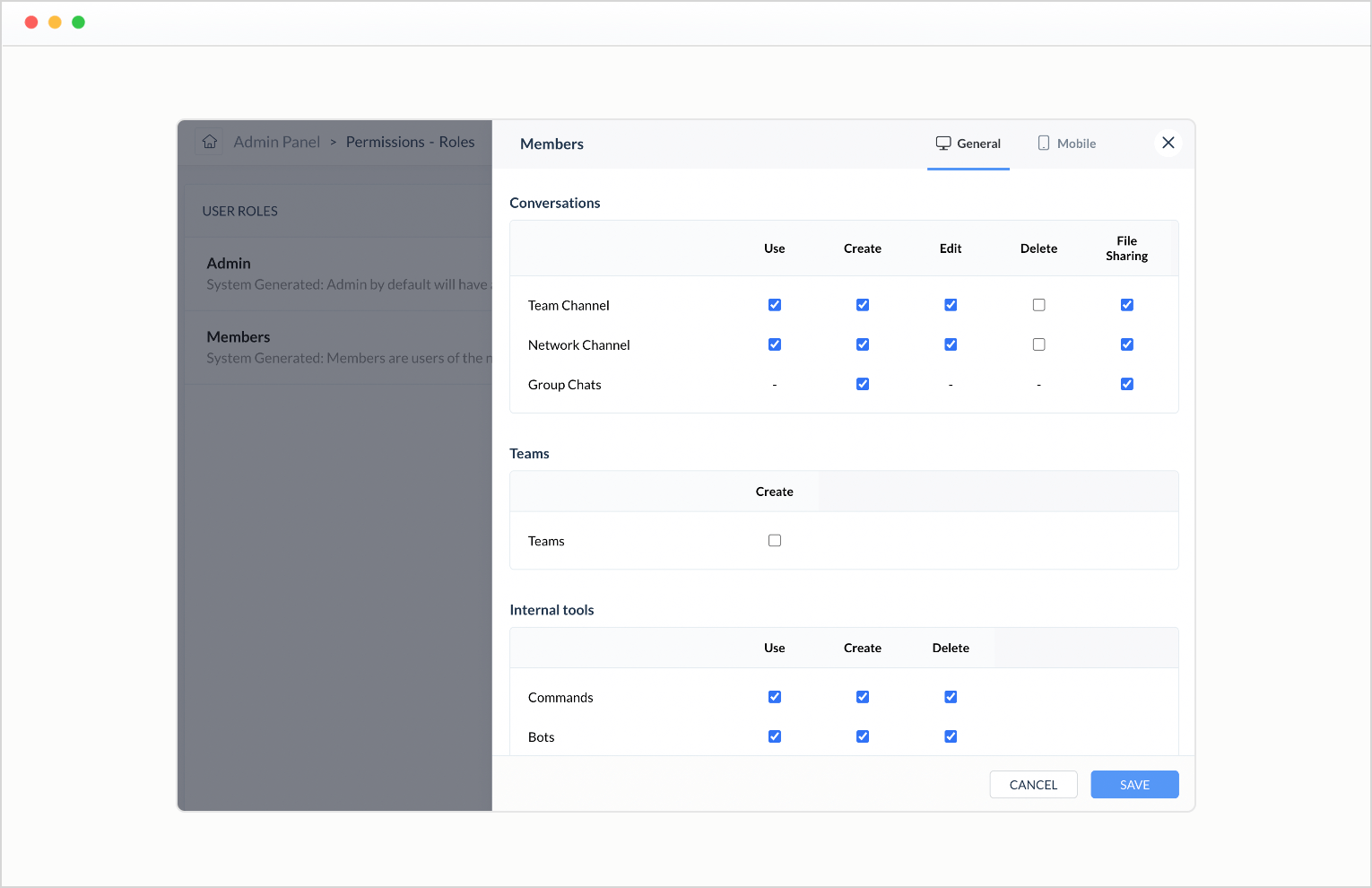 Multi-network support on mobile
Are you a part of multiple networks? Easily switch between your networks while on the move from your mobile device.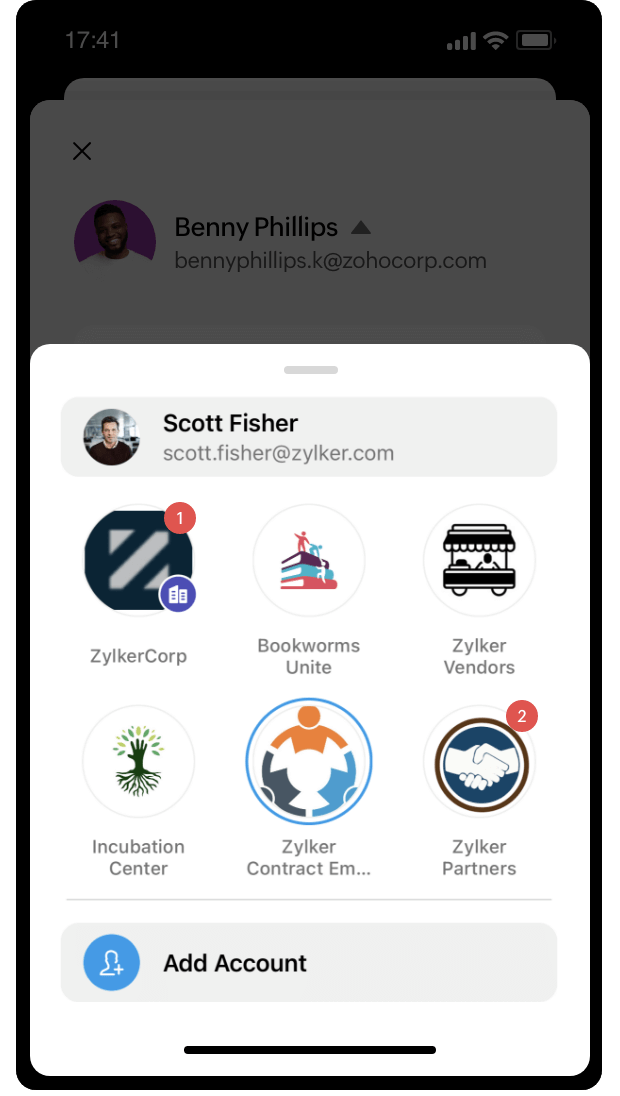 Frequently Asked Questions
What is the difference between a Business Organization and Networks?
A Business Organization is for any company looking for a business communication tool. The administrator has complete control over all user accounts in their Business Organization.
Businesses can use Networks to collaborate with external users like partners, contract employees, or vendors. With Networks, the administrator can only modify the user profile. Networks also don't support business-specific features, like integrations with HR, EMM, Active Directory, or Zoho Directory.
View a complete comparison of Cliq's Business Organization and Networks
How do Networks differ from External Channels, Guest Chat and Cross Org DM features in Cliq?
External channels in Cliq help bring people outside your organization to join the particular channel with limited file sharing and permissions. You can also add your employees in the same channel to collaborate.
Similarly, with guest chat, the external user gets access only to that specific chat in a browser without the rest of the elements in the Cliq UI.
With cross org DM, you can invite an external contact who is part of a Cliq org. Once the user accepts the invite, you can start communicating with one-on-one chat and calls.
Networks is a great option if you want to support efficient external collaboration with the fully featured Cliq experience. With Networks, all members can engage in one-on-one-chats, join channels, attend meetings, share files, and collaborate in that particular network, while your org account is completely inaccessible to network members and helps keep your organization assets secure.
View a complete comparison of Cliq's external collaboration options
How can a Business Organization account get the Networks feature?
How secure is Cliq's Networks?
Cliq's Networks is protected by enterprise-grade security, just like our Business Organization option. Conversations are encrypted at rest and in transit to keep your communication completely safe and secure. Network admins can take complete control using permissions to restrict data within the network, and prevent data sharing outside the network.