Creating a meeting with Google Calendar
Your Google Calendar is more than just a daily planner or scheduler; it is your ally in helping you to schedule meetings, add them to your calendar, and stay reminded about them right from your mobile device. Scheduling a meeting is the same as creating an event in your Google Calendar, but it is surprisingly one of the most underutilized features of this app.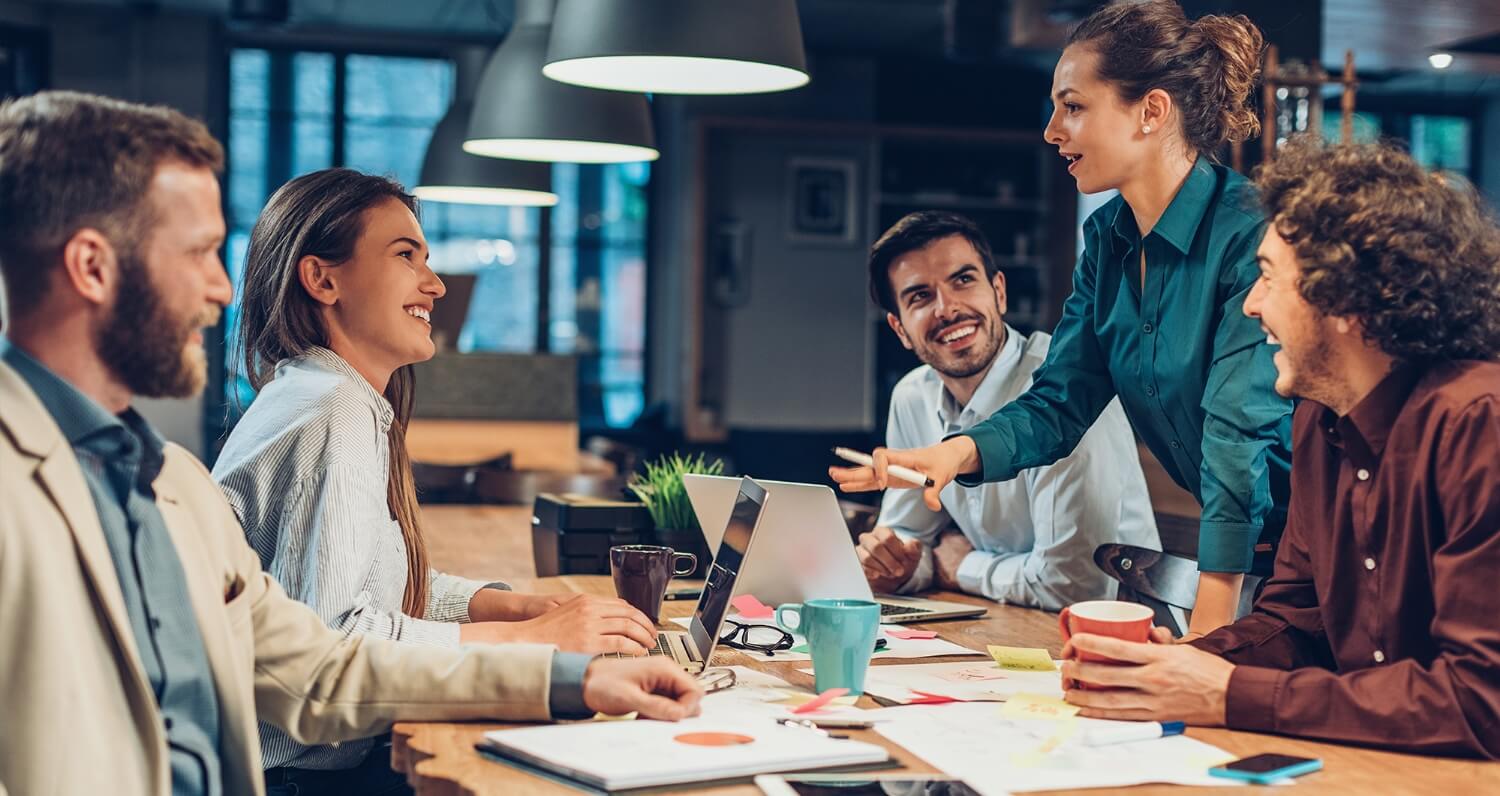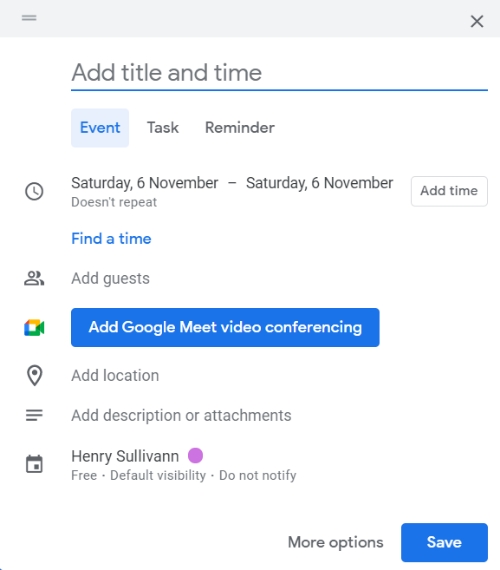 With Google Calendar, you can:
Create meetings that run for minutes or the entire day. Customize meeting length in 30-minute increments.
Choose a particular time zone for a meeting and Google Calendar will automatically convert it for the guests.
Create recurring meetings and save the effort of recreating them every single time. Choose and customize how you want them to recur.
Add guests to the meeting through their email addresses, and view their responses from your Google Calendar.
Set guest permissions and allow others to modify events, see the guest list, and invite others.
The 'find a time' feature analyzes calendars to find a convenient time for the meeting with your guests.
Virtually meet with your guests through Google Meet
Add the location of the event to the meeting, and guests can access it via Google Maps.
Send multiple reminders (push or email notifications)
Google Calendar appointment slots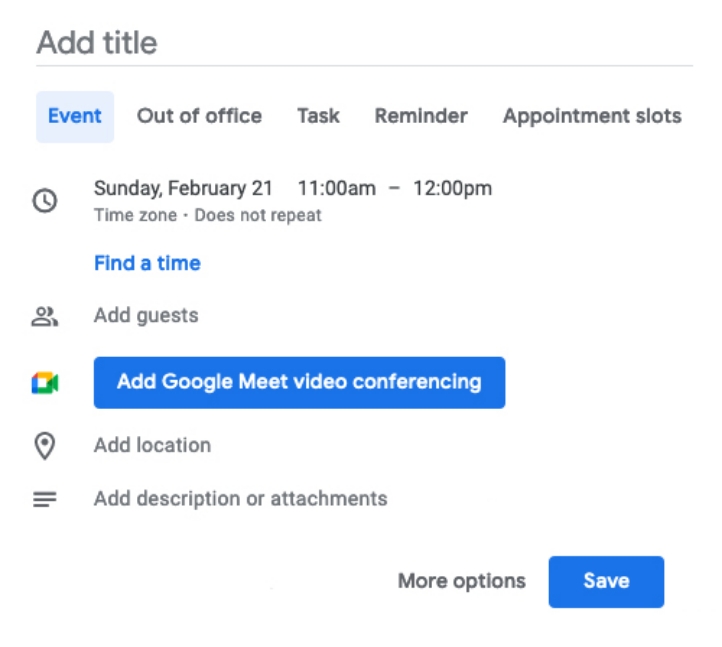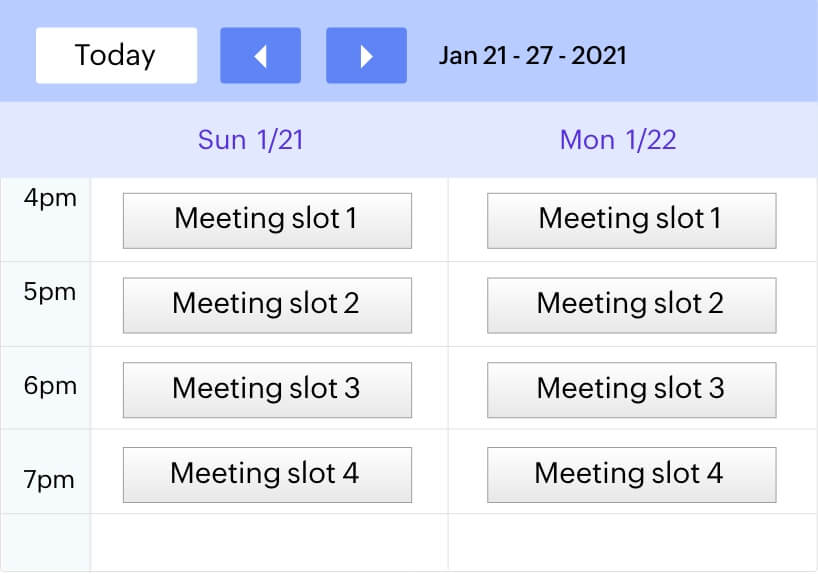 If you schedule a lot of meetings every day, you might be thinking 'Instead of me inviting people to my meeting, can they schedule a meeting from my available times?' That is precisely what you can enjoy doing from the Google Calendar appointment slots with a Google Workspace subscription.
With the appointment slots feature, you can list your available time slots on a separate appointment page, and guests can easily schedule an appointment with you in just a few clicks. The booked slot will be unavailable for other guests, and Google will automatically schedule the appointment as an event in your calendar. A Google Meet link and an option to connect via a phone call will automatically be set in your event details.
This feature of Google Calendar in Google Workspace is designed for anyone who meets with others frequently. After setting it up once for their preferred time, all you have to do is sit back and let Google Calendar work its wonders.
While setting up your appointment slots, you can customize the date and time ranges for your time slots. You can set them for 30 minutes on one day or customize them for longer.
You can customize the appointment to a single slot or multiple slots with a fixed duration.
On the appointment page for the calendar, your guests can choose a slot, suggest a location, and give you any details in the description box before they go ahead and save their appointment slot with you.
Using Google Calendar for customer appointments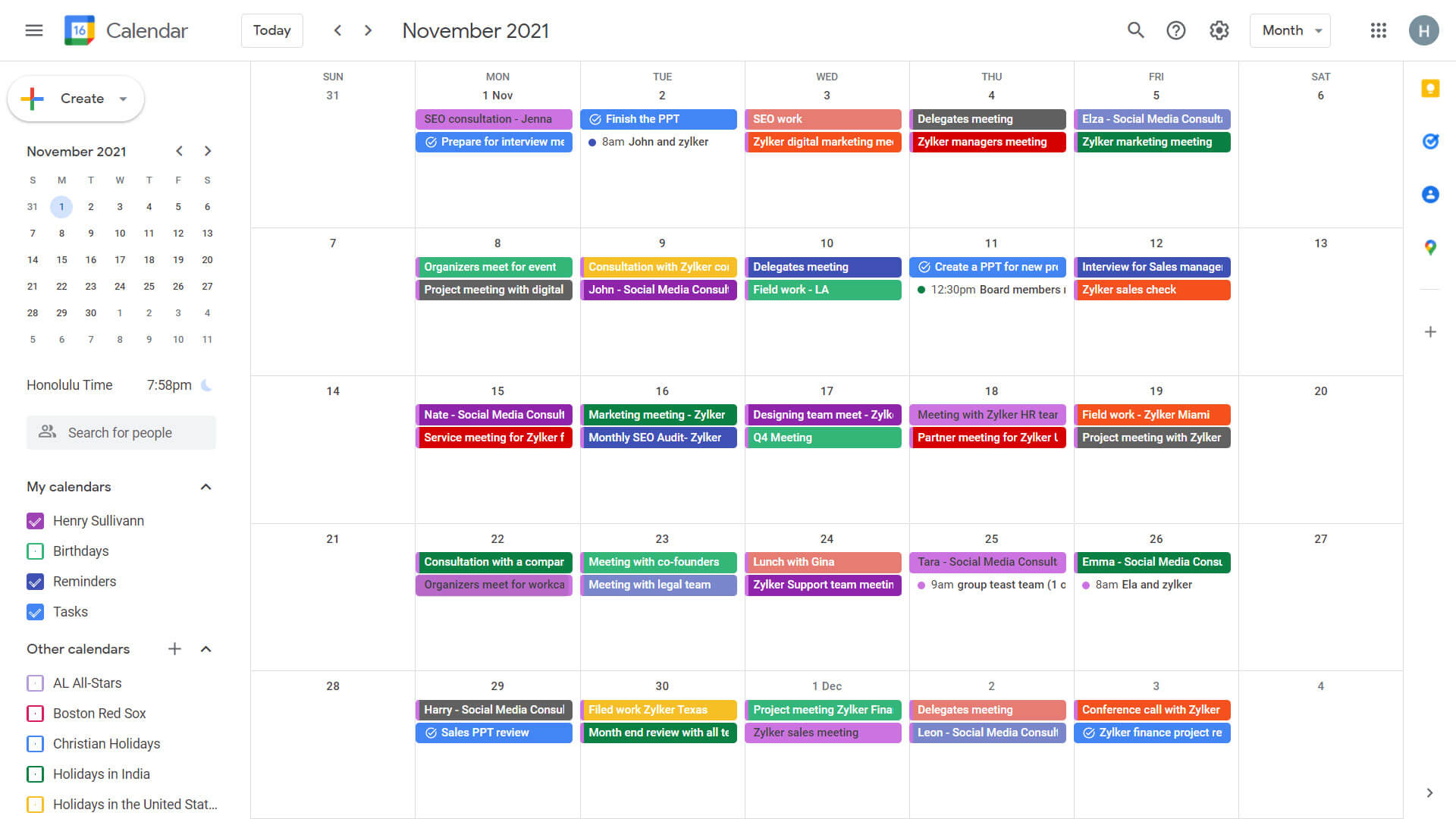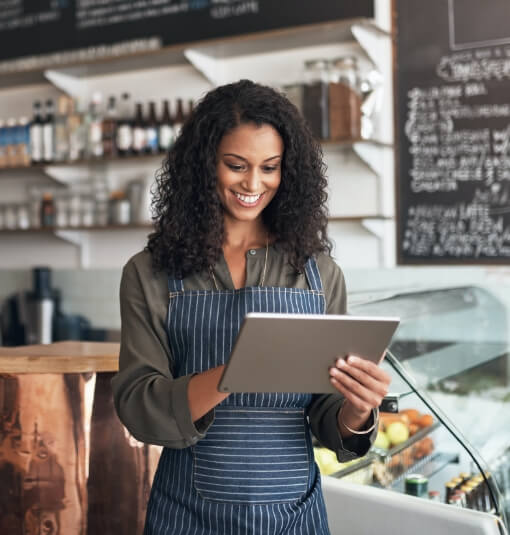 Google Calendar events, appointment slots, and sharing your Google Calendar are good options to meet with friends and colleagues. However, it is a stretch when it comes to meeting with your customers.
Customers will have to log in with Google to book appointments.
Setting up appointment slots and sharing them with others isn't straightforward.
You cannot hide event names or details when customers see your calendar.
The UI will be difficult to set up availability.
The customer-facing interface cannot match your branding.
When you have another event on your calendar for a particular time, your appointment page will still display the slot open for that time and thereby allowing a clash of schedules to take place.
Automatic reminders cannot be set for your guests to meet with you.
Managing a team and delegating appointments is difficult.
It is not possible to collect information from your customers for the appointments.
It's imperative to understand that, at its core, Google Calendar is a calendar app that allows you to manage your schedules, stay organized, and help you to be more productive. It is not an app that solely focuses on appointment scheduling.
Appointment scheduling apps like Zoho Bookings, Calendly, and Acuity are ideal for this, and Google Calendar allows you to sync with these tools. These apps will validate your availability with your Google Calendar and collect bookings on available slots. These appointments will then be added to your Google Calendar as well.
A good appointment scheduling solution should allow you to schedule meetings with your guests without breaking a sweat. At the end of the day, it should make it easier for you to organize, track, and meet with your guests while also making sure that your guests find the entire process of fixing a meeting enjoyable.
Google Calendar and scheduling apps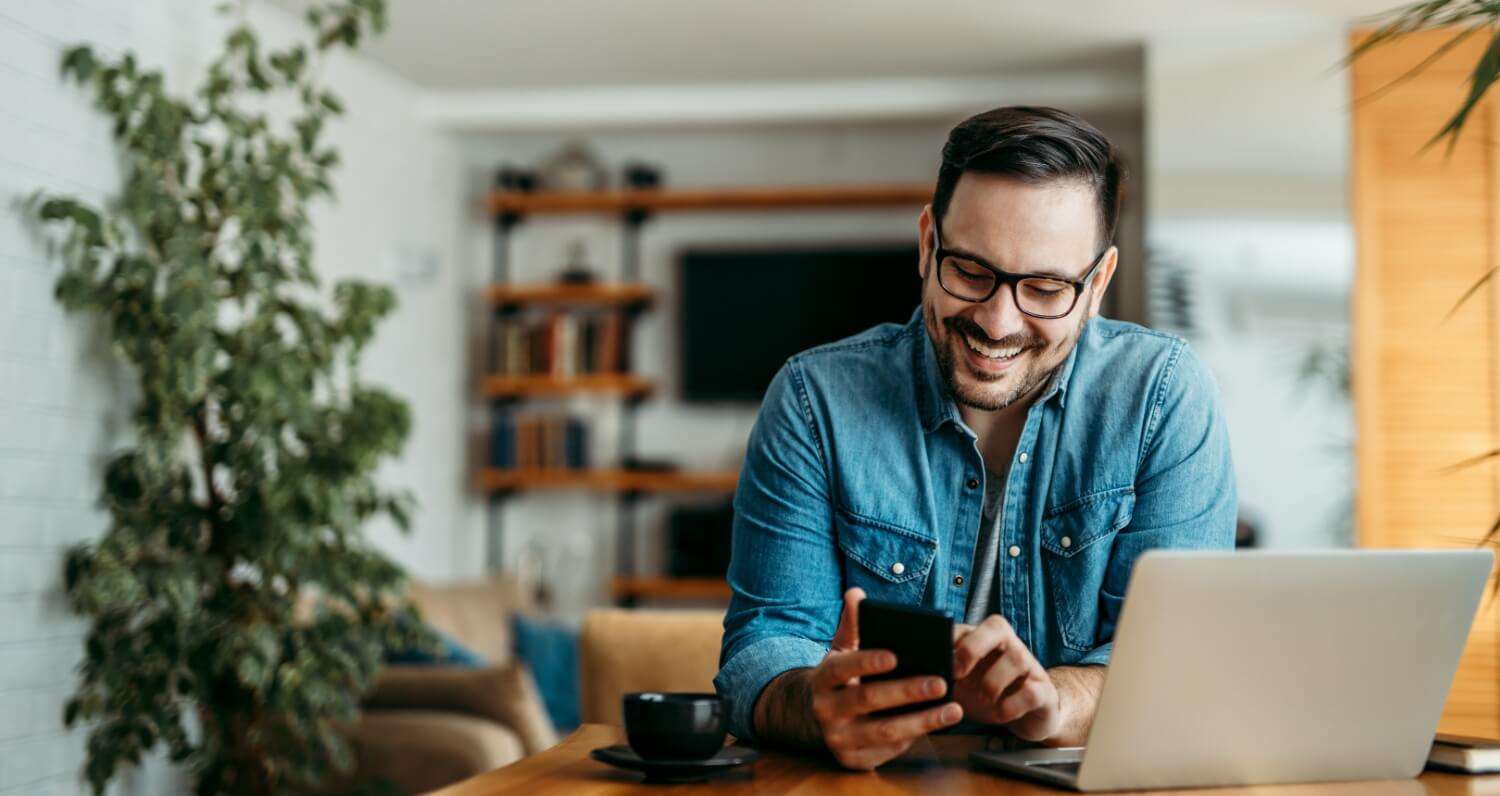 To let customers book an appointment, Google Calendar also makes appointment scheduling easier by opening its platform for other apps to make Chrome, Calendar, or Gmail extensions. You can check your availability from any of these apps and share available slots with customers without switching tabs.
Although Google lacks a native scheduling app, they ensured that through these third-party integrations they still hold the fort and provide a seamless scheduling experience.
Reserve with Google
Google partners with appointment scheduling apps to make it easy for clients to book directly from the Google search results page. It will check your availability and display a calendar-like layout for customers to book with you. When bookings are easier to make, appointments are likely to increase.
Through your business listing on Google My Business, you can allow Google to collect appointments on your behalf by integrating and signing up with any of these third-party scheduling partners.
Once you sign up with a scheduling app and list your services, timings, bookings slots, and other required fields, people coming across your business on Google will see an option to book online, reserve a table, or schedule. (Based on the type of your business.)
They will then be directed to select the services they wish to opt for, the number of people, the date and time, and to fill in the contact details for the reservation.
You can then choose if your guests have to pay for the reservation online or if they can pay it in person.
The confirmation of the reservation/booking will only be sent to the customer through email or SMS once you approve it.
All of your bookings can be managed and customized either through Reserve with Google, Google My Business, or your scheduling partner. Ideally, Reserve with Google is a bridge between your Google business listing and your preferred scheduling partner.
Final thoughts
Choosing the right scheduling tool is a choice to be made based on your needs and preferences. If a basic meeting scheduler helps with your need, then creating Google Calendar events or using Google's appointment slots will be sufficient. However, if you run a business and want customers to book appointments with you or your team, then Reserve with Google or Chrome extensions can help to connect your Google ecosystem with an appointment scheduling app to provide a more seamless booking experience.
Regardless of the choice you make, the time that you and your customers spend on scheduling matters. Essentially, you should look to adopt a system that will help others schedule meetings with you easily. This is where appointment scheduling apps like Zoho Bookings help you maximize the beneficial features of your digital scheduling tools and offer more flexibility and convenience to your customers.
Ready to automate scheduling and save time?
Start your 15-day free trial with all the premium features
Try zoho bookings