1. Google Calendar: a powerful calendar for all your scheduling needs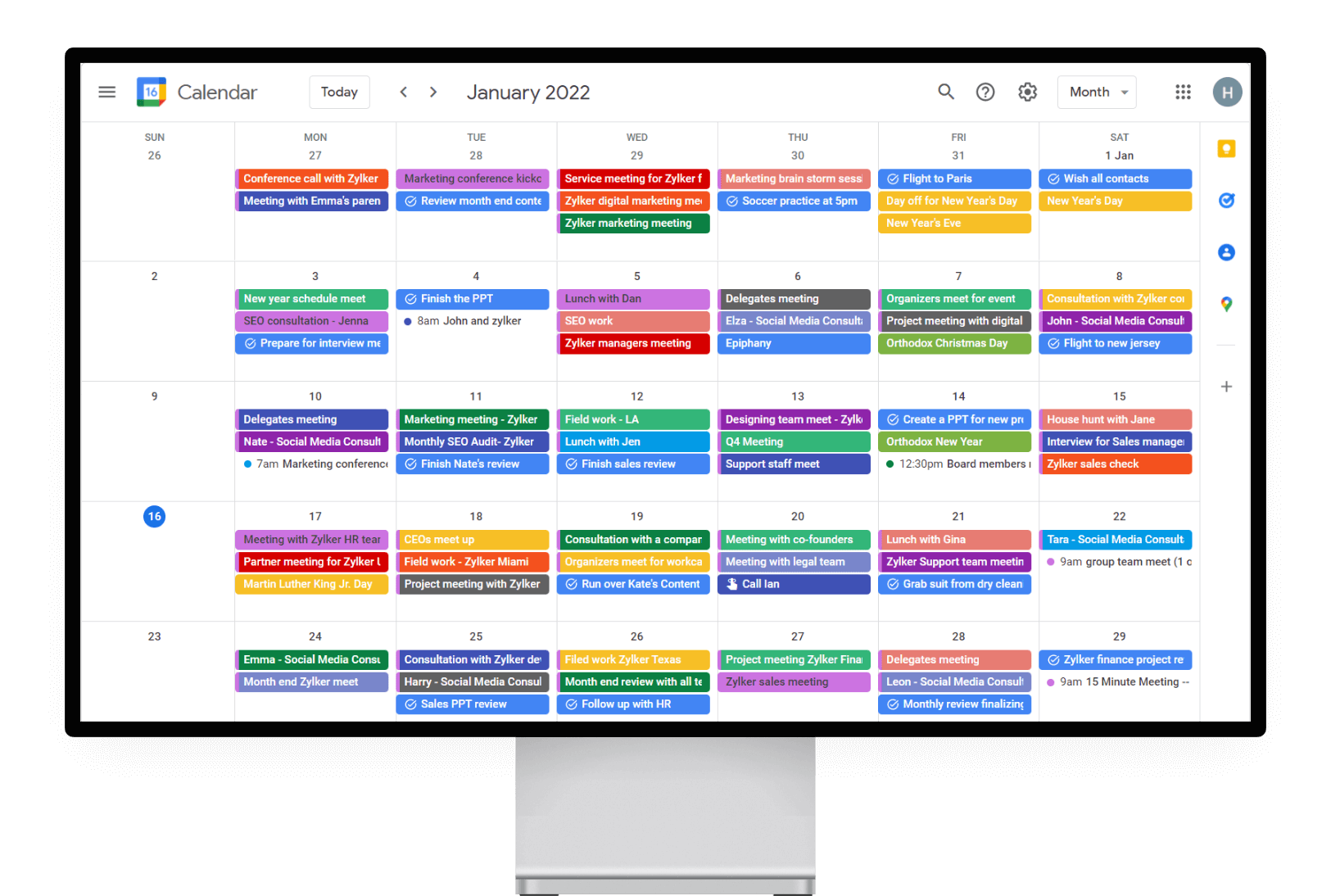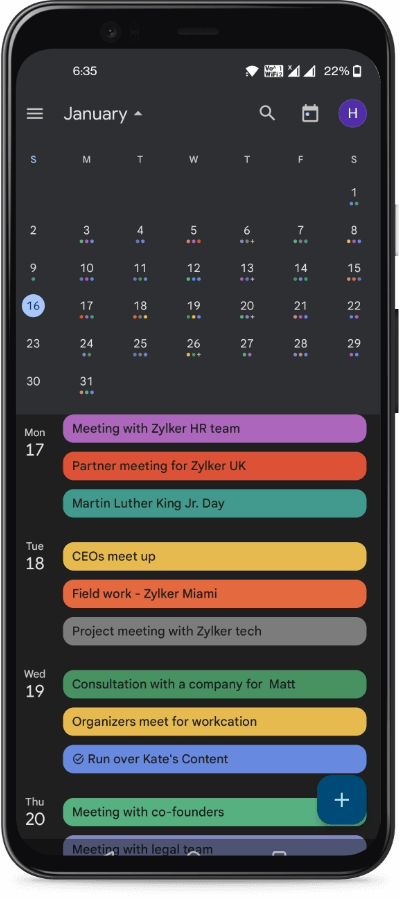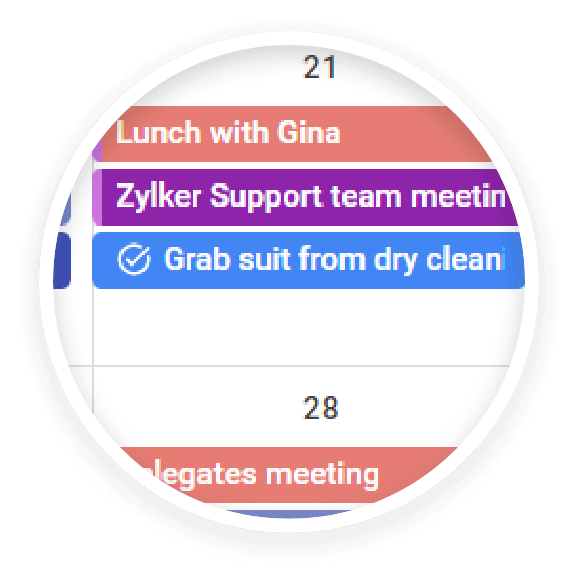 Packed with simple but effective features, Google Calendar simplifies your daily schedule and allows you to create meetings with others. All you need is a Google account and your Google Calendar is all set up and ready for you to use.
With your Google Calendar, you can create an event, task, reminder, or a goal. All of which helps you to organize your busy schedule. The interface is simple but packed with smooth designs, colors, and transitions.
You can create an event, specify its details, make it recur, and add attendees. You can also share your calendars with others so that they can go through your schedule and request a meeting for a mutually convenient time.
The meeting can be either in person, or you can meet with your guests virtually through Google Meet. When canceling an event, the guests will automatically receive an email informing them about the change.
Creating multiple calendars, syncing with other calendars (Outlook Calendar, Apple Calendar, etc), and managing your team's calendar are taken care of easily. It also allows you to create an event or task in any timezone, or you can create a separate start and end time zone for your event.
2. Digical: organizing, now simplified!
Another calendar option for Android users is Digical. This app offers you an amazing calendar experience with eye-catching designs and seven different calendar views. You can enjoy 6 widget views and 9 pre-set widget themes for your home screen, and never miss another item on your schedule.
The best part about the app is having the month view and the agenda view on the same screen. As you navigate to a different date, all your plans for that particular day are listed below, making it easy to access and add an event to your schedule. You can add participants to the event through their email and set up notifications or alarm reminders.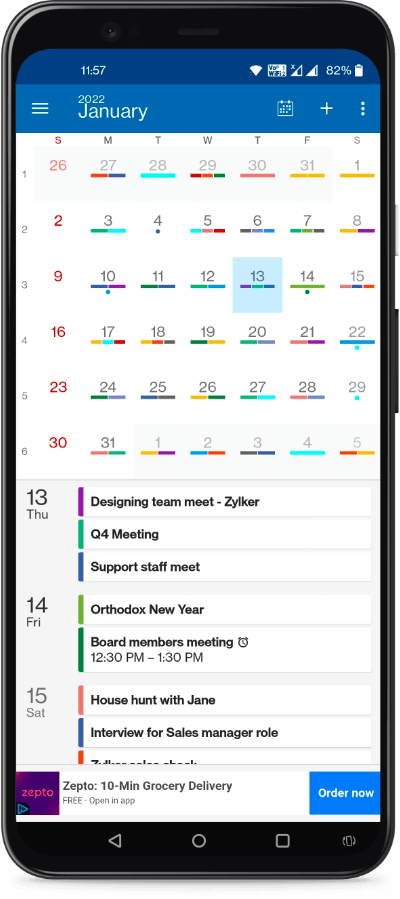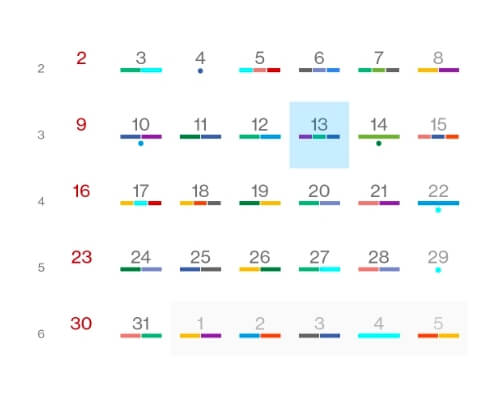 Navigating within the app is smooth and comes loaded with multiple colors and themes for you to choose from. You can sync with multiple calendars like Google Calendar, Yahoo Calendar, Outlook Calendar, and more. The app is multilingual, offering 27 languages to choose from.
Lastly, Digical comes with a unique built-in location search that will automatically fill in the address for your event as you begin typing it. After integrating with Google Now, Digical can keep an eye on traffic and notify you when you should leave to arrive on time. It also has a heat map feature for spotting your schedules in your calendar and integrates with the weather forecast.
3. Zoho Bookings: appointment scheduling app to book meetings easily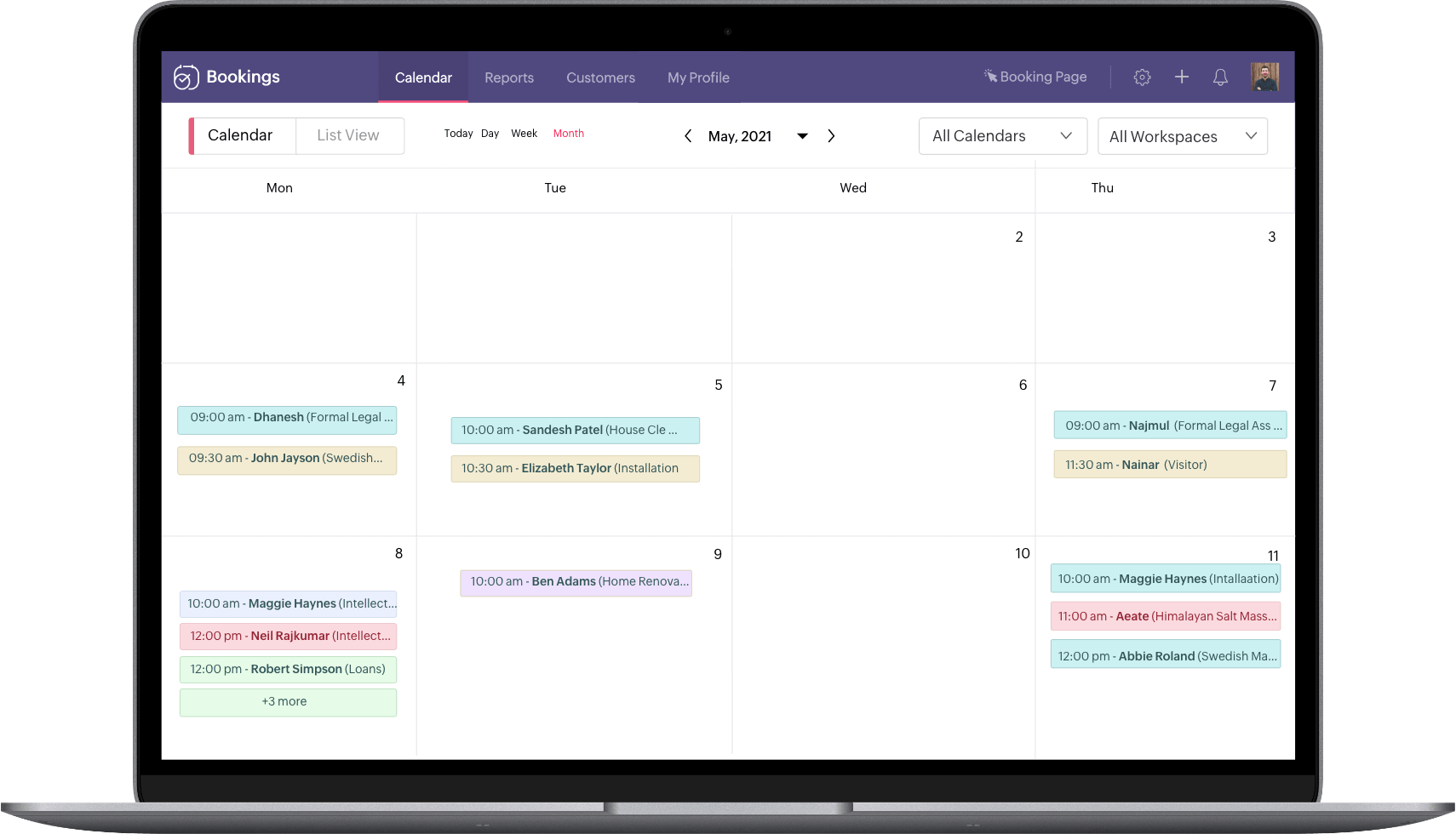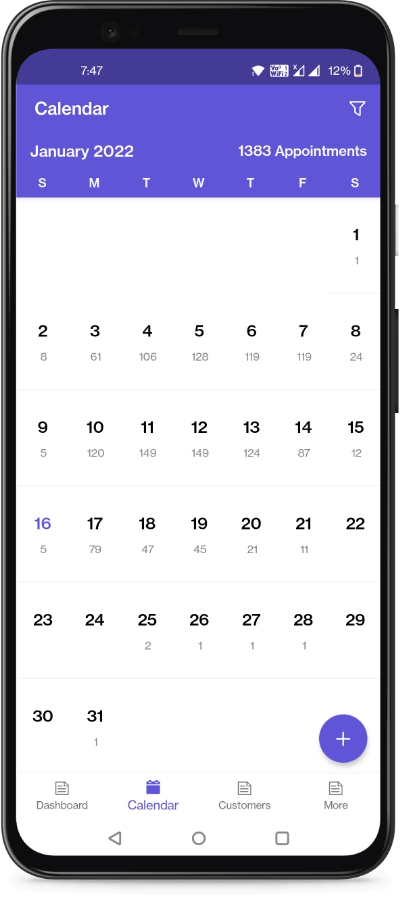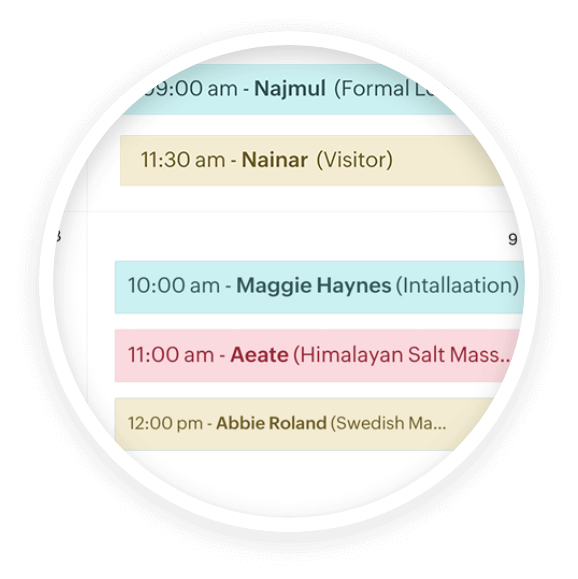 When it comes to scheduling meetings and syncing the details to your calendar schedule, Zoho Bookings is a powerful online appointment scheduling tool to have in your shed.
Zoho Bookings allows your guests to schedule meetings without your assistance by enabling you to list your available time slots on a publicly shared booking page. The customer automatically gets an email notification for the meeting they book, and the details will be synced to your connected calendar app as well.
Although a calendar app helps to schedule meetings, there are some limitations. In a calendar app, the process of scheduling isn't straightforward. To lock in a time, you have to check with your guests and figure out when you will all be available. This process can go back and forth, eating away your time. This is where an appointment scheduling app like Zoho Bookings can spare you that hassle and help you to schedule more meetings with your customers.
What features are unique to a scheduling app?
A separate booking page for your guests
Listing your available time slots
Managing your team and assigning customer meetings automatically
Email notifications and reminders to avoid no-shows
Endless integrations
Additional features of Zoho Bookings:
One-on-one meetings and group bookings
Two-way calendar sync for booked meetings
Automatic timezone conversion
API integrations with other apps
Booking page link that can be shared and embedded
Online video conferencing via Zoho Meetings or Zoom
4. Timepage: a modern calendar app for stylized scheduling
Timepage's main attraction is the modern approach to its calendar design and the amazing user experience it comes with. It plays just the right sound for you while navigating, making you want to keep fiddling with the app. Timepage syncs with your Apple Calendar, Google Calendar, and Outlook Calendar.
Every screen that pops up in the app has amazing visuals that make you wonder if you're even using a calendar app. Apart from creating tasks and managing your schedule, Timepage is integrated with weather forecasts, maps, contacts, and many other apps to boost your productivity.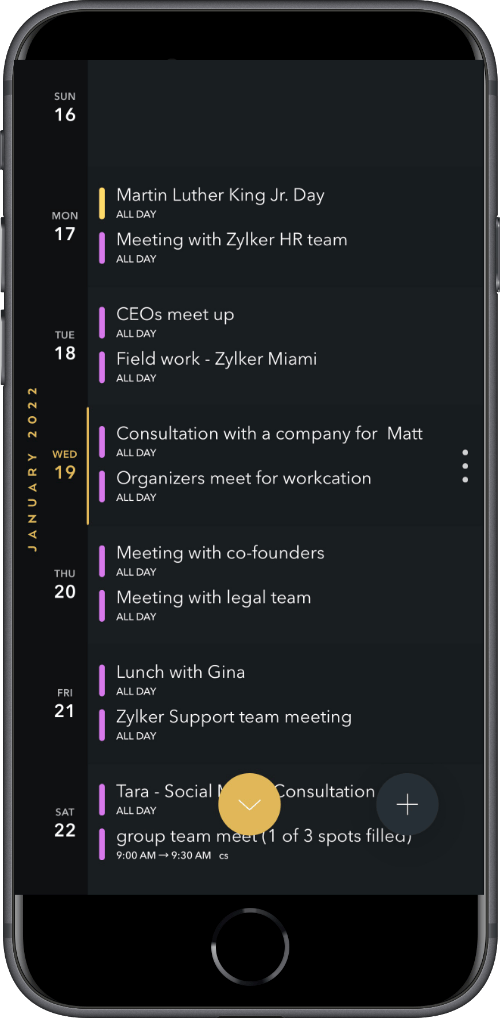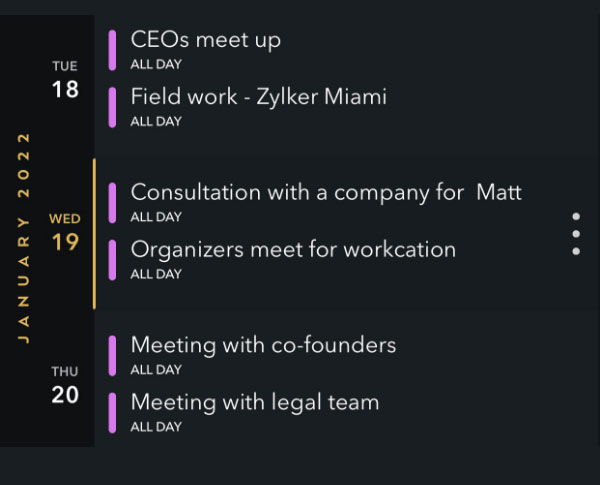 You can create a new event and add your guests to it through their email addresses. The heat map feature displays the frequency of your events across all your calendars. The deeper the color of a particular date, the more events you have scheduled on that date. Smart alerts are another unique feature of Timepage that gives you smart reminders for your upcoming events, rain alerts when it's time to leave for your meeting to another location, follow-up prompts with your guests after the end of a meeting, and daily briefings on your daily schedule and the weather.
With multiple colors options, Siri shortcuts, a seamless sync between your multiple Apple devices, different widgets to choose from, and the option to connect to various calendars, Timepage should rank up in your list while considering purchasing a calendar app.
5. Zoho Calendar: shared online calendar app to support your growing business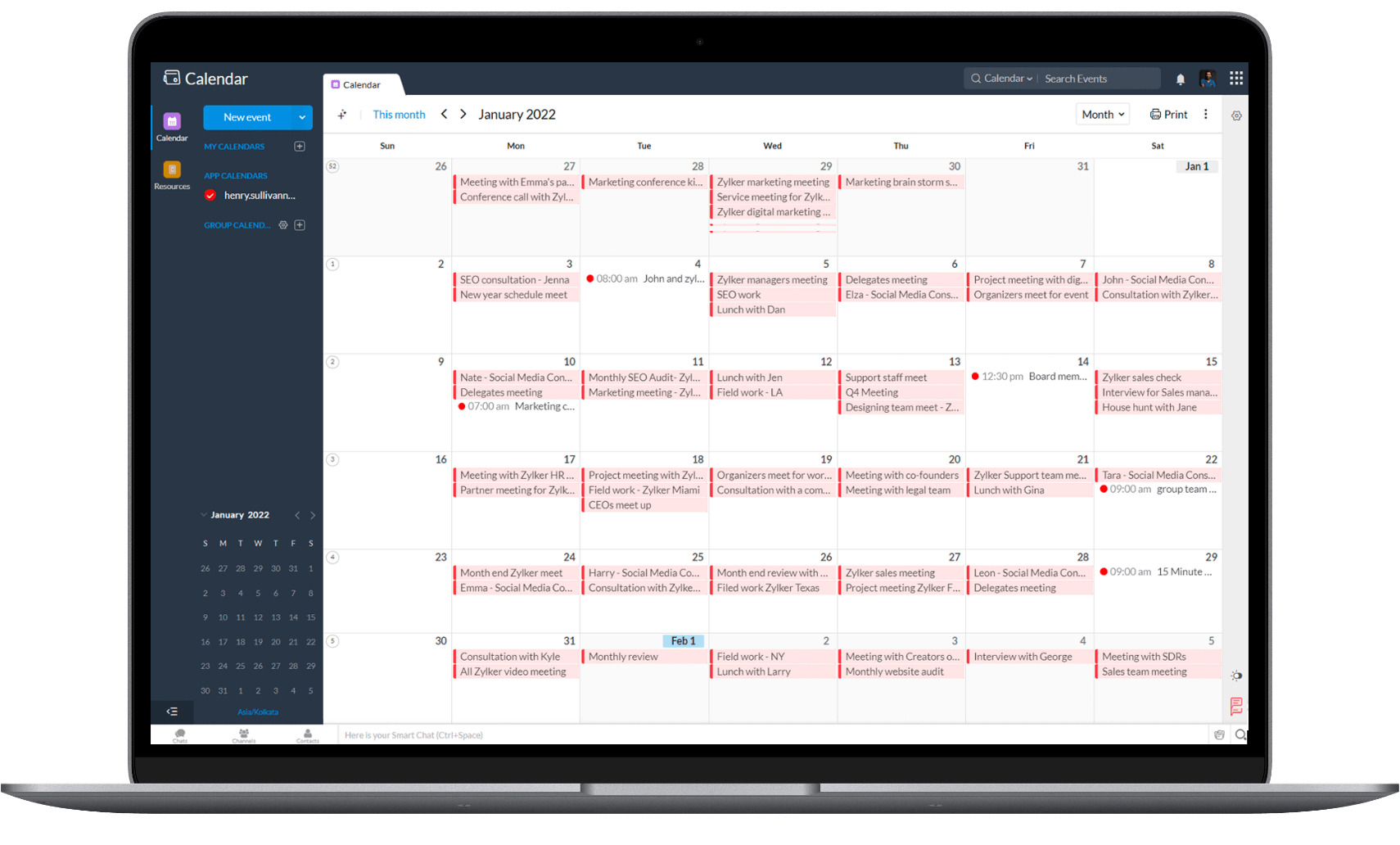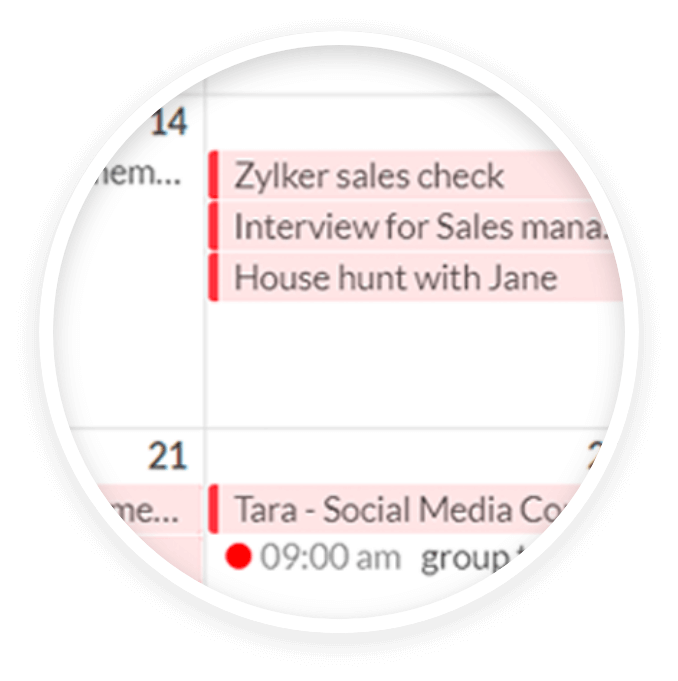 Zoho Calendar is a part of Zoho's dynamic ecosystem, helping users manage their day-to-day schedules as well as their meetings within an organization. The app is completely free for all users and offers quality features.
Zoho Calendar has a smooth and easy-to-navigate interface. Creating an event, customizing it, changing preferences, and adding additional calendars is simple. The app allows you to choose between different time zones and then add an event to your calendar. You can also create a group calendar and add different team members or family members to the calendar to stay updated about your various schedules.
You can also sync with other calendars like Google Calendar, Outlook Calendar, and more. It's easy to share your calendar with others through URL or embed it onto your website for users to access your schedules publicly. The API feature allows you to connect the calendar to other apps as well.
In terms of meetings, you can create an event, add participants to it, and send automated email reminders as the event date approaches. You can also meet with them online through the Zoho Meeting integration, which creates a dedicated meeting room for the event.
Zoho Calendar allows you to list out all the meetings or conference rooms in your organization. While setting up a meeting with guests or team members, you can choose the rooms that are available and block them for the time of your meeting.
6. Vantage: make your scheduling experience fun
After Timepage, the next most unique thing that you can see in a calendar app has to be Vantage's "scroll view" of their calendar. All your schedules for a particular date will be piled up, and you can access your schedule by scrolling through the dates and clicking the one you'd like to see.
You can create an event, list, and to-dos through your vantage account. You can also add participants to the event through their email addresses. After creating an event, you can set a countdown for it along with automated reminders. The app also syncs with your signed-in accounts from your iOS settings and displays all the connected calendars.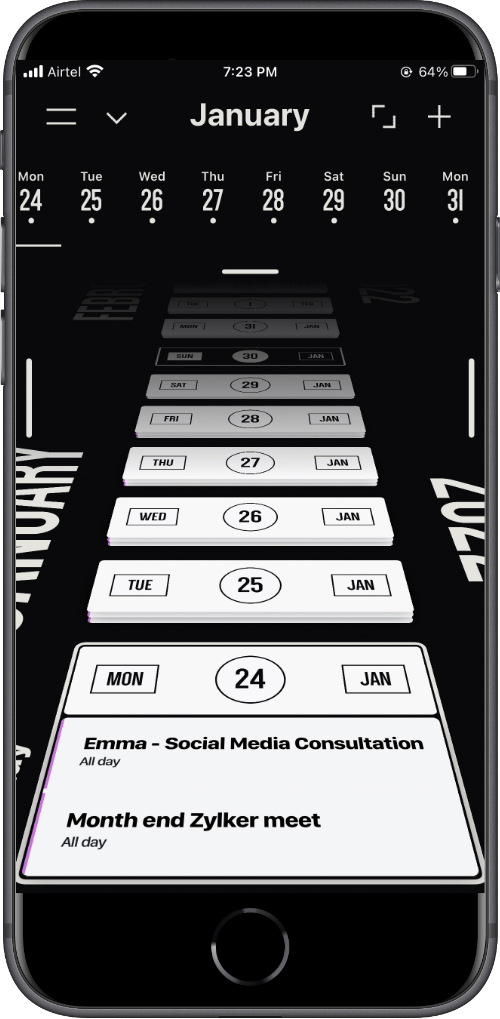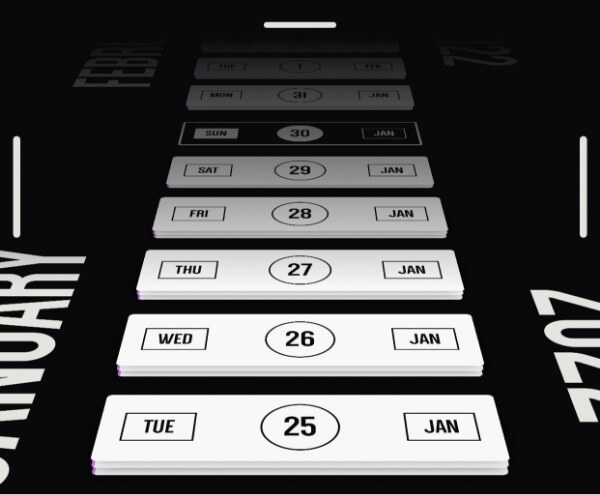 Vantage provides a creative way to add your events and to-do list to enhance your scheduling experience. You can also customize the app with an array of color themes and connect it to your other calendars as well.
7. Outlook Calendar: Versatile calendar app for organizing and increasing productivity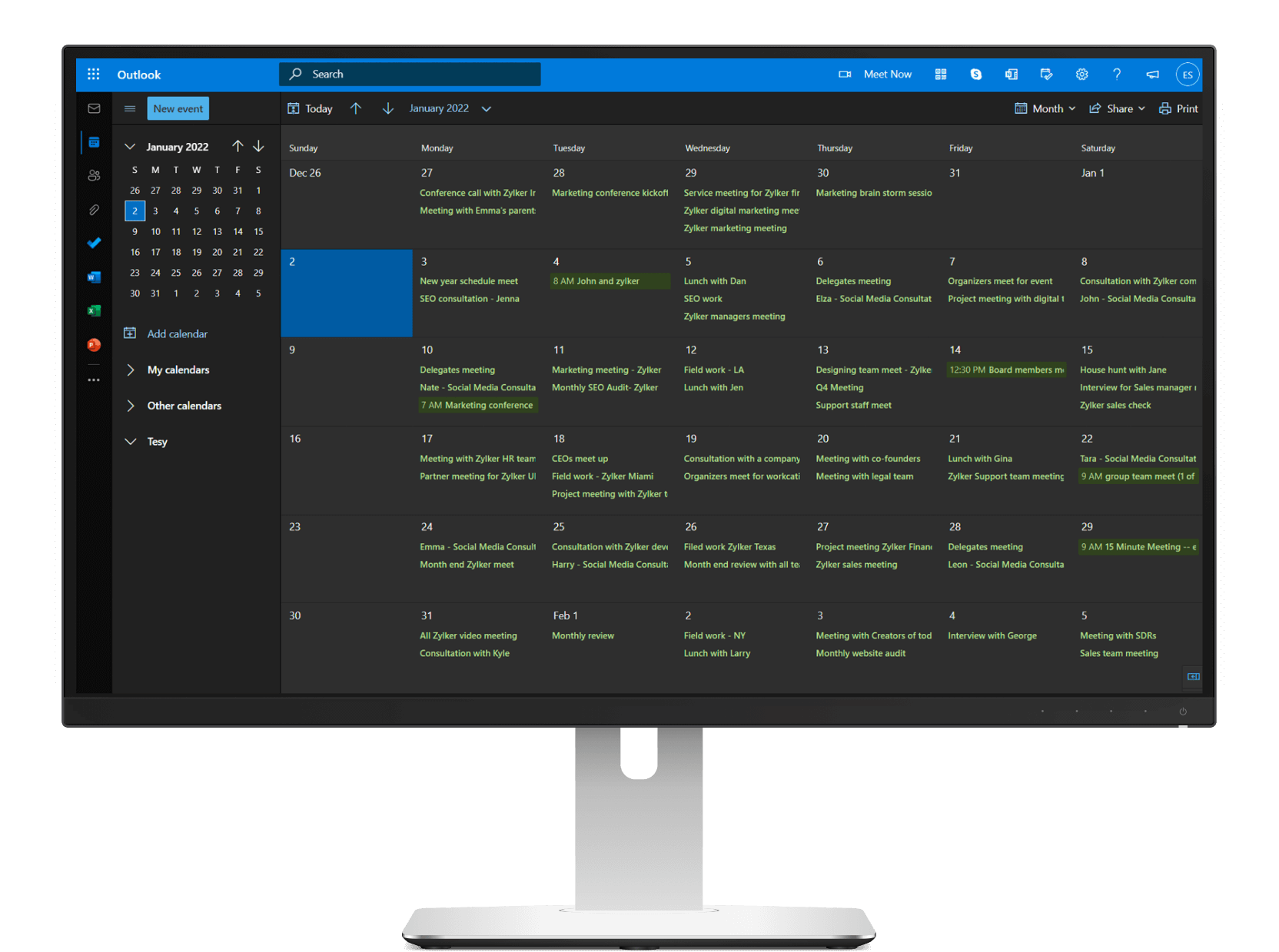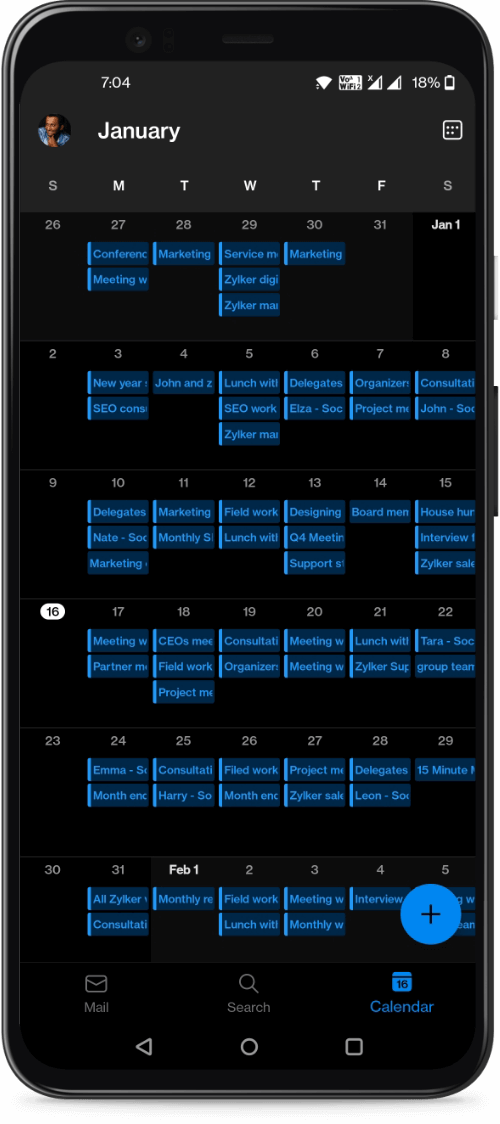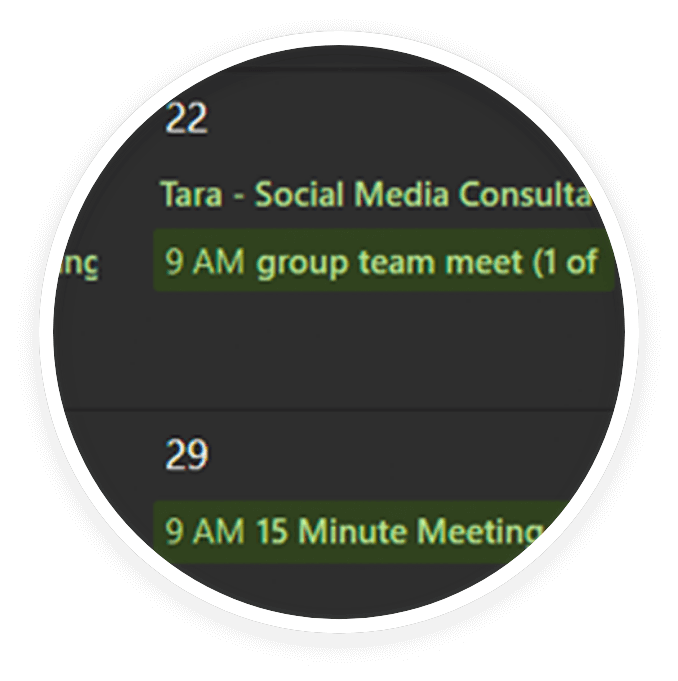 Just like Google, Apple, and Zoho, Outlook Calendar is a product of the efficient Microsoft ecosystem. You can access a free version through your Microsoft account or opt for their Office 365 premium plan as well.
Outlook Calendar has kept things simple when it comes to scheduling your daily events. It allows you to create multiple calendars and sync with others. You can manage your team calendars and overlay them to get a clear view of your upcoming schedule.
Outlook Calendar also allows you to create an event and add other guests to it via email address. You can customize time zones, creating an event start time in one time zone and the end time in another. You can also create tasks, to-dos, and notes.
With the option of adding Microsoft teams to your event, you can schedule internal meetings within your organization, or you can create external meetings with your guests. In the Outlook premium subscription, you can create a one-on-one appointment or a meeting and customize your preferences for each. You can also share your calendar with others through email or even embed it onto your website.
One advantage of using a Microsoft suite is that you can easily navigate between your calendar and your email, and you can propose a meeting time based on your Outlook Calendar to your guests directly from your email as well.
8. Butleroy: your real-time AI scheduling assistant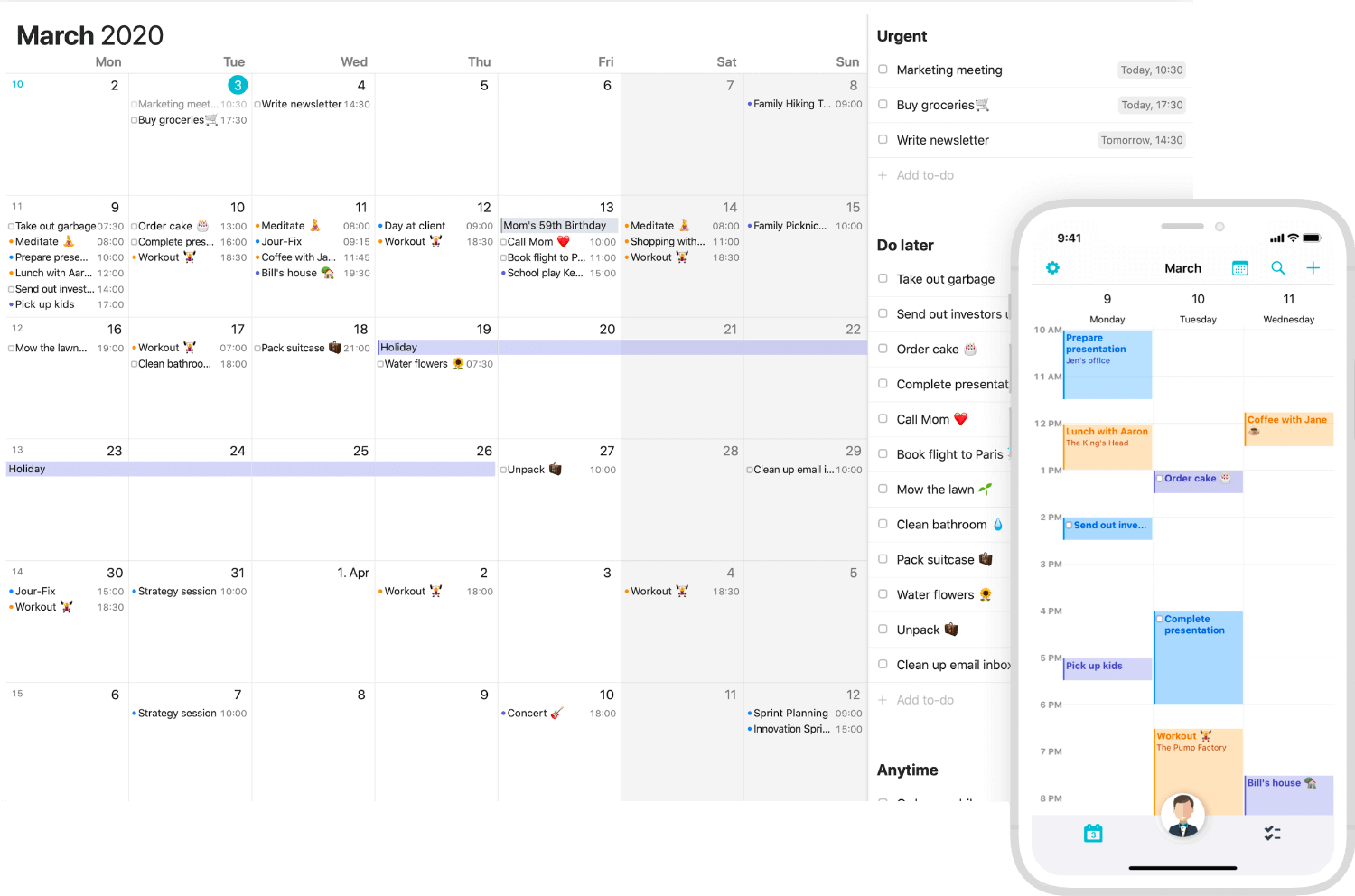 "Roy" is your AI assistant who will be helping you to organize and stay on top of your daily schedules. The app allows you to create to-do lists and sync them with other calendars as well. Butleroy provides a beautiful user interface that is easy to use.
Creating an event, booking a table, going on a date, allocating time for yourself, and more can now be organized within the app effortlessly. Collaborate with your participants by adding them to your events through their email or just simply sharing the link with them. You can also meet with them virtually through videoconferencing integrations.
The best thing about the app is that Roy will help you find the time for a meeting/event by analyzing your schedule, your preferred time of the day for the appointment, checking the weather if it's an offline event, and then coming up with the best time that works.
9. Apple Calendar: Your go to user-friendly calendar app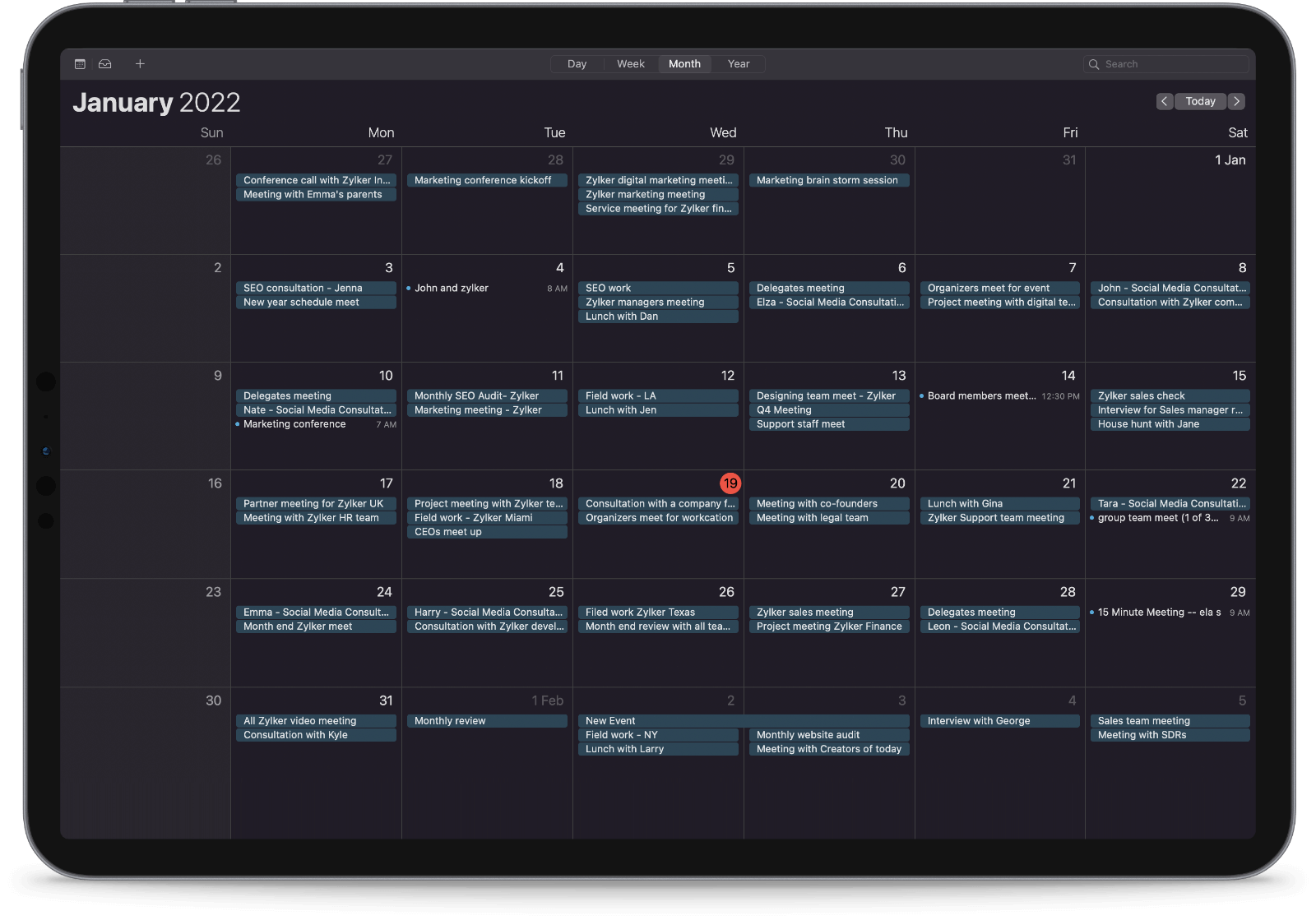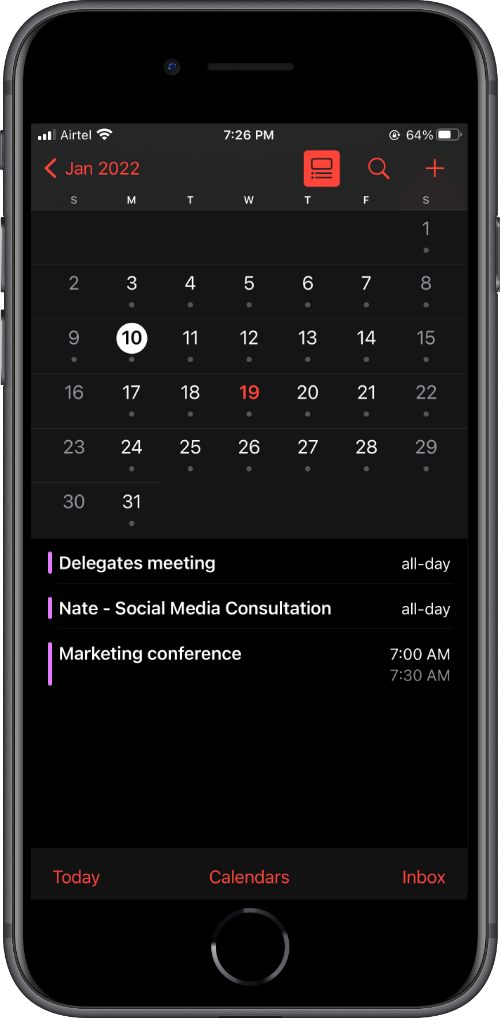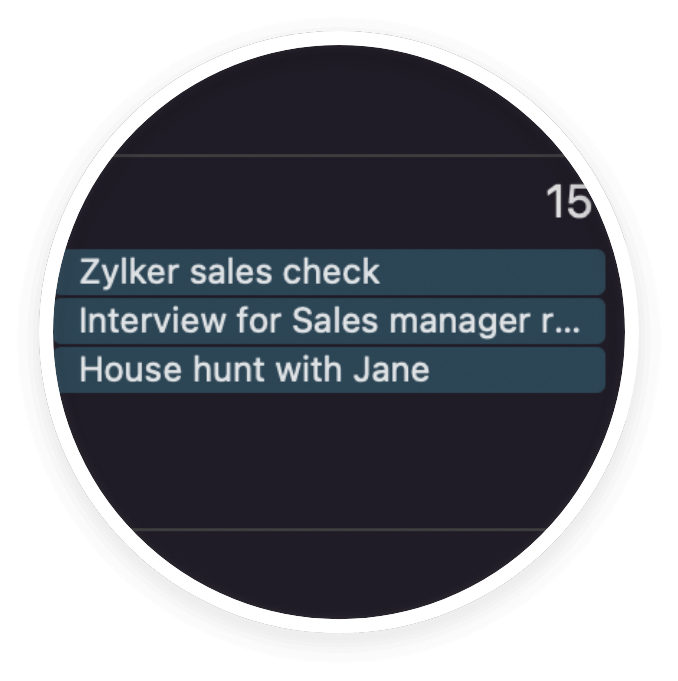 Apple's built-in calendar app for all Apple devices (Mac, iPhone, iPad, and Apple Watch) makes it easier to schedule your day-to-day events. You can access your calendar on the go from any of your devices as the information is stored on iCloud, offering a great deal of flexibility.
You can create an event and add other people from your contacts or through their email addresses. Adding a videoconferencing option like FaceTime isn't available through Mac, but it can be done on your iPhone or your iPad. You can also view invitees' responses for the meeting after inviting them.
Apple provides its users a simple and intuitive calendar experience across its devices. Apart from connecting your iCloud account, Apple Calendar can connect to other calendars like Google Calendar, Yahoo Calendar, AOL, Microsoft Exchange, and more.
10. Cloudcal: bring life to your daily schedule
This app does wonders for its users with its magic circle feature. It displays your daily schedule around a clock face that is customized with multiple colors. This makes is it easy to know your schedule with just a glance.
Cloudcal also comes loaded with multiple calendar views and widgets that can be personalized with your color options. You can plan your days by adding events and to-dos, and the agenda view will ensure that you never lose sight of your schedule. With the option to choose from multiple time zones, you can create your events based on your location.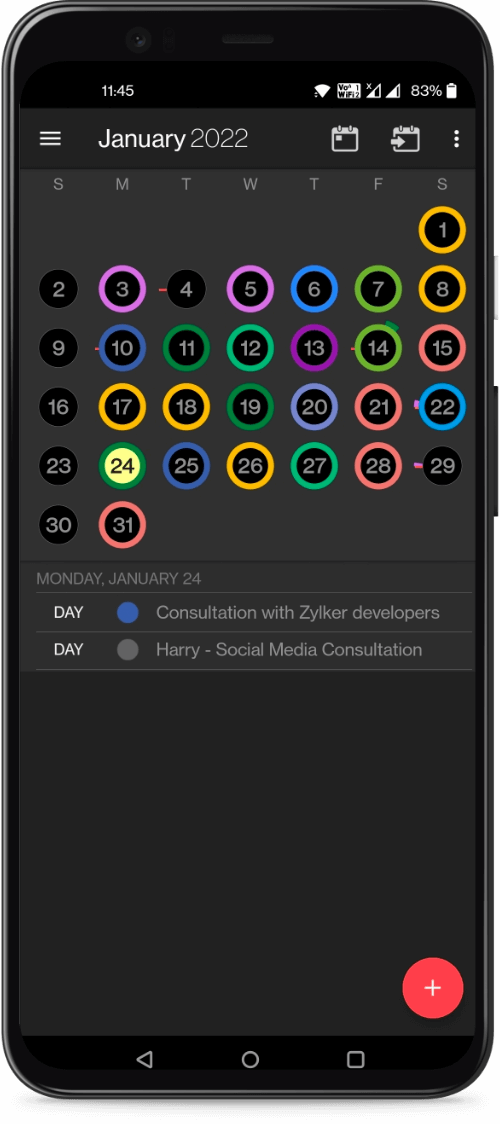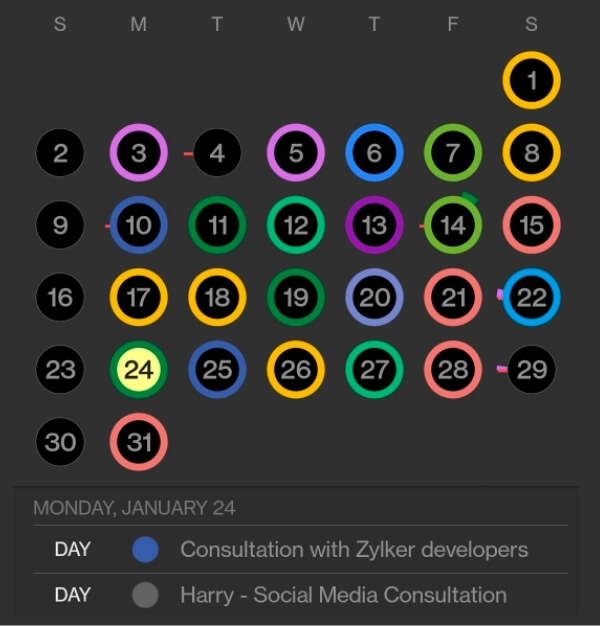 While creating an event, you can also set reminders and add participants to the event through email or from your contacts. They believe that managing your time doesn't have to be dull, and they've added the option to upload your background image or choose from their library. You can sync with other calendars and all your data will be stored securely on Google Calendar so that you never lose your schedule whatsoever.
Cloudcal has a built-in AI that automatically reads what you say or type for an event and fills in the details automatically. With the Google Now and Maps integrations, you can get traffic updates and reminders on the go.
11. Calendar: a unified calendar and scheduling app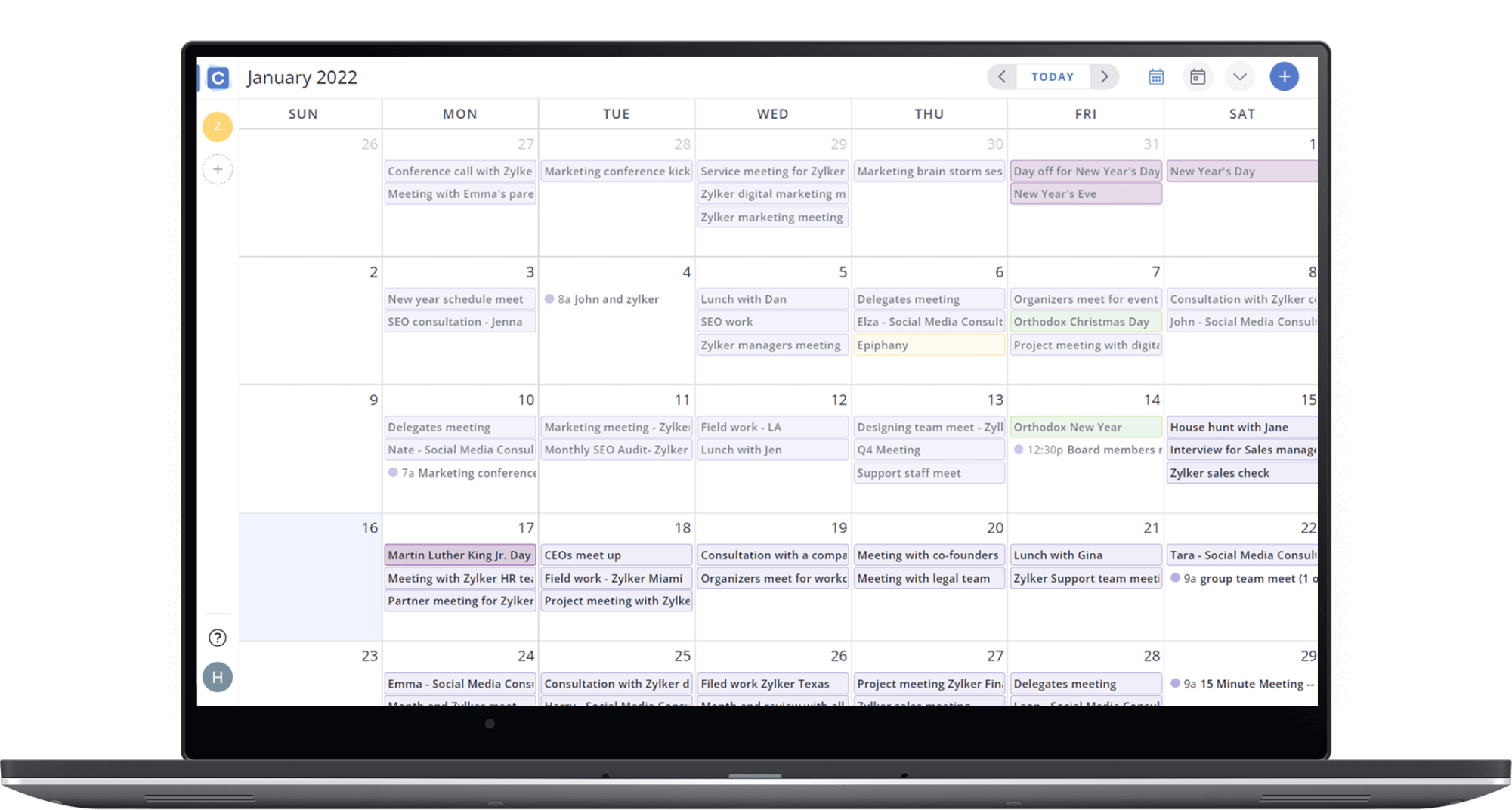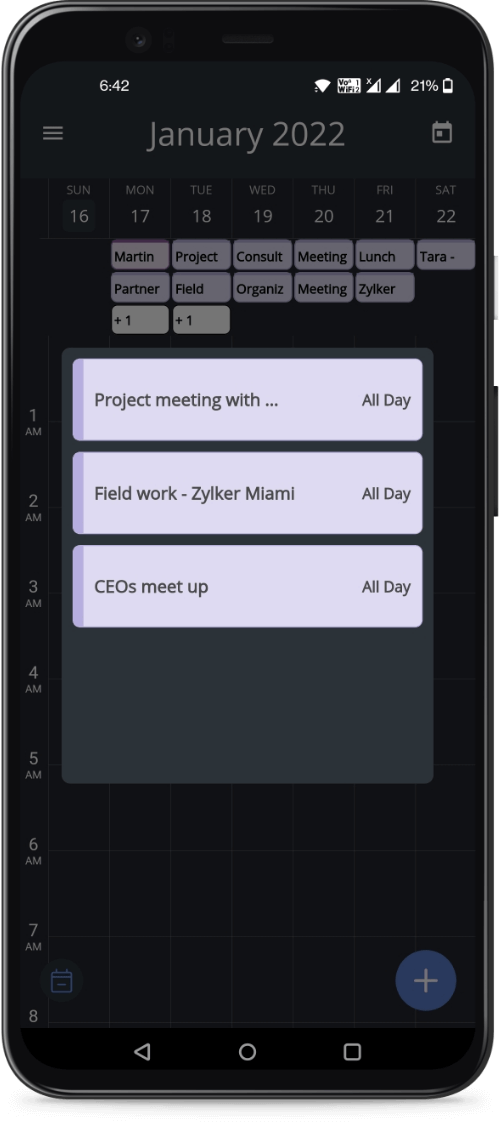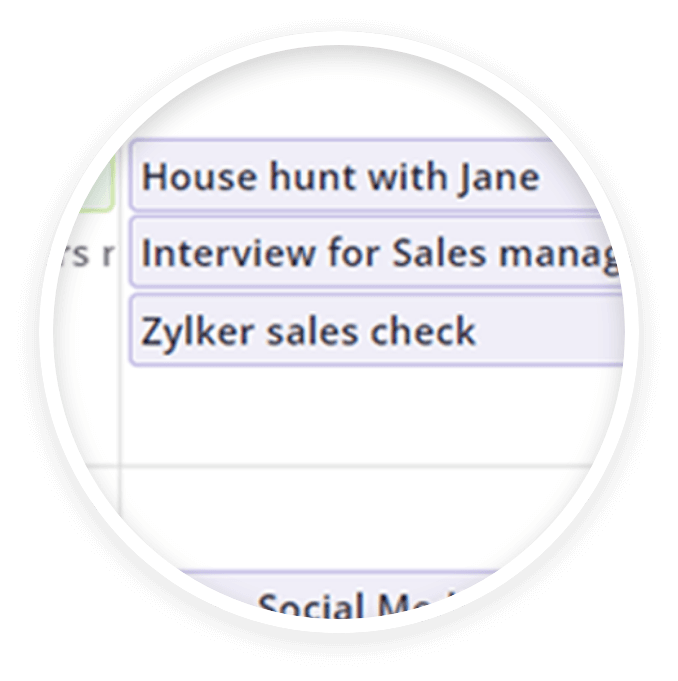 Calendar offers two solutions for its users: a calendar app and a scheduling solution. The Calendar app syncs with other calendars like Google Calendar and Outlook Calendar, and it integrates with Zoom and Zapier to maximize your productivity.
The app's interface is simple and easy to navigate. You can create an event or schedule meetings with your guests, and it's a seamless switch from the calendar app to the scheduling page. While the Calendar app has all the basic elements of what a calendar can offer, the scheduling page offers users to create different time slots for different meetings. You can also create a different workspace for your team members or other businesses you run.
Managing your team is also done through the app, allowing you to schedule team meetings or events easily. You can share your calendar with others through a unique URL where people can browse your available time slots.
Another unique feature of the app is the analytics tab. It gives you an overall picture of the meetings attended, hours spent, and the number of events attended/missed/rejected. It also shows you the data in a graphical representation to easily picture how you spend your time, helping you to make any changes to your schedule if required.
13. Fantastical: a fantastic way to manage your events, tasks, and meetings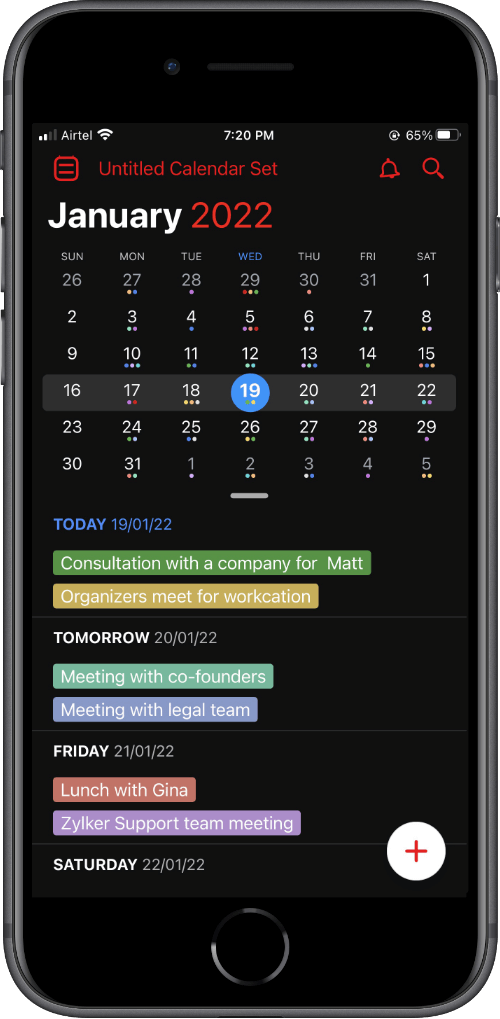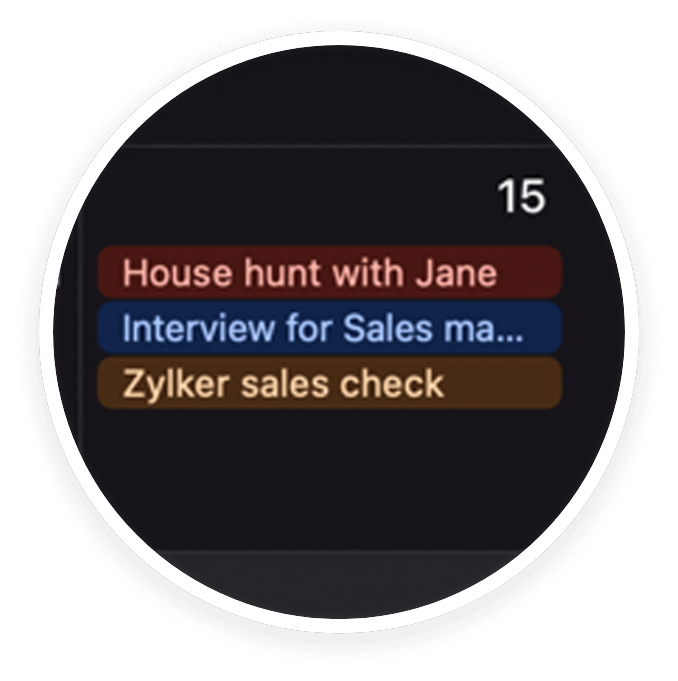 Fantastical is a paid calendar app for Apple users that has garnered good reviews from its users. It can sync with Apple Calendar as well as Google Calendar, Outlook Calendar, Office 365, Yahoo Calendar, and more.
You can create an event, set customized reminders, and add participants through their email. Fantastical also allows you to propose more than one meeting time or date for guests. This time is then finalized in a single click once guests select when they are available via email. With Google Meet, Zoom, and Microsoft teams, you can meet with your participants virtually and automatically send cancellation emails to guests when deleting an event.
Fantastical provides you with 14 widgets to choose from for your home screen, integrates a weather forecast directly into your calendar view, converts time zones automatically, and supports 6 different languages (English, French, German, Italian, Spanish, and Japanese).
What sets Fantastical apart from Apple Calendar is the attractive and easy-to-use interface that allows its users to create events and manage their schedules effortlessly. Fantastical also allows you to set up a to-do list, which is a missing feature in an Apple Calendar. Geo-fencing is another feature that makes Fantastical unique. This displays a popup reminder when you enter a specific location that is connected to an event that you have created.
14. 24me: your 24x7 smart calendar app
24me is a personal assistant that handles creating your events, tasks, and notes. The calendar app has both a free and paid version. The overall design invites a user to navigate the app in multiple calendar views and add their schedules in one place.
A unique thing about the app is that while setting up an event and adding participants, you can also add their phone numbers and set things up for a conference call during the start of the event. You can also add the location of the event and set up smart alerts like weather forecasts, daily agendas, and a procrastination assistant to help you meet deadlines more consistently.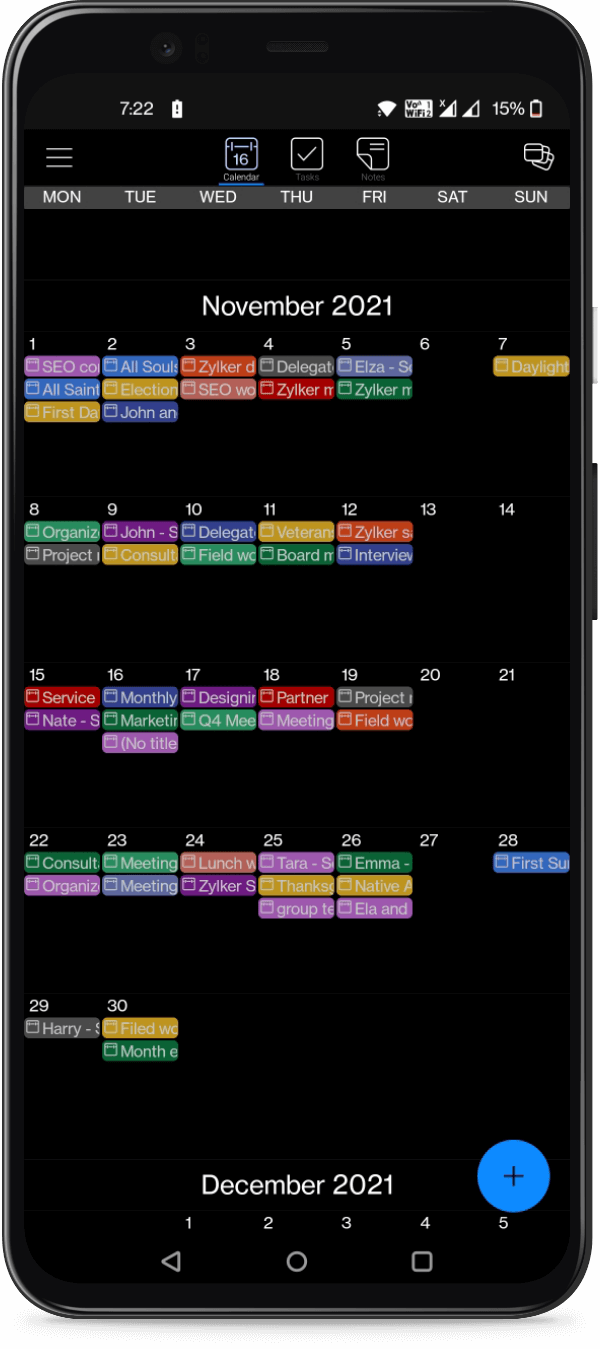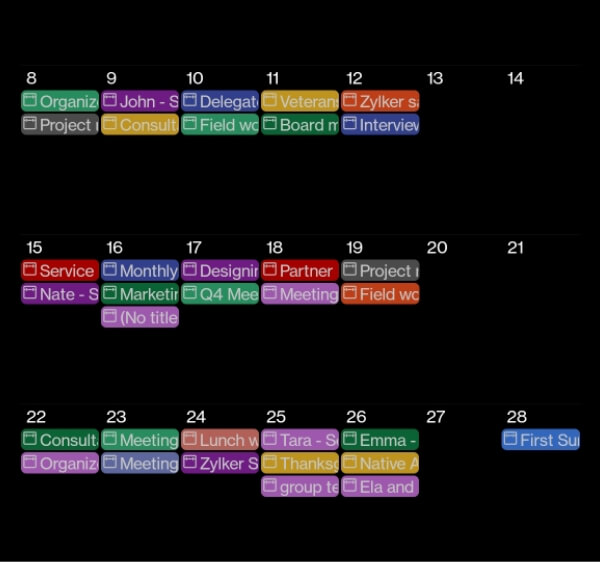 You can sync emails you receive into tasks, choose from multiple time zone options, sync with Google tasks, and secure your passwords right from the app.
15. Teamup Calendar: collaboratively organize schedules and get things done as a team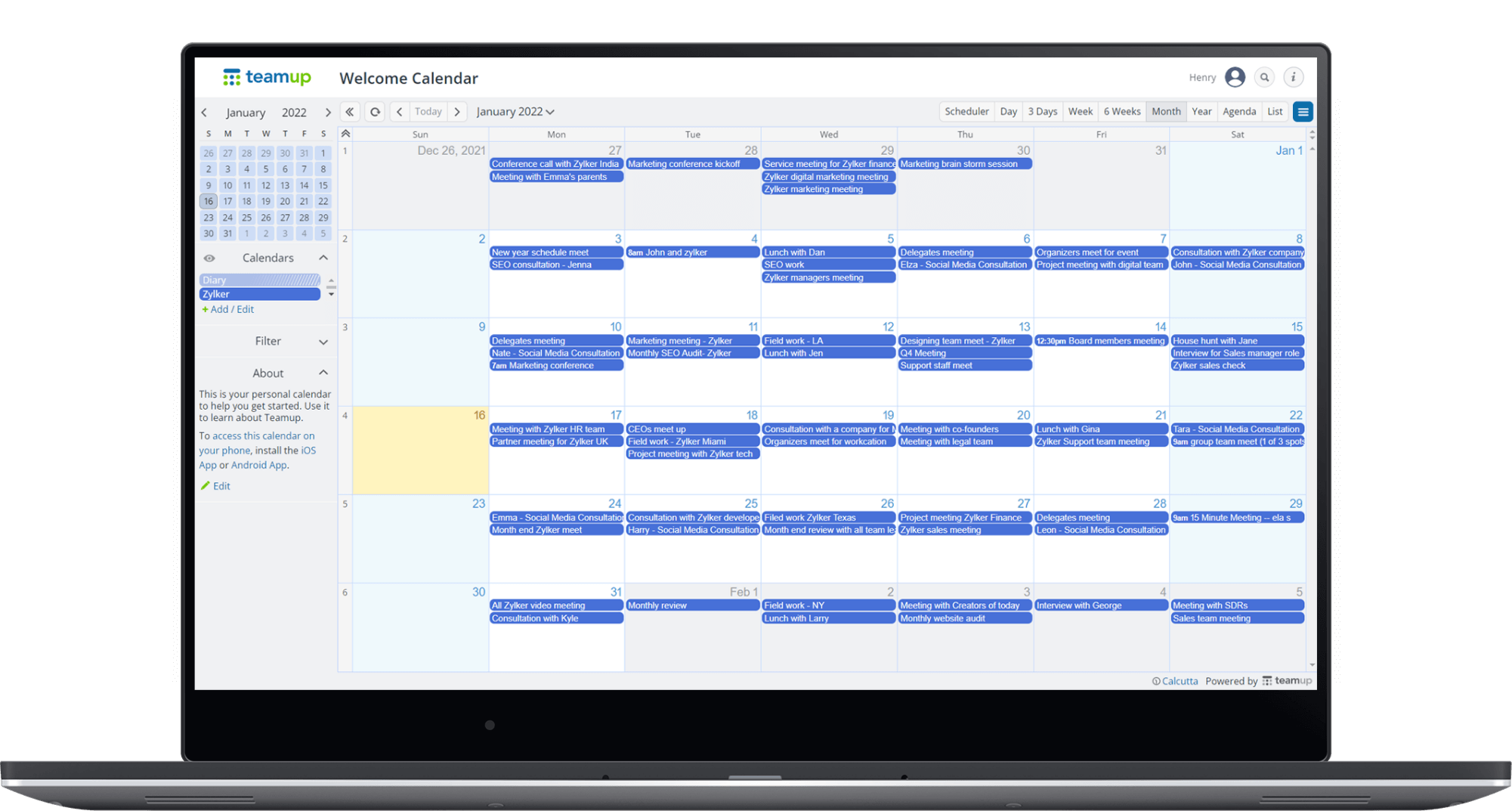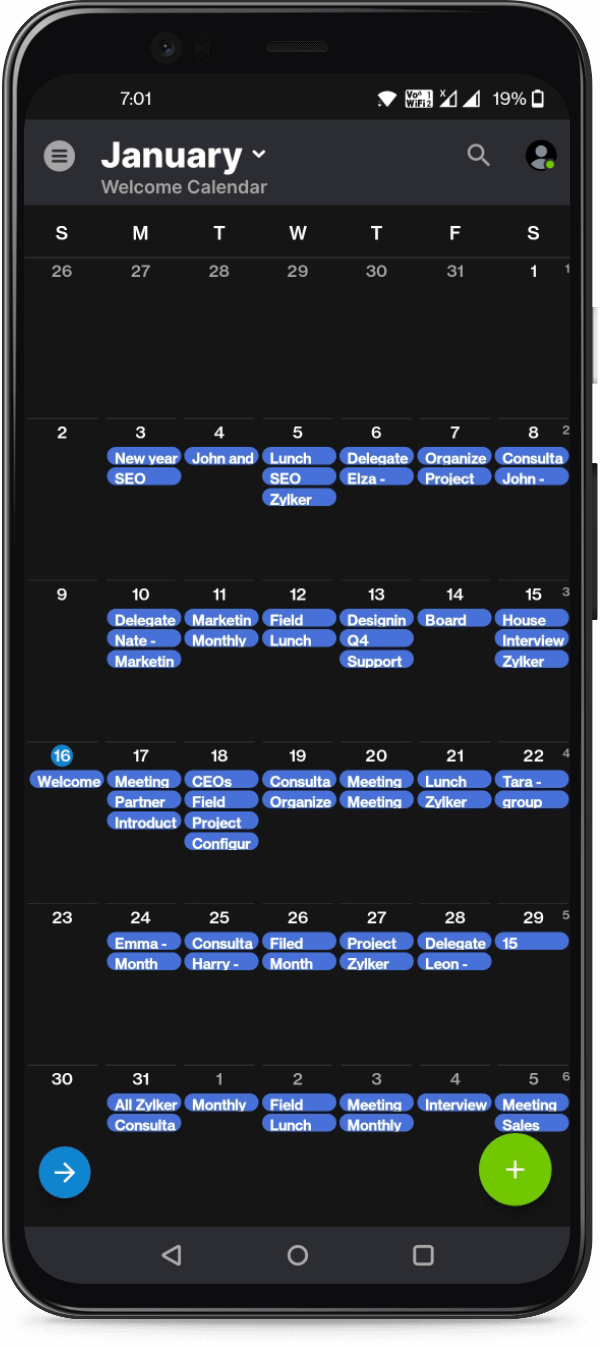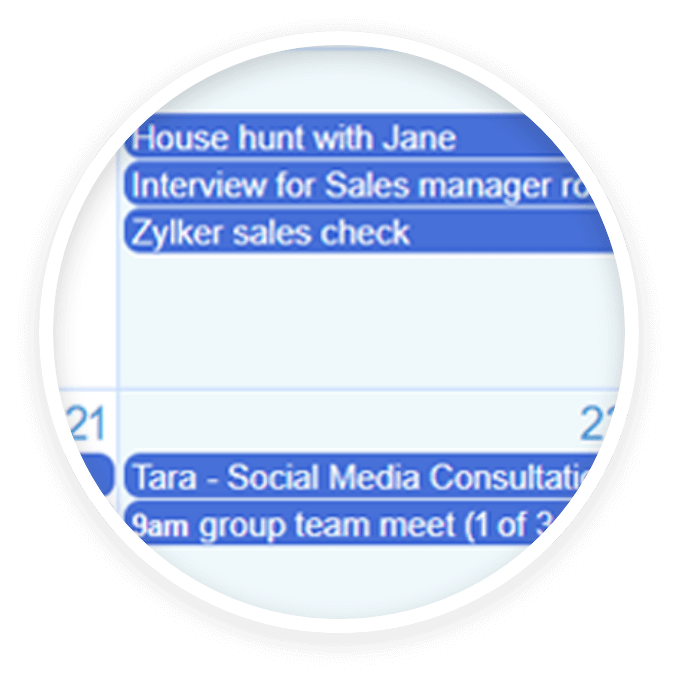 Teamup is primarily targeted towards teams or organizations that have multiple calendars and schedules to organize. It allows users to schedule their tasks, events, and projects, making team management that much easier. Teamup provides a simple interface for users to try out the variety of features that they offer.
Teamup allows you to create multiple calendars and sync with others. It also provides you with 11 calendar views (Scheduler, Daily, Multi-day, Week, Multi-week, Month, Year, Agenda, List, Timeline, and Table) so you can stay updated with your schedules in your preferred view.
The features that help with team management:
Team calendar: For individual team members
Staff calendar view: Shows the team members' schedules in a side-by-side list rather than a calendar view.
Room reservation: Calendar schedules will be for rooms (conference halls, hotel rooms, etc)
Trainer availability and booking calendar: Shows which staff members are working on which job
9 access permissions: Set different access permissions for team members assigned to a sub-calendar or event
You can create a new event with the app and add a signup option for people to join the event. You can also invite them through email, embed your calendar onto your website, and share the event separately as a webpage. Automatic time zone conversion helps your guests access your calendar or event from their respective time zones.
Teamup Calendar integrates with other apps through an API, so you can view, create, update, and delete calendar events from one screen.
Best for Personal Use
Apple Calendar
Digical
Vantage
Butleroy
Timetree
24me
Fantastical
Cloudcal
Timepage
For Appointments and Meetings
Zoho Bookings
Calendar
Zoho Calendar
Best for Team Management
Outlook Calendar
Teamup Calendar
Google Calendar
Final thoughts
Which is the best calendar app?
Even though calendar apps cater to the same needs, most come with different features, designs, and use cases. Whether you're using a calendar app personally or for your business, it should simplify your day-to-day tasks, help you plan your schedules efficiently, and thereby boost your productivity. Based on your requirements, explore the different calendar apps and then choose the right fit.
If you're already a part of a dynamic and efficient ecosystem like Zoho, Google, or Outlook, it would be an added benefit to use their other products along with their calendar app to help support your business.
Regardless of which calendar app you choose to handle your daily schedules, however, there is an added benefit when it is integrated with an appointment scheduling app like Zoho Bookings. Not only will that help you to stay on schedule, but scheduling meetings with your guests becomes easy. Here's why Zoho Bookings would be an ideal appointment scheduling app for your business.