The events industry in 2020: Year-in-review
The events industry in 2020: Year-in-review
Last Updated: January 12, 2021
2.2K Views
10 Min Read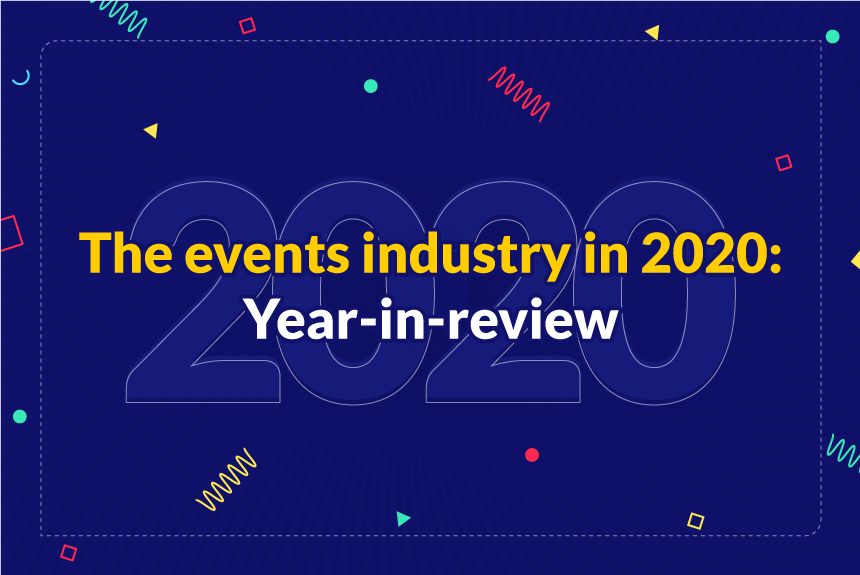 In 2020, a lot happened. You could even say it was the year that changed the course of modern history. And when something this monumental happens, you can bet the ripple effect will be huge and far-reaching.
We created Zoho Backstage in 2018 with one goal: to help everyone—amateurs and professionals—create event experiences that had the maximum impact with the minimum of work. In the last two years, we've worked closely with a number of event organizers and helped them host events in around 160 countries. This has given us an opportunity to get an inside look at the events industry, and it's been curious to watch the themes and patterns that have emerged over the years.
In the last several months, we saw the events industry go through change after change and come out stronger every time. From the early webinar-ish iterations of virtual events in March to multi-day virtual experiences only a few months later—like the online rendition of the Burning Man festival: Burn Night: Live from Home—the boundaries of virtual events have been pushed further and further.
Then, when live events returned in the latter part of the year, we saw event planners coming up with some very creative ideas to make the "onsite experience" safe. From something as simple as color-coded wristbands for attendees to show their comfort level with contact to using proximity technology in innovative ways, they used every tool in their arsenal and then some to ensure attendee safety.
In this story, we analyze the defining themes and trends of 2020, their impact on events and event professionals, and how they'll influence the events industry in 2021 and beyond.
Virtual events ruled the events space
Until 2020, virtual events existed on the periphery. While everyone knew about virtual events, not many cared. Without the novel coronavirus and its many ramifications, we're pretty sure this trend would have continued for many more years. COVID-19, however, turned the world upside down, and for the events industry, this meant virtual events took center stage. They became the only safe way left for people to connect.
According to a recent study, the use of virtual events has gone up by 1000% since the pandemic. This last year alone, we saw more than 6000 virtual events hosted with Backstage. At its peak, an incredible 72,072 attendees registered via Backstage's event ticketing platform for a Facebook live event. Here's a graph from Google Trends on the number of people who searched for virtual events from January 2019 to December 2020:

From barely 15 to 20 searches per day in 2019 to 80 to 100 searches in mid-2020, the interest in virtual events has increased by almost five times.
Talking about words, another curious thing happened. "Pivot" became the event professional's favorite verb in 2020, especially when talking about virtual events. In the early stages of the pandemic—when people were still exploring and experimenting with virtual events—the team at EventMB hosted a "two-hour special online event." It was a discussion between the EventMB editors and eight industry experts. They called the event "Pivot to virtual." Over the next several months, we saw this phrase attain an almost cult status in the events industry with everyone pivoting to virtual events and teaching everyone else how to pivot to virtual events.
Event creators also found a way to host profitable virtual experiences. While in the beginning, most virtual events were free for everyone, later on, almost everyone started charging for them. And as virtual events evolved, so did virtual event sponsorships, giving event creators another revenue stream. Some events even used the subscription model where attendees could register for multiple events at a reduced cost. With most live experiences—concerts, tournaments, shows—still on hold, it looked like attendees had no option but to embrace virtual experiences. And they did so willingly.
This period also saw virtual trade shows and fairs taking off in a big way. While some of the biggest annual trade shows got canceled during the pandemic, a lot of smaller virtual alternatives popped up to balance business this year. When Expo West—one of the biggest food and beverage trade shows in the US—got canceled, CircleUp Network Inc. created their own virtual trade show: Virtual Expo West. Around 350 businesses signed up to do a five-minute elevator pitch to 20 invited buyers. In mid-June, the Alibaba Group launched a series of 20 virtual trade shows for wholesale sellers and buyers. The art world wasn't far behind either. Online viewings replaced conventional gallery openings to connect artists with buyers. So far, Art Basel's online viewing rooms have featured around 225 galleries from 30 countries.
One reason for the popularity of these fairs could be the many virtual event management platforms that recently scaled their product's capabilities up to include virtual trade shows. Their ready-made solutions—customizable virtual booths, chat forums, and lead generation tools—provided organizers an easy way to recreate their trade shows in a virtual format.
Other noticeable virtual event trends of the year included event apps, chatbots, and virtual venues. While the former two have been a part of the events industry for some time, the last one is pretty new and owes its existence completely to COVID-19. When live events came to a halt, some of the hardest-hit businesses were event audiovisual (AV) companies. You could call these virtual venues a direct result of their perseverance. Most virtual events (especially those presented via webcasting software) find production quality to be a problem. These virtual venues aimed to solve that problem. They're fully equipped to handle virtual event production and include everything from an event set to intelligent lighting and even an onsite team to help with the production.
Finally, what does this mean for 2021? We believe virtual events will continue to happen. However, at this point, it's doubtful if they'll be as prominent as they are now. While they won't disappear altogether, they'll mostly be a complement to live events or as a part of hybrid experiences. Solo virtual events, on the other hand, will focus more on content than community.
---
Subscribe to The Green Room
Sign up here and get all the most relevant MICE industry content delivered right to your inbox once a month.
By submitting this form, you agree to the processing of personal data according to our Privacy policy.
---
The live events industry proved "together is stronger"
While the events industry, on the whole, managed to redefine its strategy and overcome the consequences of the coronavirus pandemic, one part found it more difficult to survive—the live events industry. In a survey by Live Design, over 76% of respondents said they'd lost over 75% of their business since March 2020. The same survey further states 77.57% of respondents had laid off or furloughed staff.
The live events industry is huge and contributes a lot to global and national economies. Take the United Kingdom for example—millions of people from all over the world attend their West End shows, fests, and concerts. The events industry contributes £77 billion to the UK's economy and employs around 770,000 people. With the very existence of the live event industry in doubt and thousands of jobs at stake, event professionals came together like never before. In almost every corner of the world, people raised their voices in support of live experiences.
PLASA launched #WeMakeEvents in April 2020 to petition the UK government to "throw them a line" and support the live events industry. Today, around 28 countries are part of the campaign, which has become a global movement. The campaign also got a lot of support from the international event community for their Global Day of Action initiative held on September 30, 2020. According to their website, "In total, over 25 countries took part at 8pm local time, with activations delivering a range of creative responses, such as lighting iconic buildings in red to highlight how the industry is in red alert, as well as beaming shafts of white light into the sky to highlight the mass job losses."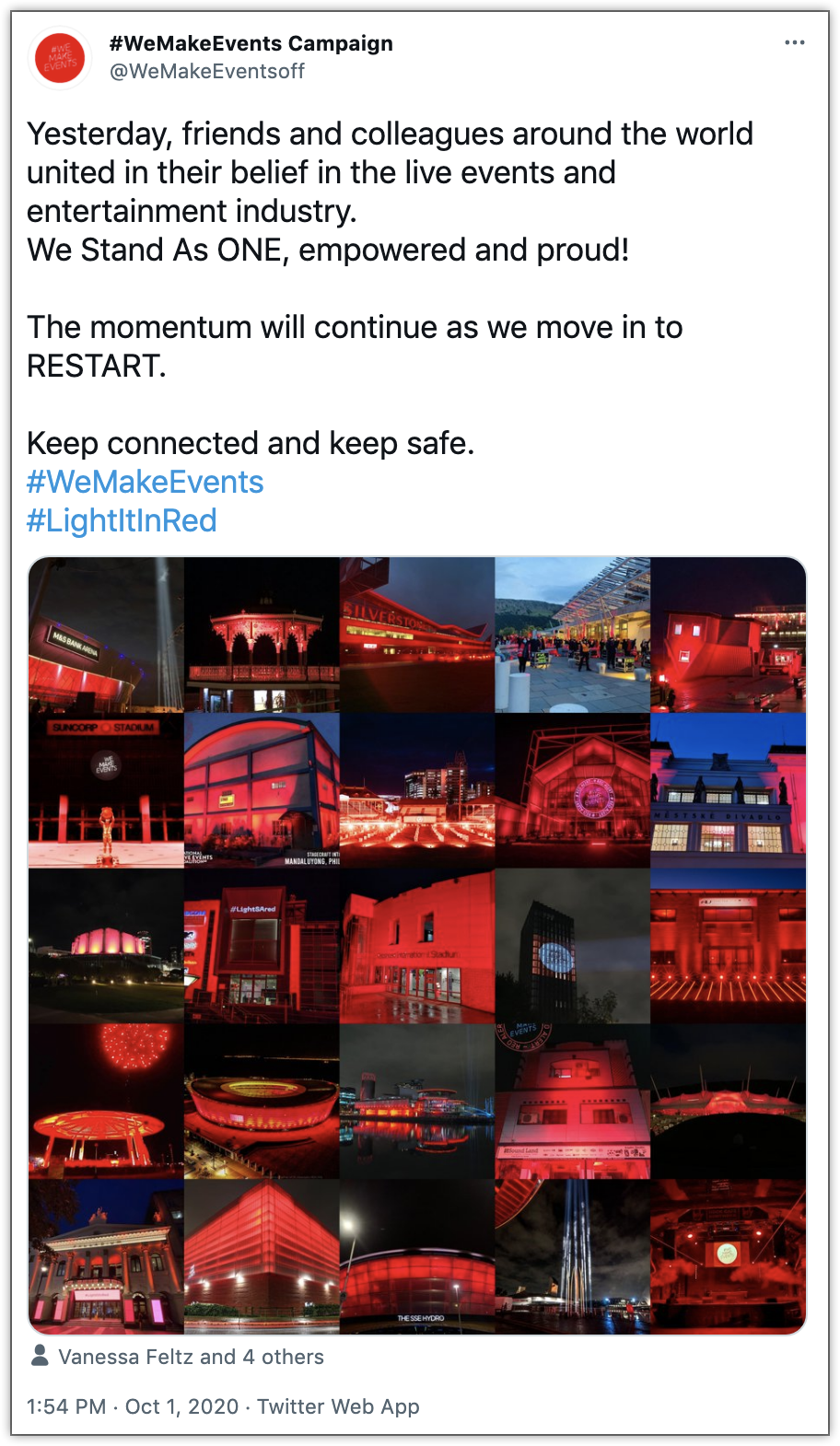 Over in the United States, #SaveOurStages and #SaveLiveEventsNow gained a lot of momentum. The former, launched by National Independent Venue Association (NIVA) is a campaign requesting "Washington for targeted legislation to help (the events industry) survive" and are the people behind the Save Our Stages Act (S. 4258) The latter is a coalition of several agencies across the live events industry and aims to expand government aid to the 12 million people who've lost their jobs since live events came to a halt in early 2020.
There have been similar campaigns around the world. In Australia, independent music venues from across New South Wales launched the #SaveOurStagesNSW campaign, writing an open letter to the NSW State Government for immediate government intervention. In Ireland, the Event Production Industry Covid-19 Working Group (EPIC)—an independently elected group of representatives from all aspects of the live entertainment and events industries—launched the #ThisIsWhoWeAre initiative to request a budget for the live events industry in the National Recovery Plan. The #AlarmStufeRot (#RedAlert) campaign in Germany also garnered much support from both the citizens and the government.
Onsite events made a tentative comeback
The latter part of 2020 was chaotic with nationwide lockdowns being imposed on and off. However, despite everything, attendees have been very supportive of live events. A survey conducted by GES Research in as early as June and July 2020 showed 88% of respondents were willing to attend tradeshows in person. While most were concerned about the coronavirus transmission, they were open to the experience as long as event planners took the necessary safety precautions.
This led to a lot of very creative approaches at live experiences, the most original of which was The Flaming Lips concert that had 100 attendees in 100 bubbles. The sixteenth chapter of the trade show Automechanika Shanghai, held in December 2020, also had a successful run. Taking a hybrid approach, the trade show had 79,863 onsite attendees and 578,000 online visits from people in as many as 150 countries.
Coming to Backstage, while the number of onsite events in the second and third quarters was significantly low, we saw the numbers picking up in the later months. Over 2000 onsite events were conducted with Backstage in the last quarter of 2020, and around 1200 events have been scheduled for 2021. Most of these events are small-scale, in-person gatherings with a huge emphasis on social distancing.
Event management software companies, for their part, have made it a point to include social distancing tools in their feature set. From contactless registration and check-in to settings to manage event and session capacity, from custom forms that make contact tracing easy to smart badges that notify attendees when they get too close to another attendee, event technology has played a big part in ensuring attendee safety at events.
Event venues have also gone through a transformation to accommodate the current COVID-19 restrictions. These future-proofed venues come with eRFPs, venue diagramming tools, safety policies, and, in some cases, even hybrid-ready rooms that allow onsite and online attendees to get together.
In 2021, there will be more live events and the priority—at least until a vaccine is widely distributed—will be health and safety. Though people are excited about attending live events, the uncertainty surrounding the novel coronavirus does make it tricky for them to make a full return, especially in the case of large-scale experiences. We expect to see scaled-back live events with a heavy focus on virtual components to increase audience reach. And while the number of live events this year will increase when compared to 2020, they won't be anywhere close to the live events hosted in the pre-pandemic years.
The events industry in 2021 and beyond
We're moving towards an increasingly hybrid future, and the best part is everyone seems to be excited about the prospect of that—event professionals, sponsors, speakers, and even attendees. Event technology will continue to play a big part in the success of hybrid events, just as it did with virtual events in the last year. Sustainability, both environmental and social, will also have a role in 2021, and with global supply chains still affected by COVID-19, regionalization will be prioritized over globalization. Other trends carried on from previous years include diversity, inclusion, and accessibility at events with an emphasis on digital accessibility, especially with hybrid events dominating the future.
More resources
In the last year, several organizations have created many resources and tools to help event professionals prepare for events in the new normal. At The Green Room, we've done the same. Here are a few resources that we believe will help you get a better understanding of where things stand in the events industry and how to best prepare for them:
If you're looking for more detailed information, here's a compilation of all our resources and reflections on hosting events beyond COVID-19.
---
If, like us, you're more of a social person, let's connect on Twitter (@ZohoBackstage) and we'll keep you up-to-date with all the latest event news.
Nisha

Marketing and content at Zoho Backstage. Cultural misfit. Armchair traveler. Productivity geek. Sometimes, I write poetry. Sometimes, it rhymes.
Leave a Reply
Your email address will not be published. Required fields are marked