The simplest way to host all your events
In-person events
Keep it all together at the venue
Explore More
Hybrid events
Merge the physical with the virtual
Explore More
Featured in the Constellation ShortList™ for Event Marketing & Management Software (2020, 2021, 2022, 2023)
Plan, run, and analyze your event— all from one place
No more juggling tools, no more frustrating busy work. Zoho Backstage is the fully-customizable event management platform that lets you do it all—from organizing your event to measuring its impact and everything in between.
DO MORE IN LESS TIME
End-to-end
event planning
Empower your team with all the tools they need to streamline your event planning process—be it setting the event agenda, accepting sponsor proposals, addressing attendee questions, or even hosting rehearsals.
REPLACES: Spreadsheets, planners, and form builders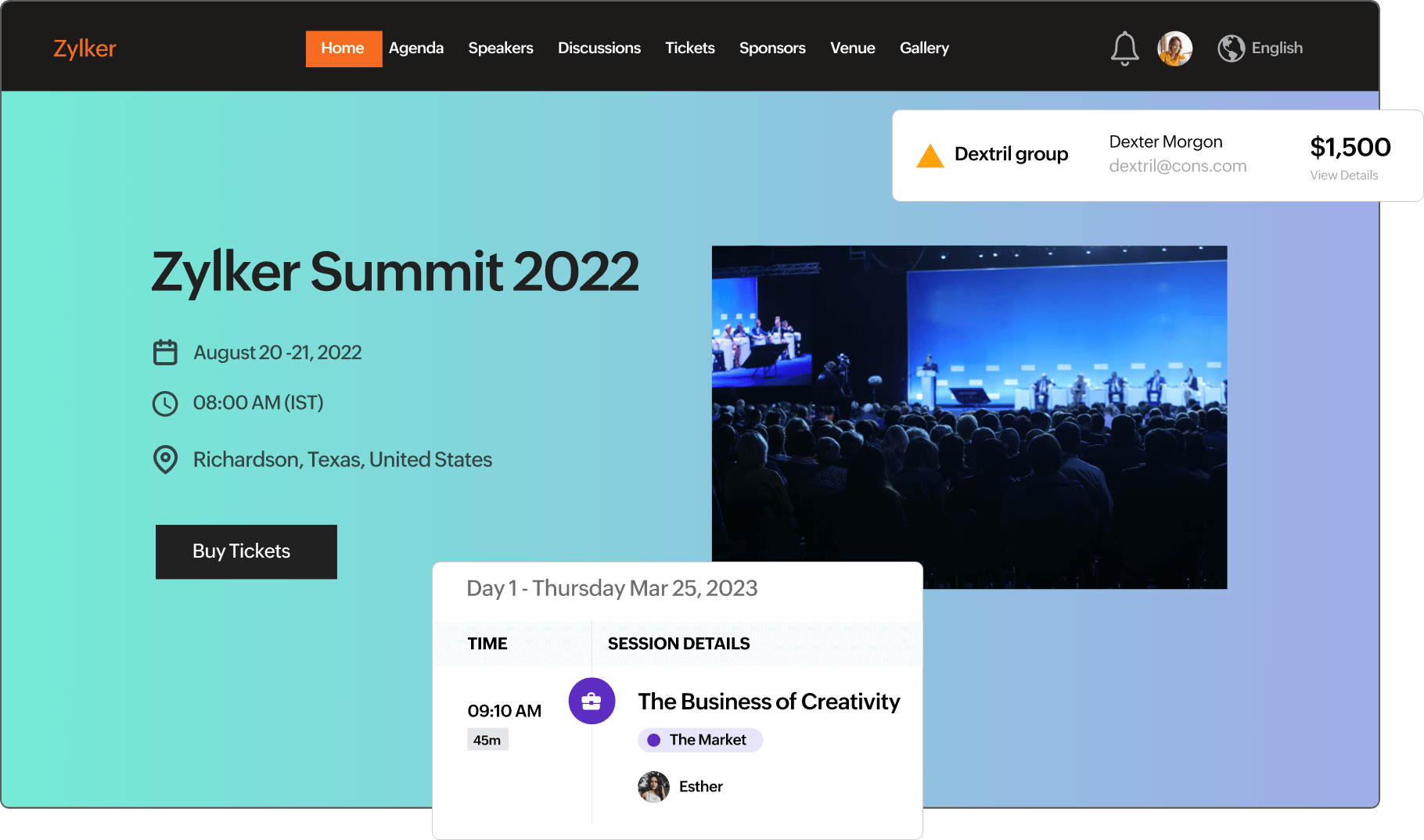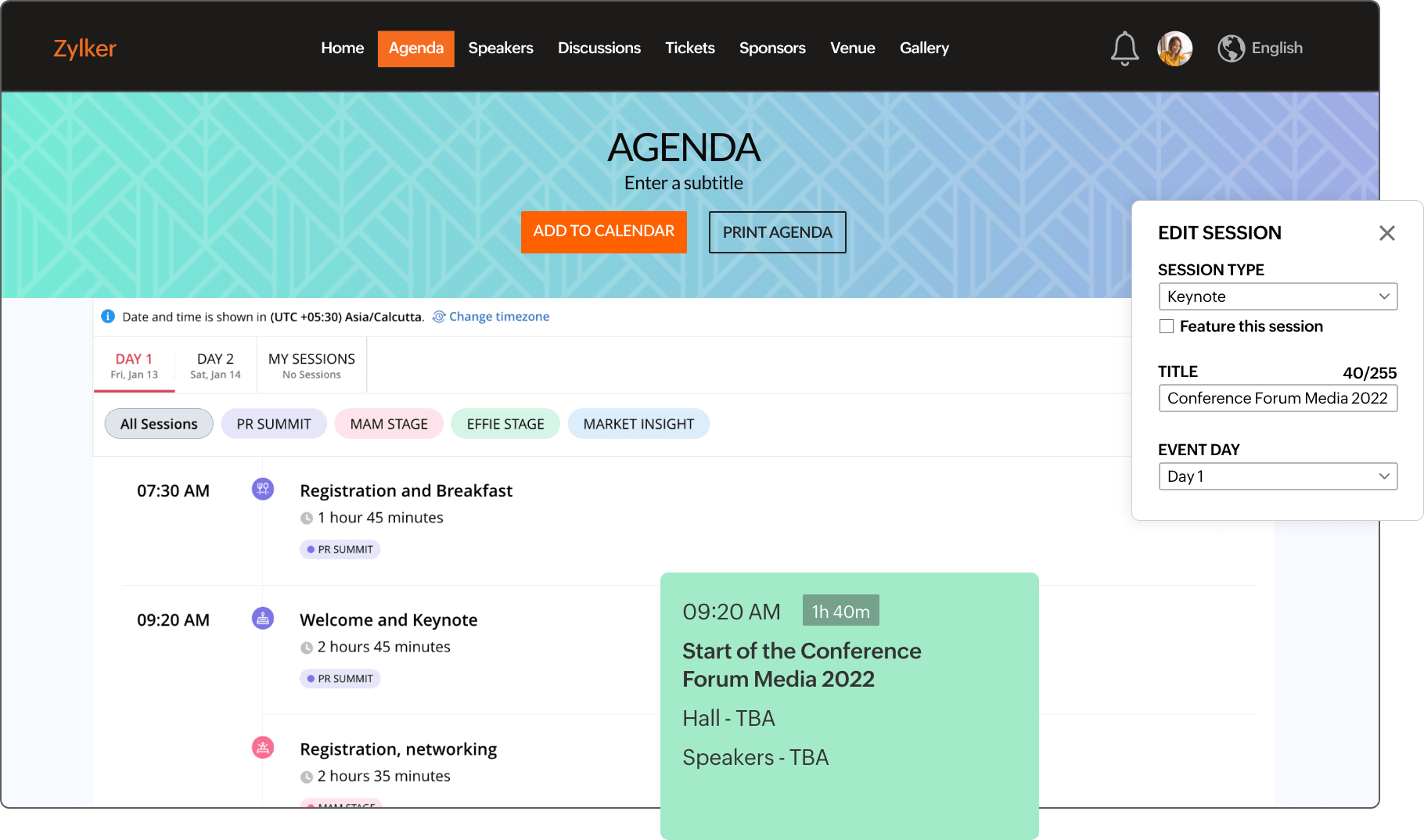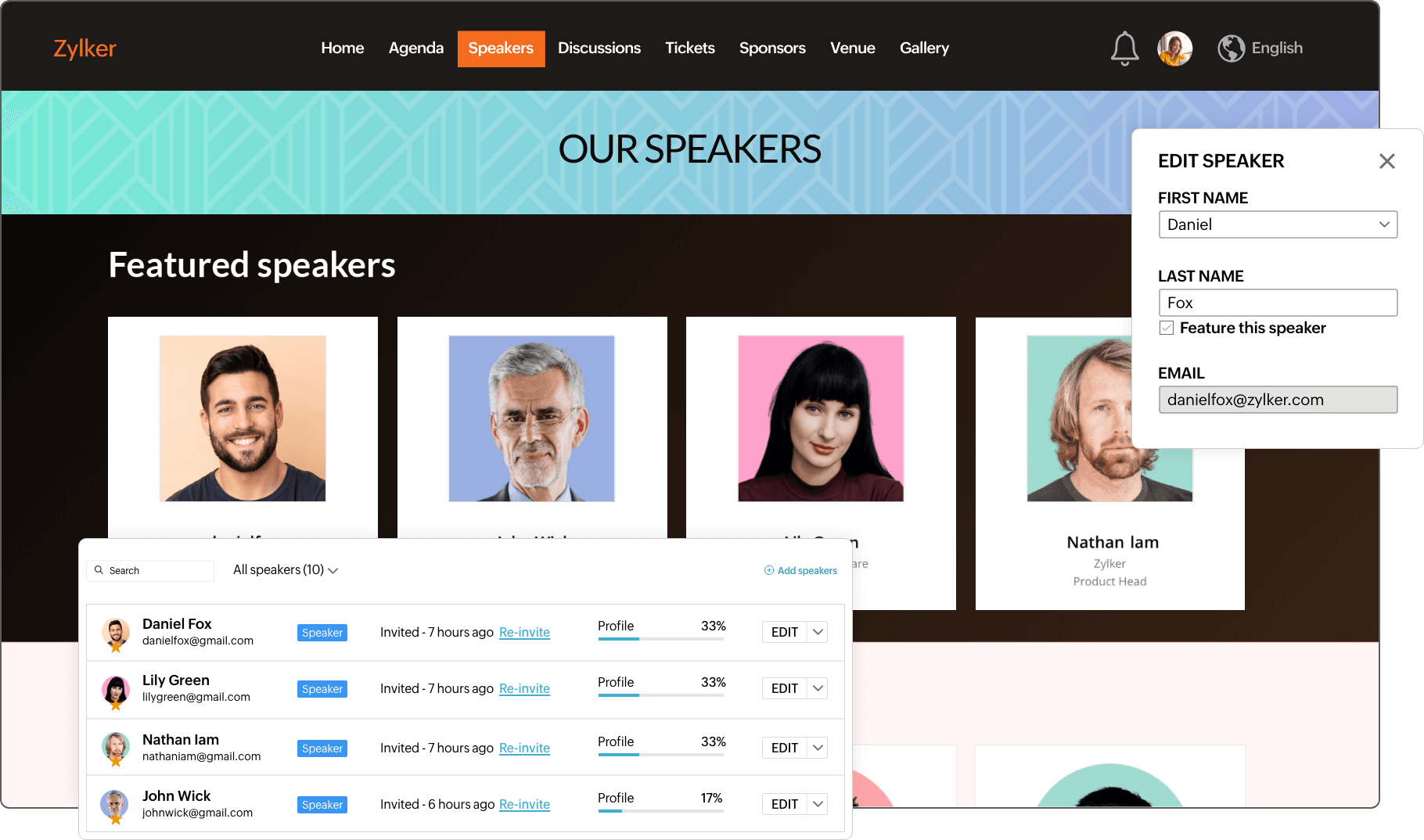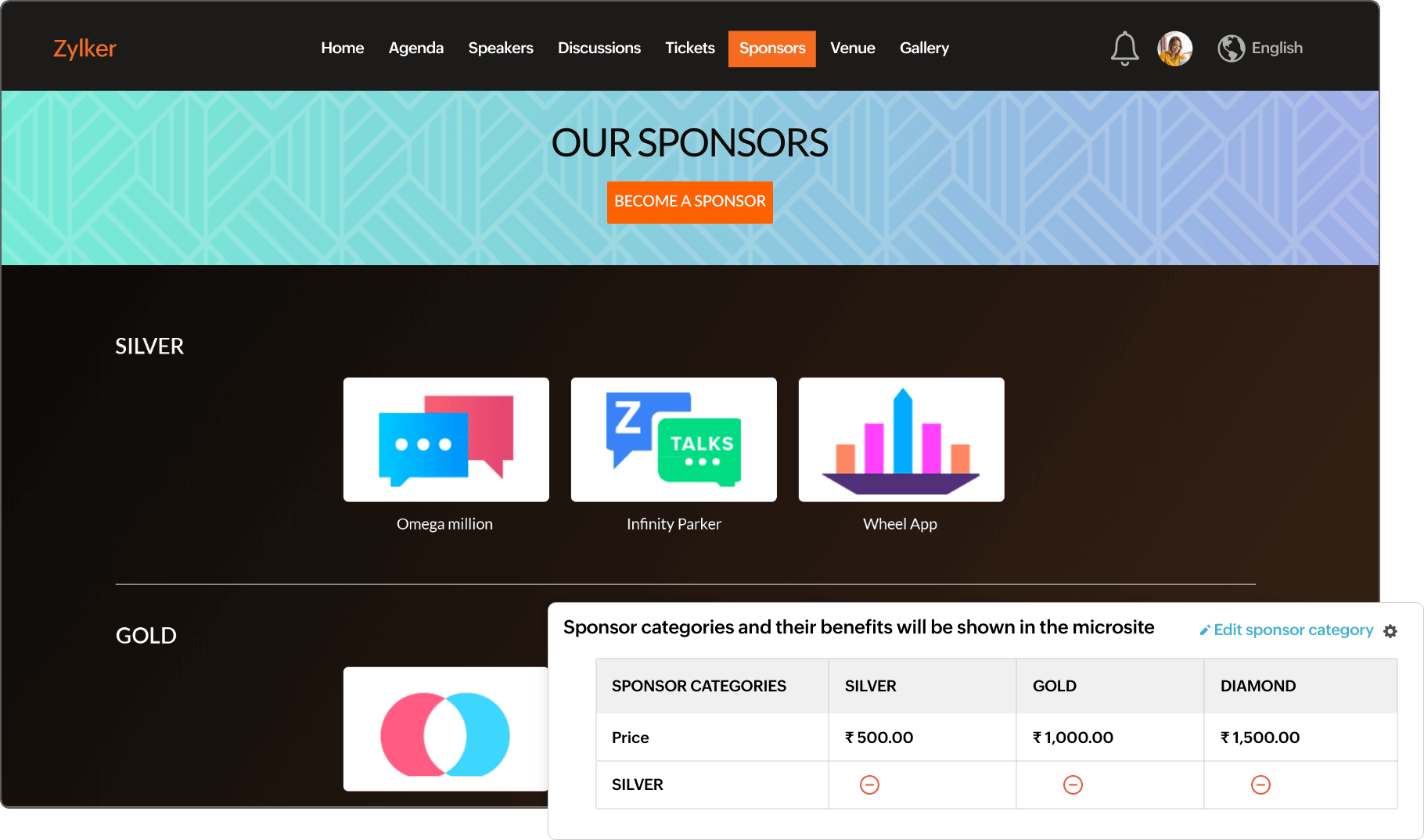 TURN A PROFIT
0% commission event ticketing
Our ticketing platform supports a wide range of payment options and 10+ payment gateways, so you can sell tickets exactly the way you want. Plus, you'll never be penalized for your success—there are no commissions, and payouts happen instantly.
REPLACES:

Event ticketing platforms
Explore our event ticketing platform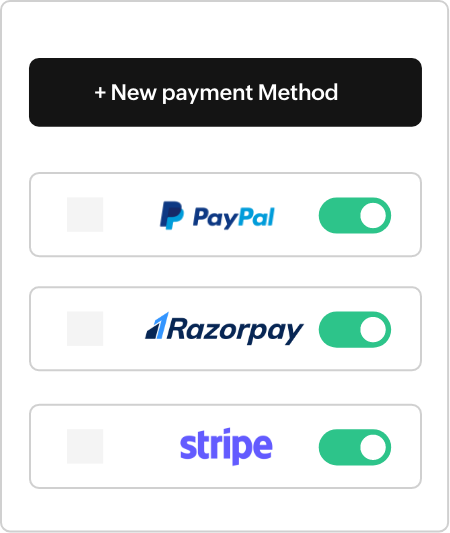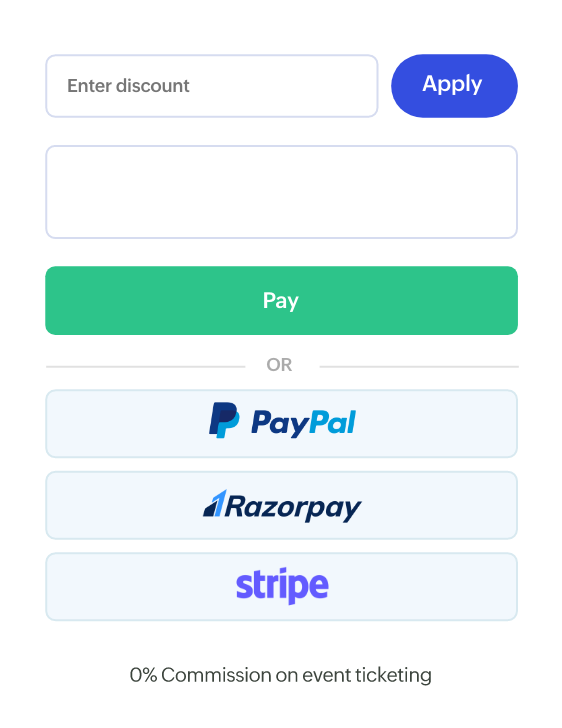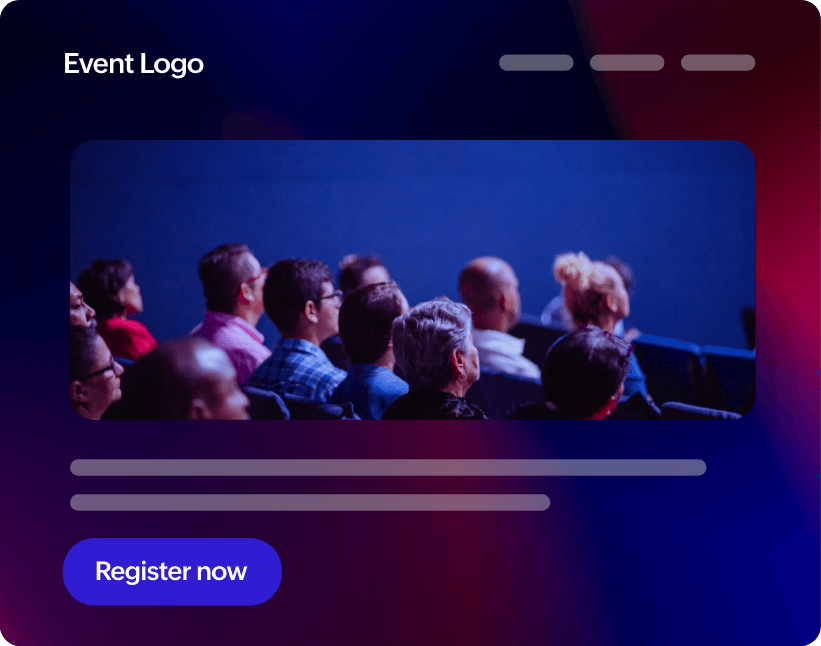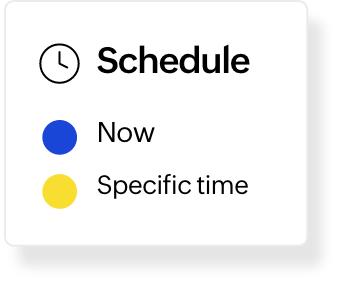 GO THE DISTANCE
Omni-channel marketing tools
From a fully-customizable event website to email campaigns, from customizable social banners to affiliate marketing, Zoho Backstage helps you get the word out about your event in multiple ways so you can reach a wider audience.
REPLACES:

Website builders and email marketing software
Explore our event marketing platform
KEEP THEM HOOKED
Holistic audience engagement
Onsite or online, our session interaction tools, networking lounges, discussion channels, and 1:1 meetings make it easier than ever for you to engage attendees, foster networking, and create a community.
REPLACES:

Poll makers and online discussion platforms
Explore our audience engagement features
Backstage by the numbers
0+

events

0+

event planners

0+

countries

0+

attendees
CUSTOMER STORY
"Zoho's backend technology ensured that over 2000+ SMBs who attended the event were provided a seamless experience.
SATISH UPADHYAY HEAD, SELLER MARKETING AMAZON INDIA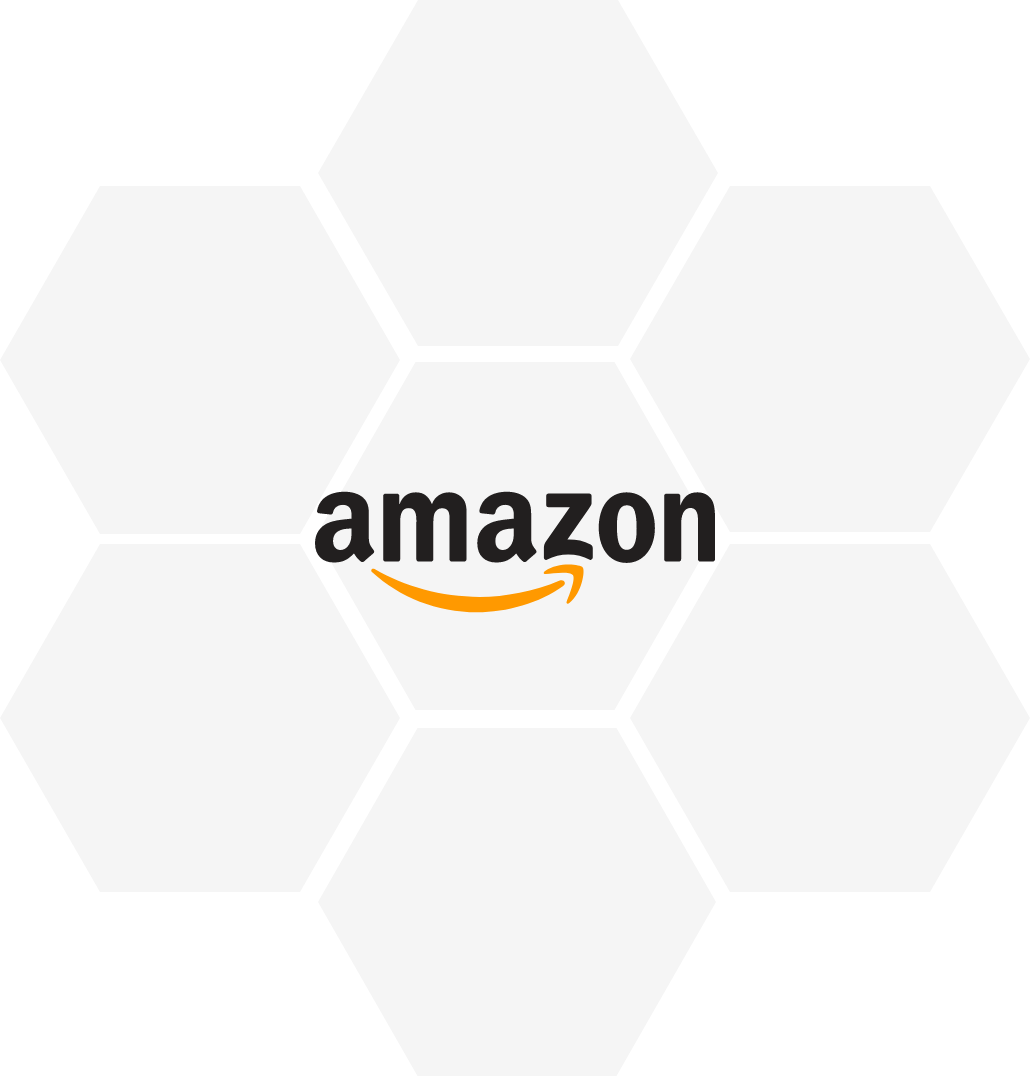 CUSTOMER STORY
"We used Backstage to organize our second anniversary. It helped us gather more than 450 guests to celebrate this event with us."
CHRISTOPHE MENDEZCO-FOUNDER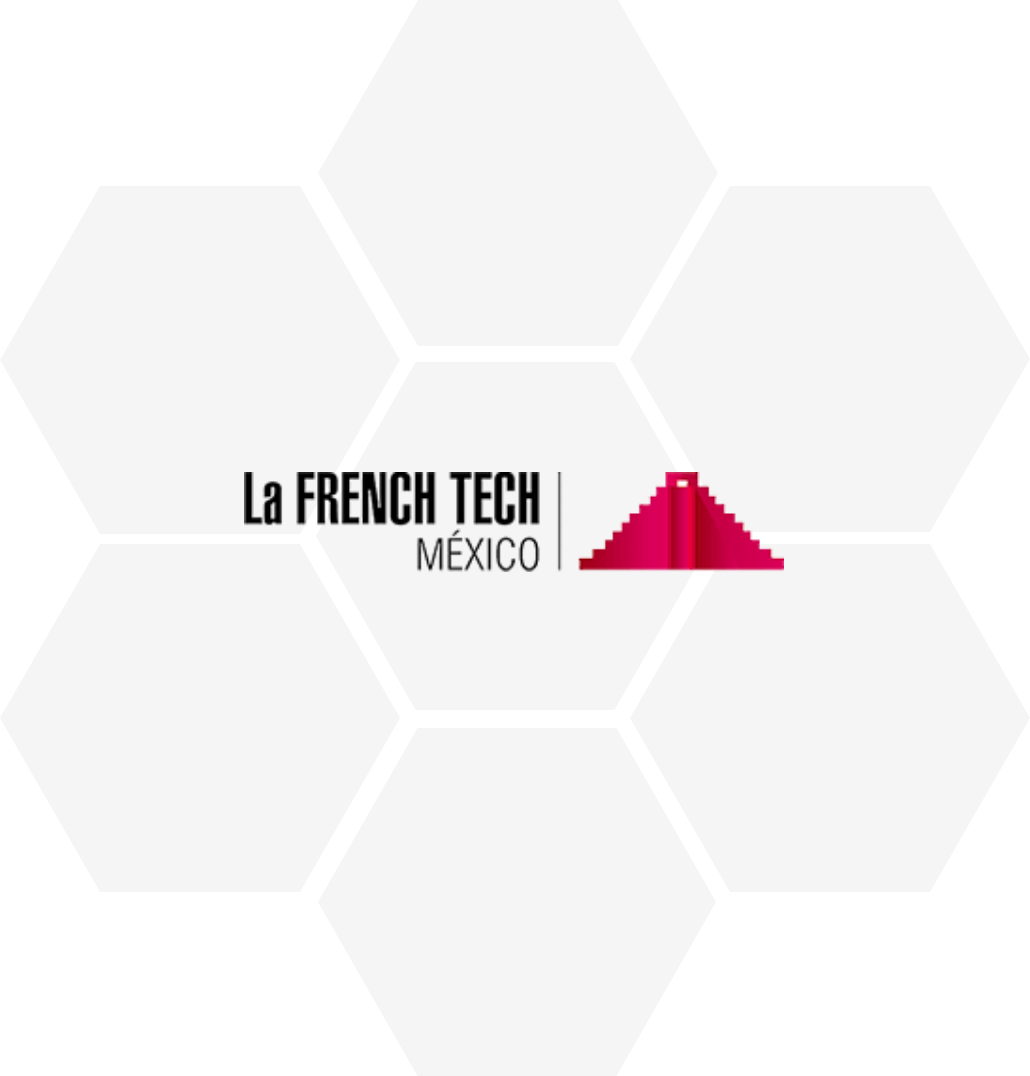 CUSTOMER STORY
"Our favorite thing about Zoho Backstage is the ability to track ticket sales and watch the money come in!"
MATT EVENT COORDINATOR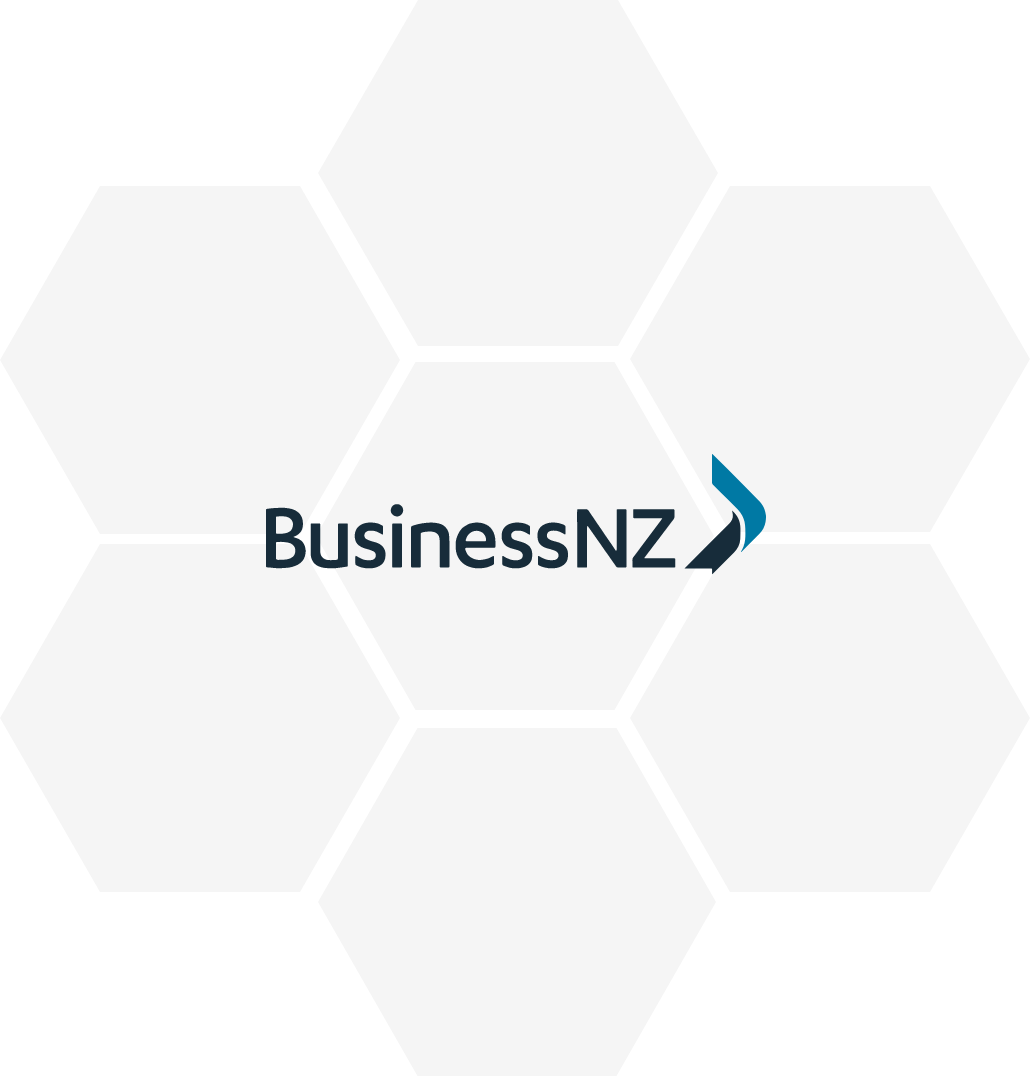 Discover more customer experiences
FOR ORGANIZERS
ZOHO BACKSTAGE FOR ORGANIZERS
At your desk or up and around, keep a finger on the pulse of your event at all times. Track registrations, check in attendees, make announcements, and more right from your mobile device
Explore Event App for Organizers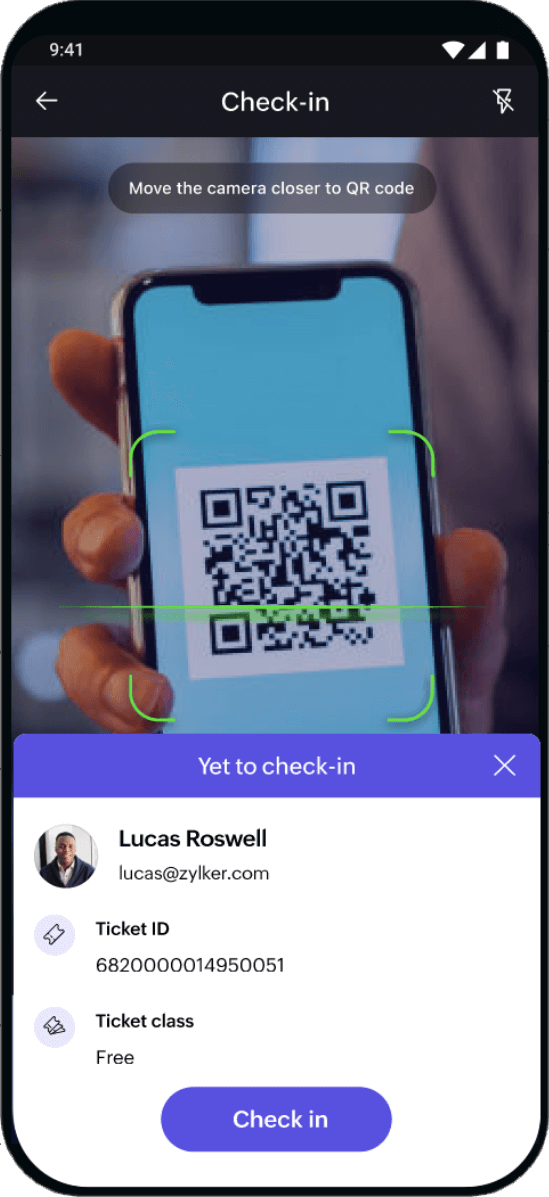 FOR ATTENDEES
ZOHO BACKSTAGE FOR ATTENDEES
Our mobile event apps open up new ways to engage attendees and encourage networking before, during, and even after the event so you can build a thriving online community.
Explore Event App for Attendees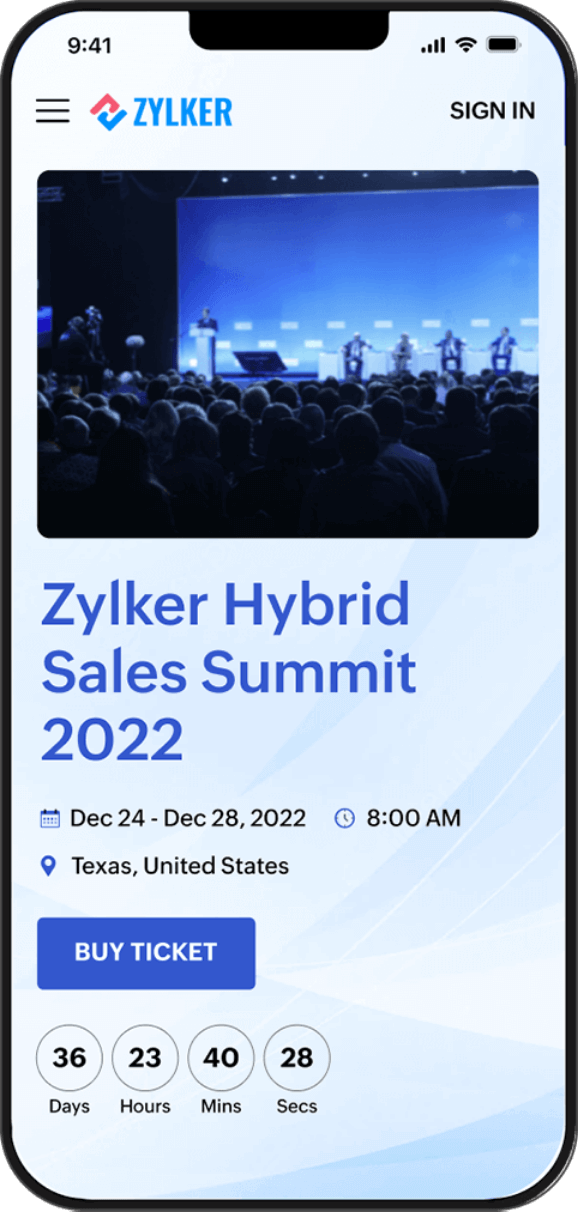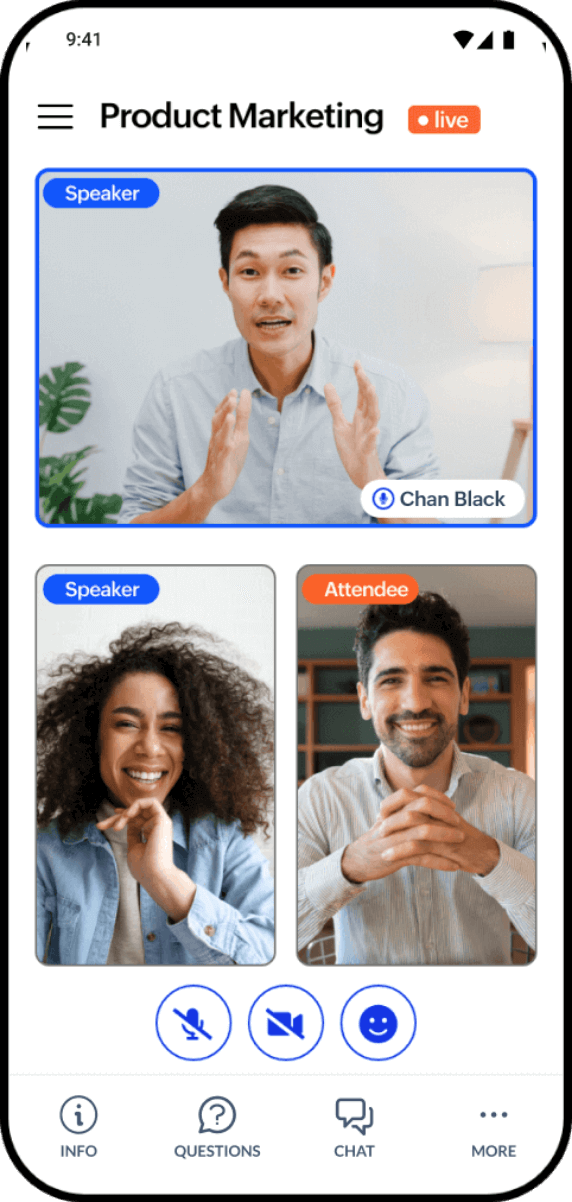 We've got your back—in more ways than one
Security by design
We take your online safety very seriously. Not only are we committed to the highest international standards of security, but we also own our entire tech stack and all of our data centers. So go ahead and plan your event—we'll secure it, for you and your attendees.
Privacy by default
When we say we value privacy, we mean that we won't show you any ads, use third-party cookies to track you, or mine your data. Plus, we'll do our best to support you in protecting your attendees' information and staying compliant with data privacy regulations.
Frequently Asked Questions
What is event management software?
Event management software is a comprehensive technology solution designed to assist event planners in organizing various types of events, such as conferences, workshops, and trade shows, across different formats like onsite, online, and hybrid.
It streamlines the entire event planning process, from building an event website and managing ticketing to handling event day operations, including check-in, badging, session management, and event analytics. event day operations like check-in and badging, session management, and event analytics.
How does event management software help organize successful events?
Event management software can benefit event planners in many ways. Experience the advantages of Event Management Platform:
Time-saving: Automate tasks and streamline processes with a single tool, eliminating the need for multiple platforms.
Enhanced attendee engagement: Interact with attendees through various channels for a more immersive experience.
Personalized customization: Tailor your event website, app, and forms to your preferences.
Data-driven insights: Access in-depth reports and analytics to make informed decisions and boost event ROI.
What are the key features of event management software?
Essential Features to Consider in an Event Management Software:
Event ticketing: Streamline registration and ticket sales.
Sponsor and exhibitor management: Organize and coordinate with key partners.
Event marketing tools: Boost event visibility and reach your target audience.
Attendee engagement: Keep your audience connected and involved.
Website builder: Create visually appealing, informative event websites.
Customizable forms: Collect relevant data with tailored registration and feedback forms.
How is Zoho Backstage different from other event management platforms?
Unlike other event management software solutions on the market today, Zoho Backstage is truly all-in-one. We're built from the ground up—rather than acquiring other products or filling the gaps with integrations—so all of our features not only work well together, but they're also relevant to event planners.
What is the difference between virtual event management software and webinar software?
First things first, virtual events are not webinars. They are more multidimensional and based on the event planner's goals, and they might include multiple sessions, networking areas, and even exhibitor booths. Most of these options are not supported by webinar solutions.
A virtual event management software solution, on the other hand, not only supports the above-mentioned activities, but it also takes care of other event management activities like event planning, ticketing, marketing, and more.