Upgrade to latest build : 5120
Choose your existing build number
Choose your existing build number
Build 5000 to 5110
Build 4600 to 4750
Build 4550 to 4590
Build 4500 and below
How to locate my build number?
Get to know more about the latest features, enhancements and issues fixed in the release notes.
If you are new to Zoho Analytics, please download the Full Build.
How to locate my build number?
In the Zoho Analytics application, click on the Help icon present on the top right corner.
Click on the About menu item.
In the information displayed, you can find the build number.
Check the image guide to locate the build number.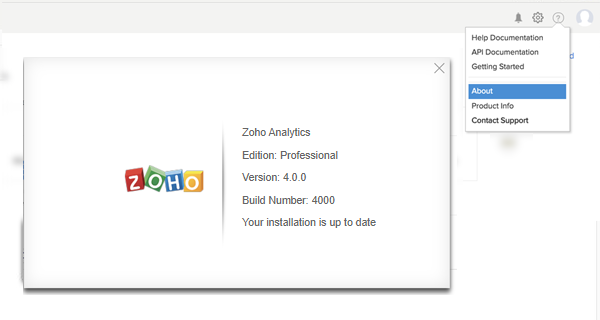 Instructions to upgrade :
Follow the below steps one by one, do not skip any steps.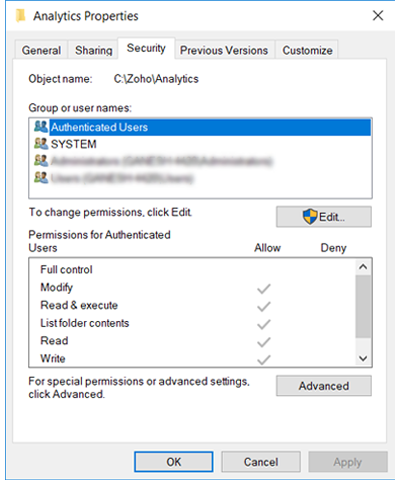 Shut down Zoho Analytics.

Windows installations- Open the services window (Run--> services.msc) and stop the 'Zoho Analytics service'. The other two Zoho Analytics services (Accounts and reports) will shutdown automatically.
Linux installations- Run the shutdown.sh command from the directory \ZohoAnalytics\bin

As a best practice, take a complete backup of 'Zoho Analytics Home' folder.
The Zoho Analytics installation directory should have the following permissions configured.
This is a pre-requisite for a successful upgrade. This permission can be revoked after the upgrade is complete.
Run the UpdateManager.bat script (sh UpdateManager.sh for Linux) under the Zoho Analytics Home/bin folder which invokes the
Update Manager tool.
Browse and select the Service pack file (.ppm) saved in your computer.
Click Install to initiate the upgrade process.
Once you see the Installed message on your screen, click Finish to complete the installation.
Start Zoho Analytics application.
Note
< Zoho Analytics Home> refers to the directory in which you have installed the Zoho Analytics product. This directory location is specified by you when you install the product.
While upgrading to build 4550, please free up sufficient disk space for a successful upgrade. Additionally, as we are upgrading your underlying database, this upgrade will take longer than usual. Both upgrade completion time, and the disk space required will depend on the amount of data present.
Need Help?
Want help with upgrading to the latest version of Zoho Analytics? Please email us at onprem-support@zohoanalytics.com