End of Support - Product Support Life Cycle Information
Zoho has announced the end of technical support for Zoho Analytics build 4500 and below, effective from October 15, 2021. After every major release, we support legacy releases for a considerable period of time to help our customers upgrade to the latest build. We recommend customers to upgrade to the latest build to get the full benefit of new features, enhancements, bug fixes, and technical support.
Retired builds
| Build numbers | Release date | Technical support/maintenance ends on |
| --- | --- | --- |
| 4500 and below | June 01, 2020 | October 15, 2021 |
Zoho Analytics upgrade plan
Choose your existing build number
Choose your existing build number
Build 4350 to 4500
Build 4000 to 4300
Build 3700 to 3900
Build 3600
How to locate my existing and latest build number?
Open your Zoho Analytics application.
Click the Help icon and choose About from the drop-down. You can find your present and latest build number in the pop-up that appears.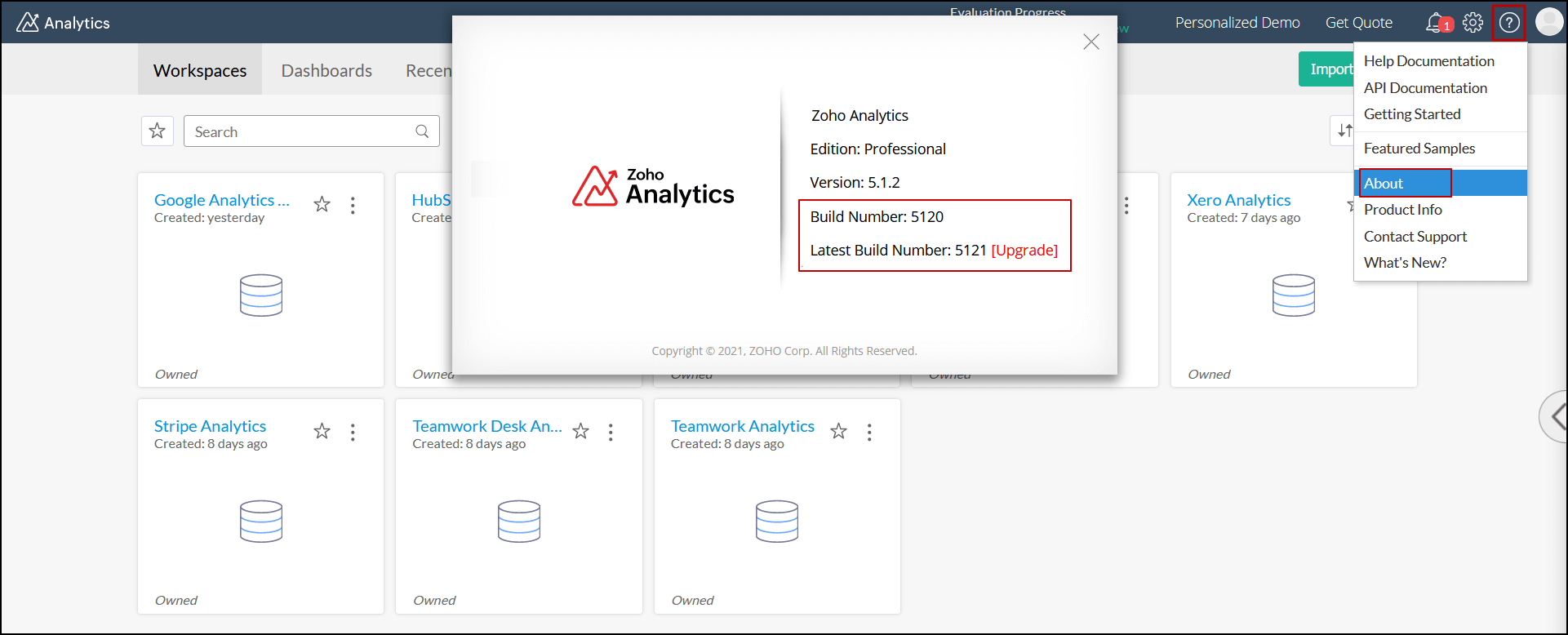 Steps to upgrade Zoho Analytics On-Premise
To upgrade Zoho Analytics from one build to another, follow the steps detailed in this documentation.
Note
< Zoho Analytics Home> refers to the directory in which you have installed the Zoho Analytics product. This directory location is specified by you when you install the product.
FAQ
What is 'End of technical support'?
End of technical support only means technical assistance will not be available for the specified builds past the retirement dates. However, our engineers will assist you in upgrading to the latest build provided you have a valid AMS contract.
Why should I upgrade?
Upgrading to the latest builds will give you access to the latest features, enhancements and bug fixes.
Is the upgrade done free of cost?
All customers under a valid AMS contract are eligible for upgrades at no additional cost.
My Zoho Analytics subscription has expired. How can I upgrade?
You have to renew your subscription before you can upgrade. Please write to sales@zohocorp.com for a renewal price offer.
How long will you provide support for older builds?
Support will be provided for older builds (mentioned above) till the end of the support date.
Need Help?
Want help with upgrading to the latest build of Zoho Analytics? Please email us at onprem-support@zohoanalytics.com