E-commerce analytics tool for your online store
Analyze and visualize your ecommerce store data in minutes using our ecommerce analytics tool. Track key metrics and extract meaningful insights. Share your reports and collaborate with your colleagues.
Sign up in less than 60 seconds
Ecommerce analytics software for better insights
Import, combine, and analyze your critical metrics and stay updated on the trends of your ecommerce business.
Optimize your inventory
Never run out of stocks by visualizing the most and least selling products. Inventory in-depth analysis optimizes your inventory stocks efficiently.
Analyze your orders and transactions
The orders dashboard provides you with the performance indicators of your ecommerce store. Proactively monitor and analyze your orders, transaction status, returns, and refunds, all on a unified dashboard.
Maximize your sales
Monitor your sales across products and regions with sales dashboards. Measure the impact of your offers and discounts on your sales, and track refunds to optimize your sales pipeline.
Optimize Your Inventory
Analyze Your Order Transactions
Maximize Your Sales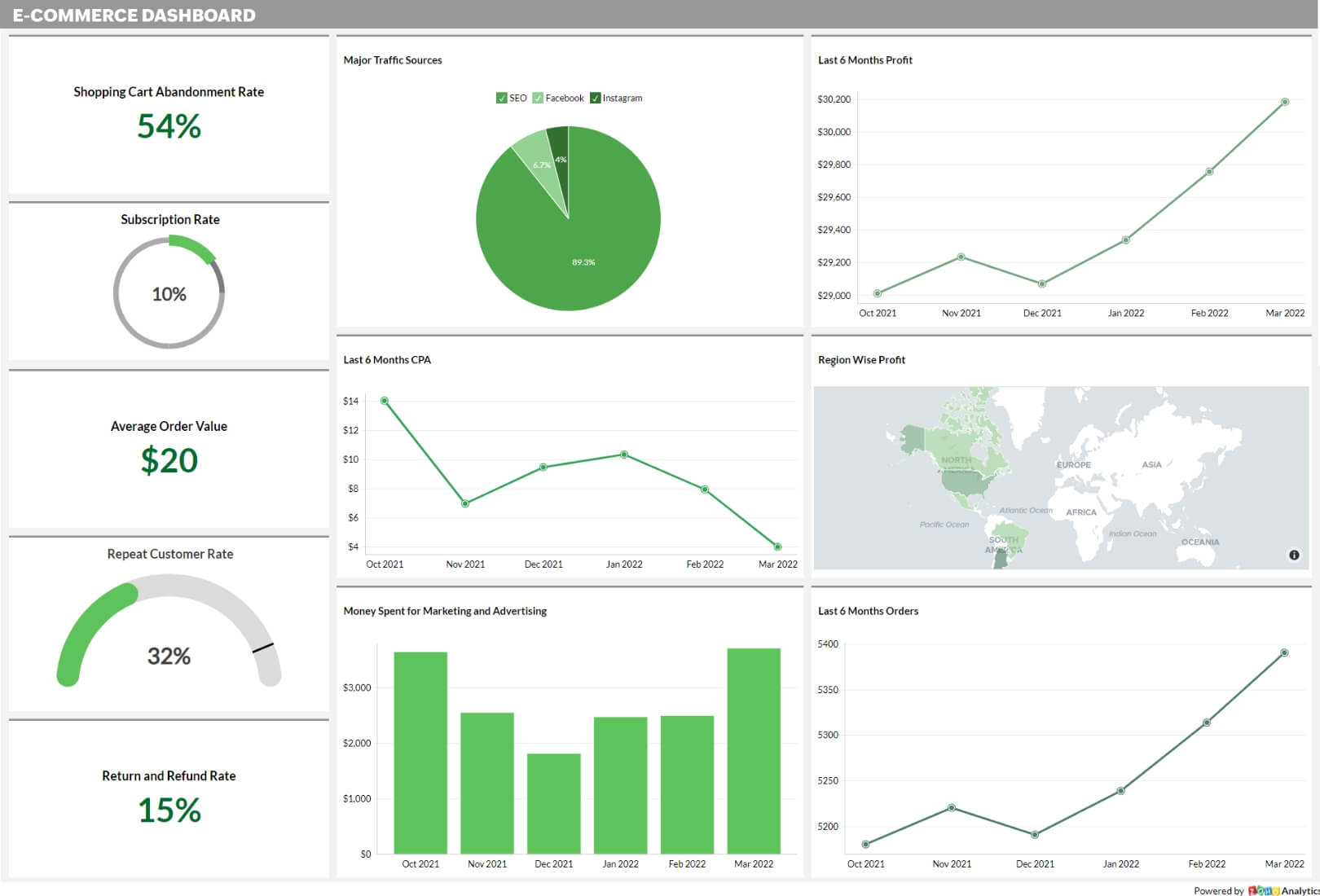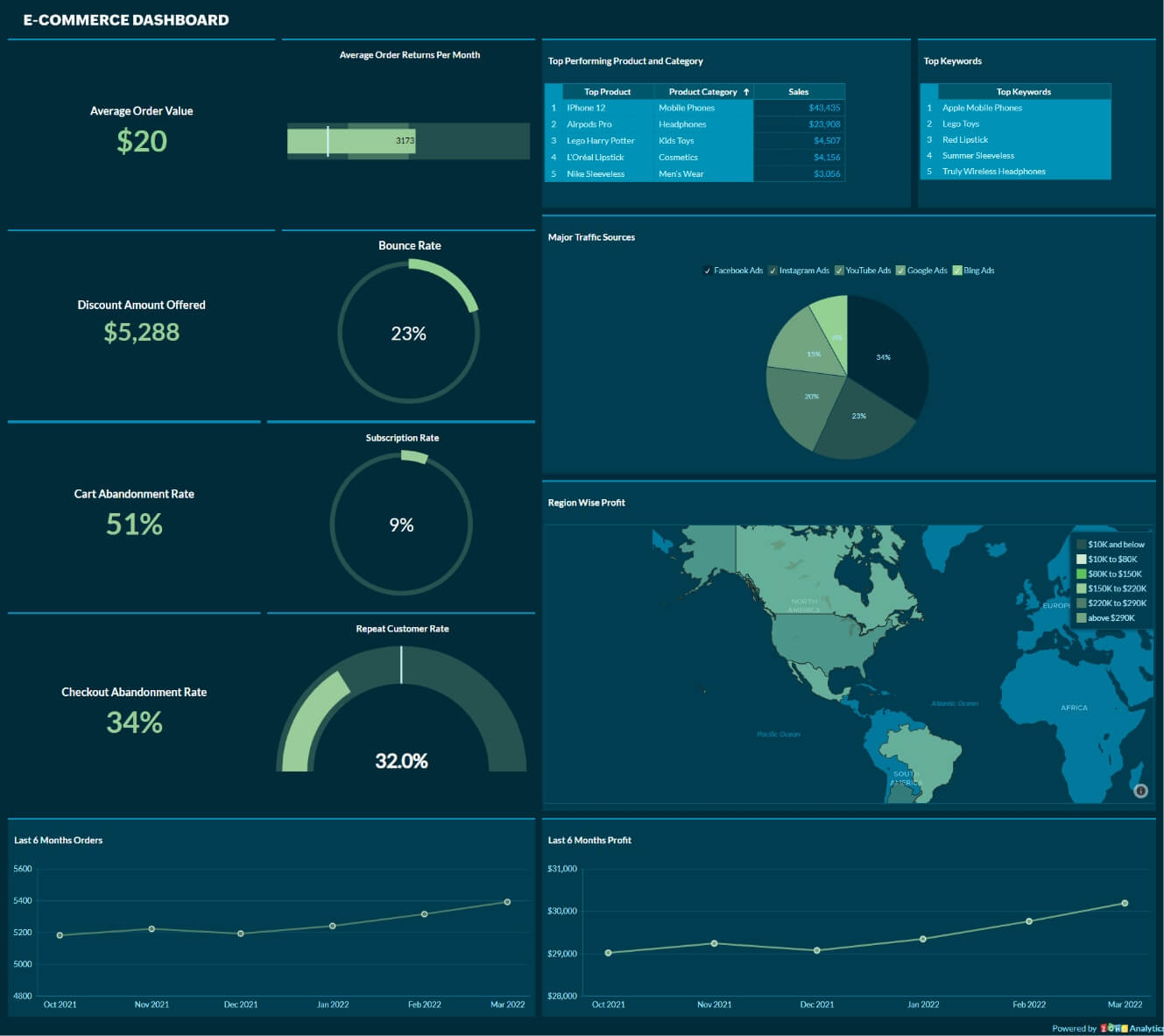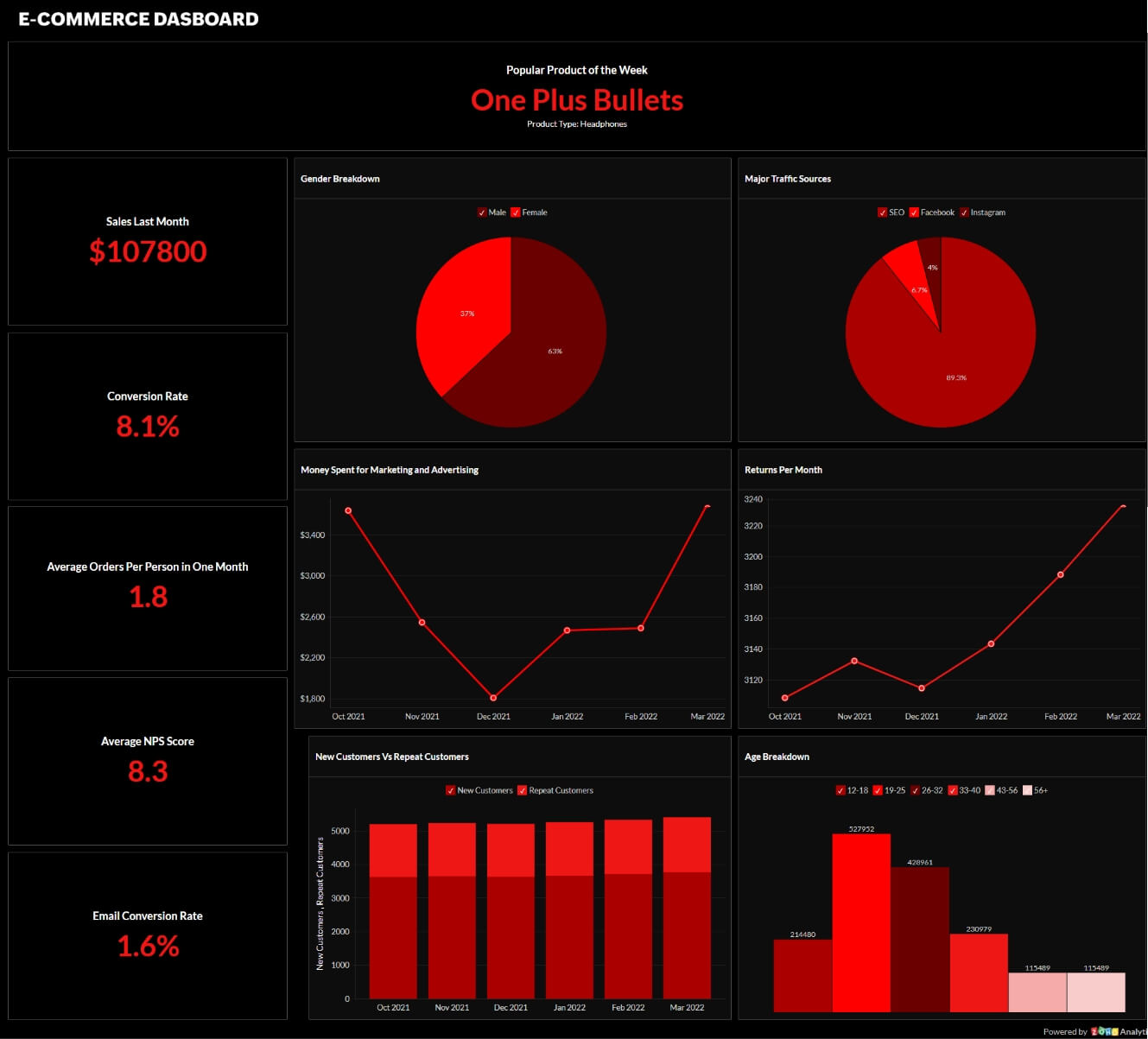 Key features of Ecommerce analytics tool
Visual Analysis

Get 100+ pre-built visualizations or build your own reports and dashboards using an easy-to-use, drag-and-drop interface. Drill down, view underlying data, and do much more.

Data blending

Combine data from different sources for cross-functional analysis. For example, blend data from WooCommerce and Zoho Survey to find out delivery and product satisfaction.

Smart analytical assistant

Converse and ask anything to Zia, our AI-powered assistant, and get instant insights in the form of reports and KPI widgets.

AI powered insights

Go beyond numbers and get automated contextual insights, as digestible narrations. Predict your future with what-if analysis and forecasting.

Collaborative analytics

Develop and analyze reports together with your team members. Share and embed your visualizations for wider consumption.

Craft stunning data stories

Narrate analytical stories through data storytelling, by crafting immersive analytical presentations. Design and deliver purpose built analytical portals.
What you're missing
Not tracking order count properly
Not having an eye on the inventory stocks
Not using the demographic data collected from customers
Not following up on the payments
Not analyzing the top-performing categories and products
An e-commerce analytics tool help you with
Tracking order count by visualizing the data
Setting alerts when inventory is running low
Creating geographic charts and pie charts to understand customer demographics
Analyzing the performance of all products on a unified dashboard
"Our company uses Zoho Inventory, Books, and Shopify. We always had a problem with stock integration between Amazon, our website (Shopify) and ebay. Zoho Analytics allows us to make sure our stock is always accurate on our ecommerce platform. The access to different apps that all integrate well is very helpful. All in which we have full up-to-date integration between flawlessly. "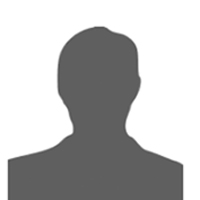 Verified Reviewer
G2 Crowd