Sell smarter with Shopify Analytics
Measure, analyze, and run your e-commerce business efficiently using Shopify dashboards, powered by Zoho Analytics. Track key metrics, extract powerful insights, and grow your business using Shopify analytics. Share your data visualizations and insights with your colleagues, and take informed business decisions.
Sign up in less than 60 seconds
Shopify analytics for your business
Get, combine, and analyze all your critical Shopify store metrics and grow your business with powerful insights, all under one roof.
Maximize your sales

Analyze your sales across products, regions, and payment methods with the powerful Shopify sales dashboard. Measure the impact of your offers and discounts on your sales. Track refunds to optimize your sales pipeline.

Analyze order transactions

Analyze and proactively monitor your order transactions with the Shopify orders analytics dashboard. Extract deep insights about orders based on their source, transaction status, and much more. Get accurate order forecasts and boost your sales.

Optimize your inventory

Know your most and least selling products to understand your customer preferences. Dive deeper and analyze your stock details to optimize your inventory efficiently.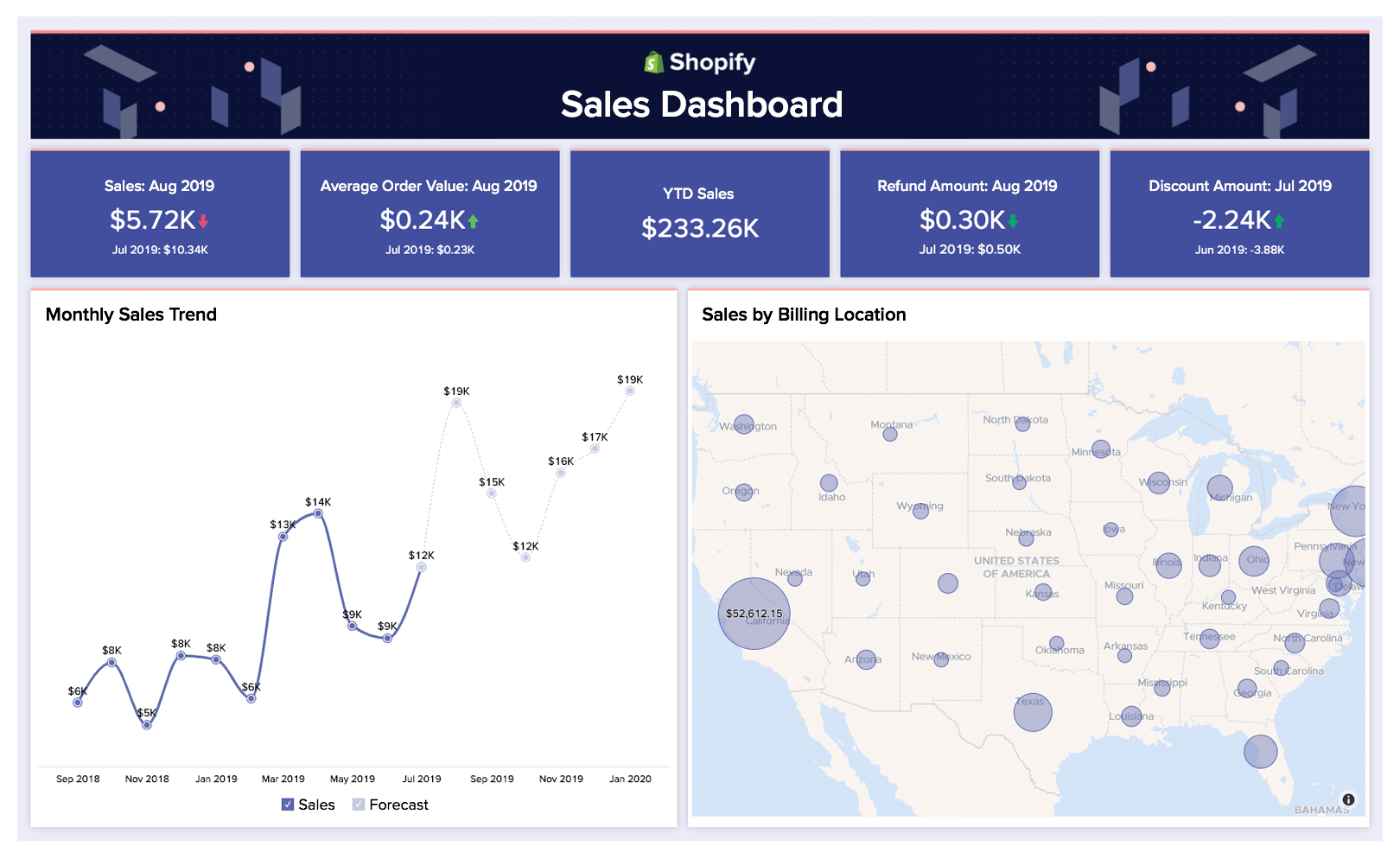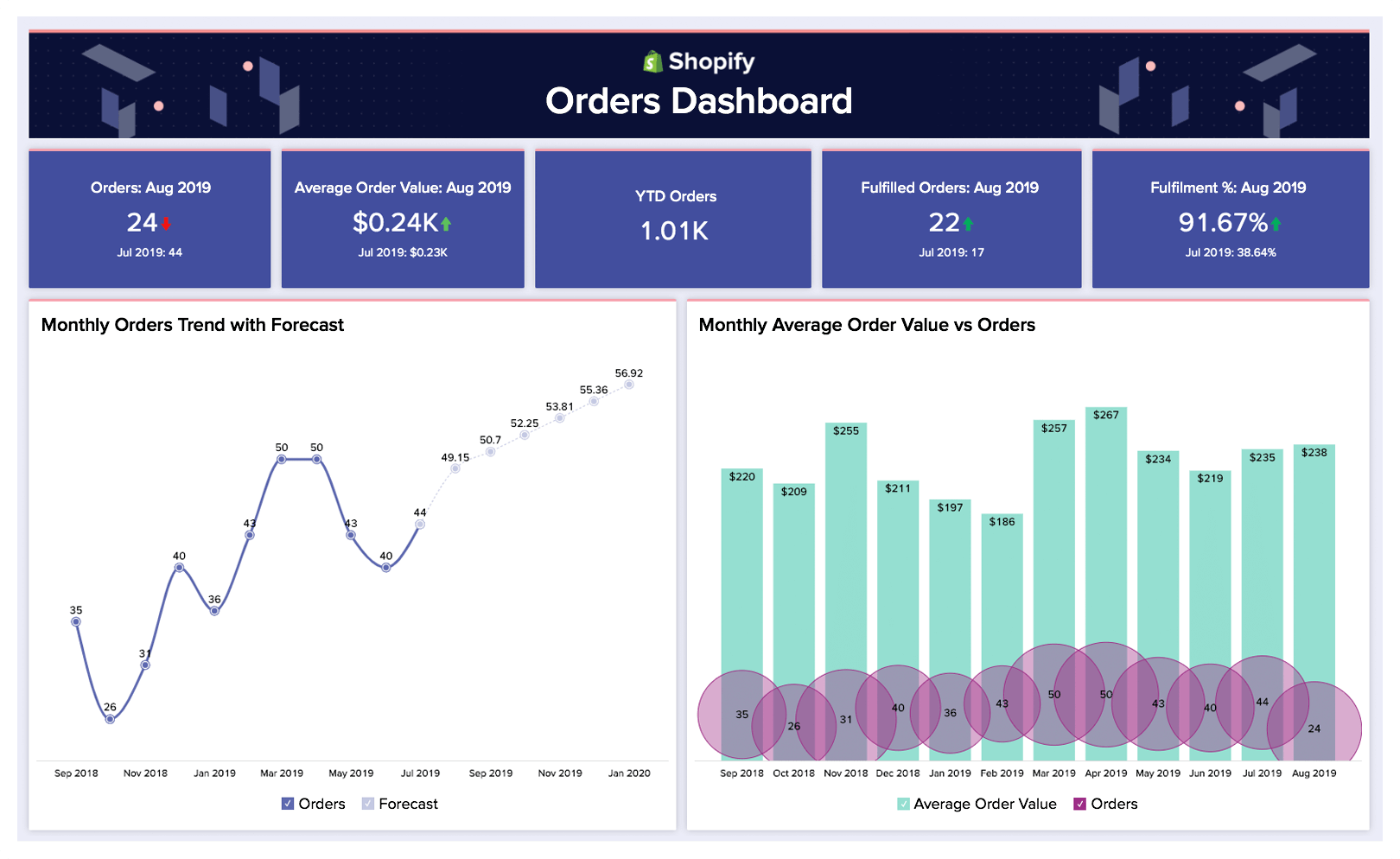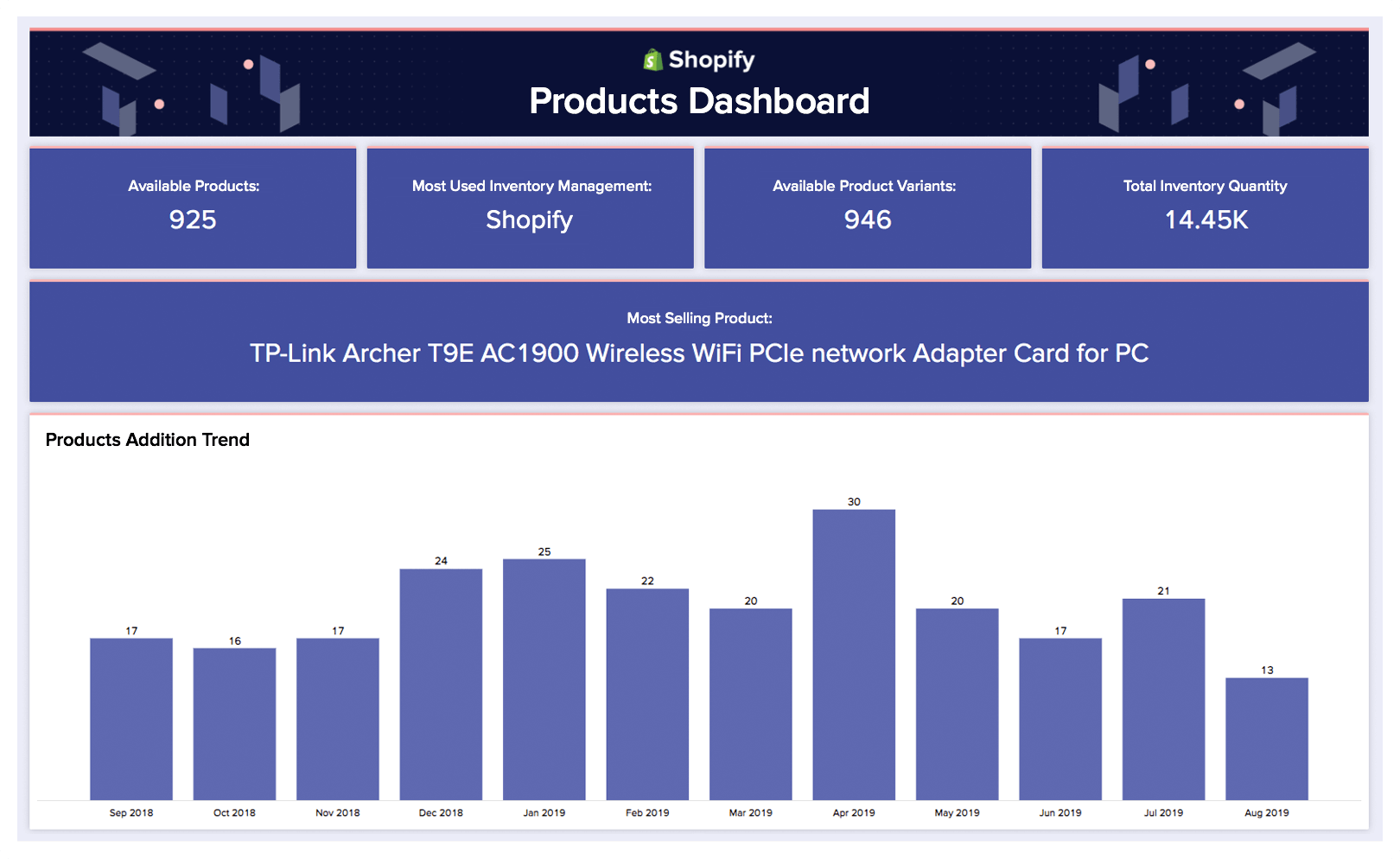 Advanced Shopify Analytics - Key Features
2 Million Users. 50 Million Visualizations. 1 Analytics Platform.
Visual Analysis

Kick start your analytics journey with 100+ pre-built visualizations or build your own Ad Hoc reports and dashboards using an easy-to-use, drag-and-drop interface.

Collaborative analytics

Develop & analyze reports together with your team. Share and embed your visualizations for wider consumption.

Email, export, and print reports

Export or print reports for offline access. Schedule your reports and dashboards to be emailed automatically to the given recipients.

Data blending

Combine data from different sources for cross-functional analysis. For example, blend data from Shopify and Zoho Survey to find out delivery and product satisfaction.

Smart analytical assistant

Type out your questions, and see Zia, our AI-powered assistant, come up with suitable answers in the form of reports and KPI widgets.

Embedded analytics

Get a powerful BI, reporting, and analytics solution in your own brand name, embedded within your product/application or set up as a standalone portal.
Hear it from our customers
"Our company uses Zoho Inventory, Books, and Shopify. We always had a problem with stock integration between Amazon, our website (Shopify) and ebay. Zoho Analytics allows us to make sure our stock is always accurate on our ecommerce platform. The access to different apps that all integrate well is very helpful. All in which we have full up-to-date integration between flawlessly. "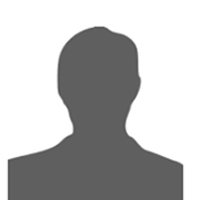 Verified Reviewer
G2 Crowd