Experience our all-in-one view
Access all your Workplace apps without having to move back and forth between browser tabs with the new Workplace dashboard. Customize and rearrange your app widgets, and stay connected with this unified interface.
Learn more about Workplace Dashboard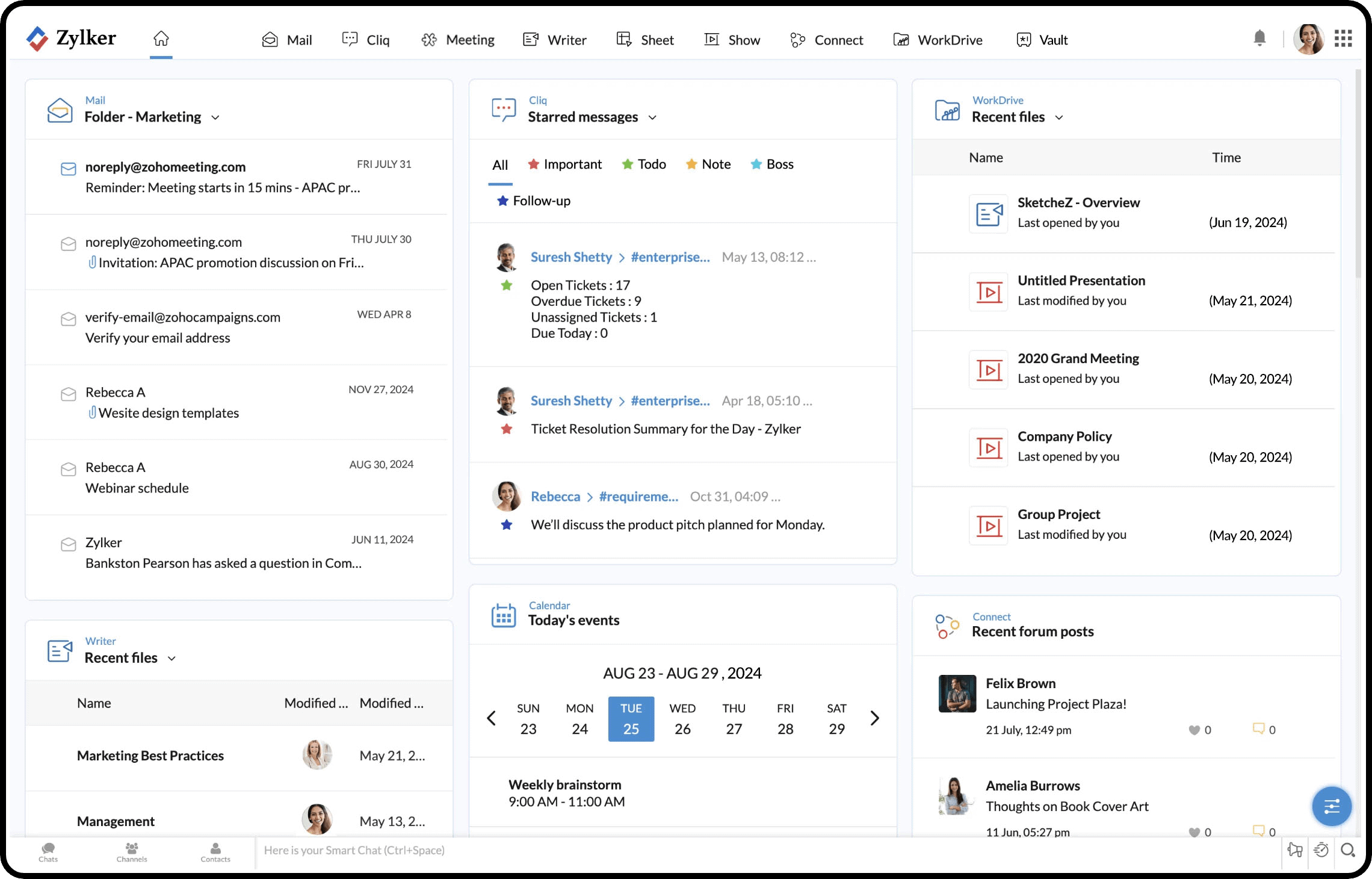 Build your team
Productivity and time management are essential components in any company's growth. Use Workplace to collaborate effectively, master the art of time management, and improve your organization's productivity.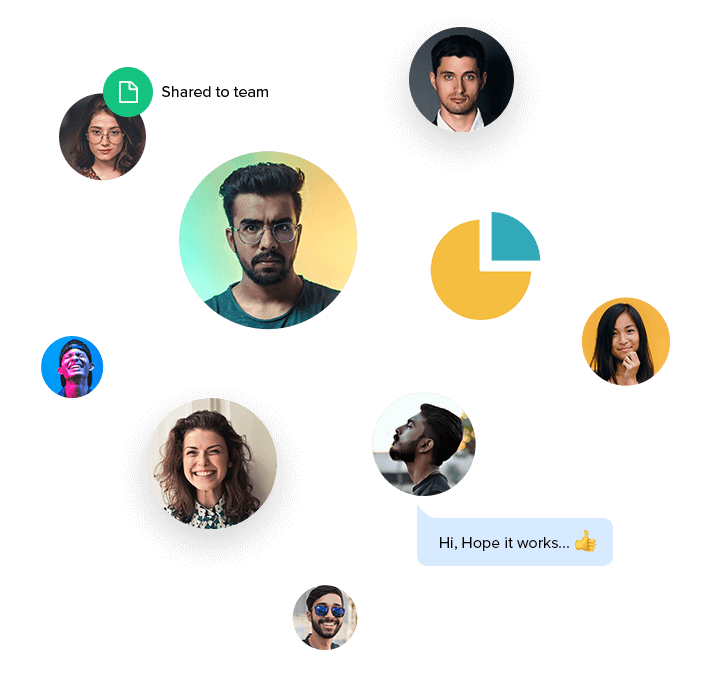 Versatile tools to simplify your tasks
With Workplace's fully featured tools, your goals can be reached in half the time.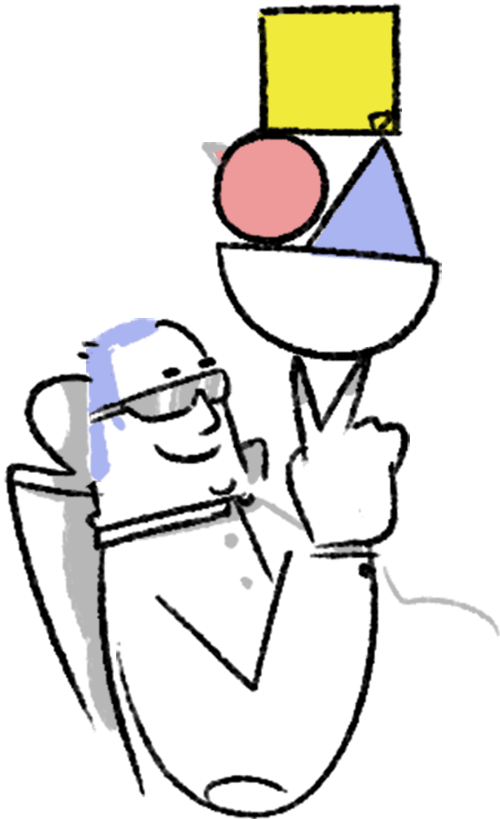 Access any file type
Open Word documents, PDFs, Excel files, PowerPoint presentations, and more with Sheet, Writer, and Show in the existing formats to start editing right away.
Collaborate in real time
Distance means nothing when your team can collaborate in real time on documents, sheets, and presentations. Track changes, comment directly on the page, spreadsheet, or slide, or set up a video conference to review your project.
Communicate effectively
Team communication is about more than email and chat. Build a social intranet for your organization to stay connected across departments and teams with channels, feeds, groups, and forums.
Work from anywhere
With Workplace, work is just one tap away. Whether you need to access a last-minute presentation, reply to an urgent email, or a host a remote video conference, Workplace helps you get everything done on the move.
Get assistance from Zia
Need a writing assistant or a data analyst? Zia is here to help. When you work in Writer and Sheet, Zia makes sure you deliver your best by improving readability, grammar, and writing style or scans your spreadsheet to search data and answer questions.
Keep your data safe and sound
When you create, collaborate or communicate using the Workplace apps, your information remains secure. Our password encryption, two-factor authentication (TFA), encryption at rest and transit, and other features guarantee your privacy and security.
For enterprises big and small
Workplace is designed to increase productivity for organizations of any type and size. Whether you're a solo entrepreneur or a mid-sized enterprise, each tool is built to boost your efficiency and team collaboration.
When all the apps come together
All apps in Zoho Workplace are tightly integrated to provide you with the best user experience. Respond to Cliq chats while working in any app, store files with WorkDrive and share with Mail, present a spreadsheet over live video conference, and more with Workplace.
Your productivity suite, in your pocket
Download the Workplace mobile apps to streamline your work on the go.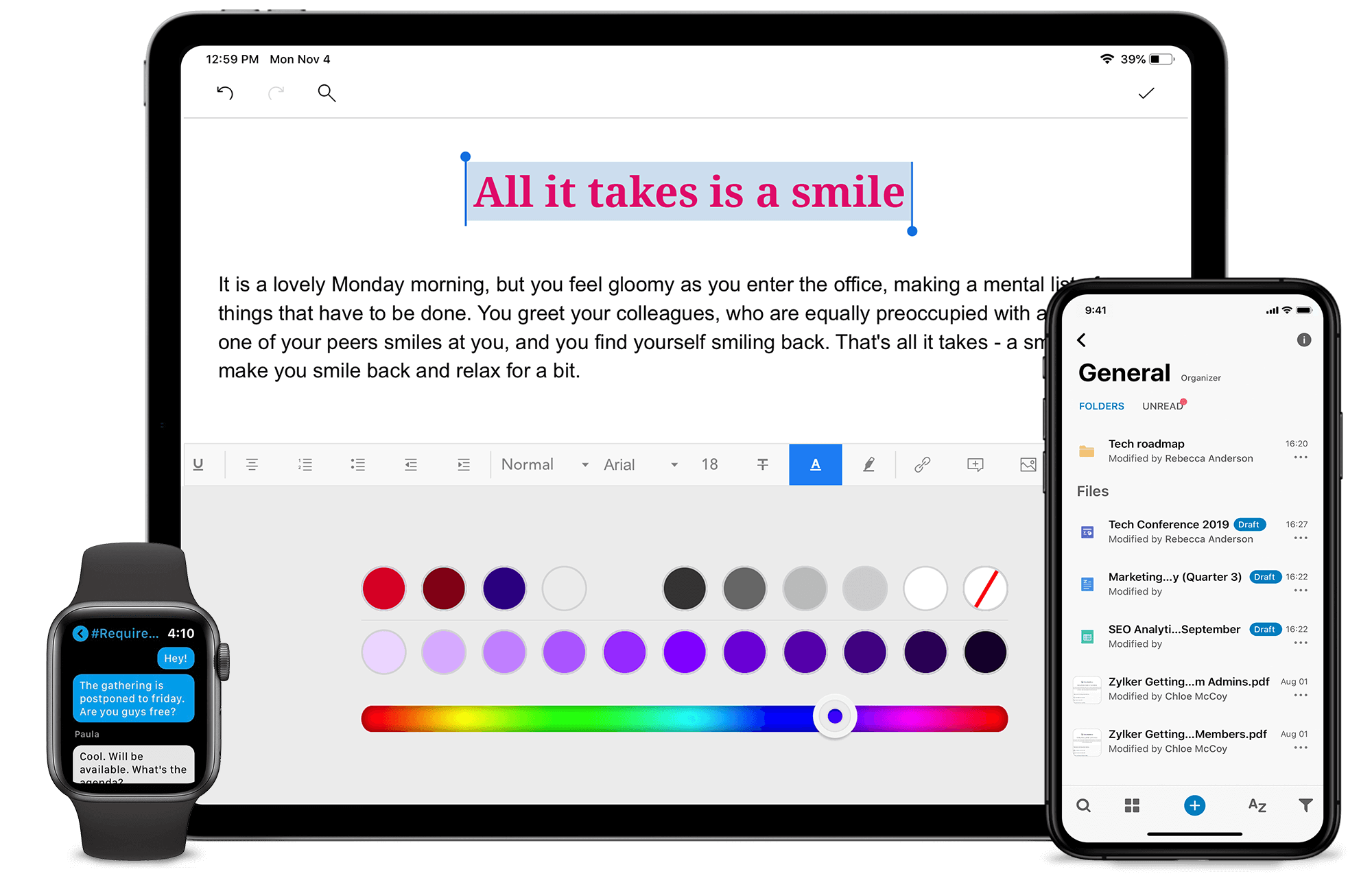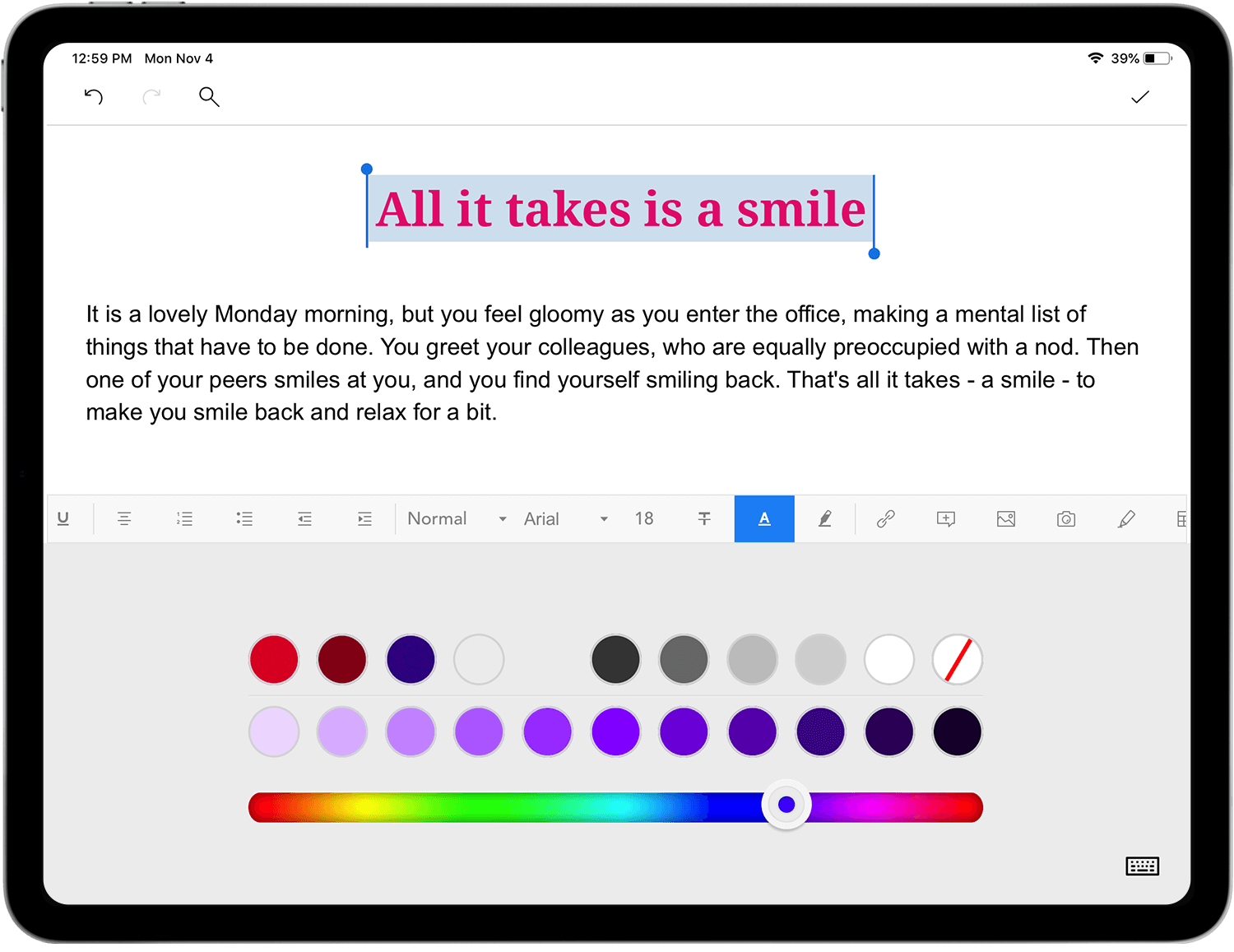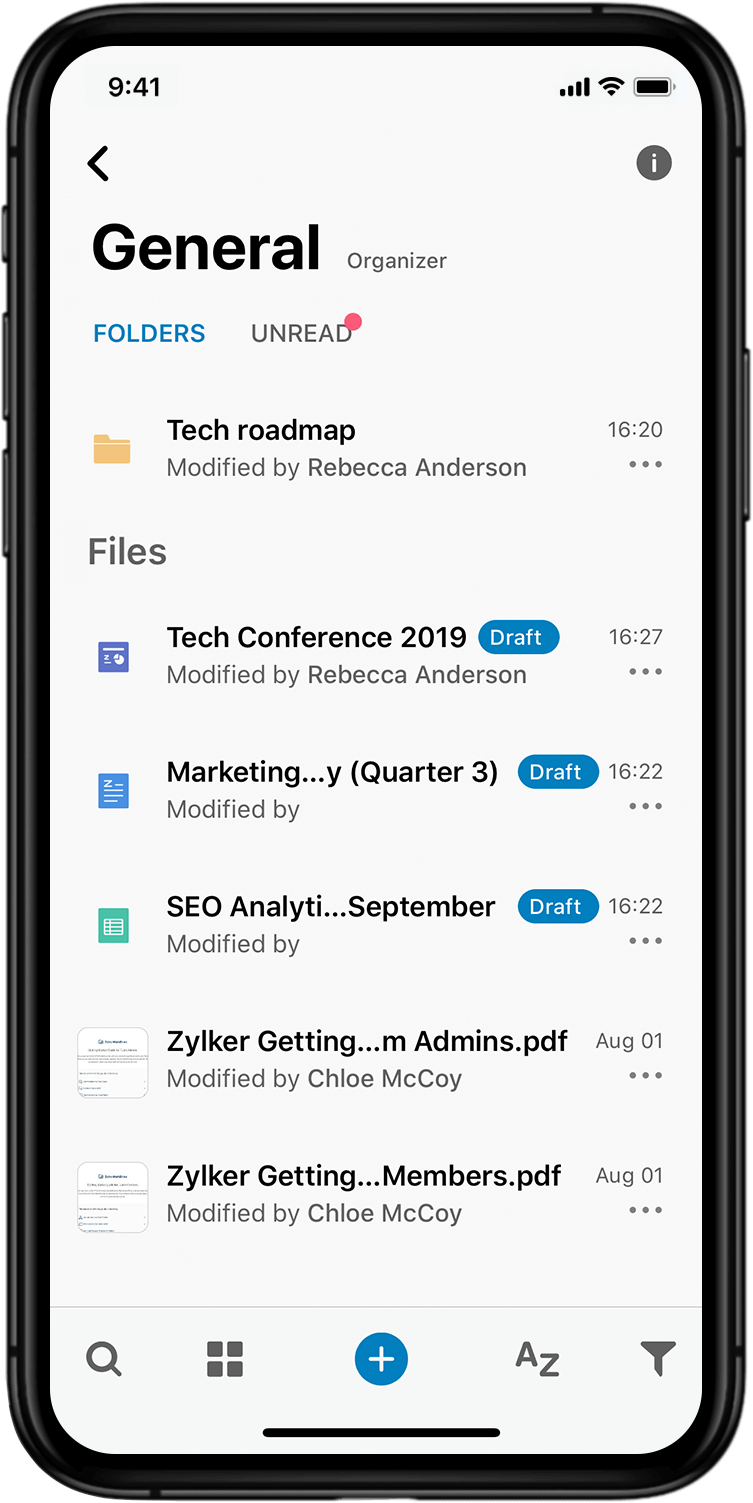 Join the Workplace family and enjoy these benefits
We asked our long-term customers to share their Workplace experience and this is what they had to say:
0.0

%
felt they had a secure email experience.
0.0

%
enjoyed working remotely with Workplace apps.
0.0

%
thought all apps included in the Workplace bundle offered an intuitive interface.
0.0

%
customers experienced an increase in productive team collaboration.