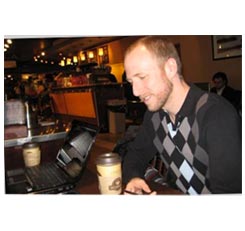 Jean-Marc Lagace
-SM2i3 Web Design Company
Web Design and App Development Company M2i3 Uses Zoho for Quick and Effective Invoicing
Are you one of those people who spend hours sending invoices manually? This post is just for you! Find out how Jean-Marc Lagace, principal partner at M2i3 managed to save quality time by switching over to online invoicing with Zoho Invoice.
A little about M2i3
M2i3 is a web design and application development company based in La Prairie, Quebec, Canada. Founded in 2003, the company has extensive expertise in software development, including e-commerce, content management, and customer management applications. M2i3 takes pride in its ability to
deliver application solutions backed by 20 years of experience, with strength in PHP, Ruby on Rails, Python, and Perl as well as Agile software development.
M2i3's Challenge
For years, M2i3 prepared its client invoices manually, using Microsoft Excel spreadsheets and Microsoft Word documents. All invoice amounts were calculated by hand, including fees and taxes – both provincial and federal. Basically, M2i3 would calculate the two taxes together and then, after three months, pull reports and do more math to recoup some of the provincial taxes charged on the federal taxes.
The primary complaint with manual invoices was the time it took to generate them. "Invoicing was just a pain," says Jean-Marc Lagace. "We were using Excel and Word, and it would take forever just to do the invoicing."
Zoho's Solution
Simple Invoicing:
Three years ago, M2i3 began using the free edition of Zoho Invoice, which gave the company a chance to investigate the service without risk. The investigation paid off as M2i3 found Zoho Invoice very simple and easy to use. In fact, the calculations that M2i3 used to perform to figure its federal and provincial taxes are performed by Zoho Invoice. "Now, doing the invoicing is something we can do in just a few minutes," said Lagace. "I don't like spending time preparing invoices. Nobody does. Zoho Invoice really takes the sting out of the whole process."
Recurring Invoice:
For most clients, M2i3 sends between two and three invoices – one before the project starts, one at the end of the project, and occasionally one at the project's midway point. The company uses the recurring invoice feature of Zoho Invoice for support and maintenance.
"The recurring invoice feature is great because every month, I get an email that tells me an invoice was created. I review it and then, with the press of a button, I can send it as an electronic invoice or as a paper invoice that gets delivered by snail mail. I don't have to stuff any envelopes or lick any stamps. Zoho Invoice takes care of that for me."
Payment Followup:
And Zoho Invoice makes it easy for M2i3 to issue follow up invoices when customers fall behind in their payments. The company has set up criteria for payment, including grace periods, interest charges, and late fees.
"Having Zoho Invoice calculate late fees makes it much easier to charge them. If we still did our invoicing manually – calculating the late fees and sending out Word documents – clients would be much more inclined to question the fees even though they agreed to them in their contracts. When the late fee is calculated and invoiced with Zoho Invoice, clients don't think twice about it."
G Suite Integration:
M2i3 relies on Zoho Invoice integration with G Suite to streamline its invoicing workflow. Users access Zoho Invoice through their Google desktops, using the same menu they use to access their Google Docs files. And M2i3 users sign in, just once to gain access both vendors' applications. The Zoho/Google integration meant that the contacts M2i3 had in its Google address book could be easily transferred to its Zoho contact list, eliminating the need to re-enter that information by hand.
Zoho Invoice Impact
In addition to professional looking invoices created by Zoho Invoice, M2i3 enjoys time savings that can't be overstated. Compared to preparing invoices manually, Zoho Invoice takes a job that used to average 30 minutes per invoice and compresses it down to five minutes for a one-time invoice and to two minutes for a recurring invoice. Likewise, Zoho Invoice greatly accelerates the process of recovering provincial taxes paid on federal taxes.
"In the past, we had to calculate all the taxes by hand and that took forever. With Zoho Invoice, we just run two reports. The tax reports are actually within the product itself. It's very useful and a huge time saver."