Meet:
Samantha Ray
Occupation:
Marketing Unicorn of Spin66 Studio
Using Zoho Invoice since:
2014
Why Samantha Ray loves Zoho Invoice:
Robust, easy-to-use, cost effective
Fully customizable invoice designs and templates
Project snapshot that provides a complete summary of work progress
Automating invoicing for recurring services
Spin66 studio is a California-based, full service marketing, advertising, and public relations agency. As their business grew rapidly through word of mouth about their excellent reputation, the Spin66 Studio team began looking for a billing solution that would scale with their business as it continued to thrive.They wanted a billing solution that would save them the time and effort they needed to invest in helping their clients promote their businesses.
They tried several popular time-tracking and invoicing solutions, but none of the apps met their requirements.They were either too basic, too costly, or too complex.
"We were sifting through other invoicing apps like OfficeTime, FreshBooks, Harvest, Paymo, Basecamp, and Quickbooks," says Samantha Ray, Marketing Unicorn of Spin66 Studio. "All the while, [we were] considering what would give us the most robust, easy-to-use, cost-effective solution. None of them cut the mustard."
The Search for the Best Software
After an extensive online search, they found Zoho Invoice, which seemed to offer a solution for all their invoicing needs. To help them decide, the Spin66 Studio team created an analysis chart comparing many different invoicing applications, and Zoho Invoice stood out as the clear winner.
"We saw other options that achieved the same functionality of Zoho Invoice, but the prices were shocking," Samantha explained. "We noticed that the Standard plan of Zoho Invoice (which included all the good stuff we needed) was a manageable $15/month, [and] it was a no-brainer from there."
The Verdict: Zoho Invoice the Perfect Invoicing Solution
Two years into using Zoho Invoice, Samantha feels confident that Spin66 Studio has found the perfect invoicing solution for their business needs.
"Zoho Invoice has made my job infinitely easier. We love this app so much! And without having an exact answer on how much time it saves us, we'll just say loads," said Samantha.
Samantha is able to manage invoicing for both projects and recurring services easily.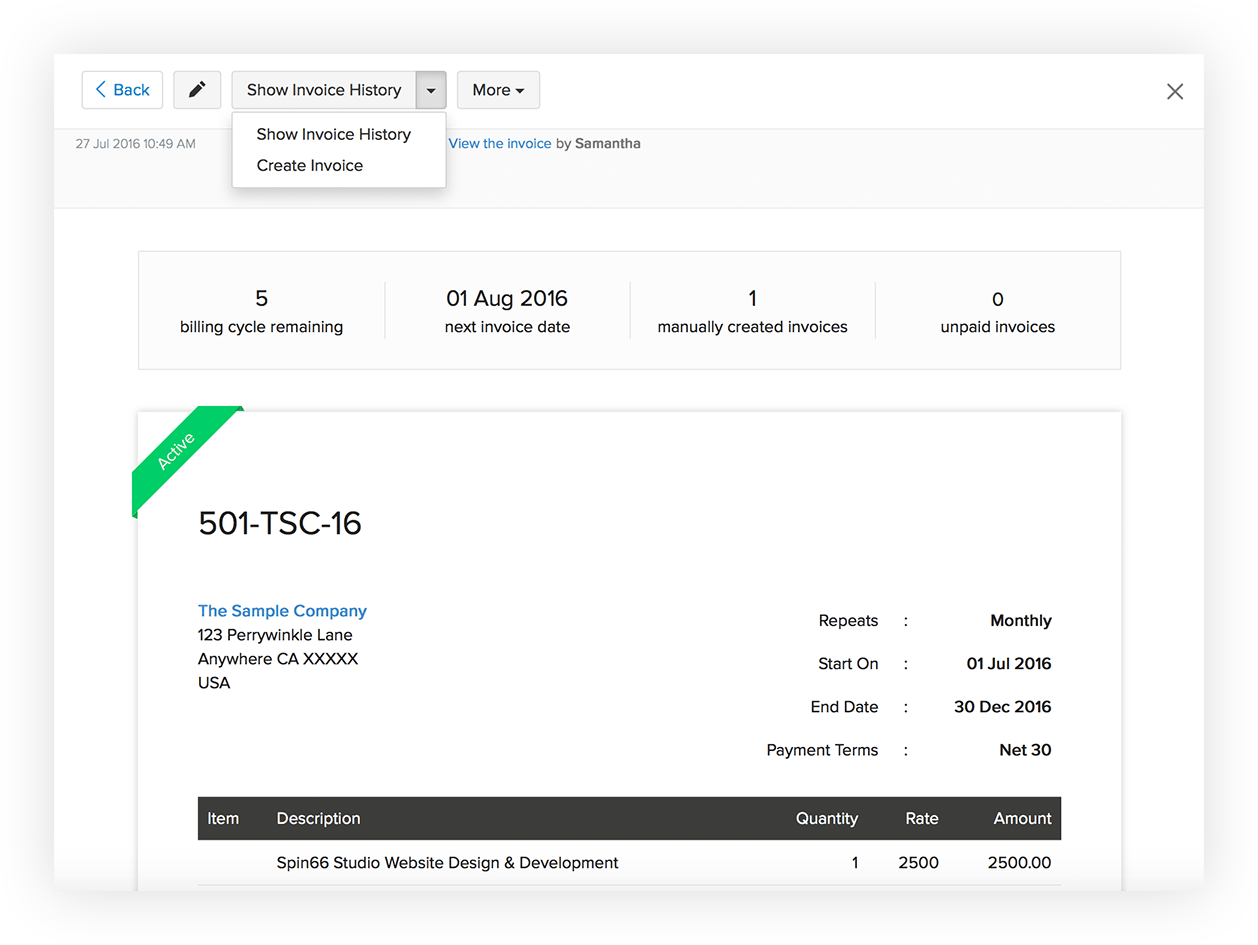 The project snapshots in Zoho Invoice make it really easy for Samantha's team to report the time they spend on projects and ensure that they are always keeping to their budget, and the ability to send recurring invoices is useful to her team for static invoices on retainers.
Additionally, one of Samantha's favorite aspects of Zoho Invoice is the level of customization available for the invoice designs with Templates. Since Spin66 Studio provides branding as one of their services, it's important that their invoices reflect the company as a whole.
Samantha said "Our invoices we send out via Zoho Invoice match our company brand as if [they were] made for us."
As Spin66 Studio continues to grow, Samantha is certain that Zoho's integrated suite of business apps will scale to meet all their business needs.
"Zoho has a ton of other platforms we have slowly [been] working into that are attractive opportunities to start utilizing with the growth of the company. Avoiding integration time and costs with tools is a big deal for companies of our size," said Samantha.