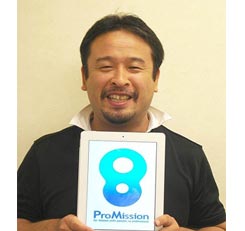 Takahiko Nakamura
-Promission Ltd Business Consulting
Success Stories From Far East
Mr Takahiko Nakamura is the President of Promission Ltd which provides services like business consulting and IT support (implementation of iPad and iPhone for companies) among many others.
"I find the application to be really cool" - Mr. Nakamura
How did you find Zoho Invoice?
I've been using Zoho Invoice for almost a year now. Prior to that, I had managed my invoicing needs through Excel. Creating estimates and invoices in excel was not easy. But I knew to run the business, I needed to make it more efficient.
It was when I was searching for a CRM tool that I chanced upon Zoho Invoice in G Suite marketplace. I was aware of Zoho, but didn't know that it provided so many services. It was hard to believe that such a service existed! I checked out the services offered by Zoho and also took a trial of Zoho Invoice.
I registered for the free plan and it was an instant hit. I find the application to be "really cool" and keep recommending it to my friends for their invoicing needs. Pretty soon, I upgraded to the paid plan and now I am happily invoicing.
What are your views on Zoho Invoice when compared to the previous application you were using ?
Zoho Invoice started showing instant results to my productivity. Before Zoho Invoice, I was using Excel. The manual process of entering data one by one took a lot of time and sometimes the template layout will collapse.The speed of creating estimates /invoices has reduced to one fifth of what it was before. Now I create estimates within 5 minutes. It's instant !
The good thing is that the data is centralized in one place. This helps in managing the invoices easily. In Excel, the search is not good and it can lead to duplicate data. Finding the right excel sheet used to take a lot of time. This year I did not face that issue.
As this is a one time job in a year, I can afford to spend some time invoicing. However, this year it didn't take long. I could finish the entire invoicing for one year in 30 minutes!
Recurring invoice is also another feature that I am using. I use it for consulting fee. I save the invoice as draft, validate the contents and then send it to the customer. The dashboard provides a quick summary of what I have earned and the pulse of my business. I don't frequently use report feature. However I notice that the amount can be referred easily in reports while in excel, data is stored in each sheet.
What are the reasons for using Zoho Invoice?
To start off, the ability to invoice just anytime and anywhere is a merit. Another reason for choosing Zoho Invoice is the cost performance. I started using the iPhone app as soon as it was released.
Sometimes during business discussions with my client, I would send him the estimate using the iPhone app. When I tell my customers that I have already emailed the estimate, they are surprised!
Since I'm doing consultantion for iPhone adoption in customer companies, it's useful for my job presentation too.
Company Website: http://promission.jp
"This is a user friendly invoicing program, as it lets me edit or extend due dates in my invoices without any hassles. I have also automated payment reminders which makes payment follow-ups very easy. As I am mobile most of the times, I also tried out Zoho Invoice's iPhone app. It's a real time saver for my business. I create invoices in less than a minute. As a matter of fact, I have also sent numerous estimates to my clients sitting in a coffee shop! It's just amazing."
Did you use any other software prior to Zoho Invoice for invoicing?
Yes. I was initially using MYOB for my invoicing needs before started using Zoho Invoice.
What else you enjoy doing apart from your routine business work?
I enjoy playing soccer when I get free time and I love surfing!
"A must have invoicing software for any serious small business owner." - Ken Tan